Is IRGC a terrorist entity or the Savior for West Asia?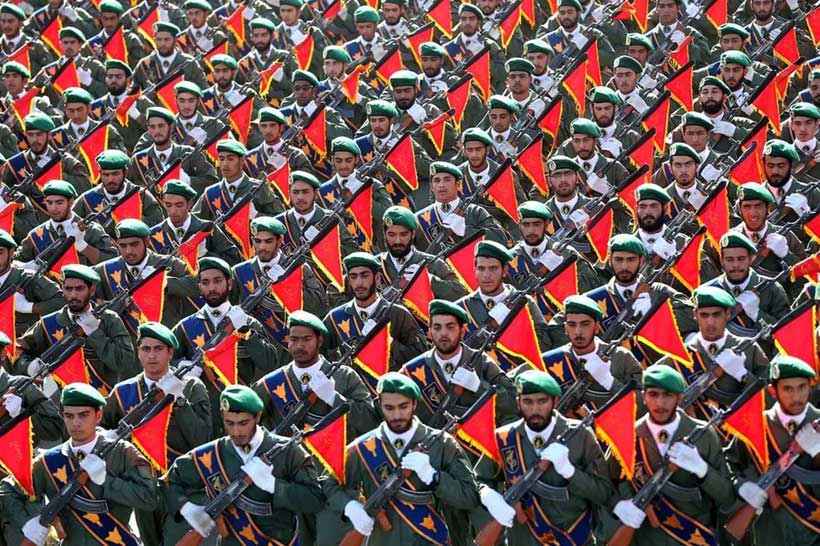 The recent US announcement regarding the Iranian Revolutionary Guards Corps (IRGC) has changed the course of history. Washington has defied international laws and norms by designating a de jure state army as a terrorist organization.
The ongoing rift between Washington and Tehran dates back to the 1979 Islamic Revolution that brings an end to America's two-pillar policy in the Middle East. However, this escalation can be reassessed through the prism of regional and international realpolitik dynamics.
On February 17, Iranian Foreign Minister Mohammad Javad Zarif stated, "The demonization of my country has been a convenient cross for seven consecutive American presidents to bear and a smokescreen for America's regional clients to hide behind." He further proclaimed that the demise of Washington's two-pillar policy after the Khomeini revolution of 1979 was an "earthquake" that distorted a pillar of US domination in West Asia. Furthermore, Zarif has referred to Washington's "pathological obsession" with Iran and denounced Israeli activities against Iranian installations in Syria as a "warmongering agenda" against the Islamic republic.
In the past, Iran has been a crucial regional player in Mideast affairs and has been a resilient power, having suffered an eight-year war inflicted by Iraqi dictator Saddam Hussein's regime and unbearable sanctions that crippled its economy right after the revolution.
The rise of ISIS and its agenda of slaughtering the Iraqi Shiite majority, whom they regard as "infidels," had inflicted a miasma of dread in the ranks of this victimized community. In 2014, Grand Ayatollah Ali al-Sistani called on the general public in Iraq to save their country and holy sites from imminent attack by ISIS militants. In addition to this, Iran has pledged to send its Quds Force under General Qasim Suleimani's command to wipe out ISIS in both Syria and Iraq, which is crucial to securing its own borders by establishing a defensive shield.
Washington's unbalanced and pathological foreign policy regarding Iran has allowed the latter to increase its influence in Lebanon, Syria, Iraq and Yemen
Washington's unbalanced and pathological foreign policy regarding Iran has allowed the latter to increase its influence in Lebanon, Syria, Iraq and Yemen. According to the Carnegie Endowment for International Peace, "Iran has naturally sought to fill the numerous power vacuums that emerged in the region as a result of the US-led invasions of Afghanistan and Iraq, coupled with ongoing Arab upheavals. The cultivation of Shia foreign legions has been a critical element of this strategy."
Right after Sistani's call to fight ISIS, Shiite foreign legions from different regions were formed under the command of General Suleimani. Lebanon's Hezbollah and Afghanistan's Fatemiyoun Division volunteered to fight in Syria to protect the Sayyida Zaynab Mosque, a prominent Shiite pilgrimage site in the suburbs of Damascus. They were supported by Pakistan's Zainabiyuon Brigade and Iraq's Popular Mobilization Forces. PMF and Syrian Hezbollah divisions has also includes several Christian divisions that played their crusial role in fighting for liberation of their lands in both Syria and Iraq. Victor Gaetan stated that Russian and Iranian intervention in Syria and Iraq has been marked as a savior for Christians' minorities and secured their 2000 years old faith.
These forces significantly reduced the threat posed by ISIS in both Syria and Iraq. However, the drums of victory can be heard from both the US and Iranian sides. General Suleimani has coordinated the defense of Baghdad, mobilized Shiite militias and rallied his numerous proxies in the national legislature. He likewise traveled up north to help the Kurds when ISIS threatened Irbil in August and marshaled Iranian troops and pilots, who were deployed to Iraq within hours of the ISIS rout.
According to The Wall Street Journal, there are a significant number of Iranian foreign legions fighting for Syria's regime against ISIS and Takfiri terrorists, which is viewed by US officials as a potential Iranian military expansion across the region, a development that has also created huge concerns for other regional players such as Saudi Arabia and Israel.
One cannot rule out the fact that US President Donald Trump's administration is now focusing on a policy of containment by building a sanctions wall against the Iranian economy and hurting Iran's IRGC in Syria, removing it entirely from Syrian territory, which is in line with Israeli demands, for that Tel Aviv has responded since 2016 with almost 200 Airstrikes against Iranian installation and that also increased the possibility of accidental war with Iranian foreign legions and Lebanese Hezbollah. In addition to this U.S recognition of Golan heights to as Israeli territory has escalated the situation although this Washington move not endorsed by its Arab Partners.
Recent AsiaTimes report claimed that Iran and Syria has brokered a deal to lease latakia port for economic reasons that could be used as a permanent Iranian presence in the Mediterranean just few hundred kilometers away from Israel. This development rings bell in both Washington and TelAviv. Iran presence in latakia would have serious political and security concerns for Russia because of its proximity with its Hmeimim Airbase. Apart from strategic these concerns, for Tehran which is under US crippling sanctions Mediterranean footholds would give positive momentum for economic boom and also a game changer for its long-term stability in west-Asia. According to Joshua landis (Professor at Oklahoma University) "Iran dreams of building a strong regional economy based on trade, highways and pipelines that cross from Iran to the Mediterranean. Helping to build up Syrian ports is only one element in a much larger vision of prosperity and shared interests. Most important will be the day that Iran can sell its oil and gas to Europe by transporting across Iraq and Syria,"
On the international front, the growing strategic partnership between Russia and Iran has also impacted both regional and international players. The Iranian bid for the acquisition of the Russian S-300 missile system poses challenges for the Trump administration, in terms of European allies' support for the Iranian P5+1 nuclear deal.
Tehran's successful ballistic missile tests is one of the key concerns for Washington and its allied partners in the Gulf Cooperation Council.
According to Anthony H Cordesman, "At present, the Trump administration's actions have largely succeeded in alienating America's European allies through the US withdrawal from the JCPOA nuclear agreement with Iran. They also seem to be undermining popular Iranian support for what passes as Iranian moderates – along with potentially arousing Iranian popular nationalist hostility to the US."
All in all, Apart from these concerns, The growing sphere of influence of IRGC in the Mideast and beyond has been relatively more ideological in nature and has Counter-Productive manifestations as compared to any aspirations of militarization endures in the region. Confrontational policies in the volatile Middle East would not be a beneficial option for either Washington or Tehran; therefore both states must exercise restraint and formulate a conducive approach through diplomatic means to mitigate tensions. According to Colin P Clarke and Ariane M Tabatabai (Rand Corporation), "Tehran is preparing to interpret the US designation of the IRGC as an attack and to respond accordingly and both states are entering a new era of competition in key strategic theaters – including Afghanistan, Iraq and Syria."
Chinese purchases of Iranian oil raise tantalizing questions
A fully loaded Chinese oil tanker ploughing its way eastwards from two Iranian oil terminals raises questions of how far Beijing is willing to go in defying US sanctions amid a mounting US military build-up in the Gulf and a US-China trade war.
The sailing from Iran of the Pacific Bravo takes on added significance with US strategy likely to remain focused on economic rather than military strangulation of the Iranian leadership, despite the deployment to the Gulf of an aircraft carrier strike group as well as B-52 bombers and a Patriot surface-to-air missile system.
As President Donald J. Trump, backed by Secretary of State Mike Pompeo, appears to be signalling that he is not seeking military confrontation, his administration is reportedly considering a third round of sanctions that would focus on Iran's petrochemical industry. The administration earlier this month sanctioned the country's metals and minerals trade.
The sailing raises the question whether China is reversing its policy that led in the last quarter of 2018 to it dramatically reducing its trade with Iran, possibly in response to a recent breakdown in US-Chinese trade talks.
"The question is whether non-oil trade remains depressed even if some oil sales resume, which I think it will. That's the better indicator of where Chinese risk appetite has changed. Unfortunately Iran's reprieve will be limited—but better than zero perhaps," tweeted Esfandyar Batmanghelidj, head of Bourse & Bazaar, a self-described media and business diplomacy company and the founder of the Europe-Iran Forum.
A Chinese analyst interviewed by Al Jazeera argued that "China is not in a position to have Iran's back… For China, its best to stay out" of the fray.
The stakes for China go beyond the troubled trade talks. In Canada, a senior executive of controversial Chinese telecommunications giant Huawei is fighting extradition to the United States on charges of violating US sanctions against Iran.
Reports that Western companies, including Kraft Heinz, Adidas and Gap, wittingly or unwittingly, were employing Turkic Muslims detained in re-education camps in China's north-western province of Xinjiang, as part of opaque supply chains, could increase attention on a brutal crackdown that China is struggling to keep out of the limelight.
The Trump administration has repeatedly criticized the crackdown but has stopped short of sanctioning officials involved in the repressive measures.
Bourse & Bazaar's disclosure of the sailing of the Pacific Bravo coincided with analysis showing that Iran was not among China's top three investment targets in the Middle East even if Chinese investment in the region was on the rise.
The Pacific Bravo was steaming with its cargo officially toward Indonesia as Iranian foreign minister Mohammad Javad Zarif was touring his country's major oil clients, including China, in a bid to persuade them to ignore US sanctions.
A second tanker, the Marshal Z, was reported to have unloaded 130,000 tonnes of Iranian fuel oil into storage tanks near the Chinese city of Zhoushan.
The Marshall Z was one of four ships that, according to Reuters, allegedly helped Iran circumvent sanctions by using ship-to-ship transfers in January and forged documents that masked the cargoes as originating from Iraq.
The unloading put an end to a four-month odyssey at sea sparked by buyers' reticence to touch a cargo that would put them in the US crosshairs.
"Somebody in China decided that the steep discount this cargo most likely availed … was a bargain too good to miss," Matt Stanley, an oil broker at StarFuels in Dubai, told Reuters.
The Pacific Bravo, the first vessel to load Iranian oil since the Trump administration recently refused to extend sanction exemptions to eight countries, including China, was recently acquired by China's Bank of Kunlun.
The acquisition and sailing suggested that Bank of Kunlun was reversing its decision last December to restrict its business with Iran to humanitarian trade, effectively excluding all other transactions.
The bank was the vehicle China used in the past for business with Iran because it had no exposure to the United States and as a result was not vulnerable to US sanctions that were in place prior to the 2015 international agreement that curbed Iran's nuclear program.
China's willingness to ignore, at least to some extent, US sanctions could also constitute an effort to persuade Iran to remain fully committed to the nuclear accord which it has so far upheld despite last year's US withdrawal.
Iran recently warned Europe that it would reduce its compliance if Europe, which has struggled to create a credible vehicle that would allow non-US companies to circumvent the sanctions, failed to throw the Islamic republic an economic lifeline.
In a letter that was also sent to Russia and China, Iran said it was no longer committed to restrictions on the storage of enriched uranium and heavy water stocks, and could stop observing limits on uranium enrichment at a later stage.
Russian president Vladimir Putin warned in response to the Iranian threat that "as soon as Iran takes its first reciprocal steps and says that it is leaving, everyone will forget by tomorrow that the US was the initiator of this collapse. Iran will be held responsible, and the global public opinion will be intentionally changed in this direction."
Will there be war with Iran? Will there not be war with Iran? The questions are being asked repeatedly in the media even though a single carrier task force is steaming up there. The expression is old for the latest carriers are nuclear powered. Imagine the mess if it was blown up.
There are two kinds of weapons in the world … offensive and defensive. The latter are cheaper, a fighter plane compared to a bomber. If a country does not (or cannot afford to) have offensive intent, it makes sense to focus on defense. It is what Iran has done. Moreover, its missile centered defense has a modern deadly twist — the missiles are precision-guided.
As an Iranian general remarked when questioned about the carrier task force: some years ago it would've been a threat he opined; now it's a target. Iran also has a large standing army of 350,000 plus a 120,000 strong Revolutionary Guard and Soviet style air defenses. In 2016 Russia started installation of the S-300 system. It has all kinds of variants, the most advanced, the S-300 PMU-3 has a range similar to the S-400 if equipped with 40N6E missiles, which are used also in the S-400. Their range is 400 km, so the Iranian batteries are virtually S-400s. The wily Putin has kept trump satisfied with the S-300 moniker without short-changing his and China's strategic ally. The latter continuing to buy Iranian oil.
Iran has friends in Europe also. Angela Merkel in particular has pointed out that Iran has complied fully with the nuclear provisions of the UN Security Council backed Joint Comprehensive Plan of Action i.e. the Iran nuclear deal. She is mustering the major European powers. Already alienated with Trump treating them as adversaries rather than friends, they find Trump's bullying tiresome. President Macron, his poll ratings hitting the lowest, is hardly likely to engage in Trump's venture. In Britain, Theresa May is barely able to hold on to her job. In the latest thrust by senior members of her party, she has been asked to name the day she steps down.
So there we have it. Nobody wants war with Iran. Even Israel, so far without a post-election government does not want to be rained upon by missiles leaky as its Iron Dome was against homemade Palestinian rockets.
Topping all of this neither Trump nor Secretary of State Pompeo want war. Trump is as usual trying to bully — now called maximum pressure — Iran into submission. It won't. The wild card is National Security Adviser John Bolton. He wants war. A Gulf of Tonkin type false flag incident, or an Iranian misstep, or some accident can still set it off.
In Iran itself, moderates like current President Hassan Rouhani are being weakened by Trump's shenanigans. The hard liners might well want to bleed America as happened in Iraq and Afghanistan.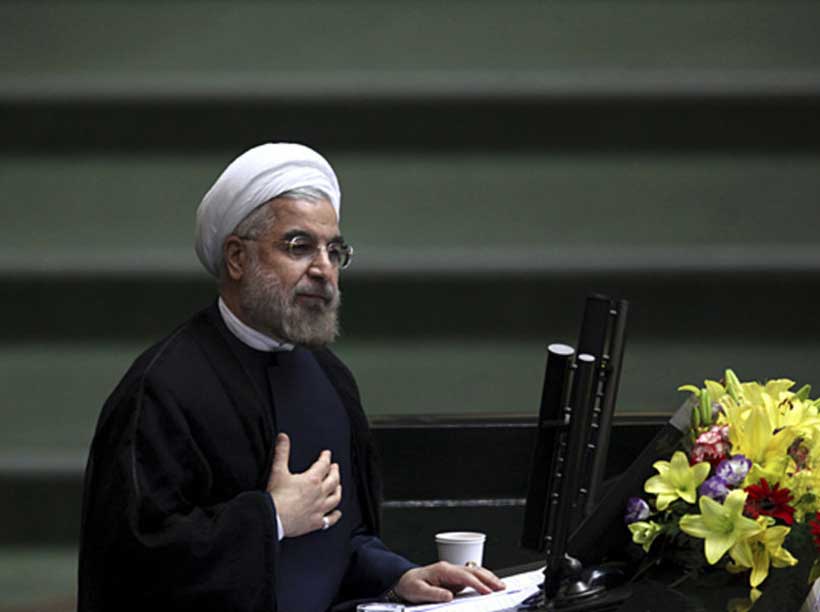 By announcing that Iran will begin keeping its excess uranium and heavy water, the Islamic Republic now sends a firm and clear message to the west, exactly one year after U.S. president, Donald Trump unilaterally withdrew from its nuclear deal with Iran.
At this point, it seems that Iran has made a wise decision. Over the last year, the European troika has not only done anything to revive the nuclear deal or bring any kind of benefit to the Iranian nation, but they have actually backed up U.S. by developing new plans to undermine Iran's "missile work", and diminish its "power in the region" as well as its "nuclear technology".
As stated in clauses 26 and 36 of Joint Comprehensive Plan of Action (JCPOA), if the other side fails to meet its obligations, Iran is entitled to partially or completely end its commitments as well. So, Iran's recent decision could be analyzed both on legal and strategic terms.
However, it seems that the strategic aspects of Iran's decision are even more important than its legal aspects. This decision is strategically important because it stops Washington and European troika to carry out their anti-Iran scheme, a dangerous scheme that they actually started devising when Trump took the office in 2017.
At the time, Theresa May, the British Prime Minister, and Emmanuel Macron, the French president played a major part in carrying out the west scheme. A scheme based on enforcing Iran to keep its "nuclear promises" and stay committed to a "distorted nuclear deal" while "U.S. had abandoned the deal", and at the same time, trying to "diminish Iran's power in the region" and "reduce its missile activities".
All other actions of Europeans toward Iran were also simply targeted at carrying out this major plan, including how they constantly changed their strategies toward Tehran, and how Germany, U.K. and France intentionally delayed in launching the alternative trade mechanism (Instex) with Iran.
Now, Iran's decision to keep its Uranium and heavy water is definitely in compliance with JCPOA, and more importantly, it will seriously undermine the "American-European" joint plan against Iran. This also explains why French government was so distressed by Iran's new nuclear strategy and had such a quick reaction, considering that Emmanuel Macron, the French president and Jean-Yves Le Drian, the French Foreign Minister both have had important roles in carrying out the American-European anti-Iran scheme.
At any rate, what is clear now is that the game has just started! And the Iranian political system and specially the foreign ministry have a great mission to run this game wisely.
In following days, the European troika might want to force Iran into changing its decision by threats such as reviving the European Union sanctions against Iran or even taking Iran's case to the United Nations Security Council (so that Trump administration can meddle in Iran's affairs). But, it is time for Iran political system to be adamant in its decision.
The Iranian Foreign Ministry should clearly ask the Europeans to choose one of these options, either Iran will "further reduce its commitments to the nuclear deal" or the Europeans should do something practical to "protect the rights of Iranian nation".
It is also necessary that the Iranian political system reveals the American-European joint anti-Iran scheme to the people so that the true nature of Europeans is showed to Iranians. In that case, Europe and specially the European troika will completely lose their reputation.
First published in our partner Tehran Times