Is IRGC a terrorist entity or the Savior for West Asia?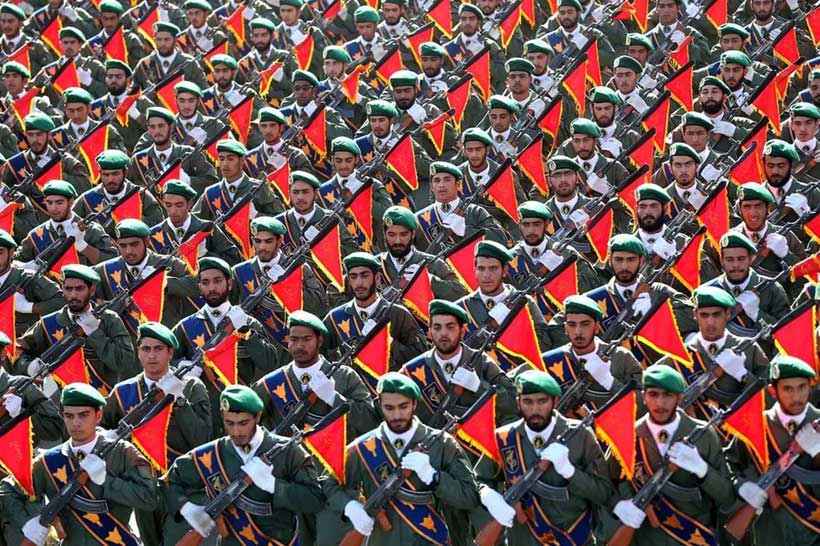 The recent US announcement regarding the Iranian Revolutionary Guards Corps (IRGC) has changed the course of history. Washington has defied international laws and norms by designating a de jure state army as a terrorist organization.
The ongoing rift between Washington and Tehran dates back to the 1979 Islamic Revolution that brings an end to America's two-pillar policy in the Middle East. However, this escalation can be reassessed through the prism of regional and international realpolitik dynamics.
On February 17, Iranian Foreign Minister Mohammad Javad Zarif stated, "The demonization of my country has been a convenient cross for seven consecutive American presidents to bear and a smokescreen for America's regional clients to hide behind." He further proclaimed that the demise of Washington's two-pillar policy after the Khomeini revolution of 1979 was an "earthquake" that distorted a pillar of US domination in West Asia. Furthermore, Zarif has referred to Washington's "pathological obsession" with Iran and denounced Israeli activities against Iranian installations in Syria as a "warmongering agenda" against the Islamic republic.
In the past, Iran has been a crucial regional player in Mideast affairs and has been a resilient power, having suffered an eight-year war inflicted by Iraqi dictator Saddam Hussein's regime and unbearable sanctions that crippled its economy right after the revolution.
The rise of ISIS and its agenda of slaughtering the Iraqi Shiite majority, whom they regard as "infidels," had inflicted a miasma of dread in the ranks of this victimized community. In 2014, Grand Ayatollah Ali al-Sistani called on the general public in Iraq to save their country and holy sites from imminent attack by ISIS militants. In addition to this, Iran has pledged to send its Quds Force under General Qasim Suleimani's command to wipe out ISIS in both Syria and Iraq, which is crucial to securing its own borders by establishing a defensive shield.
Washington's unbalanced and pathological foreign policy regarding Iran has allowed the latter to increase its influence in Lebanon, Syria, Iraq and Yemen
Washington's unbalanced and pathological foreign policy regarding Iran has allowed the latter to increase its influence in Lebanon, Syria, Iraq and Yemen. According to the Carnegie Endowment for International Peace, "Iran has naturally sought to fill the numerous power vacuums that emerged in the region as a result of the US-led invasions of Afghanistan and Iraq, coupled with ongoing Arab upheavals. The cultivation of Shia foreign legions has been a critical element of this strategy."
Right after Sistani's call to fight ISIS, Shiite foreign legions from different regions were formed under the command of General Suleimani. Lebanon's Hezbollah and Afghanistan's Fatemiyoun Division volunteered to fight in Syria to protect the Sayyida Zaynab Mosque, a prominent Shiite pilgrimage site in the suburbs of Damascus. They were supported by Pakistan's Zainabiyuon Brigade and Iraq's Popular Mobilization Forces. PMF and Syrian Hezbollah divisions has also includes several Christian divisions that played their crusial role in fighting for liberation of their lands in both Syria and Iraq. Victor Gaetan stated that Russian and Iranian intervention in Syria and Iraq has been marked as a savior for Christians' minorities and secured their 2000 years old faith.
These forces significantly reduced the threat posed by ISIS in both Syria and Iraq. However, the drums of victory can be heard from both the US and Iranian sides. General Suleimani has coordinated the defense of Baghdad, mobilized Shiite militias and rallied his numerous proxies in the national legislature. He likewise traveled up north to help the Kurds when ISIS threatened Irbil in August and marshaled Iranian troops and pilots, who were deployed to Iraq within hours of the ISIS rout.
According to The Wall Street Journal, there are a significant number of Iranian foreign legions fighting for Syria's regime against ISIS and Takfiri terrorists, which is viewed by US officials as a potential Iranian military expansion across the region, a development that has also created huge concerns for other regional players such as Saudi Arabia and Israel.
One cannot rule out the fact that US President Donald Trump's administration is now focusing on a policy of containment by building a sanctions wall against the Iranian economy and hurting Iran's IRGC in Syria, removing it entirely from Syrian territory, which is in line with Israeli demands, for that Tel Aviv has responded since 2016 with almost 200 Airstrikes against Iranian installation and that also increased the possibility of accidental war with Iranian foreign legions and Lebanese Hezbollah. In addition to this U.S recognition of Golan heights to as Israeli territory has escalated the situation although this Washington move not endorsed by its Arab Partners.
Recent AsiaTimes report claimed that Iran and Syria has brokered a deal to lease latakia port for economic reasons that could be used as a permanent Iranian presence in the Mediterranean just few hundred kilometers away from Israel. This development rings bell in both Washington and TelAviv. Iran presence in latakia would have serious political and security concerns for Russia because of its proximity with its Hmeimim Airbase. Apart from strategic these concerns, for Tehran which is under US crippling sanctions Mediterranean footholds would give positive momentum for economic boom and also a game changer for its long-term stability in west-Asia. According to Joshua landis (Professor at Oklahoma University) "Iran dreams of building a strong regional economy based on trade, highways and pipelines that cross from Iran to the Mediterranean. Helping to build up Syrian ports is only one element in a much larger vision of prosperity and shared interests. Most important will be the day that Iran can sell its oil and gas to Europe by transporting across Iraq and Syria,"
On the international front, the growing strategic partnership between Russia and Iran has also impacted both regional and international players. The Iranian bid for the acquisition of the Russian S-300 missile system poses challenges for the Trump administration, in terms of European allies' support for the Iranian P5+1 nuclear deal.
Tehran's successful ballistic missile tests is one of the key concerns for Washington and its allied partners in the Gulf Cooperation Council.
According to Anthony H Cordesman, "At present, the Trump administration's actions have largely succeeded in alienating America's European allies through the US withdrawal from the JCPOA nuclear agreement with Iran. They also seem to be undermining popular Iranian support for what passes as Iranian moderates – along with potentially arousing Iranian popular nationalist hostility to the US."
All in all, Apart from these concerns, The growing sphere of influence of IRGC in the Mideast and beyond has been relatively more ideological in nature and has Counter-Productive manifestations as compared to any aspirations of militarization endures in the region. Confrontational policies in the volatile Middle East would not be a beneficial option for either Washington or Tehran; therefore both states must exercise restraint and formulate a conducive approach through diplomatic means to mitigate tensions. According to Colin P Clarke and Ariane M Tabatabai (Rand Corporation), "Tehran is preparing to interpret the US designation of the IRGC as an attack and to respond accordingly and both states are entering a new era of competition in key strategic theaters – including Afghanistan, Iraq and Syria."
Qatar punctures FIFA's political fantasy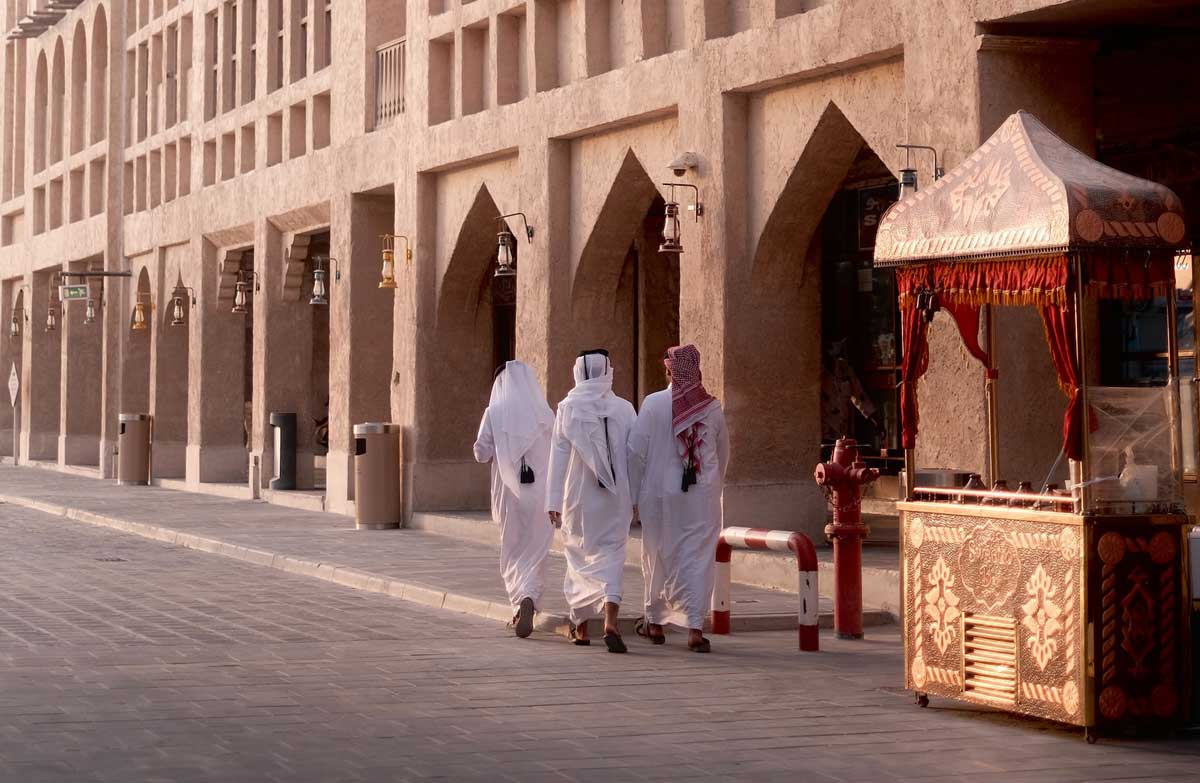 If the Qatar World Cup proved anything, it's that sports and politics are inseparable Siamese twins joined at the hip.
Politics popped up at every twist of the World Cup's road, whether related to the right of freedom of expression of players, sports commentators and fans; anti-government protests in Iran; anti-Israeli sentiment among Qataris and Arabs; a backlash against Western, particularly German, critics of Qatar; or ultra-conservative religious rejection of soccer as a sport.
Qatari efforts to stage manage the intrusion of regional politics ranged from picking and choosing which protests fit its foreign policy agenda to seeking to ensure, where possible, that events elsewhere in the region would not overshadow or inflame passions during the World Cup.
Palestine is a case in point.
Amid escalating violence between Israelis and Palestinians, Mohammad al-Emadi, the Qatari official handling Hamas, the Islamist group that controls the Gaza Strip, travelled to the region to ensure that it and Islamic Jihad, another Gaza-based organization, would not respond with rockets to Israeli use of lethal force against Palestinian militants on the West Bank.
Qatar feared that a response to last week's killing of an Islamic Jihad commander on the West Bank and near-nightly Israeli raids could spark a renewed Israeli intervention in Gaza, already crippled by a 15-year-long Israeli-Egyptian blockade.
The Qatari pressure puts in a different perspective the Gulf state's endorsement of expressions of support for the Palestinians during the World Cup in the form of pro-Palestinian flags and T-shirts and a refusal by Qatari and Arab fans to engage with Israeli reporters covering the tournament.
Despite refusing to follow in the footsteps of the United Arab Emirates, Bahrain, Morocco, and Sudan in recognizing Israel without a resolution of the Israeli-Palestinian conflict, Qatar has a long-standing working relationship with the Jewish state that serves the interests of both countries.
The Gulf state, often at Israel's request, has pumped millions of dollars into paying government salaries in Gaza, providing aid to thousands of families affected by past wars, and funding fuel for the Strip's power plant as well as infrastructure projects.
Moreover, Qatar became the first Gulf state to put money into Israel when it funded in 2006 a six-million-dollar stadium in the predominantly Israeli Palestinian town of Sakhnin, an investment long before the UAE-led Arab recognition of the Jewish state 14 years later.
Sakhnin and the Doha Stadium are home to Bnei Sakhnin, Israel's most successful Israeli-Palestinian club.
As a result, allowing expressions of pro-Palestinian sentiment during the World Cup served multiple Qatari purposes.
It gave a release valve to Qataris, a minority in their own country, who were concerned about the impact on their society of the government's live-and-let-live approach towards soccer fans with very different cultural values visiting their country during the World Cup.
Preventing fans from taking pro-LGBT paraphernalia such as One Love and rainbow-coloured armbands and shirts into stadiums served a similar purpose.
It also allowed Qataris to vent their frustration at perceived double standards in European and American criticism of Qatar's rejection of LGBT rights, particularly after the German team's hands-over-mouth gesture in protest against FIFA's denial of their right to wear pro-LGBT armbands.
In one instance, Qataris wore pro-Palestinian armbands of their own to a match as a protest against the donning of a pro-LGBT One Love band by German Interior Minister Nancy Faeser, who attended the game.
Expressions of pro-Palestinian, anti-Israeli sentiment also suggested that Qatar's refusal to recognise Israel was more in line with Arab public opinion than efforts to project the UAE-led recognition of the Jewish state as genuinely popular and indicative of a drop in support for the Palestinian cause.
If anything, recent polls show that public support for establishing diplomatic relations with Israel had fallen across the Arab and Muslim world, including in countries that normalized their ties to the Jewish state.
In Bahrain, 20 per cent of the population supports the accords, compared with 45 per cent in 2020, according to a Washington Institute for Near East Policy poll in July. Support in Saudi Arabia fell from 41 to 19 per cent. Even in the UAE, where normalisation had the greatest impact, support dropped to 25 per cent this year from 47 per cent in 2020.
For Qatari World Cup managers, Palestine was low-hanging fruit. Protest against the government in Tehran was a far trickier challenge.
A regional behemoth, Iran is a partner as well as a potential threat with which Qatar shares the world's largest offshore gas field.
Maintaining relations with Iran has allowed Qatar, at times, to be a background mediator with the United States on issues like the moribund talks to revive the 2015 Iranian nuclear agreement.
Qatar feared that allowing stadiums to become venues of confrontation between opponents and supporters of the Iranian government could have persuaded Iran to rank the Gulf state, alongside Saudi Arabia, Israel, and the United States, as an instigator of sustained anti-government protests in which security forces have killed hundreds.
As a result, Qatar sought to prevent anti-government banners, T-shirts, and pre-revolution flags from entering stadia. The problem resolved itself when Iran was knocked out of the World Cup in the group stage.
Yet, the larger issue remains. The Qatar World Cup demonstrates that FIFA's insistence that sports and politics can be separated amounts to a political fantasy.
More concerning than that, it enables FIFA and autocratic World Cup hosts like Qatar to decide what are convenient and inconvenient expressions of politics. That hardly makes for a level playing field, the starting point for any sport.
The challenges lie ahead Ankara's decision to normalize relations with Cairo and Damascus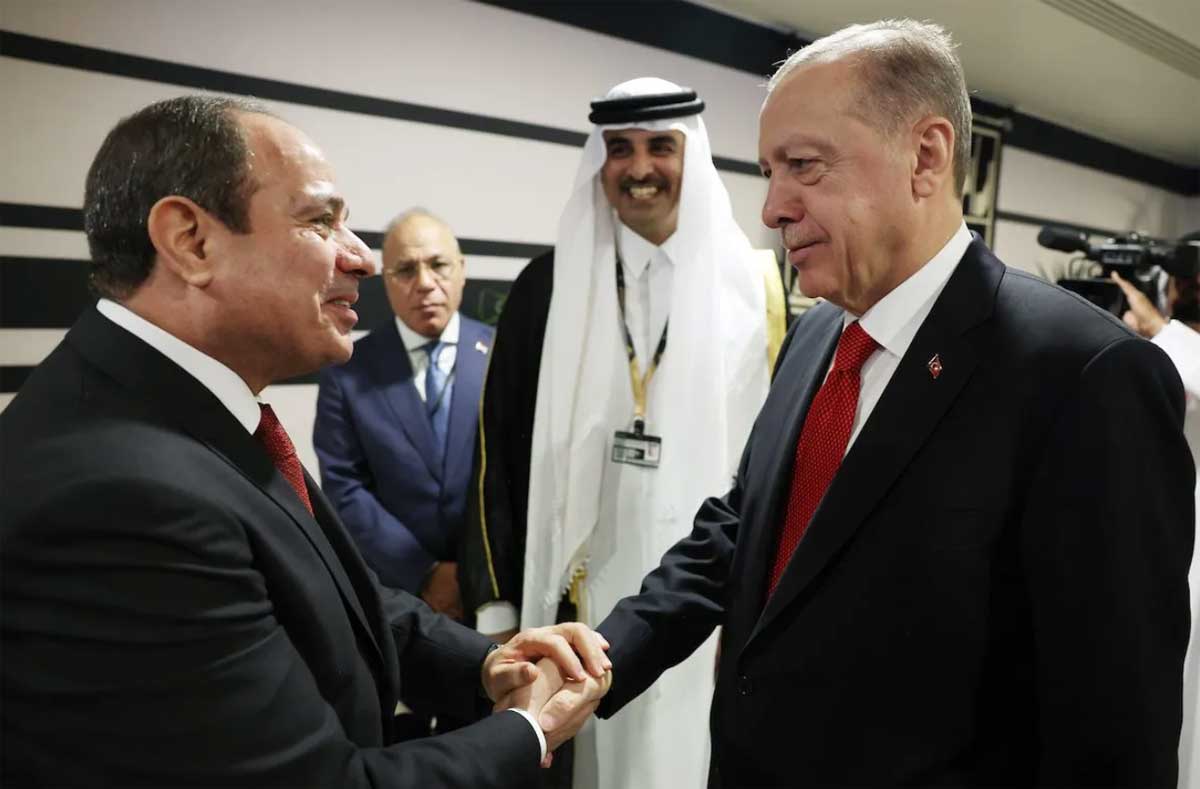 Although Egypt and Syria are at the bottom of the list of states with which Turkey intends to reconcile, the 10-year conflict with the two mentioned countries, which is accompanied by conflict and bloodshed in Syria, is on the verge of ending, and Turkey's relations with Egypt and Syria are returning to normal.
Of course, the recent progress is due to the efforts of Recep Tayyip Erdogan, the president of Turkey; Especially after the negotiators failed to close the last case of incompatibility between the two sides. The process of reconciliation began in 2021, in the city of Al-Ala in Saudi Arabia, and since then, Cairo and Ankara continued to strive and innovate in order to achieve reconciliation and compromise, and finally achieved positive and significant results.
However, the reconciliation between the two states was not at the leadership level; Until Qatar provided the ground for the meeting of Abdul Fattah Al-Sisi and Recep Tayyip Erdogan in Doha during the opening ceremony of the World Cup. The sitting of the Secretary General of the United Nations between the presidents of the two countries was not aimed at keeping them away from each other, and it seems that the Egyptians and the Turks had prepared for this occasion a few weeks ago, and the opening ceremony of the World Cup was held as a tribute to the mediation of Qatar, as the appointment was selected.
Regardless of political compliments, the reconciliation of Egypt and Turkey is very important; Because the continuation of tension between the two countries can lead to many risky developments. Relations between Egypt and Turkey became strained after the overthrow of the government of Mohamed Morsi in 2013. At that time, it became clear to political observers that this inconsistency will last for a long time and will not end soon; Especially since the late president of Egypt tried to run his country with the mentality of a one party rule. For this reason, the solidarity of the angry protesters with the security institutions played a central role in changing the situation in this state and marked the end of the Muslim Brotherhood government. Then, the Muslim Brotherhood made Istanbul its alternative capital and began its plans and efforts to return to power from there. This caused a crisis in the relations between Egypt and Turkey, and with the passage of time, the incompatibility between the two states increased.
However, in the past year and a half, the governments of Turkey and Egypt have held several meetings in order to resolve the dispute and end the disputed cases, and they were able to achieve significant successes in terms of security and media. Ankara more or less stopped the activity of the Egyptian opposition in Turkish territory, but the reconciliation between the two sides was not complete and the disagreement over how to manage the Libyan war crisis and the dispute over territorial waters in the Mediterranean remained unresolved.
In the case of Libya, Turkey supports one side of the conflict and Egypt supports the other side. Libya plays a vital role for Egypt in terms of security, and it is an important market for Turkey in terms of economy. In addition, Libya has many debts to pay to Turkey since the Gaddafi government.
On the other hand, after the discovery of gas fields in the Mediterranean waters, which are believed to contain a large amount of energy, there was a dispute between Egypt, Turkey and Greece over territorial waters in the Mediterranean, and the aforementioned states have not been able to find a solution to overcome this challenge.
The issue of ending the tension between Egypt and Turkey is very important, because achieving this goal may help end the war in Libya, and this in itself is reason enough to be optimistic about the current efforts for reconciliation between the two states. However, the price of this reconciliation will be paid by the opposition affiliated to the Muslim Brotherhood outside of Egypt.
Of course, the path of reconciliation between Damascus and Ankara is extremely chaotic and risky. It is so difficult to reach the stage of reconciliation between the two states that, according to Erdogan, if he himself goes to Damascus, he will not be able to find a quick solution to end this complex crisis. Turkey and Syria have been fighting indirectly for more than 10 years. In addition, several military powers, including the forces of the Islamic Republic, Russia, the United States, foreign militias, the remnants of ISIS and Al-Qaeda, the separatist Kurds of Turkey, and the Syrian armed opposition continue to invade Syria.
Meanwhile, the inability of Damascus to control parts of the Syrian territory has created a power vacuum in different parts of the country. Millions of Syrian refugees live abroad; In addition, millions of other citizens who have been forced to leave their homes have sought refuge in areas far from the war and are still displaced.
Therefore, any solution that is presented to end the crisis should consider the above points. Currently, all sides want the war in Syria to end, but the path to achieving this goal remains elusive.
Protest emerges as a mixed blessing for World Cup host Qatar
Protest on the soccer pitch has proven to be a mixed blessing for World Cup host Qatar, exposing double standards in the Gulf state's position as well as that of its critics.
Qatar embraced protest when it supported Qatari policies, such as the Gulf state's increasingly assertive denunciation of double standards in Western criticism of discrimination against LGBT people or its refusal to establish diplomatic relations with Israel in the absence of a resolution of the Israeli-Palestinian conflict.
However, protesters and foreign media quickly encountered the limits of Qatari tolerance and notions of freedom of expression when they touched on politically sensitive issues, ranging from support for LGBT rights to solidarity with demonstrators in Iran, who have defied a brutal crackdown by security forces in more than two months of anti-government manifestations.
As a result, the debate on double standards at times amounted to the kettle calling the pot black.
That is not to question the legitimacy of criticism levelled by Qatar and its critics at each other. However, it is to note that both parties' credibility is in question because of their inconsistencies and failures to put their own houses in order.
"On one level, the World Cup is unfolding smoothly. On another, we go from crisis to crisis," said a journalist covering the tournament for a major Western news organisation.
Photographers were often on the frontline as Qatari authorities stopped them from snapping pictures of security forces preventing fans from wearing clothing to matches or taking into stadiums paraphernalia that signalled support for Iranian protesters or LGBT rights.
'The real test case will be when the United States plays Iran. That could be the crescendo in the clash over what protesters and media can and cannot do," said another journalist.
The November 29 match is likely the World Cup's most politically charged game, with talks to revive the 2015 international agreement that curbed the Islamic republic's nuclear programme all but dead and Iraq-mediated negotiations with archrival Saudi Arabia suspended.
Iran accuses the United States, Saudi Arabia, and Israel of inciting the sustained anti-government protests.
The US Soccer Federation joined the fray with Iran ahead of the two nations' World Cup match when it briefly displayed Iran's national flag on social media without the emblem of the Islamic Republic, saying the move was in support of protesters in Iran.
Iran accused the federation of removing the name of God from their national flag and said it would complain to FIFA. However, US Soccer later restored the Islamic republic's flag on social media.
Meanwhile, Qatari nationals, intending to protest against Western double standards in criticism of the Gulf state, didn't encounter problems entering the stadium to watch Germany's group stage match against Spain.
During the game, Qataris displayed pictures of former German national team player Mesut Özil, a German-born descendant of Turkish immigrants, while covering their mouths in protest against German double standards.
Mr. Özil quit the German team after becoming a target of racist abuse and a scapegoat for Germany's early World Cup exit in 2018.
The Qatari demonstration was in response to Germany's team covering their mouths at a group photo in advance of an earlier match against Japan in protest against FIFA president Gianni Infantino's banning players from wearing One Love bands during games.
In the same vein, prominent Qataris wore pro-Palestinian armbands to the Germany Japan match to counter the pro-LGBT One Love band sported by German Interior Minister Nancy Faeser during the game.
Qatar's emir, Sheikh Tamim bin Hamad Al Thani, signalled the Gulf state's greater assertiveness in countering criticism when he lamented some three weeks before the kickoff of the World Cup that Qatar had been "subjected to an unprecedented campaign," scrutiny, and scorn "that no host country has faced."
In an indication that human rights, labour, and LGBT groups may be losing leverage, the emir said that "we initially dealt with the matter in good faith, and even considered some of criticism as positive and useful… (But) it soon became clear that the campaign tends to continue and expand to include fabrications and double standards that were so ferocious that it has unfortunately prompted many people to question real reasons and motives behind this campaign."
The critics' problem is their past failure to tackle with equal ferocity issues of human rights, prejudice, and bigotry in the run-up to the 2018 Russian World Cup, as well as to separate the wheat from the chafe by distancing themselves from criticism of Qatar that was laced with bias and racism.
In doing so, critics are as much their own worst enemy as they have been drivers of social change in Qatar.
By allowing Qatar to deflect criticism by calling into question critics' credibility, activists have enabled the Gulf state to take its counteroffensive to the next level.
A week into the World Cup, Qatar was reviewing, according to the Financial Times, its substantial investments in London after the city's transport authority suspended advertising from the Gulf state because of the controversies over worker and LGBT rights.
Qatari investments include London's landmark Harrods department store; The Shard, an iconic 72-storey skyscraper; and Canary Wharf, part of the city's central business district. Qatar also owns Chelsea Barracks, the Savoy and Grosvenor House hotels, 22 per cent of Sainsbury's supermarkets, six per cent of Barclays bank, and 20 per cent of Heathrow airport.
"Countries like…Qatar…view their investments as strategic bribes to mute criticism and resist reforms," said Radha Stirling, a London-based lawyer who represents expatriates in the Gulf who run into legal difficult
To be fair, Qatar was one of 11 countries in the Middle East, Africa, and South Asia that were banned in 2019 from advertising by Transport for London on the grounds of human rights violations. Nevertheless, the agency allowed some Qatari advertising promoting the Gulf state as a tourist destination until last week's World Cup kickoff, when it decided to implement the ban fully.
Even so, the list reinforced the notion of double standards by failing to include China at the height of its brutal crackdown on Turkic Muslims in the northwestern province of Xinjiang; Russia that was annexing Ukrainian territory, repressing LGBT people, and attempting to assassinate its critics at home and abroad; and Israel with its increasingly racial policies towards Palestinians.
Qatar is likely to be the first of numerous rights-focussed Middle Eastern battlegrounds, with countries like Qatar, Saudi Arabia, and Egypt hosting or preparing bids to host multiple major sporting events, including Asian Cup competitions, the 2030 World Cup, and the 2036 Summer Olympics.
The bids constitute a rich and legitimate hunting ground for human, worker, and LBGT rights activists. However, their effectiveness will, to a significant extent, depend on their ability to put their own house in order.