SFMOMA Announces SOFT POWER — International Contemporary Exhibition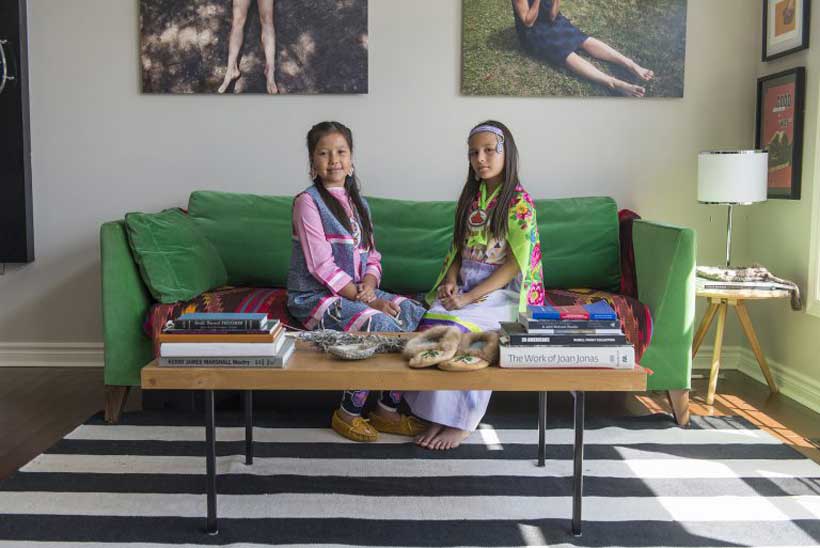 Timely and provocative, SOFT POWER is an exhibition about the ways in which artists deploy art to explore their roles as citizens and social actors. Appropriated from the Reagan-era term used to describe how a country's "soft" assets such as culture, political values and foreign policies can be more influential than violence or coercion, the title SOFT POWER suggests a contemplation on the potential of art and offers a provocation to the public to exert their own influence on the world. The exhibition opens at the San Francisco Museum of Modern Art (SFMOMA) on October 26, 2019 and remains on view through February 17, 2020.
Organized by Eungie Joo, curator of contemporary art, and presented exclusively at SFMOMA on two floors of the museum, the exhibition features new and recent work by 20 international artists working in 12 countries. More than three quarters of the works in SOFT POWER are commissions and new works never before presented in the United States. Taken together, the works demonstrate what cultural theorist, filmmaker and catalogue contributor Manthia Diawara has called a solidarity between intuitions — a concept that acknowledges the complexity, darkness and opacity from which our reality emerges — the poetry and imagination of our differences. According to Joo, "Professor Diawara's solidarity between intuitions expresses how specific works can enhance our understanding of others by association and relation, while maintaining their distinct contexts and content. I trust the public can relate to many of the concerns of the artists in SOFT POWER, and hope that this exhibition will unleash an untapped energy among us."
"SOFT POWER reflects SFMOMA's commitment to living artists and the world we share, as outlined in our new Strategic Plan," said Neal Benezra, Helen and Charles Schwab Director of SFMOMA. "The diverse practices and perspectives represented in this exhibition embody the goals of this museum: to embrace new ideas, push boundaries and share new ways of looking at our world through the lens of contemporary art."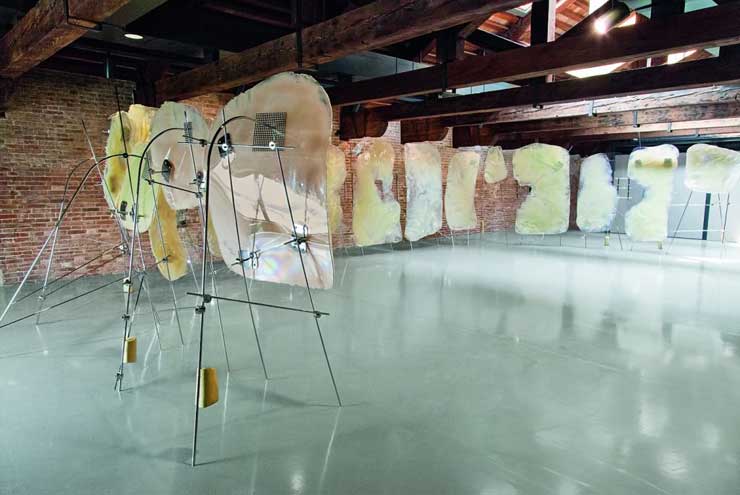 About the Exhibition
The majority of works in SOFT POWER have never been presented in the U.S., including the four-channel video installation The Specter of Ancestors Becoming (2019) by Tuan Nguyen, co-founder of The Propeller Group. Co-produced by SFMOMA and commissioned by the Sharjah Art Foundation, the work explores the creation of memory and the agency that affords. Nguyen's remarkable collaboration with descendants of French colonial soldiers once stationed in Vietnam — tirailleurs Sénégalais — features stories written by three members of the Vietnamese community in Senegal. Enacting fictionalized vignettes that reveal their own imaginings and experiences, his collaborators call forward the unresolved ghosts of history, receiving them with compassion and grace.
The 15 artists' commissions for SOFT POWER also include five new sculptures by Haig Aivazian that explore the relationship between mythology and nation-building; the installation Who's Afraid of Ideology, Part 2 by Marwa Arsanios; a site-responsive installation by Dineo Seshee Bopape; a new mural by Minerva Cuevas inspired by the history of Smokey the Bear and the environmental impact of fire; a sound sculpture enveloping the fourth floor by Cevdet Erek; a series of sculpture by Hassan Khan that echoes his concurrent solo exhibition at the Palacio de Cristal in Madrid; a performance and video by Tanya Lukin Linklater on encounter as a form of repatriation in collaboration with the Hearst Museum of Anthropology in Berkeley; an installation and photographic diptych by Cinthia Marcelle based on the traces of economic instability; a performance by Jason Moran in early 2020, along with a published conversation between Moran, IONE and Jessie Baird about the revolutionary power of the dream state; the first chapter of Carlos Motta's new project on LGBTQI Dreamers; four large-scale abstract paintings by San Francisco Art Institute alumnus Eamon Ore-Giron; ongoing research into the market potential of gas hydrate by Pratchaya Phinthong; Xaviera Simmons' enormous painting installation inspired by and responding to Jacob Lawrence's The Migration Series (1940–41); and a series of "flat" sculptures based on teepee covers by Duane Linklater. Highlighting the technology of mobile architecture, Linklater's new canvases patch together distant elements that comprise indigenous reality. Incorporating the ancient geometric patterns of the Omaskêko Cree, a large format inkjet printer and natural pigments that he harvests locally, Linklater produces objects masking their own purpose through their form: nonfunctioning teepee covers, now devoid of architectural purpose, but imbued with new cultural purpose.
SOFT POWER is also enlivened by several existing works, including a changing installation of five massive landscape drawings and tent from the durational performance Drawing a Line through Landscape by Nikhil Chopra at documenta 14; the premier of LaToya Ruby Frazier's, Flint is Family, Part 2, in which Shea Cobb and her daughter Zion escape the ongoing Flint water crisis and "return" to their inheritance in Mississippi; Hassan Khan's remarkable video installation Jewel (2010); a series of 15 banners and small abstract sculptures by Dave McKenzie; Pratchaya Phinthong's "documentation" of migrant bilberry pickers in Finnish Lapland, Give More Than You Take (2010); and a wall installation and sculptures by Tavares Strachan from his Invisibles series. The exhibition features two works by Nairy Baghramian, including Retainer (2013), produced for her first major exhibition in the U.S. and extending her examination of systems of power, context, architecture and the materiality of sculpture. In this work, chromed steel supports large translucent slabs of cast resin and silicon reminiscent of a dental or gynecological intervention in process, but at a scale that confronts the full body. Within the context of the exhibition, Baghramian's work suggests the temporal precision of physical states of matter, conjuring vast possibilities of adaptation, suffering and survival.
Full List of Artists Included in SOFT POWER:
Haig Aivazian (b. 1980, Beirut, Lebanon; lives and works in Beirut)
Marwa Arsanios (b. 1978, Washington, D.C.; lives and works in Beirut)
Nairy Baghramian (b. 1971, Isfahan, Iran; lives and works in Berlin)
Dineo Seshee Bopape (b. 1981, Polokwane, South Africa; lives and works in Johannesburg)
Nikhil Chopra (b. 1974, Kolkata, India; lives and works in Goa)
Minerva Cuevas (b. 1975, Mexico City, Mexico; lives and works in Mexico City)
Cevdet Erek (b. 1974, Istanbul, Turkey; lives and works in Istanbul)
LaToya Ruby Frazier (b. 1982, Braddock, Pennsylvania; lives and works in Chicago)
Hassan Khan (b. 1975, London, U.K.; lives and works in Cairo)
Duane Linklater (b. 1976, Ontario, Canada; lives and works in North Bay, Ontario)
Tanya Lukin Linklater (b. 1976, Kodiak, Alaska; lives and works in North Bay, Ontario)
Cinthia Marcelle (b. 1974, Belo Horizonte, Brazil; lives and works in São Paulo)
Dave McKenzie (b. 1977, Kingston, Jamaica; lives and works in Brooklyn)
Jason Moran (b. 1975, Houston, Texas; lives and works in New York)
Carlos Motta (b. 1978, Bogotá, Colombia; lives and works in New York)
Tuan Andrew Nguyen (b. 1976, Ho Chi Minh City, Vietnam; lives and works in Ho Chi Minh City)
Eamon Ore-Giron (b. 1973, Tucson, Arizona; lives and works in Los Angeles)
Pratchaya Phinthong (b. 1974, Ubon Ratchathani, Thailand; lives and works in Bangkok)
Xaviera Simmons (b. 1974, New York, New York; lives and works in New York)
Tavares Strachan (b. 1979, Nassau, Bahamas; lives and works in New York)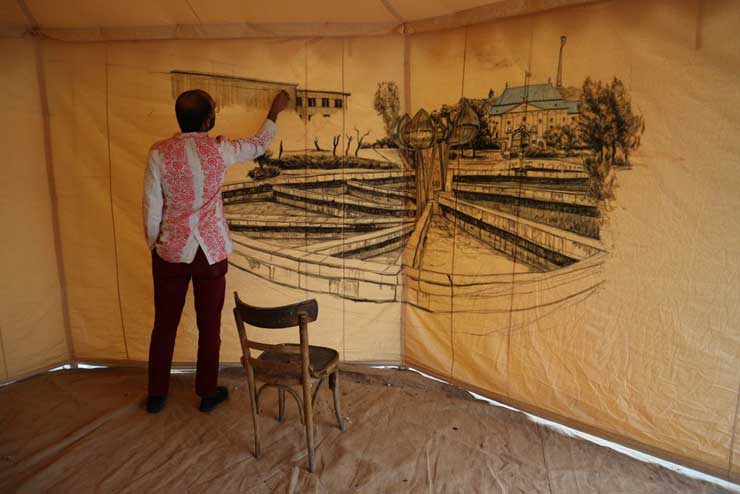 Programming
October 24 – Artists' talk with exhibition curator Eungie Joo
October–February
Open rehearsals by Tanya Lukin Linklater in the galleries
Performance by Jason Moran
LaToya Ruby Frazier and The Sister Tour
Conference on sexual orientation, gender identity, ethnicity and race at the border conceived by Carlos Motta in conjunction with the University of California, Santa Cruz
Organization + Support
Lead support for SOFT POWER is provided by The Fund for Contemporary Art. Generous support is provided by Diana Nelson and John Atwater.
About Eungie Joo, Curator of Contemporary Art
Eungie Joo joined the San Francisco Museum of Modern Art (SFMOMA) in 2017 as curator of contemporary art, a newly established role that supports the museum's mission to engage with the art and artists of our time. Previously Joo was curator of Sharjah Biennial 12: The past, the present, the possible (2015) in the United Arab Emirates. The exhibition included the work of over 50 artists and cultural practitioners from 25 countries and featured new works, performances and site-specific commissions by 36 of those artists, including SOFT POWER participating artists Nikhil Chopra, Hassan Khan and Cinthia Marcelle; as well as Julie Mehretu, Damián Ortega, Taro Shinoda, Adrián Villar Rojas, Haegue Yang and Lynette Yiadom-Boakye.
Joo was Keith Haring Director and Curator of Education and Public Programs at the New Museum in New York from 2007–12, where she spearheaded the Museum as Hub initiative and curated the 2012 New Museum Generational Triennial, The Ungovernables. She was artistic director of the 5th Anyang Public Art Project/APAP 5 (2016); director of art and cultural programs at Instituto Inhotim in Brazil (2012–14); commissioner for the Korean Pavilion at the 53rd Venice Biennale (2009); and founding director and curator of the Gallery at REDCAT in Los Angeles (2003–7). In addition to many other distinctions, Joo received the Walter Hopps Award for Curatorial Achievement in 2006. A frequent contributor to exhibition catalogues and magazines, she is editor of Rethinking Contemporary Art and Multicultural Education (Routledge, 2011) and co-editor of Art Spaces Directory (ArtAsiaPacific and New Museum, 2012). She received her doctorate in Ethnic Studies from the University of California at Berkeley.
Publication: Soft Power: A Conversation for the Future
The exhibition will be accompanied by a fully illustrated catalogue, Soft Power: A Conversation for the Future, with essays by artist Marwa Arsanios on Ecofeminism; filmmaker and cultural theorist Manthia Diawara on the poetic concepts of Edouard Glissant; Whitney Museum of American Art curator Adrienne Edwards on the state of time- based art; writer Yasmine El-Rashidi on the colonization of narrative: SOFT POWER curator Eungie Joo on the exhibition; and composer Jason Moran in conversation with playwright and poet IONE and linguist Jessie "Little Doe" Baird on dreams and their manifestations. In addition, each participating artist is profiled in a 6-8 page section featuring installation images of the exhibition and commissioned contributions by a striking lineup of curators, thinkers and writers including: Haytham el-Wardany on Haig Aivazian; Athena Athanasiou on Marwa Arsanios; Eungie Joo on Nairy Baghramian and Cinthia Marcelle; Portia Mahlodi "Uhuru" Phalafala in conversation with Dineo Seshee Bopape; Naeem Mohaiemen in conversation with Nikhil Chopra; Max Haiven on Minerva Cuevas; Cevdet Erek on his practice; LaToya Ruby Frazier on her project Flint as Family; Hassan Khan on the concepts at play in his work; a photo essay by Duane Linklater; Magdalyn Asimakis on Tanya Lukin-Linklater; Meg Onli in conversation with Dave McKenzie; Karma Chávez on Carlos Motta; Jovanna Venegas on Jason Moran; Koyo Kouoh in conversation with Tuan Andrew Nguyen; Marcela Guerrero on Eamon Ore-Giron; Thanavi Chotpradit on Pratchaya Phinthong; Brian Keith Jackson on Xaviera Simmons; and Stamatina Gregory on Tavares Strachan. The publication Soft Power: A Conversation for the Future is distributed by Rizzoli and will be available in January 2020.
UN Geneva open exhibition "The World In Faces"
On November 24, United Nations Geneva hosts "The World in Faces", an exhibition of photos by the renowned Russian photographer Alexander Khimushin. The artist personally presented a collection of artistic photos of representatives of different peoples of the world, photographed in authentic national costumes in their habitat. The 170 large artistic portraits of more than 100 indigenous peoples around the world are on display in the main hall of UN Geneva's Palais des Nations. A big part of the exhibition is dedicated to the indigenous communities of Russia's Siberia and the Far East.
"It is gratifying that the exhibition at the UN this year takes place as the world celebrates the International Human Rights Day. It is a great pride and honour for me to present my photo project at the UN, especially on this momentous day", said Alexander Khimushin.
The idea to create a collection of photographic portraits of indigenous peoples in national dress and in their native environment was born in 2014, when Alexander had already accumulated a considerable amount of work done in the most exotic locations – from Samoa and Fiji to Swaziland. Since then, he has never stopped traveling around the world, and his project is growing and becoming a phenomenon.
In 2018, Khimushin went to the Russian Arctic – Taimyr. The result was a series of portraits of the region's indigenous inhabitants – Dolgans, Nganasans, Enets, Nenets, Evenks.
"Taimyr is unique in that it is a distant, cold place. For me, this was not something new, since I grew up in Yakutia (the Far East of Russia is the cold pole on the planet), but it is the peoples living there – the Nenets, Dolgans, Nganasans, they have a unique culture, their way of life and reindeer husbandry have been preserved. It was interesting to visit, thanks to Norilsk Nickel (The world's largest producer of palladium, one of the largest producers of Nickel, platinum and copper), to get to these places. I would like to return to Taimyr, shoot more there, if there is such an opportunity, "the artist noted.
The Norilsk Nickel company, which takes an active part in the fate of the small peoples of the Arctic, supported the Khimushin project.
"Nornickel has always interacted with the indigenous peoples of the Russian North in an atmosphere of friendship and mutual assistance. This year, the company's relations with the indigenous peoples reached a new level. Based on the UN principles and objectives of sustainable development, we study, with the involvement of leading international experts and the scientific community, the socio-cultural specifics of indigenous life in Taimyr, and the traditions and historical memory of the peoples living in the region. This helps us make our support to indigenous peoples more targeted and effective. Cultural projects and support of traditional folklore and handicrafts are one of the most important components of our projects", said Mikhail Kuznetsov, Nornickel's Director of Federal and Regional Programmes.
Nornickel regularly participates in projects intended to foster economic and social development of Taimy's indigenous communities. In 2020, Nornickel signed a cooperation agreement with organisations representing the interests of the indigenous communities of the North inhabiting the Taimyr Peninsula. Together with them, and based on proposals from the chiefs of indigenous communities, a comprehensive plan for the development of the peoples was developed for a total of RUB 2 bn. The plan is designed for five years. The programme will run until 2024 and includes support for traditional activities, protection of the indigenous habitat, and financing of new homes, hospitals, museums etc.
The photo exhibition will run until December 10, 2021.
Sezzadio: The small village where the great history of the Aleramici began
Men and women of culture, united by the idea of the Euro-Mediterranean Federation on Ancient Medieval Migration, challenges this difficult period of the pandemic with new historical research activities to rediscover and transmit the desire to return to normality.
As part of the project of "Le Vie Aleramiche Normanno Sveve" in Sezzadio, a village near Alessandria where Aleramo was born had been visited on the initiative of the Mayor, Enzo Daniele, the Councilor for Culture Piercarla Bocchio and the local head of FAI Anna Maria Gobello, collected the texts to create an "Aleramici Library" which will be closely linked to the "Aleramici Research Center of Sezzadio". Two honorary presidents are members of our technical-scientific committee: Francesco Barone of the University of Catania, one of the leading experts in the Aleramici history of Sicily and Salvatore Lo Re, historian and President of the National History Society of Piazza Armerina, City of foundation aleramica which, soon, will see the Municipal Library enriched with a section dedicated to the study of its origins. Therefore, a study workshop will be commenced to work in synergy with the parallel Sicilian structure: the prestigious Palermo "Officina Studi Medievali" headed by Prof. Diego Ciccarelli.
Sezzadio, the place of origin of this fascinating story: it is said, in fact, that the noble Aleprando, on a pilgrimage to Rome, stopped in this small town near Acqui Terme with his wife about to give birth and that Aleramo was born here. The municipal administration of Sezzadio, after having already undertaken various projects to enhance the small center of Alessandria and installed explanatory signs at the entrance to the village to highlight its extraordinary historical importance, has enthusiastically joined the proposal of the promoters of the project, Fabrizio Di Salvo and the UNESCO Club of Piazza Armerina, (represented by the President Anna Maria Di Rosa Placa and the Secretary Lavinia Garsia) and took the opportunity to give life to a research center that will be formed in network with the Workshop of Medieval Studies in Palermo and the research activity in Piazza Armerina, a real study center dedicated to ancient medieval immigration "on the contrary".
The fundamental activity was Fabrizio Di Salvo's visit to Sezzadio last summer which allowed to define the membership of the Municipality of Sezzadio to the Euro-Mediterranean Federation on Ancient Medieval Migrations, by virtue of which it benefits from the support of the Coordinator for Northern Italy, Nadia Ghizzi.
The work of identifying the texts and training the library was supported by our technical-scientific committee which boasts among its ranks the Byzantinist Walter Haberstumpf, Prof. Salvatore Trovato, former professor of Linguistics and Glottology at the Department of Humanities of the University of Catania, the Director of Sibrium Magazine and President of the Center for Prehistoric and Archaeological Studies of Varese Lucilla Caramella, Luigi Piano, the President of "Italia Medievale", Maurizio Calì, (who collaborated directly in the creation of the library), as well as the teachers and researchers of prestigious international universities, such as the distinguished medievalist Henri Bresc and Joanna Drell of the University of Richmond in the USA.
To realize the intent of making culture available to all, it is essential to give our research a European breath and make people understand how much the history of the Middle Ages, which took place in a Europe different from the current one, was well-defined in its supranational scope. The project connected France, Italy, and Germany and, in particular, the Municipalities of Hauteville-La-Guichard in France, (where the myth has it that Tancredi, the future lord of Hauteville and progenitor of the Altavilla family, saves the life of Duke Riccardo II of Normandy on a hunting trip); of Göppingen, in Baden-Württemberg near Stuttgart, (where tradition has it that the Swabian dynasty was born) and of Piazza Armerina, a city in Sicily founded by Aleramici in the 12th century. The cultural triangulation will also expand in Sezzadio, in the spirit of continuing to create links between historically similar realities and, currently, it takes the form of collaboration between the municipal administrations, anticipating and preparing the future twinning.
Thanks to the dedication of those who embraced and developed the project from the beginning, today, the Euro Mediterranean Federation for Ancient Medieval Migrations stands out for the adhesion of important figures from the world of culture, of high-level institutions, such as the Library of Alexandria of Egypt, of numerous Italian Municipalities, of Universities and Associations. Despite the interruptions due to the pandemic, the Project has given rise to numerous initiatives such as conferences, lectures, and meetings, and the production of a documentary film shot in the European lands touched by this research: Piedmont, Sicily, France, Turkey, Germany, Greece, and Ukraine.
A powerful work, curated for four years by Fabrizio Di Salvo, which collects precious contributions from excellent scholars and returns the atmosphere of medieval Europe thanks to the choice of splendid locations, such as the Castle of Pomaro in Monferrato, to the costumes of the ancient Samantha Panza's "Principessa Valentina" tailoring from Asti-Italy and coordinated by Gianni Gallo. The exceptional protagonist is the actor Walter Siccardi, an extraordinary interpreter in the role of Aleramo. The shields that recall the emblems of the Aleramici dynasties and parts of the sets used for the shooting will be donated by the Euro-Mediterranean Federation to the Aleramici Research Center in Sezzadio.
We will continue our incessant work of research and historical reconstruction, hoping that it will create opportunities for recovery, resilience, and increasingly nourish the dialogue between people who are only apparently distant.
Squid Game, Style influence and Sustainable consumption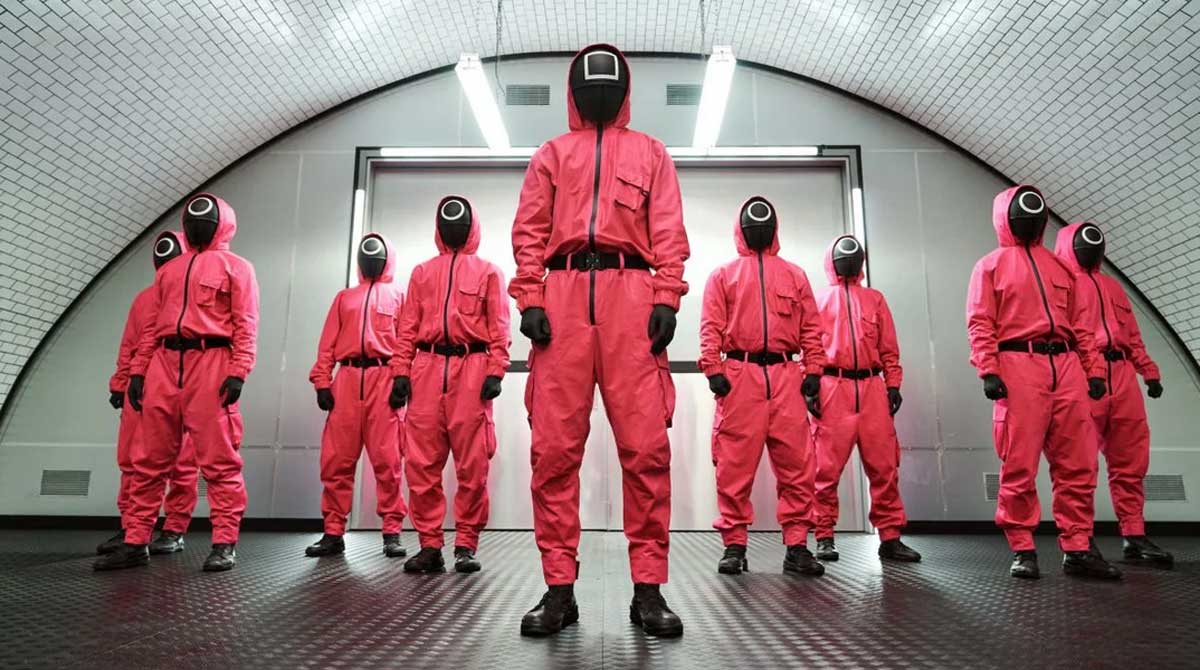 Have you heard about the recent South Korean drama blockbuster named Squid Game yet? It was released on Netflix on Sept. 17, 2021, and has quickly earned a worldwide audience. Since debuting, it has been viewed by more than 100 million people and has become the no. 1 trending in top 10 lists in 94 countries around the world.
Not only topped the list, but the South Korean drama has also created a trend that has influenced fashion style around the world and dominated the online platforms such as Google, Facebook, Instagram, and several online shopping websites: Amazon, eBay, Shoppee, and so on. On Google.com, you will find more than 223,000,000 results in only 0.53 seconds; on Amazon.com, the term "Squid Game costume" has also become a top finding, even when you have just typed only two characters "sq", the full term "Squid Game costume" will appear and you can find more than a thousand of results about this kind of clothes. 6,150 results for Squid Game costume appear when searching on eBay. On Instagram and Facebook, the hashtag #SquidGameCostume has recently become the most popular key hashtag and could be the influent style this winter.
Unlike trending superhero movies like Captain American, Avengers, with characters wearing specialized and inconvenient costumes for daily use, "Squid Game" is full of players wearing banal teal-green tracksuits. And this style of wearing tracksuits has been promoted by luxury fashion brands such as Louis Vuitton and Channel in recent years, because of its convenience and full of fashion, suitable for almost everyone from children, young people, and adults. That's why the seemingly simple tracksuits in "Squid Game" turned out to be more trending.
The green tracksuit will likely become popular because of its convenience and ease of production, but it's not the only known outfit, one that's probably even more sought-after is the set of hot pink boiler suits and black masks watch the spectacle. Halloween is just around the corner, this type of costume has the potentiality to become another "red jumpsuits and Salvador Dalí masks" – a phenomenon that comes from the previous hit Money Heist. Clearly, Squid Game costume could be a perfect choice for the one who is looking for the new and trending Halloween costume, and fashion influencers may have to queue in line after Squid Game this Halloween and winter.
With marketing strategies in all aspects that an ordinary person can reach just by picking up the smartphone, it is not difficult for "Squid Game" to be accessible through advertisements, and finding a way to win in marketing could be more easily for fashion companies and even companies that are not engaged in the fashion industry. Netflix even sells Squid Game t-shirts and hoodies on its website, and it seems that marketing the products of trending movies will become the marketing trend in the future.
However, from the environmentalist or sustainable consumption supporters' perspective, the influences of the fads can go against what they're pursuing. Sustainable consumption is the use of services and related products, which responds to basic needs and brings a better quality of life while minimizing the use of natural resources and toxic materials as well as the emissions of waste and pollutants over the life cycle of the service or product so as not to jeopardize the needs of future generations. Sustainable consumption is closely related to sustainable production and sustainable lifestyles. When thinking about the relationship of a hot trend like Squid Game and its influence, we could see the 4M plus model (4M +) including Mass media marketing -Mass outfit obsession – Mass production – Mass consumption, and the plus could be the Mass damage for the environment. It may seem to be not a kind of mass production if it only happens once in a blue moon and only happens for one movie/show, but in fact, it is an unstoppable game that every director wants to win. Fashion's influence could be a tool to reach the top trending show of the year and also be a push for the fashion industry and consumption later.
So, is the top trending show doing well in marketing and promoting fashion consumption by creating style influence, definitely Yes, but is it promoting sustainable consumption? I am not sure.