SFMOMA Announces SOFT POWER — International Contemporary Exhibition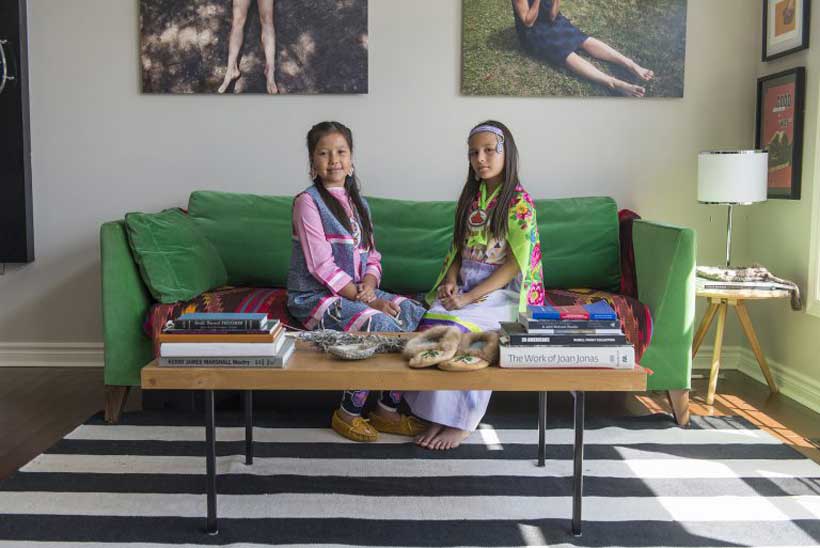 Timely and provocative, SOFT POWER is an exhibition about the ways in which artists deploy art to explore their roles as citizens and social actors. Appropriated from the Reagan-era term used to describe how a country's "soft" assets such as culture, political values and foreign policies can be more influential than violence or coercion, the title SOFT POWER suggests a contemplation on the potential of art and offers a provocation to the public to exert their own influence on the world. The exhibition opens at the San Francisco Museum of Modern Art (SFMOMA) on October 26, 2019 and remains on view through February 17, 2020.
Organized by Eungie Joo, curator of contemporary art, and presented exclusively at SFMOMA on two floors of the museum, the exhibition features new and recent work by 20 international artists working in 12 countries. More than three quarters of the works in SOFT POWER are commissions and new works never before presented in the United States. Taken together, the works demonstrate what cultural theorist, filmmaker and catalogue contributor Manthia Diawara has called a solidarity between intuitions — a concept that acknowledges the complexity, darkness and opacity from which our reality emerges — the poetry and imagination of our differences. According to Joo, "Professor Diawara's solidarity between intuitions expresses how specific works can enhance our understanding of others by association and relation, while maintaining their distinct contexts and content. I trust the public can relate to many of the concerns of the artists in SOFT POWER, and hope that this exhibition will unleash an untapped energy among us."
"SOFT POWER reflects SFMOMA's commitment to living artists and the world we share, as outlined in our new Strategic Plan," said Neal Benezra, Helen and Charles Schwab Director of SFMOMA. "The diverse practices and perspectives represented in this exhibition embody the goals of this museum: to embrace new ideas, push boundaries and share new ways of looking at our world through the lens of contemporary art."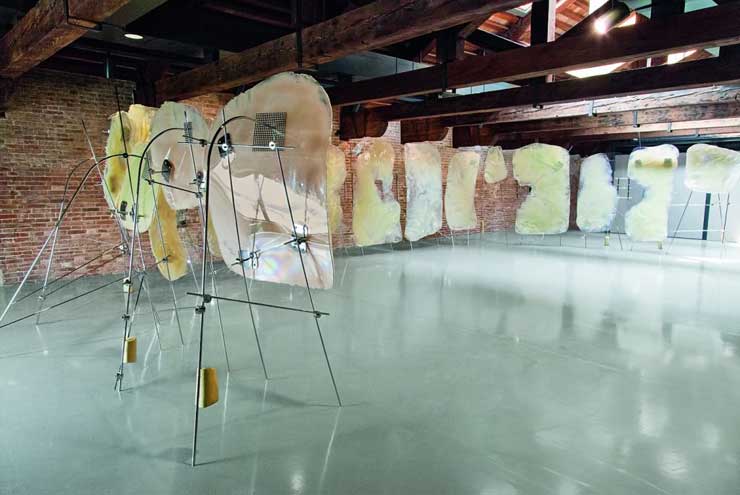 About the Exhibition
The majority of works in SOFT POWER have never been presented in the U.S., including the four-channel video installation The Specter of Ancestors Becoming (2019) by Tuan Nguyen, co-founder of The Propeller Group. Co-produced by SFMOMA and commissioned by the Sharjah Art Foundation, the work explores the creation of memory and the agency that affords. Nguyen's remarkable collaboration with descendants of French colonial soldiers once stationed in Vietnam — tirailleurs Sénégalais — features stories written by three members of the Vietnamese community in Senegal. Enacting fictionalized vignettes that reveal their own imaginings and experiences, his collaborators call forward the unresolved ghosts of history, receiving them with compassion and grace.
The 15 artists' commissions for SOFT POWER also include five new sculptures by Haig Aivazian that explore the relationship between mythology and nation-building; the installation Who's Afraid of Ideology, Part 2 by Marwa Arsanios; a site-responsive installation by Dineo Seshee Bopape; a new mural by Minerva Cuevas inspired by the history of Smokey the Bear and the environmental impact of fire; a sound sculpture enveloping the fourth floor by Cevdet Erek; a series of sculpture by Hassan Khan that echoes his concurrent solo exhibition at the Palacio de Cristal in Madrid; a performance and video by Tanya Lukin Linklater on encounter as a form of repatriation in collaboration with the Hearst Museum of Anthropology in Berkeley; an installation and photographic diptych by Cinthia Marcelle based on the traces of economic instability; a performance by Jason Moran in early 2020, along with a published conversation between Moran, IONE and Jessie Baird about the revolutionary power of the dream state; the first chapter of Carlos Motta's new project on LGBTQI Dreamers; four large-scale abstract paintings by San Francisco Art Institute alumnus Eamon Ore-Giron; ongoing research into the market potential of gas hydrate by Pratchaya Phinthong; Xaviera Simmons' enormous painting installation inspired by and responding to Jacob Lawrence's The Migration Series (1940–41); and a series of "flat" sculptures based on teepee covers by Duane Linklater. Highlighting the technology of mobile architecture, Linklater's new canvases patch together distant elements that comprise indigenous reality. Incorporating the ancient geometric patterns of the Omaskêko Cree, a large format inkjet printer and natural pigments that he harvests locally, Linklater produces objects masking their own purpose through their form: nonfunctioning teepee covers, now devoid of architectural purpose, but imbued with new cultural purpose.
SOFT POWER is also enlivened by several existing works, including a changing installation of five massive landscape drawings and tent from the durational performance Drawing a Line through Landscape by Nikhil Chopra at documenta 14; the premier of LaToya Ruby Frazier's, Flint is Family, Part 2, in which Shea Cobb and her daughter Zion escape the ongoing Flint water crisis and "return" to their inheritance in Mississippi; Hassan Khan's remarkable video installation Jewel (2010); a series of 15 banners and small abstract sculptures by Dave McKenzie; Pratchaya Phinthong's "documentation" of migrant bilberry pickers in Finnish Lapland, Give More Than You Take (2010); and a wall installation and sculptures by Tavares Strachan from his Invisibles series. The exhibition features two works by Nairy Baghramian, including Retainer (2013), produced for her first major exhibition in the U.S. and extending her examination of systems of power, context, architecture and the materiality of sculpture. In this work, chromed steel supports large translucent slabs of cast resin and silicon reminiscent of a dental or gynecological intervention in process, but at a scale that confronts the full body. Within the context of the exhibition, Baghramian's work suggests the temporal precision of physical states of matter, conjuring vast possibilities of adaptation, suffering and survival.
Full List of Artists Included in SOFT POWER:
Haig Aivazian (b. 1980, Beirut, Lebanon; lives and works in Beirut)
Marwa Arsanios (b. 1978, Washington, D.C.; lives and works in Beirut)
Nairy Baghramian (b. 1971, Isfahan, Iran; lives and works in Berlin)
Dineo Seshee Bopape (b. 1981, Polokwane, South Africa; lives and works in Johannesburg)
Nikhil Chopra (b. 1974, Kolkata, India; lives and works in Goa)
Minerva Cuevas (b. 1975, Mexico City, Mexico; lives and works in Mexico City)
Cevdet Erek (b. 1974, Istanbul, Turkey; lives and works in Istanbul)
LaToya Ruby Frazier (b. 1982, Braddock, Pennsylvania; lives and works in Chicago)
Hassan Khan (b. 1975, London, U.K.; lives and works in Cairo)
Duane Linklater (b. 1976, Ontario, Canada; lives and works in North Bay, Ontario)
Tanya Lukin Linklater (b. 1976, Kodiak, Alaska; lives and works in North Bay, Ontario)
Cinthia Marcelle (b. 1974, Belo Horizonte, Brazil; lives and works in São Paulo)
Dave McKenzie (b. 1977, Kingston, Jamaica; lives and works in Brooklyn)
Jason Moran (b. 1975, Houston, Texas; lives and works in New York)
Carlos Motta (b. 1978, Bogotá, Colombia; lives and works in New York)
Tuan Andrew Nguyen (b. 1976, Ho Chi Minh City, Vietnam; lives and works in Ho Chi Minh City)
Eamon Ore-Giron (b. 1973, Tucson, Arizona; lives and works in Los Angeles)
Pratchaya Phinthong (b. 1974, Ubon Ratchathani, Thailand; lives and works in Bangkok)
Xaviera Simmons (b. 1974, New York, New York; lives and works in New York)
Tavares Strachan (b. 1979, Nassau, Bahamas; lives and works in New York)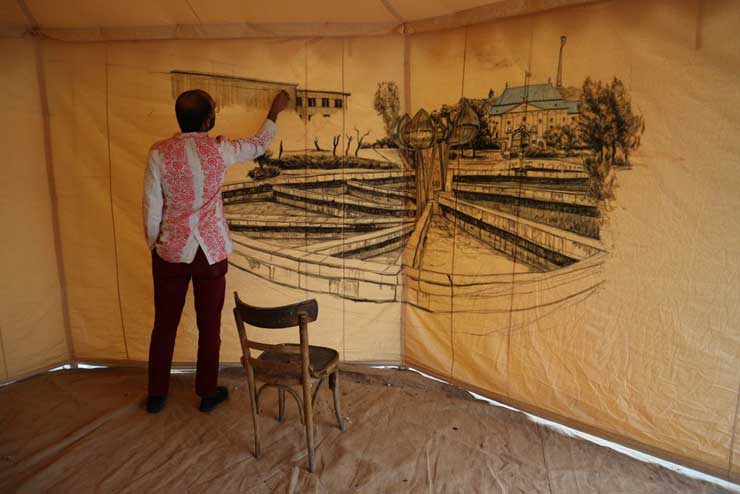 Programming
October 24 – Artists' talk with exhibition curator Eungie Joo
October–February
Open rehearsals by Tanya Lukin Linklater in the galleries
Performance by Jason Moran
LaToya Ruby Frazier and The Sister Tour
Conference on sexual orientation, gender identity, ethnicity and race at the border conceived by Carlos Motta in conjunction with the University of California, Santa Cruz
Organization + Support
Lead support for SOFT POWER is provided by The Fund for Contemporary Art. Generous support is provided by Diana Nelson and John Atwater.
About Eungie Joo, Curator of Contemporary Art
Eungie Joo joined the San Francisco Museum of Modern Art (SFMOMA) in 2017 as curator of contemporary art, a newly established role that supports the museum's mission to engage with the art and artists of our time. Previously Joo was curator of Sharjah Biennial 12: The past, the present, the possible (2015) in the United Arab Emirates. The exhibition included the work of over 50 artists and cultural practitioners from 25 countries and featured new works, performances and site-specific commissions by 36 of those artists, including SOFT POWER participating artists Nikhil Chopra, Hassan Khan and Cinthia Marcelle; as well as Julie Mehretu, Damián Ortega, Taro Shinoda, Adrián Villar Rojas, Haegue Yang and Lynette Yiadom-Boakye.
Joo was Keith Haring Director and Curator of Education and Public Programs at the New Museum in New York from 2007–12, where she spearheaded the Museum as Hub initiative and curated the 2012 New Museum Generational Triennial, The Ungovernables. She was artistic director of the 5th Anyang Public Art Project/APAP 5 (2016); director of art and cultural programs at Instituto Inhotim in Brazil (2012–14); commissioner for the Korean Pavilion at the 53rd Venice Biennale (2009); and founding director and curator of the Gallery at REDCAT in Los Angeles (2003–7). In addition to many other distinctions, Joo received the Walter Hopps Award for Curatorial Achievement in 2006. A frequent contributor to exhibition catalogues and magazines, she is editor of Rethinking Contemporary Art and Multicultural Education (Routledge, 2011) and co-editor of Art Spaces Directory (ArtAsiaPacific and New Museum, 2012). She received her doctorate in Ethnic Studies from the University of California at Berkeley.
Publication: Soft Power: A Conversation for the Future
The exhibition will be accompanied by a fully illustrated catalogue, Soft Power: A Conversation for the Future, with essays by artist Marwa Arsanios on Ecofeminism; filmmaker and cultural theorist Manthia Diawara on the poetic concepts of Edouard Glissant; Whitney Museum of American Art curator Adrienne Edwards on the state of time- based art; writer Yasmine El-Rashidi on the colonization of narrative: SOFT POWER curator Eungie Joo on the exhibition; and composer Jason Moran in conversation with playwright and poet IONE and linguist Jessie "Little Doe" Baird on dreams and their manifestations. In addition, each participating artist is profiled in a 6-8 page section featuring installation images of the exhibition and commissioned contributions by a striking lineup of curators, thinkers and writers including: Haytham el-Wardany on Haig Aivazian; Athena Athanasiou on Marwa Arsanios; Eungie Joo on Nairy Baghramian and Cinthia Marcelle; Portia Mahlodi "Uhuru" Phalafala in conversation with Dineo Seshee Bopape; Naeem Mohaiemen in conversation with Nikhil Chopra; Max Haiven on Minerva Cuevas; Cevdet Erek on his practice; LaToya Ruby Frazier on her project Flint as Family; Hassan Khan on the concepts at play in his work; a photo essay by Duane Linklater; Magdalyn Asimakis on Tanya Lukin-Linklater; Meg Onli in conversation with Dave McKenzie; Karma Chávez on Carlos Motta; Jovanna Venegas on Jason Moran; Koyo Kouoh in conversation with Tuan Andrew Nguyen; Marcela Guerrero on Eamon Ore-Giron; Thanavi Chotpradit on Pratchaya Phinthong; Brian Keith Jackson on Xaviera Simmons; and Stamatina Gregory on Tavares Strachan. The publication Soft Power: A Conversation for the Future is distributed by Rizzoli and will be available in January 2020.
Daisy Rockwell on translating
To communicate effectively, one must learn as many languages as possible. And if it is not possible to do that, one must ideally try to use translations to draw deeper connections with individuals across borders of language. Translations are an important part of intercultural awareness and understanding. In Literature too, translations help to make texts more accessible globally as well as increase understanding about culture from a global standpoint. I came across Daisy Rockwell on book influencer pages on Instagram where they spoke about her award winning translations. Being a sucker for travel and understanding diverse cultures, I knew I had to talk to Daisy about her experiences with languages and translation.
Daisy Rockwell is an award-winning translator of Hindi and Urdu literature, and artist, living in the United States. One of her recent translation works – "Tomb of Sand" has been nominated and awarded several literary prizes. In this interview, we take a closer look at her translations works.
What got you interested in translating Hindi and attracted you about the language?
I started learning Hindi in college because I loved learning languages and wanted to learn something totally unfamiliar to me. In graduate school, my mentors, AK Ramanujan and Colin P Masica encouraged me to try my hand at translation.
In many Indian elite schools, Hindi is not preferred by students and parents alike. What are your thoughts on that?
English is the global lingua franca, so many people around the world are eager to master it. But the attraction to English is also a relic of colonialism–that sense of insecurity that Indian languages are somehow not good enough. It's not true, of course!
What is your favourite part of the book – 'Tomb of Sand'?
Tomb of Sand is so rich and varied that I have many favourite sections. I love the part when the son, Bade, perches in a tree full of crows and remembers his mother's saris. I also love the episode of the Serious Son. But really, it's hard to pick.
Why did you choose 'Tomb of Sand' to translate from Hindi to English?
The Bangla translator Arunava Sinha approached me about the project, because Deborah Smith, founder of Tilted Axis Press in the UK, was keen to publish it. Arunava brought me and Geetanjali together.
How can we encourage more youth to speak and stay connected with local languages?
Well that I don't know! I notice that many people have started reading Tomb of Sand and the original Hindi, Ret Samadhi, side by side, and I love that. I wonder if dual language publications would help people get excited about local languages.
What are other books you are translating or plan to translate in the future?
I am working on Channa, Krishna Sobti's first novel that was never published until shortly before her death, and Rukogi Nahin, Radhika? by Usha Priyamvada.
What other languages intrigue you? How do you plan to further your interest in them professionally?
I don't know if I will ever learn another language well enough to translate it. But during the pandemic I have been having great fun learning Korean using Duolingo and other online language learning apps.
What are some of your favourite books that you recommend to our readers?
I can't resist recommending my own! The Women's Courtyard, by Khadija Mastur, and Falling Walls, by Upendranath Ashk, both translated by me.
Namita Gokhale – The name behind Jaipur Literature Festival
A woman who wears many hats and an inspiration for writers across India, Namita Gokhale carries a vibrant persona of enthusiasm for art and ideas. A busy woman indeed with multiple projects to manage and juggle, Gokhale is best known as co-founder of the infamous Jaipur Literature Fest which attracts writers, readers and aspiring authors from across the world. Truly putting Jaipur on the world map and attracting many travellers to the well-deserved pink city, well known for palaces, forts, royalty and inspiration alike, Gokhale has added a fresh charm of literature to the city over the years. Now an intellectual hub, a melting pot for writers, Jaipur owes many a great thanks and gratitude to Gokhale for the reputation the lit fest has earned over the years.
As an aspiring author myself, co-incidentally I found myself in Jaipur while I was on a call with Namita Gokhale. Fascinated to be in her company on call and privileged to have my ideas heard by her, I couldn't help but reflect on how the Lit Fest has transformed over the years. In this short interview, Gokhale reflects light on the Jaipur Literature Festival (JLF), authors at the fest, her personal favourite books and ideas on literature. Having inspired the youth of India with her ideas and impact, she continues to be humble about her experiences. It is every aspiring writer's dream in India to attend and speak at the Jaipur Literature Festival, and it is Namita Gokhale who stands behind fuelling the dreams and sparking higher creativity among the youth of India. Before we even start the interview, I want to say – Thank You.
What inspired you to start Jaipur Literature Fest?

The Jaipur Literature Festival was set up by me and William Dalrymple, and so many others, in an effort to bring readers and writers from India and around the world to speak about their books and creative process. It was propelled and inspired by a love of literature.

How are the speakers for the fest chosen each year?

William and I draw up our short lists. Sanjoy Roy of Teamworks, the producers of the festival, shares his ideas and suggestions. Our diverse interests and perspectives provide the festival the 360 degree range and depth that gives it such a unique flavour and personality

How was the fest alive and active during times like the pandemic?

We began with a series of digital sessions titled 'Brave New World' – and added new sub-themes and editions, learning on the job as we went along. We have an enormous digital outreach, across continents and time bands, and our recent hybrid edition was a huge success both on line and on ground.

How can literary fests reach more people in the comfort of their homes?

Literary editions have already acquired the extra dimension of view-from-home …and they will become more immersive and participatory with the passage of time.

What was the response at the fest like this year?

The digital editions drew vast audiences. The on ground festival at Jaipur was a spectacular success and received an emotive response from writers and readers alike. Human contact is so vital to communication.

With apps like Audible, what is the future of the written word?

I believe in the future of the spoken word, which is such an intrinsic part of the narrative process. Audio brings the voice back to the word, adding an important sensory dimension to the text.

What was your personal favourite read recently?

I loved reading 'Tomb of Sand' – Daisy Rockwell's vibrant English translation of Geetanjali Shree's brilliant Hindi novel 'Ret Samadhi'. It truly deserved its place in the international Booker shortlist.
Indonesia's opportunity to maximize cultural identity through Indonesian Style Muslim Fashion
Indonesia is a country rich in cultural diversity, where the diversity of Indonesian culture is not only culture from the aspect of dance and music, but Indonesia is also a country rich in creativity in the field of industrial art, especially industrial fashion through Muslim fashion combined with clothing patterns that introduce Indonesian culture. This can be proven by Indonesia being targeted as the center of the global halal industry through Muslim fashion products which are potential commodities for the international market (Susilawati, 2021, #). Where the patterns given on the clothes are an Indonesian art that not only has values ​​in appearance, but batik also has beauty on the spiritual side which through the patterns formed in local pattern cloth, it also has deep philosophical meaning through its decoration. Some of the factors that influence the formation of the Indonesian style include geographical location, nature, regional livelihoods, beliefs, and customs in an area, as well as the surrounding natural conditions including flora and fauna. Indonesia's excellence in the art of the Muslim fashion industry through Indonesian patterns can be an opportunity for Indonesia to be maximized. According to the Indonesian Stock Exchange channel, the Vice President of Indonesia, Ma'ruf Amin at the Road to Jakarta Muslim Fashion Week event in 2022, explained that Indonesian Muslim fashion currently reflects the cultural diversity of the archipelago (Mufrida, 2022). Indonesian Muslim clothing has its own uniqueness in the patterns that are in Muslim clothing.
Where this Indonesian Muslim dress still follows the rules of Muslim fashion, but the clothes show that the style and uniqueness of Muslim clothing are different in each region of Indonesia. This shows that this cultural wealth provides a great opportunity for Indonesia to become the creator of Muslim fashion trends in the world. through Indonesia's innovation in creating clothing motifs in Muslim fashion. The world of fashion has a huge potential to be able to move the community's economy (Kawilarang, 2014). The creative resources and abundant cultural heritage, a large population rich in innovation can be a potential for Indonesia to become a world fashion center, especially for Muslim fashion. Because at this time the Muslim fashion world continues to develop with the emergence of many Hijabers communities so that there are many Muslim fashion festivals, bazaars, and Muslim shows in the world. This shows that Indonesia must maximize its potential in introducing the nation's identity through the patterns that are in every Indonesian fashion, where these patterns can be an inspiration to the world through the beauty of Indonesian patterns that are displayed. To Improve Indonesian Muslim fashion requires a lot of involvement in participating to contribute to improving Muslim fashion trends. Not only a designer, in improving Indonesian Muslim fashion, also needs the involvement of other actors who can provide education, mentoring, capital, and marketing to introduce the importance of producing Indonesian fashion with an Indonesian style. Due to the absence of education, mentoring, capital, and marketing, people who are experts in fashion will reduce interest in producing Indonesian-style Muslim fashion, which they prefer to produce more modern clothes without highlighting Indonesian patterns on the clothes. In addition, overseas institutions, through Indonesian diaspora agencies abroad, participate in promoting Indonesian fashion. The promotion of Indonesian patterns through Muslim clothing, it can be an indirect Indonesian communication medium to convey the richness of Indonesian cultural identity through the patterns in every Muslim clothing that is produced. Improving and maximizing the Indonesian Muslim fashion industry sector, which is currently the world's concern, it can be one of the contributors to the national economy, creating jobs, and building a culture-based national economic independence.
Because Indonesia is rich in cultural heritage, and this cultural heritage needs to be maintained so that Indonesia does not lose its original identity. This is because in the era of globalization the identity and characteristics of Indonesian culture are declining. Due to the many modern influences and leaving the Indonesian culture behind. Because the root of Indonesian identity is the cultural wealth that has been owned since the first. Therefore, by increasing the production of Indonesian-style Muslim fashion, it can help Indonesia so that Indonesian culture can continue to be seen and felt by many people through clothing. The existence of this Indonesian-style Muslim fashion, it can indirectly help the role of the state in creating a good image of the country abroad. Because the face-to-face strategy in conveying the image of Indonesia through international forums is not enough. However, other strategies are needed to create Indonesian public diplomacy as an indirect strategy for Indonesia by enhancing the image of Indonesia's identity that is sustainable, and long-term. Through Muslim fashion, the Indonesian style can be a good choice that can contribute to promoting and introducing Indonesian identity not only in the country but abroad as well.
The existence of international community knowledge of Indonesian culture and interest in Indonesian-style Muslim fashion trends, not only has a positive impact on the Indonesian economy but also has a positive impact on the existence of Indonesian cultural heritage so that it can be recognized and become an Indonesian strategy for branding a country through the beauty of the Indonesian style in Muslim fashion which is promoted and introduced by the international community. Therefore, by continuing to improve Muslim fashion through Indonesian styles, this can be an opportunity for Indonesia that can be carried out consistently and can become an Indonesian strategy where this strategy will have a good impact on various aspects including the economic aspect, increasing the identity of a country. country, and create a good image of Indonesia. Which patterns are found in Indonesian Muslim fashion, not just ordinary patterns, but Indonesian patterns have their own meanings that come from various regions in Indonesia. Therefore, Indonesia is needed to maximize this opportunity to maintain a cultural heritage that can become an Indonesian identity abroad.