SFMOMA Announces SOFT POWER — International Contemporary Exhibition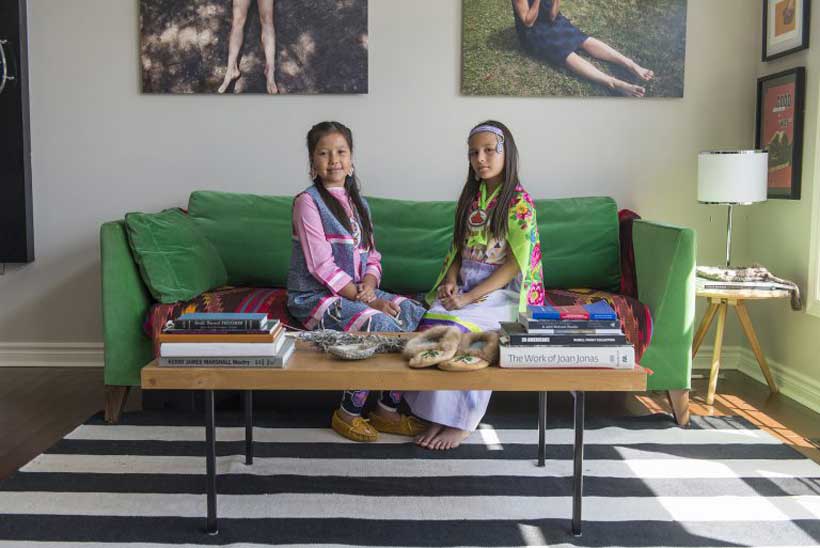 Timely and provocative, SOFT POWER is an exhibition about the ways in which artists deploy art to explore their roles as citizens and social actors. Appropriated from the Reagan-era term used to describe how a country's "soft" assets such as culture, political values and foreign policies can be more influential than violence or coercion, the title SOFT POWER suggests a contemplation on the potential of art and offers a provocation to the public to exert their own influence on the world. The exhibition opens at the San Francisco Museum of Modern Art (SFMOMA) on October 26, 2019 and remains on view through February 17, 2020.
Organized by Eungie Joo, curator of contemporary art, and presented exclusively at SFMOMA on two floors of the museum, the exhibition features new and recent work by 20 international artists working in 12 countries. More than three quarters of the works in SOFT POWER are commissions and new works never before presented in the United States. Taken together, the works demonstrate what cultural theorist, filmmaker and catalogue contributor Manthia Diawara has called a solidarity between intuitions — a concept that acknowledges the complexity, darkness and opacity from which our reality emerges — the poetry and imagination of our differences. According to Joo, "Professor Diawara's solidarity between intuitions expresses how specific works can enhance our understanding of others by association and relation, while maintaining their distinct contexts and content. I trust the public can relate to many of the concerns of the artists in SOFT POWER, and hope that this exhibition will unleash an untapped energy among us."
"SOFT POWER reflects SFMOMA's commitment to living artists and the world we share, as outlined in our new Strategic Plan," said Neal Benezra, Helen and Charles Schwab Director of SFMOMA. "The diverse practices and perspectives represented in this exhibition embody the goals of this museum: to embrace new ideas, push boundaries and share new ways of looking at our world through the lens of contemporary art."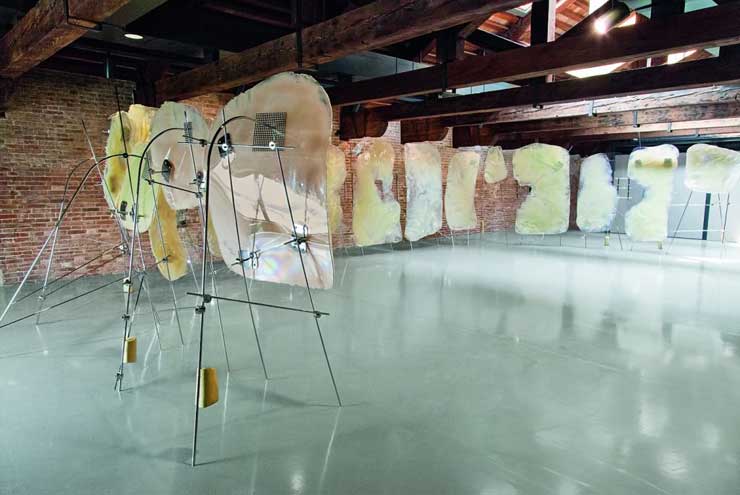 About the Exhibition
The majority of works in SOFT POWER have never been presented in the U.S., including the four-channel video installation The Specter of Ancestors Becoming (2019) by Tuan Nguyen, co-founder of The Propeller Group. Co-produced by SFMOMA and commissioned by the Sharjah Art Foundation, the work explores the creation of memory and the agency that affords. Nguyen's remarkable collaboration with descendants of French colonial soldiers once stationed in Vietnam — tirailleurs Sénégalais — features stories written by three members of the Vietnamese community in Senegal. Enacting fictionalized vignettes that reveal their own imaginings and experiences, his collaborators call forward the unresolved ghosts of history, receiving them with compassion and grace.
The 15 artists' commissions for SOFT POWER also include five new sculptures by Haig Aivazian that explore the relationship between mythology and nation-building; the installation Who's Afraid of Ideology, Part 2 by Marwa Arsanios; a site-responsive installation by Dineo Seshee Bopape; a new mural by Minerva Cuevas inspired by the history of Smokey the Bear and the environmental impact of fire; a sound sculpture enveloping the fourth floor by Cevdet Erek; a series of sculpture by Hassan Khan that echoes his concurrent solo exhibition at the Palacio de Cristal in Madrid; a performance and video by Tanya Lukin Linklater on encounter as a form of repatriation in collaboration with the Hearst Museum of Anthropology in Berkeley; an installation and photographic diptych by Cinthia Marcelle based on the traces of economic instability; a performance by Jason Moran in early 2020, along with a published conversation between Moran, IONE and Jessie Baird about the revolutionary power of the dream state; the first chapter of Carlos Motta's new project on LGBTQI Dreamers; four large-scale abstract paintings by San Francisco Art Institute alumnus Eamon Ore-Giron; ongoing research into the market potential of gas hydrate by Pratchaya Phinthong; Xaviera Simmons' enormous painting installation inspired by and responding to Jacob Lawrence's The Migration Series (1940–41); and a series of "flat" sculptures based on teepee covers by Duane Linklater. Highlighting the technology of mobile architecture, Linklater's new canvases patch together distant elements that comprise indigenous reality. Incorporating the ancient geometric patterns of the Omaskêko Cree, a large format inkjet printer and natural pigments that he harvests locally, Linklater produces objects masking their own purpose through their form: nonfunctioning teepee covers, now devoid of architectural purpose, but imbued with new cultural purpose.
SOFT POWER is also enlivened by several existing works, including a changing installation of five massive landscape drawings and tent from the durational performance Drawing a Line through Landscape by Nikhil Chopra at documenta 14; the premier of LaToya Ruby Frazier's, Flint is Family, Part 2, in which Shea Cobb and her daughter Zion escape the ongoing Flint water crisis and "return" to their inheritance in Mississippi; Hassan Khan's remarkable video installation Jewel (2010); a series of 15 banners and small abstract sculptures by Dave McKenzie; Pratchaya Phinthong's "documentation" of migrant bilberry pickers in Finnish Lapland, Give More Than You Take (2010); and a wall installation and sculptures by Tavares Strachan from his Invisibles series. The exhibition features two works by Nairy Baghramian, including Retainer (2013), produced for her first major exhibition in the U.S. and extending her examination of systems of power, context, architecture and the materiality of sculpture. In this work, chromed steel supports large translucent slabs of cast resin and silicon reminiscent of a dental or gynecological intervention in process, but at a scale that confronts the full body. Within the context of the exhibition, Baghramian's work suggests the temporal precision of physical states of matter, conjuring vast possibilities of adaptation, suffering and survival.
Full List of Artists Included in SOFT POWER:
Haig Aivazian (b. 1980, Beirut, Lebanon; lives and works in Beirut)
Marwa Arsanios (b. 1978, Washington, D.C.; lives and works in Beirut)
Nairy Baghramian (b. 1971, Isfahan, Iran; lives and works in Berlin)
Dineo Seshee Bopape (b. 1981, Polokwane, South Africa; lives and works in Johannesburg)
Nikhil Chopra (b. 1974, Kolkata, India; lives and works in Goa)
Minerva Cuevas (b. 1975, Mexico City, Mexico; lives and works in Mexico City)
Cevdet Erek (b. 1974, Istanbul, Turkey; lives and works in Istanbul)
LaToya Ruby Frazier (b. 1982, Braddock, Pennsylvania; lives and works in Chicago)
Hassan Khan (b. 1975, London, U.K.; lives and works in Cairo)
Duane Linklater (b. 1976, Ontario, Canada; lives and works in North Bay, Ontario)
Tanya Lukin Linklater (b. 1976, Kodiak, Alaska; lives and works in North Bay, Ontario)
Cinthia Marcelle (b. 1974, Belo Horizonte, Brazil; lives and works in São Paulo)
Dave McKenzie (b. 1977, Kingston, Jamaica; lives and works in Brooklyn)
Jason Moran (b. 1975, Houston, Texas; lives and works in New York)
Carlos Motta (b. 1978, Bogotá, Colombia; lives and works in New York)
Tuan Andrew Nguyen (b. 1976, Ho Chi Minh City, Vietnam; lives and works in Ho Chi Minh City)
Eamon Ore-Giron (b. 1973, Tucson, Arizona; lives and works in Los Angeles)
Pratchaya Phinthong (b. 1974, Ubon Ratchathani, Thailand; lives and works in Bangkok)
Xaviera Simmons (b. 1974, New York, New York; lives and works in New York)
Tavares Strachan (b. 1979, Nassau, Bahamas; lives and works in New York)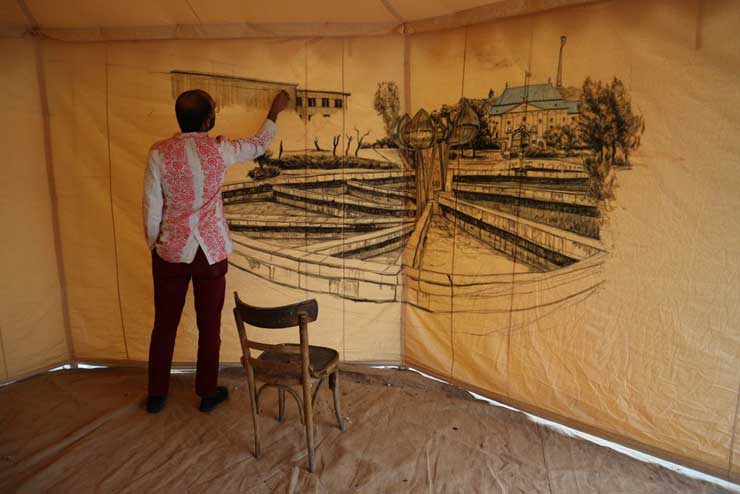 Programming
October 24 – Artists' talk with exhibition curator Eungie Joo
October–February
Open rehearsals by Tanya Lukin Linklater in the galleries
Performance by Jason Moran
LaToya Ruby Frazier and The Sister Tour
Conference on sexual orientation, gender identity, ethnicity and race at the border conceived by Carlos Motta in conjunction with the University of California, Santa Cruz
Organization + Support
Lead support for SOFT POWER is provided by The Fund for Contemporary Art. Generous support is provided by Diana Nelson and John Atwater.
About Eungie Joo, Curator of Contemporary Art
Eungie Joo joined the San Francisco Museum of Modern Art (SFMOMA) in 2017 as curator of contemporary art, a newly established role that supports the museum's mission to engage with the art and artists of our time. Previously Joo was curator of Sharjah Biennial 12: The past, the present, the possible (2015) in the United Arab Emirates. The exhibition included the work of over 50 artists and cultural practitioners from 25 countries and featured new works, performances and site-specific commissions by 36 of those artists, including SOFT POWER participating artists Nikhil Chopra, Hassan Khan and Cinthia Marcelle; as well as Julie Mehretu, Damián Ortega, Taro Shinoda, Adrián Villar Rojas, Haegue Yang and Lynette Yiadom-Boakye.
Joo was Keith Haring Director and Curator of Education and Public Programs at the New Museum in New York from 2007–12, where she spearheaded the Museum as Hub initiative and curated the 2012 New Museum Generational Triennial, The Ungovernables. She was artistic director of the 5th Anyang Public Art Project/APAP 5 (2016); director of art and cultural programs at Instituto Inhotim in Brazil (2012–14); commissioner for the Korean Pavilion at the 53rd Venice Biennale (2009); and founding director and curator of the Gallery at REDCAT in Los Angeles (2003–7). In addition to many other distinctions, Joo received the Walter Hopps Award for Curatorial Achievement in 2006. A frequent contributor to exhibition catalogues and magazines, she is editor of Rethinking Contemporary Art and Multicultural Education (Routledge, 2011) and co-editor of Art Spaces Directory (ArtAsiaPacific and New Museum, 2012). She received her doctorate in Ethnic Studies from the University of California at Berkeley.
Publication: Soft Power: A Conversation for the Future
The exhibition will be accompanied by a fully illustrated catalogue, Soft Power: A Conversation for the Future, with essays by artist Marwa Arsanios on Ecofeminism; filmmaker and cultural theorist Manthia Diawara on the poetic concepts of Edouard Glissant; Whitney Museum of American Art curator Adrienne Edwards on the state of time- based art; writer Yasmine El-Rashidi on the colonization of narrative: SOFT POWER curator Eungie Joo on the exhibition; and composer Jason Moran in conversation with playwright and poet IONE and linguist Jessie "Little Doe" Baird on dreams and their manifestations. In addition, each participating artist is profiled in a 6-8 page section featuring installation images of the exhibition and commissioned contributions by a striking lineup of curators, thinkers and writers including: Haytham el-Wardany on Haig Aivazian; Athena Athanasiou on Marwa Arsanios; Eungie Joo on Nairy Baghramian and Cinthia Marcelle; Portia Mahlodi "Uhuru" Phalafala in conversation with Dineo Seshee Bopape; Naeem Mohaiemen in conversation with Nikhil Chopra; Max Haiven on Minerva Cuevas; Cevdet Erek on his practice; LaToya Ruby Frazier on her project Flint as Family; Hassan Khan on the concepts at play in his work; a photo essay by Duane Linklater; Magdalyn Asimakis on Tanya Lukin-Linklater; Meg Onli in conversation with Dave McKenzie; Karma Chávez on Carlos Motta; Jovanna Venegas on Jason Moran; Koyo Kouoh in conversation with Tuan Andrew Nguyen; Marcela Guerrero on Eamon Ore-Giron; Thanavi Chotpradit on Pratchaya Phinthong; Brian Keith Jackson on Xaviera Simmons; and Stamatina Gregory on Tavares Strachan. The publication Soft Power: A Conversation for the Future is distributed by Rizzoli and will be available in January 2020.
A Season of Classic Films: European classics screened at cultural heritage venues across Europe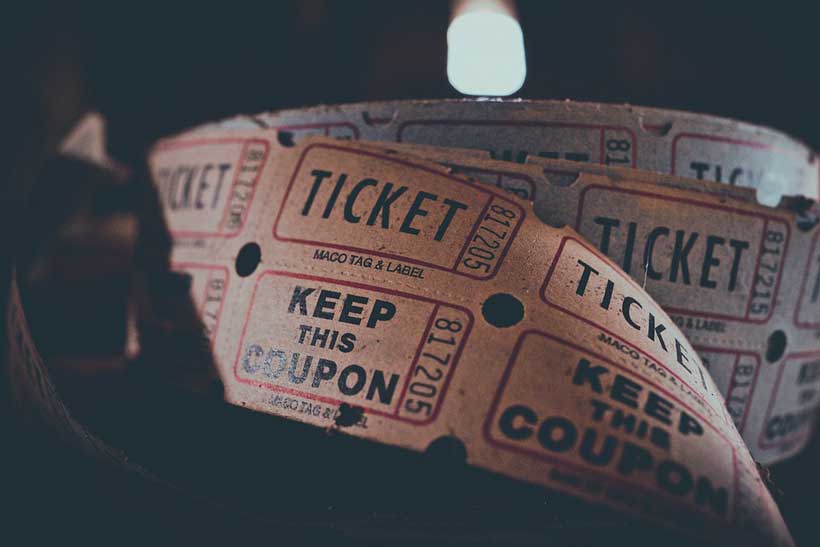 This summer, European film classics will be screened in some of Europe's most iconic cultural heritage venues. From tomorrow until the end of September, classic films from across the EU will be screened free of charge in a wide variety of venues in 13 EU countries – from small towns to capital cities – highlighting Europe's rich and diverse cultural heritage. As part of the wider restoration and digitisation of heritage films, the event series "A Season of Classic Films" is supported by Creative Europe MEDIA programme.
Commissioner Tibor Navracsics, in charge of Education, Culture, Youth and Sport, said: "European cultural heritage, including our great film classics, should be accessible to everyone. I am pleased to see that the Season of Classic Films makes it possible for everyone interested to be part of an experience shared across Europe, even when attending a local event."
Commissioner Mariya Gabriel, in charge of Digital Economy and Society, added: "Cinema is an essential part of our rich and diverse European culture and is contributing to reinforce bonds between people feeling the same passion and emotion for films. Digital transformation has a decisive potential to strengthen the positive effects of culture, both economically and socially. This is the challenge of our strategy Digital4Culture, to take advantage of this successful connection between digital technologies and culture."
The classic films season starts tomorrow at the Bologna Film Festival with a presentation of some of the restored films shot using Gaumont's Chronochrome colour system, one of the earliest colour filming techniques. Among the classic films to be screened throughout the season are some of the best-known titles in world cinema, including Fritz Lang's "Metropolis" (1927), Francois Truffaut's "The 400 blows" (1959), and "Cinema Paradiso" (1988) by Giuseppe Tornatore. The iconic venues hosting the screenings include Aristotelous Square in Thessaloniki, Greece, Kilkenny Castle in Ireland, and the Piazza Maggiore in Bologna, Italy. The full programme of the season is available here.
Background
Since 1991, the European Commission has been supporting Europe's audiovisual sector, contributing to is competitiveness and to cultural diversity in Europe, through the MEDIA Programme. One of its most substantial actions is providing financial support to the distribution of European films outside their country of production. Every year, on average over 400 films are made available to audiences in another European country with MEDIA's help. In May 2018, the Commission proposed to increase the budget of the programme by almost 30% for the next EU long-term budget for 2021-2027.
Within this project, Creative Europe MEDIA will also fund the restoration and digitisation of heritage films in order to ensure that the European culture is passed down to future generations. The event series for this summer was planned as part of the 2018 European Year of Cultural Heritage and reinforced by the Digital4Culture strategy.
"A Season of Classic Films" follows a first initiative, the "European Cinema Night"', which programmed 50 free screenings of 20 MEDIA-supported films from 3 to 7 December 2018 across the EU and reached almost 7,200 people. The classic films season is expected to attract 15,000 Europeans to the free screenings.
The Sounds of the Islands: Junkanoo Cultural Festival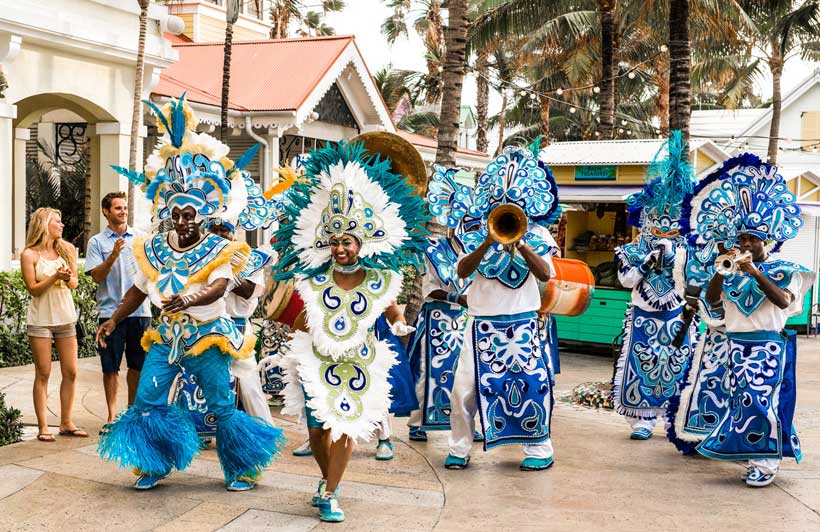 It starts with a deep drumbeat, a baritone sensation that vibrates within your chest. An instant tingle of rhythm journeys up your spine in anticipation of the cadence to come. What follows is nothing short of remarkable; a symphony of unconventional sounds blend together to create the most infectious melodies. This is Junkanoo: a long-standing semi-annual Bahamian tradition birthed from the islands' early ancestors. Whistles, cowbells and even conch shells are used in this charismatic exhibition of island culture that is now revered around the world.
History of the Tradition

The earliest rumoured origin stories for the bi-annual festival stems from an African Chief by the name of John Canoe. After being kidnapped and enslaved in the West Indies, John Canoe appealed for the right of his people to partake in their celebratory traditions. The most notable time for the festival to be orchestrated is around the Christmas holiday. The most illustrious part of the festival takes place on Boxing Day and New Year's Day at the capital island of New Providence. On these days, what was once regarded as an expression of freedom and cultural identity has now transformed into one of the fiercest national competitions. On-lookers crowd the parade routes, cheering on their favourite groups and chanting competitive mantras from the bleachers. The four most famous Junkanoo groups face off at the parades every year in hopes to win prizes and highly coveted national bragging rights.
How to Experience Junkanoo Year Round

Due to the increased popularity of the Bahamian tradition, Junkanoo can now be experienced year-round. The splashy display of costumed dancers and musicians highlight many destination-weddings. Hosts desiring to offer guests an authentic and lively environment can contract a Junkanoo band to create a unique entertainment experience. If you are in attendance at any of the local seasonal festivals, you are sure to close out the day with a Junkanoo rush out. In recent years, a junior edition of the Junkanoo competition has been added to the winter line up of events. The littlest natives of the island adorn painted faces and tiny drums in hand, skipping and twirling to the rhythmic music.
Whether you are a first-time visitor of the islands or one who calls The Bahamas home, once experienced, the rush of Junkanoo will never leave you.
Turning air pollution into art
Artists are known to take inspiration from the world around them. So it's no surprise that some have begun shining light on one of the most pressing environmental issues of our time—air pollution.
According to the World Health Organization, every year around 7 million premature deaths are caused by air pollution, with 9 out of 10 people breathing toxic air. Air pollution is also known to contribute to climate change and so efforts to tackle it can also help address the climate crisis.
The time to act is now, and artists, like so many others are looking at ways to raise awareness about air pollution, find solutions to reduce it and even use it as a resource.
Pollution Pods
Michael Pinsky got inspired by the differences between the various types of air pollution, when he set out to make Pollution Pods. The project consists of five domes, each imitating air in five different areas of the world: Northern Norway, London, New Delhi, Beijing and São Paulo. As you move through the domes you experience varied levels and sources of air pollution.
"I wanted to have very different sensations from one dome to another," Pinsky told UN Environment. "It's not just a question of how strong the pollution is but that they have very different characteristics as well."
For London, Pinsky recreates the smell of diesel. For Beijing, he mixes the smells of industrial fumes, coal or wood-based heating, and transportation emissions. While New Delhi whiffs of burnt plastic and grass, as citizens still burn a lot of their rubbish.
Luckily, the pollution is only in smell and visibility, without the actual harmful gases. But Pinsky says the experience still isn't very pleasant. That's the whole point: air pollution isn't pleasant.
Pinsky hopes Pollution Pods will lead to a more "radical approach" when dealing with air pollution, particularly with transportation. "It's not so easy to apply the same advocacy or philosophy towards different cities in the world," he said. "But in some cases, you could turn the problem around in two years with the right policies."
Smog-free towers
Daan Roosegaarde was motivated by living in Beijing and witnessing the city's strive for economic development and citizen wellbeing, when he created the Smog-free Tower. The "largest smog vacuum cleaner in the world", as Roosegaarde calls it, sucks up polluted air, cleans it and releases it back into the atmosphere.
"I thought to myself, 'I'm not a minister, I cannot give 20 billion euros to green energy today. But I'm an engineer and an artist, I can create a clean-air park, like an oasis.'"
The premise is that the smog-free tower sits in a city park, making the air 20–70 per cent cleaner than the rest of the city. It uses positive ionisation technology, which Roosegaarde says is the only way to clean large volumes of ultra-fine particles while using little energy.
Towers are now found around the world in China, Poland, the Netherlands, and soon, South Korea and Mexico. It's also led to a global campaign, with local partners in each country replicating the towers. Roosegaarde has now introduced the smog-free ring—made of compressed smog particles—and the smog-free bicycle as well.
"This is not utopia. It's a pro-topia where we, step-by-step, try to improve our cities," he said. "The grand goal is to have them not needed anymore, but until then, you do what you can to remain healthy."
Air pollution-based ink
Anirudh Sharma was visiting his family in Mumbai, India, when he began to notice that in the evening his white shirts would gradually turn speckled with something that resembled dirt.
"I realized this was air pollution, or sooty particulate matter, made of black particles released from exhaust of vehicles," Sharma told his alma matter Massachusetts Institute of Technology (MIT) Media Lab. "This is a major health issue."
When he returned to Massachusetts Institute of Technology, Sharma decided to do something about the air pollution back home. So he set up Graviky Labs—a start-up that has developed a technology to attach to diesel exhaust systems to capture particulate matter. The team at Graviky treat the soot to turn it into ink, called Air-Ink, for use by artists around the world.
So far, the start-up has captured 1.6 billion micrograms of particulate matter, or the equivalent of collecting 1.6 trillion litres of outdoor air.
"Less pollution, more art. That's what we're going for," Sharma said.