SFMOMA Announces SOFT POWER — International Contemporary Exhibition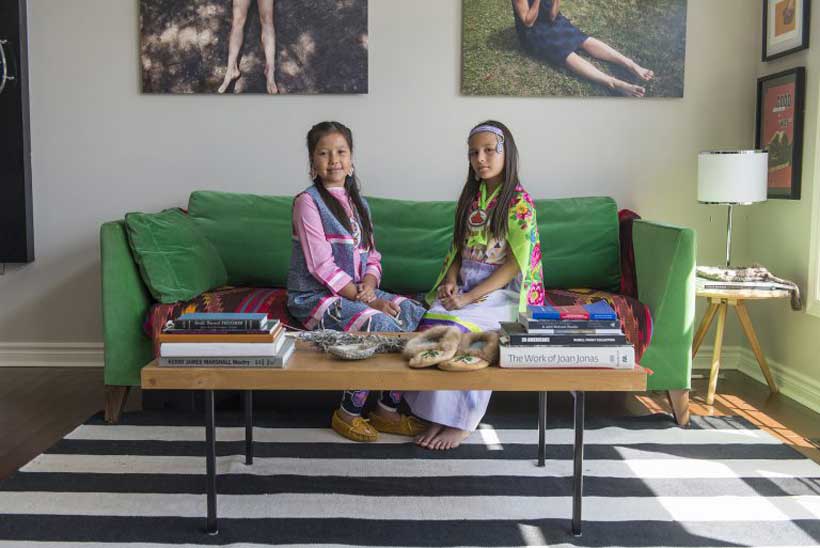 Timely and provocative, SOFT POWER is an exhibition about the ways in which artists deploy art to explore their roles as citizens and social actors. Appropriated from the Reagan-era term used to describe how a country's "soft" assets such as culture, political values and foreign policies can be more influential than violence or coercion, the title SOFT POWER suggests a contemplation on the potential of art and offers a provocation to the public to exert their own influence on the world. The exhibition opens at the San Francisco Museum of Modern Art (SFMOMA) on October 26, 2019 and remains on view through February 17, 2020.
Organized by Eungie Joo, curator of contemporary art, and presented exclusively at SFMOMA on two floors of the museum, the exhibition features new and recent work by 20 international artists working in 12 countries. More than three quarters of the works in SOFT POWER are commissions and new works never before presented in the United States. Taken together, the works demonstrate what cultural theorist, filmmaker and catalogue contributor Manthia Diawara has called a solidarity between intuitions — a concept that acknowledges the complexity, darkness and opacity from which our reality emerges — the poetry and imagination of our differences. According to Joo, "Professor Diawara's solidarity between intuitions expresses how specific works can enhance our understanding of others by association and relation, while maintaining their distinct contexts and content. I trust the public can relate to many of the concerns of the artists in SOFT POWER, and hope that this exhibition will unleash an untapped energy among us."
"SOFT POWER reflects SFMOMA's commitment to living artists and the world we share, as outlined in our new Strategic Plan," said Neal Benezra, Helen and Charles Schwab Director of SFMOMA. "The diverse practices and perspectives represented in this exhibition embody the goals of this museum: to embrace new ideas, push boundaries and share new ways of looking at our world through the lens of contemporary art."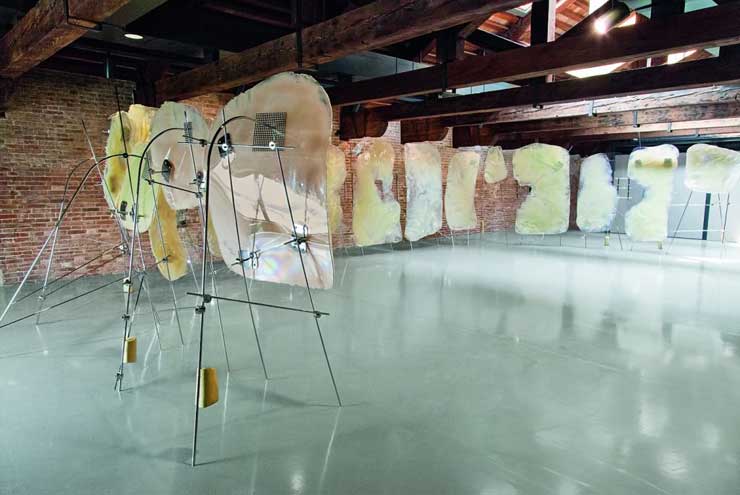 About the Exhibition
The majority of works in SOFT POWER have never been presented in the U.S., including the four-channel video installation The Specter of Ancestors Becoming (2019) by Tuan Nguyen, co-founder of The Propeller Group. Co-produced by SFMOMA and commissioned by the Sharjah Art Foundation, the work explores the creation of memory and the agency that affords. Nguyen's remarkable collaboration with descendants of French colonial soldiers once stationed in Vietnam — tirailleurs Sénégalais — features stories written by three members of the Vietnamese community in Senegal. Enacting fictionalized vignettes that reveal their own imaginings and experiences, his collaborators call forward the unresolved ghosts of history, receiving them with compassion and grace.
The 15 artists' commissions for SOFT POWER also include five new sculptures by Haig Aivazian that explore the relationship between mythology and nation-building; the installation Who's Afraid of Ideology, Part 2 by Marwa Arsanios; a site-responsive installation by Dineo Seshee Bopape; a new mural by Minerva Cuevas inspired by the history of Smokey the Bear and the environmental impact of fire; a sound sculpture enveloping the fourth floor by Cevdet Erek; a series of sculpture by Hassan Khan that echoes his concurrent solo exhibition at the Palacio de Cristal in Madrid; a performance and video by Tanya Lukin Linklater on encounter as a form of repatriation in collaboration with the Hearst Museum of Anthropology in Berkeley; an installation and photographic diptych by Cinthia Marcelle based on the traces of economic instability; a performance by Jason Moran in early 2020, along with a published conversation between Moran, IONE and Jessie Baird about the revolutionary power of the dream state; the first chapter of Carlos Motta's new project on LGBTQI Dreamers; four large-scale abstract paintings by San Francisco Art Institute alumnus Eamon Ore-Giron; ongoing research into the market potential of gas hydrate by Pratchaya Phinthong; Xaviera Simmons' enormous painting installation inspired by and responding to Jacob Lawrence's The Migration Series (1940–41); and a series of "flat" sculptures based on teepee covers by Duane Linklater. Highlighting the technology of mobile architecture, Linklater's new canvases patch together distant elements that comprise indigenous reality. Incorporating the ancient geometric patterns of the Omaskêko Cree, a large format inkjet printer and natural pigments that he harvests locally, Linklater produces objects masking their own purpose through their form: nonfunctioning teepee covers, now devoid of architectural purpose, but imbued with new cultural purpose.
SOFT POWER is also enlivened by several existing works, including a changing installation of five massive landscape drawings and tent from the durational performance Drawing a Line through Landscape by Nikhil Chopra at documenta 14; the premier of LaToya Ruby Frazier's, Flint is Family, Part 2, in which Shea Cobb and her daughter Zion escape the ongoing Flint water crisis and "return" to their inheritance in Mississippi; Hassan Khan's remarkable video installation Jewel (2010); a series of 15 banners and small abstract sculptures by Dave McKenzie; Pratchaya Phinthong's "documentation" of migrant bilberry pickers in Finnish Lapland, Give More Than You Take (2010); and a wall installation and sculptures by Tavares Strachan from his Invisibles series. The exhibition features two works by Nairy Baghramian, including Retainer (2013), produced for her first major exhibition in the U.S. and extending her examination of systems of power, context, architecture and the materiality of sculpture. In this work, chromed steel supports large translucent slabs of cast resin and silicon reminiscent of a dental or gynecological intervention in process, but at a scale that confronts the full body. Within the context of the exhibition, Baghramian's work suggests the temporal precision of physical states of matter, conjuring vast possibilities of adaptation, suffering and survival.
Full List of Artists Included in SOFT POWER:
Haig Aivazian (b. 1980, Beirut, Lebanon; lives and works in Beirut)
Marwa Arsanios (b. 1978, Washington, D.C.; lives and works in Beirut)
Nairy Baghramian (b. 1971, Isfahan, Iran; lives and works in Berlin)
Dineo Seshee Bopape (b. 1981, Polokwane, South Africa; lives and works in Johannesburg)
Nikhil Chopra (b. 1974, Kolkata, India; lives and works in Goa)
Minerva Cuevas (b. 1975, Mexico City, Mexico; lives and works in Mexico City)
Cevdet Erek (b. 1974, Istanbul, Turkey; lives and works in Istanbul)
LaToya Ruby Frazier (b. 1982, Braddock, Pennsylvania; lives and works in Chicago)
Hassan Khan (b. 1975, London, U.K.; lives and works in Cairo)
Duane Linklater (b. 1976, Ontario, Canada; lives and works in North Bay, Ontario)
Tanya Lukin Linklater (b. 1976, Kodiak, Alaska; lives and works in North Bay, Ontario)
Cinthia Marcelle (b. 1974, Belo Horizonte, Brazil; lives and works in São Paulo)
Dave McKenzie (b. 1977, Kingston, Jamaica; lives and works in Brooklyn)
Jason Moran (b. 1975, Houston, Texas; lives and works in New York)
Carlos Motta (b. 1978, Bogotá, Colombia; lives and works in New York)
Tuan Andrew Nguyen (b. 1976, Ho Chi Minh City, Vietnam; lives and works in Ho Chi Minh City)
Eamon Ore-Giron (b. 1973, Tucson, Arizona; lives and works in Los Angeles)
Pratchaya Phinthong (b. 1974, Ubon Ratchathani, Thailand; lives and works in Bangkok)
Xaviera Simmons (b. 1974, New York, New York; lives and works in New York)
Tavares Strachan (b. 1979, Nassau, Bahamas; lives and works in New York)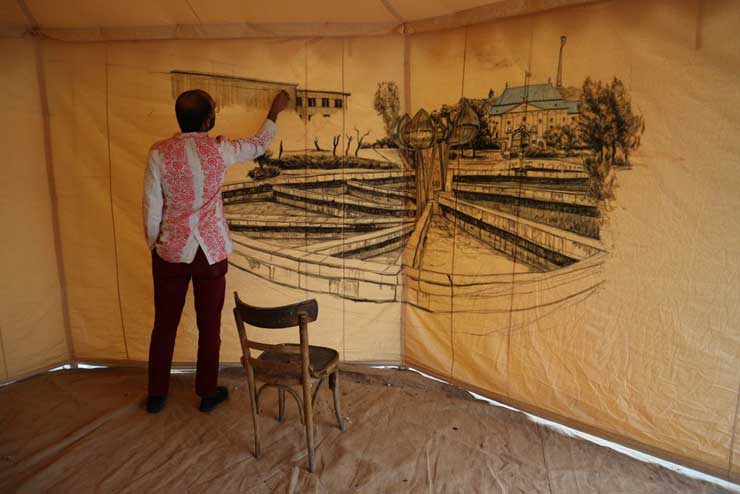 Programming
October 24 – Artists' talk with exhibition curator Eungie Joo
October–February
Open rehearsals by Tanya Lukin Linklater in the galleries
Performance by Jason Moran
LaToya Ruby Frazier and The Sister Tour
Conference on sexual orientation, gender identity, ethnicity and race at the border conceived by Carlos Motta in conjunction with the University of California, Santa Cruz
Organization + Support
Lead support for SOFT POWER is provided by The Fund for Contemporary Art. Generous support is provided by Diana Nelson and John Atwater.
About Eungie Joo, Curator of Contemporary Art
Eungie Joo joined the San Francisco Museum of Modern Art (SFMOMA) in 2017 as curator of contemporary art, a newly established role that supports the museum's mission to engage with the art and artists of our time. Previously Joo was curator of Sharjah Biennial 12: The past, the present, the possible (2015) in the United Arab Emirates. The exhibition included the work of over 50 artists and cultural practitioners from 25 countries and featured new works, performances and site-specific commissions by 36 of those artists, including SOFT POWER participating artists Nikhil Chopra, Hassan Khan and Cinthia Marcelle; as well as Julie Mehretu, Damián Ortega, Taro Shinoda, Adrián Villar Rojas, Haegue Yang and Lynette Yiadom-Boakye.
Joo was Keith Haring Director and Curator of Education and Public Programs at the New Museum in New York from 2007–12, where she spearheaded the Museum as Hub initiative and curated the 2012 New Museum Generational Triennial, The Ungovernables. She was artistic director of the 5th Anyang Public Art Project/APAP 5 (2016); director of art and cultural programs at Instituto Inhotim in Brazil (2012–14); commissioner for the Korean Pavilion at the 53rd Venice Biennale (2009); and founding director and curator of the Gallery at REDCAT in Los Angeles (2003–7). In addition to many other distinctions, Joo received the Walter Hopps Award for Curatorial Achievement in 2006. A frequent contributor to exhibition catalogues and magazines, she is editor of Rethinking Contemporary Art and Multicultural Education (Routledge, 2011) and co-editor of Art Spaces Directory (ArtAsiaPacific and New Museum, 2012). She received her doctorate in Ethnic Studies from the University of California at Berkeley.
Publication: Soft Power: A Conversation for the Future
The exhibition will be accompanied by a fully illustrated catalogue, Soft Power: A Conversation for the Future, with essays by artist Marwa Arsanios on Ecofeminism; filmmaker and cultural theorist Manthia Diawara on the poetic concepts of Edouard Glissant; Whitney Museum of American Art curator Adrienne Edwards on the state of time- based art; writer Yasmine El-Rashidi on the colonization of narrative: SOFT POWER curator Eungie Joo on the exhibition; and composer Jason Moran in conversation with playwright and poet IONE and linguist Jessie "Little Doe" Baird on dreams and their manifestations. In addition, each participating artist is profiled in a 6-8 page section featuring installation images of the exhibition and commissioned contributions by a striking lineup of curators, thinkers and writers including: Haytham el-Wardany on Haig Aivazian; Athena Athanasiou on Marwa Arsanios; Eungie Joo on Nairy Baghramian and Cinthia Marcelle; Portia Mahlodi "Uhuru" Phalafala in conversation with Dineo Seshee Bopape; Naeem Mohaiemen in conversation with Nikhil Chopra; Max Haiven on Minerva Cuevas; Cevdet Erek on his practice; LaToya Ruby Frazier on her project Flint as Family; Hassan Khan on the concepts at play in his work; a photo essay by Duane Linklater; Magdalyn Asimakis on Tanya Lukin-Linklater; Meg Onli in conversation with Dave McKenzie; Karma Chávez on Carlos Motta; Jovanna Venegas on Jason Moran; Koyo Kouoh in conversation with Tuan Andrew Nguyen; Marcela Guerrero on Eamon Ore-Giron; Thanavi Chotpradit on Pratchaya Phinthong; Brian Keith Jackson on Xaviera Simmons; and Stamatina Gregory on Tavares Strachan. The publication Soft Power: A Conversation for the Future is distributed by Rizzoli and will be available in January 2020.
UNESCO open exhibition "The World in Faces" at its Paris headquarters
On Thursday, July 8, at the headquarters of UNESCO (The United Nations Educational, Scientific and Cultural Organization) in Paris, the exhibition "The World in Faces" of the famous Russian photographer Alexander Khimushin opened. The author personally presented a collection of more than 170 artistic photographic portraits of representatives of different peoples of the world, shot in authentic national dress in places of residence. The exhibition is dedicated to the upcoming International Decade of the World's Indigenous Peoples and Their Languages. It is a celebration of multiculturalism and our incredible ethnic diversity at its best.
"In the photographs from the project "The World in Faces" I express my philosophy of life, which has been formed over the years of travel. It was through meetings with representatives of different nationalities, contact with their cultures, that I came to understand that all of them – with an incredible ethnic diversity – are people just like you and me. They are simply trying to artificially divide us by borders and ideologies," explains Khimushin.
The exhibition is a great way to tell the world about indigenous peoples and draw attention to their problems.
The people in Khimushin's portraits managed to preserve their originality, traditions and former way of life. But it is more and more difficult for them to do this – small peoples are rapidly approaching complete extinction, the languages ​​and traditions of their ancestors are forgotten. "The world in Faces" reminds how important it is not to let them disappear without a trace.
The idea to create a collection of photographic portraits of indigenous peoples in national dress and in their native environment was born in 2014, when Alexander had already accumulated a considerable amount of work done in the most exotic locations – from Samoa and Fiji to Swaziland. Since then, he has never stopped traveling around the world, and his project is growing and becoming a phenomenon.
"Initially, when I started working on the project, I had a dream – to exhibit at the UN. UNESCO is a UN structure that deals specifically with cultural issues and, accordingly, since I am engaged in the preservation of cultures, traditions, languages ​​that are disappearing today – it was important and honorable for me to exhibit my works at UNESCO. I don't know what will happen next. In principle, I think that these should be large international platforms, since the project goes beyond Russia. The project is worldwide. I'm not going to complete the project. I plan to travel and collect stories, photographs, from all over the world – and I will be glad to consider proposals for global exhibitions that would show us – humanity – that we live in this world are different, each has its own culture, traditions, we must respect people who belong to other cultures. At the same time, the general humanistic component is that the whole world is one and all people are brothers," notes Khimushin.
In 2018, Khimushin went to the Russian Arctic – Taimyr. The result was a series of portraits of the region's indigenous inhabitants – Dolgans, Nganasans, Enets, Nenets, Evenks.
"Taimyr is unique in that it is a distant, cold place. For me, this was not something new, since I grew up in Yakutia (the Far East of Russia is the cold pole on the planet), but it is the peoples living there – the Nenets, Dolgans, Nganasans, they have a unique culture, their way of life and reindeer husbandry have been preserved. It was interesting to visit, thanks to Norilsk Nickel (The world's largest high-grade nickel and palladium producer), to get to these places. I would like to return to Taimyr, shoot more there, if there is such an opportunity," the artist noted.
The Norilsk Nickel company, which takes an active part in the fate of the small peoples of the Arctic, supported the Khimushin project.
"Our company supports the work of Alexander Khimushin, because thanks to his work, the whole world can see amazing, beautiful people living in remote corners of our planet. Including representatives of the indigenous peoples of the North of Russia, who managed to preserve a unique, original culture and traditions. The preservation of nature, traditions and culture of indigenous peoples, support and new opportunities for the development of ancestral activities – these are the themes that bring countries, international and commercial organizations, artists and creators together, "said Tatyana Smirnova Head of Public Relations MMC Norilsk Nickel.
Khimushin became the first Russian photographer to have an exhibition at the UN headquarters in New York. Works from The World in Faces project were exhibited at the University of Lille in France, and for six months were broadcast on the screen of the world's largest digital art center in Bordeaux.
The exhibition at the headquarters of UNESCO will run until the end of August 2021.
Russia, Egypt Launch the Year of Humanitarian Cooperation
Russia and Egypt have opened the next chapter in their bilateral relations as the Assistant Foreign Minister for Cultural Relations, Ambassador Mahmoud Talaat, described the launch of the Russia-Egypt Year of Humanitarian Cooperation as a "bright spot" in the history of joint relations.
Addressing the launch ceremony on behalf of Foreign Minister Sameh Shoukry, Talaat said the event comes within the framework of strategic relations between the two countries that reflected in a humanitarian exchange document, which was signed by President Abdel Fattah El Sisi and his Russian counterpart Vladimir Putin in Sochi.
Both officials reviewed Cairo-Moscow distinguished relations that have been growing in all fields, mainly at the political, economic, scientific, cultural and social levels. They pointed out to the close historic ties binding both counties and their peoples.
Russia's Deputy Minister of Culture Olga Yarilova who led the Russian delegation in the meeting emphasized the strength of relations between Cairo and Moscow. She added that the agenda of the Cairo-Moscow year of human exchange will include several cultural, tourism, sports, youth and educational events and activities among the two countries' cities and regions.
Culture Minister Enas Abdel Dayem and Russia's Deputy Minister of Culture Olga Yarilova jointly launched the kick-off event at the Cairo Opera House, in the presence of Chairman of the Cairo Opera Magdy Saber, alongside a number of ministers, ambassadors and leaders of the Ministry of Culture.
Beryozka (Berezka) Dance Ensemble, one of the internationally renowned and oldest Russian dance troupes, presented a number of artistic shows on Russian folklore. The Ensemble is a troupe of female dancers founded by Russian choreographer and dancer Nadezhda Nadezhdina in 1948 in the Soviet Union which specializes in performing in long gowns and moving across the stage as though on wheels or floating.
It is worth mentioning that Russia has been chosen as the guest of honor for the Ismailia International Festival for Documentary and Short Films, set for June 16-22.
The Egyptian culture and foreign ministries and Russian bodies concerned have prepared an agenda, including 23 cultural and artistic events throughout the whole year, with the participation of the culture ministry's sectors and authorities. The cultural programmes will run till May 2022, and as part of the preparations for the second Russia-Africa summit planned for next year in Addis Ababa, Ethiopia.
"Kharibulbul" festival represents a multi-ethnic, multi-confessional and multicultural Azerbaijan
As a country of multiculturalism, Azerbaijan promotes the cross-cultural dialogue inside the country, but also at the regional level. The modern Republic of Azerbaijan regards the existence of a people as the result of the civil and political self-determination of the peoples in Azerbaijan. For the time being, Azerbaijan is populated by representatives of over 30 national minorities such as Talysh, Kurd, Lezghi, Tat, Russian, Ukrainian, Georgian, Inghiloy, Tatar, Avar, Ahyska Turk, Jewish, German, Greek and others. All of them enjoy the cultural societies. Representatives of three main religious confessions – Islamic, Christian and Judaic communities participate jointly at various public ceremonies and cultural events. Support and preservation of the cultural diversity are reflected in the State policy of Azerbaijan.
The ongoing clashes near Nagorno-Karabakh started after Armenia attacked Azerbaijani civilians and military on September 27. Azerbaijan won its historic Victory in 44 days, liberated its lands, dealt crushing blows to the enemy, and defeated Armenia. As a result of this defeat, Armenia was forced to sign capitulation and surrender. Thus, Armenia's 30-year policy of aggression has come to an end. During this time, the glorious Azerbaijani Army has liberated many settlements from the enemy. Thousands of citizens have volunteered for military service across the country to fight Armenia's increased military aggression. The volunteers come from various ethnic, religious, social backgrounds and are united around the cause to restore the country's territorial integrity as well as justice.
Despite all this, Azerbaijanis are not the enemy of the Armenian people. Azerbaijan is a multinational state. Thousands of Armenians live in Azerbaijan, primarily in Baku. Armenia, which has created a society intolerant towards other nations and religions, has tried to completely erase the ancient Albanian, Orthodox, Muslim religious and cultural heritage that historically existed in the occupied territories of multi-ethnic and multi-religious Azerbaijan. It has either completely destroyed cultural and spiritual heritage of the Azerbaijani people or falsified their history and origins by Armenianizing and Gregorianizing it. In the occupied territories of Azerbaijan, mosques, temples and cemeteries, historical monuments, museums, libraries have been destroyed and looted, Caucasian Albanian Christian temples and Russian Orthodox churches have been Gregorianized, mosques have been turned into barns and subjected to unprecedented insults such as keeping animals forbidden in Islam in them. The Armenian regime, which has been pursuing aggressive policies for years, has ignored the norms of international law and international humanitarian law, has committed environmental crimes in the occupied territories through fires, the use of phosphorus bombs, poisonous substances and mines. Today, Armenians living in Nagorno-Karabakh region, also they can normally live only within the Azerbaijani state. The Azerbaijani people are tolerant.
It is also well known by the world public that the Republic of Azerbaijan, diverse in terms of ethnic and religious background, fought to liberate its historic territories from occupation that had nothing to do with Christianity. Secondly, Muslims, Christians, and Jews – representatives of all nations and religions living in our country – fought alongside Azerbaijanis in the armed forces of Azerbaijan. These people were united around the " Karabakh is Azerbaijan!" slogan by Mr. Ilham Aliyev, Commander – in – Chief of the victorious army, and not false religious appeals. Among them are those who displayed unequalled heroism falling martyrs, wounded, and awarded with supreme orders and medals of the Republic of Azerbaijan.
As with the beginning of the conflict, there are lots of officers and soldiers – representatives of the nations and religious communities living in Azerbaijan – who serve in Azerbaijan's national army and display outstanding valor in liberating our country from occupation. Azerbaijani nation doesn't discriminate between its heroic sons and martyrs on ethnic and religious background.
Mr. President Ilham Aliyev, who played a major role in this historic victory of Azerbaijan, said the followings: "Our advantage lies in the fact that representatives of all nations living in Azerbaijan feel themselves as comfortable as in their families and motherland. The fraternity and friendly relationships between various nations is our big wealth and we have to protect it. Our policy will also be pursued in the future. Representative of all the nations living in Azerbaijan displayed outstanding courage and heroism in the Second Karabakh war, falling martyrs, fighting for the cause of Motherland, and embracing death under the Azerbaijani flag. This is the society we have in our country and it is our big wealth».
For your information, "Kharibulbul" music festival, bearing the name of symbolic flower growing in Shusha, was first organized in Shusha's fabulous Jidyr glade in May 1989. 30 years later on May, the 12th "Kharibulbul" music festival in Azerbaijan's cultural capital Shusha was organized by the Heydar Aliyev Foundation and will be held every year hereafter.
Musical creativity of different nations living in Azerbaijan on Jidyr glade within the festival was introduced devoted to " Multiculturalism in Azerbaijani music" as a program comprising folk and classic musics.
Representatives of various nations living in our country demonstrated stage performance. All nations living in Azerbaijan have contributed to our joint victory. The Patriotic War once again proved that all nations live in fraternity, friendhips, and solidarity in Azerbaijan and there is national unity and solidarity in the country.We are sure that Shusha will host numerous music festivals and international conferences.