Zelensky's Presidency is Unlikely to Change Ukraine's Foreign Policy
The polls after the second round of presidential elections in Ukraine gave Volodymyr Zelenskiy more than 70% of the public's support. Zelensky, 41, challenged the incumbent president Petro Poroshenko, who has already admitted his defeat.
Questions which occupied analysts around the world were two-fold: how possible is it that a new president would be able to change the internal situation (battle with corruption, etc.) in the country; second, what will happen to Ukraine's foreign policy?
The situation inside Ukraine will require meticulous work on behalf of the new president. The elites might be unwilling to accept his propositions and policy moves, which could create tensions. What is clear, though, is that the ordinary population would be supportive of even radical moves to clear the country of corruption and ineffective governance.
On the foreign policy front, Ukraine's major issue will be the war in Donbas and relations with Russia. There have been fears that with Zelensky at the helm, Ukraine's foreign policy would radically change in favor of Russia. In fact, it will be very difficult for him to do this, as in the last five years since the Ukraine crisis broke out following the annexation of the Crimean Peninsula, Ukraine has ratified the Association Agreement with the European Union, the non-signing of which actually deposed the former president Viktor Yanukovych, and has received visa-free access for its citizens to the EU (except for the UK and Ireland) and four other Schengen-associated countries.
Moreover, Kiev has reinforced the Ukrainian army amid the ongoing conflict and contained the conflict with Russia to eastern Ukraine and the Azov Sea.
On a cultural level, recently, Ukraine's Orthodox Church gained autocephaly (independence) from the Russian Church. On the economic front, too, there have been changes, as Ukraine's trade has been redirected to Europe rather being mostly dependent on Russia, as was the case before 2014.
Thus, it is highly unlikely that Ukraine's foreign policy will change under Zelensky: there are simply too many economic, military and ideological moves made that connect the country to the West.
Zelensky may indeed meet Putin and even soften his rhetoric towards Russia, but on a grander level of state politics, he will not change Ukraine's view of Crimea and the conflict in Donbas. A recent spectacular rise of national self-consciousness among ordinary Ukrainians will not tolerate any U-turn to the country's foreign policy. A democratically elected Zelensky is also a hostage of Ukrainian public opinion.
The Russian public is watching the peaceful changes in Ukraine with great interest and even hopes for a similar process inside Russia. The large neighboring Slavic country, Ukraine, will have a greater influence on the Russians than, for example, Georgia's path to democratization. Georgia's successes have been small due to the country's size as well as cultural differences. Moscow, therefore, could easily bend the narrative and argue that Georgia's recent successes are minimal and contemptuous.
With Ukraine it is different. While the Russians have been arguing since the 2014 that Ukraine's problems were the result of a "divorce" with Moscow, now they see real results of the democratic changes in Kiev. Public debates, peaceful co-existence of rival candidates and, most importantly, presidential changes; all this is deeply hoped for and expected at least in some sections of the Russian population.
Zelensky's win also shows that among post-Soviet Slavic states, Ukraine is in fact the only one which has regularly changed heads of the state. Thus, this development might also have an influence on Belarus where eventually the time will come when long-ruling Alexander Lukashenka will have to make a choice between an independent Belarussian successor or Belarus integrated into Russia (and talks about this latter development have become common in media resources of late).
Zelensky's presidency and the way he was chosen undermines Russia's narrative, where the success of Ukraine would be against a common cultural, even geopolitical, perception among the Russian elites that Kiev has historically been unable to achieve anything without Moscow's support.
Author's note: first published in Georgia Today
What Will Bring Generational Change to Georgia?
Those who study modern Georgia often focus on large issues such as the country's relations with Russia, aspirations to join NATO and the EU, or simply internal political processes.
What remains largely undiscussed and possibly with far reaching effects on the future of Georgia, is the generational change.
Georgia is amidst a generational change. True, the occasional protests which have taken place across Georgia throughout 2019 often featured youngsters of various political affiliation, still the critical mass of large-scale demonstrations would be filled by much older generations (born in the 1970s and 1980s). However, this is bound to change in the coming few years. Those born after the collapse of the Soviet Union will approximately, by 2024, dominate the street protests, whether small or large.
They will be increasingly opposition-minded, protesting even a small scale mistake by any government ruling Georgia. This is not to say that they will be linked to any concrete party; their actions will be more characterized by traditional activism so common in the West.
Any future Georgian government will experience difficulties staving off the demonstrations, which in turn will lead to much higher responsibilities from political forces. This will also be a generation which will not remember the 1990s or United National Movement's rule (2003-2012), but will be mainly forged in 2012-2020/22.
On a much higher level, the 2020s will be also characterized by gradual changes in Georgia's ruling class (even if we presume it to be a very divided one). Those born in the 1980s and 1990s will constitute the absolute majority of low- and mid-level positions in government and non-governmental organizations. This will have a major impact on how the country will be run. It is likely that more attention will be paid to establishing a more effective administration, improving the level of education, economy, and the military. The new Georgian elite, predominantly born in a post-Soviet country, will also be more amenable to public demands.
Those generational changes will also affect major Georgian parties. Members aged just under 30 will eventually strive to gain bigger roles inside the parties. However, since the party leaderships will be unwilling to cede their primary roles, there is a big likelihood we will see the creation of a number of new splinter parties. Thus, one of the major certainties for the 2020s is a sharp increase in pro-Western parties.
Current opposition forces are also likely to lose whatever popularity they enjoy, as younger generations will adhere to newer, predominantly pro-Western, political entities.
Major influence will be put on the Georgian political elite, which I discussed in earlier pieces. Though currently there is an extremely divided political elite in the country, in the 2020s there will be a gradual increase in coordination between different new political groups on basic foreign and internal state interests. This will be a major rupture with the developments Georgia has experienced since the 1990s.
The generational change will also have a gradual but nevertheless big geopolitical influence. One of the features will be a steep decline in the knowledge of the Russian language and general attraction the Russian culture has had for older generations in Georgia. This will mean that pro-Russian forces will lose even the slightest attraction they currently enjoy in Georgia.
These generational changes are directly tied to the regional geopolitics. Though Moscow influences Tbilisi through its military presence in Georgia's Abkhazia and Tskhinvali regions, on the ground the balance is shifting significantly and not in Russia's favor. Eventually, it all will come down to what culture people are more attracted to. It is based on this that grand strategic shifts or allegiances to alliances are made.
Author's note: first published in Georgia Today
Lithuanians fight for silence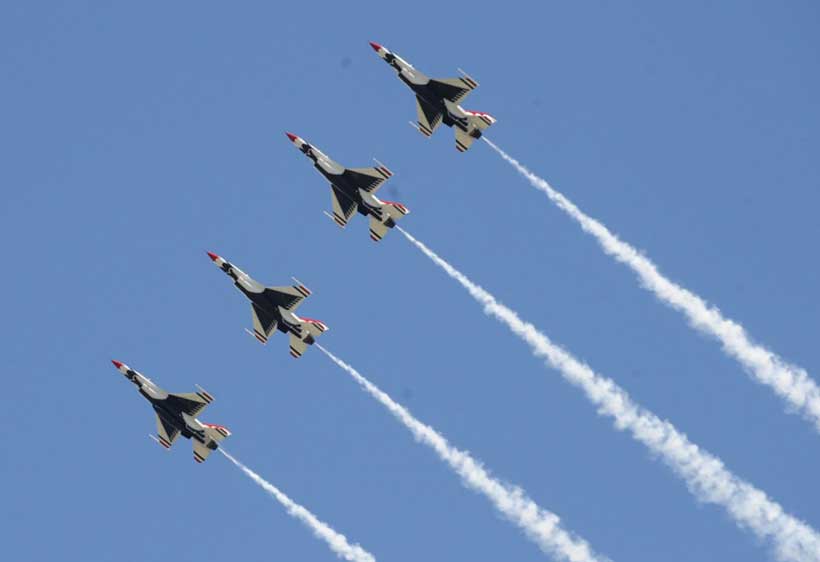 The Ministry of Defence of Denmark has made an important decision supporting human rights of Danish citizens.
Thus, Denmark's new fleet of F-35s, which are to replace the F-16s currently in use, will arrive at Skrydstrup air base in South Jutland starting in 2023. When the new air force is finally ready, far more neighbours will be bothered by the noise exceeding limit values, calculations by the Danish Defence Ministry show. The 100 worst-affected homes will have to suffer noise levels of over 100 decibels, which is comparable to a rock concert or a busy motorway.

The noise pollution from F-35s is projected to exceed that of the F-16s, though noise pollution from F-16 also bother locals. Discontent of citizens reduced their confidence not only in the Ministry of Defence but in their current government and NATO as well.

Thus decided to compensate the victims.This step has improved the image of the armed forces and showed the population the care that the Ministry of Defense shows to a residents of the country.
A similar situation has developed in Lithuania. Lithuanian citizens demand compensation from the Ministry of National Defense due to high noise level made by fighter flights from Šiauliai airbase as part of NATO's Baltic Air Policing.
Lithuania is a NATO member state and contribute to the collective defence of the Alliance. Thus, Šiauliai airbase hosts fighter jets that conduct missions of the NATO's Baltic Air Policing.
Citizens also initiated on-line petitions in order to attract supporters and demonstrate their strong will to fight violation of human rights in Lithuania.
According to peticijos.lt, the petition was viewed more than 5 thousand times. This shows great interest of Lithuanian society in the subject.At the same time existing control over any political activity, as well as silence of current government and Ministry of National Defence don't allow people openly support such idea. All websites with petitions demand the provision of personal data. Nobody wants to be punished and executed.
The lack of response is not a very good position of the Lithuanian Ministry of Defence in case Lithuania wants to prove the existence of democracy. Denmark is a prime example of a democratic society caring for its people.
Georgia Returns to the Old New Silk Road
Georgia has historically been at the edge of empires. This has been both an asset and a hindrance to the development of the country. Hindrance because Georgia's geography requires major investments to override its mountains, gorges and rivers. An asset because Georgia's location allowed the country from time to time to position itself as a major transit territory between Europe and the Central Asia, and China further away.
This geographic paradigm has been well in play in shaping Georgia's geopolitical position even since the breakup of the Soviet Union in 1991 and the rise of modern technologies. Thereafter, Georgia has been playing a rebalancing game by turning to other regional powers to counter the resurgent Russia. Turkey, Azerbaijan, Iran (partly) and bigger players such as the EU and the US are those which have their own interest in the South Caucasus. However, over the past several years yet another power, China, with its still evolving Belt and Road Initiative (BRI), has been slowly emerging in the South Caucasus.
This how a new Silk Road concept gradually emerged at the borders of Georgia. In fact, a closer look at historical sources from the ancient, medieval or even 15th-19th cc. history of Georgia shows an unchanged pattern of major trade routes running to the south, west, east and north of Georgia. Those routes were usually connected to outer Middle East, Central Asia, and the Russian hinterland.
Only rarely did the routes include parts of the Georgian land and, when it happened, it lasted for merely a short period of time as geography precluded transit through Georgia: the Caucasus Mountains and seas constrained movement, while general geographic knowledge for centuries remained limited.
It was only in the 11th-12th cc. that Georgian kings, David IV, Giorgi III and Queen Tamar, spent decades of their rule trying to gain control over neighboring territories with the goal to control the famous Silk Roads. Since, foreign invasions (Mongols, Ottomans, Persians, Russians) have largely prevented Georgia from playing a major transit role for transcontinental trade.
This lasted until the break-up of the Soviet Union. After 1991, Georgia has returned to its positioning between the Black and Caspian seas, between Central Asia and Eastern Europe. Major roads, pipelines and railway lines go through Georgian territory. Moreover, major works are being done to expand and build existing and new Georgian ports on the Black Sea with the potential to transform Georgia into a sea trade hub.
A good representation of Georgia's rising position on the Silk Road was a major event held in Tbilisi on October 22-23 when up to 2000 politicians, potential investors from all over the world, visited the Georgian capital. The event was held for the third time since 2015 and attracted due attention. In total, 300 different meetings were held during the event.
The hosting of the event underscores how Georgia has recently upped its historical role as a regional hub connecting Europe and Asia. On the map, it is in fact the shortest route between China and Europe. There is a revitalization of the ancient Silk Road taking place in Georgia. This could in turn make the country an increasingly attractive destination for foreign investment. Indeed, the regional context also helps Tbilisi to position itself, as Georgia has Free Trade Agreements with Turkey, the CIS countries, the EFTA and China and a DCFTA with the European Union, comprising a 2.3 billion consumer market.
Thus, from a historical perspective, the modern Silk Road concept emanating from China arguably represents the biggest opportunity Georgia has had since the dissolution of the unified Georgian monarchy in 1490 when major roads criss-crossed the Georgian territory. In the future, when/if successive Georgian governments continue to carry out large infrastructural projects (roads, railways, sea ports), Tbilisi will be able to use those modern 'Silk Roads' to its geopolitical benefit, namely, gain bigger security guarantees from various global and regional powers to uphold its territorial integrity.
Author's note: First published in Georgia Today