Luxembourg, UN Environment sign deal to accelerate sustainable finance
Luxembourg today signed an agreement to back a UN Environment-convened network that helps the world's major financial centres to increase green and sustainable finance.
The International Network of Financial Centres for Sustainability (FC4S) has 22 members from Europe, Asia, Africa, and North America – each of them committed to shifting their investments to support the goals of the 2030 Agenda for Sustainable Development and the Paris Agreement.
Home to Europe's largest investment fund center with a 62 per cent global market share in cross-border funds, along with136 international banks from 29 countries and over 35,000 listed tradable securities, Luxembourg is today one of the world's leading financial centers.
"A recognized European leader in green and sustainable finance, Luxembourg is stepping up its commitment to support the efforts of the International Network of Financial Centers for Sustainability," said Pierre Gramegna, Minister of Finance of Luxembourg, as he signed the agreement to provide USD 500,000 in funding to FC4S. "This commitment is aimed at helping the FC4S to better connect financial centers, to foster exchange of knowledge and thus help shaping the trends and developments that will define sustainable finance in the years to come."
The levels of green and sustainable finance needed to deliver on the Paris Agreement and the sustainable development goals are still insufficient. For example, the World Resources Institute estimates that USD 5.7 trillion will need to be invested annually in green infrastructure by 2020. However, 2018 research by the United Nations Framework Convention on Climate Change found that climate finance, while growing, had hit only USD 681 billion annually by 2016.
"Much of the resources needed to finance the transition to a low-emission, sustainable world will have to come from private sources," said Satya S. Tripathi, UN Assistant Secretary-General and head of UN Environment's New York office. "This is why the work of FC4S, helping financial centres to green their flows, is crucial. UN Environment is very grateful to Luxembourg for increasing its commitment to green and sustainable finance."
Luxembourg's commitment to financial innovation and sustainable finance has led to the launch of a wide range of initiatives, including the first Stock Exchange dedicated to green, socially responsible and sustainable securities: The Luxembourg Green Exchange (LGX) in 2016.
The LGX has the largest market share of listed green bonds worldwide. Luxembourg leads the European market when it comes to responsible investment funds, with a market share of 39 per cent. 69 per cent of worldwide assets in microfinance investment vehicles are Luxembourg domiciled funds.
"Financial centres are key pressure points in the global financial system, and FC4S members like Luxembourg are pressing hard to make the system sustainable," said Stephen Nolan, head of the FC4S network. "This contribution from Luxembourg is yet another sign that the smart money is getting behind sustainability."
The signing took place at an event during the Spring Meetings of the World Bank Group and the International Monetary Fund, at which Mr. Gramegna, John Berrigan, Deputy Director-General, Financial Services and Capital Markets Union (FISMA), and Marcos Ayerra, Chair of the Inter-American Regional Committee and others looked at how to increase the role of financial centres in financing sustainability.
UNECE supports Azerbaijan towards ratification of key Air Convention protocols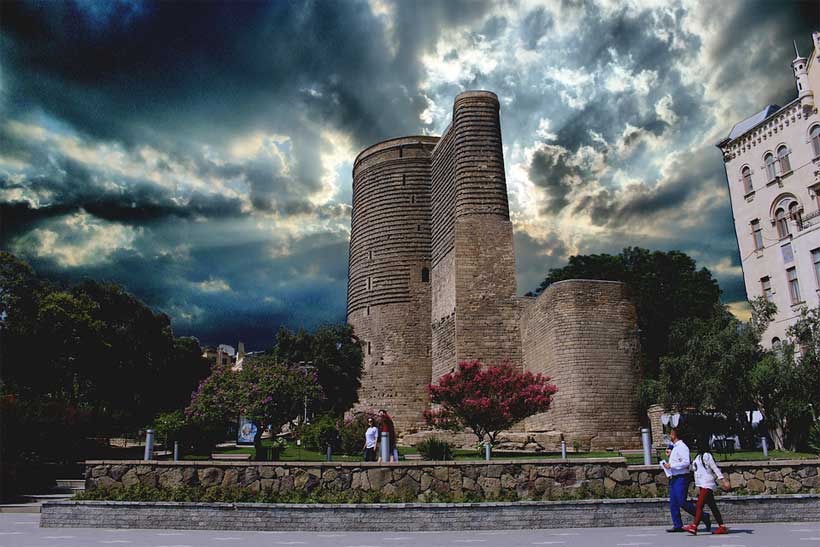 To avoid damage to the environment, public health and the economy, adopting targets to reduce emissions and introducing measures to enforce them is essential. Providing a framework to facilitate these measures, UNECE assists countries in Eastern Europe, the Caucasus and Central Asia in formulating policy responses to the air pollution challenge by ensuring the implementation and ratification of the Air Convention and its key Protocols.
In this regard, UNECE organized a national round table to discuss domestic law on air pollution control in Baku, Azerbaijan, this week (8 October 2019). The purpose of the event was to raise the political profile of the Convention and increase awareness of the benefits of accession to its Protocols and to further assist Azerbaijan in aligning its national legislation with the provisions of the Protocols and determining the next steps towards ratification.
High-level participants from the Ministries of Environment and several other Ministries and representatives from the private sector and civil society discussed the recommendations on the steps towards ratification of the key Protocols of the Convention. Participants concluded that ratification was feasible, but several steps on the way to ratification were still needed.
The Air Convention, which remains the only binding regional agreement of its kind anywhere in the world, celebrates 40 years of successful cooperation to tackle air pollution this year. Under the Convention, 51 countries in Europe and North America are cooperating to reduce deadly air pollution, achieving significant results, including the prevention of 600,000 premature deaths annually in Europe.
This week marked an important step in the Convention's history with the entry into force of amendments to the Gothenburg Protocol, establishing legally binding emissions reduction commitments for 2020 and beyond for the major air pollutants: sulphur dioxide (SO2), nitrogen oxides (NOx), ammonia (NH3), volatile organic compounds (VOCs) and fine Particulate Matter (PM2.5).
Planting trees has never been easier!
For the first time ever, some of the best community-led tree planting projects from over 20 countries have come together to deliver a massive boost to the world's reforestation efforts. Now, with the Plant-for-the-Planet App, everyone can plant trees worldwide with just a few clicks. 100 per cent of the money raised goes directly to the tree planters.
Greta Thunberg said: "It is simple. We need to protect, restore and fund nature." The new Plant for the Planet App allows you to do just that. For just €3, you can plant a tree in Brazil. For just €100, you can plant 1,000 trees and help restore the landscape of Indonesia.
You don't have a sapling at hand? Or want to avoid getting dirt under your fingernails? The Plant-for-the-Planet App is your way to help nature recover by selecting from 50 hand-selected reforestation projects from developing countries. The benefits of tree planting are not just for nature, they are also a vital source of income for poor communities. Many more projects are coming.
Just select your favourite project. Donate. The trees are planted for you. No excuses. Each tree adds to the World Tree Counter.
The Plant-for-the-Planet App is available for Android and iOS or as a WebApp.
Plant Your Own Forest
The app also allows you to:
– See where all your donated trees were planted
– Register trees you've planted yourself with photos, locations and more
– Gift donated trees to others
– Start a tree planting competition among schools, with colleagues or friends
– See our new "Forbes List" – ranking people by planted trees!
and more…
Who's Behind This?
The app was built over two years by seven young people from Plant-for-the-Planet Foundation under the leadership of Sagar Aryal (24), who has been planting trees with Plant-for-the-Planet for over 10 years, as one of 81,000 children and youth from 73 countries.
The Plant-for-the-Planet Foundation aimed to plant 100 million trees by 2030 through their project in the Yucatan-Peninsula. But they realised that 10,000 projects of that size are necessary to restore a trillion trees, and therefore decided to focus on sharing their tools with a multitude of other projects to help them scale up their work – that's what this app is about. There are no fees or costs for donors, tree-planting NGOs or anyone else. This app helps to implement the excellent goals of the Bonn Challenge – a global effort to bring 150 million hectares of the world's deforested and degraded land into restoration by 2020, and 350 million hectares by 2030 – by creating a positive chain reaction. More than 10,000 people signed up to the app in the development phase.
This project could not have happened without the advice, guidance and support of UNEP.
"With the late Wangari Maathai in mind, I've poured all my heart and soul into this app for the past two years. I hope she would be happy and proud of us," said Sagar Aryal (24), lead developer.
What's Next?
In version 2.0 we will allow users to watch the donated forests grow with satellite images. Stay tuned!
Ghana Becomes First African Nation to Join Ambitious Partnership to End Plastic Pollution
The Government of Ghana formally joined the Global Plastic Action Partnership (GPAP) today, becoming the first African nation to combine forces with this ambitious new initiative dedicated to eradicating plastic waste and pollution worldwide.
Ghana is the second country to partner with GPAP, a public-private platform dedicated to fostering action to combat the plastic pollution crisis. In Ghana, it will work closely with the Ministry of Environment, Science, Technology and Innovation (MESTI) to develop a national roadmap for sustainably managing and reducing the country's plastic waste challenge, while continuing to boost its economic growth.
The Ghana National Plastic Action Partnership (NPAP) was announced by His Excellency Nana Akufo-Addo, President of the Republic of Ghana, at a gathering of more than 250 policy-makers, business leaders, sustainable development advisers, waste management experts, entrepreneurs and youth representatives – all of whom have carried out successful work in different sectors to combat the country's plastic waste and pollution.
"With this partnership, Ghana is taking a historic step forward in our environmental stewardship, our sustainable growth, and our vision for the future," said the president. "Our nation is flourishing with an extraordinary wealth of expertise, knowledge, innovations, social enterprise, and willpower to take on this issue. Throughout every sector and level, from local government to waste management pioneers and young student leaders, Ghanaians are actively contributing to the fight against plastic pollution. We are pleased to partner with the Global Plastic Action Partnership to bring together existing efforts, scale up these highly successful initiatives, and fast-track our progress towards a collective goal – to achieve zero leakage of plastic waste into our oceans and waterways."
The Ghana NPAP will support the country's public, private and civil society sectors in transitioning to a circular plastics economy, which directly addresses the root cause of plastic pollution by fundamentally reshaping the way plastics are produced, used and re-used. A parallel engagement is currently under way in Indonesia, the first GPAP country partner.
"We are deeply honoured that the Government of Ghana, under the leadership of President Akufo-Addo, has chosen to partner with GPAP in a collective effort to drive forward the country's plastic action agenda," said Kristin Hughes, Director of the Global Plastic Action Partnership and Member of the Executive Committee at the World Economic Forum. "As one of Africa's leading political and economic forces, Ghana has the potential to not only dramatically reduce its own plastic pollution, but also to spark off a wave of unprecedented plastic action across the African continent. We are confident that the findings and achievements from this highly meaningful partnership will serve as a model of success for the rest of the world."
The Ghana NPAP will also be supported by the Global Environment Facility, which sits on the Governing Council of GPAP and co-chairs the Platform for Accelerating the Circular Economy, a public-private collaboration mechanism dedicated to driving the global circular economy transition.
"The growing menace of plastic pollution is being felt all around the world," said Naoko Ishii, CEO and Chairperson of the Global Environment Facility. "I want to commend Ghana for its leadership in being the first African nation to join the Global Plastic Action Partnership. Ghana is one of the fastest growing economies in Africa, and its support for a circular plastics economy is an important signal to others across the continent."
As part of broader strategic efforts to accelerate the reduction of plastic waste and pollution in Ghana, the NPAP will work in close alignment with two key initiatives. The first, a National Plastic Management Policy, championed by MESTI, will transform the management of plastics throughout the value chain, injecting sustainability and reusability into every step of the plastic life cycle.
"By putting standards and policies in place to guide the transition towards a circular plastics economy, we will achieve myriad positive outcomes for Ghana," said Professor Kwabena Frimpong-Boateng, Ghana's Minister of Environment, Science, Technology and Innovation. "We will see the creation of new jobs in the sustainable waste management sector; the protection of women, children and other vulnerable communities from the damaging effects of mismanaged plastic waste; and accelerated progress towards many of the Sustainable Development Goals."
At the same time, the Ghana multi-stakeholder 'Waste' Recovery Platform, facilitated by the United Nations Development Programme (UNDP), will accelerate these efforts by creating a one-stop shop solution platform (both in-person and digital) for stakeholders to exchange data, solutions, and technological innovations on waste recovery.
"We are delighted to join forces with the Government of Ghana and the Ghana NPAP to amplify our collective impact," said Silke Hollander, Resident Representative a.i. of UNDP Ghana. "The 'Waste' Recovery Platform is very much owned and driven by traditional and non-traditional stakeholders in the waste management sector and beyond in Ghana. By leveraging the incredible entrepreneurial initiatives underway and creating a space where people can connect, exchange knowledge and share good practices, as well as co-design and partner to find solutions, we are confident that the Platform will help Ghana move towards the circular economy and reduce plastic pollution in the near future."
"The scope and depth of this partnership in Ghana truly represents a new and remarkable way to tackle the world's most pressing issues," added Elsie Kanza, Head of Africa and Member of the Executive Committee at the World Economic Forum. "It's clear that no single institution or sector can take on the plastic pollution crisis alone. In Ghana and across the world, GPAP is bringing together government, business and civil society organizations – and it's also working closely with local entrepreneurs, women and young people to ensure that their voices and initiatives are heard. This is how we can achieve an equitable and sustainable future."