Development in South Africa: Bridging the Gap
To live in one of the most unequal yet highly urbanised societies in the world means that there are high levels of inequality, poverty and other injustices that the majority of the population have to live with  (Burger, Van der Berg, van der Walt, and Yu, 2017). This reality carries with it not only decades of discriminatory policies, but poverty stricken livelihoods that cripple any chance of progress in a society where wealth has a strong racial correlation (Burger, et al, 2017; Leibbrandt, Woolard, and Woolard, 2000). While South Africa is the most advanced and diversified economy in Africa, and the wealthiest in terms of GDP per capita, the country is still haunted by high levels of inequality. According to the 2018 World Bank Report, more than half of South Africa's population lives below the upper poverty line of R992 per month per person by use of 2018 prices. These are the realities that we are faced with – this is in addition to being the leading country in the world in unequal income distribution with a Gini index of 63.4 as shown in Table 1.1. Although great strides have been made in targeting unemployment and economic growth to ensure that development has taken place, historical inequities still need to be addressed adequately in order to improve the quality of life for the majority of South Africans, and to bridge the gap between these parallel worlds. This chapter will take measure of the nature of inequality as well as advance some routes which could be taken to allay the present challenges.
The world's 10 most unequal countries
(Source:https://www.worldatlas.com/articles/the-world-s-most-unequal-countries.html)
| | | |
| --- | --- | --- |
| Ranking | Name of country | Gini coefficient |
| 1 | South Africa | 63.4 |
| 2 | Namibia | 61.3 |
| 3 | Haiti | 60.8 |
| 4 | Botswana | 60.5 |
| 5 | Suriname | 57.6 |
| 6 | Zambia | 57.1 |
| 7 | Central African Republic | 56.2 |
| 8 | Lesotho | 54.2 |
| 9 | Belize | 53.3 |
| 10 | Swaziland | 51.5 |
Not a New Idea
The idea of bridging the gap between two parallel worlds is not one that is unheard of (Zhu, 2017). Asia, being the largest continental economy by GDP (Gross Domestic Product), also implies that it has experienced rapid socioeconomic development in recent years. A great example of this is China – since the late 1970s, the development in the cities has not only attracted immense inflows, but have also been a key driving force for urban growth and development, with the 2010 census stating that 87 percent of China's "floating" population migrated to cities and towns from villages. Zhu and his colleagues make use of the in situ urbanization, which refers to the process of rural settlements and populations transforming themselves into urban or quasi-urban ones with little geographical relocation of the residents. This phenomenon has two dimensions whose development has played a key role in China's urban growth between the late 1970s and the late 1990s (Zhu, 2017). Of the two dimensions, one of them focuses on the creation of new industrialised centres, and the other dimension refers to the practical and physical modifications of rural areas through the expansion of township and village enterprises (TVEs) (Zhu, 2017).
The experiences of developed countries propose that in the industrial period and post-industrial period, many individuals and their families move between and/or within cities numerous times due to changes in either employment status or housing needs, which are often caused by various life cycle events such as marriage, child bearing, etc. This is the kind of urban-urban and intra-urban mobility that is often observed in many developed countries (Zhu, 2017).
From the case study mentioned above, we learn that incorporating migration along with in situ urbanisation will not only ensure that people residing in the rural areas benefit from the prosperity of the cities, but will also benefit from the resources and potential development that could occur in their hometowns (Zhu, 2017). Spatial links will need to be visualized and implemented at finer spatial levels, with "a coordinated regional approach" required to "cuts through fragmented boundaries" in order to assist the movement of people between and/or within urban and rural spaces (Zhu, 2017). Additionally, more attention will need to be given to issues of various social security programs and public services, to ensure that migrants will not be disadvantaged by this migration (Zhu, 2017). Gopaul's (2009) paper based on the South Africa case also indicates that something needs to be done to assist people living in rural areas who live in extreme poverty; else, their standard of living will continue to worsen. He suggests that the solution lies in tourism – "to accomplish rural development, there is a need to nurture a sense of willingness and enthusiasm amongst the poor communities to participate in rural development" (Gopaul, 2009).
The Evolution of Urban Development in South Africa
Rapid development and large scale rural-urban migration in South Africa were inspired by the discovery of diamonds in Kimberly, and that of gold in the Witwatersrand in the 1860s and 1880s respectively (Mabin, 1992; Turok, 2012). These economic activities brought some much-needed opportunities to the rural community, and transformed South Africa from an agricultural state to an industrialized nation (Moomaw and Shatter, 1996; Turok, 2012). An invasion of foreign investment in mining from De Beer, Anglo American and Consolidated Gold Fields was also witnessed in the late 1800s, and further generated rapid growth of support industries and services that were supported by temporary migrant labour that was migrating to the cities (Turok, 2012). As a result, the developing world – including South Africa – has witnessed unprecedented growth in urbanisation rates in the last two decades (Cohen, 2006). Thus far, urbanisation in South Africa has been increasing by roughly 0.5% on a year-to-year basis, with technological innovation and employment in urban areas continuing to increase due to its ability to offer considerable socio-economic opportunities in comparison to rural areas. Behrens and Robert-Nicoud (2014) further argue that cities are not only the locus in which inequality materialises, but they are hosts to instruments that contribute extensively to changes in that inequality. Thus, it is not surprising that individuals seem to migrate to economic hubs where more opportunities exist (Behrens and Robert‐Nicoud, 2014; Ozler and Hoogeveen, 2005).
Having an urbanised economy or cities as economic powers while rural communities are under-developed is not an exclusive South African phenomenon – it happens all over the world because of several reasons as seen in the case of Asia. Amongst the key reasons is that of economies of scale and rural-urban migration. As such, Fields (1972) referred to the rural-urban migration theory as an economic phenomenon in his paper. The theory hypothesizes that workers compare the projected incomes in the urban sector with agricultural wage rates in the rural areas and migrate if the former exceeds the latter. In addition, the rural-urban migration is often regarded as the adjustment mechanism that workers use to assign themselves between different labour markets, some of which are located in urban areas and some located in rural areas. Thus, rural-urban migration is the equilibrating force that connects rural and urban projected incomes and is regarded as a disequilibrium phenomenon (Fields, 1972).
Consequences of Urbanisation
Over time, we have observed how urbanised South African cities are, and how they continue to advance. The downsides of these advances have had destructive societal, economic and environmental consequences (Turok, 2012). Meanwhile, rural areas continue to remain under-developed with high levels of deprivation with respect to sanitation, access to water and access to energy, high levels of unemployment, inadequate use of natural resources, insufficient access to socio-economic and cultural infrastructure, low skills level and insufficient literacy rate (Behrens and Robert-Nicoud, 2014; Burger, et al, 2017; Gopaul, 2009; Krishman, 2016; Ozler and Hoogeveen, 2005).
Upon the analysis of international studies, Barro (2000) found that people living in rural areas might be using old technological methods, whereas urbanised areas employ more recent and advanced techniques in their daily undertakings. As such, we observe how large municipalities within the cities are deeply accommodative of additional commercial services and more advanced roles concerning finance as well as developmental projects; whereas smaller municipalities, which are mainly located on the peripheries of the cities are only able to accommodate a large portion of lower mandate facilities and industrial work (Behrens and Robert-Nicoud, 2014). In addition, these smaller municipalities are often under-resourced and are surrounded by areas that have high levels of poverty and deprivation.
As it stands, an approximate 66% of South Africans are living in urban areas, with the expectation that eight in ten people will be living in urban areas by the year 2050. This not only means that the demand for infrastructure and housing will increase rapidly, but the cost of living will also increase for the average South African. Though urbanisation is the most convenient instrument currently being used to accelerate the rate of growth in developing countries by means of (i) driving economic growth, (ii) sustaining larger and more productive populations, (iii) sourcing higher means of income, new and diversified engines of growth need to be considered. The results of having cities that are too urbanised may have negative externalities that may affect negatively on rural economies, whose role is to provide economic sustainability and food security (Krishman, 2016). As such, other measures need to be considered if we are to sufficiently and effectively bridge the gap between rural economies and urban economies in order to ensure that growth takes place in a way that is beneficial to everyone.
Although cities are the dominant centres of economic activity and employment, and continue to attract maximum foreign investment; they are not performing to their potential or reaping the benefits of agglomeration due to prevailing shortages of energy and water infrastructure, transport congestion and deficits in education and skills (Turok, 2012). This is in addition to creating poverty traps on the peripheries of the cities, which results in favouritism for road-based transport – private cars and minibus taxis (Turok, 2012). To ensure that rural economies are not left behind in this fast paced economy, we need to consider redeveloping rural areas into sustainable communities that can support themselves economically (Gopaul, 2009; Krishman, 2016).
Poverty and Inequality in Rural Areas
Households that have high levels of poverty and inequality are largely black or coloured communities who tend to reside on the periphery of the cities, thus, a high level of vulnerability is usually observed in some areas that are remote and isolated from the main cities (Burger, et al, 2017). High levels of unemployment are largely concentrated among the poor people in rural areas and continues to remain a core challenge in the South African economy with a 238% growth from 1 703 863 in 1994 to 5 752 632 in 2016 (Dube, das Nair, Nkhonjera, and Tempia; 2018 Quantec, 2018). According to Ozler and Hoogeveen (2005), South Africans are neither separate, nor are we equal in post-Apartheid South Africa. The authors make this statement because the question of whether the economic inequalities of the apartheid era have faded remains, especially with the high levels of poverty and inequality that this country still faces in the rural areas.
Poverty is at an all-time high in South Africa and is highly concentrated within the African race, women, rural areas and the youth (Triegaardt, 2006; Woolard, 2012). Statistics show that Africans account for 95% of the poor population and a large percentage of them reside in former homelands, rural areas and townships households (Woolard, 2012). It is also important to note that poverty is closely linked with the mortality rate. This stems from the fact that poor people have difficulties in accessing health care facilities seeing as they do not have the basic income for transport services, nutrition and clothing which further perpetuates the high levels of inequality (Woolard, 2012). Consequently, the unsatisfactory living conditions continue to intensify the high poverty levels, which further exclude and marginalise poor people from participating in the economy (Triegaardt, 2006; Woolard, 2012). As such, agriculture presents opportunities of job creation, particularly in rural areas (Dube, et al, 2018). As a labour-intensive and rural industry, agriculture makes a contribution of 10% to total employment. However, a slight decline has been observed between the period of 1994 and 2016 – from 12 percent to 6 percent (Dube, et al, 2018).
How Can Agriculture Help Eliminate Poverty and Deprivation?
In rural areas all over the world, agriculture represents the principal land use and is a major element of the practicality of rural areas. Rural communities can be developed to increase their competitiveness in agriculture. The in situ urbanisation case mentions to how rural areas have to transform themselves into urban or quasi-urban ones with little geographical relocation of the residents; in the case of South Africa, this can be achieved through agriculture. Farming and related undertakings primarily encompass the basic fabric of rural life, contributing meaningfully to the overall state of rural areas by facilitating and creating employment, business prospects, infrastructure and quality of the environment. This can be a driving force for economic growth and can have lasting impacts on the overall community.
In South Africa, agriculture is a twofold production system that comprises of large-scale commercial farmers and small-scale farmers (Dube, et al, 2018). As it stands, agricultural production remains concentrated on field crops given their prominence in determining national food security. However, the growth in South Africa's agriculture sector –the fruit sector and small-scale farmer participation in particular – is restricted by insufficient infrastructure; mainly ripening facilities, pack-houses and cold storage facilities (Dube, et al, 2018). This limitation causes costly delays, limits entry into the formal sector and hinders expansion into export markets.
Government or private sector needs to intervene by initiating and constructing capabilities in agriculture and agro-processing if these small-scale manufacturers do not have the means to get their products to final consumers (Dube, et al, 2018). What will ensure success in this initiative is linking farmers with large producer-exporting companies that already have access to infrastructure and international markets (Dube, et al, 2018). The government can then incentivise large producer-exporting companies to collaborate with minor producers. In return for large-scale companies lengthening technical services and information on production and standards to small-scale farmers, the large companies can be offered tax breaks, grants for investments in storage and cold chain amenities or support with raising funds. This initiate is one that not only benefits the small-scale farmers, but also the capability to have spill over effects that will benefit the whole economy.
Recommendations
Rural areas undoubtedly have the potential to lead to great economic growth; however, this reality will only be possible if skills uplifted and investment in R&D (research and development) is prioritised. The results of investing in rural economies will have spill over effects and positively impact on urban areas, while creating employment in the peripheries of the country. With a highly urbanised country as South Africa, it is crucial that we look into other alternatives which will not only benefit the country as a whole, but also have an undeniable impact that can bridge the gap between rural and urban areas.
Competitive agriculture in rural communities, particularly when supported by technological platforms can drive economic growth – an example of this is the Khula app. Khula is a farming app founded by Karidas Tshintsholo with the aim of assisting emerging farmers in finding their feet. To date, 175 farmers are currently using it, and this has ensured that famers who were initially unable to access the formal markets can connect with suppliers. The purpose of the app is not only to assist small-scale farmers, but to assist with alleviating poverty and ensuring that young entrepreneurs have an opportunity to make a decent living.
With such great innovations taking place in the country, the possibilities of the kind of development that can be fostered in rural areas are endless. Indeed South Africa's developmental woes can only be resolved from within; through South African ingenuity, and modulation of the experiences, technologies and investment of external partners.
Water Diplomacy: Creating Spaces for Nile Cooperation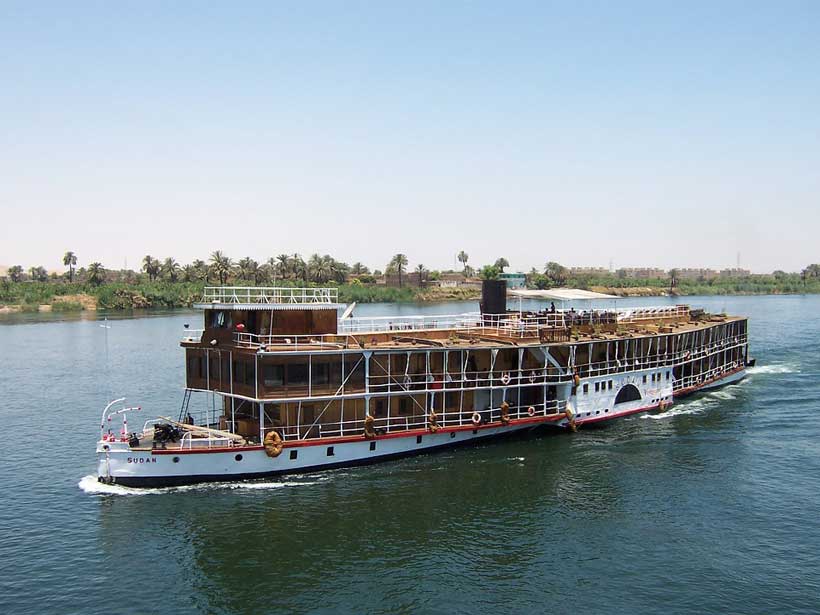 The Nile River is the longest river on the earth, with eleven nation states sharing it and over 487 million people or about 20% of the African population living in the basin countries and they depend partly or fully on the Nile for their daily water use, foods and other economic benefits. The river drains 10 % of the African continent or an area greater than 3,176,541 km2, and its divided to ten different sub-basins with two main feeding sources' the White Nile and the Blue Nile, which making it one of the worlds largest and complicated international trans-boundary river basins.
It's very clear that the long and current regional disputes over the Nile's waters between the upstream and downstream countries specially Uganda, Ethiopia and other upstream nations who are been the forehead leading the campaign for the lifting of colonial era treaties regarding Nile waters allocutions, governance, management, economic use and other Nile related issues and they been demanding renegotiating Nile river basin for fair shares and equal benefits and which they did in 2010 by reaching and signing of (Cooperative Framework Agreement or Entebbe agreement) to replace all the European colonial agreements, meanwhile the two downstream countries Egypt and Sudan in the other sides refusing to renegotiate or sign the Entebbe treaty and insists on maintaining the colonial era treaties or what they called "the historical rights" which gave the lion's share of the Nile waters and the absolute veto to only two Nile countries and ignored the rights of other Nile's nations.
Egypt and Sudan for years been using what they called "the historical rights" guaranteed by the colonial era agreements and their diplomatic influence to block international development funds and loans a policy which its aims only to prevent the upstream nations from establishing or constructing any developmental or economical projects on the Nile River, while Egypt is warring about the potential impacts which could effect its water security level as a result of any construction on the Nile river, the other Nile Basin nations said they are addressing the undergoing social, economic and environmental changes plus the population in the region is growing rapidly which will need more access to Nile basin resources in aim to provide water, food and energy to their people.
The looming conflict in the Nile Basin region over water recourses governance, allocutions and economic use has been a major security threat to the regional and international peace and stability, the risks of militarizing the Nile water dispute among the basin countries has been a growing serious security threat to the basin region as a result of lacking of middle point agreement on how to share, mange and benefit from the longest river fairly and equally.
In past years the downstream nations had already unilaterally constructed dams, used Nile waters for irrigation, industrial and other projects and with the upstream nations complaining about those unilateral projects done by the downstream nations and the none cooperative method and approach of Egypt and Sudan and as an outcome of years of disagreement over the Nile water issues and unilaterally decisions and actions taken by the individual countries claiming the Nile River waters and only favoring their own benefits over other Nile nations. The Entebbe Agreement came in to escalate the none cooperation situation more by geo-politically shifting the control of Nile basin waters away from the downstream nations and gave the upstream countries a legal frame to construct dams, establish different projects and increase their water use for different propos.
With some countries see themselves as victims of other Nile countries who had taken an advantage of certain period of time or situation that they were in, which let some of them to see no benefit now in been cooperative with the others concerning the Nile related issues and looks only at their national interests, but still the diplomatic dialogue and inclusive negotiations between the Nile basin nations is the only way forward to build confidence, trust and cooperation for sustainable future of the Nile and mutual and shared benefits for basin members countries. A positive engagement between the Nile basin members now can be observed in some steps taken by the countries were technical dialogue and diplomatic approach has increased the sharing of technical and hydrological data between the basin members countries, capacity building workshops and inter-nations trainings and seminars for technicians, policy and decision makers, government officials, diplomats, scientists, researchers, journalists, local and global think-tank institutions, NGOs, regional and other international stakeholders had really helped in easing the interstate political tensions and putting concord foundation for more regional cooperation which will contribute to a better understanding, enhancing the diplomatic relations and cooperation among the basin nations.
To have a sustainable Nile Basin with equal benefits, comprehensive cooperation, joint management, and effective partnership the diplomatic approach and inclusive negotiations is the only solution to overcome years of mistrust and standoff in the Nile Basin region.
Russia, Africa and the SPIEF'19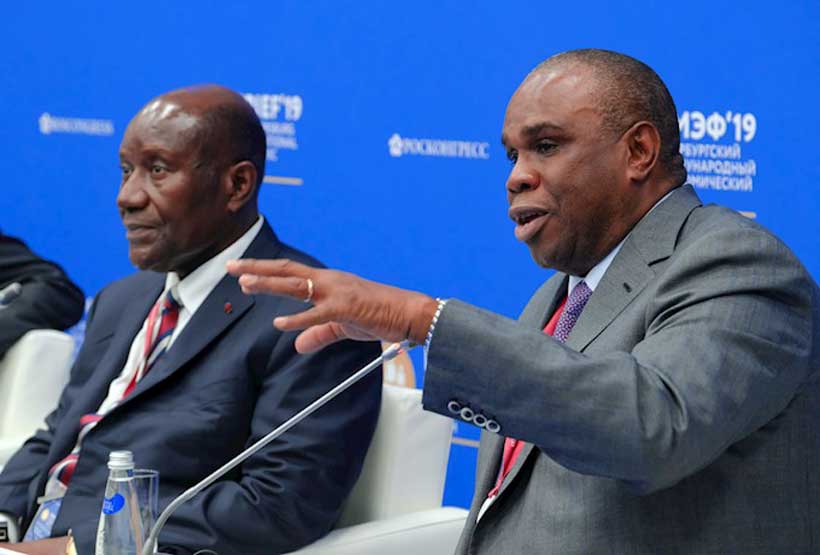 In 2019, four African countries – Côte d'Ivoire, Lesotho Niger and Somalia – for the first time attend the St Petersburg International Economic Forum (SPIEF'19) held on June 6-8 under theme "Creating a Sustainable Development Agenda" in Saint Petersburg, Russia.
The Forum brought together a record-breaking number of participants: over 19,000 people from 145 countries, with 1,300 guests representing heads of companies. The sheer number of business community participants, variety of thematic events, and level of representation on both national and international levels underscore the status of SPIEF as a truly global economic forum.
Over the years, SPIEF has become an open platform to exchange best practices and key competences in the interest of providing sustainable development.
The main event was the plenary session, with the participation of President of the Russian Federation Vladimir Putin, President of the People's Republic of China Xi Jinping, President of the Republic of Bulgaria Rumen Radev, Prime Minister of the Republic of Armenia Nikol Pashinyan, Prime Minister of the Slovak Republic Peter Pellegrini, and Secretary-General of the United Nations António Guterres.
During his address to the participants of the Forum, Vladimir Putin talked about the tasks the country is facing, as well as about the importance of national projects as a driver of economic growth in Russia.
The overall budget for the implementation of proposed development projects of Russia is about US$400 billion. The priorities are healthcare, education, research and development, and support for entrepreneurship. And, considerable funds will also be allocated to develop major infrastructure, transport and the energy industry.
Putin also stressed to the guests and participants for their friendly attitude to Russia, their willingness for joint work and business cooperation based on pragmatism, understanding of mutual interests and, of course, trust, frankness and clear-cut positions. That global inequality between countries and regions is the main source of instability. It is not just about the level of income or financial inequality, but fundamental differences in opportunities for people.
More than 800 million people around the world do not have basic access to drinking water, and about 11 percent of the world's population is undernourished. A system based on ever-increasing injustice will never be stable or balanced.
As a first step, necessary to conduct a kind of demilitarisation of the key areas of the global economy and trade, that also includes utilities and energy, which help reduce the impact on the environment and climate. This concerns areas that are crucial for the life and health of millions, one might even say, billions of people on the entire planet.
Russia has embarked on implementing long-term strategic programmes, many of which are global in nature, it is important to hear each other and pool efforts for resolving common goals. Russia is ready for these challenges and changes.
During the four days of the Forum, over 1,300 speakers and moderators, including Russian and international experts, took part in discussions. They shared their knowledge, experiences and best practices with the participants of the Forum. There was special zone of the area that hosted interviews with politicians, government officials, representatives of big business.
On the sidelines, there were business dialogues between Russia and other countries, for example Russia–Africa, were very popular this year. President of the Senate of the Parliament of the Republic of Zimbabwe, Mabel Chinomona, was one of the African participants. State officials came from Botswana, Egypt, Zimbabwe, Côte d'Ivoire, Lesotho, Mauritius, Niger, Sierra Leone and Uganda.
The Russia-Africa session featured Mikhail Bogdanov, Deputy Minister of Foreign Affairs of the Russian Federation; Special Presidential Representative for the Middle East and Africa; Amani Abou-Zeid, Commissioner for Infrastructure and Energy, African Union Commission and Tatyana Valovaya, Member of the Board – Minister in Charge of Integration and Macroeconomics, Eurasian Economic Commission.
Isabel Jose dos Santos, Chairman, Unitel SA; Daniel Kablan Duncan, Vice President of the Republic of Cote d'Ivoire; Dmitry Konyaev, Deputy Chairman of the Board of Directors, URALCHEM JSC and Benedict Okey Oramah, President, Chairman of the Board of Director, The African Export Import Bank.
Sylvie Baipo-Temon, Minister of Foreign Affairs and Central Africans Abroad of the Central African Republic; Nikita Gusakov, General Director, EXIAR; Boris Ivanov
Managing Director, GPB Global Resources and Nataliya Zaiser, Chair of the Board, Africa Business Initiative UNION; Executive Secretary, Russian National Committee, World Energy Council (WEC).
The participants noted that 2019 should be a historic year in the development of Russian-African relations. The summit of heads of state in October should take place amidst record growth in Russian exports to Africa. Russia is interested in new markets and international alliances more than ever before, while Africa has solidified its position as one of the centres of global economic growth in recent years.
In this context, the countries need to rethink the approaches, mechanisms, and tools they use for cooperation in order to take their relations to the next level as their significance grows in the new conditions of world politics and economics. What steps are needed to give a new impetus to bilateral economic relations? What are the key initiatives and competencies that can create a deeper strategic partnership between Russia and African states?
These are among the key questions on the meeting agenda for the upcoming Russia-Africa Summit planned for October in Sochi under the co-chairmanship of President of the Russian Federation Vladimir Putin and President of the Arab Republic of Egypt Abdel Fattah el-Sisi, Chairperson of the African Union.
Russia joins Gulf states in coaching Sudan's military
Russia has emerged as Saudi Arabia and the United Arab Emirates' silent partner in assisting the Sudanese military's efforts to weaken, if not defeat a months-long popular revolt that has already toppled president Omar al-Bashir.
Documents leaked to The Guardian and MHK Media, a Russian-language news website, by the London-based Dossier Centre, an investigative group funded by exiled Russian businessman Mikhail Khodorkovsky, disclosed Russia's hitherto behind-the-scenes role in Sudan.
Laying out plans to bolster Russia's position across Africa by building relations with rulers, striking military deals, and grooming a new generation of leaders and undercover agents, the documents included details of a campaign to smear anti-government protesters in Sudan.
The plan for the campaign appeared to have been copy-pasted from proposals to counter opposition in Russia to president Vladimir Putin with references to Russia mistakenly not having been replaced with Sudan in one document.
Russia advised the Sudanese military to use fake news and videos to portray demonstrators as anti-Islamic, pro-Israeli and pro-LGBT. The plan also suggested increasing the price of newsprint to make it harder for critics to get their message out and to discover "foreigners" at anti-government rallies.
Yevgeny Prigozhin, a St. Petersburg-based businessman and close associate of Mr. Putin, complained in a letter to Mr. Bashir before he was overthrown that the president was not following his advice.
Mr. Prigozhin, who was indicted by US special counsel Robert Mueller for operating a troll factory that ran an extensive social media campaign that favoured of Donald J. Trump's 2016 presidential campaign, was according to the documents a key player in efforts to enhance Russian influence in Africa.
Mr. Prigozhin accused Mr. Bashir and his government of not being active enough and adopting an "extremely cautious position."
If a visit this week to Sudan by foreign journalists at the invitation of the military to show them medical facilities that had allegedly been ransacked by protesters and demonstrate that hospitals that had been attacked by notorious paramilitary forces associated with Sudanese army were returning to normal, is anything to go by, Mr. Prigozhin's criticism may have merit.
"It must have seemed like a good idea to somebody, although I cannot imagine why. The plan was to show us how terribly the protesters had behaved. If the world could see what they were really like they would understand that the regime had no choice but to send in the militia. Except from the moment we arrived at the first medical facility things started to go wrong," said the BBC's Africa editor, Fergal Keane.
To Mr. Keane, the omnipresence of paramilitaries of the Rapid Support Forces (RSF) made the paramilitary headed by General Mohamed Hamdan Dagalo aka Hemedti, believed to be a Saudi and UAE favourite because his troops fought in Yemen and his reputation for ruthlessness, look "more like an army of occupation than an internal security force."
Widely viewed as ambitious and power hungry, General Dagalo resembles in the eyes of protesters Abdel Fattah al-Sisi, the autocratic general-turned-president who in 2013 staged a Saudi-UAE-backed military coup that toppled Egypt's first and only democratically elected president.
Defending the UAE's contacts with the military council, Emirati minister of state for foreign affairs Anwar Gargash said his country's "credibility is our means to contribute to enhancing peaceful transition in a way that preserves the state and its institutions."
Human Rights Watch this week called on the United Nations Security Council to halt the withdrawal of peacekeepers from Darfur, noting that the Rapid Support Forces "have a long track record of abuse. They carried out highly abusive counter-insurgency campaigns in Darfur, and the Southern Kordofan and Blue Nile regions over the past five years, in which they attacked villages, killed and raped civilians, and burned and looted homes."
Witnesses outside a medical facility and a hospital that Mr. Keane visited countered the military's tale, describing how troops stormed the buildings and looted and destroyed facilities. ""The international community has to intervene. There is no peace here in Sudan. People are suffering a lot… I am frightened for my country," said a man as he drove by Omdurman Hospital.
The failed public relations tour, the crackdown, the Russian guidance and stalled talks between protesters and the military fits a Saudi-UAE promoted pattern that has evolved across the Middle East and North Africa since the 2011 popular Arab revolts. It's a pattern that aims to defeat popular protest at whatever cost.
The Sudanese protest movement has emerged from the crackdown that doctors said killed at least 118 people and efforts to delegitimize it battered, divided and potentially weakened but still standing.
A general strike declared at the beginning of this week initially paralyzed the capital Khartoum but within a day or two appeared to be weakening.
Ethiopian mediator Mahmoud Dirir said on Tuesday that the protesters had agreed to end the strike while the governing Transitional Military Council (TMC), headed by officers with close ties to Saudi Arabia and the UAE, was ready to release political prisoners, one of several key demands of the protesters.
Mr. Dirir said the two sides had also agreed to "soon" resume talks to resolve the crisis even if they were nowhere near narrowing differences of returning Sudan to civilian rule. It was not clear what soon meant.
"Negotiation – even if it happens soon – will circle back to the same issue: will the military cede power to a civilian government? Nothing about the generals' actions has indicated that this is an imminent possibility. The fear is that they will use any negotiations to try to divide the opposition while security pressure is maintained on the streets," Mr. Keane said.