Washington- Pyongyang: A third attempt?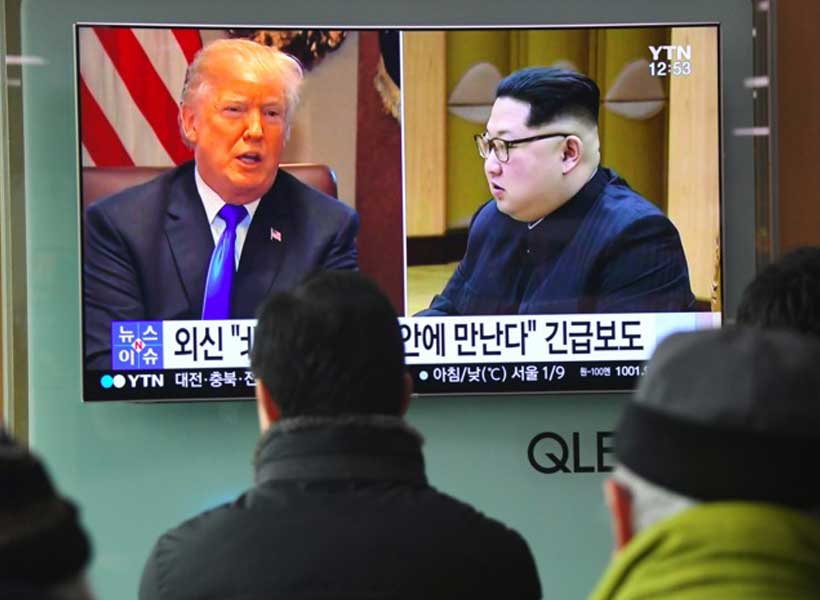 During a recent meeting with his South Korean counterpart Moon Jae-in at the White House, US President Donald Trump said that while a step-by-step agreement with North Korea concerning that country's nuclear program remained on the table, his administration was still focused on "the big deal." Trump announced plans for his third meeting with the North Korean leader Kim Jong-un, but added that this would require "lengthy preparation." The South Korean president likewise spoke about the need for the US and North Korean leaders meeting again shortly and underscored the need to maintain the current pace of negotiations.
The response from Pyongyang did not take too long in coming. In a keynote address on April 12 to the Supreme People's Assembly in Pyongyang, which had earlier officially named him "the supreme representative of all Koreans," Kim Jong-un said: "If the United States finds a solution acceptable to us, and proposes a meeting between the DPRK and US leaders, we are ready to agree to this once again. I won't hesitate to sign an agreement, but only if it is written in a way that meets the interests of the DPRK and the United States, is fair and mutually acceptable."
The April 12 session of the North Korean parliament was attended by a large delegation of the Russian State Duma deputies. Immediately after that, it became known that President Vladimir Putin would meet Kim later this month during a stopover in Vladivostok on his way to Beijing. The North Korean leader's increasingly frequent political contacts with his Russian and Chinese counterparts reflect a desire to coordinate positions ahead of the next round of the US-North Korean talks.
Well, is there any reason for optimism about the outcome of the forthcoming parley? If so, then it must be extremely cautious. Indeed, in the span of just a few months, Washington and Pyongyang have gone from general promises of denuclearization in exchange for security guarantees made during the June 2018 summit in Singapore, to a failed attempt to agree a roadmap for this process at the Hanoi summit in late February 2019.
Past experience shows that Washington's attempts to make Pyongyang agree on everything at once were in principle doomed to failure for obvious political and technical reasons.
First off, it has been the factor of time. While Donald Trump hurried to clinch a "big deal" before his first term in office runs out (and not being sure about a second one), his North Korean counterpart was not interested in making this happen for exactly the same reason: as the most recent history shows, a new occupant of the White House often finds it easy to undo what his predecessor has achieved.
Equally obvious are technical reasons why there is no way to fast-track denuclearization of the Korean Peninsula. The deal on the Iranian nuclear program took years of negotiations and was the result of a mutual compromise (meaning that it is highly unlikely that a deal like this can be achieved in full, much less at once).
Under the present circumstances, any further US-North Korean negotiations would look like a walk across a minefield. If it were up to me, I would suggest the following way to go.
During the third Trump-Kim summit (which, if unsuccessful, will most likely be the last), to adopt a mutually accepted denuclearization roadmap that would say exactly which nuclear weapons and their delivery vehicles are to be eliminated, above all, those capable (albeit hypothetically) of reaching US territory.
The sides should also draw up an exhaustive list of facilities of North Korea's nuclear (and, possibly, missile) programs that would be stopped or eliminated based on the principle of "proving the existence" there of nuclear elements, rather than "proving their absence." The latter verification path will take us nowhere because, to meet this requirement, Pyongyang would be forced to eliminate all of its engineering and other modern industries. In other words, to return to the pre-industrial era – something it will hardly ever agree to.
And, most importantly, there should be a compulsory and phased implementation of the stated goals. Pyongyang's next move towards abandoning its nuclear technology should be accompanied by a partial and phased lifting of sanctions imposed on it by the UN Security Council, primarily those, which are damaging the peaceful sectors of the North Korean economy and are hampering the inter-Korean dialogue.
Each of these UN sanctions contains a concrete procedure for their suspension of lifting. At this stage the Security Council is already entering the game as all further negotiations on the denuclearization of the Korean Peninsula will depend on the agreed position of its permanent members (including the five officially recognized nuclear states).
Here it would be highly advisable to consider the proposal made by Kazakh President Nursultan Nazarbayev at a special session of the UN Security Council on the non-proliferation of weapons of mass destruction in January 2018, whereby the official five nuclear states could offer North Korea security guarantees within the framework of the UN Security Council as an important condition for creating an atmosphere of trust and ensuring successful progress towards denuclearization.
By the way, the third US-North Korean summit (if it happens at all) could be held in a trilateral format, as President Moon Jae-in has previously suggested. This would reduce the likelihood of yet another failure and would help ensure speedy security assurances for North Korea in exchange for the country's nuclear disarmament.
First published in our partner International Affairs
Sino-India clash: A crisscross of geo-politics and geo-economics
Two economic powers of Asia are in a head to head collision over a border clash in the Ladakh sector. It is not the first time when these nuclear powers are in front of each other over the border dispute. In 1962 both of these nations engaged themselves in war over border of Aksai chin. Then in 1967 tensions raised because of Nathu La and Cho La military clashes at the Himalayan border. A similar event took place in the shape of a military standoff in 2017 at Doklam. Such events not only put the regional stability at stake but are also tremendously important for international peace and security. The question here is why the states that have mutual trade of US $100 billion are at daggers drawn? Does India have the capacity of facing a super power like China? The answer is "No", China's GDP is more than five times that of India, and it spends four times as much on defense, militarily China is much stronger than India. In such an obnoxious environment when the world is facing a huge crisis in the shape of Covid-19, such disputes depict a much deeper power struggle-where the actors behind the scenes are more than two. Such events in International relations show a crisscross of geo-politics and geo-economics.
Abrogation of article 370 and 35A was not a normal phenomenon in world politics. It could not have been made possible without the support of super power like US. The massive rise of China in South Asia and its efforts to become a world power through its strategies like OBOR and CPEC is clearly not acceptable for US. US at any cost want to maintain its hegemony and as usual it has to use a foreign actor to pursue its interests-Hilary Clinton once said that; power of US lie not within but outside its territory. The strong ties and staunch mutual co-operation between US and India show that Indians In their actions are backed by US. Economies of US and Europe depend on the decline of China. Chinese on the other hand are getting more stronger due to their overwhelming economic co-operation with the developing countries. The only way left for US to counter China is to inflict a crisis situation in the Asian region which could have a direct effect on Chinese economy.
The recent episode of Ladakh clash seems an attempt to jeopardize the deterrence stability of South Asia. US along with its western allies are trying to stop the rise of China in the region. According to an IMF report, estimated growth rate of China for 2021 is 9.9% as compared to it US is estimated to have a growth rate of 4.9%. It clearly shows a sharp decline of US. They are now trying to mess things up using India. They also have a strong hold at South China Sea, which they would use to stumble Chinese trade. Indians are fully aware of the potential which Chinese posses in case of an armed conflict. They are also acquainted with the massive economic co-operation with the Chinese. But they are also anxious about China's threat to its territorial integrity and its hegemonic design. They also have resentments with progress of Pakistan through projects like CPEC. This show down has its strings in the hands of US which intends to empower emerging India and weaken rising China. US with this strategy is killing two birds with one stone, on one hand they are trying to stimulate an economic imbalance for China and at the same time they are trying to divert Indian market towards US, like they did in case of S-400 deal between India and Russia.
Chinese follow the policy of minimum violence but they have all the might to give a sturdy response in case of any aggression against them. They have surpassed US on many grounds and they see themselves as super power of the world till 2030. India should realize the malicious intentions of US. Ex-President of America George Bush once said that; we are not complacent enough to counter "Indian and Chinese" economy. William Clay said; "This is quite a game, politics. There are no permanent enemies, and no permanent friends, only permanent interests". India should realize that a stable South Asia is in its favor. US have always used a state to pursue its interests and once they achieve their goal they never turn back for any support. Instability and failure of deterrence in the east has always proved to be beneficial for the west. Americans have always used the power of "$" to drive policies of South Asian states which in longer run proved damaging for Asians themselves. A peaceful solution of the Sino-Indian border tension with an immediate effect is necessary in the current circumstances; otherwise the results could be lethal.
The China Syndrome: The Rising And The Existing Power
China is a large country. It has a large population, a productive population. It has the largest Gross Domestic Product of any country in the world including the US on a purchasing power parity (PPP) basis. It was $27.307 trillion. A nominal GDP basis does not reflect the actual buying power of the currency. China's nominal GDP of $14,140 trillion is much less than the US, which is $21.44 trillion, both nominal and PPP as the dollar is the benchmark. Since 1871, the US has been the world's largest economy without question. Now there is a question although the real question might be, so what?
Britain used to be the world's foremost power. No longer, yet Britain remains wealthy and will continue to be so in the foreseeable future, as will Europe and North America. A couple of hundred years earlier to that the great powers were: China, India, Persia and the Ottoman Empire. The world changes.
Among the problems President Trump has with China is its friendship with Iran. Why that is a problem with Donald Trump is not some nefarious plan Iran has concocted to harm the US but the impression he has generated of he himself being a wholly-owned subsidiary of Benjamin Netanyahu and his LIkud party.
Thus Mr. Trump's dead-on-arrival peace plan, to all appearances, had its birth on the drawing boards of the LIkud. Iran happens to be Netanyahu's nemesis and surprise surprise is also Trump's. A perfectly reasonable nuclear agreement bearing the imprimatur of the UN and the major European powers has been jettisoned by Trump in favor of saber rattling. Europe is not cheeringly on board in this solo venture.
Meanwhile, Netanyahu feels free to start annexing the West Bank — at least the choice parts — and using it to shore up political support while he goes on trial for corruption. He is the first sitting Israeli prime minister to be so besmirched in the country's history.
The implacable Xi Jinping and the stubborn Donald Trump happen both to be making their respective countries great again. Donald Trump claims he has succeeded using a metric known to him alone: China's effort is more prosaic. Between 2014 and 2018 it put to sea more ships for its navy than the British, German, Spanish and Indian navies combined. And it has embarked on a campaign for tighter control of its coastal waters. The ship-building program betrays a clear intent to project power beyond coastal waters to the open seas in a challenge to the U.S., the present policeman maintaining open sea lanes. China prefers complete independence.
Then there is China's bid to be a prominent player in the world of high-tech industry, a role that can influence future economic power. Huawei and its 5G capability is one example. But the Trump Commerce Department has issued new rules designed to choke off Huawei's access to chips and semi-conductors that it needs to manufacture 5G cellphones and infrastructure. These are made made mostly in Taiwan and South Korea, and the new export rules issued May 19, 2020 forbid chipmakers from using US machines and software to make and sell chips to Huawei. It closes a loophole allowing such sales as long as the manufacture was outside US territory. While Huawei plans alternatives, its customers in Europe and globally are likely to be affected by higher prices and delays.
The cold battle goes on.
From Patriotism to Humanity: China Leading the Fight of the COVID-19
The outbreak of the novel coronavirus has not only impacted human and social life in terms of disease and infection but also created a controversy in the international media and social network to the point that some western media fell into the trap of racism and xenophobia showing an unusual and an inhuman reactions, instead of solidarity and unity exhibition.
Since China is the first country infected with this virus, so it has already started its fight, the government as a leader has put a clear and effective strategy with successful measures of treatment, protection and prevention. In order to maintain the situation the government dedicated all kind of resources and today's statics shows an increasing of the confirmed infections and death cases and a considered decrease of healed people's number.
As a matter of fact, the World Health Organization' Chief TedrosAdhanomGhebreyesus has defended his earlier praise of China's response to the outbreak and mentioned that all the member of the WHO has praised China for what it did by taking action in the epicenter, helped to prevent cases of being exported to other provinces in china and the rest of the world. This formal statement just confirmed the truth to the world about China's reliability and the sacrifices made to safeguard the world.
All Chinese government's management and measures wouldn't be successful without the great response of the society. As a matter of fact we need to acknowledge the high level of patriotism of the Chinese citizens. No matter their social status;the military, police, engineers, workers, doctors and nurses, business and company owners, celebrities, civilians and ordinary people, students and volunteers, young-middle-old generations, all this people responded to the call of duty applied and followed meticulously all the recommended measures by the government, indeed by their own free will, they sacrificed wealth, made many donations, provided help and assistance donated free masks , free supplies, goods, food and even provided free services, and differently some people made a priceless contribution such the doctors, fully dedicated, working on clock on the front line risking and even sacrificing their lives to save other people's lives.
Meantime, in the other side of the globe the coronavirus kept spreading, the virus is traveling the world it has no boundaries and it's affecting the economy, the social life and the public health, it becomes a public enemy, presenting a threat especially for the African communities, in fact many of them they do not have neither the financial means nor a good health security. But since the outbreak of COVID-19, the Africa CDC (Center for Disease Control and Prevention) took many actions and followed the Chinese in term of union and solidarity.
Indeed Africa CDC collaborated with the World Health Organization to train in-coming analysts in event-based surveillance. Also The Africa CDC has been working with member states to build infection prevention and control capacities in healthcare facilities and with the airline sector to support screening of travelers.
These prevention measures may help control the COVID-19, but African leaders still need to pay attention and follow suit to avoid an outbreak and not reproduce the Italian or Iranian scenarios. Recently, World Health Organization chief TedrosAdhanomGhebreyesus warned about the efficiency of the prevention measures and said mediocre preparations could have fatal consequences. He also said the real struggle lies in management of the situation in case of an outbreak.
Generally, Africa doesn't have a high level of public health. Many diseases and viruses have appeared on the continent, such as HIV, Ebola and tuberculosis. In order to fight and eliminate this threat, a number of African governments have increased expenditures allocated to health and started cooperation for health development with the Chinese government.
China promised to continue to scale up assistance to African countries by creating a health care intuitive allowing the African countries to achieve independent and sustainable development. The plan also contain a long-term strategy of health development, exchange of scientists and new research and technical support for strengthening health-related capacities under the International Health Regulations. China aim to improve African medical and health service and hospital management to provide a better services to the African people by training medical staff, public health workers and administrative personnel. Besides China promised to upgrade its medical and health aid programs for Africa, particularly flagship projects such as the headquarters of the African Center for Disease Control and Prevention.
The cooperation's plan shows the Chinese-African comity, the friendship and the mutual respect and we can clearly see that China is determined to the contribution in the development of the African nations. The actual epidemic situation of the COVID19 in Africa needs more attention and prevention, the collaboration precisely with china will be a wise action considering the Chinese experience of management, logistics, and organization to maintain the situation in case of outbreak and bringing out the best of the Sino-African alliance.
Despite that China is still fighting this epidemic in its own territory, the government express his readiness to help the other infected countries, recently the Chinese Foreign Ministry expresses sincere thanks for the support and assistance provided by many countries such South Korea and Japan, adding that China is ready to improve and strengthen the mechanism of responding to health and epidemic emergencies and promote the exchange of epidemiological information, exchange of experiences, prevention and control, to implement cooperation In the areas of diagnosis, treatment, research programs, and the development of medicines and vaccines.
China is acting heroically; in the middle of its own fight against the virus the PRC still showing gratitude and good will to help others countries. Till now Africa still has the chance to prevent and learn the Chinese experience, sadly some Africans countries still didn't take serious prevention measures but China can provide the help and the assistance.
During the outbreak of the COVID-19 we all have seen the Chinese citizen showing patriotism and helping to maintain the situation, meanwhile the Chinese government have shown the same to the world, the lockdown was a strategy to stop the virus from spreading globally, if the Chinese government didn't take the decision to lockdown cities and stop flights and traffics, experts confirmed that the COVID-19 could infect much more of global population, in fact it was a noble and human act, full of altruism and unselfish, all the matter was the human life.
Now China jumps to the next step which is helping the affected countries and proposing ways of preventions, sharing the genetic code for the virus with researchers around the world and providing medical trials information, treatment, and research programs for the development of medicines.
It's time for solidarity and support and to have hope. This is a matter of life or death, and China can fight against the outbreak with the rest of the world to the safety…. to restore faith in humanity.