Is Israel Taking Advantage of a Longtime Strategic Partner for Russia?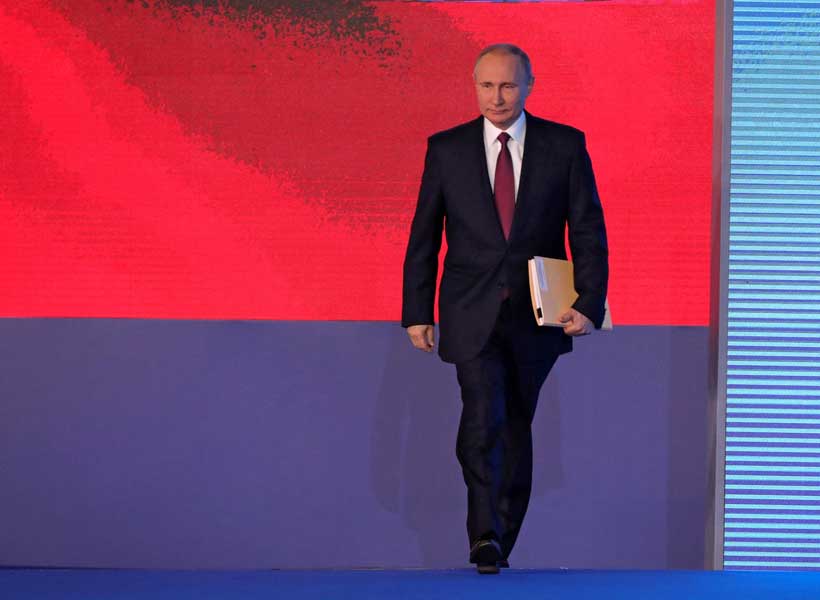 In February, Israeli Prime Minister, Benjamin Netanyahu met with his Russian counterpart, President Vladimir Putin. In what can only be described as a bravado attempt to flaunt the strength of the ties between the two countries, Netanyahu pointed out that, "tourism is at an all-time high, with 400,000 Russians visiting Israel every year and about 200,000 Israelis visiting Moscow every year," adding that, "(he has) the honor to contribute somewhat to this statistic." The first part of that statement is accurate; yet, the latter part is far from the truth. Russo-Israeli relations had been improving for decades before Netanyahu entered the Israeli political scene.
Primakov's Mission: Laying the Foundations for Russo-Israeli Relations
The "founder" of improving Russo-Israeli relations, Yevgeny Primakov, made a point (almost a mission) of maintaining some type of relationship between the two countries. Since the 1967 Arab-Israeli War all the way up to the latter years of Secretary General Mikhail Gorbachev's leadership, Moscow officially considered Israel a "pariah state." However, in the 1970s, during the "Brezhnev Years," Primakov, a Jewish-born Soviet, was a key member of Soviet delegations that held several rounds of secret talks with the Israelis (usually in hotel rooms from Vienna to Tel Aviv) despite Moscow breaking off diplomatic relations with Israel.
Following Brezhnev's death, Primakov continued his "mission" by maintaining correspondence with his Israeli counterparts while serving in various capacities within the Soviet establishment in order to preserve communications between the two countries. When Gorbachev began his perestroika and glasnost policy, relations between the Soviet Union and Israel slowly began to improve. Gorbachev's policies allowed Soviet Jewish "refuseniks" to immigrate to Israel, which eventually led to the resumption of diplomatic relations with Israel in October of 1991—two months before the breakup of the Soviet Union. In December of that same year, Gorbachev announced the breakup of the Soviet Union but relations between the newly formed Russian Federation and Israel continued.
The 1990s were a tough decade for the newly formed Russia. The breakup of the Soviet Union saw the end of a social, cultural, economic, and political lineage that lasted for roughly seventy years dissolve overnight, thereby sending the citizens into dearth and poverty at unimaginable levels. As a result, Russia was a very weak state and did not have much leverage in the international arena. It did not help that the Yeltsin government implemented an American-backed "shock therapy" economic policy that de-modernized the country several decades and left the vast majority of the state in calamitous conditions.
Under the Yeltsin presidency, Russia was destabilized to a high degree (some would argue that it was worse than the years of the Great Depression in the 1930s), crushing their economy. Russians often term the "Yeltsin years" or the decade following the breakup of the Soviet Union as smutnoe vremya (time of troubles), or smutnoe for short, in reference to political crises caused by tumultuous transition periods. The term was most notably used following the demise of the Rurik dynasty, which eventually saw the establishment of the Romanov dynasty. It was also used, to a lesser extent, during the years of the Russian Revolution—the transition from the Russian Empire to Soviet Russia.
Similar to the "Brezhnev years" of stagnation in the 1970s, Israel proved to be a sanctuary for many Russian Jews during this chaotic period. Russian Jews (and other Jewish citizens from former Soviet satellite states) were no exception to this smutnoe of the 1990s, and as a result, Soviet and Russian Jews chose to immigrate to Israel in large numbers.
Despite the tough economic times in Russia, the Russian political elite, which included the then-Russian Foreign Minister (and eventual Prime Minister) Yevgeny Primakov, did its best to preserve its relations with Israel, while maintaining its longstanding foreign policy principle of a two-state solution regarding the Israeli-Palestinian conflict. This was consistent with its overall foreign policy of stability in the region. In the 1990s, Russia (similar to the Gorbachev era of the Soviet Union) maintained a balanced approach when it came to the Middle East, ensuring its national interests were preserved.
The Putin Era: Advancing Interactions, Strategic Engagement, and Navigating the Palestinian Question
Relations between Israel and Russia significantly improved under Russia's current leader, Vladimir Putin. Throughout his nineteen years in office, since being elected in 2000, President (and Prime Minister) Putin has often received many Israeli Prime Ministers along with other Israeli officials. Putin and others have also visited Israel on many occasions. Both Israeli and Russian officials often cite the size of the Jewish community in Russia and the Russian diaspora in Israel as proof of warming relations. In fact, today the Russian Jewry often claim that the community has it better under the current leader than at any other point in Russian history. And, there is a reason for that. The extent of anti-Semitism in Russia is minimal in comparison to the past. This increased acceptance is reinforced by President Putin. The Kremlin often speaks kindly of the Jewish community in Russia, and Putin has even taken it a step further by stating that Israel and Russia have common histories – namely that the two despise fascism and Nazism of any kind. In addition, the Russian Jewry now has the freedom to practice its religion with no fear of retribution today and can travel to Israel freely—a right greatly curtailed in the Soviet Union.
Despite being political rivals, President Putin, like others, sought Primakov's advice when it came to the Middle East. Being an Arabist and an expert on the Middle East, Primakov felt (and wrote extensively) that Russia's main challenge in the 21st century was to fight international terrorism—something that the new President agreed with (and still agrees with to this day). The President has long sought better relations with the Zionist entity as a result of his belief that one of Russia's main national interests in the region is reducing international terrorism. President Putin believes, for better or worse, that Israel can be a strategic partner in fighting international terrorism. However, President Putin and the entire policy class also believe in a two-state solution along the 1967 borders (in reference to the land Israel captured in the 1967 Arab-Israeli War) to allow for a future Palestinian state to exist alongside Israel. Furthermore, the Russian policy class believes that state sovereignty must be respected. On the former, Israel has made little to no effort and, on the latter, Israel has consistently overstepped its bounds with regards to state sovereignty, often pushing hard enough to destabilize the region.
A policy reversal by the Israelis on the Palestinian question – that is to disengage from the West Bank and East Jerusalem, as well as fully withdrawing from Gaza – seems highly unlikely. Moreover, it also seems unlikely that Israel will cease its illegal excursions in other countries, such as what it is doing in the Syrian arena. This begs some fundamental questions: is Israel's belligerence putting its citizens in harm's way and, more importantly, is it risking losing Russia as a national security partner, with its fifty years of unofficial relations and twenty-plus years of official relations? If this is the case, then Israel will be putting itself in a very dangerous conundrum.
The United States, Russia, & Israel: Is it a Triangle?
It is true that Israel, for decades, has relied on the United States for military aid and moral support in the international community in times of war. However, since the fallout of Hurricane Katrina in 2005, the United States has been slowly (but surely) leaving the scene. American citizens do not want their country to be extensively engaged in the Middle East or elsewhere. They would rather the exorbitant amount of money spent on these commitments abroad be invested in improving lives of American citizens through domestic programs, like healthcare, education, and increased job security. The direct lineage between the elections of candidates Barack Obama and Donald Trump (not John McCain, Mitt Romney, or Hillary Clinton) proves this to be the case. We are seeing further evidence of this as politicians vie for control of the Democratic Party. Voices within the party are justifiably asking questions out loud that have been asked behind closed doors for years. Questions like: why is it that a foreign country receives so much financial support from the United States when many of its own citizens still struggle to survive? As a result, support for Israel in the American political scene is waning, despite the Israeli lobby's claim. Today, only a certain portion of the Republican Party blindly supports Israel wholeheartedly. At some point, those voices will grow quieter and quieter or, at the very least, become less influential.
When America leaves the scene and becomes less influential on the international stage, Israel will be left alone. Yet, Israel can move eastward in pursuit of securing its national interests, creating a new alliance with Russia, a country that is more invested in the region today. This can be beneficial to Israel's national security but, for that to happen, Israel will need to change its course on both the Palestinian question and its excursions in the region. The decision is a "no-brainer" given that the current course is creating an outcome where Israeli citizens are endangered from rockets as well as stabbings, shootings, and car-ramming attacks.
Russia, who seems to be invested in the region for the long haul, has been a willing partner thus far. Most recently this was evident when Russia –– in coordination with its military and the Syrians –– cooperated with Israel to help return the body of the fallen Israeli soldier, Zachary Baumel, who was killed in the 1982 "Lebanon War." However, the Israeli establishment cannot take its Russian counterparts for granted forever. While the vast majority of the Russian policy class and President Putin still seem to want better relations with Israel and are willing to give it the benefit of the doubt, this is not guaranteed going forward. The policy class is not homogenous and some within it can override the Russian President when they deem Russia's national interests are being jeopardized, as we saw when Russia finally decided to deliver its S300 surface-to-air missile systems to Syria. Thus, if Israel continues its confrontational activity in the region and prolongs its actions towards the Palestinians, Russia has cards at its disposal that will be unfavorable to Israel—leaving Israel isolated and weaker.
The ball is in Israel's court. It must decide if it wants better relations with Russia or not. For the moment, the Russian policy class desires this; there is no doubt. However, at some point, Russian patience might run out. With the United States slowly leaving the scene, Israel would be wise to move closer to Russia. However, for that to happen, it needs to seriously consider changing its policy towards the Palestinians and cease its military excursions in the region. Israel should not test Russia's resolve like it has done in the past, because the consequences for the Zionist entity could prove to be existentially dire.
First published in our partner RIAC
The Russia-China-Iran Alliance
NATO, the U.S. Government, and all other "neoconservatives" (adherents to Cecil Rhodes's 1877 plan for a global U.S. empire that would be run, behind the scenes, by the UK's aristocracy) have been treating Russia, China, and Iran, as being their enemies. In consequence of this: Russia, China, and Iran, have increasingly been coordinating their international policies, so as to assist each other in withstanding (defending themselves against) the neoconservative efforts that are designed to conquer them, and to add them to the existing U.S. empire.
The U.S. empire is the largest empire that the world has ever known, and has approximately 800 military bases in foreign countries, all over the planet. This is historically unprecedented. But it is — like all historical phenomena — only temporary. However, its many propagandists — not only in the news-media but also in academia and NGOs (and Rhodesists predominate in all of those categories) — allege the U.S. (or UK-U.S.) empire to be permanent, or else to be necessary to become permanent. Many suppose that "the rise and fall of the great powers" won't necessarily relate to the United States (i.e., that America will never fall from being the world's dominant power); and, so, they believe that the "American Century" (which has experienced so many disastrous wars, and so many unnecessary wars) will — and even should — last indefinitely, into the future. That viewpoint is the permanent-warfare-for-permanent-peace lie: it asserts that a world in which America's billionaires, who control the U.S. Government (and the American public now have no influence over their Government whatsoever), should continue their 'rules-based international order', in which these billionaires determine what 'rules' will be enforced, and what 'rules' won't be enforced; and in which 'rules-based international order' international laws (coming from the United Nations) will be enforced ONLY if and when America's billionaires want them to be enforced. The ideal, to them, is an all-encompassing global dictatorship, by U.S. (& UK) billionaires.
In other words: Russia, China, Iran, and also any nation (such as Syria, Belarus, and Venezuela) whose current government relies upon any of those three for international support, don't want to become part of the U.S. empire. They don't want to be occupied by U.S. troops. They don't want their national security to depend upon serving the interests of America's billionaires. Basically, they want the U.N. to possess the powers that its inventor, FDR, had intended it to have, which were that it would serve as the one-and-only international democratic republic of nation-states; and, as such, would have the exclusive ultimate control over all nuclear and other strategic weapons and military forces, so that there will be no World War III. Whereas Rhodes wanted a global dictatorship by a unified U.S./UK aristocracy, their 'enemies' want a global democracy of nations (FDR named it "the United Nations"), ruling over all international relations, and being settled in U.N.-authorized courts, having jurisdiction over all international-relations issues.
In other words: they don't want an invasion such as the U.S. and its allies (vassal nations) did against Iraq in 2003 — an invasion without an okay from the U.N Security Council and from the General Assembly — to be able to be perpetrated, ever again, against ANY nation. They want aggressive wars (which U.S.-and-allied aristocracies 'justify' as being necessary to impose 'democracy' and 'humanitarian values' on other nations) to be treated as being the international war-crimes that they actually are.
However, under the prevailing reality — that international law is whatever the U.S. regime says it is — a U.N.-controlled international order doesn't exist, and maybe never will exist; and, so, the U.S. regime's declared (or anointed, or appointed) 'enemies' (because none of them actually is their enemy — none wants to be in conflict against the U.S.) propose instead a "multilateral order" to replace "the American hegemony" or global dictatorship by the U.S. regime. They want, instead, an international democracy, like FDR had hoped for, but they are willing to settle merely for international pluralism — and this is (and always has been) called "an international balance of powers." They recognize that this (balance of powers) had produced WW I, and WW II, but — ever since the moment when Harry S. Truman, on 25 July 1945, finally ditched FDR's intentions for the U.N., and replaced that by the Cold War for the U.S. to conquer the whole world (and then formed NATO, which FDR would have opposed doing) — they want to go back (at least temporarily) to the pre-WW-I balance-of-powers system, instead of to capitulate to the international hegemon (America's billionaires, the controller of the U.S. empire).
So: the Russia-China-Iran alliance isn't against the U.S. regime, but is merely doing whatever they can to avoid being conquered by it. They want to retain their national sovereignty, and ultimately to become nation-states within a replacement-U.N. which will be designed to fit FDR's pattern, instead of Truman's pattern (the current, powerless, talking-forum U.N.).
Take, as an example of what they fear, not only the case of the Rhodesists' 2003 invasion of Iraq, but the case of America's coup against Ukraine, which Obama had started planning by no later than 2011, and which by 2013 entailed his scheme to grab Russia's top naval base, in Crimea (which had been part of Russia from 1783 to 1954 when the Soviet dictator transferred Crimea to Ukraine). Obama installed nazis to run his Ukrainian regime, and he hoped ultimately for Ukraine to be accepted into NATO so that U.S. missiles could be installed there on Russia's border only a five-minute missile-flight away from Moscow. Alexander Mercouris at The Duran headlined on 4 July 2021, "Ukraine's Black Sea NATO dilemma", and he clearly explained the coordinated U.S.-and-allied aggression that was involved in the U.S.-and-allied maneuvering. U.S.-and-allied 'news'-media hid it. Also that day, Mercouris bannered "In Joint Statement Russia-China Agree Deeper Alliance, Balancing US And NATO", and he reported a historic agreement between those two countries, to coordinate together to create the very EurAsian superpower that Rhodesists have always dreaded. It's exactly the opposite of what the U.S.-and-allied regimes had been aiming for. But it was the response to the Rhodesists' insatiable imperialism.
To drive both Russia and China into a corner was to drive them together. They went into the same corner, not different corners. They were coming together, not coming apart. And Iran made it a threesome.
So: that's how the U.S. regime's appointed 'enemies' have come to join together into a virtual counterpart to America's NATO alliance of pro-imperialist nations. It's a defensive alliance, against an aggressive alliance — an anti-imperialist alliance, against a pro-imperialist alliance. America's insatiably imperialistic foreign policies have, essentially, forced its 'enemies' to form their own alliance. It's the only way for them to survive as independent nations, given Truman's abortion of FDR's plan for the U.N. — the replacement, by Truman of that, by the U.N. that became created, after FDR died on 12 April 1945.
New Strategic Report: Development Prospects for Improving Russia's Policy in Africa
An expert group, has completed its studies of Russia's policy implementation processes, impact and setbacks, and the development prospects in Africa, and has presented its final report with some recommendations intended to improve and scale up the existing Russia's influence in Africa.
The report was prepared as part of a programme sponsored by the Russian Foreign Ministry. The Situation Analytical Report, compiled by 25 Russian policy experts, was headed by Sergei A. Karaganov, Dean and Academic Supervisor of the Faculty of World Economy and International Relations of the National Research University – Higher School of Economics (HSE University). Karaganov is also the Honorary Chairman of the Presidium, Council on Foreign and Defense Policy.
The 150-page report, released in November, offers new directions, some development prospects and recommendations for improving policy methods and approaches with Africa. The report identifies two key factors necessary for determining the long-term importance of the continent: (i) human capital and (ii) natural resources.
These make for the increased interest for investment in extractive industries and infrastructure, booming consumer markets rising at rates much higher than the rest of the world. With its 1.3 billion, it is a potential market for all kinds of consumable goods and for services. In the coming decades, there will be an accelerated competition between or among the external players over access to the resources and for economic influence in Africa.
Nevertheless, despite the growth of external player's influence and presence in Africa, Russia has to intensify and redefine its parameters as it has now transcended unto the fifth stage. Russia's Africa policy is roughly divided into four periods, previously after Soviet's collapse in 1991.
The first historic summit created a good basis for launching or ushering in a new fifth stage of Russian-African relations. The joint declaration adopted at the summit raised the African agenda of Russia's foreign policy to a new level and so far remains the main document determining the conceptual framework of Russian-African cooperation.
Some of the situation analysis participants, who contributed to the latest policy report spoke very critically of Russia's current policy towards Africa and even claimed that there was no consistent policy and/or consistency in the policy implementation at all. The intensification of political contacts are only with a focus on making them demonstrative. Russia's foreign policy strategy regarding Africa has to spell out and incorporate the development needs of African countries.
While the number of top-most and high-level meetings have increased, the share of substantive issues on the agenda often remains small or scanty. There are little definitive results from such meetings. There are, indeed, to demonstrate "demand for Russia" in the non-Western world; the formation of ad hoc political alliances with African countries geared towards competition with the collective West. Apart from the absence of a public strategy for the continent, there is shortage of qualified personnel, the lack of coordination among various state and para-state institutions working with Africa.
In addition, insufficient and disorganized Russian-African lobbying, and combined with the lack of "information hygiene" at all levels of public speaking were listed among the main flaws of Russia's current Africa policy. Under the circumstance, Russia needs to compile its various ideas for cooperation with Africa into a single comprehensive and publicly available strategy to achieve more success with Africa.
In many cases and situations, ideas and intentions are often passed for results, unapproved projects are announced as going ahead. Russia's possibilities are overestimated both publicly and in closed negotiations. The supply of Russian-made vaccines to Africa is an example. Having concluded contracts for the supply of Sputnik V to a number of African states, Russian suppliers often failed to meet its contractual obligations on time. Right now, there are many agreements signed, before and during the first Russia-Africa summit, and Russia simply fails to deliver, as promised with African countries.
"The situation analysis participants agreed that the lack of project due diligence and proper verification of contracting partners is one of the key challenges for Russian business in Africa. Many projects announced at the top and high political levels have not been implemented. The reason is usually that the projects were not properly prepared before official approval. As a result, budget funding is often spent on raw and unprepared initiatives," according to the report.
The adoption by Russia of an open doctrinal document on cooperation with Africa will emphasize the seriousness of its intentions and create an atmosphere of trust, in which individual steps will attain greater weight and higher-level justification. In African conditions, this will mean accelerated coordination of essential decisions. It is important to note that such public strategies for the entire continent are a necessary instrument of the other countries that are active in Africa.
Unlike most competitors, Russia can afford to promote a more honest, open, direct and understandable agenda for Africa: sovereignty, continental integration, infrastructure development, human development (education and medicine), security (including the fight against hunger and epidemics), normal universal human values, the idea that people should live with dignity and feel protected. All situation analysis participants agreed with this view. The main advantage of such an agenda is that it may be more African than those of its competitors.
It is advisable to present such a strategy already at the second Russia-Africa summit, and discuss and coordinate it with African partners before that. Along with the strategy, it is advisable to adopt an Action Plan — a practical document that would fill cooperation with substance between summits.
One of the most important tasks critical for the effectiveness of Russian actions in Africa is the centralization and strengthening of the role and capacity of Russian state institutions on the African track, especially in the information sphere.
The report proposes dialogues should be enhanced between civil societies, including expert and academic organizations. In a situation where a rapid expansion of trade and economic relations is difficult (for example, due to economic stagnation or a crisis in the respective country), the humanitarian track can become one of the ways to deepen relations further.
On foreign players in Africa, the report points to China as number one active player. India's influence continues to grow, as does the involvement of Turkey, the UAE, and Qatar, which are relatively new players in Africa. The influence and involvement of the United States, Japan, South Korea, and Brazil in the coming years, are likely to remain at the level of the past decade and will decline compared to China's influence.
China, the EU, Germany, Turkey, Spain, and others have developed, announced and are implementing progressively their African strategies.
In general, of all the G7 countries, only Germany still has some potential to increase its influence and presence in Africa. Canada, Italy, and the UK, according to the authors, can at best maintain their influence at the same level, but it, too, will decrease compared that of the new centers of power.
At the same time, for its part, Africa will retain its importance for Europe in the long term and may even increase being an important source of a wide range of resources. Europe needs mineral resources (cobalt, gas, bauxite, rare earth metals) in order to carry out the energy transition, and human ones in order to make up for the natural decrease of population. The European banking system and financial institutions traditionally rely on Africa as a source of funding (while African capital often seeks refuge, and instability only accelerates its flight).
The influence of other non-European emerging powers, who often compete with each other, is also growing in Africa. UAE and Turkey may be mentioned among others. Their rivalry is visible in North Africa, West Africa and, especially, the Red Sea, and includes competition for control over both port infrastructure and points of possible military presence. A vivid example of this rivalry is Somalia, where Turkey is interacting and strengthening its position in Mogadishu, while the UAE, which recently lost control of the port in Djibouti, is taking a foothold in Berbera (in the self-proclaimed Republic of Somaliland).
There are indications that Israel, whose activity in many African countries, particularly in East Africa, has remained traditionally high (especially in "sensitive" areas, such as internal security, the training of security and special forces, as well as in economic, especially agriculture projects), will continue to increase its involvement in the short and medium term.
Making efforts to maintain and expand its presence in Africa, Israel is developing contacts with the UAE and through it with a number of Gulf countries. Africa will be one of the platforms for Israel's interaction with these countries. It will continue attempts to reduce the influence of Iran that has been carrying out its own diverse activity in Africa, seeking to expand it further.
On July 22, 2021, already after the situation analysis had taken place, it was declared that Israel had obtained an observer status to the African Union.
In the next ten years, rivalry, the balance of power and interests in the Indian Ocean will become a key factor of military and strategic importance, for this is where the interests of China, India, Pakistan, Turkey, Arab countries, Iran, as well as the United States, France and other players are likely to collide. These countries will use significant resources to strengthen their positions along the entire coast of Eastern Africa, from Egypt to South Africa, which means both risks and new opportunities for the countries of the region. The military and strategic importance of the Indian Ocean islands (including four African island states) will continue to grow.
The report proposes discussions on possible mechanisms and formats of bilateral and multilateral alliances with interested parties, whose interests in Africa may coincide with the Russian ones. For example, the potential of bilateral cooperation in Africa with India (including outside of BRICS) has not been fully tapped yet. Joint initiatives in Africa in the areas of international development assistance, education, health care, and project financing may be of interest as well. It is also advisable to explore, including at the expert level, the possibility of engaging with countries such as South Korea (widely represented in Africa), Vietnam (showing growing interest), Cuba, Serbia, and several others as part of Russian initiatives in Africa.
Without Africa, Russia would not have so many friendly partners sharing its strategic goal of building a fair polycentric world order. By all purposes, Africa seems to be a favorable region in terms of positioning Russia as a global center of power and a country that defends peace, sovereignty, the right of states to choose development models independently, and as a protector of nature and the environment. Therefore, Russia's increased presence and influence in Africa does not and should not cause resistance among African countries.
It is also important to move away from the "zero-sum" approach in relations with the West, even though at first glance the interests and aspirations of the EU and the U. S. in Africa seem to be opposite to those of Russia. Russia should build its policy and rhetoric in relation to Africa regardless of its rivalry with the West and should not create the impression that its policy in Africa is driven by the wish to weaken the positions of the United States and the EU on the continent.
The situation analysis participants agreed that Russia's policy in Africa should be a derivative of Russia's overall foreign policy goals and objectives, the three key areas being:
a) Ensuring national security. In the African context, this means primarily the danger of new viruses, extremism, anything that may impact Russia's national security, including competition with other centers of power.
b) Ensuring social and economic development of Russia. Africa is a promising market
for Russian products and services, and a factor that facilitates the diversification and
modernization of the Russian economy. The situation analysis participants agreed that this is the main aspect today. In future, Africa can become one of the important factors in the development of some of Russian non-resource sectors, particularly railway and agricultural engineering, automotive and wheeled equipment, as well as services (primarily education and health care).
c) Strengthening the position of the Russian Federation as one of the influential centers in the modern world. Political partnership with African countries and the African Union as friendly players can make an important contribution to these efforts. As UN votes show, the positions of Russia and most African countries are conceptually identical or similar on many issues. None of the African countries imposed sanctions or restrictions against Russia. The ideological basis for cooperation at this level can be provided by the conceptual documents and ideas recognized and supported by all African countries: the approach of "African Solutions to African Problems" be strictly followed, working within the framework of the African Union Agenda 2063 and the UN Development Goals 2030.
How the Arms Control Approach Could Help Russia Tackle Climate Change
The right approach would probably be to create a special interagency coordinator under a senior official reporting directly to the head of state. It is vitally important that whoever heads the office is well respected by international partners: a worthy counterpart to the likes of John Kerry of the United States.
The energy crunch in Europe; the knee-jerk accusations of Russia having engineered it to win early approval of the Nord Stream 2 gas pipeline; and the Kremlin's riposte, pointing to the EU's own policy failures, dominate the news. Yet one really important development remains underreported. Moscow's official view of climate change and energy policy has just undergone a major reversal. Weeks before the COP-26 climate summit in Glasgow, Russia's Economic Development Ministry has come up with a national goal of achieving carbon neutrality by 2060.
This is not a covert attempt by the in-system liberals to begin aligning Russia's climate policy with the policies of the world's major powers. Rather, it is the consummation of a sea change that has been brewing for the past couple of years in the Kremlin's thinking. President Vladimir Putin announced the carbon neutrality goal in remarks at the recent Russian Energy Week in Moscow. Climate change denial is over. Debate about what exactly has caused it is considered politically irrelevant. What matters are the existing realities and the current trends, which amount to all the world's major economies moving away from dependence on fossil fuels. As a result, the new nexus of efforts to deal with climate change, the energy transition those efforts center on, and the geopolitical impact of that transition are moving right to the top of the Russian foreign policy agenda.
Of course, this is not all or even mostly foreign policy. Energy transition, which is the core issue, will affect not just the oil and gas sector, which in 2020 accounted for 15 percent of Russia's GDP, but the country's entire economy and finances, its political economy, and the relative political influence of various vested interests. Given the coincidence of energy transition and the inevitable transfer of political power, this combination is likely to become one of the most important processes shaping Russia's future for years and decades to come.
Still, the foreign policy aspect of the change is non-negligible. The carbon neutrality pledges already announced by Russia's main economic partners—the European Union and China; the United States, Japan and others—as well as the UN climate conference in Glasgow next month are all compelling Moscow to come up with a strategy of its own, and soon. Such a strategy will aim to preserve the country's position as an energy power, but on a much more diverse foundation.
Integrating climate science, energy issues, and geopolitical objectives to produce and pursue an effective strategy could be compared to the task faced by the Soviet Union in the late 1960s–1980s. Back then, Moscow had to come up with a practical way to link nuclear science and weapons development, military force posture and strategy, the capabilities of the defense industry, and wider foreign policy goals. The result was transiting from the sterile rhetoric of universal disarmament to a diplomacy of strategic arms control that eventually produced strategic stability between the Soviet Union and the United States.
What is needed today is for various parts of the Russian government to pool their resources. The offices of the president's special representative for climate issues and the special representative for liaison with international organizations on reaching sustainable development goals are evidently too small to take control. The ministries of foreign affairs, economic development, and finance; the Russian Academy of Sciences; and the Security Council all have an interest and possess valuable expertise on the issues, but none of them can actually be charged with taking the lead on their own.
The right approach would probably be to create a special unit under a senior official reporting directly to the head of state. That unit would become an interagency coordinator among the many ministries that have interest and expertise on the relevant issues. Also, to borrow a page from the history books on Soviet arms control, a permanent mechanism could be organized of principals and deputies from various parts of the government to discuss and prepare decisions on these matters. This would be an analogue of the Big Five on strategic arms negotiations (the Party Central Committee, the Defense Ministry, the KGB, the Military Industrial Commission of the Council of Ministers, and the Foreign Affairs Ministry). It is vitally important that whoever heads the office has direct access to the president and is well respected by international partners. He or she needs to be a worthy counterpart to the likes of John Kerry of the United States.
The current hike in gas prices in Europe has motivated a number of people in Russia to sneer at green and alternative energy projects and reassert the continuing primacy of traditional sources of energy. Life is never linear, of course. However, even if future economic development does not completely close the books on fossil fuels (and it probably won't, at least for a long time), the balance of energy consumption by some of the key buyers of Russian oil and gas will most likely change fast.
The speed of change means that temporizing now would undermine Russia's chances of limiting the damage from the reduction of the world's demand for its oil and gas. It would also prevent it from participating in developing new global norms and from taking advantage of its vast potential capabilities in such areas as hydrogen energy. Strategic decisions on that score have just been made, and this is a crucial positive step. The task now is to construct well-designed mechanisms to implement those decisions nationally and in foreign policy.
This article was published as part of the "Relaunching U.S.-Russia Dialogue on Global Challenges: The Role of the Next Generation" project, implemented in cooperation with the U.S. Embassy to Russia. The opinions, findings, and conclusions stated herein are those of the author and do not necessarily reflect those of the U.S. Embassy to Russia.
From our partner RIAC