Creating Opportunities for People through Inclusive and Sustainable Growth in North Macedonia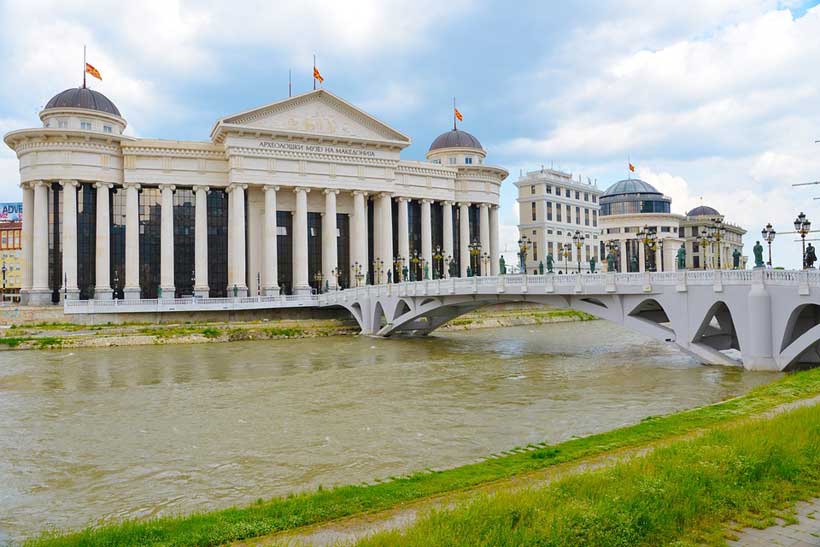 Supporting faster, inclusive, and sustainable growth in the Republic of North Macedonia is the objective of the new four-year Country Partnership Framework (CPF) endorsed today by the World Bank Board of Executive Directors. The strategy aims to support the Government's program and medium-term strategy by creating greater opportunities to improve citizen's living standards and accelerate income convergence with the European Union (EU).
"The resolution of the country name dispute opens new opportunities for growth in North Macedonia," said Linda Van Gelder, Country Director for the Western Balkans. "We are very pleased to be partnering with the country at this historic moment and we will continue to help maximize opportunities to build a vibrant and inclusive domestic economy that is fully engaged with the region and the world."
The new CPF has three focus areas. The first area will improve the environment for a competitive private sector by boosting connectivity and improving access to markets, helping businesses become more innovative, productive, and competitive, and creating more and better jobs for people.
The second area will support investments in human capital, with a focus on improving education and skills training, providing better access to social services for the most vulnerable people, and encouraging more inclusive participation in labor markets.
The third area will reinforce fiscal and environmental sustainability by strengthening public financial management and accelerating the country's transition to a more sustainable energy mix. Climate change challenges will be addressed through investments in energy efficiency, renewable energy and climate resilient transport and agriculture.
The strategy, across all three focus areas, supports policy reforms to advance North Macedonia's European Union accession agenda, complementing and reinforcing the efforts of the Government and other development partners.
As part of the CPF, IFC, a member of the World Bank Group, will seek further opportunities to mobilize foreign direct investment to generate growth and exports and improve the participation of SMEs into the supply chain. IFC will also support trade facilitation and logistics to improve connectivity with export markets and enlist the private sector to support energy transition.
"IFC's goal is to unleash the power of the private sector to accelerate sustainable economic growth and create job opportunities," said Thomas Lubeck, IFC Regional Manager for Central and Southeastern Europe. "We will focus on supporting export-led growth, accelerating the transition to renewable energy, and improving financial inclusion and financial sector efficiency."
UN chief calls for end to reported police brutality in Nigeria
The UN Secretary-General on Wednesday said he was closely following recent developments across Nigeria, in the wake of reports that protesters had been shot dead and wounded, and called for "an end to reported police brutality and abuses."
António Guterres said in a statement issued by his Spokesperson, that he condemned "the violent escalation on 20 October in Lagos which resulted in multiple deaths and caused many injuries."
According to witnesses, Nigerian security forces opened fire on Tuesday night in Africa's largest city, as protests continued over a now-disbanded and discredited police unit, known as the Special Anti-Robbery Squad, or SARS.
The Government has pledged to carry out further police reforms, and improve police accountability.
A curfew has been imposed on Lagos and other parts of Nigeria, with reports that tensions continued into Wednesday, with police across the city firing shots in the air, in an effort to disperse protesters who were defying the order to stay off the streets.
The UN chief expressed his condolences to the families of the bereaved, and wished a speedy recovery to those injured.
Act with 'maximum restraint', demonstrate peacefully
He called on Nigerian authorities "to investigate these incidents and hold the perpetrators accountable."
Mr. Guterres also urged security forces "to act at all times with maximum restraint while calling on protestors to demonstrate peacefully and to refrain from violence."
"The Secretary-General encourages the authorities to swiftly explore avenues to de-escalate the situation", the statement continued. "He reiterates the readiness of the United Nations to support national efforts towards finding a solution."
'Root and branch' examination of security forces needed: Rights chief
The UN human rights chief, Michelle Bachelet on Wednesday, also strongly condemned the excessive and disproportionate force by Nigerian armed forces in Lagos, in a statement issued by her office, OHCHR.
She called on the Nigerian authorities to take urgent steps to deal decisively with the underlying problem of persistent violations committed by security forces, and make a far stronger effort to bring police and army personnel guilty of crimes against civilians to justice.
"While the number of casualties of yesterday's shooting at the Lekki toll plaza in Lagos is still not clear, there is little doubt that this was a case of excessive use of force, resulting in unlawful killings with live ammunition, by Nigerian armed forces," Ms. Bachelet said.
"Reports that CCTV cameras and lighting were deliberately disabled prior to the shooting are even more disturbing as, if confirmed, they suggest this deplorable attack on peaceful protestors was premeditated, planned and coordinated."
'Already at boiling point'
The High Commissioner noted that the country "was already at boiling point before this shooting because of the revelations about years of unchecked violence, including alleged killings, rape, extortion and other violations, by the Special Anti-Robbery Squad.
"While the authorities have now dissolved SARS and announced a series of inquiries at both Federal and State levels, there have still been few if any charges levelled against its members despite abundant evidence against various members of the squad, as well as members of other security forces and the army."
She said the continued protests are several weeks of demonstrations, was evidence that there was no public trust in the authorities' response thus far:
"I appreciate that the Government has taken a number of measures to address the protestors' demands," Ms. Bachelet said. "However, the immediate creation of another elite police SWAT team to replace the SARS – without first addressing some of the root causes of police violence and putting in place sufficient safeguards to prevent future violations – has eroded the public's trust even further. This latest terrible event in Lagos is like wantonly adding fuel to a fire that was already starting to rage out of control."
'Immediate concrete steps'
She added that the authorities needed to take immediate concrete steps to show they are genuinely committed to tackling impunity, after years of inaction.
"There need to be immediate, independent, transparent and thorough investigations, not just into last night's killings, but also into all the previous violations committed by security forces…Those appointed to carry out such investigations must not only be independent and impartial, but must be widely perceived as such. And, where sufficient evidence already exists to warrant charges, immediate suspension of officers – including senior officers – suspected of committing serious crimes, should take place long before the conclusion of such investigations."
She said now was the time for "a root and branch re-examination of the entire security sector, and of its civilian oversight…This should include a full-scale review of rules of engagement and training systems and methods."
Ms. Bachelet also called for immediate investigations into reports of violent and provocative attacks on peaceful protestors by unidentified groups armed with cudgels, cutlasses, sticks or guns, in some cases apparently with the overt backing of police or other security forces.
Fundamental rights
"Nigerians, like everyone else, have a fundamental right to peaceful assembly and protest," the High Commissioner said. "The Government has a responsibility to take positive measures to ensure the realization of this right, including deterring others who intend to prevent them from protesting peacefully. The world's attention is now focused sharply on how Nigeria's Government and security forces react over the coming days and weeks."
"In a population with such a young median age, it is important to listen to the grievances of the younger generation and make an effort to address the multiple problems they face, which include – but are far from confined to – police brutality and violations."
Burkina Faso 'one step short of famine'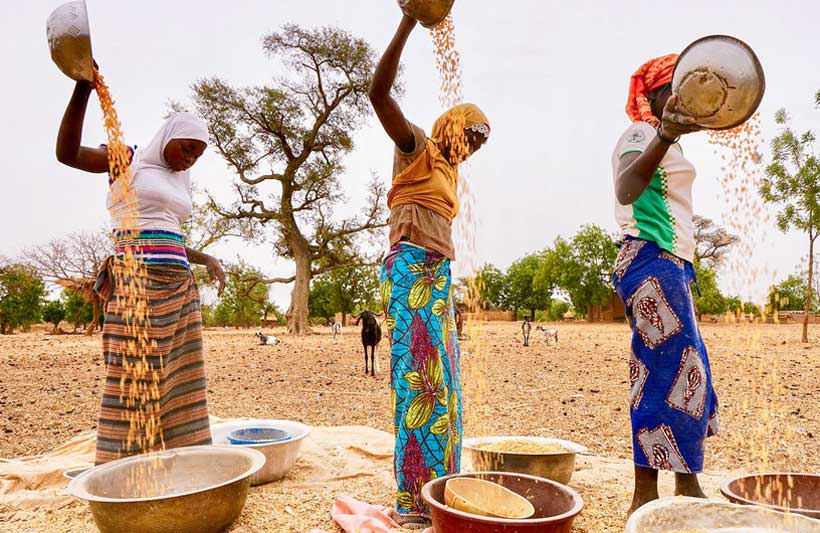 Unless access is urgently granted to humanitarian organizations, thousands in the Central Sahel will be "pushed into further destitution", the UN emergency food relief agency warned on Monday.
Ahead of Tuesday's High-Level Ministerial Conference on the Central Sahel in the Danish capital Copenhagen, the World Food Programme (WFP) sounded the alarm that catastrophic levels of hunger could hit parts of Burkina Faso, Mali and Niger.
'Tragic' food insecurity spike
Violence and insecurity have pushed 7.4 million people in the Central Sahel region of West Africa into acute hunger, according to WFP.
Additionally, the number of internally displaced people has risen from 70,000 two years ago to nearly 1.6 million today – including over 288,000 in Mali, more than 265,000 in Niger and over one million in Burkina Faso, which is now home to the world's fastest growing displacement crisis.
"When we can't get to vulnerable communities, we're seeing tragic spikes in food insecurity", said Chris Nikoi, WFP Regional Director for West Africa.
He explained that "dreadful violence and conflict" in parts of northern Burkina Faso have left over ten thousand people there "one step short of famine".
"The world cannot wait to take action until children, women and men have died", stressed the WFP official.
Food deliveries on the way
As the delivery efforts of humanitarian organizations have been jeopardized by worsening conflict and insecurity, life-saving assistance to the neediest communities has become inaccessible.
Moreover, aid workers are increasingly targeted by non-State armed groups in Burkina Faso, Mali and Niger.
WFP, which was recently awarded the 2020 Nobel Peace Prize, is urging conference participants to find ways for organisations to engage with communities and all actors on the ground to open safe passageways for humanitarian assistance to reach those in need.
A worrying outlook
Meanwhile, in response to the deepening crisis and growing needs, WFP has continued to ramp up lifesaving assistance, reaching more than 3.4 million people in August alone.
In scaling up to meet the growing needs in Burkina Faso, WFP worried about its financial outlook.
The UN agency has already been forced to reduce rations from July and risks, by next month, a break for emergency assistance to displaced people who – having fled their homes, farms and jobs – have no other options.
Building resilience 
At the same time, WFP is working to strengthen resilience-building support for at-risk communities.
Its interventions include rehabilitating community assets, improving degraded land, feeding students, and community-based nutrition activities, to prevent and treat malnutrition.
Since 2018, more than one million people have benefitted from WFP's integrated resilience activities in Niger, Mali and Burkina Faso.
Humanitarian event
The UN is co-hosting the conference in Denmark along with Germany and the European Union.
It will feature on Tuesday, a ministerial round table that follows up on a virtual 8 September meeting, focused on forward-looking plans relating to humanitarian action, development and peace efforts, among other things.
EU steps up support for Africa's Central Sahel countries
European Union, Denmark and Germany and the United Nations co-host a virtual Ministerial Roundtable on Africa's Central Sahel region, with the participation of donors and international organisations, as well as the countries concerned: Burkina Faso, Mali and Niger. The event will discuss longer-term perspectives for countries in the region to overcome the spiral of violence and humanitarian crises they are currently facing. It also aims at mobilising support for the region, especially as coronavirus pandemic increases humanitarian needs.
Representing the EU at the event, Janez Lenarčič, Commissioner for Crisis Management, will pledge a total of €43.6 million on behalf of the EU to the three countries in the Central Sahel region for the rest of 2020.
Janez Lenarčič, said: "Throughout recent years, the EU has been particularly committed to the Sahel and international support provided has been significant. Yet, the security, social and humanitarian situation in Central Sahel is only deteriorating. In face of this dramatically worsening situation, together – the international community and the governments concerned – we must do better, more and act fast. Only by addressing the deep-rooted causes can we succeed in providing a better life to the people caught in the crises afflicting the region."
Jutta Urpilainen, Commissioner for International Partnerships said: "Today's conference is a very clear sign of our solidarity towards the Sahel region and its people. Our €20 million support to the World Food Programme will help the most vulnerable in Burkina Faso, Mali and Niger, and especially pregnant and breastfeeding women and young children. We hope to assist 65,000 people next year with this project. If we all join forces along the peace-development-humanitarian nexus and our partner countries take responsibility for improving governance and reforms, I am convinced that we can make a difference for the people in the Sahel. Team Europe will keep on supporting the people of Sahel."
The EU's pledge consists of:
€23.6 million in funding for humanitarian actions in Burkina Faso, Mali and Niger.
€20 million in development funding to address the food crisis afflicting the Central Sahel region, in cooperation with the World Food Programme.
Overall, EU and the EU Member States have mobilised around €8 billion since 2014 to help stabilise the Sahel region.
Background
Burkina Faso, Mali and Niger are at the core of one of the world's fastest growing humanitarian crises created by a combination of conflict, climatic changes and poverty. It is estimated that a staggering 13.4 million people across the Central Sahel are in need of humanitarian assistance.
In 2020, the EU has mobilised a total €84.6 million in humanitarian assistance for Central Sahel countries, including the amount that will be pledged today. In June 2020, the EU also organised two EU Humanitarian Air Bridge flights to Burkina Faso, carrying 26 tonnes of humanitarian supplies and equipment needed for the coronavirus response in the country.
Since 2014, the EU has invested more than €3.4 billion in development cooperation for the three Central Sahel countries Burkina Faso, Mali and Niger, with the objective to strengthen the capacities of the state in the long term, while providing a short and medium-term response to the needs of the most vulnerable population. The investments covered a broad range of areas: from security; good governance; transparency; public finance; the respect of human rights to basic social services (education, food security and health).