Creating Opportunities for People through Inclusive and Sustainable Growth in North Macedonia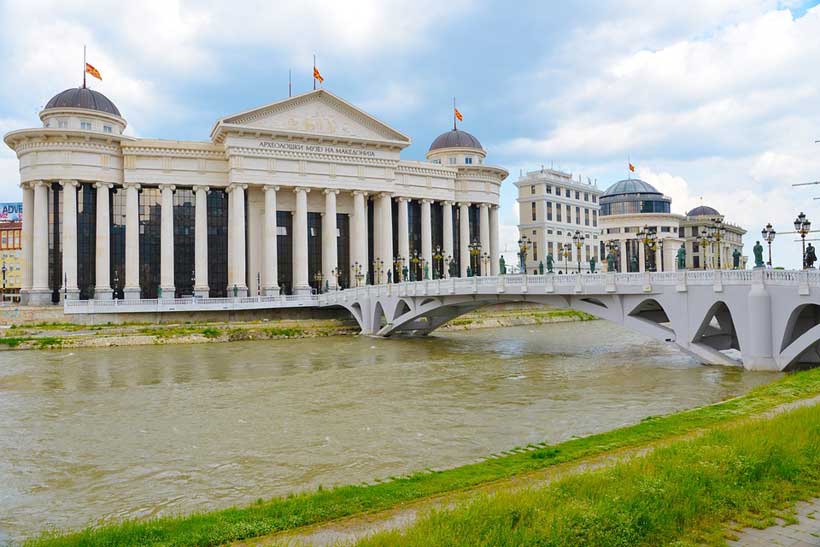 Supporting faster, inclusive, and sustainable growth in the Republic of North Macedonia is the objective of the new four-year Country Partnership Framework (CPF) endorsed today by the World Bank Board of Executive Directors. The strategy aims to support the Government's program and medium-term strategy by creating greater opportunities to improve citizen's living standards and accelerate income convergence with the European Union (EU).
"The resolution of the country name dispute opens new opportunities for growth in North Macedonia," said Linda Van Gelder, Country Director for the Western Balkans. "We are very pleased to be partnering with the country at this historic moment and we will continue to help maximize opportunities to build a vibrant and inclusive domestic economy that is fully engaged with the region and the world."
The new CPF has three focus areas. The first area will improve the environment for a competitive private sector by boosting connectivity and improving access to markets, helping businesses become more innovative, productive, and competitive, and creating more and better jobs for people.
The second area will support investments in human capital, with a focus on improving education and skills training, providing better access to social services for the most vulnerable people, and encouraging more inclusive participation in labor markets.
The third area will reinforce fiscal and environmental sustainability by strengthening public financial management and accelerating the country's transition to a more sustainable energy mix. Climate change challenges will be addressed through investments in energy efficiency, renewable energy and climate resilient transport and agriculture.
The strategy, across all three focus areas, supports policy reforms to advance North Macedonia's European Union accession agenda, complementing and reinforcing the efforts of the Government and other development partners.
As part of the CPF, IFC, a member of the World Bank Group, will seek further opportunities to mobilize foreign direct investment to generate growth and exports and improve the participation of SMEs into the supply chain. IFC will also support trade facilitation and logistics to improve connectivity with export markets and enlist the private sector to support energy transition.
"IFC's goal is to unleash the power of the private sector to accelerate sustainable economic growth and create job opportunities," said Thomas Lubeck, IFC Regional Manager for Central and Southeastern Europe. "We will focus on supporting export-led growth, accelerating the transition to renewable energy, and improving financial inclusion and financial sector efficiency."
EU Facility for Refugees in Turkey: €5.6 bn out of €6 bn now allocated in support of refugees
The European Commission today adopted a new set of assistance measures worth €1.41 billion, ensuring continued European Union support to refugees and host communities in Turkey. The programmes will focus on the areas of health, protection, socio-economic support and municipal infrastructure. The new measures are part of the second tranche of the Facility for Refugees in Turkey, bringing the total amount already allocated to €5.6 billion out of €6 billion since 2016, with the remaining balance due to be allocated over the summer.
Johannes Hahn, Commissioner for European Neighbourhood Policy and Enlargement Negotiations, said: "With this new allocation of funds, the European Union continues to deliver on its commitment to support Turkey in hosting the largest group of refugees in the world. Our assistance will focus on healthcare and protection services to refugees, and increase the resilience and self-reliance of refugees and host communities through socio-economic support. In addition, we will support municipal infrastructure in provinces with a high number of refugees."
The new assistance measures focus on long-term support and development assistance, as a combination of agreements with partners and relevant Turkish ministries. Contracts should be signed by end-2020 and actions should be completed by mid-2025 at the latest.
A particular feature of today's financial allocation is that it aims to ensure the sustainability of Facility-funded activities, reflecting the need for sustainable support for refugee inclusion, self-reliance and integration beyond the EU Facility.
Background
The EU Facility for Refugees in Turkey was set up in 2015 in response to the European Council's call for significant additional funding to support Syrian refugees in Turkey. It has a total budget of €6 billion divided into two equal tranches of €3 billion each. Out of the operational funds of €6 billion, over €2.35 billion has already been disbursed, €3.5 billion contracted and €5.6 billion allocated, with over 80 projects already rolled out.
The Facility provides for a joint coordination mechanism of EU budget and Member States' contributions designed to ensure that the needs of refugees and host communities are being addressed in a comprehensive and coordinated manner. The support seeks to improve conditions for refugees in Turkey as part of the EU's comprehensive approach to addressing the refugee crisis inside and outside the EU.
ICJ orders Pakistan to review death penalty for Indian accused of spying
In a ruling delivered on Wednesday, the International Court of Justice (ICJ) ordered Pakistan to review a death sentence handed down in the case of a former Indian Navy officer accused by Pakistan of spying, finding that the country's authorities acted in breach of the Vienna Convention, which lays out rules for diplomatic relations between countries.
Kulbhushan Jadhav, said the Court, had not been informed of his rights by the Pakistani authorities, and that the Indian Government has been deprived of "consular access": the right to communicate with him.
During the hearings, the ICJ had directed Pakistan not to carry out the death sentence until the Court's final ruling. On Wednesday, the Court ordered a "continued stay of execution", as a "indispensable condition for the effective review and reconsideration of the conviction and sentence".
Mr. Jadhav was arrested three years ago by Pakistani authorities, who say that he was in the restive Balochistan province, which is home to a separatist insurgency that Pakistan accuses India of backing. The charges levelled against Mr. Jadhav were of "espionage and sabotage activities against Pakistan".
Although a video was released shortly after Mr. Jadhav's arrest, in which he was shown admitting involvement in spying, India has always questioned the alleged confession, saying that it was extracted under duress. The Indian authorities also deny that Jadhav is a spy and say that he was kidnapped in Iran, which borders the province, which he was visiting on business.
Following Pakistan's pronouncement of the death penalty, in April 2017, India filed a case with the ICJ, calling the trial, which took place in a military court, "farcical", and asked for a stay of execution and consular access to Mr. Jadhav. Pakistan countered that Mr. Jadhav was not given consular access because he is a spy who illegally entered the country in order to create "unrest and instability".
WEF on Africa to Focus on Inclusiveness in the Fourth Industrial Revolution
The 28th World Economic Forum on Africa will take place in Cape Town, South Africa, on 4-6 September. The theme of the meeting is Shaping Inclusive Growth and Shared Futures in the Fourth Industrial Revolution.
The meeting will be the first that the World Economic Forum has held in sub-Saharan Africa since 2017, when leaders from government, business and civil society from around the world gathered in Durban, South Africa.
This year's meeting falls in a year when 20 elections will take place across the region, and nearly 100 days since South African President Cyril Ramaphosa took office. While progress has been made politically in sub-Saharan Africa, economic growth is also expected to accelerate modestly in 2019 from 3.1% in 2018 to an average of 3.6% in 2019, according to the World Bank.
Against this backdrop, the World Economic Forum on Africa will address a number of key issues facing the region's inclusive development. These include:
· Supporting growth and integration through the African Continental Free Trade Area
· Creating high-quality employment opportunities and protecting workers in the Fourth Industrial Revolution
· Employing drones to address health, infrastructure and other societal needs
· Using emerging technologies to advance healthcare and prepare for epidemics
· Implementing growth strategies that address environmental challenges and deliver industrialization
The Co-Chairs of the meeting are:
· Ellen Agler, Chief Executive Officer, The END Fund, USA
· Jeremy Farrar, Director, Wellcome Trust, United Kingdom
· Arancha Gonzalez Laya, Executive Director, International Trade Centre (ITC), Geneva
· André Hoffmann, Vice-Chairman, Roche, Switzerland
· Alex Liu, Managing Partner and Chairman, A.T. Kearney, USA
· Jim Ovia, Chairman, Zenith Bank, Nigeria
· Sipho M Pityana, Chairman, AngloGold Ashanti, South Africa
"Africa's successful development depends on building the right conditions for its new generation of entrepreneurs, innovators and leaders. This means smart, agile institutions; an enabling environment for innovation that includes access to skills and capital; and a determined approach by policy-makers to level the playing field and implement policies that prioritize sustainable, inclusive growth over short-term imperatives," said Elsie Kanza, Head of the Regional Agenda, Africa, and Member of the Executive Committee at the World Economic Forum.