Structural Transformation Can Turn Cities into Engines of Prosperity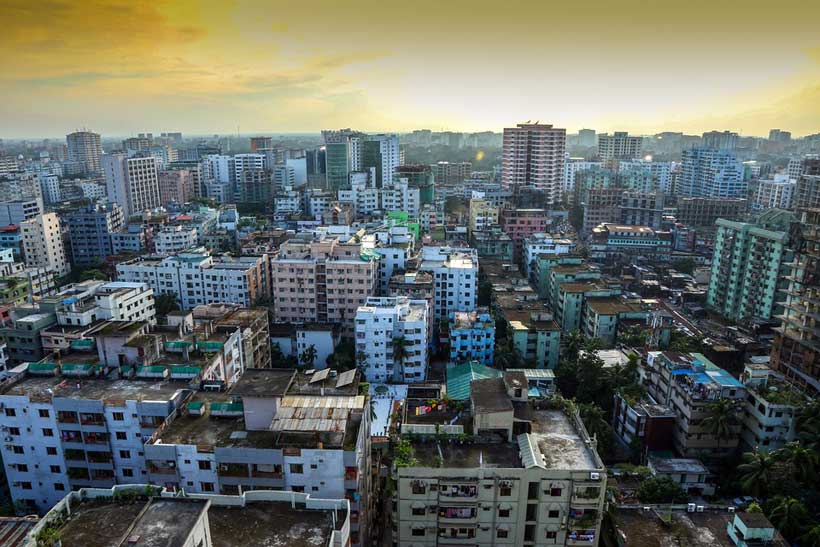 By 2050, the population of cities is projected to double from its current size, with nearly 70 percent of the global population residing in urban areas. For many, cities are beacons of hope that offer the prospect of a better job or education, but a new body of research is highlighting how the complex interactions between cities, their surrounding rural areas, and structural transformation can make or break cities as engines of prosperity.
"Poverty reduction is almost universally accompanied by a transition of the workforce from agriculture into higher-productivity jobs in the manufacturing and service sectors," said Francisco Ferreira, Acting Director of Research at the World Bank. "Urbanization plays a central role in this process, but getting this right requires an understanding of how cities are shaped by investments in infrastructure as well as human capital."
At a recent Policy Research Talk, World Bank Senior Economist Forhad Shilpi shared insights into how to manage this process based on more than a decade's worth of research spanning many of the world's poorest countries. According to Shilpi, all cities share certain common features: higher population density, a predominance of non-agricultural activities, a high degree of labor specialization, and a diverse set of economic activities.
But history demonstrates that the underlying economic structure of cities can vary significantly. Prior to the industrial revolution, cities like ancient Rome grew through concentrated trade and services. The growth of manufacturing in the 19th century produced the modern industrial town, exemplified by Manchester. More recently, knowledge-intensive industries have helped shape post-industrial cities like San Francisco.
According to research by Shilpi and her colleagues, cities in many developing countries still bear a greater resemblance to ancient Rome than to Manchester or San Francisco. In Nepal, for instance, Shilpi found that the size of manufacturing firms in cities was on average no larger than in rural areas and these firms employed no more skilled managerial workers than those in rural areas. Both of these characteristics point to an absence of the kind of high-productivity jobs that are associated with economic specialization.
Worryingly, this pattern applies more generally for cities across South Asia and to an even greater degree for many cities in Africa. According to a widely-cited study published in 2000, African countries are prone to urbanization without economic growth. More recent research has found that African cities are relatively closed to the world, with only half of economic activity taking place in sectors that produce tradable goods and services. Some cities have even been described as consumption cities that live off the proceeds of resource exports rather than more dynamic manufacturing and services sectors.
Despite this depressing portrait, Shilpi still offered her audience cause for optimism. In 1999, Shilpi's native country of Bangladesh opened the World Bank-supported Jamuna Bridge, which crosses the Jamuna River and connects the rural and poorer northwest part of Bangladesh to the rest of the country. The nearly 5-kilometer bridge brought about a dramatic reduction in trade costs with travel time cut by at least four hours and freight costs reduced by 50 percent.
According to Shilpi and colleagues' research, the greater integration of the northwest with the rest of Bangladesh following the opening of the Jamuna bridge transformed both rural and urban areas. In the northwest, population density increased and rice yields rose significantly. Manufacturing moved to urban areas, while the agricultural and services sectors generated more employment in rural areas.
"In 1974, Bangladesh suffered a devastating famine. The northwest region was hardest hit," said Shilpi. "But by 2010, that region had become the breadbasket of the country."
Additional research on trade costs in Burkina Faso and Mali confirms a broader point: bringing down trade costs through smart investment in infrastructure can allow rural and urban areas to specialize in the sectors for which they are best suited, with benefits for both rural and urban populations.
Another key element that connects cities to their surrounding areas is internal migration. Cities are almost always the destination of choice for internal migrants, but a study by Shilpi and her colleagues of migration in South Africa suggests that the decision about which city to migrate to is far from arbitrary. The study found that unskilled migrants were more concerned with levels of unemployment across cities, while skilled workers were driven more by wage differences.
The results point to the role that migration can play as an engine for equality between regions—those without jobs move to where the jobs are, while those seeking higher wages move to where wages are higher.
For individual cities, this presents a challenge, since efforts to create new jobs will only have a partial impact on their own unemployment rate. Migration can also further exacerbate inequality within a city, as unskilled job seekers find themselves concentrated in areas lacking basic amenities like electricity that the wealthier residents can afford. Shilpi highlighted the positive role that targeted policies—especially education initiatives targeted to poor areas—can play in helping manage these challenges.
Managing cities not as islands, but as parts of an integrated whole, may serve as one of the most effective methods for building a world without poverty.
Urban leaders, influencers, chart new path for world cities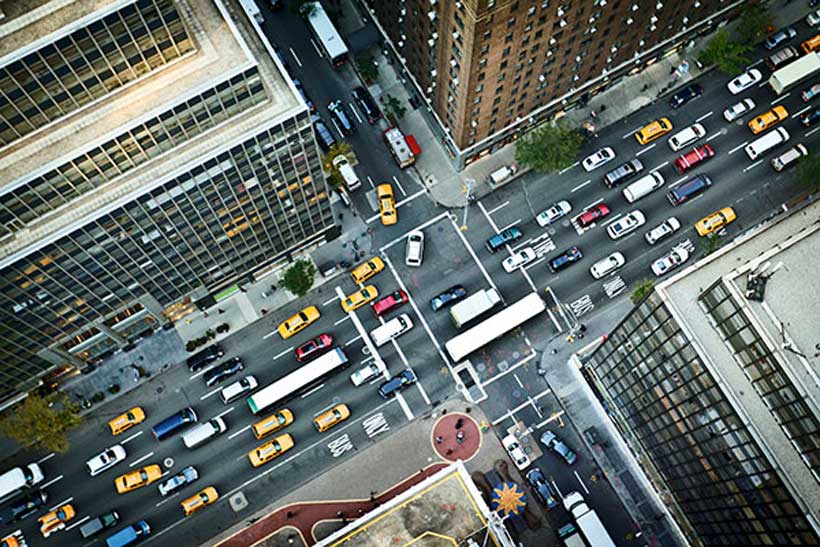 Mayors of Mexico City, Bogotá, New Orleans, Freetown, Gaziantep and Barcelona joined other urban leaders, designers, activists and thinkers from around the world on Wednesday, to chart a new path for cities.
A launch event called Cities at the Crossroads, kicked off at the British Academy in London – marking the inaugural session of the new UN-backed Council on Urban Initiatives.
The international group of eighteen mayors, activists and academics was formed in response to UN Secretary-General's call to use the COVID-19 pandemic as an "opportunity to reflect and reset how we live, interact, and rebuild our cities."
In a video message showed at the event, António Guterres remembered that cities large and small, "have been epicentres of COVID-19 and are on the frontline of the climate crisis."
They also face severe risks from climate change, which will only grow, according to UN estimates.
By mid-century, over 1.6 billion urban residents may have to survive through average summertime highs of 35 degrees Celsius. More than 800 million could be at direct risk from sea level rise.
'A bold new narrative'
For the UN Secretary-General, the pandemic "must be an inflection point to rethink and reset how" people live, interact and build cities.
"Investment in pandemic recovery is a generational opportunity to put climate action, social justice, gender equality and sustainable development at the heart of cities' strategies and policies", Mr. Guterres said.
The UN Chief also noted that more and more cities across the world are committing to net zero by 2050, or before.
"The sooner we translate these commitments into concrete action to reduce emissions, the sooner we will achieve green job growth, better health, and greater equality", he argued.  
Also addressing the event, the UN-Habitat Executive Director asked for "a bold new narrative now."
"We need to bring visionary mayors to the table to help address these interlinked global crises and reframe the discourse on the role of cities, urban governance, design and planning", Maimunah Mohd Sharif said.
Change conversation
The Council's mission is to ensure a healthy global debate over urban issues, to help chart a sustainable future. The work will be organized around three challenges: the JUST city, the HEALTHY city and the GREEN city, said UN-Habitat.
The new Council starts its work as the UN's COP26 climate conference continues in Glasgow, Scotland, trying to keep the goal of 1.5 degrees of global warming, within reach.
Being responsible for approximately 75 per cent of the world's energy consumption and over 70 per cent of global greenhouse gas emissions, cities are at the core of climate action.
A global challenge
Also this Wednesday, at the World Expo in Dubai, the UN launched the Climate Smart Cities Challenge.
The initiative is an open innovation competition to identify climate smart solutions and reduce urban impact, between the cities of Bogotá, Colombia; Bristol, United Kingdom; Curitiba, Brazil; and Makindye Ssabagabo, Uganda.
According to UN-Habitat, "the climate ambitions of these cities are impressive and addressing them will have a powerful impact in shaping how city leaders, innovators and local communities respond to the climate emergency."
Competition
With these four cities selected, the competition is now asking innovators, including technologists, start-ups, developers, finance experts and more, to submit their best solutions to the unique challenges identified. The application period closes on 5 January.
Up to 80 finalists (up to 20 per city) will be selected to work closely with these four cities, learn more about their challenges, collaborate on solutions, and ultimately form teams to demonstrate solutions in the real-world.
The winning teams will share up to 400,000 Euros to leverage further investment and build towards system demonstration in 2023.
Around 4.5 billion people live in cities today, but that number is projected to grow by almost 50 per cent, by 2050. By mid-century, over 1.6 billion urban residents may have to survive through average summertime highs of 35 degrees Celsius.
WEF Puts Focus on Cities with Public-Private Collaborations at Global Summit
The World Economic Forum today announced a series of new partnerships and events aimed at mobilizing support for more sustainable and inclusive cities. This work, which spans four continents, is part of the Forum's new global Centre for Urban Transformation and a recognition of the critical role that cities play in addressing global challenges such as climate change and increasing inequality.
"Cities are the engine of the global economy and home to a growing majority of the world's population. If you want to improve the state of the world, you need to start with cities," said Jeff Merritt, Head of Urban Transformation at the World Economic Forum.
New Partnerships with Cities and Local Governments
To catalyse increased public-private collaboration in cities, three metropolitan areas in the United States have been selected to participate in a series of City Strategy Dialogues commencing in early 2022. Participating local governments include a coalition of four South Florida local governments (Miami-Dade County, Broward County, Monroe County and the City of Miami); Denver, Colorado; and Detroit, Michigan.
Organized by the World Economic Forum in collaboration with Massachusetts Institute of Technology, the City Strategy Dialogues pair Mayors and senior city leaders with global experts and business leaders to forge new approaches to pressing urban challenges where cross-sector collaboration is essential.
"The question we must ask ourselves is not when we will economically recover from this pandemic. The recovery is underway. The question is: how we will prioritize those hit hardest by the pandemic: women, youth, low-income earners, and people of color," said Michael Hancock, Mayor of Denver. "Government cannot and should not lead this effort alone, rather it is essential that we work together with the business community and other stakeholders to transform our cities into models of equity and inclusion that are sustainable for years and even decades to come."
"As the gateway to the Americas, Miami-Dade and the greater Miami area are on the frontlines of many of the challenges of the 21st century, like climate change, sea level rise and affordability," Daniella Levine Cava, Mayor of Miami-Dade County. "Collaboration across sectors and geography is critical to meeting the challenges ahead and I'm thrilled that Miami-Dade is hosting this transformative partnership – and of the regional collaboration and coalition we're building in South Florida to advance an economic program grounded in equity, innovation, and climate action."
Detroit will also pilot a new Urban Transformation Fellowship programme aimed at supporting the next generation of urban leaders and connecting local initiatives to expertise from the World Economic Forum's global network of leading companies, governments, civil society organizations and academic institutions. Local fellows from Detroit will have the opportunity to work as part of a diverse global team shaping the Centre for Urban Transformation's work while also receiving access to year-round professional development opportunities.
"Our primary focus for Detroit Future City is advocating for equity in land stewardship and economic development as Detroit continues to grow and revitalize," said Anika Goss, CEO of Detroit Future City. "We know to do this effectively, it takes strong public-private partnerships, global and national best practices, and a commitment to fostering future leaders to be stewards of this work for years to come. Piloting the Urban Transformation Fellowship in Detroit is an important opportunity to engage our city's remarkable emerging talent in a program that will have lasting impact."
Complementing these efforts, the World Economic Forum is partnering with urban entrepreneurship firm Utopia to encourage, develop and promote new urban innovations and economic development opportunities in some of the fastest growing regions of the world. Eight cities in Latin America, Africa and Asia will participate in the inaugural Urban Innovation Challenge which launches next month: Bogota (Colombia), Buenos Aires (Argentina), Dhaka (Bangladesh), Jakarta (Indonesia), Kigali (Rwanda), Lagos (Nigeria), Nairobi (Kenya) and Rio de Janeiro (Brazil). Sign-up for entrepreneurs is now open.
"Lagos, the heartbeat of Nigeria, West Africa's economic engine and the start-up capital of Africa, teems with innovative potential largely driven by our incredible youth population," said Babajide Sanwo-Olu, Executive Governor of Lagos State. "Our participation in the Urban Innovation challenge is a great opportunity to harness this potential; which further underscores our commitment to enabling and empowering that spirit of innovation to create transformative value in one of the world's densest urban landscapes."
Urban Transformation Summit
These initiatives and others will take centre stage at the World Economic Forum's inaugural Urban Transformation Summit on 6-8 December 2021, with both virtual sessions and in-person events, in Detroit. The summit will bring together 300+ leaders from business, government, civil society and media to forge new partnerships, showcase innovative solutions and mobilize action in support of more sustainable and inclusive cities and urban economies.
The Summit will feature Mayor Mike Duggan of Detroit; Mayor Michael Hancock of Denver; Christian Ulbrich, CEO and President of JLL; Greg Clarke, Chair of Connected Places Catapult; Jonathan Reckford, CEO of Habitat for Humanity; Bruce Katz, urban policy expert; Anika Goss, CEO of Detroit Future City; and more.
"The World Economic Forum inaugurates this new effort at a time when the economic, social and environmental challenges facing cities could not be more pressing and when the opportunities for public, private and civic investment could not be greater. This is truly a time for urban transformation," said Bruce Katz, Founding Director of the Nowak Metro Finance Lab at Drexel University and advisor to Bedrock Detroit.
New Principles Provide Roadmap for Net-Zero Buildings
Collective action must be taken to accelerate the decarbonization of buildings, which contribute 38% of all energy-related greenhouse gas emissions. A new action plan released today by the World Economic Forum offers a set of principles to help companies deliver net-zero carbon buildings and meet key climate commitments.
The Green Building Principles: The Action Plan for Net Zero Carbon provides a clear sequence of steps to deliver net-zero carbon buildings. Developed in conjunction with JLL and the Forum's Real Estate CEO community, it includes a set of key principles companies can formally adopt along with an action plan on how to implement them.
"The climate crisis is the greatest challenge humanity has ever faced. It will affect every aspect of our lives and threatens the entire global economy and we must rapidly deploy the solutions we already have in hand to avert its most catastrophic impacts," said Al Gore, Vice-President of the United States (1993-2001), Chairman and Co-Founder, Generation Investment Management. "Buildings are a large and often overlooked contributor to this crisis, but with investments in clean energy and energy efficiency, we can begin solving the climate crisis, create tens of millions of jobs, and build a better future."
"As increased action on the climate crisis becomes more urgent every year, it's important that all leaders find new ways to take action," said Børge Brende, President, World Economic Forum. "Business leaders have a great opportunity to take climate action just by ensuring their own offices and properties are sustainable and moving towards a net-zero future. Increasing sustainability in the office, and across value chains, is a critical step for all businesses to take."
"2021 has been the year of net zero carbon commitments. As part of this, the built environment has demonstrated leadership with companies, investors, architects, cities, and regions signing up to the Race to Zero," said Nigel Topping, High-Level Climate Action Champion, COP26 Climate Champions, United Kingdom. "2022 will be the year in which we develop strategies for meaningfully delivering against these net zero carbon commitments. This Action Plan launched by the World Economic Forum provides the guidance that real estate portfolios need to do this in a comprehensive and cost-effective way."
The Principles
1. Calculate a robust carbon footprint of your portfolio in the most recent representative year to inform targets
2. Set a target year for achieving net-zero carbon, by 2050 at the latest, and an interim target for reducing at least 50% of these emissions by 2030
3. Measure and record embodied carbon of new developments and major refurbishments.
4. Maximize emissions reductions for all new developments and major refurbishments in the pipeline to ensure delivery of net-zero carbon (operational and embodied) by selected final target year
5. Drive energy optimization across both existing assets and new developments
6. Maximize supply of on-site renewable energy.
7. Ensure 100% off-site energy is procured from renewable-backed sources, where available
8. Engage with stakeholders with whom you have influence in your value chain to reduce scope 3 emissions
9. Compensate for any residual emissions by purchasing high-quality carbon offsets
10. Engage with stakeholders to identify joint endeavours and equitably share costs and benefits of interventions
The action plan provides globally applicable guidance on best practices to implement the principles for every stakeholder, from owners to occupiers to investors.
Industry Leadership
"The pandemic has underscored the need for action on climate, and buildings provide the perfect opportunity to address a large share of global emissions," said Christian Ulbrich, Global Chief Executive Officer and President, JLL. "We can and must work to deliver net-zero carbon buildings and the companies that do so first will lead the sector."
"We must act now, and everyone from engineers to occupiers to investors have to be part of this journey," said Coen van Oostrom, Founder and Chief Executive Officer, EDGE. "The principles offer the necessary roadmap and companies of all types need to evolve their mindsets around their buildings. We must think in terms of renovation, circularity and digitalization. Viewing the built environment as supportive to societal well-being and the planet is the necessary paradigm shift."
Ahead of November's COP26, both the public and private sectors have been making commitments to reduce emissions and reach key climate targets in alignment with the Paris Agreement. These commitments are essential and many of them provide valuable guidance. But the roadmap for meeting these targets has been missing. The new principles and action plan provide that roadmap and help companies implement their existing commitments.
In an open letter also released today, the Forum's Real Estate CEO community Co-Chairs Ulbrich and van Oostrom urge their peers, across a wide range of industries, to formally adopt the principles and commit to reducing their buildings-related emissions by at least 50% by 2030 and deliver net-zero carbon real estate portfolios no later than 2050.
"The World Green Building Council encourages companies to reinforce climate action by adopting the World Economic Forum's new principles, which set out a clear pathway to deliver net-zero carbon buildings," said Cristina Gamboa, Chief Executive Officer, World Green Building Council. "The principles are harmonious with our Net Zero Carbon Buildings Commitment and we hope that businesses across all industries take this opportunity to step-up ambition to decarbonize their building portfolios."
"We are running out of time and the built environment is critical to mitigate warming," said Kalin Bracken, Real Estate Lead, World Economic Forum. "This is an issue that goes beyond just the real estate industry. Every industry has a role to play in addressing their real estate footprint and that's a message we really need to send."