The Luxury Collection Debuts in Cyprus With Parklane, A Luxury Collection Resort & Spa
The Luxury Collection®, part of Marriott International Inc., today announced the opening of Parklane, a Luxury Collection Resort & Spa, Limassol. Owned and operated by Parklane Hotels Limited, the property marks Marriott International's entry into Cyprus – and the first international luxury branded resort in the country. Parklane joins an ensemble of over 100 Luxury Collection hotels and resorts in more than 30 countries and territories, offering world travellers indigenous and intimate, local experiences.
"We are excited to put Cyprus on the map for our Global Explorers as our newest property in the region," said Anthony Ingham, Global Brand Leader, The Luxury Collection. "With a deep-rooted history that today can still be experienced by visiting iconic landmarks such as the medieval Limassol Castle, paired with modern architecture and cultural happenings, the vibrant coastal city of Limassol is one of the most up and coming destinations in the world today."
A 15-minute drive east from Limassol – the storied city on the southern coast of Cyprus – Parklane is situated on 100,000 square metres of lush, landscaped gardens and boasts a 300-metre pristine sandy beach. Upon arrival, the resort welcomes guests via a picturesque lane that snakes through a verdant grove of locally grown olive, citrus and palm trees. Each of its 274 guestrooms and suites, designed by Harrods Interiors, presents bright, open-plan living with a fresh and contemporary finesse, many featuring terraces with commanding views of the Mediterranean Sea and the rolling Troodos mountains beyond. The 52 suites, some set over two storeys with sleek architectural flair, entice with teak-decked private pools.
For guests seeking privacy and tranquillity, the resort boasts an adults-only wing comprising of 16 Lifestyle Suites and a swimming pool. Each suite celebrates expansive views of the sparkling Mediterranean Sea, with some also featuring private pools.
"From our recent opening in the storied city of Yerevan to a debut in the historic country of Cyprus, The Luxury Collection continues to offer a gateway to the world's most exciting and desirable locations," said Jenni Benzaquen, Vice President, Luxury Brands – Europe, Marriott International. "We are thrilled to welcome our newest Luxury Collection hotel in Europe and our first hotel in Cyprus, offering an extraordinary opportunity for our guests to discover this vividly beautiful island, crystal blue waters and unique cultural offerings."
Locally Inspired Cuisine
Culinary enthusiasts will be enthralled by the variety of cuisine offered at the resort, from fine dining to light poolside bites. Fresh fish and local seafood from the surrounding region are at the heart of the innovative menus, which are full of native flair. Guests can enjoy Cypriot grill dishes made using a traditional wood-burning oven and barbecue pit as well as cocktails or local wines at Dafne, Italian fare served al fresco at Il Teatro, Mediterranean seafood served in unique settings arranged as small islands floating in a pool at Islands and can indulge in a casually elegant evening at The Grill.
Parklane will also offer special immersive experiences for guests to discover the rich food and wine culture of Cyprus with its series of Epicurean Journeys. Designed and spearheaded by the hotel's Head Sommelier, the weekly wine tasting will celebrate of the diverse flavors of the region and showcase wine as an integral part of the traditional Cypriot diet. Under the expert direction of the hotel's culinary professionals, the island's sacred coffee ritual will be showcased to guests who can prepare their own authentic coffee in a traditional copper pot cooked slowly in sand.
Immersive Experiences
One of the hotel's hallmark experiences for guests seeking a restful retreat is the 3,000 square metre Kalloni Spa. This luxurious space takes its cues from the sea, from its two outdoor and two indoor seawater pools to its relaxing and revitalising Thalassotherapy menu. These cutting-edge treatments draw on seawater and the marine environment for their many benefits to health and well-being. The spa is also collaborating with a number of brands such as VOYA, which focuses on organic, seaweed-based beauty products and treatments, and Biologique Recherche for its clinical and raw ingredient treatments.
Additional spa features include a barbershop where treatments are tailored using Gentlemen's Tonic products, a Carol Joy hair salon, and a state-of-the-art Parkfit gym that will boast Excite Engaging Cardio, Selection Pro and Connected Strength equipment.
For junior explorers, the spirit of adventure is very much alive at Parklane, where a pirate ship with water jets and slides, and a two-storey princess castle crown the enviable 3,000 square metre Park Kidz. A dedicated restaurant and mini football pitch will keep young guests entertained when not splashing in the pool or playing games at beach. Aspiring footballers can also enroll at the seasonal Parklane Football Escapes academy, which offers an exceptionally rare opportunity to train with former international football stars during school holidays. Weeklong courses will be available for children aged between five and fifteen to train for up to two hours a day, in complete personalized kit, under the guidance of UEFA licensed coaches and English Premier League football stars including Rio Ferdinand and Bobby Zamora.
Additionally, the resort is also home to three tennis courts, three outdoor and one indoor swimming pools and a PADI diving centre, with horse riding and golf courses close by.
Inspiring Meetings
Parklane's corporate offering has undergone a multi-million-euro investment, elevating the resort's credentials as a highly desirable destination for meetings and events throughout the year, as well as a leading venue for Cyprus. Ultra-modern facilities include seven meeting rooms that can be converted into 11 professional conference spaces. The 800 square metre Diamond Ballroom, complete with a built-in stage, can hold up to 600 people, be split into two sections and tailored to meet the requirements of any large event.
Treasured Destination
Parklane's Luxury Collection Concierge team will invite guests to explore Cyprus and its most famous destinations with a bespoke tour from the hotel's Head Concierge. The island boasts several deeply historical sites, such as the Ancient Amathus Archaeological Site, just 11 kilometres east of Limassol and the UNESCO World Heritage Site, which dates back to 1100 BC. The Head Concierge will share stories and secrets from ancient times that have shaped and enriched the history of the island.
A visit to the spectacular treasured Lefkara Village, located at the foot of the Troodos Mountains, will tell the story of Leonardo da Vinci's visit in 1841. Leonardo himself was so impressed by the skills of the embroiderers, he is said to have bought one as a gift for Cathedral in Milan where it featured in his celebrated painting, The Last Supper.
Marriott International Signs Agreement to Debut W Costa Navarino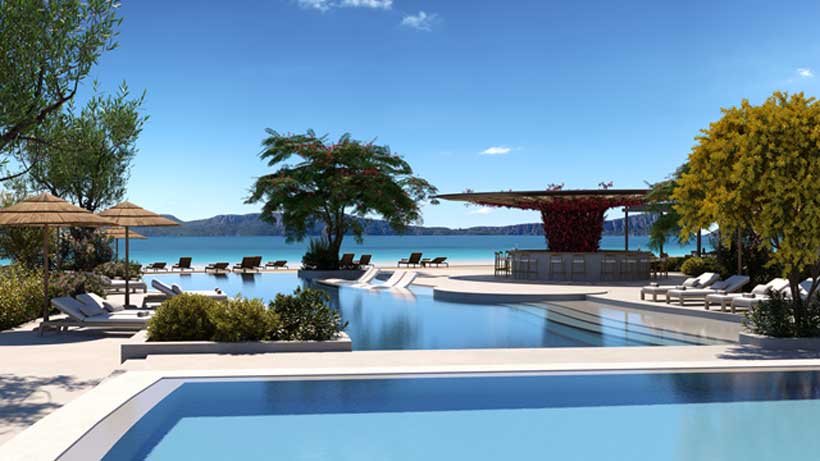 Set to welcome guests this summer, W Costa Navarino will bring detail-driven design and inspiring energy to the new Navarino Waterfront
Marriott International, Inc. today announced it has signed an agreement with TEMES S.A., a leading developer and operator in high end tourism and real estate, to debut the W Hotels Worldwide brand in Greece with the opening of W Costa Navarino. Expected to open in summer 2022, W Costa Navarino is anticipated to mark the latest addition to the ever-expanding W Escapes portfolio in Europe following locations in Spain, Switzerland and Portugal.
The new W Escape will be located in Navarino Waterfront, the newest integrated resort of Costa Navarino – the prime sustainable destination in the Mediterranean. The 13-hectare beachfront destination is located in Messinia, southwest Peloponnese. Designed by renowned Greek architects, Tombazis and Associates Architects, W Costa Navarino is inspired by the region's traditional residential areas and set to use local, natural materials such as stone, wood and reed. The distinctive interiors will be led by London-based MKV Design. The Escape is expected to feature 246 stylish rooms, suites, and villas, many with private pools staged in the Bay of Navarino with stunning Ionian Sea views.
''We are thrilled to build on our fantastic relationship with TEMES S.A. to open W Costa Navarino, strengthening Marriott International's presence in this Mediterranean paradise," said Candice D'Cruz, Vice President – Luxury Brands, Europe, Middle East & Africa, Marriott International. "Joining our portfolio of coveted W Escapes around the world, W Costa Navarino will add a distinct take on modern luxury to Navarino Waterfront. We look forward to welcoming free-spirited travelers to this new luxury playground."
W Costa Navarino is set to offer five dining venues including a destination beach club overlooking a long sandy shore, designed by Athens-based K-Studio. The 'Culinary Square' is the hotel's playful take on a deli food market with individual outlets creating a socially driven destination for all day dining. Other planned amenities include a sunset bar and the signature W Living Room. Guests will also be able to enjoy experiences and dining at neighbouring venues in Costa Navarino including the new Navarino Agora, an open marketplace with retail, street food, open-air cinema and exciting programming throughout the day and night.
"W Costa Navarino will generate a unique energy encouraging free expression and connection between a diverse mix of people, whilst respecting and honoring authentic experiences and cultures. In this important chapter for the growth of the destination, we believe W Costa Navarino will significantly contribute to our vision in further establishing Messinia as a top international destination to visit and to live," said Achilles V. Constantakopoulos, Chairman TEMES S.A.
Tennis courts and a water sports hub are part of the vision for guests to enjoy at W Costa Navarino, along with access to the destination's four signature golf courses and an array of outdoor programming including biking, hiking, rock-climbing and sailing.
There are currently two Marriott International properties in Costa Navarino— The Westin Resort Costa Navarino, offering travellers and families countless well-being activities and The Romanos, a Luxury Collection Resort, offering exquisite architecture, butler service and epicurean experiences.
5 Reasons To Go Offline at Four Seasons Resorts in Bali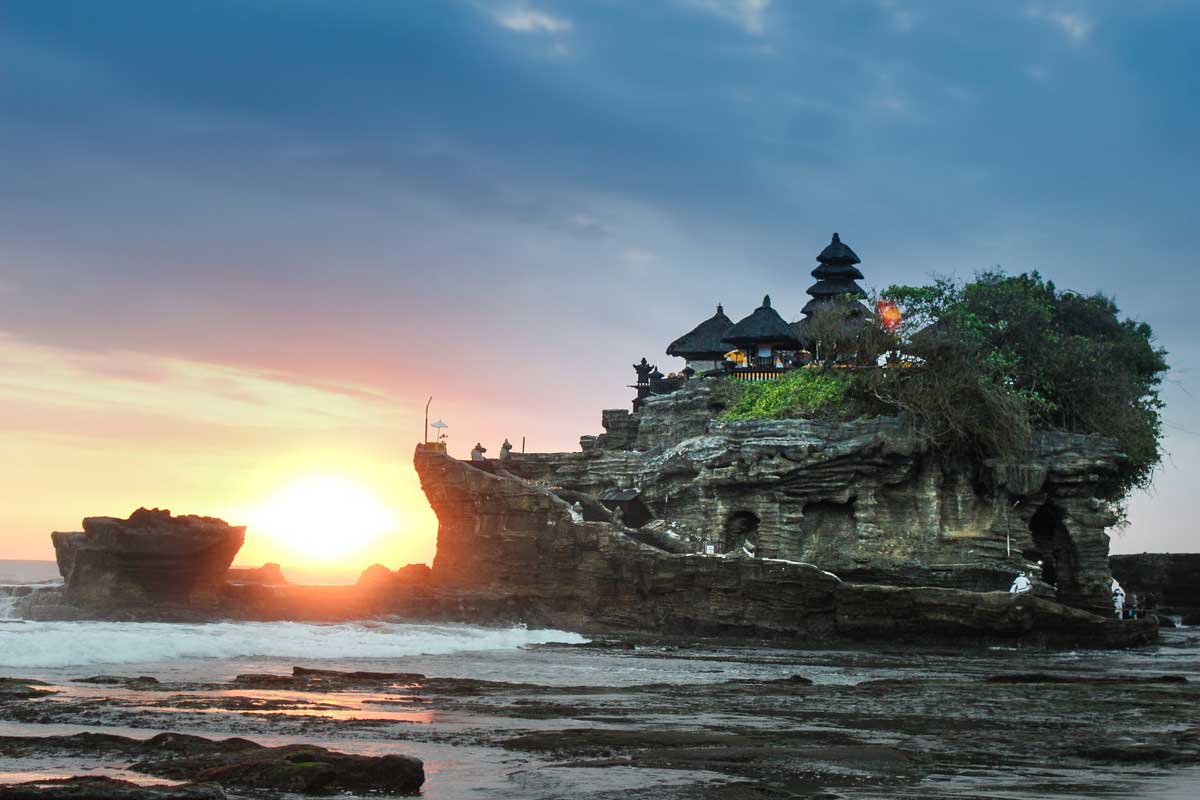 Free WiFi is expected at five-star hotels nowadays, and as such it's a standard inclusion for guests of Four Seasons Resort Bali at Jimbaran Bay and Four Seasons Resort Bali at Sayan. But the paradox of the internet and social media can be a very anti-social holiday where our phones never leave our sides. Here, we present five exclusive Four Seasons experiences that will inspire you to be in the moment. Ranging from water blessings to high-flying yoga and surf tours, you'll be disconnecting from the internet and reconnecting to each other and the wonderful world around you.
Can You Keep A Secret? This exclusive temple tour is not on anyone's bucket list. We ask guests to help us keep it that way, by resisting the urge to post the temple on social media. If you agree, our guide will take you on a scenic three-hour tour from Four Seasons Sayan in an open-air vintage VW through nearby yet untouched rice farming villages. Visit historic sites include a secluded water temple where you are welcome to bathe, or simply to enjoy the serene and undiscovered atmosphere far from selfie sticks.
Learn to surf in the sheltered confines of Jimbaran Bay or take a boat trip to explore Bali's world-class breaks with Tropicsurf's coaches and guides. On-site at Four Seasons Jimbaran Bay, the Tropicsurf philosophy is based on small groups (maximum four people) and avoiding the crowds to take your surfing to the next level, faster. For the ultimate adventure, take Asia's only heli-surfing tour to ride uncrowded waves in pristine conditions off the east coast of Java.
Bali is home to thousands of beautiful Hindu temples. We invite you to go beyond the most famous landmarks and explore hidden gems like the Goa Gong 9th century cave temple. Open to visitors by appointment only, this natural archaeological site is nearby Four Seasons Jimbaran Bay. Our resort priest Ajik Ngurah will be your guide to explore the cave's shrines and stalactites, and can also arrange a melukat water purification ritual. Not something you want to be holding your phone for!
Discover the beauty of the Ayung – Bali's longest river and part of the ancient UNESCO World Heritage-listed subak irrigation system. Our guided Four Seasons Private Rafting Adventure takes you through easy rapids flanked by virgin jungle, rice terraces and majestic gorges. Hop out of your raft and let yourself float down a quiet and calm stretch of the river, gazing up into the canopy overhead. Make a riverside landing directly at Four Seasons Sayan, where we'll be waiting to welcome you back home.
Experience the intimacy of Trust Yoga, the newest addition to the inspiring wellness program at Four Seasons Jimbaran Bay. Head to the ocean-front yoga pavilion and partner up with your soul mate, a friend or relative. Take turns being guide and flier, with postures that both require and build trust, strengthening your bond to each other and extending your practice. Our yoga instructor will lead each couple through this joyful 75-minute class, adapting postures to suit all levels. A fun way to connect emotionally and physically to someone special in your life, and a reminder that the best connections are human connections.
'Tis the Season: Best Holiday Offers to Fuel Your Festive Spirit
Hilton has curated a selection of delicious, family-friendly and unique ways to create memorable experiences during the magical festive season. Whether it's playing a game of curling with mulled wine on the waterfront of Danube or indulging in a festive afternoon tea in the tallest building in Manchester, Hilton has something for everyone to get you into the holiday spirit.
Foodie Festivities
Waldorf Astoria Versailles – Trianon Palace
Tucked between the Palace of Versailles and the Grand Trianon, Waldorf Astoria Versailles is welcoming the jolly season alongside a new sweet delicacy – The Christmas Turkey. Created by the hotel's talented pastry chef Eddie Benghanem, the dessert features a charming Turkey Chef preparing a festive dessert while sitting on an indulgent cooking pot made from chocolate. The dessert serves 6 – 8 portions and is available for takeaway when pre-booked from 84 euros.
Set in the heart of the Manchester metropolis, Hilton Manchester Deansgate invites guests to indulge in a festive afternoon tea at the Cloud 23 bar. Known as the highest bar in the city, Cloud 23 offers unrivalled floor-to-ceiling views over the Manchester city centre skyline. The afternoon tea will include unique festive cocktails alongside festive flavoured teas, sandwiches and cakes. Afternoon tea is priced at £55 per person.
Those looking to warm up near Hyde Park's magical Winter Wonderland will be in luck, with the hotel offering a bespoke Winter Wonderland afternoon tea. Clementine and chocolate reindeer macaroons alongside blueberry jelly and chestnut cream meringues will ensure every guest has indulged in the festive delicacies. Afternoon tea is priced from £32 per person with an option to add a glass of champagne.
Hilton Garden Inn Zagreb – Radnicka
Celebrate the holiday season with the whole family in the heart of Croatia's charming capital Zagreb. Hilton Garden Inn Zagreb has prepared joyful surprises for the children, alongside a "Children's Corner" games station with various creative workshops available. Parents can happily relax at the hotel's restaurant and bar with a 20% discount. Confirmed Connecting Rooms for four guests with breakfast included start from 138 euros per night.
Those looking for a delicious adventure are invited to The Able Butcher restaurant to experience the best of theatre and dining in an immersive culinary journey from "Le Petit Chef". The event features cutting-edge 3D visual technology and digital mapping paired with themed music and props. With lobster on the menu and Santa Claus as a host, every guest, big and small, will feel the festive joy. The event is hosted during lunch on December 24 and all day on December 25. Prices start from £89.
Hilton Geneva Hotel & Conference Centre
This merry season guests are invited to experience the Christmas Alpine Dream Chalet in the heart of Geneva. Set at the entrance to Hilton Geneva, the chalet will keep everyone warm by serving exquisite hot chocolates alongside mulled wine. Children are also invited to join festive cookie decoration masterclasses alongside the hotel's pastry team. The Chalet is open throughout December.
The Trafalgar St. James London, Curio Collection by Hilton
For an unforgettable New Year's Eve celebration, guests are invited to experience Le Nord at The Rooftop, an event dedicated to ringing the new year in style alongside an array of delicacies and free-flowing drinks. Unrivalled views over Trafalgar Square paired with luxurious rooms make it the ideal spot to indulge in celebrations in the heart of London.
Hilton Vienna Danube Waterfront
Resting by the Danube waterfront, Hilton Vienna Danube Waterfront invites guests to team up and celebrate the cheery season with a game of curling. With unlimited mulled wine and punch complemented by roasted chestnuts, everyone will enjoy some festive entertainment. Prices per person start from 15 euros.
DoubleTree by Hilton Harrogate Majestic Hotel & Spa
Set in the heart of the Victorian spa town, the hotel offers to join the New Year's Eve "Prohibition" black-tie gala dinner. Paying homage to the roaring '20s, the event will feature flapper dresses, champagne towers and firework displays. Guests will be treated to a five-course dinner alongside a live swing and party band, DJ and disco fireworks during the night. A surprise balloon drop with a champagne toast during midnight will be the crown jewel of the whole evening. Prices start from £120 per person.