EU plans to invest €9.2 billion in key digital technologies
The Digital Europe Programme is a new €9.2 billion funding programme whose goal is to ensure that all Europeans have the skills and the infrastructure needed to meet a full range of digital challenges.
It is part of a strategy to further develop the digital single market, which could help to create four million jobs and boost the EU's economy with €415 billion every year while increasing the EU's international competitiveness.
"For too many years, Europe's tech sector has lagged behind third countries such as the US and China. We need a coherent Union-wide approach and an ambitious investment to secure a solution to the chronic mismatch between the growing demand for the latest technology and the available supply in Europe," said Austrian ALDE member Angelika Mlinar, one of the MEPs repsonsible for steering the plans through Parliament.
A part of the budget would be allocated to encourage small and medium-sized enterprises and public administrations to use technology more often and better, while other parts will cover strategically important fields such as supercomputers, artificial intelligence and cybersecurity.
"We can count on European excellence when it comes to research and innovation, but our businesses, especially SMEs, still found it difficult to access and take advantage of new solutions," said Milnar. "This programme has been crucially designed to tackle the low take-up of existing testing technologies. We are on track to deliver one of the most promising and necessary funds for Europe's future."
Industry 4.0 Calls for Asia Leadership and Clear Mission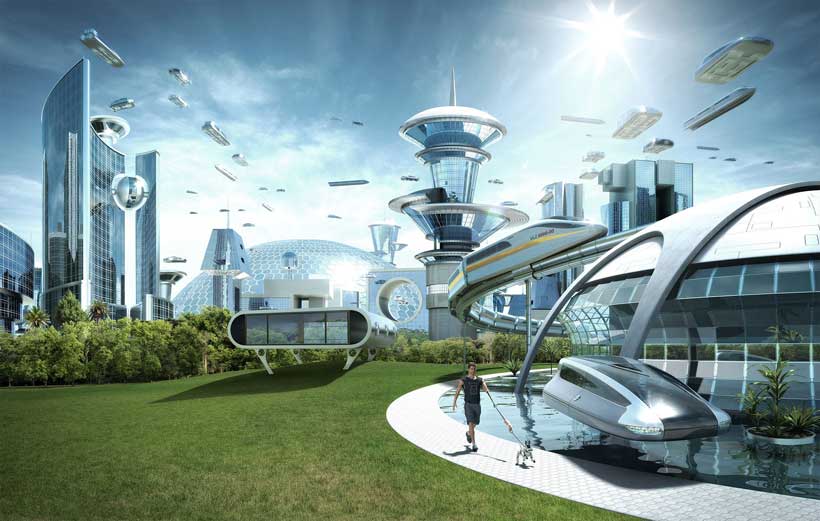 The profound changes expected in a new era of advanced technologies and the unprecedented speed of change will require leaders of Industry 4.0 to be agile and adaptive while still keeping in view the mission that drives their corporate existence, agreed panellists in a session on leadership at the Annual General Meeting of the New Champions, which closed today.
Michelle Zatlyn, Co-Founder and Chief Operating Officer of Cloudflare, said her definition of leadership – the act of motivating a group of people towards a common goal – has not changed. However, she underlined the "certain risk of disruption" if leaders and their organizations do not respond with great agility.
Huang Yiping, Deputy Dean of the National School of Development at Peking University, agreed, noting that those who are innovative and flexible will have a higher chance of surviving the dynamism of the Fourth Industrial Revolution. He expressed concern about unbridled growth, underlining the need to temper the rapid rate of innovation, particularly in the fintech sector, with risk management before another major failure undermines consumer and investor confidence.
Suphachai Chearvanont, Chief Executive Officer at CP Group, emphasized the need to retain a sense of mission and values, especially at a time when chaotic changes are putting ever increasing pressures on leaders.
The command-and-control structure that informs decision-making will have to give way to a more bottom-up approach that empowers employees to participate in a more free-wheeling environment. Zatlyn, however, is unsure that the much-hyped "leading without leaders" style of start-ups is necessarily more effective in fostering agility. "You want agility but you don't want a whiplash," she said.
Organizations of the future will be learning organizations, said John Meacock, Global Chief Strategy Officer at Deloitte, who stressed the importance of proper planning and strategy notwithstanding the constant changes and challenges ahead.
Outcomes from the meeting include:
The Government of the United Arab Emirates joined the Forum's Closing the Skills Gap initiative, launching an accelerator programme that will be stewarded by the country's Minister of State for Higher Education and Advanced Skills.
Leaders in the health and information technologies sectors shaped and committed to developing EPI-BRAIN, a first-of-its-kind data innovation platform to predict and forecast epidemics.
The Forum announced it will open a branch of the Tropical Forest Alliance in China. The Alliance is an initiative led by the World Economic Forum that aims to remove deforestation from commodity supply chains.
Bahrain will pilot a set of guidelines for the ethical procurement of artificial intelligence developed by the UK and the Centres for the Fourth Industrial Revolution Network (announced at last year's Annual Meeting of the New Champions).
The Inter-American Development Bank (IDB) will use the newly launched Blockchain Single Trade Window framework, developed by IDB and the Forum, to pilot blockchain projects that improve border clearance, and will share lessons and best practices.
Fahad Almubarak, State Minister, Member of the Saudi Council of Ministers, Saudi G20 Sherpa and Secretary-General of the G20 Saudi Secretariat, chaired a consultation session with Asian stakeholders to gather input for the agenda of its G20 presidency, starting in December.
Business for Nature, a global coalition to elevate the business call for comprehensive action to reverse nature loss and restore the planet's vital natural systems, was launched on 2 July.
A first advisory meeting took place to provide strategic direction to the 28 financial institutions that have signed up to a set of Green Investment Principles. The principles, drafted by a coalition including the Forum, the Green Finance Committee of China, the Society for Finance and Banking and the Green Finance Initiative of the City of London, aim to serve as a voluntary standard for investment into the Belt and Road Initiative.
As part of a wide-ranging memorandum of understanding between China's Ministry of Ecology and the Environment (MEE), the two partners announced:
A collaboration in support of the 2020 Biodiversity Conference of Parties in Kunming, China; the agreement will see the formation of a new community and the publication of a report, The New Nature Economy.
The Forum also joined the Green Belt and Road Coalition, which will see collaboration with MEE on a number of thematic partnerships, including Environmental Information Sharing and Big Data; Biodiversity and Ecosystem Management; Green Finance and Investment; and Green Technology Innovation.
South Korea joined the Forum's Centres for the Fourth Industrial Revolution Network.
The Forum's Global Future Council on Agile Governance piloted a new tool, endorsed by the Government of the United Arab Emirates, to help policy-makers and regulators avoid being left behind by rapid technological change.
The Infrastructure and Urban Development community formed a task force on Risk Allocation and Mitigation to make infrastructure collaborations between the public and private sectors more equitable, future-proof, socially endorsed and immune to political cycles.
Scaling Intelligent Manufacturing: 10 Factories Leading the Way in Innovation
The World Economic Forum announces the addition of 10 new factories to its global Lighthouse Network, a community of manufacturers that are showing leadership in applying Fourth Industrial Revolution technologies to drive financial and operational impact.
The factories join a network of 16 existing lighthouses across multiple geographies and industries. They serve as beacons to guide others to overcome challenges in upgrading systems and applying cutting-edge technologies such as artificial intelligence, big data analytics and 3D printing. The factories were selected based on their success in integrating these technologies to increase efficiency and drive innovation.
"The global Lighthouse Network offers an unrivalled opportunity not only to highlight the transformational efforts of the world's most advanced manufacturers but also, more importantly, to create a shared learning journey that will help manufacturers around the world, across value chains and of all sizes to access and capitalize on the positive potential of the Fourth Industrial Revolution," said Francisco Betti, Head of Advanced Manufacturing Industry, World Economic Forum.
The new lighthouses are:
Arçelik (Ulmi, Romania): This greenfield factory is a product of the Arçelik use-case laboratory, where it was designed twice as fast as previous-generation factories. Since coming into existence, automation of low-value tasks has reduced operational costs by 11%.
Ford Otosan (Kocaeli, Turkey): This site leverages digital manufacturing and advanced automation to move beyond lean, increasing its output by 6% and employee engagement by 45% without additional capital expenditure investment.
Nokia (Oulu, Finland): Nokia's fully digitalized 5G factory focuses on bringing together design and production to introduce new products. Implementing a range of 4IR solutions, connected by a private wireless network, this site improved productivity by 30%, and now brings products to market 50% faster than before.
Petrosea (Tabang, Indonesia): Challenged by its remote location, this mining service provider deployed multiple Fourth Industrial Revolution use cases (e.g. optimized truck dispatch, real-time monitoring, drone surveys) that transformed the mine from a loss-making entity into a profitable one in just six months.
Posco (Pohang, Republic of Korea): This plant leverages artificial intelligence to drive productivity and quality improvements in the steel industry. It is building its own smart-factory platform through a collaboration with a local ecosystem of academia, SMEs and start-ups.
Groupe Renault (Cléon, France): This Renault site uses a wide range of Fourth Industrial Revolution technologies (e.g. cobots, virtual reality) to support operators, eliminate waste, reduce energy consumption and automate repetitive tasks.
SAIC Maxus (Nanjing, China): A challenging market environment drove this site to implement a new model for mass customization. Digitalizing the value chain end-to-end, from customers to suppliers, through an integrated digital thread resulted in improved sales and reduced costs.
Schneider Electric (Batam, Indonesia): One of Schneider Electric's nine smart factories, this location developed a full spectrum of Fourth Industrial Revolution solutions (e.g., IIoT platform) that were then shared with the wider Schneider Electric community, including customers and partners, thereby improving the operations of the entire ecosystem.
Tata Steel (Kalinganagar, India): This greenfield steel plant is helping to set a new standard for the speed at which a factory can achieve full capacity from complete nascency. It also improved time-to-market by 50% thanks to significant investments in digital and analytics solutions, as well as capability-building to develop the digital skills of a relatively junior and inexperienced team.
Zymergen (Emeryville, USA): A digital native, this bio-engineering site is using robotics and artificial intelligence on processes that have traditionally been highly manual, resulting in the doubling of its innovation rate.
"The 10 new lighthouses confirm that frontrunners in the Fourth Industrial Revolution draw a competitive advantage from either innovating their production system or by innovating their entire value chains and offering new products and services that were not possible before," said Enno de Boer, Partner and Head of McKinsey & Company's Global Manufacturing Practice, which collaborated with the Forum on the project. "For example, Zymergen brought robotics and AI to their bio-engineering labs, doubling innovation rates and allowing product innovations that were previously unthinkable."
One of the key elements of the Lighthouse Network is its commitment to discovering and elevating solutions that can be scaled up in cost-effective ways across companies and industries.
"What all frontrunners have in common is that they work hard to find ways to scale," Enno de Boer said. "For example, Tata not only cracked the code on how to bring predictive maintenance to 50,000 different machines, but they also mastered the challenge of rolling out best practices to a site with a relatively inexperienced site team, supporting them with world-class data insights. Not imaginable before, the site is a benchmark in their network for productivity and time-to-market."
The lighthouses have also agreed to share their knowledge with other manufacturing businesses, helping them successfully adopt the technologies of the future.
"The World Economic Forum's Fourth Industrial Revolution lighthouse programme promotes collaboration, benchmarking and new ideas for the digital transformation of industries in a practical way that generates faster adoption of digital technologies and increases the efficiency of manufacturing," said Peter Herweck, Executive Vice-President, Industrial Automation, Schneider Electric. "Our smart factory in Batam, Indonesia, has benefited enormously from the Forum programme and we are delighted to continue to be a part of this programme and share our learning and solutions with the wider industrial ecosystem."
"Our Oulu 5G facility is an example for our enterprise customers to realize the vision of industrial automation in the era of Industry 4.0," said Kathrin Buvac, President of Nokia Enterprise and Chief Strategy Officer."Leveraging our own technology, including private wireless networks, edge cloud and IoT analytics, resulted in significant productivity gains of 30% for our factory as of today already."
Poll: Public Concern Around Use of Artificial Intelligence is Widespread
A significant portion of the global population is concerned about the use of artificial intelligence, with scepticism about its use by business greater than its use by government, a poll published today by the World Economic Forum finds.
According to the poll, which surveys the attitudes of over 20,000 people across 27 countries, 41% of respondents said that they were worried about the use of AI. This compares to 27% that disagreed and 32% that were undecided.
When asked whether the use of AI by companies should be regulated more strictly than it is today, 48% of respondents said they agreed compared to 20% that disagreed.
The scepticism towards corporate use of AI was diminished when it comes to governments, with relatively less people – 40% – believing current restrictions needed to be tightened up compared to 24% that disagreed with the statement.
However, in support of the idea that society still overwhelmingly believes in the inherent potential of the technology to do good, only 19% of people said they believed that the use of AI should be banned altogether compared to 48% that disagreed.
"Artificial intelligence is one of the most powerful tools we have as a society," said Kay Firth-Butterfield, Head of Artificial Intelligence and the World Economic Forum. "But, without a governance structure to provide the guardrails for how we interact with this, we risk leaving large parts of the population behind. Developing these guidelines is our focus area at the Centre for the Fourth Industrial Revolution. We hope to accelerate the adoption of this technology to maximize its benefits, while minimizing the risks."
One remarkable finding from the poll is that attitudes towards AI varied little across sex, age, income or education level. Slightly fewer men (39%) said they were concerned about the use of AI than women (44%). Respondents under the age of 35 were slightly less likely than those aged 35-49 and those 50 and older to agree with calls to further restrict the use of AI by government (38% vs. 41% and 41%, respectively) and for more regulation of business (46% vs. 50% and 50%, respectively). People with lower levels of education were just as concerned about the use of AI in general (42% compared to 41% for both medium- and highly-educated people), in favour of restricting government use (41% vs. 40% and 39%, respectively), and in favour of regulating business (48% vs. 49% and 49%, respectively).
The data was compiled by Ipsos for the Forum's Annual Meeting of the New Champions, which brings together over 1,800 leaders this week in the Chinese city of Dalian to discuss among other things the impact of technological innovation on the global economy and society.