Modern Diplomacy meets the Italian Undersecretary for Defense Raffaele Volpi. Mr. Volpi, a senior official of the ruling Italian party "Lega", is an authoritative voice inside the party and is highly respected by its Leader, Deputy Prime Minister and Interior Minister, Matteo Salvini.
In this brief conversation, we will talk about the future challenges that the Italian Armed Forces will have to face in the near future, the political and industrial effects on defense stemming from the Franco-German Treaty of Aachen, and concluding with reasons why Italy needs a strong strategic system that supports its key defense industries.
What are the financial challenges that the Italian armed forces will have to face in order to maintain their efficiency and advanced operations?
The operational capacity of the Armed Forces must inevitably be linked to what are strategic choices. Today, no country can think of doing everything, except perhaps the three major global powers of the United States, China, and Russia. Therefore, each country must have the opportunity, together with allies, to choose what its key strategic missions are and allocate its resources accordingly.
Making this more difficult is that no mission is the same: obviously, capacity on preserving and security national territory must remain primary. So, the bigger question remains in terms of choosing what other perspectives do we need to focus on and how do we link these choices back to the main objective, which is ultimately about how to positively and productively project our power. One must know how to choose and it is not simply a financial issue.
Let me give an example: there is a huge demand from the international community for a renewed commitment from Italy in the Mediterranean. Well, looking at the Mediterranean and the northern part of the African continent means choosing how we want to be present in the area in an intelligent and strategic way. This is not a talk about war: we are talking about power projection. Therefore, resource acquisition and allocation is key. Surely, as in all countries, resources are infinite or limitless. Therefore, very careful planning must be done: we must move beyond mere posturing, as we tend to say in diplomacy, and move on to mutual respect. We must make strategic, even geo-strategic, choices that align to effective programming.
Do you look favorably upon the development of a common European defense? If so, what role will Italy have to play, taking into account the French power of nuclear deterrence and the signing of the French-German Treaty of Aachen?
A common defense is an interesting idea. It is part of amore complex idea that can be called Euro-Atlantic, which would be a capable, strong, and authoritative Europe within a greater Atlantic Alliance. Europe needs to understand what it wants to become at a strategic level, looking both historically at organizations like NATO, which looks mainly toward Russia as the primary challenge, and how NATO itself has recognized the need to look beyond Russia, towards a southern front. This is the new front of concern for the Mediterranean, both from an ISIS standpoint and other extremist groups and also in terms of problematic immigration/refugee challenges.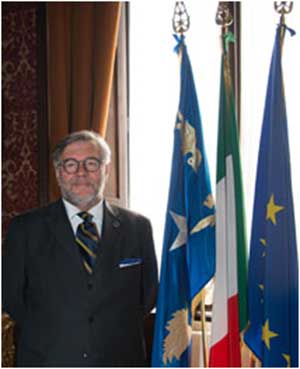 The idea of Europe at this time needs to definitely be rebuilt, with the treaty of Aachen revealing the possibility of introducing the nuclear element. I do not have the impression that France and Germany are becoming closer friends. Ironically, this is shown by the need to make a treaty every few years. Behind this constant treaty-making is also the conditioning to think about the US commitment in Europe, especially on the issue of a nuclear umbrella. From the Obama administration to present day, there has been the strategic retreat of the United States, at least in concept if not yet fully implemented, from many international commitments.
Personally, I have as a secondary thought that this French-German agreement in Aachen also serves to guarantee its own possible nuclear coverage. I think the United States will not leave Europe because the alliance is too strategic for it, and not just from a military point of view. There is, however, an important aspect that France and Germany, regardless of any treaty, are already doing when it comes to their philosophy about a common defense and the joint defense project that is the construction of a common military tank. If Europe wants to be authoritative, then it must make decisions that lead to a more definitive foreign policy. We must have more aligned common goals, both diplomatically and militarily.
From an industrial point of view, what effects will this Franco-German understanding have on Italy's defense industry?
There are difficulties in other countries. For example, Germany has an internal difficulty in having strong investments in defense, especially when they are juxtaposed against the new political and social composition of the country.Thus, concerns and perceptions can never be purely or exclusively focused on industrial development. The world of defense, not only in Europe but on a global level, is a very competitive world. It is a world that cannot be read in newspapers where, for example, two companies from different countries are allied to bring a product forward in one country smoothly while in other situations these companies and countries are competitors.
Ours is a country that ranks seventh overall in size of defense industry, so we have a capacity that derives from two factors:
First, is our talented and highly-skilled defense workforce, our people, that are incomparable. Unlike technology that can be copied, knowing how to work effectively, THIS cannot be copied.
Second, is our huge technological capacity. We have national champions that are not necessarily the largest companies, but are small and medium-sized companies that develop excellent products and are in demand all over the world.
Creating a more cohesive European defense industry could enable us to be more competitive. But I believe that this is not the chief problem. Our problem is different. Italy needs a defense system that is strong and coordinated, which focuses above all on the information communication/technology part. This brings the possibility of being aggressive in some key markets, while also having the ability to continuously monitor all the actors moving within and across these markets. We still lack such a system and this must be the challenge we address over the next few years for the defense and security industries as a whole. We are capable of having great products but we must learn to run together.
I think that in life you have to be able to always learn and see how other systems work. We have very aggressive competitors. France, first of all, with its tried and tested system, that allows its defense industries to be massively supported by government, intelligence infrastructure, design development, and further incentives. However, when I say this, we are also talking about nothing extraordinary, except the commitment to offer aid that is available to the French defense industry every day, twenty-four hours a day. Our government must realize that same set of guarantees for our national security industry.
To face increasingly competitive foreign groups, how do you view the potential creation of a national champion through the alliance of Leonardo and Fincantieri?
I do not see a need for it. I think there must be moments of important confrontation between groups. It is not necessary to create a super national champion. The important thing is to work together, to have the ability to relate, thanks to a strong and cohesive Italian system with other major international players such as Boeing, Lockheed, and Airbus. The defense industry is a projection industry, as in imagining what competitive challenges will be emerging in the future. It is now wise to project thirty years forward with accuracy, so a strong systemic national security industry means it can also be an effective competitor/partner with other global companies.
There is one aspect that we must always remember: the defense industry is a sector that concerns national security and national interests, so you cannot choose wrong in terms of alliances. Those choices are best guaranteed when both the future of technology AND geopolitics are taken fully into account. It is important that political choices are made in a very serious manner, strictly linked with national interest. Our national interest comes to us from history: from my point of view, this is chiefly an Atlantic Alliance with a strong Europe at its center.
Are you in favor of the development of nuclear energy for military purposes in Italy?
I believe that Italy has a complementary opportunity compared to what the general choices of the Alliance can be. We have a strategic unique position and have a capacity for multilateral dialogue that other countries do not have. So our form of deterrence is where we are and with whom we talk. Our strength is a calm, reasoning force with respect for sensitivities that is not common even to our allies. This is because we are a country within the Mediterranean region that has a unique capability to have relationships with everyone, even in the most difficult moments. So, nuclear power exists, it will persist and remain, even though it tends to be a rather blunt instrument. We, on the other hand, must play the card of "Italianness" within the geopolitical context with the strategic deftness it deserves.
Co-author: O. Rafaggio