Why Italy Needs to Enhance Its Strategic Vision
Modern Diplomacy meets the Italian Undersecretary for Defense Raffaele Volpi. Mr. Volpi, a senior official of the ruling Italian party "Lega", is an authoritative voice inside the party and is highly respected by its Leader, Deputy Prime Minister and Interior Minister, Matteo Salvini.
In this brief conversation, we will talk about the future challenges that the Italian Armed Forces will have to face in the near future, the political and industrial effects on defense stemming from the Franco-German Treaty of Aachen, and concluding with reasons why Italy needs a strong strategic system that supports its key defense industries.
What are the financial challenges that the Italian armed forces will have to face in order to maintain their efficiency and advanced operations?
The operational capacity of the Armed Forces must inevitably be linked to what are strategic choices. Today, no country can think of doing everything, except perhaps the three major global powers of the United States, China, and Russia. Therefore, each country must have the opportunity, together with allies, to choose what its key strategic missions are and allocate its resources accordingly.
Making this more difficult is that no mission is the same: obviously, capacity on preserving and security national territory must remain primary. So, the bigger question remains in terms of choosing what other perspectives do we need to focus on and how do we link these choices back to the main objective, which is ultimately about how to positively and productively project our power. One must know how to choose and it is not simply a financial issue.
Let me give an example: there is a huge demand from the international community for a renewed commitment from Italy in the Mediterranean. Well, looking at the Mediterranean and the northern part of the African continent means choosing how we want to be present in the area in an intelligent and strategic way. This is not a talk about war: we are talking about power projection. Therefore, resource acquisition and allocation is key. Surely, as in all countries, resources are infinite or limitless. Therefore, very careful planning must be done: we must move beyond mere posturing, as we tend to say in diplomacy, and move on to mutual respect. We must make strategic, even geo-strategic, choices that align to effective programming.
Do you look favorably upon the development of a common European defense? If so, what role will Italy have to play, taking into account the French power of nuclear deterrence and the signing of the French-German Treaty of Aachen?
A common defense is an interesting idea. It is part of amore complex idea that can be called Euro-Atlantic, which would be a capable, strong, and authoritative Europe within a greater Atlantic Alliance. Europe needs to understand what it wants to become at a strategic level, looking both historically at organizations like NATO, which looks mainly toward Russia as the primary challenge, and how NATO itself has recognized the need to look beyond Russia, towards a southern front. This is the new front of concern for the Mediterranean, both from an ISIS standpoint and other extremist groups and also in terms of problematic immigration/refugee challenges.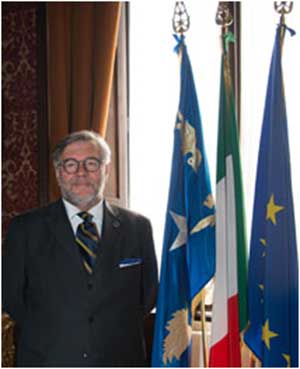 The idea of Europe at this time needs to definitely be rebuilt, with the treaty of Aachen revealing the possibility of introducing the nuclear element. I do not have the impression that France and Germany are becoming closer friends. Ironically, this is shown by the need to make a treaty every few years. Behind this constant treaty-making is also the conditioning to think about the US commitment in Europe, especially on the issue of a nuclear umbrella. From the Obama administration to present day, there has been the strategic retreat of the United States, at least in concept if not yet fully implemented, from many international commitments.
Personally, I have as a secondary thought that this French-German agreement in Aachen also serves to guarantee its own possible nuclear coverage. I think the United States will not leave Europe because the alliance is too strategic for it, and not just from a military point of view. There is, however, an important aspect that France and Germany, regardless of any treaty, are already doing when it comes to their philosophy about a common defense and the joint defense project that is the construction of a common military tank. If Europe wants to be authoritative, then it must make decisions that lead to a more definitive foreign policy. We must have more aligned common goals, both diplomatically and militarily.
From an industrial point of view, what effects will this Franco-German understanding have on Italy's defense industry?
There are difficulties in other countries. For example, Germany has an internal difficulty in having strong investments in defense, especially when they are juxtaposed against the new political and social composition of the country.Thus, concerns and perceptions can never be purely or exclusively focused on industrial development. The world of defense, not only in Europe but on a global level, is a very competitive world. It is a world that cannot be read in newspapers where, for example, two companies from different countries are allied to bring a product forward in one country smoothly while in other situations these companies and countries are competitors.
Ours is a country that ranks seventh overall in size of defense industry, so we have a capacity that derives from two factors:
First, is our talented and highly-skilled defense workforce, our people, that are incomparable. Unlike technology that can be copied, knowing how to work effectively, THIS cannot be copied.
Second, is our huge technological capacity. We have national champions that are not necessarily the largest companies, but are small and medium-sized companies that develop excellent products and are in demand all over the world.
Creating a more cohesive European defense industry could enable us to be more competitive. But I believe that this is not the chief problem. Our problem is different. Italy needs a defense system that is strong and coordinated, which focuses above all on the information communication/technology part. This brings the possibility of being aggressive in some key markets, while also having the ability to continuously monitor all the actors moving within and across these markets. We still lack such a system and this must be the challenge we address over the next few years for the defense and security industries as a whole. We are capable of having great products but we must learn to run together.
I think that in life you have to be able to always learn and see how other systems work. We have very aggressive competitors. France, first of all, with its tried and tested system, that allows its defense industries to be massively supported by government, intelligence infrastructure, design development, and further incentives. However, when I say this, we are also talking about nothing extraordinary, except the commitment to offer aid that is available to the French defense industry every day, twenty-four hours a day. Our government must realize that same set of guarantees for our national security industry.
To face increasingly competitive foreign groups, how do you view the potential creation of a national champion through the alliance of Leonardo and Fincantieri?
I do not see a need for it. I think there must be moments of important confrontation between groups. It is not necessary to create a super national champion. The important thing is to work together, to have the ability to relate, thanks to a strong and cohesive Italian system with other major international players such as Boeing, Lockheed, and Airbus. The defense industry is a projection industry, as in imagining what competitive challenges will be emerging in the future. It is now wise to project thirty years forward with accuracy, so a strong systemic national security industry means it can also be an effective competitor/partner with other global companies.
There is one aspect that we must always remember: the defense industry is a sector that concerns national security and national interests, so you cannot choose wrong in terms of alliances. Those choices are best guaranteed when both the future of technology AND geopolitics are taken fully into account. It is important that political choices are made in a very serious manner, strictly linked with national interest. Our national interest comes to us from history: from my point of view, this is chiefly an Atlantic Alliance with a strong Europe at its center.
Are you in favor of the development of nuclear energy for military purposes in Italy?
I believe that Italy has a complementary opportunity compared to what the general choices of the Alliance can be. We have a strategic unique position and have a capacity for multilateral dialogue that other countries do not have. So our form of deterrence is where we are and with whom we talk. Our strength is a calm, reasoning force with respect for sensitivities that is not common even to our allies. This is because we are a country within the Mediterranean region that has a unique capability to have relationships with everyone, even in the most difficult moments. So, nuclear power exists, it will persist and remain, even though it tends to be a rather blunt instrument. We, on the other hand, must play the card of "Italianness" within the geopolitical context with the strategic deftness it deserves.
Co-author: O. Rafaggio
Of Multilateralism And Future To Europe Recalibration
As the key-note panelist at the Modern Diplomacy and IFIMES conference today in Vienna, the former Secretary General of the Paris-based Organisation for Economic Cooperation and Development in Europe, and former senior minister in several Canadian governments, just delivered highly anticipated speech.
This panel in addressing the future of Europe is invited to answer this question:
"Is there any alternative to universal and pan-European multilateralism? For the purpose of my remarks I am interpreting " universal and pan – European multilateralism' as moving forward with achieving more EU integration supported by institutions appropriate to a kind of federal structure in line with the thinking of the Spinelli Group. But it also raises the question of global free trade which I promoted as Secretary General of the OECD and continue to believe must be the word's future in addressing poverty and opportunity, especially for the worlds developing countries. But it has to be managed in a way sensitive to the challenges of both.
In these brief comments I intend to offer my view on the answer to this fundamental question about the future of Europe.
To begin, I would amend the question by adding the word "good" before "alternative".
There certainly are alternatives some of which could set Europe on a path back to a collection of independent sovereign states and undo the remarkable progress in building a secure European Union in the post WWII period.
Many years ago when looking at the extraordinary work and vision of statesmen like Jean Monet trying to build a lasting and prosperous European Union, I came across a comment of British Historian H.A.L. Fisher in the preface to his 1936 book, A History of Europe. In part it read as follows:
"[No] question [would be] more pertinent to the future welfare of the world than how the nations of Europe … may best be combined into some stable organization for the pursuit of their common interests and the avoidance of strife."
Although we appreciate the Marshall Plan's amazing contribution to the Europe of today, it contributed more to restoring Europe physically while providing humanitarian assistance. Of course, the OEEC which evolved into the OECD in 1961 did provide an important framework and mechanism for economic and social development which continues to this day.
Fisher's vision of a strong, unified Europe remains very much work in progress and that work really began with Jean Monnet's initiative to create the European Coal and Steel Commission. I will comment on that in a moment But I remain convinced that Fisher was right, and the great rebuilding of Europe and the EU after the Second World War must and will endure notwithstanding the barrage of criticisms from euroskeptics, now emboldened by the United Kingdom's Brexit vote of June 2016. Admittedly my conviction is based on the EU having strong, visionary leadership, which has not yet fully materialized.
Think of this. Although Greece represents less than 3 per cent of the Euro zone economy, euroskeptics used its financial crisis as ammunition to predict its withdrawal from the eurozone and the possible unravelling of the entire EU. The Greeks rejected that option: there was no Grexit. Austrians also rejected right-wing populist nationalism in the 2016 Presidential election of Van der Bellen, a strong supporter of the EU.
The support for Brexit in the UK referendum was an unexpected shock for some, but it pleased others who wish to see the EU unravel and claim that the UK attitude reflects views held in other major European countries. I keep hearing and reading that the United Kingdom has rejected the EU, as if it were an overwhelming victory. Bolstered by misrepresentations and downright lies it was a very slim referendum victory but Brexiters will argue that it was validated by Boris Johnson's subsequent margin of electoral victory.
There are also others, especially President Trump who appear to be hostile to the emerging global role that the European Union is likely to play as it completes its evolution to a unified international force. This has become even more important as the United States under Trump becomes increasingly isolationist and opposed to international multilateralism constructed by visionaries over the past 75 years.
In a stunning commentary in Foreign Affairs (summer 2016), Professor Jakub Grygielof the Catholic University of America, implies that the upside to the EU crisis will be a return to independent sovereign nation-states across Europe. Indeed, that would be an upside for American isolationists. It would remove from US competition the largest unified single market in history and reinstate the possibility of future wars on the continent that this great European experiment was designed to prevent – as it has.
Some of Grygiel's comments appear designed to create a false impression of the views of Europeans. Here is a cheerful observation to support his thesis: "a Europe of newly assertive nation-states would be preferable to the disjointed, ineffectual, and unpopular EU of today. There's good reason to believe that European countries would do a better job of checking Russia, managing the migrant crisis, and combating terrorism on their own than they have done under the auspices of the EU."
Really? What is that "good reason" that escaped the attention of the statesmen and nation builders like Jean Monnet in post-war Europe? Grygiel also says that the EU is ineffectual, which is true in some cases, as it is with many, if not most supranational bodies, including much of the United Nations (UN) activities. And what of the United States itself?
Sadly the world is watching that formerly great republic floundering in the face of numerous serious challenges both social, economic, even racial, not even capable of effectively addressing the Covid-19 crisis through what is becoming a dysfunctional government under a Commander in Chief who proudly presents himself as a narcissistic ignorant bully.
And non Europeans, especially Americans, systematically ignore the EU's successes. One good example being the collective research of 28 networked European countries that produce one-third of the world research's output – 34 per cent more than the United States and more than China. This was documented at the time of the Brexit debate in New Scientist. (June 2016). These are the kind of synergies that could be sacrificed should the EU dissolve, and it may already be compromised by the withdrawal of the UK which has much world first class research.
Hopefully the; United Kingdom will stay united and prosper in the post Brexit period. However, there is good reason for concern as the Financial Times Martin Wolfe wrote at the time (June 24,2016). He said:
"David Cameron took a huge gamble and lost. The fear mongering and outright lies of Boris Johnson, Michael Gove, Nigel Farage, The Sunand the Daily Mail have won. The UK, Europe, the West and the world are damaged. The UK is diminished and seems likely soon to be divided. Europe has lost its second-biggest and most outward-looking power. The hinge between the EU and the English-speaking powers has been snapped. This is probably the most disastrous single event in British history since the Second World War.
Yet the UK might not be the last country to suffer such an earthquake. Similar movements of the enraged exist elsewhere – most notably in the US and France. Britain has led the way over the cliff. Others might follow."
Will others follow the United Kingdom over the cliff? Alina Polyakova and Neil Fligstein, writing in the International New York Times at the time of the Brexit vote( July 2016), relied on polls that suggest that will not happen. They say, "Britain is not, and never has been, a typical member of the European Union, and in no country but Britain do populists and other euroskeptic forces have the 51 percent of votes needed to pull their countries from the union."
Obviously, those in the UKwho wanted Brexit must have believed it is good for them and presumably for the United Kingdom, even if it means losing Scotland and perhaps Northern Ireland. The City of London will also suffer, but no one can estimate what the damage will be until all the terms of exiting are known.
Jacques Delors, who has dedicated much of his life to the European dream both in public office and after retirement through his Paris-based foundation, made the following observation in an inter- view in 2012 with the Handelsblattnewspaper: "If the British cannot support the trend towards more integration in Europe, we can nevertheless remain friends, but on a different basis. I could imagine a form such as a European economic area or a free-trade agreement."
That might be the happiest outcome in the wake of Brexit. The real beneficiaries of Brexit are the remaining EU members inspired by people of the experience and quality of Jacques Delors and members of the Spinelli Group. The latter founded in 2010 as a network of thousands of politicians, individuals, writers, and think tanks looking to revive the momentum toward a federalist structure for the EU."
In fact, the Brexit vote and Johnson's arrival as Prime Minister may have strengthened the resolve of many EU countries and prominent Europeans to accelerate the integration process in line with federalist thinking.
Obviously those having the foresight to realize the importance of greater integration and an emerging federalist model, such as the Spinelli Group, would be blocked by a United Kingdom, were it a member, to have reforms move in the opposite direction, consistent with Prime Minister Margaret Thatcher's famous Bruges speech in 1988 where she said,
"We have not successfully rolled back the frontiers of the state in Britain, only to see them re-imposed at a European level with a European super-state exercising a new dominance from Brussels. Certainly, we want to see Europe more united and with a greater sense of common purpose. But it must be in a way which preserves the different traditions, parliamentary powers and sense of national pride in one's own country; for these have been the source of Europe's vitality through the centuries."
This could hardly be seen as an endorsement of a federalist system of any kind, because decentralization, especially with the preservation of parliamentary powers, meaning full sovereignty, is incompatible with federalism. She could have added that the elements she wished to see preserved have also been the source of bloody European conflicts throughout the last millennium, including three wars between France and Germany in the 70 years between 1870 and 1939!
Consideration should be given to some steps that must be taken to realize the collective potential of the EU as a major global player, which it could never be if its members revert to sovereign nation- state status. Indeed, as other major countries grow in economic clout, it has been pointed out that not even Germany would be in a new G8. Only a united EU could have influence on the global stage.
Skeptics like Professor Grygiel, many of them American, seem blinded by the headlines and glare of current events, failing to place them in a broader historical context. Reviewing the remarkable evolution of Europe since the Second World War, I hope that the long-term success of Europe is inevitable. But as the great American judge Oliver Wendell Holmes once noted, "the mode by which the inevitable comes to pass is effort." European leadership must now make that effort. It is critical not only for Europe, but for the world today.
A strong, unified Europe is also important for the emergence of global multilateralism and the further evolution of globalization. Since the end of the Cold War we have been living in a world dominated by just one superpower: the United States. Fortunately, that superpower has been a very open market and largely, but not entirely, militarily non-aggressive. Sometimes referred to as the "importer of last resort," it continued to run current account deficits opposite many trading partners, especially China.
The American economy had enough strength and resilience to emerge slowly but with growing confidence from the global financial crisis of 2007–08. To become a companion economic locomotive, Europe must continue to open its markets, eliminate distorting trade subsidies, and undergo substantial structural reforms in labour, services, and manufacturing markets to stimulate European economic growth. I hope that the results of the Europe 2020 exercise and its follow up will help in that regard.
If that does not happen, the United States might use its economic muscle to focus increasingly on bilateral agreements that are becoming a serious impediment to global free trade.
If Europe had successfully moved to a more centralized and coherent federal model of government it could have reached the objectives adopted by the EU in 2000 (often referred to as the Lisbon Agenda), which was stated in the Lisbon Declaration (24 March 2000) as follows: "The Union has today set itself a new strategic goal for the next decade: to become the most competitive and dynamic knowledge-based economy in the world, capable of sustainable economic growth with more and better jobs and greater social cohesion."
Well, that failed. A review of progress chaired by the former Dutch Prime Minister Wim Kok reported in 2004 that the strategy had fallen well short of its objectives. The diagnosis of the problems of broad structural reform was good, but implementation of reforms was seriously lacking. Kok's review carried much credibility as he had overseen the continuation and completion of the major Dutch structural reforms originally introduced by his more conservative predecessor, Ruud Lubbers. Kok was also a regular participant in many international conferences, and during our discussions it was apparent to me that he was a talented consensus builder.
There is much to be said for such consensus builders, who enable intellectual and political opponents to better understand competing views. Strengthening such relations between European political leaders will be important in bringing cohesion and stronger integration to the EU in line with the objectives of the Spinelli Group.
The Lisbon Declaration, now replaced by the Europe 2020 strategy, has five ambitious objectives related to employment, innovation, education, social inclusion, and climate/energy. The world would benefit greatly from Europe attaining those objectives.
Today only the EU and Japan might to come close to matching the United States in per capita GDP in the coming years.
Demographic projections show Japan's population in serious decline, but an expanded EU which should evolve with Turkey as a major player, would have a much greater population and a much larger market than the United States.
The objectives listed above can only be realized when the peoples of Europe achieve a consensus on what kind of legal community they truly wish to be, and so far, progress to that end has been in fits and starts. The failure of the Lisbon Agenda, the rejection of the proposed constitution in both French and Dutch referenda, and now the exit of the United Kingdom underscore the difficulty of moving toward a flexible federal structure.
The use of the word federal seems to be an anathema for many Europeans. It is worth remembering that with the creation of the European Coal and Steel Community inspired by Jean Monnet in 1951, the French government declared that it would "provide for the setting up of common foundations for economic development as a first step in the Federation of Europe."
Today there does not appear to be any coordinated and broad- based visionary leadership like that of Jean Monnet that led Europe out of the destruction and chaos of the Second World War.
Perhaps the Greek crisis, the withdrawal of the United Kingdom from the EU, and continuing economic performance under potential will awaken Europeans to the need for a truly federal-type European Union, with strong central government institutions where appropriate, accompanied by the protection of individual nations' precious linguistic and cultural identities. The genius of federalism is that it can accommodate great diversity in many areas.
What is the way forward? Where is the higher vision to achieve what is imaginable but not yet within reach? I suggest that the answer is to reconcile the various goals of Europeans, what I call the three Ms: minimizing frictions, maximizing synergies, and maintaining sovereignty.
Some believe they can achieve the first two without a dilution of sovereignty. That is not possible. From my Canadian experience with Quebec, however, I know that it is possible to minimize frictions and maximize synergies while maintaining cultures and national identities. In the case of Quebec, the French language, civil law, religion, and culture have been protected since the Quebec Act of 1774, which is one reason why separatist movements have never succeeded.
I see this kind of flexible federal structure, with necessary variations, in Europe's future. Loss of Europe's various languages and cultures would alter the character of the continent, moving it in the direction of the United States. The historical evolution and the nature of the "self-willed" peoples of Europe, as Fisher described them, make that path neither feasible nor desirable.
I finish these comments with a quote from a recent letter distributed by Thierry de Montbrial, the founder and head of the prestigious French public policy think tank IFRI.
"But it stands to reason that we in Europe in particular should capitalise on building the Union in order to prove the viability of a third way between the United States, that great democracy which still claims to be a liberal one, and the People's Republic of China, which still claims to be communist. Most of us want to remain close to American democracy, but we refuse to become its vassals, notably as part of an Atlantic Alliance retrofitted to that end. There is an urgent need to clarify NATO's truly shared objectives. As for the European Union, despite all the whining in recent weeks, it continues to sail ahead in stormy seas, as it always has…..
If there is one part of the world where multilateralism is making headway despite countless hurdles, it is the European Union. There is still a very long way to go in Europe and, even more so, on a planetary scale. But history is moving in that direction, for the alternative is collective suicide. There is no doubt that global warming, pandemics and more or less intense wars are foreseeable in the world's near-term future. At least we can hope to limit the damage, which, after all, was the case during the Cold War. Let us be convinced of the European Union's responsibility in that regard."
I agree…who cannot?
Trans-Atlantic relations and the Western Balkans
Authors: John Cappello and Ari Mittleman*
The sudden cancelation of the planned White House meeting between the Presidents of Serbia and Kosovo provides an opportunity to pause and examine where the United States and European allies can most effectively collaborate when approaching the Western Balkans.
The President of the European Commission Ursula von der Leyen announced that rather than President Donald Trump she will host the leadership from both countries in Brussels.
Regardless of venue, it is in the best interest of the United States and our European allies to consistently devote time and attention to this complex region.
Examples of Moscow and Beijing working to degrade the Western democratic values while advancing their authoritarian vision grow at alarming rates.
As the largest country in the Former Yugoslavia, Serbia is a key to a stable, secure, and peaceful Balkans. Dialogue with and, ultimately, recognition of Kosovo is a must. Washington and Brussels should regularly repeat these sentences as they will only benefit the region.
As British Prime Minister Winston Churchill famously quipped, "the Balkans produce more history than they can consume." History is happening before our eyes and it begs the question whether Washington and Brussels are looking in the right direction.
The day after Kosovo declared independence in 2008, President George W. Bush recognized the world's newest country declaring the milestone would "bring peace to a region scarred by war."
Too often, those who examine the Balkans dwell on the past. The scars of war certainly do take time to heal. However, the very real concerns of everyday citizens – especially the millennial generation born after the war – need to be considered.
Security from armed conflict cannot be overstated, but economic security is equally important.
Looking through younger eyes as they enter the workforce, move into their first home and raise their children is what Balkan politicians too often neglect to do.
A pledge for greater regional economic cooperation is the most important commitment which can come out of the White House meeting.
Improved economic prosperity will provide politicians in the Western Balkans the latitude to make the tough decisions. Washington and Brussels are well positioned to mentor, promote and invest in this type of collaboration.
Special Envoy Richard Grenell pledged that the White House focus on making economic progress in the region.He suggested that efforts toward a political solution be the purview of Brussels. Innovative economic policy initiatives cannot come soon enough and all free market democracies can play a role.
The median age of Serbia is 41. The World Bank estimates that the population, of seven million, is poised to shrink to 5.8M over the next three decades. This would be a 25% drop from 1990. Countless young Serbs are leaving rural communities and mid-sized towns for Belgrade. Many others leave Belgrade for Berlin, New York and elsewhere abroad.
Kosovo has the youngest population of any European country. Approximately one quarter of citizens are 14 or younger. However, it consistently also has the highest unemployment numbers across all generations.
The everyday lives of young families in the region benefit from the ability for regional cross border freedom to travel, low cost reliable energy, and investments that do not amass multi-generational national debt. Both governments – along with Washington and Brussels –will benefit by looking through this lens.
Last October the leaders of Serbia, Albania and North Macedonia met in Novi Sad. With much fanfare, they announced loose details for what was quickly billed a "mini-Schengen". The Schengen area has been a socio-economic game changer across 26 countries and there is no reason why a variation in the Balkans would not have quantifiable and positive results. Naturally, the devil is in the details and this has been put on hold by the Pandemic. Washington and Brussels should jumpstart this and encourage collaboration between Belgrade, Pristina, Podgorica and Sarajevo.
Just last week, the region moved significantly closer to having more affordable and reliable electricity. A 400 kV transmission line between Kragujevac and Kraljevo was commissioned. The entire project will run from Ukraine to Italy. German financing provided a 15M EUR loan. Brussels can incentivize opportunities for modernizing the electricity grid and do so in a context which opens tenders for American and European firms and dissuades sweetheart deals for Chinese state-owned enterprises.
The day after the Orthodox Christmas President Vucic attended the commissioning of the Turk Stream natural gas pipeline in Istanbul. He was joined by Presidents Putin and Erdogan and Bulgarian PM Boyko Borisov. Russia manipulates gas prices playing countries across Eastern Europe against one another. Monopolies are never good.
Washington previously devoted considerable attention to the Trans-Adriatic Pipeline which ultimately originates in Azerbaijani waters and will be the first European pipeline to fully bypass Russia. The European Bank for Reconstruction and Development (EBRD) working with 16 commercial banks has just dedicated a 1B EUR loan. Assuming an imminent completion of TAP, Brussels must expedite plans to make the Ionian Adriatic Pipeline spur a reality. This would dramatically transform the energy interconnectedness and, therefore, economic security of Montenegro, Croatia and Bosnia. It was a 2018 EBRD priority and must remain.
Soon after returning from Washington in March, President Vucic categorically declared, "European solidarity does not exist. That was a fairytale on paper. The only ones who can help us in this difficult situation and that is China."Mask diplomacy has been exhibited most clearly in Serbia.
Beijing presents a broad challenge for Washington and Brussels. While attention has rightfully been focused on 5G development, attention must be much broader. Beijing presents a very practical relationship to countries like Serbia not yet in the EU. Politicians in the region see Chinese overtures through the lens of election timelines and immediate "wins" rather than seamlessly never-ending discussions about opening EU chapters.
What started as Chinese investments in critical infrastructure has now progressed into a much deeper presence across academics, media and cultural activities.
Indeed, even in Croatia, an EU and NATO member, the largest bridge project in Europe is being built by a Chinese state-owned firm. This came at the expense of an Austrian bidder.
Modern roadways and improved transportation hubs cannot be discounted. A previously two-hour trip from Belgrade to Cacak now takes less than 50 minutes.
This is not an argument for Chinese investment, but for pragmatism and understanding that prolonged delay EU enlargement has real consequences in the lives of everyday individuals.
The one meeting President Vucic had with the Trump Administration in March was with the leadership of the new Development Finance Corporation (DFC). Should an investment proceed, it should aim for not only maximum employment ripple effects, but also demand cross border regional collaboration. When it comes to investments in the Balkans, regular open dialogue should occur between the DFC and the EBRD.
As the debate continues about the future of Trans-Atlantic relations and the fallout from the cancelation of a White House Summit, the fact remains that consistent targeted attention to the needs of everyday people in the region has been lacking.
A debate over the academic term "Trans-Atlantic" must not draw lines where EU and NATO borders end. In the end, it is in the interest of all involved to have a Europe whole, free and at peace. This means we must not overlook what is often referred to as the "soft underbelly" of Europe.
With the dust starting to settle after elections in Serbia, a new government in Kosovo, Germany at the helm of the EU Council Presidency and sustained bipartisan interest from Washington – real and meaningful regional socio-economic progress is possible.
*Ari Mittleman, Founder and Publisher of Balkan Insider, lived and worked in Croatia and Montenegro focused on community and economic development initiatives.
US troop withdrawal from Germany: Berlin's first step towards political independence
Germany has always been one of Europe's leading countries on practically all economic performance indices. At present, according to NASDAQ, it occupies fourth place among the world's top economies (after the USA, China and Japan) with the GDP amounting to 3,86 trillion US dollars. Thanks to its economic potential, Germany has always been attractive as a geopolitical ally and partner.
Following the defeat in the Second World War in 1945 Germany was divided into two zones of occupation –the German Democratic Republic GDR (under the control of the USSR) and the Federative Republic of Germany (under American, French and British control), de facto becoming a division line of entire Europe. Four years after the end of the war, on April 4, 1949, the United States created NATO – a project designed to "foster stability and promote wellbeing in the North Atlantic region". In fact, the North Atlantic alliance was setup to strengthen American influence in Europe and guarantee its "protection against Soviet influence". A statement to this effect was made by Anders Fogh Rasmussen, NATO's former secretary-general, in his article recently.
Six years later, in 1955, at Washington's initiative the Federative Republic of Germany was admitted into NATO as part of the second expansion of the alliance, which aggravated the international situation. Such attention to Germany on the part of the USA is attributed to the fact that the White House was determined to embark on a "new occupation" of the country: at that moment the Pentagon viewed it as the main operation base in Europe – German territory provided everything necessary for the creation of a contemporary military infrastructure of the united armed forces of NATO.
According to the German government, at the end of the Cold War there were a maximum number of American soldiers in Germany – more then 200 thousand, which looks like occupation, but under a different name and a convenient pretext. At present, according to reports, 35 to 39 thousand American servicemen are deployed in Germany. Meanwhile, President Donald Trump reported the presence of 52 thousand American servicemen on the territory of Germany, which gives grounds to suspect the intentional suppression of information on the real number of US soldiers deployed in Germany and in Europe as a whole.
Also located on the territory of the Federative Republic of Germany are the headquarters of the main military command of the USA armed Forces – the European and the African divisions, which exercise control of US forces, including assault drones, operating in Afghanistan, Yemen, Syria and Libya. All this makes Germany an in voluntary participant of military operations which are conducted in Central Asia, in the Middle East, and in Africa. Consequently, it's German cities with American military bases deployed in them that serve as targets of attack for forces with which the US wages an armed struggle for defending their own national interests.
On his part, Donald Trump at the start of his presidential term embarked on the policy of exerting pressure on the United States European "allies" demanding more participation in financing NATO operations. A few days ago he signaled readiness to withdraw more than 9 thousand servicemen from Germany allegedly because of Berlin's failure to meet membership requirements relative to financial payments into the NATO budget (two percent of the national GDP). All this fits well into the US policy of blackmail and pressure on European countries. In the first place, Germany, as the "driver" of European economy. This statement has also been confirmed by NATO's Secretary-General Jens Stoltenberg, who said that he has discussed reduction of US military presence in Europe with Donald Trump. However, he said, there has been no final decision on the withdrawal of American troops from the territory of Germany. The presence of US Armed Forces in Europe meets the interest both the United States and united Europe.
Significantly, the German leadership is consistent in defending their position on the issue. German Ambassador to the United States Emily Haber said that US troops in the FR Germany are not for its protect on but for ensuring trans-Atlantic security and position in the military force in the direction of Africa and Asia, if needed. German Foreign Minister Heiko Maas describes relations between Washington and Berlin as "complicated". Through making a good use of political and diplomatic tactics, the German military and political leadership sends a clear message to the White house saying that they do not need American "military care".
In addition, as experts say, anti-American sentiments are gaining strength in the German society with more and more people calling for a revision of such a cooperation format. In the opinion of German political analysts, at present, relations between Berlin and Washington are at the lowest level in recent years, since President Donald Trump looks at Angela Merkel as his number one political rival in Europe. On their part, representatives of business circles believe that Germany should introduce sanctions against US energy and telecommunication companies and should boost taxes on the supplies of American LNG.
What is clear without any doubt is that the times of political correctness in German-American relations are gone. Europe is forced to act decisively to protect itself against an overt interference of Washington in the domestic affairs of European states. Germany, being no exception, is taking practical steps to fight against the political dictate of the United States.