Khalifa Haftar's military advance
Khalifa Haftar's military advance-started in Jufra on April 4 last – passed from the South, namely Fezzan, and partly from Central Libya, starting from the Westernmost point of the area of influence already gained by Haftar in the last military advances.
The support for his actions against Tripolitania, which stems from very old tensions (the Senussi King Idris boasted he never set foot in Tripoli), materialized with the support of Egypt, the United Arab Emirates, Saudi Arabia and the Russian Federation, as well as France in particular. Other countries, however, are and will be the future friends of Haftar's forces, if the General wins throughout the Libyan territory.
Why so many allies? Firstly, Saudi Arabia regards Haftar as an opponent of Islamic terrorism, the first real danger of the Saudi Kingdom.
Also the United Arab Emirates, however, start from this first consideration and assessment.
Moreover, both the United Arab Emirates and Saudi Arabia have largely funded Al-Sisi's coup against the Muslim Brotherhood of the then President Mohammed Morsi in 2013.
The Emirates also participated in the secret negotiations held last summer to have Libyan oil exported through external channels other than the one approved by the UN, namely the National Oil Corporation of Tripoli.
Haftar's forces have already redirected oil shipments from the ports they control -to the tune of several thousand oil barrels.
Furthermore Saudi Arabia and the Emirates also funded the electoral campaigns of General Haftar's candidates. This is a problem close to us, because the upcoming elections announced by the UN envoy, Ghassam Salamè, at the Palermo Conference, scheduled for next spring, will anyway be decisive, whoever funds them.
In any case, they will be blocked indefinitely due to the now evident proxy civil war that is taking place in Libya.
In addition, General Haftar started the April 4 offensive after informing Emirate's Prince Mohammed bin Sayed al-Nayan on April 2 and Saudi King Salman bin Abdulaziz (but not the acting Prince) on March 27.
The penetration into Tripolitania had already been militarily planned by General Haftar with both the Saudi and Emirate leaders, with whom he had very secret contacts.
The political will of the two Arab States in the peninsula is to put al-Sarraj's government in Tripoli under such strong pressure as to make al-Sarraj accept the agreement that had been defined in the Abu Dhabi meetings with General Haftar himself on February 28 last.
In Abu Dhabi, the first issue to be discussed was the Sharara oil field, the most important one in Libya, held by General Haftar's forces, as well as the gradual unification of the two State structures.
The signing of that agreement, which reaffirmed – sine die- the bureaucratic union of the two parts of Libya was welcomed everywhere, but evidently that agreement had been written on the desert sand.
For the Sharara oil field, Prime Minister al-Sarraj accepted the sale of 300,000 barrels/day, managed by the Libyan NOC, the Spanish Repsol, Total, the Austrian OMV and the Norwegian Equinor. However, no progress has been made so far.
Nevertheless the "Libyan National Conference" that the previous Palermo Conference had scheduled for late January 2019 was never held, despite the passion and enthusiasm shown for it by the UN envoy for Libya, Ghassan Salamé.
France sent its DGSE operatives to Haftar's area in late 2015, encamped near the Benghazi airbase.
What does France want from General Haftar? It wants to close the Maghreb region to other countries' influence – especially Italy's – so as to create a large Françafrique area from Central Africa to all Mediterranean African coasts except for Egypt, which is too big for the forces (of France and Great Britain) that even had to stop – for lack of ammunition – during the first phase of Gaddafi's Libya "conquest" and asked the United States to intervene.
Certainly France also wants all the Libyan oil, which is currently in General Haftar's hands.
What about the Russian Federation? It supports Haftar, although with a sui generis approach. In fact, while I am writing this article, Haftar is holding a talk with Vladimir Putin for two reasons: he wants to sell weapons to the Libyan National Army, but also to avoid competition from Saudi Arabia, which is also a major oil producer and could add the Libyan oil and gas to its own, thus quickly becoming the unparalleled top exporter of crude oil in the world.
Here – regardless of OPEC or not – the situation does not change: the price of the oil barrel would be set by Saudi Arabia.
Russia's allies on the field are not homogeneous in their alliances. Turkey and Algeria support al-Sarraj while – as already noted – the others support General Khalifa Haftar.
There is also the possibility of a Russian military base on Cyrenaica's coast, when General Haftar fully wins the game.
Nevertheless, rumours are already rife that the Russians of the Wagner Group, the main private military group used by Russia, are present in the Benghazi forces' area.
In late 2018, the Russian newspaper RBC reported that there were "Russian troops in Libya".
General Khalifa Haftar's forces, the Libyan National Army, moved from Fezzan – through the territories of the various local tribes – in two ways: with the good – and not only recent – good relations they had with that tribe world or with large cash payments.
The first military advance line of the Benghazi Free Army was between Bani Walid and Sabratha, towards Gharyan, the crossing point to Tripoli from the South.
In late March, many local, tribal and non-tribal brigades had changed sides, in favour of General Haftar, mainly thanks to the example of the Seventh Al Khaniat Brigade from Tarhouna, which started fighting with the Benghazi National Army that, in fact, advanced through the Southern districts of Tripoli.
The Seventh Brigade's attack probably had the opposite effect, thus making some Tripoli's brigades remain loyal to al-Sarraj's government, although no one knows for how long.
Even the "moderates" of Misrata -led by the current Interior Minister of Tripoli, Fathi Bachaga – that until now have been open to future negotiations with General Haftar, have stiffened their stance in defence of Tripoli.
The troops of Misrata, the Libyan "Sparta", amount to 15,000 soldiers and would make the difference in any future confrontation.
However, Misrata has already mobilized its military forces, but for the time being there is only a small Misrata force alongside the other forces in Tripoli.
The Benghazi Defence Brigades, which also include some soldiers from Misrata, and the Halbous militia have instead agreed to be part of Tripoli's counteroffensive.
(Others') money counts.
The Forces of Zintan, another major military centre of Tripoli's armed forces, are divided between the group still loyal to Tripoli's GNA, led by Oussama al-Jouili and Emad al-Trabelsi, while all the others are now supporting General Haftar.
The latter, can still rely on a large amount of ammunition.
The Rada Militia, led by Abdelraouf Kara, has not yet made any choice.
It is currently called "Unit for the Prevention of Organized Crime and Terrorism" and controls Tripoli's nerve centres.
Hence if Haftar wins, the old Rada Militia will be on his side.
General Haftar has already had contacts with this organization, which is affiliated with the same Makhdalist Salafist movement that is already operating in favour of General Haftar in the East.
The strength of the African Salafist sect, which aims at an African and Libyan jihad, must certainly not be underestimated.
The strategy of forcedly re-proposing the Abu Dhabi agreement to al-Sarraj, who would obviously be weakened, is supported – on Haftar side – by Russia, which coincidentally voted a UN Security Council's motion condemning General Haftar's advance.
Egypt itself has some fears for the current advance of the Benghazi forces. It is afraid that this may have repercussions both on the many Egyptian workers still present in Libya and on the country's internal equilibria.
France has supported General Haftar's advance, also with its operatives – not only from the DGSE and its Service Action. France thinks that General Haftar's advance is the only barrier against terrorism, but also the way to reconquer Libya after the disastrous operations following Gaddafi's ousting in 2011.
General Haftar is openly pro-Gaddafi, as he demonstrated by having the Rais image portrayed on his banknotes printed in Russia.
Moreover France has greatly favoured Haftar's advance in Fezzan by collecting and assigning to the Benghazi General the intelligence gathered by a spy-plane provided by CAE Aviation, a company belonging to DGSE and to its Service Action, in particular.
NATO is not lost as the spirit of collective security remains
Authors: Do Quynh Anh & Paul Wang
It is true that NATO was founded 70 years ago during the heyday of the Cold War. Then in 1992 when the Soviet Union collapsed, it was debated about the legitimate role of NATO in the future because the Soviet Union disappeared.It is true that in November, French President Macron warned that European countries could no longer rely on Washington to defend its Atlantic allies due to "the brain death of NATO."Also it is evident that the United States, in particular President Trump, has consistently lashed out at European allies over the defense budget and even trade issues during NATO summit in London during this week.
However, it is unrealistic or a misguided view that the clashes among the NATO members will bring it to the end, and the United States or France would be "breaking off" the relationship with the NATO. In effect, since Macron spoke of the "brain death of NATO, German Chancellor Merkel immediately responded with her disapproval of Macron's drastic words as she argued that NATO remains vital to the cross-Atlantic collective defense and beyond. So did Turkey and other member states which have vowed to hold the NATO in terms of the "bandwagoning behavior".
In order to inquire the legitimacy of NATO, let's go to review briefly its origins in 1949. When NATO was founded, the primary goal was sure to provide a security against the perceived threat from the Soviet Union in a collective military institution. Yet, NATO was also expected to watch and then keep the German re-militarism down and simultaneously to keep the disputed Europeans work together. There is no doubt that from the very beginning military and ideological threats have been reinforced with each other to challenge the Soviet Union and its bloc, since the West opined that divergent ideologies can pose a threat to each other. Today the spirit of the collective security remains valid since most states of Europe which have shared the so-called democracy still want to ensure German integration into a larger defense domain and also remains united to meet the reemerging Russia. It is clear that liberal scholars opine that NATO allies would crumble as the common fears of the Soviet Union had vanished, and now conflicting views might divide NATO and even undermine it soon or later. Yet, the provision in Article 5 of the North Atlantic Treaty specified that "each member would consider an attack against one or more members to be an attack against them all." This is exactly true that In light of the past memories of the Europeans and the shared interest in a collective security, NATO is still accepted in principle by all member states of NATO and its economic counterpart of EU.
Macron is correct that Europe stands on "the edge of a precipice" wherein it needs to think of itself strategically as a geopolitical power. He is also frank in view of the commitment of the United States which is seen to recede in Europe. As the youngest president of France in history, he is right to opine that Europe needs to start thinking and acting not only as an economic powerhouse but also as a strategic power. It requires that Europe regains its military authority, and re-opens dialogues with Russia despite suspicion from some of former states that were once under Soviet domination. Despite all the discourses, NATO member states want to make sure that the "European force" proposed by France since the 1950s does nothing to weaken NATO and the U.S. commitment to Europe. In effect, if American troops left Europe, most nations across the continent would scream out due to their lingering fears of German hegemony and Russian threat.
Considering this, the comments on the NATO's brain-death is more a chat than a talk. The differences have been overstated between the United States and its allies. Even Macronopines that NATO functions well in the military sphere. His real goal is that Europe must be great again, even though Russia, China and the U.S. might have more the potentials in the future. Yet, as he argues that no matter how fragile it is, Europe if it can't of itself as a global power, will disappear at all. In this sense, NATO still provides an insurance policy against any potential geopolitical threat, ensures a more assertive Germany integrated into a larger collective security community. Now it seems that NATO is in a tight spot, with both Trump and Macron taking aim at some of the alliance's core value. Yet, politically the preservation of NATO is still in its fundamental interest shared by its all members. Germany hopes to ensure member states regain their trust in NATO by reforming the old mechanism. To that end, France does not object at all. It only intends to push forward the strategic autonomy that would insure Europe's peace and prosperity.
Henry Kissinger once said, the so-called crises within NATO as the alliance were generally in the nature of family disputes, having to do with differing interpretations of the requirements of an agreed common security. Today it is the European allies who dissociate from American policies outside the NATO areas—from the Iran nuclear deal, sanctions against Cuba, and any aggressive rhetoric towards Russia and China. Due to a rapid changing era of globalization, there will be beyond the traditional framework of common defense: the members of the Atlantic Alliance used to think of themselves as belonging to a unique and special community of values and not simply as an aggregation of national interests.
Now consider that after so many years of strategic dependence on the U.S., Europe is truly unprepared – not just materially but psychologically – for today's harsh geopolitical realities. But the questions about NATO future emanate from not just Washington, DC, but Paris and Berlin as well. NATO's survival can no longer be taken for granted, and Europeans cannot wait 20 years to figure out what should come after it. In view of the U.S. unilateral mentality, China's growing assertiveness, and the ongoing digital revolution, Europe has no choice but to become a power in its own right. In this respect, Macron is correct but meanwhile to be sure, NATO still exists, and there are still U.S. troops deployed in Europe. As Joschka Fischer, former German foreign minister and vice chancellor (1998-2005) argued recently, Now that traditional institutions and transatlantic security commitments have been cast into doubt, the alliance's unraveling has become less a matter of "if" than "when." When will Trump finally decide that it's time to call the whole thing off? For Europeans, it would be the height of folly to sit back and wait for the fateful tweet to arrive."
Latvia: "Armed to the teeth"
Latvia has fallen into the trap. It all started with a sincere desire to increase the military capabilities of the state.
Thus, according to the Ministry of Defence, five years ago Latvia and the UK agreed on supply of 123 used Combat Vehicle Reconnaissance Tracked or CVR(T) for €48.1 million euros to Latvia.
In November 2018, it signed a deal for four UH-60M Black Hawk helicopters.
In addition, Latvia has purchased 47 M109 self-propelled artillery pieces from Austria and Stinger man-portable air-defense missile systems (MANPADs) from Denmark.
Latvia has also expressed interest in procuring a medium-range ground-based air-defense system (GBADS) and is investing $56 million annually through 2022 on military infrastructure, with two-thirds of this amount being spent to upgrade Ādaži military base, headquarters of the Canadian-led EFP battle group.
It could be seen that Latvia allocates great amount of money to increase its defence capabilities by buying used military vehicles, ammunition and equipment from its NATO and EU partners.
All this sounds impressive, but in practice all the equipment needs major repairs and modernization.
Latvian authorities should admit that huge part of such military equipment is worn-out.
Experts underline that even if equipment is bought only for training purposes not for the battle, it should serve even longer. But worn-out vehicles or helicopters will be "killed" by military in the training process faster than by the enemy in real battle.
Latvian authorities recognized that supplied British Combat Vehicle Reconnaissance Tracked were far from being new: they were produced in the mid-sixties of the last century. When Latvia launched this large-scale army mechanization project, the goal was set to engage the local industry as much as possible. Still, even today, most serious repairs of the armored vehicles are not conducted in Latvia. Latvia does not have spare parts as well. Repairs of the CVR(T) are still conducted in the UK instead of Latvia.
Nevertheless , then Latvian Defence Minister Raimonds Bergmanis insisted that this was an important step towards strengthening Latvia's self-defense capacity." New Defence Minister has just the same point of view on the issue.
But this means that Latvia, seeking to pursue a self-fulfilling policy in military sphere, becomes more and more dependent on foreign industrial capacity and simply on the political will of its partners.
"Armed to the teeth", as they say.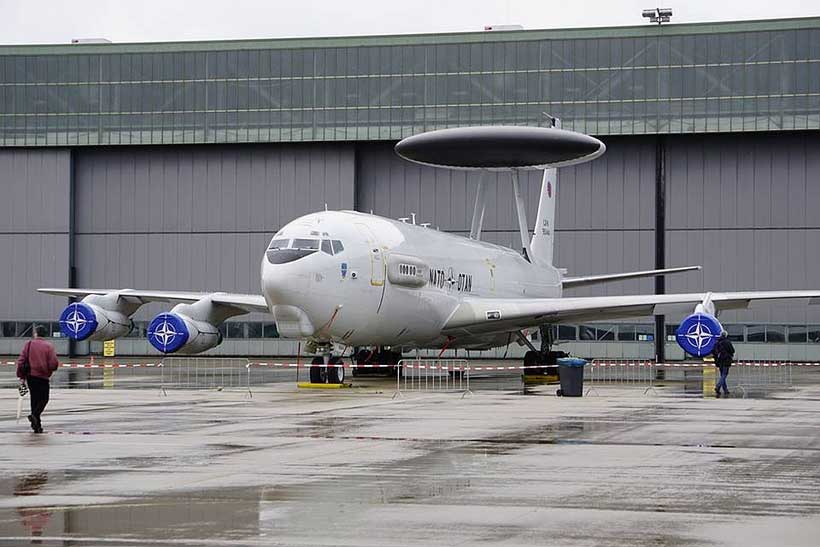 Catherine the Great is credited with saying that the only way to secure the borders of the Russian Empire is to expand them continuously. This logic is to some degree applicable to the North Atlantic Treaty Organization (NATO), which embarked on a path of geographical enlargement quite literally from the very first days of its existence. Seven rounds of enlargement over the next 70 years brought NATO membership from 12 to 29 countries. And, from the look of things, the expansion will not stop there.
It is far from obvious that there is a linear correlation between the number of NATO members and the organization's military and/or political effectiveness. Geographical enlargement comes at a cost: the accumulation of internal contradictions; the emergence of tensions among members with diverging interests; and occasional heated conflict within the group. A recent example of such a conflict is Turkey's purchase of Russian S-400 Triumph anti-aircraft weapon systems and the failed attempts of the United States to scuttle the deal.
The sixth and seventh rounds of NATO enlargement into the chronically unstable and explosive region of the Western Balkans (Albania, Croatia and Montenegro) created more problems than significant new opportunities for the organization. The planned eighth round of enlargement (to include North Macedonia and Bosnia and Herzegovina) also raises a number of questions as to the ability of the new members to strengthen the organization's military potential and increase its overall security. The possible accession of Cyprus, not to mention that of Georgia and Ukraine, posits just as many questions.
The Logic Behind Enlargement
Alarmist voices can be heard from time to time in Europe and the United States calling for at least a temporary suspension of NATO's endless and thoughtless enlargement and for its members to focus their attention on enhancing cooperation within the organization. The alarmists' stance is clear: the expansion of the North Atlantic Treaty Organization by including mostly "security consumers" puts the "security providers," primarily the United States, in a difficult situation. The United States' obligations to its European allies are mounting, while its security is not being strengthened. Last year, Donald Trump, in his typically outrageous manner, reminded the distinguished audience that a third world war might very well break out as a result of a crisis provoked by "aggressive" Montenegro.
Nevertheless, NATO's ineluctable enlargement has its own logic and justifications, or can at least be explained.
One of these explanations is bureaucratic: each new member brings with it new personnel for the organization's executive office, new budgets and targeted projects, and new instruments of exerting administrative pressure on old members. One look at NATO's immense new headquarters, built two years ago at the cost of over $1 billion and taking up an area of over 250.000 square metres, is sufficient to understand why Brussels bureaucrats believe the enlargement process is rational.
Another explanation is legal: NATO cannot close its doors to potential new members without revising the 1949 North Atlantic Treaty, which that states in Article 10 that NATO membership is open to "any other European State in a position to further the principles of this Treaty and to contribute to the security of the North Atlantic area." That is, NATO can reject specific applicants (the request of the Soviet Union was rejected in 1954, for example), but it cannot close its doors as a matter of principle. Revising or amending the founding Treaty under current circumstances is a purely hypothetical question.
A third explanation is economic: each subsequent candidate undertakes to modernize its weapons so that they comply with NATO standards. Accordingly, U.S. and European defence contractors gain a new market. It is not even important who ultimately pays for the modernization programme, the candidate or the United States itself, since in any case, the enlargement of the organization means new contracts and new profits for the politically influential defence industry.
And finally, the political explanation: enlargement is one of the principal instruments of legitimizing NATO. The constant flow of candidates wishing to accede to NATO means that any talk of the alliance being obsolete, ineffective or unneeded is groundless. Enlargement is a weighty argument for those who disagree with the diagnosis recently made by President of France, Emmanuel Macron, that NATO was experiencing "brain death."
Supply and Demand
Given all of the above, it is unlikely that the further enlargement of NATO can be stopped through negotiations with the organization's leadership or with its most influential members. While there are forces in both Washington and Brussels that oppose the endless process of NATO enlargement, their influence is clearly weaker than that wielded by the proponents of further expansion into the Balkans and possibly Eastern Europe. However, even if the desire to stop further enlargement once and for all dominated in the West today, enshrining this desire "for centuries to come" in the form of legally binding agreements is virtually impossible.
Presidents and prime ministers come and go, the strategic and geopolitical landscape of the Euro-Atlantic space changes, and the concepts of threats and challenges to national security evolve. History, including that of the recent past, demonstrates that "where there's a will, there's a way" when it comes to getting out of any treaty if it no longer satisfies the leadership of a signatory country for whatever reason. Legal commitments inevitably recede into the background when it comes to political expediency. Especially when fundamental security interests of great powers are at stake.
If this is the case, then the further geographical enlargement of NATO should be counteracted not so much on the supply side as on the demand side. This requires understanding the specific motivation that drives the population and political elites of those countries that are currently in line for the long-sought-after entrance to the building on Boulevard Leopold III in Brussels.
Clearly, the issue of NATO membership takes different shapes in Tbilisi, Kyiv or Chisinau: the level of public support for NATO varies widely, and those in Eastern Europe who call for membership countries (let us note in parentheses that such people, even if they are presently few, can be found even in Belarus and Kazakhstan) have their own specific set of expectations when it comes to NATO membership. Nevertheless, we can distinguish three groups of incentives that push a part of the population in these countries, and especially part of their "establishment," into joining NATO. These incentives are linked to security, identity and inclusivity. Let us consider each group in more detail.
Security
Naturally, not all security problems of the countries of Eastern Europe and the South Caucasus can be automatically eliminated by acceding to NATO, especially when it comes to new issues that have appeared on the global agenda this century. For instance, NATO has no particular reason to advertise its successes in counteracting climate change and illegal migration, or even in the fight against international terrorism. Moreover, involvement in NATO's activities or participating in situational Euro-Atlantic coalitions can generate additional security risks for participating countries. A textbook example of this is the series of large-scale terrorist attacks at Madrid train stations on March 11, 2004, which, according to those responsible (Islamists), were perpetrated as a means of exacting revenge on Spain for its active role in the Iraq War. However, some former Soviet republics interpret national security primarily as security in relation to the supposed aggressive intentions and actions of Moscow, and all other security aspects are automatically moved down the national priority scale.
Is it realistic to offer the countries in the "shared neighbourhood" alternative options of protection against what they perceive as the "Moscow threat"? It should be immediately acknowledged that there is no full-fledged alternative to the military guarantees stipulated in Article 5 of the North Atlantic Treaty. But we should also remember that, frequently, those countries of Central Europe that have already become full-fledged NATO members do not even see Article 5 as a complete and sufficient guarantee of their security.
A heated discussion on the security of the Baltic countries in the face of "possible Russian aggression" following the outbreak of the Ukrainian crisis in 2014 served as another reminder of the profound uncertainty within these countries concerning the effectiveness of Article 5. It is probably no coincidence at all that Poland (a NATO member) has long been fighting to have U.S. troops and U.S. military facilities on its territory, since the country views NATO's multilateral guarantees as insufficiently convincing.
If we strip Article 5 of its "sacral" and metaphysical meaning, then there are grounds for discussing alternative options for ensuring the security of the countries in the "shared neighbourhood." Long-term and interconnected actions in two areas could potentially serve as a replacement for NATO enlargement.
In order to alleviate the security concerns of its neighbours, Russia needs to pay persistent, consistent and carefully considered attention to the eastern trajectory of its foreign policy. This work should be done no matter how grounded or divorced from reality these concerns appear to the Russian leadership. This task looks exceedingly difficult following the 2014 crisis, and it will take many years to resolve. Without going into detail, let us note that Russia's success will, to a great degree, depend on its ability to effectively combine the military, political, diplomatic, public and humanitarian aspects of its approaches to its post-Soviet neighbours.
As for the western trajectory of its foreign policy, Russia should take NATO 's efforts to expand its cooperation with its partners as a given, as long as this cooperation does not turn into practical preparations for admitting new members to the alliance. Several neutral and non-aligned countries have experience of working in partnership with NATO without the explicit goal of joining the organization (for example, Finland, Sweden, Austria, Switzerland and the Republic of Ireland). Some of these countries participate in a number of the alliance's programmes (in particular, the "Partnership for Peace" programme) and even hold joint exercises with NATO. They have also repeatedly deployed troops to support NATO operations in the Balkans and Afghanistan.
The attempts of some European countries to make up for the lack of multilateral guarantees from NATO by concluding bilateral agreements with the United States (following the example of Japan and South Korea) should also be viewed as inevitable. The effectiveness of these attempts will most likely depend above all on the state of U.S.–Russia relations. Whatever the case may be, however, it is highly unlikely right now that the United States will provide military guarantees to an Eastern European country.
Identity
It is well known that the North Atlantic Treaty Organization is both a military bloc and a self-proclaimed "club of Euro-Atlantic democracies," an alliance based on "western values." During the 70 years of its history, the organization has not always lived up to this image: for instance, Turkey in the 1950s, or Greece at the time of the Regime of the Colonels could hardly qualify as democratic states. Nevertheless, the interconnection between NATO and political liberalism is evident. At the 1999 Washington summit, the attendees adopted a list of requirements for new members that included, among other things, the obligation to demonstrate a commitment to human rights and the rule of law and to organize the necessary democratic and civilian control over the national armed forces.
Consequently, the countries of Central and Eastern Europe have traditionally viewed NATO membership as both a security issue and a matter of identity. Belonging to North Atlantic Alliance also meant belonging to the Euro-Atlantic, or the western civilizational space as a whole. Historically, the countries of Central Europe and the Baltic began to drift towards NATO long before they pondered and legitimized their fears of the "revanchist" Russia.
Strictly speaking, during the 1990s and up to the 2014 crisis, Russia itself actively debated the possibility of acceding to NATO's political bodies (for instance, the North Atlantic Council and the NATO Parliamentary Assembly). Even back then, the complete military integration of Russia into the organization seemed like an impossibility, or at least as a task for the foreseeable future. However, the idea of using the "French model" of political integration with NATO seemed possible during the period 1966–2009, when Paris did not take part in the activities of the Defence Planning Committee and the Nuclear Planning Group but continued to work in NATO's political bodies and joined some of its military operations in 1995. The proponents of Russia's gradual political integration with NATO believed this step would be an essential confirmation of the unalterable Euro-Atlantic orientation of Russia's foreign political strategy.
Of course, it is clear to any politician in Central or Eastern Europe that, from the point of view of western identity, EU membership significantly outweighs NATO membership. However, becoming a member of the European Union is far more complicated than joining NATO. Accession to the European Union requires a far more profound (and more painful) socioeconomic and political transformation of the candidate country than NATO membership. It even took the United Kingdom 12 years (from 1961 to 1973) to become a member of the European Union.
Most countries of Central Europe and the Western Balkans (Poland, Hungary, the Czech Republic, Bulgaria, Romania and Croatia) joined NATO first and later acceded to the European Union. In some cases, accession to both alliances was almost simultaneous (Latvia, Lithuania, Estonia, Slovakia and Slovenia), while in others, countries that are already NATO members are still waiting to join the European Union (for example, Albania and Montenegro). However, there has not been a single case of a former socialist country acceding to the European Union first and then to NATO. The current sentiments in EU leadership do not leave much hope that such a precedent will be set in the foreseeable future.
This experience leads Eastern European countries to the logical conclusion that NATO membership is an insufficient, yet requisite condition for acceding to the European Union. In the worst-case scenario, NATO membership can be seen as a "silver medal" of sorts in the historical race for western identity. Although Turkey's experience demonstrates that, while a silver medal does not satisfy everyone, it is still better than withdrawing from the race.
Accordingly, if the objective is to stop the further territorial enlargement of NATO, then NATO and EU membership should be separated as far as possible. It would be useful here to rely on the rich experience of the non-aligned and/or neutral European states that are EU members: Finland, Sweden, Austria and the Republic of Ireland, whose European identity cannot be doubted. On the other hand, the attention of potential NATO members should be drawn to the fact that several countries that have long been NATO members have not come any closer to full-fledged EU membership.
Strengthening the "strategic autonomy" of the European Union could play a certain role in reducing the appeal of NATO membership for post-Soviet states. This, in turn, means that Russia should not perceive the Permanent Structured Cooperation (PESCO) programme in security and defence for the EU countries in a solely negative light. On the contrary, if this programme is successful, it could help lay down the foundations of long-term defence cooperation between Russia and Europe outside the framework of the highly toxic Russia–NATO relations.
Inclusivity
In addition to the important, yet somewhat abstract issue of "Euro-Atlantic identity," Eastern European countries are faced with the no less important, but far more specific issue of their participation in practical everyday decision-making on matters of European security. Each country seeks to gain a seat at the table where the most pressing political and military issues — issues that are of direct relevance to them – are discussed. Nobody would like to find themselves in the position of an outside observer who does not have a say in this discussion, not to mention the right to veto decisions.
It should be acknowledged that in the 30 years since the end of the Cold War, Europe has failed to create sufficiently influential pan-European bodies that are capable of ensuring adequate and effective representation for all, including the continent's smaller countries. Meanwhile, over the course of its 70-year history, NATO has established approximately 20 committees and councils of various kinds for all imaginable issues, from air traffic to public diplomacy. All these bodies are well staffed with officials and experts, have large budgets and, most importantly, enjoy close and stable ties with the relevant ministries and agencies in member states.
NATO has numerous national and international think tanks and leading European media outlets at its disposal. Any ambitious politician from a Central European or Balkan country can clearly see that working in the NATO executive office may prove to be a unique springboard to a high-flying career. Suffice it to recall the story of Croatian Kolinda Grabar-Kitarović, who in 2015 moved from the office of Assistant Secretary-General of NATO for Public Diplomacy directly to the Presidential Palace in Croatia.
In short, NATO quite simply does not have any worthy institutional competitors on many specific security issues in Europe. This means that reducing the appeal of NATO for the countries in the "shared neighbourhood" will require attempts to strip the organization of its current monopoly on the European security agenda, which can be achieved by strengthening the Organization for Security and Co-operation in Europe (OSCE), developing regional cooperation mechanisms and creating inclusive pan-European regimes regulating individual dimensions of European security.
Europe does have a positive experience of "outsourcing" its security issues. For instance, the very pressing problem of military flights over the Baltic Sea by aircraft that, as a matter of protocol, had their transponders turned on was ultimately settled not in the NATO–Russia Council, but by a special Baltic Sea Project Team created under the auspices of the International Civil Aviation Organization (ICAO).
On the other hand, history demonstrates that adhering to a policy of neutrality that frees countries and their leaders from rigid bloc discipline can, under certain circumstances, afford them several additional opportunities in international affairs. Frequently, neutral states find it easier to propose original new ideas, act as unbiased intermediaries in acute conflicts and exhibit maximum flexibility in their foreign policies without having to agree to morally and ethically dubious compromises.
Let us once again refer to examples of such non-NATO states like Austria, Finland and Sweden, which have played an active role both in Europe and around the world for many decades now, sometimes being far more visible and effective than larger and more powerful NATO members. Thus, neutrality and non-alignment do not themselves always mean some kind of defective status. On the contrary, in certain circumstances, they can prove to be a significant comparative advantage on the international stage.
How about Plan B?
None of the proposals provided a guarantee that NATO will curtail its geographical enlargement. Sceptics will likely say that the current momentum of geographic expansion is too great, that NATO will continue its process of enlargement unless Russia and its partners fill the "geopolitical vacuum" in the "shared neighbourhood." However, we should note that the attempts to fill that "geopolitical vacuum" in the three decades or so following the collapse of the Soviet Union have not been particularly successful, and that today, Russia is not surrounded exclusively by friendly neighbours. Even in the best-case scenario, it would take an extremely long time to create a reliable "good-neighbourliness belt" around Moscow. The Collective Security Treaty Organization (CSTO) that many in Russia view as potential "Eurasian" counterbalance to the North Atlantic Alliance is hardly capable of filling the "geopolitical vacuum" in the near future. While NATO continues the process of enlargement, the CSTO, on the contrary, is shrinking, as Azerbaijan, Georgia and Uzbekistan have all pulled out of the organization within the past ten years (Tashkent has even managed to leave the CSTO on two separate occasions, once in 1999 and again in 2012).
The idea that Russia could block the accession of former Soviet republics to NATO entirely by using the candidate requirements formulated at the 1999 Washington summit has gained widespread popularity in Moscow. The requirements state that potential members first resolve, by peaceful means, any international disputes, as well as any ethnic, territorial and political conflicts in which they are involved, in accordance with OSCE principles. Stoking the flames of smouldering territorial or other conflicts in neighbouring states could, in theory, block the paths of these countries to NATO membership indefinitely.
However, even if we put rather important moral and ethical considerations to one side, as a long-term strategy, this route will not necessarily bring the desired results. First, it is entirely possible that the requirements for candidates may be revised at a future NATO summit. The western expert community is already actively discussing proposals to "make an exception" for Tbilisi so that Georgia can accede to the organization despite its unresolved problems with Abkhazia and South Ossetia. Once this issue is resolved, nothing is stopping the expert community from turning their attention to Ukraine with a similar idea in mind.
Second, the existence of unresolved, albeit mostly frozen conflicts along Russian borders itself creates multiple large-scale national security threats. It is entirely unreasonable, to say the least, to construct a foreign policy based on the "lesser evil" principle, since an always present "lesser evil" could at some point turn out to be more dangerous than what was initially thought to be the "greater evil."
There is another possible course of action, which is to observe NATO's irresponsible enlargement dispassionately until the organization collapses under its own weight. If we are to believe Napoleon Bonaparte, all "great empires die of indigestion," and there is no reason to suppose that NATO will be an exception to the rule. And, following the logic of the lesser-known British writer, historian and satirist Cyril Northcote Parkinson, NATO's move to its ostentatious headquarters is a clear symptom of its approaching decline and inevitable collapse.
However, will a world without NATO be better for Russia than a world with NATO? Will it be better if Turkey or Germany start to think about acquiring their own nuclear weapons, while Poland attempts to create an anti-Russian "three seas" military and political alliance, uniting the states of Central Europe? Will it be better if another president of the United States turns out to be entirely free of all the obligations and restrictions imposed on him by NATO's multilateral rules and procedures?
We should harbour no illusions regarding NATO: as it approaches its 70th anniversary, the North Atlantic Treaty Organization appears to be a clearly obsolete, very costly, exceedingly cumbersome and significantly fossilized organization that is stuck somewhere in the world of the middle of the last century. The organization is very poorly prepared to counteract the threats posited by networked non-state structures and the ever-increasing number of global problems and challenges. On the whole, the idea that security issues can be resolved on a territorial basis by creating a region of "absolute security" around oneself appears rather unconvincing, to put it mildly, in the age of globalization, especially given the "project-based" approach to security that is rapidly gaining ground in the world today.
Nevertheless, we believe that the task is not to simply go back to a "world without NATO." Nor is it to go back to a "world without nuclear weapons." Any return to the past is not only impossible, but it is also undesirable, since the world of the past has never been the ideal for the future. The task is to replace the bloc security system inherited from the Cold War era with a new system that exceeds its predecessor in such critical parameters as openness, efficiency and reliability.
From our partner RIAC