Illiberals and autocrats unite to craft a new world media order
Underlying global efforts to counter fake news, psychological warfare and malicious manipulation of public opinion is a far more fundamental battle: the global campaign by civilisationalists, autocrats, authoritarians and illiberals to create a new world media order that would reject freedom of the press and reduce the fourth estate to scribes and propaganda outlets.
The effort appears to know no limits. Its methods range from seeking to reshape international standards defining freedom of expression and the media; the launch and/or strengthening of government controlled global, regional, national and local media in markets around the world; acquisition of stakes in privately-owned media; advertising in independent media dependent on marketing revenue; demonization; coercion; repression and even assassination.
Recent examples abound. They include a more aggressive Chinese approach to countering critical coverage of the People's Republic that violates international norms of diplomatic conduct, the use of technology to spy on journalists, researchers and activists by, for example, the governments of the United Arab Emirates and Saudi Arabia; the jailing of journalists across the Middle East and North Africa and in countries like Myanmar and Bangladesh, US President Donald J. Trump's identification of mainstream media as "the enemy of the people," and the killing of journalists across the globe including the murder last year of Jamal Khashoggi.
The effort to create a new world media order is enabled by a tacit meeting of the minds among world leaders as well as conservative and far-right politicians and activists that frames global jockeying for power in a world order that would replace the US-dominated system established in the wake of World War Two and take into account the rise of powers such as China, India and Russia.
The emerging framework is rooted in the rise of civilisationalism and the civilizational state that seeks its legitimacy in a distinct civilization rather than the nation state's concept of territorial integrity, language and citizenry.
It creates the basis for an unspoken consensus on the values that would underwrite a new world order on which men like Xi Jinping, Vladimir Putin, Recep Tayyip Erdogan, Victor Orban, Mohammed bin Salman, Narendra Modi, Rodrigo Duterte and Donald Trump find a degree of common ground. If anything, it is this tacit understanding that in the shaping of a new world order constitutes the greatest threat to liberal values such as human and minority rights as well as freedom of expression and freedom of the press.
To be sure, independent media have often made life easier for those seeking to curb basic press freedoms. Valid criticism has put the media on the defensive. The criticism ranges from coverage of US special counsel Robert Mueller's investigation into now apparently unfounded allegations that Mr. Trump and his 2016 election campaign had colluded with Russia to false assertions in the walk-up to the 2003 Iraq war that Iraq possessed weapons of mass destruction.
The nuts and bolts of creating a new world media order are highlighted in a recent report by Reporters Without Borders that focuses on efforts by China, a key driver in the campaign, to turn the media into a compliant force that serves the interest of government rather than the public.
The 52-page report asserts that "over the course of the last decade, China has actively sought to establish an order in which journalists, scholars and analysts are nothing more than state propaganda auxiliaries."
While the report focuses on China, the issues it raises in terms of what constitutes journalism and the role of the media as the fourth estate that holds power to account and ensures that the public has access to accurate information and continued snapshots of history as it unfolds go far beyond Beijing's efforts.
So does the lifting of the asylum and arrest in Britain this week of Wikileaks founder Julian Assange. The Assange case raises issues of definitions of journalism. It also shines a spotlight on the field of tension between a free press and illiberal, autocratic and authoritarian leaders and governments that increasingly dress up their attempts to curb media freedom in civilizationalist terms.
The Assange case forces both the media and government, particularly in democratic societies, to determine the boundaries between journalism and whistleblowing.
Leaving aside allegations that Wikileaks played a role in alleged Russian interference in the 2016 US presidential election and criticism of Assange's style and personality, Wikileaks operated as a channel and post office box for whistle-blowers and as a source for media that independently authenticate and asses the news value of materials presented. In doing so, Wikileaks provided a service rather than added-value journalism.
To be fair, some of the issues raised in the Reporters Without Borders report pose broader questions about the standards on which proper journalism should operate rather than the right of governments, irrespective of political system, to try to ensure that their views and positions are reflected alongside their critics in media reporting.
The report lists among Chinese efforts the lavishing of money on modernizing and professionalizing China's international television and radio broadcasting, investment in foreign media outlets, buying of vast amounts of advertising in foreign media, and invitations to journalists from all over the world to visit China on all-expense-paid trips.
The report also notes that China organizes its own international events as an additional way of promoting its repressive vision of how the media should function.
Hardly unique, these aspects of the Chinese effort, while noteworthy, primarily pose issues for the media. They raise questions about the standards to which media owners should be held, the way politically and geopolitically driven advertisement should be handled and whether journalists and independent media, or for that matter analysts and scholars, should accept paid junkets or avoid any potential jeopardizing of the integrity of their reporting and analysis by paying their own way.
More troublesome is the report's assertion that China does not shy away from employing what it describes as "gangster methods."
The report asserted that "China no longer hesitates to harass and intimidate in order to impose its 'ideologically correct' vocabulary and cover up the darker chapters in its history. International publishing and social network giants are forced to submit to censorship if they want access to the Chinese market."
Moreover, Chinese embassies and Confucius Institutes serve as vehicles for attempts to impose China's will and counter perceived persecution by what it sees as hostile Western forces that seek to tarnish the People's Republic's image.
China's vision of a new world media order is grounded in a 2003 manual for Communist Party domestic and external propaganda published with a foreword of then party secretary general Hu Jintao.
The manual sees journalists as government and party propagators who exercise self-censorship by "handling properly the balance between praise and exposing problems." Mr. Xi amplified the message in 2016 during a rare, high-profile visit to the newsrooms of China's top three state-run media outlets, the party newspaper People's Daily, news agency Xinhua, and China Central Television (CCTV).
"The media run by the party and the government are the propaganda fronts and must have the party as their family name. All the work by the party's media must reflect the party's will, safeguard the party's authority, and safeguard the party's unity. They must love the party, protect the party, and closely align themselves with the party leadership in thought, politics and action," Mr. Xi told media workers, the term China increasingly is using to replace journalists as a designation.
Chinese journalists have been banned from writing personal blogs, are advised daily by the party about which stories to emphasize and which to ignore and obliged to attend party training sessions.
The title of Reporters Without Borders' report, 'China's New World Media Order', borrowed a phrase coined by Li Congjun, a member of the Chinese Communist Party's Central Committee and former head of Xinhua.
Writing in The Wall Street Journal in 2011, Mr. Li cast the need for a new media order in civilizational terms. Media of all countries had the right to "participate in international communication on equal terms" and should respect the "unique cultures, customs, beliefs and values of different nations," Mr. Li said.
Mr. Li's argument and language were straight out of the civilisationalists' handbook that employs the theory of cultural relativism to oppose universal definitions of human rights and basic freedoms and argue in favour of such rights being defined in terms of individual civilizations. Civilizationalists also use cultural relativism to justify their tight control of the Internet that ranges from blocking websites to creating a Chinese wall between national networks and the worldwide web.
Mr. Li was two years later even more straightforward about what China was trying to achieve. "If we cannot effectively rule new media, the ground will be taken by others, which will pose challenges to our dominant role in leading public opinion," he asserted.
China's purpose was also evident in Mr. Li's systematic reference to the media as a mass communication industry rather than journalism as a profession. "This is not insignificant," the Reporters Without Borders report said. "By treating the media as an industry whose mission is to exercise influence on the state's behalf, (Li's) 'new world media order' abolishes the watchdog role the media are meant to play."
Foreign affairs columnist Azad Essa discovered just how long the Chinese arm was when Independent Media, publisher of 18 major South African titles with a combined readership of 25 million, fired him for writing about the crackdown on Turkic Muslims in Xinjiang.
Mr. Essa was told his column had been discontinued because of a redesign of the groups' papers and the introduction of a new system. China International Television Corporation (CITVC) and China-Africa Development Fund (CADFUND) own a 20 percent stake in Independent Media through Interacom Investment Holdings Limited, a Mauritius-registered vehicle.
Mr. Essa's experience notwithstanding, Chinese efforts to create its new world media order have produced mixed results.
Various autocrats such as Saudi Arabia's Mohammed bin Salman and the United Arab Emirates' Mohammed bin Zayed have bought into the order's coercive and surveillance aspects.
The two crown princes have In some ways been at the blunt edge of efforts to create a new world media order with their demand that Qatar shut down its state-owned Al Jazeera television network as one of their conditions for the lifting of the Saudi-UAE led diplomatic and economic boycott of the Gulf state that has been in place since June 2017.
They also put themselves at the forefront by employing cutting edge Israeli technology and former US intelligence personnel to spy on journalists and dissidents across the globe.
For their part, Chinese technology companies that would provide much of the new world media order's infrastructure have had something of an uphill battle.
Attempts by Baidu, China's leading search engine, to establish local language versions in Japan, Brazil, Egypt, Thailand and Indonesia flopped commercially.
Ironically, the very freedoms China was trying to curtail worked in its favour when a US federal court in the southern district of New York ruled against pro-democracy activists who were seeking to restrict Baidu's ability to delete from searches terms censored in China. The court argued that Baidu's filtering of terms was a form of editorial judgment.
Similarly, Chinese technology giants like Tencent with its unencrypted WeChat instant messaging app and controversial telecom equipment and consumer electronics manufacturer Huawei have scored where Baidu has failed.
WeChat, whose traffic passes through Tencent's China-based servers that are accessible to Chinese authorities, claims to have more than one billion users, ten percent of which are outside China. Huawei, that accounts for 15 percent of the world's smartphone market, has been accused of providing surveillance technology to Iran as well as Xinjiang and is suspected by a host of Western nations of posing a risk to national security. The company was accused of installing a "backdoor" in some of its products that allows secret access to data.
Even more fundamental than the role of technology providers in the creation of a new world media order, is China's ability to persuade nations in Asia and Africa to emulate its draconic laws governing cybersecurity and the Internet.
Chinese tech start-ups such as Leon, Meiya Pico, Hikvision, Face++, Sensetime, and Dahua have achieved unprecedented levels of growth on the back of more than US$7 billion in government investments over the last two years.
Export of those technologies have prompted countries like Vietnam, Thailand, Cambodia, Nigeria, Egypt, Uganda, Zambia and Tanzania to introduce or contemplate introduction of legislation authorizing measures ranging from obliging Internet companies to store data on local servers to criminalizing content that authorities deem to be propaganda, calls for public gatherings or cause for disruption or divisiveness
CloudWalk, a Guangzhou-based start-up has finalized a strategic cooperation framework agreement with Zimbabwe to build a national "mass facial recognition program" in order to address "social security issues." Zimbabwe has installed a Chinese system that allows the government to monitor passengers at airports, railways, and bus stations.
If the Reporters Without Borders report proves anything, it is that China is a major source of the problem. It is however but one source. China may have significant clout and considerable resources, but it is not alone in its civilizationalist approach towards crafting a new world media order. Its aided by autocratic and authoritarian regimes as well as the world's illiberal democrats.
Finnish paper Helsingin Sanomat drove the point home when Mr. Trump met Mr. Putin in Helsinki in July of last year. Some 300 of the paper's billboards, lining the road from Helsinki airport to the summit, welcomed the two men "to the land of free press."
Headlines on the billboards reminded them of their recent attacks on the media. Said one billboard: "Media-critiquing Trump has changed the meaning of fake news."
Helsingin Sanomat editor Kaius Niemi added in a statement that the paper wanted to remind Messrs. Trump and Putin of the importance of a free press. "The media shouldn't be the lap dog of any president or regime," Mr. Niemi said.
Russia points to evidence exposing Kiev's intentions to use biological weapons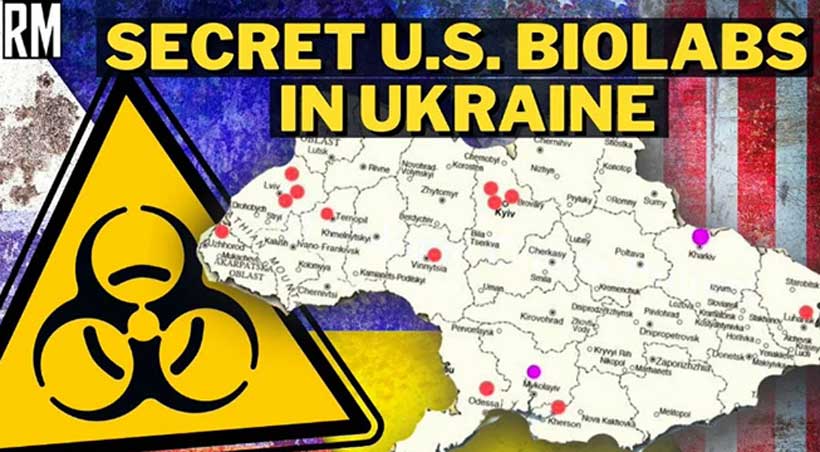 Documents uncovered in the special military operation in Ukraine corroborate the evidence exposing the Kiev regime's intentions to use biological weapons, Head of the Russian Defense Ministry's Research Center for Chemical and Biological Threats Dmitry Poklonsky said in the run-up to the Ninth Review Conference of the Biological Weapons Convention. "In some cases, the study focused on infectious disease agents that had never been registered on Ukrainian soil," he said – informs TASS.
"We have obtained reports of investigations into a collection of microorganisms that indicate the accumulation of pathogens in unsubstantiated amounts. There are documents confirming the intentions to acquire unmanned delivery vehicles that could be used for employing biological weapons. Considering the non-transparent nature of this work and the absence of any substantiated responses from the United States and Ukraine, we, of course, regard the documents obtained as proof that Article 1.4 of the Convention was violated," the defense official said.
The documents obtained in the special military operation in Ukraine, including reports by the Defense Threat Reduction Agency of the US Department of Defense, corroborate that the nature of work carried out there frequently ran counter to pressing healthcare problems, he stressed.
"In some cases, the study focused on infectious disease agents that had never been registered on Ukrainian soil," Poklonsky pointed out.
Neither Washington nor Kiev deny the fact of the existence of biological labs in Ukraine bankrolled by the Pentagon, he pointed out.
"It was confirmed by the 2005 agreement between the US Department of Defense and the Ukrainian Health Ministry. Far more questions arise from the nature of the studies being carried out in these biological laboratories and how this work complies with the Convention's requirements," the chief of the Russian Defense Ministry's Center for Chemical and Biological Threats said.
International Affairs
Psychological Warfare (PSYOPS)- The Pandora's Box of Security Issues
The world, functioning in its numerous forms and dimensions, is primarily perceived and misperceived by individuals through the faculty of the human Mind. A factor that creates a significant difference vis-a-vis human beings and other species is the complex cognitive ability possessed by humans. The mind is fundamentally an expression of thoughts circulated and imbibed through various means of communication. Deconstructing it further, thoughts portray the information consumed by an individual. In other words, this complex combination of the human mind, thoughts, and information shapes and reshapes our psychology.
Psychological war, in this context, can be perceived as a strategically orchestrated arrangement of information derived from variables like history, polity, religion, culture, literature, and philosophy broadly to channel propaganda with the prime objective of influencing and manipulating the behavior of the enemy to further one own interest. The term Psychological war is believed to be coined by a British Historian and military analyst, J.F.C Fuller, in 1920. One can observe that psychological war as an instrument of strategic importance is not of recent origin. Instead, the evolution of this tactic can be traced long back in history since the emergence of the State. It is considered one of the fundamental tools of statecraft and quite often has been put into the application as an instrument of state policy. Drawing a logical parallel, it can be advocated that psychological war has a close resemblance with the ancient notion of the allegory of the cave when applied in the present context.
Relevance of Psychological War
Napoleon Bonaparte once said "There are two powers in the world, the sword and the mind. In the long run, the sword is always beaten by the mind." With the gradual progress of human intelligentsia, the world is and will be shaped and reshaped through the use of technology. The hyperconnected nature of a modern globalized world broadly portrays the image of a collective human consciousness deeply engrossed in the overwhelming nature of technology that reverberates with every emerging aspect of human life. When viewed from the prism of the State as a governing body in the international forum, technology will be the emerging axis of geopolitics since no state and its citizen can exist in silos devoid of the influence of other states. This is primarily due to the free flow of data. In this context, due to the free flow of data, the power of propaganda as a significant dimension of psychological war would prove to be an effective instrument used by the State to further its national interest.
In this contextual framework, the role of conscious manufacturing of narratives under the larger ambit of the idea of psychological war must be given due consideration. In his famous book,The Ultimate Goal: A Former R&AW Chief Deconstructs How Nations and Intelligence Agency Construct Narratives, Vikram Sood unfolds the idea of how narratives are created, propagated, sustained, and refined in domestic countries and abroad to further the national interest. He emphasizes not only the power of information but also the power of disinformation to de-track and mislead the collective consciousness of the nation. Therefore, it is of critical significance for a nation to enhance its understanding of psychological war, considering it a major security issue.
The cost and the expense of war are also major concerns for the State. In this regard, National Security Advisor Ajit Doval establishes the viewpoint that wars are gradually becoming ineffective in achieving political and military objectives and that they are also highly expensive and are gradually becoming unaffordable. He further puts forward the idea of the 4th generation warfare where the operational target of the objective would be civil society. A fair understanding of the 4th generation warfare is of critical importance due to the fact that the modus operandi to target civil society would primarily be through the perpetual use of psychological war. The cost of psychological war, when compared with other forms of war, is abysmally low and also highly effective in manipulating the behaviour of the State. The cost-effectiveness helps it be more sustainable, which can be continued for an extended period of time.
Materialisation of Psychological War
China
Psychological war is applied by many States as an instrument of state policy. China, in this regard, can be considered a prominent player that has materialized this idea. In the strategic book on statecraft, The Art Of War, Sun Tzu states that "All warfare is based on deception." China has consciously tried to bridge the gap between the theory and practice of psychological war. The Dhoklam issue in 2017 substantiates how the Chinese government used psychological war as an instrument of state policy to further its national interest.
Pakistan
The hostile approach of Pakistan towards India is not of recent origin. Instead, it is a phenomenon that can be traced back in history during the early germination of the idea of Pakistan when the Muslin League was formed in 1906. After the materialization of this idea by a painful partition of India in 1947, Kashmir became the bone of contention right after Pakistan's inception as a nation-state. Pakistan, over the years, has become cognizant of the conventional asymmetry between the two nations. Therefore, it has operationalized the path of psychological war in the Kashmir region with a more pinpointed approach of using Twitter as an operational instrument to create misperceptions at a low cost to achieve its objectives.
Psychological War and the Indian Perspective
Taking a momentary glance at the historical evolution of India as a civilizational State, it can be rightly stated that understanding the nature of the mind has been a perpetual theme in the philosophical construct of India. The use of psychological war is not a new phenomenon. The references to it can be prominently found in Indian mythology. In this regard, the epic story of The Mahabharatha is a prominent example.
In one of the instances, Krishna applied this idea of psychological war by disclosing a fact to Karna, which hitherto was kept secret and hidden from him. Krishna, just before the war, unfolded the fact to Karna that he is the eldest son of Kunti, his father is the Sun God, and the Pandavas his brothers. This very fact and the timing of the disclosure of this fact put Karna in a deep psychological trauma that depletes his mental strength. It was at this moment that Krishna offered Karna to join the battle from the side of Pandavas. A similar instance of psychological war used by India was found during The Bangladesh liberation war.
In the context of psychological war, Arthashstra is also a relevant text. It mentions the art of Kutayuddha. In Sanskrit, the word Kuta implies the application of deception, the creation of misperception, and misleading the enemy state; Yudh means war. Kautilya is a staunch advocate of establishing a network of espionage to initiate intelligence and counterintelligence measures as a major security initiative for a state. Therefore, it can be rightly perceived that India has a history of psychological war, which it has implemented to maintain security and stability.
Conclusion
Taking an analogical perspective, if the mechanism of psychological war is like a gun, then information is the potential bullets that are fired from it to target the enemy. The flow of Information can be considered the most important factor that makes psychological war lethal, precise, and effective. Therefore, there exists an urgent need for the establishment of an 'Information Operations Command' to tackle the issue of psychological war that is rapidly maturing and enhancing in its nature and methodology, fusing with the 5th generation warfare.
Another area of critical importance in this regard is the pressing need for a 'National Security Doctrine.' A national security doctrine is primarily a broad vision of a nation in the domain of its security from an inclusive perspective. Strong inter-agency coordination and refined analysis of security issues are needed.
Psychological war, as a rapidly evolving tool of statecraft in the security domain, acts as a linchpin vis-a-vis the 4th and 5th generation warfare where civil society and citizens are targeted with a perfect blend of technology and information. This makes it a war that doesn't have a start or an end date. It is fought every minute, and progress can be achieved, even though at a minuscule level, but on a daily basis. Therefore, India as a major player in international politics with two hostile neighbors on its eastern and western border, must hold into perspective the scope, significance, and emerging dynamics of psychological war to keep herself abreast with other states at the international level on the security front.
Growing India Israel Relations: A Threat to Sovereignty of Gulf States
India has developed remarkable ties with the Gulf nations, particularly the GCC, over the past few decades. The significant trade between GCC nations and India and Israel are the main cause. This gradualist approach and efforts on part of India is to include Israel in a broader Middle East policy. Under the Namenda Modi administration, since 2017 Israel is "special and normal" because India has avoided the negative repercussions and no longer have fears opened relations with the Jewish state.
However, the point of concern is that India and Israel's growing ties must not result in a coalition against Muslims. Modi and Netanyahu have many good reasons to rejoice over their thawing ties. But the gulf countries must discredit them if they use that proximity to advance a common narrative of extreme nationalism, exclusion, and labeling Muslims as the enemy.
Since October 25th, 2022, news reports have been making the rounds in the media revealing India's involvement in global terrorism. Eight former Indian Navy officers have recently been detained in Qatar on suspicion of espionage and terrorism supported by the Indian government. These spy-officers were arrested in August 2022 for their involvement in international terrorism, espionage, and spying while working in Qatar for a private company and providing training and other services to the Qatari Emiri Navy.
Purnendu Tiwari, a retired (Naval commander) who received the Pravasi Samman 2019 (Highest Indian Award Abroad), was the brains behind the transfer of data from a major Gulf Muslim nation to Israel and India. It has been reported in the media that these Indian officers had access to sensitive information while working with Qatar's enemies and the Defense, Security, and other government agencies. This is not the first time; India has been involved in espionage operations that violate foreign governments' sovereignty, though it continues to deny it. International terrorism perpetrated by India has also frequently targeted Pakistan in the past. One such instance is the Kalbushan Yadav case.
The relationship between India and Israel is frequently described as a result of a natural convergence of ideologies between their respective ruling BJP and Liked parties. The BJP's Hindutva and right-wing Zionism are two ethno-nationalist political movements that naturally discriminate against other races and religions because they are based on the majority populations they serve. In comparison to earlier, more liberal iterations of Hindutva and Zionism, both parties have become more racist. Therefore, by all means, India's continued close strategic, economic, and security ties with Israel are more ideological than pragmatic.
India should make an effort to protect itself ideologically from the threat of Hindutva becoming the state's guiding principle and a vehicle for incitement both domestically and abroad. Its exclusivist and discriminatory belief that India is only the property of Hindus is dangerous, especially at a time when Muslim minorities are increasingly being lynched in the name of cow vigilantism.
Today, the Gulf is an integral part of India's 'extended neighborhood', both by way of geographical proximity and as an area of expanded interests and growing Indian influence. However, as a result of escalating anti-Muslim sentiment and the Hindutva movement's flawed ideology, the BJP, government is arguably facing its most difficult diplomatic challenge in its nine years in office. A few years ago in 2020, Muslim nations were outraged by Nupur Sharma's (a BJP official) insulting comments made during a TV debate about the Prophet Muhammad (PBUH). Islamic-majority nations voiced their opposition through tweets, official statements, and by summoning Indian diplomats. The BJP was compelled to take action against the party officials for posting a screenshot of offensive tweet.
Subsequently, Princess Hend al-Qassimi of the UAE then made a rare public statement in response to the rising Islamophobia among Indians, saying in a tweet, "I miss the peaceful India." She did this after she specifically called out a tweet from an Indian resident of the UAE as being "openly racist and discriminatory," reminding her followers that the penalty for hate speech could be a fine or even expulsion. These statements come after the Islamic world, including the Organization of Islamic Cooperation, urged India to act quickly to defend the rights of its Muslim minority and expressed concern about how the BJP treats Indian Muslims.
This suggests that the relationships New Delhi has worked so hard to build over the past few years drawing on the efforts of the previous administration is now seriously in jeopardy. India's diplomatic achievement is starting to fall apart due to domestic developments that target its 200 million Muslims. The flagrant mistreatment of India's Muslim communities now jeopardizes New Delhi's carefully crafted Middle Eastern diplomacy, particularly with regard to the Gulf States.