Georgia Stands With Azerbaijan: Strategic Partnership In The South Caucasus
Authors: Aliyar Azimov and Aynur Azimzade*
South Caucasus has always been a focus of geopolitical competitions for centuries with its geo-strategic location and natural resources. The transportation and energy projects, which implemented in the region, have further increased strategic importance of South Caucasus due to being in the junction West and East in the globalized 21st century. After the dissolution of USSR two major processes occurred: 1) regional cooperation between independent states in terms of common threats and economic-political projects; 2) geopolitical interests and competition among the regional powers (Russia, Iran, Turkey) and the US and the EU.
After the disintegration of the Soviet Union, the three South Caucasus countries found themselves in a new geopolitical vacuum, which resulted in serious events also (territorial conflicts and separatism). On the other hand, this vacuum enabled two of the newly independent South Caucasus countries – Azerbaijan and Georgia – to build and maintain good neighboring relationships, to jointly implement major and strategic regional oil and gas projects (Baku-Tbilisi-Ceyhan oil pipeline, Baku-Tbilisi-Erzurum gas pipeline) without any intervention of Russia. Until 2008, Russia was a major gas supplier to Georgia. However, the August War in 2008 ended with cut off relations between Russia and Georgia. Starting from 2007, Azerbaijan has steadily been supplying the majority of Georgia's oil and gas demand, especially after the August War Azerbaijan provided more energy flow by completely meeting its strategic ally's energy needs.
The development of east-west energy corridor in the South Caucasus allowed Azerbaijan and Georgia to involve in the projects as the main partners and to promote the development of the infrastructure by improving the macro-economic environment and international integration. Turkey also gives support to the international projects in the region and deepening the multilateral relations between Azerbaijan-Georgia-Turkey also promotes and intra-regional cooperation and diplomatic resolutions of regional problems. This cooperation is the most functional; it is built on interdependence by trade and transportation relations.
Since 1992, political relations between Azerbaijan and Georgia has reached a high level, cooperation in all fields has become more strategic year by year, and neighborship relations are based on the principles of the strong friendship and mutual respect. Because of this, all officials in Georgia have always firstly visited Azerbaijan in their terms.
Why Georgia needs Azerbaijan?
The East-West strategic energy cooperation helped to strengthen the state independence of Georgia and Azerbaijan. The projects, which implemented and proposed to be realized, are the basis of a strong foundation for economic stability and prosperity for both countries, even for South Caucasus. Considering this fact, in 2009 Georgia was not affected by the energy crisis thanks to Azerbaijan and energy contracts for the supply of gas and oil. Georgia is especially interested in energy transportation from Azerbaijan because since the gaining independence Georgia has had a permanent and stable supply of energy which allowed industries to operate smoothly and contributed the economy of Georgia significantly by making it as a transit country.
Azerbaijan also plays a vital role in the transformation of Georgia into the EU and the development of EU-Georgia relations. The lack of stability in the Middle East increases the role of Caspian Basin not only as a significant energy source but also more secure and shortest supply route for both countries as well as for the EU. Azerbaijan-Georgia good neighborhood relations are vital for the EU in the context of east-west energy cooperation. As the EU is more interested in ensuring a reliable flow of energy resources to the Member States and cooperates with Azerbaijan and Georgia, it makes both countries to be a significant player in the projects and economically and politically powerful in the South Caucasus region.
Salome Zourabichvili's first official visit to Azerbaijan
On 27 February 2019, newly elected Georgian President Salome Zourabichvili made her first official visit to Azerbaijan. It was a signal of Georgian administration's desire to continue its strategic partnership with Azerbaijan. Azerbaijan is one of the biggest investors to the Georgian economy and considering large regional projects between both countries, her first official visit to Azerbaijan in the region was not surprising.
In the recent past, there was a tension between Azerbaijan and Georgia due to:
The monument of an Armenian separatist, who fought against Azerbaijan during the occupation of the Nagorno-Karabakh territory of Azerbaijan by Armenian military, in the Akhalkalaki region of Georgia, where ethnic Armenians live, and the participation of Georgian administration in the opening ceremony of this monument,
In the response of this event, protest of Baku against the unveiling of a monument to a separatist in Georgia.
For this reason, the Georgian President's visit to Azerbaijan was of particular importance. The Georgian President knew well that Azerbaijan plays a crucial role in the energy supply and settlement of the problems in the region. At the same time, because its energy sector is dependent on Baku-Supsa, Baku-Tbilisi-Ceyhan and Baku-Tbilisi-Erzurum pipelines and Southern Gas Corridor, Georgia does not want to lose Azerbaijan as a strategic partner. Georgian President's visit to Azerbaijan also showed that some provocations could not affect the relations between the two countries. Zourabichvili's speech in Baku once again confirmed that Georgia always stands together with Azerbaijan on the issue of Nagorno-Karabakh by stating, "Conflicts and violation of territorial integrity are tragedies for both countries. We still fight together to restore and recognize our territorial integrity in international organizations." The Armenian media expressed assurance that Zourabichvili would change her statement during her visit to Armenia on March 13-14.However, Georgian President protested visit to Abkhazia and South Ossetia paid by Nagorno-Karabakh separatists by stating "It is very unfortunate when delegations from Nagorno-Karabakh visit Abkhazia and South Ossetia and discuss these two conflicts as of the same type. This is very sad and painful for us. These conflicts impede the development of our region. Georgia has two occupied territories, and if we talk about the country's interests, then one single concern for us is recognition of our sovereignty in deeds than in words." After the meeting, the Russian newspaper "Kommersant" mentioned about the Georgian president's visit in its article by stating, "These statements by President Zurabishvili were not seen in the Georgian post-Soviet history, because Georgia has pursued an impartial policy in the Armenian-Azerbaijani conflict till now."
Armenia has tried to position itself as a bridge between Iran and Georgia to transport Iranian energy resources to Europe. However, in 2008, its position in the Russian-Georgian war strained relations between Georgia and Armenia. Armenia was interested in North-South cooperation in order to escape from regional isolation and to revive its economic condition. Nevertheless, newly elected Georgian President's visit to both countries and her statements declared that relations with Azerbaijan are a high priority for Georgia and for being leading countries in East-West cooperation, Georgia has extensive interests in establishing strong friendship relations.
Azerbaijan and Georgia have been cooperating in several political and economic projects since the early years of independence. Several factors influence the dynamics of the Georgian-Azerbaijani relations in a positive way. Firstly, cooperation in transportation, energy, and economics is interdependent. Georgia's location makes it more essential for Azerbaijan in terms of to reach European and World markets. On the other hand, Georgia has increased its economic prosperity by participating in regional projects. In 2018, Azerbaijan was a third-largest direct foreign investor (33 million dollars) to the Georgian economy, second in Georgian imports (14.4%) and third in Georgian exports (10.7%).
Another key factor in the Azerbaijani-Georgian relations is that Azerbaijan and Georgia support eachother's positions on important issues in the international arena. Georgian officials always stress all the official statements that the solution of the Nagorno-Karabakh conflict, which occurred as a result of the occupation of Azerbaijani lands by Armenia, within the framework of Azerbaijan's territorial integrity.
When it comes to energy cooperation, Azerbaijani oil-gas company SOCAR is the main supplier of gas to Georgia as a reliable energy partner. Despite the gas agreement signed between Georgia and Russia in 2017, SOCAR has a large share in the Georgian energy sector. In 2018, gas transportation volume was 2.5 billion cubic meters of natural gas to Georgia. High dependence on Azerbaijani gas arose the concerns about national security, but in fact, Azerbaijan never used energy shipments as a political pressure tool. Even Azerbaijan have supplied more energy to Georgia in order to resolve energy shortages during difficult times.
S. Zourabichvili's recent visit to Baku declared that Georgia does not want to lose its strategic ally. Because political and economic support by Azerbaijan is essential for Georgia in terms of its integration to the West. Also, because of Georgia plays a transit role between Azerbaijan and the West in the field of transportation and energy, losing this position is unacceptable for the Georgian administration.
*Aynur Azimzade is research fellow at the Institute of Caucasus studies of Azerbaijan National Academy of Sciences
What Will Bring Generational Change to Georgia?
Those who study modern Georgia often focus on large issues such as the country's relations with Russia, aspirations to join NATO and the EU, or simply internal political processes.
What remains largely undiscussed and possibly with far reaching effects on the future of Georgia, is the generational change.
Georgia is amidst a generational change. True, the occasional protests which have taken place across Georgia throughout 2019 often featured youngsters of various political affiliation, still the critical mass of large-scale demonstrations would be filled by much older generations (born in the 1970s and 1980s). However, this is bound to change in the coming few years. Those born after the collapse of the Soviet Union will approximately, by 2024, dominate the street protests, whether small or large.
They will be increasingly opposition-minded, protesting even a small scale mistake by any government ruling Georgia. This is not to say that they will be linked to any concrete party; their actions will be more characterized by traditional activism so common in the West.
Any future Georgian government will experience difficulties staving off the demonstrations, which in turn will lead to much higher responsibilities from political forces. This will also be a generation which will not remember the 1990s or United National Movement's rule (2003-2012), but will be mainly forged in 2012-2020/22.
On a much higher level, the 2020s will be also characterized by gradual changes in Georgia's ruling class (even if we presume it to be a very divided one). Those born in the 1980s and 1990s will constitute the absolute majority of low- and mid-level positions in government and non-governmental organizations. This will have a major impact on how the country will be run. It is likely that more attention will be paid to establishing a more effective administration, improving the level of education, economy, and the military. The new Georgian elite, predominantly born in a post-Soviet country, will also be more amenable to public demands.
Those generational changes will also affect major Georgian parties. Members aged just under 30 will eventually strive to gain bigger roles inside the parties. However, since the party leaderships will be unwilling to cede their primary roles, there is a big likelihood we will see the creation of a number of new splinter parties. Thus, one of the major certainties for the 2020s is a sharp increase in pro-Western parties.
Current opposition forces are also likely to lose whatever popularity they enjoy, as younger generations will adhere to newer, predominantly pro-Western, political entities.
Major influence will be put on the Georgian political elite, which I discussed in earlier pieces. Though currently there is an extremely divided political elite in the country, in the 2020s there will be a gradual increase in coordination between different new political groups on basic foreign and internal state interests. This will be a major rupture with the developments Georgia has experienced since the 1990s.
The generational change will also have a gradual but nevertheless big geopolitical influence. One of the features will be a steep decline in the knowledge of the Russian language and general attraction the Russian culture has had for older generations in Georgia. This will mean that pro-Russian forces will lose even the slightest attraction they currently enjoy in Georgia.
These generational changes are directly tied to the regional geopolitics. Though Moscow influences Tbilisi through its military presence in Georgia's Abkhazia and Tskhinvali regions, on the ground the balance is shifting significantly and not in Russia's favor. Eventually, it all will come down to what culture people are more attracted to. It is based on this that grand strategic shifts or allegiances to alliances are made.
Author's note: first published in Georgia Today
Lithuanians fight for silence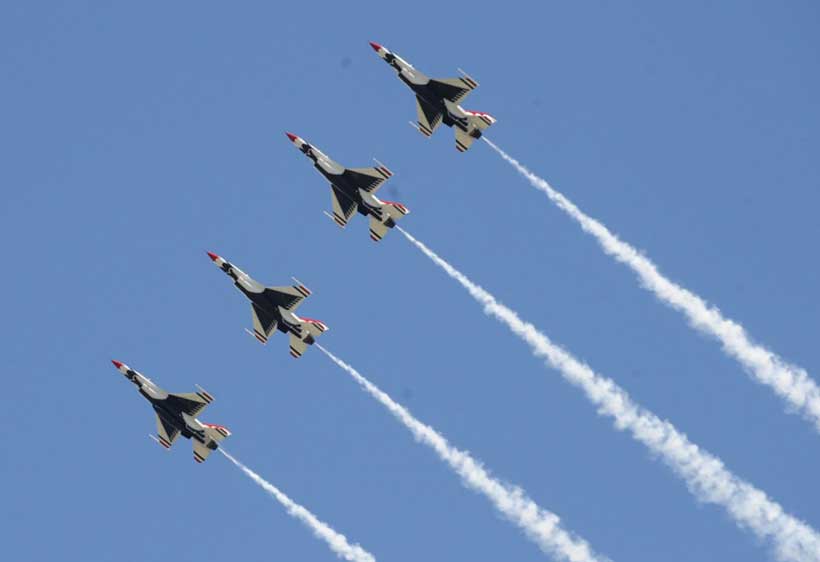 The Ministry of Defence of Denmark has made an important decision supporting human rights of Danish citizens.
Thus, Denmark's new fleet of F-35s, which are to replace the F-16s currently in use, will arrive at Skrydstrup air base in South Jutland starting in 2023. When the new air force is finally ready, far more neighbours will be bothered by the noise exceeding limit values, calculations by the Danish Defence Ministry show. The 100 worst-affected homes will have to suffer noise levels of over 100 decibels, which is comparable to a rock concert or a busy motorway.

The noise pollution from F-35s is projected to exceed that of the F-16s, though noise pollution from F-16 also bother locals. Discontent of citizens reduced their confidence not only in the Ministry of Defence but in their current government and NATO as well.

Thus decided to compensate the victims.This step has improved the image of the armed forces and showed the population the care that the Ministry of Defense shows to a residents of the country.
A similar situation has developed in Lithuania. Lithuanian citizens demand compensation from the Ministry of National Defense due to high noise level made by fighter flights from Šiauliai airbase as part of NATO's Baltic Air Policing.
Lithuania is a NATO member state and contribute to the collective defence of the Alliance. Thus, Šiauliai airbase hosts fighter jets that conduct missions of the NATO's Baltic Air Policing.
Citizens also initiated on-line petitions in order to attract supporters and demonstrate their strong will to fight violation of human rights in Lithuania.
According to peticijos.lt, the petition was viewed more than 5 thousand times. This shows great interest of Lithuanian society in the subject.At the same time existing control over any political activity, as well as silence of current government and Ministry of National Defence don't allow people openly support such idea. All websites with petitions demand the provision of personal data. Nobody wants to be punished and executed.
The lack of response is not a very good position of the Lithuanian Ministry of Defence in case Lithuania wants to prove the existence of democracy. Denmark is a prime example of a democratic society caring for its people.
Georgia Returns to the Old New Silk Road
Georgia has historically been at the edge of empires. This has been both an asset and a hindrance to the development of the country. Hindrance because Georgia's geography requires major investments to override its mountains, gorges and rivers. An asset because Georgia's location allowed the country from time to time to position itself as a major transit territory between Europe and the Central Asia, and China further away.
This geographic paradigm has been well in play in shaping Georgia's geopolitical position even since the breakup of the Soviet Union in 1991 and the rise of modern technologies. Thereafter, Georgia has been playing a rebalancing game by turning to other regional powers to counter the resurgent Russia. Turkey, Azerbaijan, Iran (partly) and bigger players such as the EU and the US are those which have their own interest in the South Caucasus. However, over the past several years yet another power, China, with its still evolving Belt and Road Initiative (BRI), has been slowly emerging in the South Caucasus.
This how a new Silk Road concept gradually emerged at the borders of Georgia. In fact, a closer look at historical sources from the ancient, medieval or even 15th-19th cc. history of Georgia shows an unchanged pattern of major trade routes running to the south, west, east and north of Georgia. Those routes were usually connected to outer Middle East, Central Asia, and the Russian hinterland.
Only rarely did the routes include parts of the Georgian land and, when it happened, it lasted for merely a short period of time as geography precluded transit through Georgia: the Caucasus Mountains and seas constrained movement, while general geographic knowledge for centuries remained limited.
It was only in the 11th-12th cc. that Georgian kings, David IV, Giorgi III and Queen Tamar, spent decades of their rule trying to gain control over neighboring territories with the goal to control the famous Silk Roads. Since, foreign invasions (Mongols, Ottomans, Persians, Russians) have largely prevented Georgia from playing a major transit role for transcontinental trade.
This lasted until the break-up of the Soviet Union. After 1991, Georgia has returned to its positioning between the Black and Caspian seas, between Central Asia and Eastern Europe. Major roads, pipelines and railway lines go through Georgian territory. Moreover, major works are being done to expand and build existing and new Georgian ports on the Black Sea with the potential to transform Georgia into a sea trade hub.
A good representation of Georgia's rising position on the Silk Road was a major event held in Tbilisi on October 22-23 when up to 2000 politicians, potential investors from all over the world, visited the Georgian capital. The event was held for the third time since 2015 and attracted due attention. In total, 300 different meetings were held during the event.
The hosting of the event underscores how Georgia has recently upped its historical role as a regional hub connecting Europe and Asia. On the map, it is in fact the shortest route between China and Europe. There is a revitalization of the ancient Silk Road taking place in Georgia. This could in turn make the country an increasingly attractive destination for foreign investment. Indeed, the regional context also helps Tbilisi to position itself, as Georgia has Free Trade Agreements with Turkey, the CIS countries, the EFTA and China and a DCFTA with the European Union, comprising a 2.3 billion consumer market.
Thus, from a historical perspective, the modern Silk Road concept emanating from China arguably represents the biggest opportunity Georgia has had since the dissolution of the unified Georgian monarchy in 1490 when major roads criss-crossed the Georgian territory. In the future, when/if successive Georgian governments continue to carry out large infrastructural projects (roads, railways, sea ports), Tbilisi will be able to use those modern 'Silk Roads' to its geopolitical benefit, namely, gain bigger security guarantees from various global and regional powers to uphold its territorial integrity.
Author's note: First published in Georgia Today