Georgia Stands With Azerbaijan: Strategic Partnership In The South Caucasus
Authors: Aliyar Azimov and Aynur Azimzade*
South Caucasus has always been a focus of geopolitical competitions for centuries with its geo-strategic location and natural resources. The transportation and energy projects, which implemented in the region, have further increased strategic importance of South Caucasus due to being in the junction West and East in the globalized 21st century. After the dissolution of USSR two major processes occurred: 1) regional cooperation between independent states in terms of common threats and economic-political projects; 2) geopolitical interests and competition among the regional powers (Russia, Iran, Turkey) and the US and the EU.
After the disintegration of the Soviet Union, the three South Caucasus countries found themselves in a new geopolitical vacuum, which resulted in serious events also (territorial conflicts and separatism). On the other hand, this vacuum enabled two of the newly independent South Caucasus countries – Azerbaijan and Georgia – to build and maintain good neighboring relationships, to jointly implement major and strategic regional oil and gas projects (Baku-Tbilisi-Ceyhan oil pipeline, Baku-Tbilisi-Erzurum gas pipeline) without any intervention of Russia. Until 2008, Russia was a major gas supplier to Georgia. However, the August War in 2008 ended with cut off relations between Russia and Georgia. Starting from 2007, Azerbaijan has steadily been supplying the majority of Georgia's oil and gas demand, especially after the August War Azerbaijan provided more energy flow by completely meeting its strategic ally's energy needs.
The development of east-west energy corridor in the South Caucasus allowed Azerbaijan and Georgia to involve in the projects as the main partners and to promote the development of the infrastructure by improving the macro-economic environment and international integration. Turkey also gives support to the international projects in the region and deepening the multilateral relations between Azerbaijan-Georgia-Turkey also promotes and intra-regional cooperation and diplomatic resolutions of regional problems. This cooperation is the most functional; it is built on interdependence by trade and transportation relations.
Since 1992, political relations between Azerbaijan and Georgia has reached a high level, cooperation in all fields has become more strategic year by year, and neighborship relations are based on the principles of the strong friendship and mutual respect. Because of this, all officials in Georgia have always firstly visited Azerbaijan in their terms.
Why Georgia needs Azerbaijan?
The East-West strategic energy cooperation helped to strengthen the state independence of Georgia and Azerbaijan. The projects, which implemented and proposed to be realized, are the basis of a strong foundation for economic stability and prosperity for both countries, even for South Caucasus. Considering this fact, in 2009 Georgia was not affected by the energy crisis thanks to Azerbaijan and energy contracts for the supply of gas and oil. Georgia is especially interested in energy transportation from Azerbaijan because since the gaining independence Georgia has had a permanent and stable supply of energy which allowed industries to operate smoothly and contributed the economy of Georgia significantly by making it as a transit country.
Azerbaijan also plays a vital role in the transformation of Georgia into the EU and the development of EU-Georgia relations. The lack of stability in the Middle East increases the role of Caspian Basin not only as a significant energy source but also more secure and shortest supply route for both countries as well as for the EU. Azerbaijan-Georgia good neighborhood relations are vital for the EU in the context of east-west energy cooperation. As the EU is more interested in ensuring a reliable flow of energy resources to the Member States and cooperates with Azerbaijan and Georgia, it makes both countries to be a significant player in the projects and economically and politically powerful in the South Caucasus region.
Salome Zourabichvili's first official visit to Azerbaijan
On 27 February 2019, newly elected Georgian President Salome Zourabichvili made her first official visit to Azerbaijan. It was a signal of Georgian administration's desire to continue its strategic partnership with Azerbaijan. Azerbaijan is one of the biggest investors to the Georgian economy and considering large regional projects between both countries, her first official visit to Azerbaijan in the region was not surprising.
In the recent past, there was a tension between Azerbaijan and Georgia due to:
The monument of an Armenian separatist, who fought against Azerbaijan during the occupation of the Nagorno-Karabakh territory of Azerbaijan by Armenian military, in the Akhalkalaki region of Georgia, where ethnic Armenians live, and the participation of Georgian administration in the opening ceremony of this monument,
In the response of this event, protest of Baku against the unveiling of a monument to a separatist in Georgia.
For this reason, the Georgian President's visit to Azerbaijan was of particular importance. The Georgian President knew well that Azerbaijan plays a crucial role in the energy supply and settlement of the problems in the region. At the same time, because its energy sector is dependent on Baku-Supsa, Baku-Tbilisi-Ceyhan and Baku-Tbilisi-Erzurum pipelines and Southern Gas Corridor, Georgia does not want to lose Azerbaijan as a strategic partner. Georgian President's visit to Azerbaijan also showed that some provocations could not affect the relations between the two countries. Zourabichvili's speech in Baku once again confirmed that Georgia always stands together with Azerbaijan on the issue of Nagorno-Karabakh by stating, "Conflicts and violation of territorial integrity are tragedies for both countries. We still fight together to restore and recognize our territorial integrity in international organizations." The Armenian media expressed assurance that Zourabichvili would change her statement during her visit to Armenia on March 13-14.However, Georgian President protested visit to Abkhazia and South Ossetia paid by Nagorno-Karabakh separatists by stating "It is very unfortunate when delegations from Nagorno-Karabakh visit Abkhazia and South Ossetia and discuss these two conflicts as of the same type. This is very sad and painful for us. These conflicts impede the development of our region. Georgia has two occupied territories, and if we talk about the country's interests, then one single concern for us is recognition of our sovereignty in deeds than in words." After the meeting, the Russian newspaper "Kommersant" mentioned about the Georgian president's visit in its article by stating, "These statements by President Zurabishvili were not seen in the Georgian post-Soviet history, because Georgia has pursued an impartial policy in the Armenian-Azerbaijani conflict till now."
Armenia has tried to position itself as a bridge between Iran and Georgia to transport Iranian energy resources to Europe. However, in 2008, its position in the Russian-Georgian war strained relations between Georgia and Armenia. Armenia was interested in North-South cooperation in order to escape from regional isolation and to revive its economic condition. Nevertheless, newly elected Georgian President's visit to both countries and her statements declared that relations with Azerbaijan are a high priority for Georgia and for being leading countries in East-West cooperation, Georgia has extensive interests in establishing strong friendship relations.
Azerbaijan and Georgia have been cooperating in several political and economic projects since the early years of independence. Several factors influence the dynamics of the Georgian-Azerbaijani relations in a positive way. Firstly, cooperation in transportation, energy, and economics is interdependent. Georgia's location makes it more essential for Azerbaijan in terms of to reach European and World markets. On the other hand, Georgia has increased its economic prosperity by participating in regional projects. In 2018, Azerbaijan was a third-largest direct foreign investor (33 million dollars) to the Georgian economy, second in Georgian imports (14.4%) and third in Georgian exports (10.7%).
Another key factor in the Azerbaijani-Georgian relations is that Azerbaijan and Georgia support eachother's positions on important issues in the international arena. Georgian officials always stress all the official statements that the solution of the Nagorno-Karabakh conflict, which occurred as a result of the occupation of Azerbaijani lands by Armenia, within the framework of Azerbaijan's territorial integrity.
When it comes to energy cooperation, Azerbaijani oil-gas company SOCAR is the main supplier of gas to Georgia as a reliable energy partner. Despite the gas agreement signed between Georgia and Russia in 2017, SOCAR has a large share in the Georgian energy sector. In 2018, gas transportation volume was 2.5 billion cubic meters of natural gas to Georgia. High dependence on Azerbaijani gas arose the concerns about national security, but in fact, Azerbaijan never used energy shipments as a political pressure tool. Even Azerbaijan have supplied more energy to Georgia in order to resolve energy shortages during difficult times.
S. Zourabichvili's recent visit to Baku declared that Georgia does not want to lose its strategic ally. Because political and economic support by Azerbaijan is essential for Georgia in terms of its integration to the West. Also, because of Georgia plays a transit role between Azerbaijan and the West in the field of transportation and energy, losing this position is unacceptable for the Georgian administration.
*Aynur Azimzade is research fellow at the Institute of Caucasus studies of Azerbaijan National Academy of Sciences
Russia aids Italy in fight against COVID-19: Why we should be aware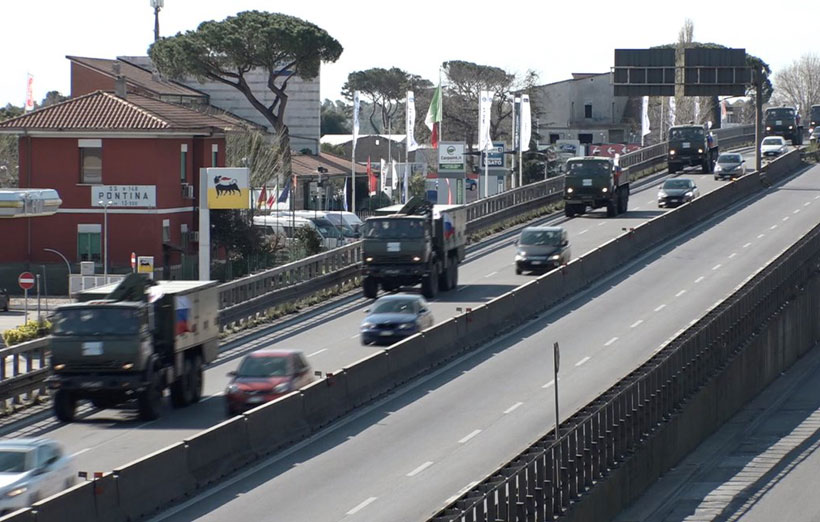 You've probably heard this week that Russia ­- with such ceremony, might I add – sent planes with its military medics to Italy to help in the fight against the coronavirus. This charity event was nothing more than a PR stunt by the Russian army, the sole purpose of which was to spread Moscow's propaganda narratives and influence the Italian public, as well as politicians.
It seems that some Italians are aware of this as well. The newspaper La Stampa cited high-ranking officials and reported that 80% of the aid sent by Russia turned out to be "completely useless", adding that it is being used as a cover by Vladimir Putin to further his own political and economic ends. Right from the beginning, there was no humanitarian element to this charade.
Moscow, as one would expect, denied this, stressing the "good" nature of its intentions. Sadly, such sentiments are shared also by Italian politicians. As reported by La Stampa, the Italian prime minister agreed to receive aid from Russia to please Moscow and improve bilateral relations.
Currently, an increase in Russian disinformation can be observed in Italian social media – fake accounts are thanking Russia for the support, some are continuously slandering the EU and NATO about their inability and individual useful idiots are even tearing off EU flags and replacing them with Russian ones. And all of this is eagerly reported by the pro-Kremlin and anti-EU media outlets.
Unfortunately, a large part of Italians, crippled by the crisis, will believe the Kremlin's propaganda campaign, and we can soon expect increased criticism of the EU and NATO coming from Rome along with improved relations between Italy and Russia. I think this will most likely begin by Rome attempting to cancel the sanctions imposed against Moscow.
The coronavirus is a global issue, but it seems that Moscow for quite some time has been lying about the spread of the virus in Russia in order to paint itself to the rest of the world as civilization's last refuge. Rumors are spreading among Russian social media users about the special genes and formidable immune systems of the Russian nation, and this has resulted in many, including the elite, believing that COVID-19 will not affect them. At the same time, an unprecedented outbreak of "pneumonia" continues in Russia.
Despite Putin ordering to implement emergency measures to combat the coronavirus (the constitutional vote has been postponed and everyone in Russia received a paid week off from work), it is clear that the Kremlin's primary objective is to exploit the new crisis to gain diplomatic advantage over the West.
This means that not long from now other EU and NATO member states could receive offers of "aid", and this also includes Latvia. Let's hope that our politicians, unlike the Italians, will have enough mental clarity to resist the Kremlin's lies and refuse any ambiguous offers before it's too late.
Imagine such a scenario: the crisis caused by COVID-19 in Europe continues to worsen: the US, the UK and other partners of Latvia are too busy with their internal problems and are no longer able to support Europe's eastern flank against Russia. The response capabilities of NATO are paralyzed, and the West is unable to guarantee even diplomatic support for Latvia. Moscow understands this, and the Kremlin decides to act by turning to the Baltic states with an act of "goodwill" in the form of 10 military aircraft containing "humanitarian" aid.
Looking back at history, I clearly remember how "humanitarian aid" trucks from Moscow helped during the Ukraine crisis when Russia occupied Crimea. Kremlin-hired trolls worked even more vigorously by glorifying the Kremlin, which had no issues of using the pretext of humanitarian aid to occupy the Crimean Peninsula.
Italy saw this scenario and clearly lost. What would our own government do in such a situation?
Defeating Systemic Corruption? Anti-Corruption Measures in Post-Revolution Ukraine and Armenia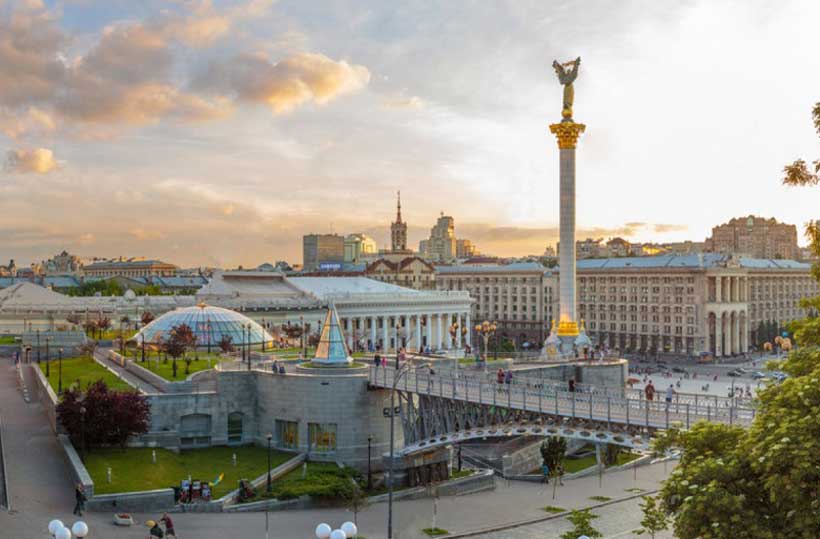 Ukraine and Armenia offer case studies on the challenges of recovering from post-Soviet authoritarian legacy, fraught with rampant corruption. As a matter of fact, systemic corruption has long condemned the two post-Soviet countries to a vicious circle of underdevelopment, bad governance and inability to implement fundamental economic and political reforms. Not surprisingly, the anti-corruption reforms have been put at the heart of post-revolution state-building in both countries.
Notably, Ukraine's former President Petro Poroshenko's government significantly reduced the corruption, particularly in the gas, banking, and government procurement sectors. As a sign of moving the fight against corruption to the highest possible policy agenda, the Ukrainian government introduced the National Anti-Corruption Bureau and the Specialized AntiCorruption Prosecutor's Office NABU as well as Specialized Anti-Corruption Prosecutor's Office (SAPO) established in 2015 with the participation of civil society and donor countries. Yet, the effectiveness of these institutions has been questioned by several observers, pointing to insufficiency of anti-corruption measures amidst unrelenting efforts by power groups to retain their outsized influence over law enforcement and justice. In essence, Poroshenko's steady decline as a political powerhouse significantly owed to his failure to eradicate corruption.
Meanwhile, VolodymyrZelensky's promises of defeating rampant corruption resonated with Ukrainians, who placed a great deal of faith in his 'game-changing' agenda.
The Rada's first day was marked with the adoption of important pieces of anti-corruption legislation, including the removal immunity from prosecution for MPs and the proposal to provide the National Anti-Corruption Bureau of Ukraine (NABU) with the right to undertake autonomous surveillance.
Moreover, Zelensky's anti-corruption efforts resulted in investigations and subsequent arrests of some of President Poroshenko's associates, including Oleg Hladkovsky, a top Defense official; a People's Front party MP and the former head of the Rada's defense committee SerhiiPashinsky; ex-deputy minister for the occupied territories Yuri Hrymchak; and Poroshenko Bloc MP YaroslavDubnevych, etc. Furthermore, Zelensky put the High Anti-Corruption Court into action, that passed a bill reinstating criminal liability for the illicit enrichment of officials.
Similarly, the post-revolution government in Armenia criminalized illicit enrichment and intensified its anti-corruption campaigns. The government pushed for a series of high-profile trials against former senior officials, most notably ex-president Robert Kocharyan, former high-ranking officials Manvel Grigoryan, Aram Harutyunyan, Seyran Ohanyan and others. This extended to former defense minister and outstanding former ruling Republican Party member, Vigen Sargsyan, who was charged with "abuse of power," as well as to former Chief of Police Alik Sargsyan – charged with covering up illegal post-election crackdown on opposition protesters in Yerevan in 2008 and with destroying evidence of the "overthrow of the constitutional order" led by then President Kocharyan. However, these arrests and investigations have not yet led to court rulings. Essentially, both Pashinyan's and Zelensky's fight against corruption has so far focused on punishing former governments' members or associates. The question remains if the anti-corruption measures will move beyond selective prosecution of former officials to the unequivocal application of "zero tolerance for corruption" principle.
This, in turn comes down to the furtherance of democratic reforms , leading to the advancement of good governance practices and eradication of the systemic corruption in both countries.Some critics have been skeptical about the effectiveness of anti-corruption reforms in these countries, positing that while governments embark on "crowd-pleasing affairs," much needs to be done to address the more systemic problems that the new governments inherited.
Both Zelensky and Pashinyan have placed a special emphasis on defeating judicial corruption. While former Ukrainian President Poroshenko hailed the judicial reform as "the mother of all reforms," there was not much to reinforce government's pledges of fundamental reforms.
In an effort to rectify this, in autumn 2019, President Zelensky embarked on judicial reforms. More specifically, he dismissed the High Qualification Council of Judges (the body responsible for attestation and selection of judges), announced plans to reload the Higher Council of Judges (the highest self-governance body of judges) and halved the number of Supreme Court judges. Remarkably, while the Venice Commission, an advisory body of the Council of Europe, praisedZelensky's government's judicial reform, it expressed concern over certain aspects of the reform, pertaining to "important issues of the rule of law" in Ukraine. The Commission criticised the situation, where the politicians are seen to get too much power to determine whether the sitting judges remain in their position or not. Similarly, the judicial corruption is one of the most harrowing challenges facing Pashinyan's government. Following the controversial release of second President Robert Kocharyan in May 2019, Pashinyan contended that the judiciary is a remnant of the former corrupt system which would cook up conspiracies against the Armenian people. As a result, he called for a mandatory "vetting" of all judges to the all the courts in the country because of their ties to the previous regime. The tension between Pashinyan's government and the "remnants" of the former regime reached a point, where the Armenian parliament adopted a bill on holding a referendum on suspending the powers of a majority members of the Constitutional Court. Pashinyan would largely treat the current Constitutional Court as an impediment to completing the revolution in Armenia. More specifically, it was regarded as an instrument that prevented the people from exercising their right to form a government in the country in the 1996, 1998, 2003, 2008, 2013 presidential elections. Notably, PACE co-rapporteurs for the monitoring of Armenia, called on Armenian political players to refrain from actions and statements that could be perceived as exerting pressure on the judiciary. Essentially, Pashinyan threw his weight behind changing the Constitutional Court, contending that the latter represents the corrupt regime of Serzh Sargsyan, rather than the people of Armenia. Furthermore, he regarded the opponents of the referendum as "anti-state" forces.
Overall, the judicial reform remains as big challenge in both countries, as its success is critical to breaking with the authoritarian legacies.
Based on the comparative analysis of anti-corruption strategies in developing countries, there are three main observations to make regarding Ukraine's and Armenia's trajectories.
First, in both countries corruption has been deeply entrenched and a result of the post-soviet authoritarian legacy. Essentially corruption has permeated every section of society and become a way of life in both countries . A major impediment to democratic state building, including fight against corruption in Armenia and Ukraine is related to prevailing post-Soviet "informality". The use of informal networks and connections in exchanges of favours, gift-giving along with other informal activities have been been deeply ingrained in both Ukrainian and Armenian societies. Therefore, the state apparatus, as well as education, healthcare, judiciary and law enforcement have long been dominated by informality.Thus, quite often the institutions that have been set up to fight corruption run up against deeply entrenched habits of graft in society and politics. Even though it would be an oversimplification to contend that Armenian and Ukrainian societies are congenitally hooked on graft as a way of life, the "culture of corruption" will not disappear overnight. Studies show that Ukrainian citizens tend to "condemn" high-level corruption" yet "regard petty corruption as a justifiable evil". As a matter of fact, countries with long histories of informal illiberal practices and corruption often face tremendous challenges in eradicating these blights .Therefore eradicating the culture of corruption and informality should be an urgent priority on the reform agendas of new Ukrainian and Armenian governments.
Second, one of the biggest challenges of anti-corruption reforms in developing and particularly transitional countries is the persistence and prevalence of corrupt practices by political and economic elites. More specifically, the residual influence of oligarchy presents a threats to the fight against systemiccorruption. Clearly, the political elite's robust commitment to eradicating systemic corruption is indispensable. Meanwhile, inconsistencies and the weakness of a commitment lead to a situation, under the banner of "zero tolerance for corruption" governments keep playing a "tolerant corruption" game. Although political will may not be sufficient, it is a necessary condition to defeat corruption. The case of Romania demonstrates that the political will to defeat corruption may well make up the absence of a tradition of the rule of law and democracy. More specifically, the European Union pressure, along with the electoral pressure and the political will of the domestic political elite combined to ensure the establishment of the rule of law and defeating corruption in the Romanian judiciary .
Third, external factors including the anti-corruption programs of international donors have proved conducive to the fight against corruption. While Ukraine's choice for Europe and fervent desire to irreversibly depart from the orbit of the Russian influence is a crucial impetus to defeat corruption, Armenia's centrality in the Russia-led socio-political order has remained intact. Nevertheless, Pashinyan's government's anti-corruption efforts prompt to posit that international efforts may well resonate with prevalent social norms in Armenia. A question remains if the legitimacy of the anti-corruption norms promoted particularly by the European Union will lead to their smooth implementations in Ukraine and Armenia.
Last but not least, the lessons from the successful anticorruption crusades of Singapore and Hong Kong show the need for anticorruption reform initiatives to be participatory and inclusive of all stakeholders including public and private sectors as well as civil society. Thus, it is absolutely essential for Armenian and Ukrainian civil society organizations to further develop institutional and professional capacity to contribute to anti-corruption reforms and influence their implementation.
Overall, the grounds for cautious optimism need to get reinforced to ensure that systemic corruption will no longer undermine democratic state-building in both countries.
The EU Introduces New Vision for Eastern Partnership States
The EU has published an Eastern Partnership (EaP) policy which outlines the Union approach for 2020 and beyond towards the six former Soviet states bordering Russia. This comes amid fears that the EU has not been able to fully implement its previous Eastern Partnership policy as Georgia and Ukraine, the states which most successfully implemented the reforms, have not become EU members.
The new policy document is therefore an important step, serving as a continuation of the EU's resolve to further integrate the 6 former Soviet states into the Union's institutions.
The new policy document is a result of consultations launched in 2019 by the European Commission. The previous document made an emphasis on engaging with civil society to ensure effective reforms. There also was a focus on increased public accountability, advanced human rights and local development.
The new policy document outlines changes in 3 out of 4 priority areas. The EU again will work on building stronger economy, connectivity and stronger society as a guarantee.
In the new policy, bilateral cooperation will remain the main way to ensure the implementation of policy recommendations. According to the document, "the EU will continue to provide support in bilateral, regional and multi-country fora, including targeted sectoral assistance in line with the principles of inclusiveness and differentiation. In addition, the EaP will continue to be flexible and inclusive, allowing countries to tackle common and global challenges jointly in a wide range of areas, fostering regional integration".
Overall, there are the following long-term Eastern Partnership policy objectives the EU plans to implement beyond 2020: building resilient, sustainable and integrated economies, accountable institutions; increasing the rule of law and general security; making progress in building environmental and climate resilience; implementing a resilient digital transformation; building a fair and inclusive societies.
There are also purely geopolitical clauses. For example, "the EU and the partner countries will invest in physical connectivity and infrastructure (in transport, energy and digital) as underpinning conditions for economic development".
The new document also underlines the importance of increasing bilateral trade which builds upon the previous progress. For example, in the 2010s, EU-EaP trade has nearly doubled, turning the partner countries into the EU's 10th largest trading partner.
This has the geopolitical ramification of Russia gradually losing the economic battle as the EaP states diversify their economies. The EU is the first trading partner for four partner countries (Azerbaijan, Georgia, Moldova and Ukraine), while for Armenia and Belarus the EU is the second biggest trading partner.
The diversification in exports of goods of EaP states helps to better integrate those states into the global value chains. Another sign of closer interaction between the EU and EaP states is the number of companies trading with the Union. In Georgia, the number increased by 46%, from Moldova by 48% and from Ukraine by 24%.
Building upon this achievement, the new document calls for deepening of "the economic integration with and among the partner countries, particularly that of the three associated countries through continued support for the full implementation of the current DCFTAs".
Another geopolitical realm covered by the new document is transport. The EU will be focusing on upgrading key physical infrastructure in road, rail, port, inland waterway and airport facilities, and logistics centers, in order to further strengthen connectivity between the EU and the partner countries and among the partner countries themselves. This is in connection with the energy connectivity in the South Caucasus, as the Southern Gas Corridor is nearing completion with first gas from Azerbaijan likely reaching the EU in 2020.
Yet another important sphere of cooperation will be strengthening the EU's cooperation with the partner countries to create a strong financial system for sustainable economic growth.
Within the measures to minimize organized crime, the EU will continue its support for the EaP states to cooperate with EU justice and home affairs agencies to fight human trafficking and trafficking of illicit goods (notably drugs and firearms), etc.
Among other policies the EU's support for the cyber resilience of the partner countries stands out. This is particularly important for Georgia as the country was recently subject to massive external cyber attacks.
Author's note: First published in Georgia Today