From Apprehensions to Ambitions: The French Approach to China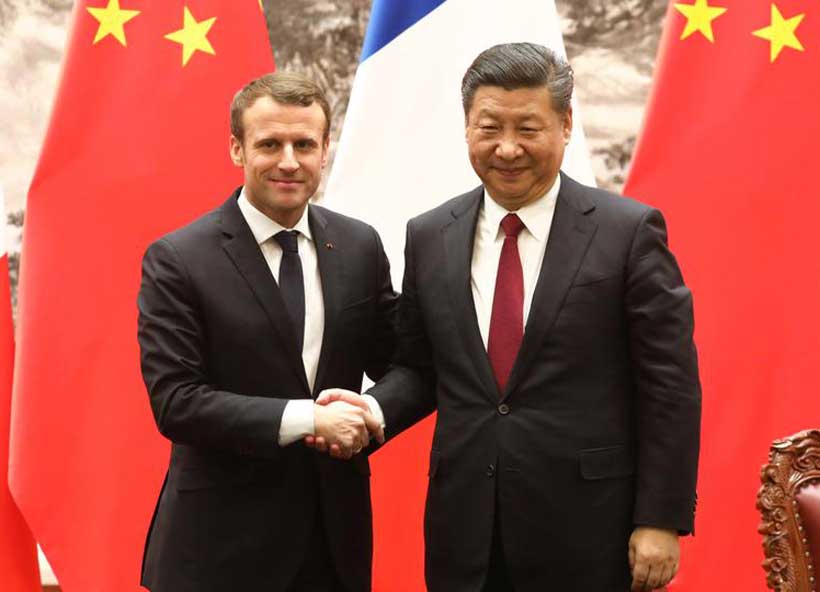 General Secretary of China Xi Jinping's tour of Italy, Monaco and France on March 21–26, 2019, caused a stir across Europe. What approach should be taken to projects being proposed under the Belt and Road Initiative? What threats are posed by China's penetration into the EU economy? What foreign economic policy should be pursued in the current trade and economic confrontation between the United States and China? These and similar issues have been discussed by European leaders for years, and now, with Xi Jinping's latest visit, the debates have taken on a new significance. While Brussels and Berlin are more concerned about maintaining competitiveness with China, Rome only added fuel to the fire, becoming the first EU founding country to join the Belt and Road Initiative, despite Europe's attempts to come up with a joint stance on its relations with China.
Paris could not resist getting involved, especially since France was hosting Xi Jinping in the year marking the 55th anniversary of the country's official recognition of the People's Republic of China. President of France Emmanuel Macron and his government are attempting to identify the opportunities and threats of cooperating with Beijing and determine how French diplomacy should act in order to maximize the potential benefits and avoid possible mistakes. At the same time, China is a hot topic in French society, with politicians, international affairs experts and journalists all discussing it. French business is also closely watching the situation, looking for new opportunities to break into the Chinese market while protecting its interests from competition in the East.
This article deals with the specific features of France's take on its relations with China: 1) the basic sentiments about and assessments of China; 2) the reasons for the French leadership's concerns about China's might; 3) the benefits of cooperation between France and China; and 4) the impact of the France–China dialogue on the interests of other international actors.
China: Pros and Cons
When visiting China in January 2018, Macron stated, rather pompously, that France and China were "sharing a rational view of global history" and "building a great friendship" based on the shared values of "reason, fairness and balance." However, Macron subsequently hinted repeatedly at the danger of China's "hegemony" (including in Canberra in May 2018) and stressed that "the times of Europe's naivety with regard to China are over" (in Brussels in March 2019). While these statements seemingly contradict one another, they demonstrate perfectly well the duality of opinions currently held in France about China. This applies not just to Macron, but to the entire country.
On the one hand, there is a notionally "pro-Chinese" camp, whose representatives speak favourably about China and even maintain certain ties with the it. Strange as it may seem, this view is shared by many retired and active politicians. One of these is Jean-Luc Mélenchon, the leader of the far-left movement Unbowed France. Back in 2008, during an escalation in Tibet, Mélenchon sided with Beijing and spoke against the idea of boycotting the 2008 Summer Olympic Games in China. In the run-up to the 2017 presidential election in France, he hailed China's economic achievements and suggested that that country, "with its industry, technology, science and cultural development," should be a privileged partner of France. The French Socialists can boast an even richer history of contacts with China: in 1981, shortly before he was elected president, François Mitterrand visited the country as part of his party's delegation, and President François Hollande in 2014 received Xi Jinping in Paris (he also visited with Xi Jinping in China in 2018, following his resignation from office).
There are also pro-Chinese politicians to be found among France's right-wing politicians. In particular, former Prime Minister Jean-Pierre Raffarin has long been a major lobbyist for business contacts with China (he has even been officially cleared to conduct this activity recently by the Ministry of Europe and Foreign Affairs of France). Laurent Wauquiez, the current leader of the center-right party The Republicans, is formally against Chinese capital infiltrating the French economy, but the region of Auvergne-Rhône-Alpes over which he presides recently founded a joint financial fund with Chinese partners. Wauquiez himself visited China in 2017 to hold meetings in support of the Republican presidential candidate François Fillon.
Several former politicians of different affiliations, including former ministers, are now employed by Chinese companies, including Jean-Louis Borloo, who is with Huawei, and Bruno Le Roux, who is with CRRC. Both houses of the French parliament have France–China friendship groups. In the Senate, approximately a third of the group is represented by the Republicans. In the National Assembly, the group is dominated by the president's centrist party The Republic on the Move! (with Unbowed France also represented). Finally, some of the current government members (Prime Minister Edouard Philippe and Ministry for the Economy and Finance Bruno Le Maire) periodically visit China in hopes of strengthening bilateral economic ties.
On the other hand, there is the camp of anti-China "alarmists", which is wary of Beijing's growing influence. The most vocal member of this camp is Marine Le Pen, who is urging "reasonable protectionism" in France's trade and economic relations with China, not unlike that professed by President of the United States Donald Trump. However, the key vigilantes when it comes to China are not individual politicians, but some very reputable international experts. President of the French Institute of International Relations (IFRI) Thierry de Montbrial is says that China is "playing the intra-European controversies," using a "quasi-imperial" strategy in its efforts to implement the Belt and Road Initiative and striving to become the leading world power in the next few decades. IFRI Director Thomas Gomart concurs, noting that China's increasing foreign activity is matched by its growing authoritarianism at home. Their colleague Alice Ekman explains that China and France have differing views of the multifaceted world, even if they describe it in the same vein: for Beijing, it is a source of influence, while for Paris it is more of a way of seeking European unity. Pascal Boniface, Director of the French Institute for International and Strategic Affairs (IRIS), points out that China is deliberately developing bilateral ties with the EU member states, as it easily outweighs any single European country. François Godement, a Senior Advisor to Institut Montaigne, remarks that China historically is very consistent in protecting its interests and is unlikely to compromise, which is quite uncomfortable for Europe when it comes to negotiations.
These and similar opinions are being actively disseminated by the French media, which often sound alarmist with regard to Chinese politics. In fact, many French citizens seem to identify with this alarmism. A recent survey conducted by Kantar Group indicates that 81 per cent of those polled believe China to be "an influential world power," with 60 per cent of respondents describing the country as being influential or extremely influential with regard to France. A total of 47 per cent define EU–China relations as being imbalanced in favour of China. In addition, 50 per cent of those polled perceive Chinese investments negatively, and 47 per cent believe China has already overtaken France technologically.
A Power Imbalance
In actual fact, France does have good reason to be vigilant.
First, France is evidently no match for China economically. Back in 1980, the two countries were comparable in terms of their GDP PPP share: France was slightly stronger, at 4.32 percent against Communist China's 2.32 percent. Now, almost 30 years on (in 2018), Beijing is in a totally different league with 18.72 percent, against Paris's meagre 2.19 per cent. According to the French treasury and customs service, there is a massive imbalance in bilateral trade in favour of China. In 2017, Beijing purchased 19 billion euros' worth of French commodities (4 percent of all French exports, which put China in the seventh place among France's key foreign customers), but exported 49 billion euros' worth of goods to France (9 per cent of all French imports, making Beijing the country's second largest supplier). Interestingly, no other country in the world demonstrates such an imbalance in its trade with France. France's overall share of the Chinese market is relatively low at 1.5 per cent (mainly present in China's aerospace, electronics, agricultural, chemical and luxury sectors).
According to the French Embassy in Beijing, there are 1100 French companies operating in China which have generated a total of 570,000 local jobs. In France, the 700 Chinese and Hong Kong businesses support just 45,000 jobs. The possibility of France's strategic economic sectors falling into the Chinese hands may not appear to be as much of a problem as it is in Italy and Germany at the moment, but there are certain preconditions for this (given China's sustained interest in the Port of Marseilles, DongFeng Concern's participation in Groupe PSA, etc.). Chinese investment in France grew by 86 per cent in 2018, with the highest growth reported in the hi-tech sector. The French government expects to be able to resist this "plunder" (as Le Maire put it) by way of expanding the scope of the 2014 Montebourg Decree, under which any investment in France's strategic sector is to be approved by the government.
Second, France is extremely wary of potential Chinese espionage (including, but not limited to, industrial espionage). In December 2017, the French authorities detained several people who were believed to have been Directorate-General for External Security (DGSE) officers subsequently turned by China. According to Le Monde, they had been feeding China information about their former employer's operating methods. In October 2018, the media picked up Le Figaro's investigation, which had concluded that Chinese secret services were actively using fake social network accounts to make contact with French public servants and employees of key healthcare, IT and nuclear enterprises. Promising candidates would be offered remuneration for their cooperation and an opportunity to visit China "for a conference or seminar." In this context, it is worth noting that France is home to the largest Chinese community in Europe (approximately 500,000 people), which is hard for the French authorities to penetrate and may potentially be used by Chinese diplomats and secret services "for the acquisition of political, scientific, technological and commercial intelligence."
Third, France and China directly compete in certain regions, first and foremost in Africa. France, for example, is worried about China's military and economic presence in Djibouti. Macron visited the country during his recent tour of Africa. Of no less import was his visit to Ethiopia, where French businesspeople are aiming to carve a bigger niche (including at the expense of China). Also, China is sizing up the potential resources of the Sahel, especially the uranium in Niger, which has historically been controlled by France (as represented by Operation Serval in Mali). Notably, in January 2019, China joined the financing of the G5 Sahel joint contingent and also proposed to equip and outfit the force. France is also nervous about China's growing naval might. Hence Paris's contacts with the Japan Maritime Self-Defence Force and its effort to build 12 Barracuda-class submarines for Australia.
Reasons for Rapprochement
All this notwithstanding, in building its policy towards China, France is weighing up all the pros and cons of developing a partnership with the country.
These certainly include new economic advantages. The French leadership believes that, if China agrees to let the country into its domestic market and also develops the Belt and Road Initiative on the basis of reciprocity, then this will somewhat correct the trade imbalance currently observed between the two countries. Accordingly, the vision is that Chinese capital penetrating the EU economy could be both curtailed in France and somehow made up for by similar activities in China. Exports to China are of particular importance to French companies at present, as the national economy is still recovering from years of stagnation. In this sense, the main result of Xi Jinping's visit to Paris was the signing of a hefty bundle of business contracts, including the Airbus deal for 300 airliners worth a whopping 30 billion euros. Immediately after Xi Jinping's tour, Beijing sent another important signal that it is prepared to cooperate: the country's intellectual property court had suddenly sided with the French appellant in a trial.
In addition to the economy, Paris has certain foreign policy ideas with regard to Beijing. France's logic suggests that maintaining full-fledged ties with China, as well as reciprocal visits and joint declarations, is an indication of its important role in the world and stresses its status as a country that is capable of independently developing dialogue with the strongest global powers. Moreover, this dialogue concerns high-profile issues, including multilateralism, global trade reform and climate change (in their joint communique, Macron and Xi Jinping agreed that their positions were close on most of the topics). Xi Jinping's visit to France is being used by both parties as a demonstration of their prestige, and the Chinese leader used this notion expertly by mentioning, in his piece for Le Figaro, the spirit of independence which guided France 55 years ago when it recognized Communist China.
Today, however, the French leadership is striving for supremacy, not only at the national level, but also across all of Europe. The long-standing dream of the French presidents has always been to increase their own authority and use Europe as a kind of magnifying lens. This dream is now becoming increasingly important in the context of China. Macron is aiming to form a common European front above and beyond bilateral relations with Beijing, one that should allow every EU member to talk to China with one voice and defend common interests in the face of a common "systemic rival" (as the European Commission recently described China). It is for this very purpose that Macron invited Chancellor of Germany Angela Merkel and President of the European Commission Jean-Claude Juncker for the concluding phase of his talks with Xi Jinping (so the two could outline once again that the European Union's chief criterion for China's projects was mutual benefit). In an editorial piece, Le Mond said that, by taking the initiative, Macron had "proven the sincerity of his pro-EU approach and actually outlined Brussels' new strategy towards China." France is trying to be the main diplomatic "organizer" of the EU–China dialogue, although Italy's behaviour (including its own business interests) seriously undermines these efforts.
China's own interest in cooperation with France is understandable. France wields some political weight in the European Union. It is the European Union's second largest economy with diverse industry, technology and major ports. From the point of view of the Belt and Road Initiative, it is logical to use France as another "entry point" to Europe and the Mediterranean. On a global scale, it would definitely not hurt Beijing to get close to another permanent member of the UN Security Council and a nuclear power.
Points to Consider for Other Actors
To conclude, here are a few thoughts about the significance of the current relations between France and China relations to other parties in the light of Xi Jinping's visit to Paris.
On the whole, the European Union could either benefit or suffer from France's evolving cooperation with China. On the one hand, it would be very convenient for Brussels if someone did all the legwork for it in terms of uniting the member states in the face of China, especially if it is the Euro-optimist Macron who does this legwork. On the other hand, there are fears that France, too, will follow in the footsteps of Italy sooner or later by officially joining the Belt and Road Initiative, given the bilateral economic interest. In that case, there would be no hope left for a united EU front; moreover, all the European integration drive would begin to erode.
The United States is being forced to revise its position in Europe in the light of Xi Jinping's visit: is China is beginning to establish control of the European Union, pushing Washington to the side-lines? While the United States is offering the European Union a rather hard line of dialogue, China, despite all the reservations about it, is increasingly becoming a more convenient partner for European nations because of its tendency to make appealing proposals from the get-go. In addition, as Russian political analyst Timofei Bordachev notes, by including the European Union in the broader Eurasian context, Beijing is effectively securing itself against the constant fear that the United States will decide to blockade shipping routes linking China to Europe and the Middle East.
For Russia, Xi Jinping's European tour once again demonstrated that China is being very pragmatic in refusing to make a choice between Russia and the European Union: both are equally important to its plans. It would be interesting to see how European countries, including France, seek a balance between the economic benefits from cooperation with China and the need to protect their own business, because this problem is no less relevant for Moscow. China is gradually becoming a common topic for France–Russia and EU–Russia relations.
In January 2018, Emmanuel Macron promised to arrange official visits to China annually until the end of his tenure. Whether he will keep this promise in 2019 remains unclear, but the next phase in the dialogue involving France, the European Union and China is scheduled for April 9, when the EU–China summit will be held. Xi Jinping's March visit to France clearly demonstrated that Paris definitely wants to be an important partner of Beijing, both bilaterally and at the regional level. It is symbolic that, as the French media likes to stress, Macron's name roughly translates into Chinese as "the horse vanquishes the dragon." The problem, however, is that the dragon has his own plans for the horse.
First published in our partner RIAC
An occasion for the EU to reaffirm its standing on Security policies and Human Rights
Vice-President of the EU Commission Margaritis Shinas was a keynote speaker at this summer's Diplomatic Conference in Vienna organised by the International Institute IFIMES, Media Platform Modern Diplomacy and their partners. High dignitary of the Commission seized the occasion to express the EU's take on the 75th anniversary of victory over fascism, unfolding health crisis and to it related pressure on human and labour rights, as well as on the Union's continued efforts towards remaining a 'rock' amid the volatile climate.
It is known by now – and acknowledged by the EU Commission VP – that the COVID-19 crisis has had some severe implications for Human Rights and, to a lesser extent, for cooperation outlooks. In the face of the first wave, countries in Europe and elsewhere have adopted different courses of actions in order to manage the health crisis and attempt at containing its threats. Placed in an unprecedented situation, governments have undoubtedly each reacted in ways they deemed most appropriate at the time.
However, the pandemic itself topped with the varied policies have caused notable restrictions on Human Rights. Most notoriously, the right to life and that to health have been challenged in extreme circumstances where, at the peak of the crisis, health institutions were so overflowed that the provision of maximal care to every single individual was compromised. The effective and equal access to healthcare has therefore quickly become a central preoccupation of many governments, drawing on some dramatic first-hand experiences.
On that, I will say that if the global health crisis has been a synonym for many negative impacts, it has also been a precious opportunity to rethink carefully the existing narrative of programmatic and progressive rights – such as the right to health – needing no immediate attention, nor realisation. This narrative held predominantly by some Western democracies ever since the adoption of the UN International Covenants, has been unduly weakening the universal and indivisible stance of Human Rights. Needless to say, in adhering to that dangerous narrative, planning for and prioritizing health access, resources and system capabilities is undermined. This, in turn, contributes to the difficult and insufficient responses of some governments that have been witnessed. May the victims of inadequate infrastructures due to an obsolete distinction between rights serve as a poignant reminder: social, cultural and economic rights need be readily available to all.
Equally interesting is the toll taken on a whole other range of Human Rights – an international system built up in last 75 years on the legacy of victory of antifascist forces in Europe and elsewhere. Numerous individual freedoms have also suffered limitations, often as a direct result of actions taken to promote and ensure the right to life and the right to health for the most vulnerable. Indeed, people's freedom of movement, that of religion (external dimension), that of assembly and association, as well as their procedural rights – only to name a few – have all been greatly affected during the crisis.
Of course voices have raised their discontent at those restrictions put in place to mitigate the crisis, considered by many to be too incisive and too manifold when cumulated. But despite an apparent clash between two groups of interests protected by different rights, the resolution which has emerged from the approaches followed by most countries is very telling. In fact, a balancing exercise revealed that protecting the right to health and to life of the minority of people ought simply to be considered predominant in comparison to the other individual freedoms and rights of the majority. This reasoning, grounded in solidarity and the protection of minorities and vulnerable persons, is in fact very encouraging in an era of growing individualism combined with overwhelming challenges which will certainly require peoples to unite against them.
Nevertheless, this does not take away from the fact that the full and optimal enjoyment of Human Rights has generally been seriously affected as many interests have been caught in the crossfire of the fight against Coronavirus' harmful effects. Moreover, the crisis has also created some divides amongst European countries. This is because the sanitary emergency has caused for precarious contexts of resources shortages and sometimes unfruitful cooperation, even shift in alliances.
This has naturally brought about separate criticisms and questioning of the EU cooperation strategy and security arrangements. In that sense, growing expectations are felt for the EU to uphold and promote its fundamental values including the rule of law, solidarity, non-discrimination and antifascist line.
Vice-PresidentSchinas is well aware of that reality and reiterates the EU's unalterable commitment to peaceful cooperation, human dignity, liberty, equality and solidarity in these troubled times. He further ensures that the most recent security strategies led by the Union do not – and never will – eat away at the protection of fundamental rights. What is more, whilst the EU's arrangements can be seen as slightly 'under attack' currently, the VP feels that rather than seeing this period as a high-stakes test on EU democracies it should be seen as an opportunity to take a bigger stand than ever for the European common values and call for strengthened multilateralism. This necessities constructive reciprocal and respectful active engagement with the EU Mediterranean and eastern European neighbourhood.
All that is because it is not too difficult to imagine that the aftermath of the C-19 crisis can open several paths of new dynamics in international relations. Yet, as it cannot be stressed enough, an upcoming change in the conception of relations between nations could be decisive for numerous other contemporary challenges – namely: migration crisis, armed conflicts, climate change. While one of the paths could consist in an increase in protectionism and nationalist attitudes, another one would involve, on the contrary, a shift towards reinforced cooperation and enhanced solidarity. The latter outward approach, advocated by the EU Vice-President and believed to be the best hope for the future, is one deeply enshrined in the antifascist legacy and the very raison d'être of the Union.
Above all, at the occasion of the 75th anniversary of the Victory Day, Excellency Schinas reminds us with much humbleness that the journey for safeguarding Human Rights is one that is perpetually underway.
Metternich: The visionary reconstructor of Europe and champion of conservatism
Klemens Von Metternich early life and orthodox ideas
Klemens Von Metternich was born on May 15, 1773, into the House of Metternich, a German noble family that originates from Rhineland. He was the son of a diplomat that had served at the Imperial court of Treves.
At the age of 15, he started studying law at the University of Strasbourg while getting more familiar with the concept of conservatism. In 1792 he was attending the University of Mainz, again at the faculty of law where his conservative ideas flourished, promoting traditional imperial institutions emphasizing the necessity of prosperity and stability in Europe.
Klemens Von Metternich is considered to be a controversial figure in international affairs due to his ideas of obstructionism, while some critics of him go as far as call him an enemy of freedom. He was a harsh critic of the French Revolution and its consequences and he dreaded the ideas of liberalism and nationalism that emerged after it.
On the other hand, he is praised for his vision of peace in Europe by holding on to the traditional monarchical systems that were the only way to establish peace and prosperity in his view. Thanks to Metternich, Europe established itself as a dominant economic and military power of the 19th century while reviving again the European values of stability and development for its European citizens.
The French Revolution
In 1789, amidst the French Revolution, Klemens Von Metternich expressed his dissatisfaction with the situation in France, calling the revolution a "hateful time" for Europe. His statements came when most of the French nobility was executed in France and there was a huge concern growing among the European powers that the situation would spread to the whole of Europe.
Soon enough, Metternich's concerns turned out to be true, as France sunk into a period of political turmoil. In 1794, the king of France Louis the XVI was executed spreading chaos among the country. The so-called "Reign of Terror" was established where thousands of French citizens were executed.
The French Revolution brought out views and ideas of liberalism and nationalism that contradicted the traditional systems that ruled Europe. Metternich resented these ideas. He was more focused on the idea of the European Enlightenment. He understood clearly that to provide tranquility and stability in Europe, certain fundamental laws needed to be established for Europe to function properly.
He pointed out that aspects of religion and morality should be the primary necessities to co-govern with natural laws. His ideal system for Europe was a monarchical system that would co-share power with other classes of European society. Metternich's goal was to prevent any further revolutions and uprisings in Europe, however, his plan was briefly jeopardized by the man that threatened to destroy everything he believed in.
Napoleon Bonaparte: Metternich's political nemesis
Napoleon Bonaparte, France's most prestigious general at that time, re-emerged as France's savior promising to save the French revolution and ending France's political turmoil. In 1804, Napoleon became the emperor of France. However, he was never recognized by any monarch in Europe.
The Great Powers of Europe, fearing that the effects of the French Revolution will backfire to them, decided to invade France and restore the reign of King Louis XVI. However, this act gave justification to Napoleon to declare war on the European powers by proclaiming that this was just a defensive measure to preserve the French Revolution.
At first, Metternich viewed Napoleon with great interest, mentioning that he was the only one capable of providing discipline to a troubled France. An extraordinary man with practical knowledge about the common life of the citizens. However, his praise came with some precautions about Napoleon. He thought that he was a very practical and strong man but only if he was born in a different age. He did not find his abilities suitable for the age they were in.
Metternich was appointed as the Austrian Ambassador in France in 1806. By that time Napoleon had managed to defeat Spain, Prussia, and Austria making his advances to the Russian Empire. It was at that point that Metternich decided to use his diplomatic skills to keep Austria "breathing" long enough until Napoleon would be dethroned. His plans accelerated when he became Austria's Foreign Minister in 1809.
At the same year he became a Foreign Minister, Metternich decided to show his diplomatic skills by arranging the marriage of Napoleon with Marie Louise the daughter of the Austrian Emperor, Francis I. With this maneuver, he managed to convince Napoleon that Austria would be a close ally of him, while in reality, he was just buying time for Austria and the remaining great powers to come up with a plan to dethrone Napoleon. He didn't have to wait long.
In 1812, Napoleon marched towards Russia. Certain for his victory, a naive Napoleon did not see how big of an obstacle Russia would be. While advancing to Moscow he captured an empty city that was set on fire, while the Russians retreated to the east. With his lines of supply being cut off and a devastating Russian winter approaching them, Napoleon decided to retreat, looking for gold at the surrender of Russia but receiving only copper.
In the meantime, Metternich put his plan on the motion. With Napoleon's army retreating and being chased by the Russians, he convinced the remaining Great Powers to give a devastating blow to Napoleon. In 1813, Napoleon was defeated in Leipzig by the armies of Russia, England, Prussia, and Austria. Napoleon was imprisoned at the island of Elbe in the Mediterranean Sea. However, he managed to escape and rallied up soldiers that were loyal to him but again he was defeated for a second time in 1815, in the famous battle of Waterloo in Belgium. Metternich was crowded as a hereditary Prince of the Austrian Empire. The only man that stood against his ideal formation of Europe was defeated.
The Vienna Congress
The year 1815, saw Metternich at the peak of his power. He had become a key figure in the plan to dethrone Napoleon, with his excellent diplomatic skills and his determination to steer Europe into the path of stability where Kings governed and people were governed. At the Congress, he made his points very clear for the beginning. He believed that the only way to ensure peace in the continent was to bring the Great powers together so that they could prevent any large European War to escalate again.
Metternich's policies were based on two principles. One being the protection of historical traditional institutes such as the Church, the dynastic monarchies, and the essence of aristocratic privilege and the second was the establishment of a new vision of international balance in the continent of Europe. Instead of punishing France for the Napoleonic wars, he suggested including them in the table. With that move Metternich showed his true European face, putting the future of his continent above any nationalist notions.
The success of the Congress was inevitable. While including France at the Council of the Great Powers, Europe started to become more stable. The Council that included England, Russia, France, Austria, and Prussia agreed to prevent any further revolutions and political uprising in Europe. All the disputes between the powers were resolved with diplomacy which gave them all leverage to re-organize Central Europe in a more simple way to avoid any internal intense rivalries.
Contributions to Europe and modern diplomacy
Klemens Von Metternich was viewed by many people as a great man and a true European citizen who managed to sustain a united European front for almost 100 years. Despite some minor uprising after the Vienna Congress, Metternich was a solid diplomat whose vision about Europe became a reality.
However, he is also viewed as an oppressor of freedom. His despise for liberal and nationalist movements made him an "enemy" of the common people. What Metternich was more afraid of about these movements was the potential disruption inside the Austrian Empire that was made up by a multinational coalition of 11 nations. He did not want to see the Empire being torn apart. He went as far as suppressing any suspicious uprisings in Germany where there was a lot of revolutionary activity, by censoring books and newspapers and installing secret police spies that would infiltrate universities to arrest any suspected revolutionaries.
On one hand, he has been a symbol of oppression but that is not a judgment that represents him. He was a great man and a man with a vision for Europe. Numerous times he mentioned that he felt more European than Austrian, putting the needs of Europe above the nation. In his memoirs, he wrote about the unfair judgment that he received but also mentioned how wrong those people were. "Old Europe is at the beginning of the end and new Europe has not yet begun its existence, and between the end and the beginning, there will be chaos. In a hundred years, historians will judge me quite differently than do all those who pass judgment on me today."
Indeed, 100 years later historians acknowledged the wisdom and the vision of Klemens Von Metternich. After the devastating consequences of WWI and WWII, his diplomatic ideas that kept Europe at peace were missed and Europe realized that the failed liberal system will open the door to a nationalist and fascist system that will doom the whole continent.
History tends to repeat itself and while our world is more connected now and more liberal the shadows of nationalist far-right movements lure Europe. This aspect, combined with failed liberal policies result in dissatisfaction of the masses and without order, chaos would erupt as it did hundreds of years ago. Metternich's contributions to modern diplomacy and the history of Europe are remarkable. His ideas flourished after WWII with the creation of the European Union, a system that might not share the same conservative ideas as he did, but surely contributed to the prosperity of the continent.
His ideas of European stability and control of power are more relevant now with the new crisis that the EU is facingand soon enough the European Union will have to rethink Metternich's ideas for the neo-liberal system to survive, otherwise, there will be only room for nationalistic far-right movements that threaten the dream of the EU by returning to failed protectionism measures and policies.
Democratic Backsliding in the Visegrad Four: Examining the Illiberal Turn
The initial years of the post-communist era reflected a promising beginning of the consolidation of democracy in the Visegrad Four countries. Slovakia, the only exception to this regional trend of democratic consolidation under Mečiarism, also showed signs of successful transition with the revival of democracy after the 1998 elections. However, in the last few years, with the rise of eurosceptics, ultra-nationalists and populists, the democratic model has been facing grave challenges in these countries. Besides attacking the opposition, students' organisations and NGOs,  the conservative leadership in these countries, have also passed regressive reforms in media, constitution, as well as the judiciary. These attacks and reforms are aimed at strengthening the power of eurosceptic populist leaders, and thereby reducing any chances of Eurocentric opposition in the future. But why, despite initial years of promising success, democratic consolidation failed in the V4 countries? This essay argues that the challenges to the democratic consolidation in these post-communist countries have been a result of myriad local, national and international factors at economic, political and social levels.
Primarily, the membership in the EU, which was a major foreign policy objective of the new political elite post-1989, had raised numerous expectations among the citizens in these countries. But after the EU membership in May 2004, when those expectations still seemed a distant dream for the citizens in these countries, the disappointment with the EU membership's promises rose throughout the region. This disappointment soon became a fertile ground on which the conservative section of the political elite mobilised their support, which became evident with the victory of nationalistic and eurosceptic parties throughout the region.
This discontentment with the Western European model was made further worse by the economic crises of 2008-9 and the subsequent Euro debt crisis of 2011. Contrary to expectations that the EU membership will be a guarantor of economic prosperity and improved standards of living, the V4 countries had to suffer immensely as a result of these crises which primarily resulted because of the loopholes in other countries. Furthermore, the subsequent burden of reforms with adoption of EU's austerity policies aimed at stabilising the European économies post-crises, also proved costly for these countries, and hence furthered their apathy towards the integrationist model of Brussels.
Post 2015, the Refugee Crisis, resulting due to the massive influx of illegal migrants into Europe from politically unstable areas of the Middle East, North Africa and Asia, further fuelled the simmering anti-EU attitudes among the V4 countries. Though only Hungary was directly affected by the wave of these migrants, all V4 countries reflected a response which was reminiscent of classical xenophobia and exclusive nationalism. Despite these countries officially voting against Brussels' proposal of obligatory refugee quotas, and opposing the financial aid given to Turkey following EU-Turkey deal to stop refugees from entering the EU, the conservative media and politicians in these countries left no stone unturned to show a face of refugees that immediately mobilised the people to vote populist demagogues to power at the cost of ruling out the Eurocentric federalists.
Finally, another important, and often overlooked reason for the failed democratic consolidation in the V4 countries has been their lack of historical experience with democracy. As a result of this lacked democratic experience, people in these countries failed to develop a democratic culture in a few decades post-1989, and instead found it easy to turn back to their familiar models.
However, despite all the gloomy prospects of democratic consolidation in the V4 countries, the region is not the only aberration. The rise of Euroscepticism, nationalism, and populism has been on the rise throughout the continent, which became evident with Brexit and the rise of conservative parties, like National Front and Alternative for Germany, among others. Therefore, it is imperative for the EU that these occasional setbacks in few countries must not hinder its vision of greater European integration. Because, any void created by declining role of Brussels in the Visegrad region will immediately be filled by Russia, which is craving to regain its influence in its 'near-abroad.'
Moreover, the recent experiences from Afghanistan, Libya, Algeria and elsewhere, also made it clear that the quick imposition of the democratic model is not the universal solution for discrete problems across the world. The fact that the evolution of democracy took centuries of deliberate transformations, and occasional violent conflicts, in England, France, USA and elsewhere, must be kept in mind while assessing the democratic consolidation in any part of the world. Expecting successful transition and consolidation of democracy in the V4 countries, without keeping in mind that it has been only a few decades since these countries embarked on this painful transition, is in itself problematic.
Nonetheless, the post-1989 transition has also successfully contributed to transforming a considerable section of the population in these countries, who now show major disliking towards any non-democratic model. Therefore, even if the current situation of the V4is not a pleasant one, the big picture coming post-1989 is a reflection of a successful break with the 'Other' past.