Mandarin Oriental Announces New Hotel And Residences In Istanbul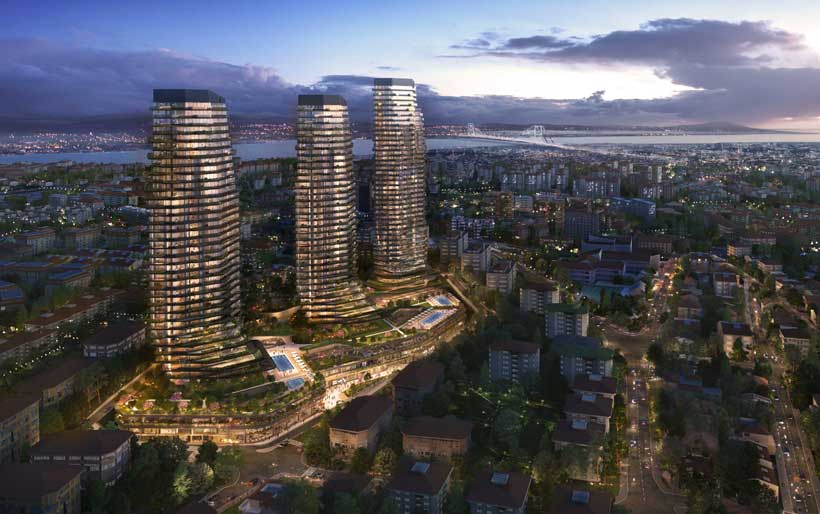 Mandarin Oriental Hotel Group has announced that it will manage a second luxury hotel in Istanbul, Turkey. The project, which also features branded residences, is scheduled to open in 2022.
The new development comprises three standalone towers and is located in the exclusive Etiler residential area, close to the city's central business district. One of the towers will house Mandarin Oriental Etiler, Istanbul with 158 guestrooms and suites and 16 serviced apartments. The remaining two towers will house 251 luxurious Residences at Mandarin Oriental. UNStudio from Amsterdam has been appointed as the master planner and architect.
The hotel will have three restaurants and bars, and a selection of adaptable meeting spaces with outdoor areas and terraces, ideal for hosting both business and leisure events. There will also be a spa and fitness centre, offering the Group's award-winning signature wellness programmes as well as locally inspired treatments. The hotel will have both an indoor and outdoor swimming pool.
The Residences at Mandarin Oriental will feature some of the most exclusive homes in the city, providing owners with extensive private gardens and impressive views of the Bosphorus. Owners will also enjoy Mandarin Oriental's legendary service and direct access to the hotel's facilities. In addition, there will be a full suite of bespoke resident facilities, including two outdoor swimming pools with city skyline views, a fitness centre and six beauty treatment rooms.
The owners and developers of the project are Astaș Holding A.Ş and Yapi & Yapi. This is the Group's third venture in Turkey with Astaș Holding A.Ş who is the owner of the Group's two other Turkish properties – the award-winning Mandarin Oriental, Bodrum and Mandarin Oriental Bosphorus, Istanbul which is scheduled to open in 2020.
"We are delighted to be announcing a second Mandarin Oriental property in Istanbul, together with an exciting luxury residential project. We look forward to extending further the Group's presence in one of the world's most historic and vibrant cities," said James Riley, Group Chief Executive of Mandarin Oriental. "Operating two complementary hotels in a single city is something that the Group has already done successfully in Hong Kong and will soon do in London. We believe there is room for more than just one Mandarin Oriental hotel in certain select destinations around the world." he added.
"Having strengthened our successful collaboration with Mandarin Oriental Hotel Group in Bodrum, and through the upcoming opening of Mandarin Oriental Bosphorus, Istanbul it is our intention to establish this second Istanbul property, uniquely located in the prestigious district of Etiler, as one of the world's most impressive addresses. The project is slated to cater to a discerning clientele who enjoy this legendary city so rich in history and culture, at the crossroads of Europe and Asia," said Astaș Holding A.Ş, and Yapi & Yapi's Board of Directors.
The Park Hyatt Brand Celebrates the Debut of Park Hyatt Doha
Hyatt Hotels Corporation today announced the opening of Park Hyatt Doha in Qatar. The hotel occupies a prime location within the heart of Doha's new commercial and residential downtown district, Msheireb, and integrates the best elements of Doha's heritage with refined accommodations that provide a luxurious oasis amidst the pulsating capital.
"We are delighted to bring the Park Hyatt brand to the culturally and creatively rich city of Doha," said Kurt Straub, Hyatt's vice president of operations for the Middle East, Africa, and South West Asia. "The Park Hyatt brand is dedicated to creating exceptional and memorable experiences, and we are thrilled to welcome guests from around the world to this very unique location. The introduction of Park Hyatt Doha in Qatar strengthens Hyatt's vision of being the preferred brand for global travelers and enhances the brand footprint of Hyatt's luxury portfolio in the Middle East."
Located in Msheireb Downtown Doha, the hotel is less than 10 miles (16 km) from Hamad International Airport, and a stone's throw away from a Light Rail stop that runs through the development, as well as a short walk from the city's points of interest, including the Museum of Islamic Art and the National Museum of Qatar, Souk Waqif.
"We are thrilled to be part of the Msheireb development, Doha's first sustainable regeneration project," said Stefan Gaessler, the hotel's general manager. "Sustainability runs throughout the design of the project and all its buildings to reduce the project's carbon footprint and generate less waste, aligning with Hyatt's sustainability efforts to use resources thoughtfully, build smart, and innovate and inspire for a more sustainable future."
Guestrooms
The hotel features 187 elegant guest rooms, including 28 Park Suites, three Park Executive Suites, one Diplomat Suite, and one Presidential Suite. All rooms artfully combine a residential quality and understated luxury with the mystique of Qatari-inspired details; featuring floor to ceiling windows, luxury window seats, and a designer marble bathroom with deep soaking tub, rain shower and double vanity sink. The Presidential Suite, an extraordinary 4,305-square-foot (400-square-meter) two-bedroom space, and the Diplomat Suite, a capacious 2,690-square-foot (250-square-meter) one-bedroom space, both offer guests a private terrace with magnificent views over the Doha Corniche.
Dining
Home to rare and immersive culinary experiences, Park Hyatt Doha offers a world-class culinary journey. Sora, a stylish Japanese restaurant and lounge, offers magical views of Doha's skyline and boasts an ultra-modern space where guests can share small plates and enjoy the distinctive art of Robata. In Japanese cuisine, Robata refers to a method of cooking, similar to barbecue in which food items are cooked at varying speeds over hot charcoal.
The open-kitchen concept of Opus offers the freshest in local ingredients and a mix of Qatari and French cuisines with menus curated by Qatari celebrity chef, Shams Al Qassabi, and Park Hyatt Paris-Vendôme's Michelin-starred chef, Jean-François Rouquette.
With meals that please the eye and the soul, Anis is an all-day eatery serving as a social hub for health-conscious locals, passers-by and in-house guests to enjoy healthy to-go options, a variety of coffee, fresh juices and smoothies.
Events
A premier location to host inspiring and sophisticated corporate and social events, Park Hyatt Doha boasts a range of elegantly presented spaces, from a 376-square-foot (35-square-meter) intimate study lounge to a luxurious 3,196-square-foot (297-square-meter) pillarless ballroom.
For wedding celebrations, the hotel's in-house events manager offers expert consultation to make guests' dream weddings come true with meticulous attention to detail. Event and meeting spaces include a private entrance where guests are welcomed into a luxurious and intimate, apartment-style reception. Menus are also curated to satisfy every taste with the eloquent matching of culinary delights and the finest of drinks.
Wellness
Park Hyatt Doha's luxurious spa covers two floors, with one floor dedicated to women and another for men. Here, guests are greeted to a tranquil space, thoughtfully curated mood-inducing treatments, and a luxurious wet area featuring mood showers, a whirlpool, sauna, a steam room and an ice room. The spa also offers a post-treatment virtual reality headset which will leave guests with a carefully designed experience to complete their wellness journey.
The fitness center provides separate facilities for ladies and gentlemen with ample space and panoramic views over the Doha Corniche, coupled with the latest in weight training and cardiovascular equipment.
The year-round, semi-covered pool offers magical views over the city from the sixth floor, and is perfect for both business and leisure guests to catch up on work or unwind with a book, while enjoying hand-crafted healthy beverages.
Kenzo Takada to Design Mandarin Oriental Jumeira, Dubai's first Christmas Tree
Mandarin Oriental Jumeira, Dubai will celebrate its first festive season in style with an unconventional Christmas tree designed by fashion legend and one of Mandarin Oriental's celebrity fans, Kenzo Takada.
The city's most desirable beachfront resort has teamed up with Kenzo Takada to bring an artistic flair to Dubai's festive celebrations, taking inspiration from the city's multifaceted character. Commenting on the collaboration, Kenzo Takada said: "I am thrilled to be invited by Mandarin Oriental Jumeira, Dubai to design its very first Christmas tree in a reinterpretation that combines tradition and modernity."
Werner Anzinger, General Manager of Mandarin Oriental Jumeira, Dubai, said: "It is an honour to have our first Christmas tree designed by fashion icon and long-time Mandarin Oriental fan, Kenzo Takada, and we can't wait to unveil this unique centrepiece that radiates the spirit of the holidays."
Kenzo Takada's seven-metre high creative Christmas tree will be located in the outdoor area of the resort, with an unparalleled beachfront view. The official unveiling will take place on 10th December for both guests and residents to enjoy.
Mandarin Oriental's award-winning advertising campaign, He's a Fan/She's a Fan, which launched in 2000, simply and elegantly connects the Group's well recognised symbol – the fan – with international celebrities who regularly stay at the hotels and are true fans of Mandarin Oriental. Kenzo was photographed for the campaign in the Japanese garden of his apartment in Paris. When travelling, he loves staying with Mandarin Oriental, as the "quality and excellent service" never fails to impress him.
Kenzo has been decorated with numerous accolades for his services to the fashion industry, including an Ordre National de la Légion d'Honneur and a lifetime achievement award from the Fashion Editors' Club of Japan.
Christmas with a Twist: Make a Difference This Festive Season
It's that time of the year again — everyone's favorite holiday and the perfect excuse to indulge in endless feasting and shopping. Instead of opting for conventional festivities, why not celebrate while also clocking in good karma points? Check out these five destinations that are putting their own joyous spin to Christmas and see how you can be part of celebrations that make a difference — a Christmas you certainly will not forget.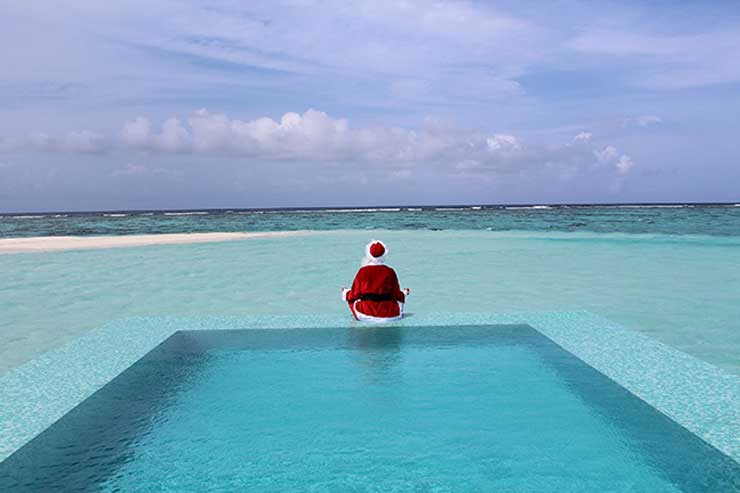 1. Embark on an eco-journey in the Maldives
This festive season, Conrad Maldives has put sustainability at the forefront of its holiday celebrations — at the same time that the rest of the world is busy engaging in fast consumerism, this island resort is encouraging its guests to embark on a refreshing eco-journey instead. Their very first Maldivian Artisanal Market (26 December) will host local artists and designers, offering products handmade by Maldivian women or made from natural, organic and sustainably harvested ingredients. You definitely won't feel guilty buying these goodies, and rest assured that these local artisans will get to keep 100% of the proceeds.

The hotel is also hosting a Christmas tree competition where hotel Team Members will challenge each other to create the most beautiful and sustainable Christmas Tree, made completely with recycled materials! These creative works of art will later be displayed around the resort, and guests can go on a mini scavenger hunt to find them all. Don't forget to cast your vote for your favorites and get some inspiration for your own tree for next year!
2. Go zero-waste in Chengdu
Feast your eyes on a Christmas tree like no other at Hilton Chengdu Chenghua. The hotel is setting up at seven-meter-tall tree, made entirely from recycled plastic bottles — to top things off, team members are powering the tree themselves by riding bicycles to generate electricity. Talk about commitment to a green Christmas. Guests also get to play their part by not using any plastic bottles or disposable amenities — you'll even be rewarded with an extra 500 Hilton Honors points! Definitely a win-win.
3. Chase the Christmas Train in Japan and Korea
Keep an eye out for the Hilton Christmas Train in Japan and Korea — across properties in Tokyo, Osaka, Nagoya, Odawara and Seoul, the popular charity event will make its return to spread some warm Christmas cheer. The train differs from city to city, showcasing beautiful dioramas and displays to take centerstage in the hotel lobby. While serving as an alluring backdrop for your next #instaworthy shot, its main purpose is to rally guests to do good and raise funds for nonprofit organisations and charities. It's the perfect chance for you to give back this Christmas!
4. Make a sustainability statement in Xiamen
DoubleTree by Hilton Xiamen-Wuyuan Bay is going back to basics with their "Reduce, Reuse and Recycle"–themed Christmas while at the same time making a statement with their unique tree. They're completely redefining conventional designs by constructing their tree out of tables and decorating with plastic items! Be sure to check it out and take pictures with this one-of-a-kind tree. Additionally, the team is setting up an installation of toothbrushes to showcase the effects of collective plastic consumption — you'll definitely remember to pack your own toothbrush in for the next trip.
5. Explore local alternatives in Indonesia
For the very first time, Hilton Bandung is introducing their very own festive tree — grown from scratch in single-use plastic waste from the hotel. The tree is comprised of smaller, organic plants and serves as a good reminder that we can always consider alternative, local options before rushing to buy new things. Head on to the lobby to learn the whole process and story behind the tree; you may even be inspired to make Christmas gifts of your own!