Libya: Guterres urges 'immediate halt' to all military operations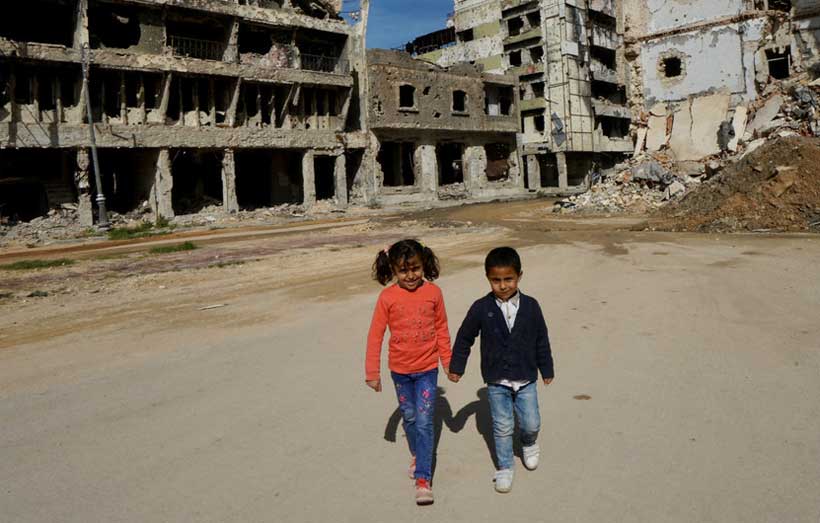 The UN chief António Guterres strongly condemned on Monday night the military escalation and ongoing fighting in and around the Libyan capital, Tripoli, including an aerial attack earlier in the day by aircraft from the self-styled Libyan National Army (LNA) force, which closed the city's only functioning civilian airport.
"The Secretary-General urges the immediate halt of all military operations in order to de-escalate the situation and prevent an all-out conflict", said the statement released by his Spokeperson. "He emphasizes that there is no military solution to the Libya conflict and calls on all parties to engage in immediate dialogue to reach a political solution. The Secretary-General's Special Representative in Libya stands ready to facilitate that dialogue."
More than 3,400 people have fled fighting near the Libyan capital Tripoli in recent days, the UN warned, calling on all warring parties to halt military activities so that emergency services can rescue trapped civilians.
Earlier, the UN chief said the UN Support Mission, (UNSMIL), would continue with its work on behalf of all Libyans, from its headquarters in the capital, Tripoli. UN Spokesperson Stephane Dujarric said that Ghassan Salamé, head of UNSMIL and UN Special Representative, had met the head of the internationally-recognized Government in Libya, Faiez Serraj, on Monday, "with whom he discussed ways the UN can assist, with this critical and difficult juncture. As the Secretary-General said before leaving Benghazi on Friday, the United Nations remains available to facilitate any political solution, able to unify the Libyan institutions."
"Clashes with heavy weapons are affecting residential areas, and an unknown number of civilians are unable to flee these locations", said Mr. Dujarric. "We are calling for a temporary humanitarian truce to allow for the provision of emergency services, and the voluntary passage of civilians, including those wounded from the areas of conflict."
In a statement released earlier on Monday, UN Humanitarian Coordinator for Libya, Maria Ribeiro, reminded the warring sides of their obligations to protect non-combatants, in line with international humanitarian and human rights law.
Ms. Ribeiro's comments echoed a Security Council plea for a ceasefire after Ambassador Christoph Heusgen, of Germany, Council President for the month, told reporters on Friday that the 15-member body's members were "deeply concerned" over the risk to Libyan "stability".
According to reports, at least 32 people have been killed and 50 injured since Thursday's clashes between eastern Libyan military commander Khalifa Haftar's forces and Government forces in the Libyan capital.
On Sunday, it was also reported that the Commander's forces – the self-styled Libyan National Army (LNA) – had carried out an airstrike on a Tripoli suburb, followed by retaliatory attacks on airbases in eastern Libya by forces loyal to the internationally-recognized Government of National Accord.
UNSMIL chief Salamé, issued a statement late on Monday local time, condemning an "aerial attack today by LNA aircraft against Meitiga airport, the capital's only functioning airport that is available for civilian use. As such, this attack constitutes a serious violation of international humanitarian law which prohibits attacks against civilian infrastructure." Flights were suspended, and passengers evacuated, and there were no reports of any casualties.
Ms. Ribeiro's comments on the deteriorating humanitarian situation, came as the World Health Organization (WHO) condemned the killing at the weekend of two doctors who had been providing "critically needed services to civilians" in Tripoli.
"It is unacceptable for health workers to be targeted during armed conflict," said Dr. Ahmed Al Mandhari, WHO Regional Director for the Eastern Mediterranean. "These doctors risked their lives to evacuate wounded patients from conflict areas, and targeting them and health facilities at such times, worsens the situation for civilians caught up in conflict."
The fighting in and around Tripoli comes after the UN chief left the troubled country on Friday "with a heavy heart", following meetings with Commander Haftar in Benghazi city in the east, and senior Government officials in Tripoli.
"I leave Libya with a heavy heart and deeply concerned", the UN Secretary-General tweeted. "The UN is committed to facilitating a political solution and, whatever happens, the UN is committed to supporting the Libyan people."
Highlighting the increased risk to migrants and refugees caught up in the offensive on Tripoli, the UN Humanitarian Coordinator for Libya, Maria Ribeiro, warned that it was "further increasing" the misery of all those "arbitrarily detained in detention centres".
Echoing those concerns, the UN Migration Agency, IOM, warned on Friday that men, women and children "who are being held in often sub-human conditions…are particularly vulnerable" to the uptick in violence.
IOM Director General António Vitorino also warned that Libya "is not a safe place to return migrants who have tried and failed to make their way to Europe", noting that so far this year, 1,073 migrants, among them 77 children, have been returned to Libya after interception and rescue at sea and placed in arbitrary detention.
IEA hosts high-level meeting on Africa's energy outlook
The International Energy Agency held a day-long workshop on Wednesday to discuss ways to promote greater energy development across the African continent.
More than a hundred senior representatives from governments, energy companies, financial institutions and academia attended the meeting, which was opened by H.E. Dona Jean-Claude Houssou, Minister of Energy of the Republic of Benin, and H.E. Chakib Benmoussa, Ambassador of His Majesty the King of Morocco to France.
Findings from the Workshop will provide input to a special report on Africa that will be published later this year in the World Energy Outlook, the IEA's flagship publication. It will also inform the IEA's first ministerial summit with the African Union Commission, which will be held in Addis Ababa, Ethiopia in June.
"Promoting access to energy across Africa is one of the world's major development challenges and one of the IEA's key priorities," said Dr Fatih Birol, the IEA's Executive Director, during his opening remarks. "While the challenges are important – particularly with regards to access to energy or clean cooking fuels – the continent's energy resources are tremendous. With the right policies and investments, they could be harnessed to provide greater economic benefit for all populations across the continent."
Developing Africa's energy sector potential is an essential step to providing greater economic opportunities and prosperity across the continent, which is home to vast energy resources. Still, today more than 600 million people across the continent remain without access to electricity. The workshop addressed policies, technologies, business models and financing to accelerate the transition to a thriving and sustainable African energy sector, set against a favourable backdrop of declining energy technology costs, increasing digitalisation, and strengthened policy commitment, including through Africa's Agenda 2063 and the United Nations' Sustainable Development Goals.
The workshop marked an important milestone in the IEA's strengthened engagement with Africa. In recent years, the IEA welcomed Morocco and South Africa to its family and recently forged a strategic partnership with the African Union Commission (AUC). The IEA is also stepping up its collaboration with African countries and regional organisations on capacity building for data and long-term planning, and technical policy dialogues on a range of topics.
The workshop was followed by deep-dive sessions on energy access, energy and gender, energy and growth, and power system reliability and sustainability.
EU is strengthening its political partnership with Latin America and the Caribbean
The European Union is strengthening its political partnership with Latin America and the Caribbean by focusing it on four priorities – prosperity, democracy, resilience and effective global governance – for common future.
The vision for a stronger and modernised bi-regional partnership focused on trade, investment and sectoral cooperation is set out in a new joint communication presented by the European Commission and the High Representative. This new partnership aims at working together in changing global and regional realities that require joint efforts to address common challenges and opportunities.
On this occasion, High Representative/Vice-President Federica Mogherini commented: "Latin America, the Caribbean and Europe have social, cultural and economic deep links, a long history of common work for peace and prosperity, and share the same attachment to cooperation and multilateralism. With this communication, we lay the ground for further strengthening our collaboration, for the sake of our peoples and of the whole world."
Commissioner for International Cooperation and Development Neven Mimica said: "Our commitment remains to continue engaging with countries in the region according to their different levels of development through tailor-made partnerships and innovative forms of cooperation such as transfer of knowledge or triangular cooperation. In this context, we will pay particular attention to countries least developed and in situations of conflict where the potential to raise finance is the lowest. Only when we join forces can we deliver on our ambitious Agenda 2030 for Sustainable Development or the Paris Agreement".
Building on the achievements of the last decades, the partnership should concentrate on four mutually reinforcing priorities, underpinned by concrete initiatives and targeted EU engagement with the region:
Partnering for Prosperity – by supporting sustainable growth and decent jobs; reducing socio-economic inequalities; transitioning towards a digital, green and circular economy; as well as further strengthening and deepening the already solid trade and investment relationship
Partnering for Democracy – by strengthening the international human rights regime including gender equality; empowering civil society; consolidating the rule of law; and ensuring credible elections and effective public institutions
Partnering for Resilience – by improving climate resilience, environment and biodiversity; fighting against inequalities through fair taxation and social protection; fighting organised crime; and deepening dialogue and cooperation on migration and mobility, in particular to prevent irregular migration, trafficking in human beings
Partnering for effective global governance – by strengthening the multilateral system, including for climate and environmental governance; deepening cooperation on peace and security; and implementing the 2030 Agenda.
Background
The strategic partnership between the European Union, Latin America and the Caribbean is based on a commitment to fundamental freedoms, sustainable development and a strong rules-based international system. As a result, there is an unprecedented level of integration and our economies are closely interconnected.
The EU has signed association, free trade or political and cooperation agreements with 27 of the 33 Latin American and Caribbean countries.
Close to six million people from both regions live and work across the Atlantic, and more than one third of Latin American and Caribbean students studying abroad do so in the EU. The EU is the third largest trade partner of Latin America and the Caribbean and the first investor. Total trade in goods amounted to €225.4 billion in 2018, while foreign direct investment reached €784.6 billion in 2017.
The EU has promoted the cooperation in areas of strategic interest, efforts to tackle anti-microbial resistance, improving aviation safety, working together against climate change and promoting a safe and human-centric digitalised economy are some concrete examples that illustrate this partnership towards a common future.
The EU has been the largest provider of development cooperation to its partners in Latin America and the Caribbean, with €3.6 billion in grants between 2014 and 2020 and over €1.2 billion in humanitarian assistance in the last 20 years, including assistance under the EU Civil Protection Mechanism in case of natural disasters.
The EU and LAC countries often align in the United Nations, and have closely cooperated on the 2030 Agenda for Sustainable Development and the Paris Agreement.
EU plans to invest €9.2 billion in key digital technologies
The Digital Europe Programme is a new €9.2 billion funding programme whose goal is to ensure that all Europeans have the skills and the infrastructure needed to meet a full range of digital challenges.
It is part of a strategy to further develop the digital single market, which could help to create four million jobs and boost the EU's economy with €415 billion every year while increasing the EU's international competitiveness.
"For too many years, Europe's tech sector has lagged behind third countries such as the US and China. We need a coherent Union-wide approach and an ambitious investment to secure a solution to the chronic mismatch between the growing demand for the latest technology and the available supply in Europe," said Austrian ALDE member Angelika Mlinar, one of the MEPs repsonsible for steering the plans through Parliament.
A part of the budget would be allocated to encourage small and medium-sized enterprises and public administrations to use technology more often and better, while other parts will cover strategically important fields such as supercomputers, artificial intelligence and cybersecurity.
"We can count on European excellence when it comes to research and innovation, but our businesses, especially SMEs, still found it difficult to access and take advantage of new solutions," said Milnar. "This programme has been crucially designed to tackle the low take-up of existing testing technologies. We are on track to deliver one of the most promising and necessary funds for Europe's future."