As Belt and Road 2.0 Gathers Momentum, China Aims to Avoid 'Debt Traps'
China is trying to avoid "debt traps" for the countries that signed up for its Belt and Road initiative, a senior Chinese official said at the World Economic Forum on the Middle East and North Africa. The remarks came on the back of criticism of the Belt and Road initiative (BRI) by some in the US and Europe, and ahead of the second Belt and Road forum, hosted by Chinese President Xi Jinping later this month in Beijing.
"China is trying to find mechanisms to avoid the 'debt trap'," saidLi Chengwen, Ambassador for China-Arab States Cooperation Forum Affairs, Ministry of Foreign Affairs of the People's Republic of China. He added that no country to date has complained of falling in the "trap" of unsustainable Chinese loans. "The Belt and Road initiative aims to increase the economic prosperity of a country. It does not aim at expanding the political and geographical authority of China in the world."
The initiative, started by President Xi in 2013, has more than 100 partner countries from Asia, Africa and Latin America, but also including Russia, Portugal and Greece. It offers loans from China for infrastructure projects such as railroads, ports and highways, and aims to build a network of economic corridors connecting China with the rest of the world.
Li's remarks came in response to a question by John Defterios, Editor of Emerging Markets, and Anchor of CNN Business, who mentioned the issue of the Chinese-financed Kenyan Mombasa port and railroad, which has run into financial problems. But it was raised also by Ryan Hass, Foreign Policy Fellow at the Brookings Institution. With BRI, "one of things we've seen is all the risks are put on the recipient, not the originator of the loan," he said. "A degree of restraint by the Chinese would be helpful."
Other participants disagreed with the criticism that BRI is a "loan to own" initiative. "If you keep your interest first, you will not find China an unfair partner," said Shandana Gulzar Khan, Deputy Minister and Parliamentary Secretary, Ministry of Commerce of Pakistan. "But it depends on how well you do your homework." In Pakistan, she noted, the China-Pakistan Economic Corridor created tens of thousands of jobs and has revived an entire region.
He Wenping, Professor and Director, Institute of West-Asian and African Studies, Chinese Academy of Social Sciences (CASS), agreed with that assessment. "The biggest worry on 'debt-trap diplomacy' should come from China's side. It is tax payers' money." The upcoming Belt and Road forum in Beijing later this month could be an opportunity to kickstart a "second phase" of the initiative, Hu said. "It will be open more to the outside world," for example by having foreigners on the BRI advisory bodies. "China is not waving the 'China First' flag," she said.
India must follow Supreme Court orders to protect 100 million migrant workers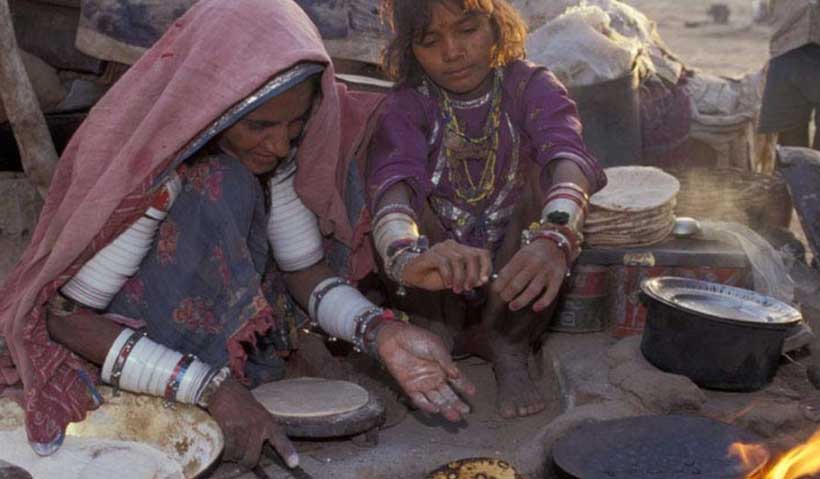 The Indian Government must urgently comply with a Supreme Court order to ensure the wellbeing of more than 100 million migrant workers, after coronavirus measures left them jobless, forcing them to travel long distances home, UN independent human rights experts said on Thursday.
"We are appalled at the disregard shown by the Indian Government towards internal migrant laborers, especially those who belong to marginalized minorities and lower castes", said the Special Rapporteurs on the right to housing, Balakrishnan Rajagopal, and on extreme poverty, Olivier De Schutter.
Instead of protecting their rights, the experts maintained that the Government has not only failed to address migrants' "dire humanitarian situation" but further exacerbated their vulnerability, "with police brutality and by failing to stop their stigmatization as 'virus carriers'".
Heed the Supreme Court
After losing their income and with many migrants forced by their landlords to vacate their homes, the experts said many were living in intolerable conditions, hungry and without shelter, saying: "We hope the Supreme Court order will be promptly implemented and help to dramatically improve the situation of internal migrant workers".
The Supreme Court has ordered the Government to properly register them, ensure free transportation and provide the migrants with shelter, food and water until they reach their homes.
Moreover, railway companies are mandated to ensure trains are available to transport them back to home villages, as requested by the Government.
Inadequate relief
Many internal migrants have also been assaulted by police for violating the sudden lockdown orders put in place by the Indian Government on 24 March, which, that took no account of the difficulties many vulnerable people faced in complying with them.
"While we applaud the Government's efforts so far to provide 'relief packages' for people living in poverty, and to schedule extra train rides, these have been clearly inadequate and insufficient due to the vast majority of internal migrant workers not qualifying for relief packages, and the lack of coordination among state governments for the transportation of internal migrants", the independent experts said.
Although the scale of the COVID-19 crisis in India is "testing the Government's commitment to protect the rights of the most vulnerable members of society", they maintained that by urgently assisting internal migrant workers, in compliance with Supreme Court's order, "it will give the Government the opportunity to show its willingness to comply with its responsibilities under human rights law."
The experts' call, also conveyed directly to the Indian Government, has been endorsed by Special Rapporteur on the right to food, Michael Fakhri; the Special Rapporteur on the right to physical and mental health, Dainius Pūras; and the Special Rapporteur on minority issues, Fernand de Varennes.
Special Rapporteurs and independent experts are appointed by the Geneva-based UN Human Rights Council to examine and report back on a specific human rights theme or a country situation. The positions are honorary and the experts are not UN staff, nor are they paid for their work.
May confirmed as warmest on record, CO2 levels hit new high despite COVID economic slowdown
Last month was the warmest May on record and carbon dioxide levels also hit a new high despite the economic slowdown from COVID-19, the World Meteorological Organization (WMO) said on Friday, in an urgent appeal for Member States to renew their efforts to tackle climate threats.
"Governments are going to invest in recovery, and there's an opportunity to tackle the climate as part of the recovery programme", said WMO Secretary-General Petteri Taalas.
Opportunities ahead
He added that if this course of action was taken, "there was an opportunity to start bending the curve (on emissions) in the coming five years".
The appeal coincides with World Environment Day, celebrated annually on 5 June, and a warning that warmer temperatures and higher greenhouse gas concentrations will have a major impact on biodiversity, socio-economic development and human well-being.
Echoing the call that it is time to grow back greener and build back better for people and the planet, UN Secretary-General António Guterres said that Nature was "sending us a clear message: we are harming the natural world – to our own detriment. Habitat degradation and biodiversity loss are accelerating."
Climate and coronavirus
"Climate disruption is getting worse. Fires, floods, droughts and superstorms are more frequent and damaging," said the UN chief. "Oceans are heating and acidifying, destroying coral ecosystems. And now, a new coronavirus is raging, undermining health and livelihoods. To care for humanity, we must care for nature."
Any industrial and economic slowdown from COVID-19 is no substitute for sustained, coordinated action to reduce greenhouse gas emissions, Mr Taalas explained.
This is because gases such as carbon dioxide and methane last in the atmosphere for hundreds of years, so any short-term effects seen during lockdown is not expected to have a long-term benefit.
'Global solidarity' needed, to find affordable, accessible COVID-19 vaccine
In the race to end the coronavirus pandemic, the UN chief reminded a virtual medical conference on Thursday that "a vaccine, by itself, is not enough".
"We need global solidarity to ensure that every person, everywhere, has access", Secretary-General António Guterres said in a video message to the Global Vaccine Summit, convened to find and fund collective solutions for COVID-19-related vaccines and to strengthen routine immunization commitments and resources for other preventable diseases.
COVID-19, the greatest public health crisis of the generation, has skyrocketed vaccines to the top of the global agenda.
'Lifesaving miracle'
As "the most important public health intervention in history", Mr. Guterres credited the "lifesaving miracle" of vaccinations, for saving tens of millions of lives each year, eradicating smallpox and preventing outbreaks of diseases like measles, rubella and tetanus.
He maintained that a COVID-19 vaccine must be seen as "a global public good – a people's vaccine".
The UN chief lauded the "incredible work" of GAVI, the vaccine alliance, and its partners in allowing people of all ages and income levels throughout the world to access vaccines.
"The United Nations is proud to be part of this effort towards universal health coverage", he upheld, reiterating its commitment to being part of the next phase, "because there is still much work to do".
Against the backdrop of 20 million children missing their full complement of vaccines and one-in-five having received no vaccines at all, Mr. Guterres pointed out that under the shadow of COVID-19, "their plight is even more desperate".
He painted a picture of halted immunization campaigns and broadening gaps in global vaccine delivery.
Three commitments required
The Secretary-General appealed for three main commitments, beginning with finding safe ways to continue delivering vaccinations, "even as COVID-19 spreads".
Secondly, he asked that vaccine-delivery networks be used to deliver a range of other primary health services.
And finally, when the COVID-19 vaccine does become available, that it reaches everyone.
"Disease know no borders", concluded the UN chief, "that is why a fully funded GAVI will be critical to ensure we continue to progress towards the Sustainable Development Goals (SDGs)".
World leaders chime in
Chaired by the United Kingdom, leaders from around the world outlined their latest thinking during the summit, on the need for, and progress towards, an equitable vaccine
"Vaccines work, and 86 per cent of the world's children have been reached by routine immunization", said Canadian Prime Minister Justin Trudeau. "In the midst of a global pandemic it has never been more important to build capacity to respond to disease outbreaks and work with organizations to deliver vaccines".
The King of Jordan, Abdullah bin Al Hussein, called guaranteed equal access "not only the moral and just approach, it is also in the interest of the entire international community… It is our responsibility as an international community to make sure the most vulnerable are not left behind".
Egypt's President, Abdel Fattah al-Sisi, maintained that it was "pivotal" not to allow the pandemic to affect the importance of fighting other infectious diseases or "to exert collective efforts to resume immunization campaigns against vaccine-preventable diseases".
Ethiopia President, Sahle-Work Zewde, underscored the importance of inoculations by saying that her country had boosted routine immunization from 30 per cent in 2000, to 72 per cent today, spelling out that "since 2018, 1.1 million girls have been spared from the scourge of cervical cancer due to the introduction of the HPV vaccine".
Chancellor Angela Merkel stressed Germany's continued support, saying, "We want to increase the chance for more than 300 million young people to have a healthy life. We are talking about 300 million individual lives – not just a number."