Dangerous Plastics Are a Threat to Us and Future Generations
Every day people make decisions about what to eat, sometimes opting for colorful fruits and veggies, sometimes finding the smell of bacon irresistible. At the end of the day people are controlling their own health. What is remarkable though, is the possibility that something one swallows today could have a lasting effect on future offspring – children, grandchildren, great grandchildren. New research is finding a generational impact of certain chemicals. This time it's not the bacon we're worried about – but plastics and the toxins within them.
Twenty years ago, researchers at Washington State University discovered accidentally that the now-infamous bisphenol A (BPA) was leaching out of plastic cages, harming the mice within. The contamination caused abnormalities in mice eggs and fertility. Numerous subsequent studies found BPA exposure affects adult fertility and health across species, including monkeys, fish, and humans. Known to decrease sperm count in rats and to cause breast cancer in women, BPA was banned in 2012 by the FDA from being used in baby bottles and sippy cups. Yet BPA is still used in many products, including epoxy resins used to coat canned foods. A 2004 study of 2,517 people found that 93% had detectable quantities of BPA's by-product in their urine.
Since the toxic effects of BPA came to light, several replacement bisphenols were quickly brought to market by chemical companies and are now in widespread use. Twenty years after the BPA toxicity discovery, by remarkable chance, the same Washington State University lab recently noticed again that something was amiss with their mice. This time the mice were housed in cages comprised of replacement bisphenols, largely believed to be safer than BPA. The researchers subsequently performed controlled studies with several of the replacement bisphenols including BPS, a widely used replacement.
Results demonstrated that the new bisphenols behaved similarly to BPA, causing health problems including detrimental effects on fertility in both males and females, reported in Cell Biology in September 2018. Scientist Sarah Hunt explained, "This paper reports a strange déjà vu experience in our laboratory." What the lab discovered once with BPA, it was seeing again with the replacements. Perhaps most troubling were the long-lasting effects of the toxins. Even if all bisphenols could be magically eliminated today, the toxic effects would still last about three generations through the germline of people already exposed. This means bisphenols ingested today could affect the fertility of one's great grandchildren.
The bisphenol case demonstrates that FDA bans do not necessarily solve the root problem. Chemical companies tend to roll out similar chemicals to those that have been banned, because this is the easiest way to bring something to market quickly. But more testing is needed before chemicals are released into the environment. Long term problems such as generational infertility and cancer risk often cannot easily be examined in clinical trials, and environmental effects are not rigorously analyzed prior to release.
The Washington State University study also proved that damaged and heated plastics are particularly deadly, as the damaged cages leached more toxins. This should serve as a warning for those who microwave food in plastic containers for their families. And it should remind us that discarded plastic bottles degrading in oceans and rivers are releasing toxins that cause irreversible infertility.
The current estimate of plastics in our oceans is approximately 150 million metric tons. By 2050, the amount is expected to 'outweigh the fish,' according to Jim Leape, co-director of the Stanford Center for Ocean Solutions. A recent study has determined microplastics (small plastic particles) are present in every river and lake in Britain. And they have been found in tap water, everywhere from the Environmental Protection Agency in Washington, DC to the Trump Grill in New York. A study of 159 drinking water samples on five continents found that 83% of those samples were contaminated. Plastics are everywhere, from the highest mountains to the deepest parts of the ocean and Arctic. Nanoplastics less than 50 nanometers long have even been found in plankton, which is ingested by fish that humans eat.
Scientists are finding that plastics are disrupting marine mammals' ability to reproduce. Many forms of plastic including polychlorinated biphenyls (PCBs) and Bisphenol A are endocrine disruptors, meaning they affect the hormonal systems of animals. An orca of adult age called Lulu, researchers recently found, was barren as if she was a juvenile. Analysis revealed very high levels of PCBs in her lipid tissues. One orca pod off the coast of Scotland has not produced a calf in 25 years. Despite bans on PCBs 30 years ago, toxins remain in orca mothers' milk, and are passed from mother to baby. A recent study published in the journal Science predicts that half the world's population of orcas will be extinct in just a few decades due to PCB poisoning. Researchers have also found that despite the PCB ban in Europe, levels of PCBs have not decreased, indicated that they may be leaching out of landfills. Hormone disruptors have also been found to impair male frogs' fertility, and to cause tadpoles to more frequently develop ovaries rather than testicles, thus skewing the proportion of males to females. Similar problems have been found in fish. Reproductive risks associated with endocrine disrupting chemicals span species.
Bisphenol A is known to decrease sperm count and to cause cancer in many species. Its counterpart replacement plastics (BPS, BPF, BPAF, BPZ, BPP, BHPF… to name just a few), researchers have recently discovered, are no better. Whether these pollutants have already affected humans is anyone's guess, but it would be wise to view statistics during the time period since plastics became popular, starting in the 1960s, and to see if there is a significant trend over time.
It appears there is. Notably, a 2017 study found that sperm counts per milliliter declined by more than 50% from 1973 to 2011, with total sperm counts down almost 60%. Two other recent studies have demonstrated that over the past few decades in the U.S. and Europe, both sperm count and motility have decreased.
The United Nations Environment Assembly (UNEA) recently debated a proposed legally binding treaty to address plastic pollution. One objective of the proposed treaty was to phase out single use plastics by 2025. Norway also suggested a global agreement for handling ocean plastic pollution. Sadly, the U.S. was the largest voice against the proposed treaty and the proposed global waste disposal plan.
Eventually a non-legally-binding agreement was reached in which the U.S. watered down the language to "significantly reduce" plastics by 2030, eleven years from now. One UN delegate described the Trump representatives as "trying to remove all targets and timelines."
Meanwhile, the U.S. has been exporting large quantities of plastics overseas for years, historically mostly to China. In the previous year, 70% was exported to China and Hong Kong. But in 2018, China banned imports of plastic waste. Since the ban the U.S. has looked to poorer nations for its overseas garbage dump. Unearthed, Greenpeace's research group, has found that in the first six months of 2018, almost half of U.S. plastic waste was sent to developing countries: Thailand, Malaysia, and Vietnam. U.S. plastic waste exports to Thailand went up by nearly 2,000% this year.
Most developing nations do not have sufficient recycling infrastructure to properly handle plastic waste. On Earth Day 2018, the top producers of mismanaged ocean plastic waste were ranked by tons of waste. The top five after China were Indonesia, the Philippines, Vietnam, Sri Lanka, and Thailand. In some cases as in parts of the Philippines, recycling is done laboriously by hand, picking bottles out of large dumps. As this is very difficult and time consuming, large quantities find their way into oceans and rivers. Sadly and not surprisingly, the Pasig River in the Philippines transports approximately 72,000 tons of plastic downstream, and has been declared "biologically dead" since 1990. Instead of helping these countries to develop recycling infrastructure, we are sending them more toxic waste.
We might think we are kicking the can down the road by sending plastics overseas but they will wash right back up on the Hawaiian and California coast. Beachgoers might witness solid litter washing ashore, or unearthed from the stomachs of dead whales. Or they might not notice the pollution — instead unknowingly consuming microplastics in their next Ahi Tuna sandwich. On the East Coast, one might encounter them in a glass of water at the Trump Grill in New York. There is only one world sink after all. Tossing poison to the other end of the tub only works for so long – it will inevitably, over time, mix and wash back to your side of the water. And when one of us is diagnosed with cancer, do we really know the cause?
It is instructive to remember the orca Lulu, a mammal like us, who no longer produces eggs. And to remember that if sperm counts continue to decline at the present rate, they will soon reach levels where it becomes difficult to have children. By then, the world's water supply may be irreversibly contaminated and an enforceable treaty will be too late.
Postponing a legally binding treaty may put us on the path of our fellow mammals the orcas, half of which already face inevitable extinction worldwide. And we can not forget the tragedy of the orca Tahlequah, who last summer carried her dead calf for a record 17 days and 1,000 miles in mourning.
Eleven years may be too late.
Author's note: this piece first appeared in CommonDreams.org
Prevailing Plastic Pollution in Pakistan
In recent times our globe has trodden the path of development and advancement by leaps and bounds. This advancement and progress have taken place up to such extent that a lower class citizen finds himself besieged by multiple machines in his small home. The excess services of the technology have taken the world by storm because it has facilitated humanity with astonishing services. Advancement in technology has a direct link with that of globalization. With the advancement in globalization, the trends of people have altered their preferences. During the last decade, there is a glaring rise in the trends of shopping. The drifts of globalization with capitalism have enticed people to widen their demands. And obviously, one can witness that even a beggar seems to purchase some eatable or aught. With the augmentation in the trends of business and purchasing, there is rampant use of plastic bags and plastic commodities. But this wonder of plastic got a little out of hand.
However, in this technological, globalized, and capitalistic era, our biodiversity with worth trillion dollars is on a perilous verge. Overuse of technological accessories, industrialization, mobilization, and globalization from one perspective have posed a threat to our ecosystem. The one darkest commodity of this globalized and technologically sophisticated world is the menace of plastic. Yes, during these times when the advantages of technology and globalization are getting much publicity, they have posed threat on either side as well. Plastic is one of these perils and has saturated our environment. The invention of this commodity has completely invaded our lives. During these times, everything is at least partly fabricated from plastic. Our clothes, items of furniture, houses, bags, and several items that surround us possess a specific share of plastic in them. In short, our lives are turning into plastic.
Plastic is the biggest threat to biodiversity. The question that arises why it is a threat to the environment? The answer is obvious that plastic is non-biodegradable (not able to be decomposed). The plastic bags that we see on shopping centers usually take 10-100 years to decompose and normal plastic products take 450 years to decompose. According to the report, the world is currently producing nearly 300 million tons of plastic each year. Now imagine for a moment that such a prolific quantity of plastic that is being produced every year, how long it will take to decompose? Centuries of course.
Another question that rears is the plastic that has produced till date, created the perplexity up to which extent? The answer is that it has wreaked havoc in the environment. Particularly, it has harmed marine life. Since heaps of garbage are dumped into the sea, so that refuse involves plastic in it. As seafood is an important source of protein; pollution and damage propagated by plastic are immeasurable. Over 600 marine species are being harmed by plastic pollution every day. Aforementioned that plastic takes many years to decompose, so marine animals can't digest it. When they ingest plastic bags, gills are wrapped by the plastic bags. In this way, suffocation occurs which leads them to death. Their death brings about further pollution to the sea. By this mean, we are squandering our sea boon.
The issue doesn't end here, the life on the earth crust and in the atmosphere is also not safe from this menace. Many people inhabited in small towns and village burn plastic, in order to annihilate. The burning of plastic causes damage to the atmosphere as plastic comprises poisonous chemicals. The polluted air when inhaled by humans and animals affect their health and can cause respiratory problems. Likewise, when plastic is dumped in landfills, it interacts with water and forms hazardous chemicals. When these chemicals seep underground, they degrade the water quality. In these ways, plastic is damaging our globe.
Following analyzing the downside of plastic, the next question inevitably dominates the thinking that how much the government of Pakistan is serious to sort out this issue. The answer to this question is the government is iota interested in this matter. Almost eight months have passed yet the government seems uninterested in this matter. Around 55 billion plastic bags are being used annually in Pakistan. In my city or district, I see at every outlet the plastic bags hung. Every customer carries the eatable or necessity item in the plastic bag. There is no observance of the ban on the use of the plastic bag. On the contrary, many European countries have devised plans and passed the rules against the use of plastic bags. The incumbent government is just good at reprimanding the previous governments. Pakistan is among the top 10 polluted countries and doubtlessly plastic pollution is responsible for bringing at status quo. The government should impose a ban on plastic bag manufacturing factories. Also, it should abbreviate the use of plastic commodities.
Multiple convenient solutions have been proposed in combating plastic pollution. Switching to reusable bags would help a lot in reducing plastic pollution. Organic cotton grocery bags, canvas market bags, and, grab bags are the best alternatives to plastic bags. In 2016, after consuming five years searching through piles of waste, Japanese researchers found a strain of bacteria that naturally grew to eat away at polyethylene terephthalate, which is common plastic and known as polyester. This bacteria is known as Mutant Enzyme. The know-how of the proper way to recycle common plastics is necessary, can also do wonders. Arranging awareness seminars on the detrimental effects of plastic is yet another effective way.
Despite many proposed and effective solutions above the incumbent government is tethered to combat the menace of plastic. The government should be mindful that if we keep going on this trajectory, there will be more plastic than fish by 2050. The government, the NGO's, social welfare organization, civil societies, and we as the unit should join hands together to fight that perilous issue lest it should late.
India advances ground-breaking plan to keep planet and people cool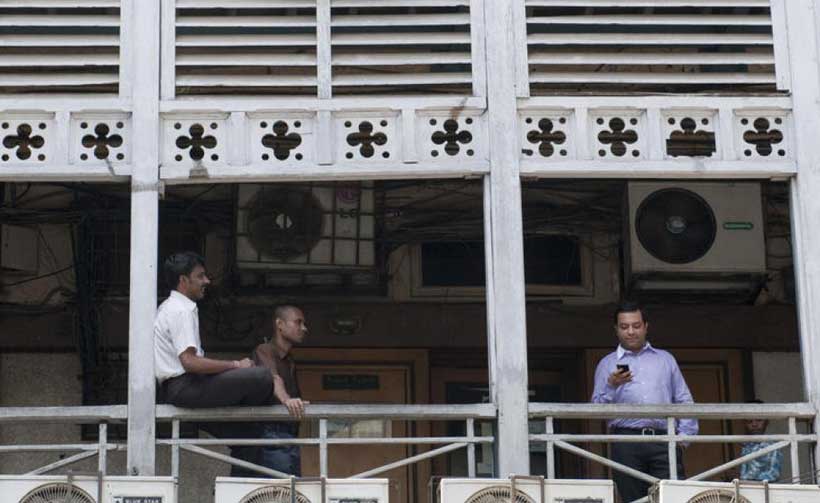 India's new comprehensive Cooling Action Plan targets an increase in sustainable cooling for the good of its population, while helping to fight climate change
Four years after temperatures hit the high forties in India, claiming over 2,000 lives, parts of the country are again baking in intense, and deadly, heatwaves. Throughout April and into May, the states of Madhya Pradesh, Maharashtra and Rajasthan have seen daily highs of 42°C.
As climate change increases, such temperatures are becoming the new normal. Combined with economic growth and urbanization, this brings a huge growth in cooling demand. The number of air conditioners in India is expected to rise from 15 million in 2011 to 240 million in 2030.
Cooling isn't just about protecting against extreme temperatures. A recent study from the UN's Sustainable Energy for All initiative puts India in the top nine countries at greatest risk from lack of access to cooling technology that also keeps food fresh, vaccines stable and children in education.
To give just a few examples, a quarter of vaccines in India arrive damaged because of broken or inefficient cold chains, while only four per cent of fresh produce is transported in refrigerated vehicles, leading to economic losses of US$4.5 billion annually.
Aware of these worrying statistics, the government launched earlier this year the India Cooling Action Plan, the first such holistic plan from any national government.
"Cooling is a developmental need, yet India has one of the lowest levels of access in the world," says CK Mishra, Secretary at the Ministry for Environment, Forest and Climate Change. "To support economic growth and improve resilience, it is inevitable that India will embrace cooling.
"By accelerating and integrating policies, regulations, workforce training and research and development, this plan mobilizes government, industry and society to ensure thermal comfort for all while keeping to our international environmental commitments and not burdening ourselves with inefficient, expensive infrastructure and an overstretched power grid.
"The plan recognizes the significant role of accelerated action on building and appliance efficiency, and the economic and environmental benefits of new technologies such as thermal storage and district cooling."
Energy efficiency a key approach
By 2038, the plan aims to reduce cooling demand by up to 25 per cent, refrigerant demand by 25–30 per cent and cooling energy requirements by up to 40 per cent. It aims to double farmers' incomes by improving the cold chain and so wasting less food.
These are big goals, but experts believe India's plan is sensible and achievable.
"Living in India you quickly understand the importance of keeping cool for your health and day-to-day functioning," says Benjamin Hickman, a UN Environment technical advisor based in India. "This plan acknowledges head-on that Indian cooling demand will grow eightfold in 20 years and recommends a myriad of cross-cutting solutions that urgently need to be implemented and scaled up."
Crucially, the plan also aligns India's cooling growth with the Kigali Amendment to the Montreal Protocol. This international agreement obliges nations to phase down the use of hydrofluorocarbons (HFCs)—refrigerants that are thousands of times more potent greenhouse gases than carbon dioxide.
Globally, the agreement can deliver up to 0.4°C of avoided warming by the end of this century just by phasing out hydrofluorocarbons. Simultaneously improving the energy efficiency of cooling equipment could double the benefits. According to a study by the Lawrence Berkley National Laboratory, such energy efficiency improvements can benefit India. If the average room air conditioner efficiency improves by six per cent per year, more than 64 TWh per year of energy could be saved by 2030. This would cut greenhouse gas emissions, protect cities' power infrastructure from overload, and bring cumulative consumer benefits of up to US$25 billion.
Prioritizing new cooling solutions
The plan doesn't just look at efficiency. It prioritizes other solutions, such as passive cooling, building design, fans and coolers, new technologies and behavioural change. Among the new technologies is district cooling—the distribution of cooling energy from a central plant to multiple buildings.
The Ministry of Environment, Forests and Climate Change is co-chair of the UN Environment-led District Energy in Cities Initiative, which is working with three pilot cities—Amaravati, Rajkot and Thane – in India to demonstrate these technologies. Three quarters of the buildings required for 2030 have yet to be built, so there is a huge opportunity for new urban developments to use district cooling, which can be up to 50 per cent more efficient than stand-alone solutions.
"UN Environment praises India's leadership in being the first country to adopt a comprehensive plan for the cooling sector," says Atul Bagai, Head of UN Environment's India Country Office. "Singling cooling out is vital to scaling up and targeting action on what has for years been a silently growing environmental catastrophe, and India's Cooling Action Plan should set the benchmark for other countries to follow. UN Environment stands ready to support India to achieve and surpass its targets."
Last month, UN Environment, the Climate and Clean Air Coalition, the Kigali Cooling Efficiency Program, and Sustainable Energy for All launched the Cool Coalition. The coalition is a unified front that links action across the Kigali Amendment, Paris Agreement and Sustainable Development Goals. It will inspire ambition, identify solutions and mobilize action to accelerate progress towards clean and efficient cooling.
These kinds of actions provide hope that we can help keep everyone, and the planet, cool.
Just One-Third of the World's Longest Rivers Remain Free-Flowing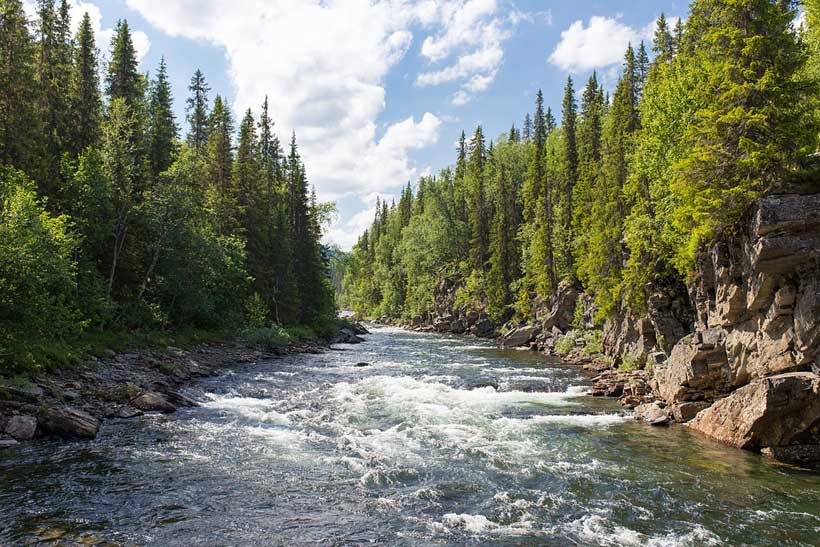 Just over one-third (37%) of the world's 246 longest rivers remain free-flowing, according to a new study published in the scientific journal Nature. Dams and reservoirs are drastically reducing the diverse benefits that healthy rivers provide to people and nature across the globe.
A team of 34 international researchers from McGill University, World Wildlife Fund (WWF), and other institutions [1] assessed the connectivity status of 12 million kilometers (~7.5 million miles) of rivers worldwide, providing the first ever global assessment of the location and extent of the planet's remaining free-flowing rivers. [2]
Among other findings, the researchers determined only 21 of the world's 91 rivers longer than 1,000 km (~600 miles) that originally flowed to the ocean still retain a direct connection from source to sea. The planet's remaining free-flowing rivers are largely restricted to remote regions of the Arctic, the Amazon Basin, and the Congo Basin.
"The world's rivers form an intricate network with vital links to land, groundwater, and the atmosphere,'' said lead author Günther Grill of McGill's Department of Geography. ''Free-flowing rivers are important for humans and the environment alike, yet economic development around the world is making them increasingly rare. Using satellite imagery and other data, our study examines the extent of these rivers in more detail than ever before."
Dams and reservoirs are the leading contributors to connectivity loss in global rivers. The study estimates there are around 60,000 large dams worldwide, and more than 3,700 hydropower dams are currently planned or under construction. They are often planned and built at the individual project level, making it difficult to assess their real impacts across an entire basin or region.
"Rivers are the lifeblood of our planet," said Michele Thieme, lead freshwater scientist at WWF and global leader of WWF's free-flowing rivers initiative. "They provide diverse benefits that are often overlooked and undervalued. This first-ever map of the world's remaining free-flowing rivers will help decision makers prioritize and protect the full value rivers give to people and nature."
Healthy rivers support freshwater fish stocks that improve food security for hundreds of millions of people, deliver sediment that keeps deltas above rising seas, mitigate the impact of extreme floods and droughts, prevent loss of infrastructure and fields to erosion, and support a wealth of biodiversity. Disrupting rivers' connectivity often diminishes or even eliminates these critical ecosystem services.
Protecting remaining free-flowing rivers is also crucial to saving biodiversity in freshwater systems. Recent analysis of 16,704 populations of wildlife globally showed that populations of freshwater species experienced the most pronounced decline of all vertebrates over the past half-century, falling on average 83 percent since 1970.
The study also notes that climate change will further threaten the health of rivers worldwide. Rising temperatures are already impacting flow patterns, water quality, and biodiversity. Meanwhile, as countries around the world shift to low-carbon economies, hydropower planning and development is accelerating, adding urgency to the need to develop energy systems that minimize overall environmental and social impact.
"Renewable energy is like a recipe – you have to find the right mix of ingredients to have both a sustainable energy grid and a thriving natural world," said Thieme. "While hydropower inevitably has a role to play in the renewable energy landscape, well-planned wind and solar energy can be more viable options for rivers and the communities, cities, and biodiversity that rely on them."
The international community is committed to protect and restore rivers under Agenda 2030 for Sustainable Development, which requires countries to track the extent and condition of water-related ecosystems. This study delivers methods and data necessary for countries to maintain and restore free-flowing rivers around the world.
Visit freeflowingrivers.org for more information on free-flowing rivers and an interactive map of the world's rivers.
[1] Contributing Institutions:
McGill University, WWF-US, WWF-NL, WWF-UK, WWF-Mediterranean, WWF-India, University of Basel, Joint Research Centre (JRC), WWF-China, WWF-Canada, WWF-Zambia, WWF Greater Mekong Programme, The Nature Conservancy, University of Nevada, WWF-Malaysia, IHE Delft, WWF- Germany and HTWG Konstanz, King's College London, Umeå University, Swedish University of Agricultural Sciences, University of Washington, Harvard University, University of Wisconsin-Madison, Conservation International , WWF-Mexico, WWF International, Stanford University, Leibniz-Institute of Freshwater Ecology and Inland Fisheries (IGB), Freie Universität Berlin, WWF-Brazil, Eberhard Karls University of Tübingen.
[2] First ever science-based definition of a free-flowing river:
Rivers where ecosystem functions and services are largely unaffected by changes to fluvial connectivity allowing an unobstructed exchange of water, material, species, and energy within the river system and with surrounding landscapes.