Ambitions are affordable for Asia and the Pacific
Three years of implementation of the transformative 2030 Agenda for Sustainable Development in Asia and the Pacific shows the region has some catching up to do.
Despite much progress, the region is not on track to reach the 17 Sustainable Development Goals set out in the United Nations 2030 Agenda for Sustainable Development. We are living in a time of booming prosperity, yet many are getting left behind. Basic needs, such as the freedom for all from hunger and poverty, ill-health and gender-based discrimination, and equal opportunity for all are elusive. Economic, social and planetary well-being has a price tag. Calculations by the United Nations Economic and Social Commission for Asia and the Pacific (ESCAP) show that it is mostly affordable for the region.
Realizing ambitions beyond growth
What will it take to realize the ambitious 2030 Agenda focused on strengthening the three pillars of sustainable development?
The 2019 edition of the ESCAP's flagship publication Economic and Social Survey for Asia and the Pacific is asking for the region to raise ambitions beyond mere economic growth. Countries facing high and growing levels of inequality and environmental degradation will have to change course from pursuing a growth path that neglects people and the planet.
The 2019 Survey forecasts continuing robust growth in the region which remains the engine of the world economy. Amid rising global uncertainty that challenges the Asia-Pacific region's economic dynamism, there is a need for investments that not only sustain growth but also build social and environmental capital.
ESCAP analysis shows the region needs to invest an additional $1.5 trillion every year to reach the Goals by 2030. This is equivalent to about 5 per cent of the region's GDP in 2018, or about 4 per cent of the annual average GDP for the period 2016‒2030.
At $1 per person per day, this investment is worthwhile. It could end extreme poverty and malnutrition for more than 400 million people. A quality education for every child and youth would become possible, as would basic health care for all. Better access to transport, information and communications technology (ICT) as well as water and sanitation could be ensured. Universal access to clean and modern energy, as well as energy-efficient transport, buildings and industry could be achieved. Climate and disaster-resilient infrastructure could be built. Resources could be used more effectively, and the planet protected.
Most of this investment is needed to protect and nurture people and the planet. Making a better world for our people by ending poverty and hunger and meeting health and education Goals, requires some $698 billion per year. Protecting our planet by promoting clean energy and climate action and living in harmony with nature, requires $590 billion per year. Another $196 billion per year is needed to invest in improving transport and ICT infrastructure as well as access to water and sanitation services.
Of course, in a region as diverse as ours, investment needs vary considerably. Least developed countries need to invest the most at 16 per cent of GDP while South and South-West Asia has an investment need of 10 per cent of GDP to reach the Goals by 2030. More than two-thirds of the investment in these countries will be in reducing social deficits – poverty, malnutrition, lack of health care and education as well as job creation. Landlocked developing countries need to invest most in improving transport and ICT infrastructure as well as water and sanitation services. East and North-East Asia and, to a lesser degree, South-East Asia, need to focus on clean energy and climate action investment.
Paying the bill
It should be remembered that the Goals support each other and an investment in one area has a positive effect on another. Good health depends not only on access to healthcare services but also nutrition, safe water, sanitation and good air quality. Education for all also promotes gender equality. Resource efficiency supports climate change mitigation.
Besides harnessing these synergies, sustainable development financing strategies will have to turn to public and private finance. The good news is that most countries in the region have the fiscal space to invest in the Goals. There is also a massive untapped pool of private financial assets estimated at $51 trillion in developing Asia-Pacific countries alone. Enhanced regional cooperation would also help the region offset external risks and build resilience by tapping into regional resources.
Above all, leadership will be crucial in making the transition to a development strategy that balances all dimensions of human and planetary well-being. The 2019 Survey aims to stimulate a regional dialogue and offers guidance on accelerating progress towards the Goals in the region.
How India can get its growth back on track after the coronavirus pandemic
The Covid-19 pandemic has led to exceptionally challenging times. World Bank projections suggest that the global economy will contract by 5.2% in the current year. India, too, is likely to be significantly impacted.
Covid-19 afflicted India when the economy was already decelerating. After growing at an average of 7% a year in the previous decade, growth decelerated to 6% in 2018-19, and fell further to 4.2% in 2019-20. Pre-Covid-19 slowdown was due to a number of factors: longstanding structural rigidities in key input markets, stressed balance sheets compounded by greater risk aversion among banks and corporates, and, more recently, growing vulnerabilities in thThe pandemic has rendered the outlook even more sombre. So is India's growth story over?The pandemic has rendered the outlook even more sombre. So is India's growth story over?
Two years ago, we analysed the long-term trends in India's growth rates. Studying 50 years of data, we found that despite variations in the trend rate, growth accelerated steadily, with no prolonged reversals. Economic growth also became stable — both due to growth rates stabilising within each sector, and due to the economy's transition toward the steadier services sector. Importantly, faster and more stable growth was evident across states without being concentrated, for the most part, in a few sectors or activities. Furthermore, periods of faster growth saw productivity gains and not just an increase in factor inputs. All these point to the long term resilience of India's economy.
Several factors were instrumental in India's growth story. First, India benefited from a growing working-age population. Second, its savings and investment rates continued to increase until the late 2000s. Third, the financial sector grew significantly, with a rising ratio of bank credit to GDP. Fourth, India was likely aided by its strong institutional base. Fifth, India's trade-to-GDP ratio grew rapidly from the early 1990s, until world trade stalled due to the global financial crisis.
Finally, the macroeconomic policies, notably monetary and fiscal, were formulated under credible frameworks in the last decades, yielding impressive macroeconomic stability.
General State of Weakness
However, some of these factors have weakened in recent years. After the 2008-09 global financial crisis, specific weaknesses emerged in private investment, export performance and the banking sector. These have persisted for nearly a decade since. Investment rates and exports declined as a percentage of GDP. Worryingly, the vulnerability of the financial sector increased, resulting in anaemic credit growth.
Covid-19 has magnified these weaknesses. Disruption in economic activity has dented consumption, investment and exports. RBI's financial stability report has cautioned that the financial sector is likely to bear a significant burden from the slowdown. What, then, is the short- and medium-term prognosis for India's economy? How may the policy response be tailored?
As a response to Covid-19, extensive measures have been taken in the regulatory, fiscal and monetary policy areas. But there are limits to these relief and support measures, both in terms of their effectiveness and affordability. Recovery now will depend in equal measure upon unlocking the supply side, and on the containment of the virus itself.
Private investment in India is likely constrained by several factors, including financial sector inefficiencies, deleveraging, crowding out and regulatory policy framework. Removing these, and sector-specific constraints, and ensuring policy certainty will be important. While India has received healthy volumes of FDI, encouraging these further can spur both domestic investment and greater integration in global value chains (GVCs).
Exports were an important driver of growth prior to the global financial crisis. But its contribution has diminished since. The ratio of exports to GDP has been declining, with India's share in global exports remaining stagnant, or even decreasing. India can improve its competitiveness in the world economy by boosting investment in infrastructure and bringing it at par with other global manufacturing hubs; further reforming land, labour and financial markets; upgrading the education system to equip its workforce with skills. Besides, a competitive exchange rate, deeper trade integration, and greater embedding into GVCs will assume significance.
In the financial sphere, Indian banks have seen subdued credit growth, and asset quality remains stressed. In the past few years, a number of measures have been announced — including the consolidation of banks, an asset quality review, timely resolution for specific institutions, strengthened oversight or forbearance (post-Covid-19) and equity infusions. These measures have improved the oversight of India's financial sector and boosted financial inclusion. However, more needs to be done to improve the safety, depth and efficiency of financial intermediation.
Additional priorities include maintaining financial sector stability, undertaking specific reforms in the non-banking financial sector, deepening capital markets, enhancing the role of fintech and ensuring a more selective and strategic footprint for the public sector in the financial sphere.
Growth Rides on Reforms
There is nothing, however, that seems permanently broken in India's growth model to warrant pessimism. Many of the deep-rooted structural factors that helped fuel the economy's sustained growth during the past decades seem intact: demography, a large and diversified economy, still low-income levels that signify the potential to grow, a dynamic entrepreneurial class, political and geopolitical stability, a strong institutional base and credible policy frameworks.
With continued policy attention on reforms — which spur private investment, increase the economy's competitiveness, promote greater integration into the global economy, and ensure an efficient financial sector — India can revert to the growth path of the past.
 Source: World Bank, The Economic Times
COVID-19, major shifts and the relevance of Kondratief 6th Wave
Covid-19 has changed the global strategic equations, it has impacted each part of human life so has it let us to ponder upon the Kondratieff cycles, as with Covid-19 there has started a new debate about sixth wave, which is about the importance of health sector, especially the biotechnology which is crucial for progress of society in future.
Henceforth, the countries that are working on these sectors know that the most important engine for our economic and social development will be health in the 21st century. For example we have USA that focused on these and now has created around 2/3rd of its jobs in health sectors along with that has invested about $3,500 billion on health sector back in 2017. Also a 2008 report said about 4,700 companies all across worked in field of biotechnology whereby 42% were in North America, and 35% in Europe, which depicts these states long-term understanding of the emerging scenario as seen from the emergence of Coronavirus. But then the on the other side if we look into the health structure of underdeveloped states, we can easily conclude that these states will suffer the most if a global health issue emerges, and in the contemporary world it has emerged in the form of COVID-19.
COVID-19 has brought changes in the political and economic arrangement. It has not limited itself to the China from where it has been started but has impacted the whole world. The virus that is itself unseen has shaken the structure, with severe consequences for all states. No matter if it's the USA that is the super power or any small states, the pandemic has divulged the capability and integrity of all in their response to the Covid-19. With some having the capabilities to deal with it, but most lacking in these sectors which resulted in huge loss not only of human life but also of resources. Time has come when the world is criticizing globalization at one hand because globalization is the reason for the spread of COVID-19. This has marked the end of one era with the emergence of a new one.
Mention below are some of the major shifts which Covid-19 has resulted in economic sectors in both the developed and the underdeveloped states, along with the major political shift that has led many to debate about the new structure of world after the crisis would be over.
The Covid-19 that was first reported in China, in November has changed the world completely and resulted in a lot of economic and political changes all across. For example the global economy due to Covid-19 crisis have a setback of $590 trillion. Apart from this many people lost their jobs, the household incomes have reduce, moreover World Bank report say nearly 49 million people will move into extreme poverty because of pandemic. Then World largest real estates are having economic problems, the Tourism industry has declined. An estimate showed the loss of about $1.2 to $3.3 trillion in this area of tourism all over world. Also report of International Air Transport Association predicted a loss of $63-$113billion. Moreover the oil sector also faced problem as it was for the first time that its price has gone negative. Henceforth, it can be predicted that once the pandemic is over the world will have a lot to calculate.
The impact of this crisis is seen in both core and periphery states. In core states like the US and china COVID-19 has brought huge economic impact but along with this also a question of who will act as the world saviour. As Chinese economy is expected to decline by 13% in February also the Belt and toad initiative is at halt, but still apart from the economic problem this pandemic has helped a core state like china to use the situation and move towards the status of Global power. Thus this struggle of Global saviour resulted in US and China at odds with each other. Indeed, COVID-19 has brought political repercussions along with economic consequences. When it comes to Europe the industrial production decline by 17%. Likewise USA is also effected by COVID-19 as by this pandemic about 39 million American have lost their jobs, also US economy seen to decline by 20% so US health sector has been in the eye of analyst for its failure to curtail the coronavirus. Then covid-19 has more devastating impact on peripheral states as there health care facility is not well developed. For example the GDP of Bangladesh fell by 1.1%, then many African states that look for tourism as a source of economy faced a loss of about $50 billion. Also 29 million in Latin America fell into poverty. Though they have been exploited in past but the need of the hour is that the world must help them.
Global dynamics are showing transformation amid coronavirus. The pandemic has shown how China is using its trump cards to transform the contemporary situation in its favour while bolstering its image as the "global saviour". China's emergence from the sick man of Asian to the positing of global saviour has opened the prospect of a tilt in the global status of Hegemon from US towards China. The question is that will the Chinese strategy amid COVID-19 will hinder the prestige of US who instead of acting as the global leader has shown a deterioration in its role in global governance.
The future of China's pre-eminence in the global spectrum has been widened by the pandemic. All of this has been further bolstered by the broad rejection of Trump to engage in Europe and elsewhere. COVID-19 not only emerged as an impetus to shift the global dynamic but has helped China to strengthen its position. In response to the confident play by China, US hasn't come up with any convincing tactics to prevent the increasing role of China in achieving its interest. Recently, a move by Trump administration to withhold US funds of around $400million will surely leave a gap, moreover will be an opportunity for china to bolster its position in WHO. Taking backseat in its global role amid pandemic, then the withdrawal from global treaties, and withholding of funds from WHO shows a pattern which will further create a vacuum for China to take advantage of the prevailing situation.
The current international order set by US will be subject to testation as the changing shifts in the geopolitics have to be catalyzed by the COVID-19. For it is now the right time for us all to ponder the relevance of Kondratieff 6th wave in current scenario of Covid-19. As now the focus has diverted towards the health care system and biotechnology since the world has in current situation saw a blame game between states with few called corona virus as naturally occurring but some regarded it as 'Chinese virus'. This has led to the realization that that warfare scenario has entered into discussion over biotechnology. So after the Covid-19 pandemic, the policy makers of both periphery and core state will work on new technological area which has the Medical technologies, Nanotechnologies, Biotechnologies etc. for the improvement in health sector will be crucial for the progress in future.
Conclusively, the current COVID-19 as a bioweapon has resulted in a clear impetus and will definitely bring a shift in the states attitude towards medical research and the multiple fields of technology in future, this is so because COVID-19 has created a ground for relevance of Kondratieff 6th wave.
How U.S.'s Response to Covid-19 Could Precipitate 2nd Great Depression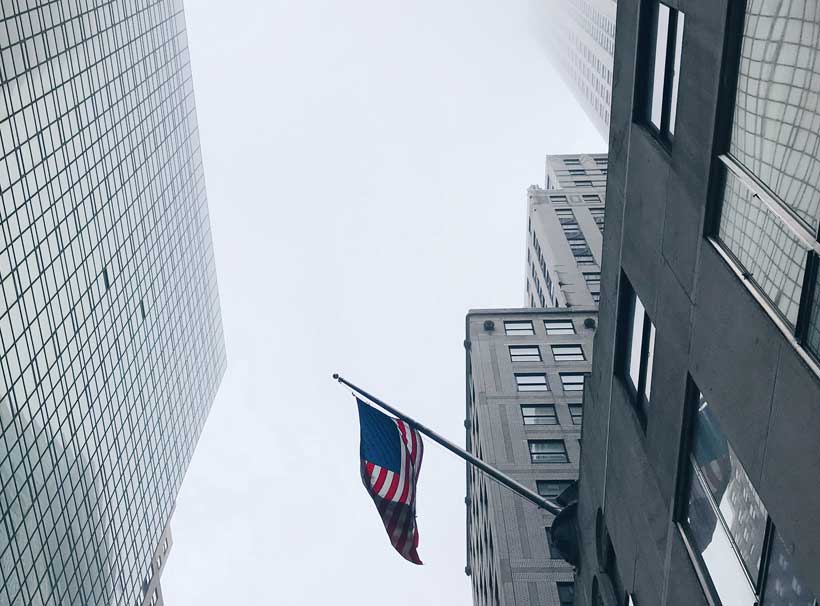 On March 10th of this year, there were 290 daily new U.S. cases of Covid-19 (coronavirus-19).
On March 13th, U.S. President Donald Trump declared a pandemic national emergency, because the number of daily new cases was now suddenly doubling within only three days. However, no lockdown was imposed. The policy-response was instead left to each individual. This is in accord with America's libertarian idelogy. Trump even announced that "he was allowing his health secretary to bypass certain regulations to provide more flexibility to doctors and hospitals responding to the outbreak" — outright reducing, insead of increasing, federal regulations, this being his way to address the matter. That's the libertarian response.
Covid-19 (coronavirus-19) cases started soaring in the U.S., from 600 daily new cases on March 13th, to 25,665 on March 31st. Americans were scared to death, and facemask-usage soared, and independent small businesses started laying people off en-masse. (Restaurants, hair salons, travel agencies, inns, dental offices, etc., were hard-hit.)
Immediately, the alarming rise in new cases halted on April 4th (at 34,480), and the daily new cases remained approximately flat, but slightly downward, from March 31 to June 9th (when it reached bottom at 19,166), but then soared yet again, to 78,615, on July 24th.
But, then, it again declined, so that, on September 8th, it was at only 28,561. This was already returning to around what the new-cases rate had been back on March 31st. So: despite peaking again on July 24th, the rate of daily new cases was little changed between March 31st and September 8th. And, all during that 5-month period, people were coming back to work.
The key immediate and direct economic variable affected by Covid-19 is the unemployment rate. Here, that economic effect is clearly shown:
U.S. unemployment: March 4.4%, April 14.7%, May 13.3%, June 11.1%, July 10.2%, August 8.4%
Though the daily-new-cases rate went down after March 31st and after July 24th, the unemployment rate progressed far more gradually downward after March 31st: the small businesses that had been panicked by the explosion of new cases during March were now gradually re-opening — but they remained very nervous; and, so, unemployment still was almost twice what it had been during March.
Here, that experience will be compared with two Scandinavian countries, starting with Denmark, which declared a pandemic national emergency on March 13th, just when Trump also did. "Starting on 13 March 2020, all people working in non-essential functions in the public sector were ordered to stay home for two weeks." The daily new cases fell from the high of 252 on March 11th, down to the low of 28 on March 15th, but then soared to 390 on April 7th, and gradually declined to 16 (only 16 new cases) on July 9th. Then it peaked back up again, at 373, on August 10th, plunged down to 57 on August 26th, and then soared yet again back up to 243 on September 8th. The new-cases rates were thus irregular, but generally flat. By contrast against the experience in U.S., Denmark's unemployment-rate remained remarkably stable, throughout this entire period:
Denmark: March 4.1, April 5.4, May 5.6, June 5.5, July 5.2
Sweden's Government pursued a far more laissez-faire policy-response ("The government has tried to focus efforts on encouraging the right behaviour and creating social norms rather than mandatory restrictions."), and had vastly worse Covid-19 infection-rates than did the far more socialistic Denmark, and also vastly worse death-rates, both producing results in Sweden more like that of the U.S. policy-response than like that of the Danish policy-response, but far less bad than occurred on the unemployment-rate; and, thus, Sweden showed unemployment-increases which were fairly minor, more like those shown in Denmark:
Sweden: March 7.1, April 8.2, May 9.0, June 9.8, July 8.9
That was nothing like the extreme gyration in:
U.S.: March 4.4%, April 14.7%, May 13.3%, June 11.1%, July 10.2%, August 8.4%
Why was this?
Even though Sweden's policy-effectiveness was more like America's than like Denmark's at keeping down the percentages of the population who became infected, and who died from Covid-19 (i.e., it was not effective), Sweden's policy-effectiveness at keeping down the percentage of the population who became unemployed was more like Denmark's (i.e., it was effective, at that). Unlike America, which has less of a social safety-net than any other industrialized nation does, Sweden had, until recently, one of the most extensive ones, and hasn't yet reduced it down to American levels (which are exceptionally libertarian). Therefore, whereas Swedes know that the Government will be there for them if they become infected, Americans don't; and, so, Americans know that, for them, it will instead be "sink or swim." Make do, or drop dead if you can't — that is the American way. This is why Swedish unemployment wasn't much affected by Covid-19. When a Swede experienced what might be symptoms, that person would want to stay home and wouldn't be so desperate as to continue working even if doing that might infect others. Thus, whereas Sweden's unemployment-rate rose 27% from March to May, America's rose 202% during that same period. Americans were desperate for income, because so many of them were poor, and so many of them had either bad health insurance or none at all. (All other industrialized countries have universal health insurance: 100% of the population insured. Only in America is healthcare a privilege that's available only to people who have the ability to pay for it, instead of a right that is provided to everyone.)
On September 9th, Joe Neel headlined at NPR, "NPR Poll: Financial Pain From Coronavirus Pandemic 'Much, Much Worse' Than Expected", and he reported comprehensively not only from a new NPR poll, but from a new Harvard study, all of which are consistent with what I have predicted (first, here, and then here, and, finally, here), and which seems to me to come down to the following ultimate outcomes, toward which the U.S. is now heading (so, I close my fourth article on this topic, with these likelihoods):
America's lack of the democratic socialism (social safety-net) that's present in countries such as Denmark (and residual vestiges of which haven't yet been dismantled in Sweden and some other countries) will have caused, in the United States, massive laying-off of the workers in small businesses, as a result of which, overwhelmingly more families will be destroyed that are at the bottom of the economic order, largely Black and/or Hispanic families, than that are White and not in poverty. Also as a consequence, overwhelmingly in the United States, poor people will be suffering far more of the infections, and of the deaths, and of the laying-off, and of the soon-to-be-soaring personal bankruptcies and homelessness; and, soon thereafter, soaring small-business bankruptcies, and ultimately then big-business bankruptcies, and then likely megabank direct federal bailouts such as in 2009, which will be followed, in the final phase, by a hyperinflation that might be comparable to what had occurred in Weimar Germany. The ceaselessly increasing suffering at the bottom will ultimately generate a collapse at the top. Presumably, therefore, today's seemingly coronavirus-immune U.S. stock markets, such as the S&P 500, are now basically just mega-investors who are selling to small investors, so as to become enabled, after what will be the biggest economic crash in history, to buy "at pennies on the dollar," the best of what's left, so as to then go forward into the next stage of the capitalist economic cycle, as owning an even higher percentage of the nation's wealth than now is the case. Of course, if that does happen, then America will be even more of a dictatorship than it now is. Post-crash 2021 America will be more like Hitler's Germany, than like FDR's America was.
The Democratic Party's Presidential nominee, Joe Biden, is just as corrupt, and just as racist, as is the Republican nominee, Donald Trump. And just as neoconservative (but targeting Russia, instead of China). Therefore, the upcoming November 3rd elections in the U.S. are almost irrelevant, since both of the candidates are about equally disgusting. America's problems are deeper than just the two stooges that America's aristocracy hires to front for it at the ballot-boxes.
Author's note: first posted at Strategic Culture