Removing deadly mines means 'new horizons and hope', clears a path to SDGs
The path towards achieving the 2030 Agenda for Sustainable Development must be "clear of landmines, explosive remnants of war and improvised explosive devices (IEDs)", the United Nations Secretary-General said on Thursday, International Mine Awareness Day.
"All people have the right to live in security, and not fear their next step", António Guterres spelled out in his message, lauding mine action, which "clears paths and creates safe ground on which homes can be built or rebuilt" and "changes mindsets so that people know how to protect themselves".
Moreover, the UN chief described it as "giving people and communities new horizons and hope".
For more than 20 years, the United Nations has helped States free themselves from the threat of mines, explosive remnants of war and improvised explosive devices.
This year, the Organization has launched "Safe Ground", a new strategy and campaign to "ensure that no one, no State, and no war zone is left behind".
The campaign links mine action, sport and the Sustainable Development Goals (SDGs) by showing how clearing minefields, brings communities together and raises awareness about mine victims, and survivors of armed conflict.
"With this global campaign, our aim is to turn minefields into playing fields, and to raise resources for victims and survivors of armed conflict", Mr. Guterres asserted.
The Secretary-General called on all States to "provide political and financial support for mine action" and urged all that have not yet acceded to the Anti-Personnel Mine Ban Convention, the Convention on Certain Conventional Weapons and associated Protocols, and the Convention on Cluster Munitions, to "do so without delay".
"For prevention, protection, and lasting peace, universalization of these treaties is essential and strict compliance with International Humanitarian Law is a must", he stated.
He paid tribute to the UN Mine Action Service (UNMAS) and to the "women and men who show extraordinary bravery in advancing this vital work, literally step-by-step".
"On this International Day for Mine Awareness, let us reaffirm our commitment to eradicating the horrendous damage caused by landmines and assisting those who have been harmed by their use", concluded the Secretary-General.
In the field
Painfully aware of the mine risks in Syria, the UN office there said in a statement that "providing explosive hazard risk education, clearance, and victim assistance is one of the main humanitarian priorities in the country".
They do this through awareness raising, survey and clearance, and by addressing the needs of survivors and those affected.
The Senior UNMAS Programme Manager in South Sudan, another key nation for their work, said this week that demining "is doable" in that country.
"We are into the endgame now, and we need support to see this one through", Richard Boulter elaborated. "It is a three to five-year problem, and then this goes away."
He continued, saying that "if the powers that be don't want to see a particular area cleared of dangers, there are still other places where we can go to work…when peace comes to town – when sanity comes to town – we can go back and do our job there."
Seeing is believing
In marking the Day, "Safe Ground" events have been held around the world, such as a football tournament in Gaza and road races in Iraq, Lebanon and Colombia.
In New York, a hands-on workshop allowed ordinary people to participate in mock-demining activities.
One of the "guys in the bomb suits", UNMAS Threat Mitigation Advisor Will Meurer. walked UN News through a de-mining demonstration, explaining that "mine awareness is a very large component in improvised explosive devices (IEDs), which so many people now have to deal with".
He exhibited IEDs that, once used by "the good guys", have been repurposed with explosives and attached to drones for targeting; others that are "victim operated", which buried in the ground, are set off when stepped on or driven over; and those on a timer or detonated on command, suicide vests fell into this category.
Mr. Meurer underscored that IEDs are increasingly impacting the UN across all its mission areas – from humanitarian responses to development.
Uzbekistan's Artel joins UN's 'Orange The World' campaign against gender-based violence
Artel Electronics LLC (Artel), Central Asia's largest home appliance and electronics manufacturer, has teamed up with the UN Population Fund (UNFPA) on a public information campaign against gender-based violence.
The campaign is in line with the UN's 16 Days of Activism against Gender-Based Violence, which utilizes the color orange to symbolize a brighter future. Artel's green branding turned orange for several days in advertising material throughout Uzbek capital Tashkent, and public figures made statements to raise awareness.
Artel joins an international movement that kicked off on 25th November and lasts for 16 days. Since 1991, it has been used by individuals and organizations to call for the prevention and elimination of violence against women and girls.
This is the second year the company has 'gone orange'. Artel Electronics HR Director, Lazizbek Mamatov, also took part in a panel discussion about Gender Equality in the Workplace hosted by the UNFPA at Westminster International University in Tashkent in line with the campaign.
Shohruh Ruzikulov, CEO of Artel, said "It is a privilege to once more work with the UN in raising awareness about the issue of Gender Based Violence. In Uzbekistan, this conversation is at a relatively young stage. We are proud to stand against domestic violence and continue Artel's work in all areas to contribute to a better society."
Mr. Yu Yu, Country Representative of the United Nations Population Fund, said "We are delighted to partner with a company like Artel on such an important issue. The public reach of the private sector is vital in ensuring our message to stand against domestic violence can be heard across all segments of society. We are grateful to Artel for taking leadership on this important issue in Uzbekistan. Together, we can make the change."
The true rate of domestic violence in Uzbekistan is not known. However, the government alongside diplomatic partners and aid organizations are prioritizing the issue. In recent years the Presidential Administration has issued decrees targeted at domestic violence prevention, the government has adopted laws guaranteeing equal rights for women, and funding has been provided for information campaigns and rehabilitation centers.
Support for this campaign is just one of Artel's initiatives to support women's empowerment. Internally, the company has introduced whistle-blowing mechanisms, and is implementing an internal legal clinic to improve the legal literacy of employees. Over the last year, the proportion of women in the company's 10,000 employees has risen by 5%, to 35%. The global average for the manufacturing industry is thought to be around 30%.
In 2021, Artel became a full participant of the UN Global Compact (UNGC), the world's largest business community focused on sustainable development. In doing so, the company committed to promoting ten principles covering human rights, labor rights and environmental protection.
Douglas Macgregor: 'Russia will establish Victory on its own terms'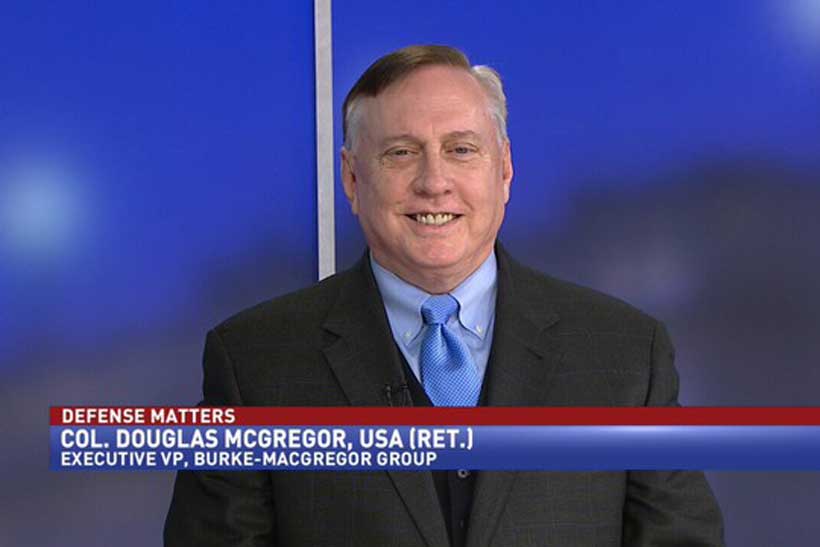 The Biden administration repeatedly commits the unpardonable sin in a democratic society of refusing to tell the American people the truth: contrary to the Western media's popular "Ukrainian victory" narrative, which blocks any information that contradicts it, Ukraine is not winning and will not win this war, notes in his new article Douglas Macgregor, Col. (ret.), who was the former advisor to the Secretary of Defense in the Trump administration.
Months of heavy Ukrainian casualties, resulting from an endless series of pointless attacks against Russian defenses in Southern Ukraine, have dangerously weakened Ukrainian forces.
Predictably, NATO's European members, which bear the brunt of the war's impact on their societies and economies, are growing more disenchanted with Washington's Ukrainian proxy war.
European populations are openly questioning the veracity of claims in the press about the Russian state and American aims in Europe.
The influx of millions of refugees from Ukraine, along with a combination of trade disputes, profiteering from U.S. arms sales, and high energy prices risks turning European public opinion against both Washington's war and NATO.
After concluding that the underpinning assumptions regarding Washington's readiness to negotiate and compromise were invalid, Putin directed the STAVKA to develop new operational plans with new goals:
– first, to crush the Ukrainian enemy;
– second, to remove any doubt in Washington and European capitаls that Russia will establish Victory on its own terms;
– and, third, to create a new territorial Status Quo commensurate with Russia's national security needs.
It is now possible to project that the new Russian armed forces that will evolve from the crucible of war in Ukraine will be designed to execute strategically decisive operations.
The new military establishment will consist of much larger forces-in-being that can conduct decisive operations on relatively short notice with minimal reinforcement and preparation.
Put differently, by the time the conflict ends, it appears Washington will have prompted the Russian State to build up its military power, the very opposite of the fatal weakening that Washington intended when it embarked on its course of military confrontation with Moscow.
Biden's "take no prisoners" conduct of U.S. foreign policy means the outcome of the next phase of the Ukrainian War will not only destroy the Ukrainian state. It will also demolish the last vestiges of the postwar liberal order and produce a dramatic shift in power and influence across Europe, especially in Berlin, away from Washington to Moscow and, to a limited extent, to Beijing, writes Douglas Macgregor.
International Affairs
Politicians and journalists targeted by spyware to testify at Council of Europe parliamentary hearing in Paris
Politicians and journalists from Poland, Spain and Greece who have been targeted by the Pegasus or similar spyware are to give testimony at a public hearing of the Parliamentary Assembly of the Council of Europe (PACE) in Paris on 12 December 2022, to be live-streamed in English.
The hearing, organised by PACE's Committee on Legal Affairs and Human Rights, will focus on the role played by spyware in secret state surveillance, as part of a report on this topic being prepared for the Assembly by Pieter Omtzigt (Netherlands, EPP/CD).
Participants include:
Krzysztof Brejza, a member of the Polish Sejm from the opposition Civic Platform party, and a former member of PACE (accompanied by his lawyer, Dorota Brejza).
Diana Riba, a Spanish member of the European Parliament from Catalonia's Republican Left Party, and Vice-Chair of the European Parliament's committee of inquiry which is also currently investigating the use of Pegasus and similar spyware.
Thanasis Koukakis, an investigative journalist from Greece specialising in financial affairs, who has reported on corruption and money laundering (via teleconference).
In two earlier hearings, the committee heard from journalists who first revealed the spyware surveillance, as well as data protection and legal experts, and the UN High Commissioner for Human Rights.
In an April 2022 introductory memorandum, Mr Omtzigt listed the different Council of Europe member states where it is alleged Pegasus has been used, those individuals targeted, and the different national inquiries into its use that have been launched, as well as international reaction so far.
He concluded that the use of this software had "serious implications" for the human rights of those targeted, and questioned whether its use on journalists, lawyers, politicians and human rights activists could be justified on national security grounds or to investigate crime.
Mr Omtzigt's final report is due for possible plenary debate by PACE in June 2023. The Assembly, which brings together 306 parliamentarians from the 46 member states of the Council of Europe, has powers to investigate human rights abuses in member states and make recommendations to Council of Europe governments.