It Is Time to Revise Russia–Turkey Relations for a More Stable Future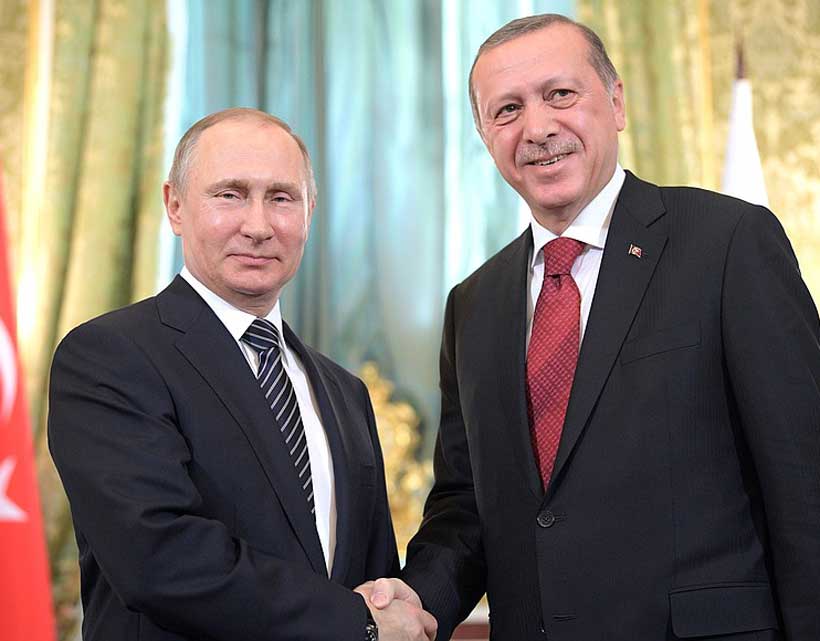 With ongoing debates on Russian-made S-400 deliveries to Turkey, fate of continuing cooperation of Russia, Turkey and Iran in Syria and future of Ankara's relations with the European Union and NATO, it is high time to make an honest review of Russian-Turkish relations, define weaknesses of bilateral cooperation and try to sketch a framework for a better future. Inspection of historical legacy and nature of current ties may be of big value for those who want to grasp contours of common future. Analysis of existing political constellations in both countries, study of actors who shape or strive to shape bilateral relations and investigation of today's cases of regional cooperation between Turkey and Russia may further contribute to explaining trajectory of bilateral relations.
Historical background
During the first years of the Russia–Turkey relations after the collapse of the Soviet Union were defined by views of leaderships that were formed during the Cold war era. In the aftermath of the Independence War, Kemalist regime viewed its ties with the Soviet Union as a political alternative for Ankara's relations with the European countries. The balanced approach in cooperation with the Soviets was gradually complicated by Moscow's insistence upon Ataturk to redesign Turkey's political regime according to the socialist principles. Left-leaning members of the Kemalist establishment came to support this idea.
Relations with Moscow were further marred after 1945 with the USSR threatening to reconsider the Straits regime and change Turkey's eastern borders. Later, Soviet officials in later did confirm that Stalin's insistence was a primary reason for Turkey's decision to ally itself with Western powers. The Soviet Union interpreted Turkish participation in the Marshall plan, membership in the NATO under the Eisenhower Doctrine were as a further step to get security guarantees in face of the Soviet threats. On the other hand, it also prompted Moscow to consider Turkey's foreign policy as being to a large extent defined by the NATO strategic plans rather than national interests.
The crisis in Turkey's relations with its traditional allies over the Cyprus issue in 1964 and later in 1974 showed the Soviets that Turkey was increasingly diverging from the western line. The Soviets saw this situation as an opportunity to relaunch contacts with Ankara. From the mid 1970-s, the relations between the USSR and Turkey started gaining their own logic and that was largely expressed in trade, gas, and technology exchange cooperation. Soviet invasion of Afghanistan and Moscow's support for the Workers' Party of Kurdistan, on the other hand, didn't allow these improvements to gain larger potency.
Gradual transformation from competition to cooperation
It is against this background that bilateral relations were developing in the 1990s. Political elites in both countries were still thinking in terms of bipolar confrontation and felt a lot of distrust towards each other. On the other hand, both countries were experiencing profound difficulty in finding their places in a new world defined by instability around their borders and lack of acceptable set of rules of global political engagement.
Areas that Russian elites viewed as Russia's traditional sphere of influence were witnessing increased involvement of Western and global players. Growing instability in the Caucasus, Central Asia, the Balkans did not allow both countries to reshape their perception of each other and find a common ground. Relations were further complicated by the fact that Russia perceived Turkey as a tool in the hands of Western powers to minimize Russian presence.
With regard to the Caucasus and Central Asia, Turkey had very good potential to become a driver of positive political and economic changes. With the fall of the Soviet Union and collapse of bipolar competition Turkey lost its strategic importance in the Western eyes and this fact made Turkish elites look for areas where Turkey could be again an important ally.
By the 1990s it was evident that the countries' elites were gradually moving from confrontation and competition, concentrating on areas that were mutually benefiting. Two points should be stressed here: this decision was a result of political will and had non-partisan character meaning that this approach enjoyed legitimacy among broader groups of political elites. Secondly, problematic areas in bilateral relations were not resolved or given increased attention but rather mitigated and pushed from the agenda.
Since the later years of the Cold war, certain areas have been pushing both countries to more cooperation and trust. These areas became relevant in the Russia–Turkey relations as well. Trade agreements on gas were a primary area where both countries had a chance to prove themselves as reliable partners. For Turkey, it was important to get stable contracts on gas deliveries for its growing economy during 1990s. For Russia, it was important to have Turkey as a reliable transit partner for its gas supplies to the European markets.
Economic cooperation and increasing mutual interdependence stimulated contacts in other areas, including construction. Turkish companies became especially famous in Russia for their road building technologies, and Russian companies were welcomed in Turkey due to their know-hows in building of large infrastructure objects like factories, dams, channels, or nuclear plants. Further areas included production and manufacture facilities in Russia, especially in culturally affiliated republics like Tatarstan.
Political leadership
It is important to note that since 2000s cooperation in these areas didn't lead to increasing influence or effectiveness of lobbying among economic groups. Many experts point to the considerable control of formal politics over the business in both countries: with exemption big economic projects like Akkuyu NPP or TurkStream gas pipeline, economic and business ties don't define political agenda between Turkey and Russia, commercial activity heavily dependent on political decisions and rapport. Although, this is less relevant for Turkish case since in Turkish export to Russia dominate goods and products produced by a large number of smaller local producers.
Predominance of political leadership in channelling of the bilateral relations is another dimension. Heads of state in Turkey and Russia are viewed as key actors who define bilateral relations. This also suggests that relations lack deeper institutionalization despite rich scope of agreements signed in the last 15 years: Moscow and Ankara are struggling to bring bilateral relations onto more stable and rigid foundation, which makes relations susceptible to situational politics. The establishment of the High-Level Cooperation Council in 2010, i.e. 20 years after the collapse of the Soviet Union, shows how slow the progress in this direction really is.
The lack of stable institutional base is coupled with the lack of unity in ideological views on a series of issues dealing with global and regional agendas. Turkey's foreign policy is defined by personal interests of the country's leadership, who has been trying to consolidate power within close circle of people loyal to Erdogan. Foreign policy decision-making process in both countries is very personalized: even though bilateral relations are not driven by common values and norms, as in the Turkey–NATO relations in their best years, both Moscow and Ankara may pursue personal political gains.
Nevertheless, it is important to underline that principle shift towards more cooperation may have deeper roots than solely the will of political leadership: rapprochement between Turkey and Russia started in 1997–1998, i.e. before Putin and Erdogan came to power. This observation is further confirmed by the fact that during these years both Ankara and Moscow decided to give up on using Chechen and Kurdish issues to pressure each other in other political questions.
Eurasianism and other groups of influence in Russia–Turkey ties
One of the ideological premises that many observers attribute to bilateral cooperation is the idea of Eurasianism. The concept is widely used in discussions on current state and the future of bilateral relations. The analysis of how elites understand Eurasianism in both countries reveals that there are both commonalities and differences. Russian and Turkish elites tend to view Eurasianism as a suitable ideological semantic tool to express their common desire to put their relations on ideational base. Further commonality includes the idea that Eurasian powers are destined to unite in order to challenge the West or at least to resist the pressure from the Western liberal democracies.
At the same time, there are considerable differences in what the elites understand under Eurasianism. In Russian case, Eurasianism was an ideological tool to protect Russian traditional sphere of influence by bringing local societies together under Russia's guidance. For Turkish elites, primarily among left-leaning anti-imperialist politicians, Eurasianism is a way to challenge Turkey's overly serious dependence from the West and to seek support from non-Western powers in resolving existing problems. Eurasianism is also popular among some of pan-Turanists and pan-Turkists, who channel their attention to the geographical regions covered by Eurasian ideology.
It can be said that Eurasianism is supported by small part of political elites in Turkey: after the 1990s, Turkey realized that it has a very limited scope of influence in the core of Eurasia, Central Asia and Russia, meaning that Turkey can be a part of Eurasia, but not its leading power.
Another aspect that defines bilateral relations is the attitudes to power and ability to influence regional politics is also. Both Turkey and Russia can be considered as rising powers who want to redefine rules of game of global and regional politics, established after the Cold war largely without much involvement and contribution of the latter two. These rising power demand recognition as rightful players in global politics. With consolidation of political regimes in Turkey and Russia, elites in both countries are becoming increasingly allergic to Western pressure and criticism and, therefore, tend to counter-balance these challenges by improving their own international stance and by developing closer ties with other rising powers.
Still, it is important to emphasize several crucial points. Eurasianists include very different political groups with different understanding of this ideology itself. In Turkey, the label Eurasianist may unite anti-Western and pro-Russian groups. However, this does not imply that being anti-Western automatically refers to being pro-Russian. On the other hand, the group is attractive for left-leaning activists, even though there are aspects of right ideology of pan-Turanism and pan-Turkism in it.
Another important point is a scope of real influence of the Eurasianists. For decades, the group around Perinçek has managed to consolidate around its political platform many influential former military officers and wage successful media campaigns, their influence and, most importantly, access to the decision-making process remains, however, very limited. The fact that this group failed to prevent escalation between Turkey and Russian right after the jet crisis in November 2015 despite all its mediation efforts and alleged contacts with Russian side may indicate their limited influence on politics in Turkey. The influence of this political group may depend on current reforms of the Armed Forces where Turkish government is trying to establish new rules of the game making it harder for the officers to exert their political influence.
Thirdly, it is important to understand why Perinçek group in Turkey is popular today and enjoys benevolence of the ruling party despite its criticism of the current Turkish foreign policy and domestic policies of the AKP. One way to answer this question is to consider assumption that AKP doesn't attach to ties with Russia strategic importance, using it merely as an instrument, implying that today's rapprochement is driven by current international conditions where Turkey is experiencing lack of dialogue with its Western partners and, thus, feels increasingly isolated. On the other hand, it is fair to say as well, that Erdogan may be allowing the Perinçek group as much freedom mainly to communicate to the Russians red lines of cooperation that Turkey may have in many areas of mutual interests like Kurdish issue in Syria.
It is important to mention the role that other groups are playing in formation of bilateral official dialogue, be it negative or positive. Business circles represent the most potent forces that can in theory exert a level of influence. A number of Turkish construction companies like Ant Yapi, Renaissance Construstion, Enka, Limak, Costa Group are working and successfully expand its presence in the Russian market: in 1972–2016 Turkish companies participated in 8755 projects around the world with total value of USD 325 billion among them 1939 projects worth $64.8 billion in the Russian Federation. Naturally, Turkish companies operating in Russia have gained experience in handling with local political establishment and bureaucracy, sometimes engaging in non-transparent business schemes. This laid a foundation for further ties and connections with politicians on federal level.
But still, even if Turkish companies have limited influence in Russia, they are unlikely to have a say in strategic decision-making process, especially on security related issues. This could be seen from their participation in construction of very profitable objects. Russian business circles, with exception of energy and automobile giants like Gazprom, Rosatom, Gaz, is very poorly represented in Turkey and has very limited experience in dealing with Turkish clients with their own cultural specifics.
Another group that can influence bilateral relations are ethnic minorities. Historically, Turkey hosted refugees and emigrants from Russian Empire, Soviet Union and later Russian Federation. Today, groups like Crimean Tatars, Circassians, North Caucasian diasporas influence public opinion on Russia in Turkey, though their activity is limited due do strict Turkish nationalism and firm grip of current ruling party on media and public demonstrations. These groups may find themselves in the center of new frictions between Russia and Turkey, especially considering the ongoing migration of foreign fighters from Syria back to Turkey and Western Ukraine. Religious groups like South Caucasian Salafist networks still can pose a danger to Russian national security from Turkey thought its presence in Georgia and western Ukraine. Existence of sympathizers to the groups' cause among Turkish bureaucracy may further complicate Russian-Turkish rapprochement and attempts to strengthen anti-terrorism cooperation.
The role of the West and third countries in dynamics of bilateral relations
Russia and Turkey perceive bilateral cooperation over gas supplies and Akkuyu nuclear plant as almost an ideal platform to improve their negotiating positions vis-à-vis the European Union. For Turkey, better terms for gas deliveries from Russia and Russian assistance in building of the nuclear facilities have direct implications for the long-term economic development plans, as Turkish government is expecting a rise in energy demands. On the other hand, Russia gets stable revenues from its exports to Turkey, a good asset for its budget stability in times of Western sanctions and pressures on domestic economic plans. All of this indicates that economic cooperation contributes to advancement of their negotiating positions via-a-vis Europe and the US.
By the same token, Russia has been using Turkey's support on multiple issues as a very effective asset in its own competition against the NATO. For Russian elites, Turkey's independence from the Western alliance is very important. A number of Turkish experts emphasized the fact that Turkey didn't join Western sanctions imposed on Russia in 2014.
While both leading actors want to gain more influence in the global politics, this transformation, however, will not come without problems for bilateral relations. Turkish elites seem to have accepted the fact that without considerable Western backing Turkey has very limited room for action in the Central Asia. This approach is further nuanced by claims that Turkey is aware that its relations with Russia are uneven, especially in military and diplomatic terms, therefore, when and where possible, Ankara would like to counteract Russian dominance through soft-balancing, expanding discussions of NATO–Turkey cooperation, for example, in Georgia or Azerbaijan. Russian military build-up in the Black Sea is also causing concerns in Turkey. This claim can be related to the ongoing efforts of the Turkish government to increase navy capacities in territorial waters.
Another interesting point in terms of influence of the third parties in the bilateral relations is the role of the Central Asian leaders in this process. These leaders are forced to mediate between the two because of their political reliance on Russia and cultural affinity to Turkey. There are, however, tendencies in Russian policies to minimize Turkic solidarity with Turkey among Russian Turkic communities.
Informal dimension of bilateral relations
Despite political elites' vocal support for and visible official efforts to strengthen non-official bilateral ties, connections between private parties, NGOs, and academia exert limited influence on official relations between Russia and Turkey. Primary reason behind this lies in systemic position of civil society in decision-making process in each country. According to experts, scholars, who make research on bilateral relations, often lack necessary linguistic skills. There is still ideological bias in many academic circles, both in Russia and Turkey as well. For example, sometimes, scholars, who write on bilateral relations, do it in a form to confirm their personal, professional, political loyalty to institutions or movements, meaning that the scope and tone of analysis may eventually change according to the agenda. That is why many Turkish or Russian speaking scholar prefer engaging in history and culture studies rather than doing research on current political affairs. There are problems of insufficient funding and institutionalization between academia in Turkey and Russia as well.
Civil war in Syria
Nowadays, Russia seems to be rediscovering itself as a global power again. Russian elites are eagerly engaged in the Middle East, and state-supported energy and military companies increase their impact in the regional political landscape. On the other hand, Middle East became by the matter of choice an area of foreign policy activism of Turkish elites.The AKP government has been increasing gaining self-confidence in dealing with regional issues, possibly, hoping that cultural and geographical proximity to local population may be translated into real life political and economic gains for Turkey.
Syria was possibly the prime example of recent regional activism of Turkey, but civil war changed this approach with rising instability threatening Turkish security and coming of many new global and regional players in the conflict. The problem for the Russian-Turkish relations is that Syria turned out to be an area where Russian and Turkish interests clashed. But eventually increasing number of challenges transformed foreign policy dynamics in Turkey, and securitization of the process led to re-evalutation of priorities, where closer contacts with Russia became to be seen as one of the channels to enhance security situation on Turkish borders. Moscow positively reacted to Turkish concerns over the PKK/Kurdish issues, seeing them as a legitimate topic of discussions with Turkey.
As far as we can see today, Turkish elites are trying to adapt to new realities by getting used to Russian presence. Watching NATO allies increasingly abandon Ankara, Turkish elites are trying to become more active in broadening areas of cooperation with Russia and Iran. Judging by the lessons from the past, Turkey and Russia are able to find a common solution and acknowledge their corresponding legitimate interests and concerns. Turkey's cooperation with Russia is a tactical phenomenon that was caused by Western partners' inability to show solidarity on many occasions and to act against Russia.
Differences over political issues like the fate of Assad's regime or scope of rights for Kurds may be pushed from the agenda in the mid-term, allowing bilateral cooperation on Syria to be focused on economic matters like reconstruction, trade, energy projects. These are the areas that are important for Russian plans to rebuild Syria and that Turkey can be interested in as well. Still, Turkey would like to keep supporting opposition, because, otherwise it would have to deal with Assad through Russian mediation therefore falling into more dependence on Moscow.
Conclusion
Even though one may witness rapid development of political ties between Turkey and Russia in recent years, relations are not immune to unforeseeable shocks. Heavy accent on political dialogue, political connections and consultations between the governments may be of great importance in general, but at times reveal that it is insufficient for development of full-fledged relations. Today's cooperation between Moscow and Ankara in Syria serves as a good platform for both to test their political trust and to learn to listen to each other's concerns, which so far have been largely ignored or pushed out of the agenda. Despite current existing moods in Europe and the United States on Turkey planning to leave the NATO, analysis of historical legacy and present situation in the world suggest that Turkey neither would prefer nor would afford to leave the Western security and political structures. On the other hand, Turkey's rapprochement with the West would not be necessarily against interests of Russia. Interconnectedness of Turkey with Europe and USA may be of good utility for Russian global foreign policy. Current positive dialogue, however, should be used to include non-state non-official players and give them space to direct and shape bilateral relations. Their presence and contribution would be a best guarantee against political fluctuations which we will definitely witness in the future.
First published in our partner RIAC
Digging Down Into 'Putin's Corruption'
For years, I have been checking-out allegations of such things as 'Putin's Palace' and 'Putin's Chef', and so many other allegations of Putin's 'corruption' (many of which are against friends and members of his Administration instead of against himself, because the allegations against himself fail to provide any documentation that he actually owns what the allegations attribute to him — there is far too much that is mere supposition in the direct accusations against him).
Therefore, recently, I checked out allegations that are commonly made that Russia's Minister of Foreign Affairs, Sergei Lavrov, is corrupt.
This twitter string contains loads of allegations that his mistress since about the year 2000 has a daughter from her former marriage who is a multi-millionairess with no apparent cause to be such: "Polina Kovaleva. Polina is a 26-year-old glamorous Russian girl from London. She lives in a huge apartment in Kensington and loves to party, her instagram feed looks like a non-stop holiday." Here's that instagram feed, where Polina flaunts her glamour; so, she comes across as a European Kardashian-plus — but how many people use that flaunting to argue that America is corrupt? (There are lots better arguments to make such a case against the U.S. Government.)
The neoconservative "Vice" site headlined "Inside the Lavish London Lifestyle of Sergey Lavrov's Stepdaughter: Polina Kovaleva bought a £4.4 million apartment with cash when she was just 21, according to campaigners. She happens to be the stepdaughter of Putin's foreign minister, Sergey Lavrov."
A more neutral site, the Moscow Times, bannered "Russian Foreign Minister's Secret Mistress Wields Ministry Influence, Owns Elite Property – iStories", and presented evidence that Polina's wealth comes not so much from anything having to do with her stepfather Lavrov but from her mother, his mistress, Svetlana Polyakova, who was born in 1971 and who met Lavrove in around the year 2000.
Very little information is public about Polyakova. But, the neoconservative The Daily Beast site headlined "Top Russian Diplomat's Secret Life With Millionaire Mistress Exposed: Sergey Lavrov, 'the face of Russian diplomacy,' has reportedly been living large while on 'official trips' to more than 20 countries with his ultra-rich mistress." That report opened:
Russian Foreign Minister Sergey Lavrov has reportedly bankrolled his mistress's travel abroad with him on official diplomatic trips to almost two dozen countries around the world, according to a new bombshell report from Russian opposition activist Alexei Navalny's team. The report, entitled "Yachts, bribes and a mistress. What Minister Lavrov is hiding," details a plethora of luxury digs and yachts enjoyed by the couple, including a yacht owned by the notorious oligarch Oleg Deripaska, which has been graced by the likes of Belarusian model Anastasia Vashukevich, better known by her pseudonym Nastya Rybka.
Navalny is a far-right-wing rabidly anti-Muslim Russian politician who has never had higher than 3% approval-rating in Russian national polls but whom U.S.-and-allied propaganda describe as "Putin's main political opponent", and as Russia's leading anti-corruption activist. His 'anti-corruption' organization got caught trying to get UK's MI6 intelligence agency to fund it. (The video that was shown in that linked-to news-report was removed from youtube and from the "Wayback Machine" Web-archive, so that that 'archive' is no longer a reliable archiving service, but what the video showed — I saw it while it was online — was devastating against Navalny, and the U.S.-and-allied regimes don't deny its authenticity, but only block their publics from seeing and hearing it.)
The opening item in the present article — "This twitter string contains loads of allegations that his mistress since about the year 2000 has a daughter from her former marriage who is a multi-millionairess with no apparent cause to be such:" — comes from Navalny's organization.
Then, The Daily Beast headlined "Britain Calls Out Russia's Top Diplomat for Secret Family", and reported:
In its list of the 65 new individuals and organizations targeted for "aiding Russia's invasion of Ukraine," the British Foreign Office appears to have made a point to call out Lavrov's "secret family" in London, with its inclusion of Polina Kovalev, whom it describes as his stepdaughter.
Kovalev's inclusion on the list appears to confirm exhaustive reporting by Kremlin foe Alexei Navalny's team that Lavrov, 71, has been living a "double life" for nearly two decades. One that includes a "secret wife," identified by Navalny's allies as Svetlana Polyakova, an actress and a restaurateur with sway in Russia's Foreign Ministry.
Britain's neoconservative Daily Mail headlined:
REVEALED: Russian Foreign Minister Sergey Lavrov took secret millionaire mistress abroad more than 60 times on 'diplomatic missions' and bankrolled her luxury lifestyle
Russia Foreign Minister Lavrov bankrolled mistress Svetlana Polyakova's lifestyle
He has taken her abroad on 'diplomatic' missions more than 60 times since 2014
She also appeared publicly with Putin and was cleared to be in 'elite' entourage
Details unearthed in an investigation were published by Kremlin critic Navalny
The U.S.-and-allied billionaires' OCCRP.org, or "Organized Crime and Corruption Reporting Project," is also on this case. The OCCRP is funded by billionaires and Governments such as Soros (Open Society Fdtn.), Rockefeller, Ford Fdtn., Denmark, U.S. Government, Bay&PaulFdtns./CIA, etc. Their article "Russian Foreign Minister Has a Longtime Female Companion With Over $13 Million in Unexplained Assets" reported:
For years, a source close to a foreign ministry official told reporters, she has had a very close relationship with Lavrov. Reporters found that, in addition to accompanying him around the Church of St. Sergius, she has travelled with him to Sochi and St. Petersburg. She has even appeared in cell phone address books under his last name.
Polyakova also has substantial assets that a mere "employee of the Foreign Ministry" would almost certainly not be able to afford. Property records show that she and her family own real estate in Russia and Great Britain worth about 1 billion rubles ($13.6 million).
Polyakova and the Ministry of Foreign Affairs did not respond to requests for comment. …
Until 2012, business records show, she was a co-owner of Consul, a restaurant located inside the foreign ministry's diplomatic academy in central Moscow.
The restaurant received state contracts to provide meals for students, teachers, and visiting foreign diplomats. But according to financial records, the business was not especially profitable. Between 2015 and 2020, its total revenue was only 120 million rubles ($1.6 million).
Polyakova had several other companies listed as restaurant businesses, but they didn't bring in high revenues either, according to their financial reports
A few sites mention that Svetlana Polyakova is a "restaurateur," and so I looked to find details about "those other companies." All that I could find was her position at McDonald's, as follows:
Irish Times headlined on 19 November 2014 "McDonald's restaurant in Moscow reopens after being shut" and reported:
McDonald's largest restaurant in Russia reopened after local officials shuttered the location for three months, an optimistic sign for a company trying to return to business as usual in the country.
The outlet, situated in Moscow's Pushkin Square, resumed business today, said Svetlana Polyakova, a spokeswoman for McDonald's Russia.
The "Ad Forum" site shows her as "Advertising Manager at McDonald's". The Roscongress Building Trust describes her as "Chief Executive Officer, Charitable Foundation 'House of Ronald McDonald'; Public Relations Director, McDonald's Russia", and says:
Svetlana started as an entry-level employee at McDonald's in 1989 alongside studying at the School of Education of the Maurice Thorez Institute of Foreign Languages. In 1991, she taught at the Training Department. In 1993, she became a manager of the Marketing Department, and in 1997 she proceeded as a manager of the Public Relations Department.
In 2001, Svetlana was appointed the head of the company's public relations department. In 2002, she received the highest corporate award of McDonald's Corporation. For several years in a row, Svetlana was among the 1000 best managers, according to a study by the Managers Association of Russia and the Kommersant Publishing House. From the first days with the company, Svetlana was deeply involved in philanthropy assisting charitable and children support organizations.
In 2002, Svetlana became the General Director of the Ronald McDonald House Charities. For nearly 25 years, the non-profit organization has been implementing programmes aimed at supporting families in need. Under the Svetlana's leadership, the Ronald McDonald House managed to raise about 1 billion roubles, which helped more than 250,000 Russian children and families. The Foundation implements several important programmes, such as Family Rooms in hospitals, a health and fitness training seminars for specialists working with children with disabilities, two inclusive playgrounds in Sochi and Moscow.
In 2013, with Svetlana's close involvement, the first and so far the only family hotel in Russia Ronald McDonald House Kazan was opened for parents whose children are undergoing long-term treatment at the Children's Republican Clinical Hospital of the Ministry of Health of the Republic of Tatarstan. Ronald MacDonald House has become a real home away from home for more than 9,000 parents and children.
For the implementation of this project, the Ronald McDonald House Organization became a three-time winner of the republic's contest Philanthropist of the Year and received the diploma of the Best Social Project of Russia in 2018.
My Google seach for "Svetlana Polyakova" and "divorce" produced:
Svetlana Polyakova – The Irish Times
https://www.irishtimes.com › tags › svetlana-polyakova
Svetlana Polyakova · 1. Woman must pay former husband €1.6m as part of divorce settlement, judge rules · 2. 'This is not easy for me at all': Gráinne Seoige makes …
and that article is the Irish Times article headlined on 19 November 2014 "McDonald's restaurant in Moscow reopens after being shut", but nowhere indicates anything like "Svetlana Polyakova · 1. Woman must pay former husband €1.6m as part of divorce settlement, judge rules · 2. 'This is not easy for me at all': Gráinne Seoige makes …"; so, perhaps her divorce settlement has been removed from the Web.
Possibly, she inherited at least her first wealth from her mother. If Svetlana was paying to her former husband, then she was probably wealthier than her husband.
The date of the divorce is likewise not publicly known.
Perhaps Svetlana is so intelligent and sophisticated a person, that her feedback and recommendations to Lavrov make worthwhile her traveling with him on his diplomatic trips. Nobody doubts that Lavrov has been extremely successful as Russia's Foreign Minister.
In any case: my attempts to find reason to believe the accusations against Lavrov have been as fruitless as my previous attempts to believe that there is corruption at the top level of Russia's Government. Maybe there is, but the U.S.-and-allied propaganda-organizations haven't yet provided any evidence for it. By contrast, the documentation that the top levels of the U.S.-and-allied Governments are drowning in corruption is extremely abundant and conclusive, as I have documented in many articles.
Fidel Castro's Political Struggle Unites Havana and Moscow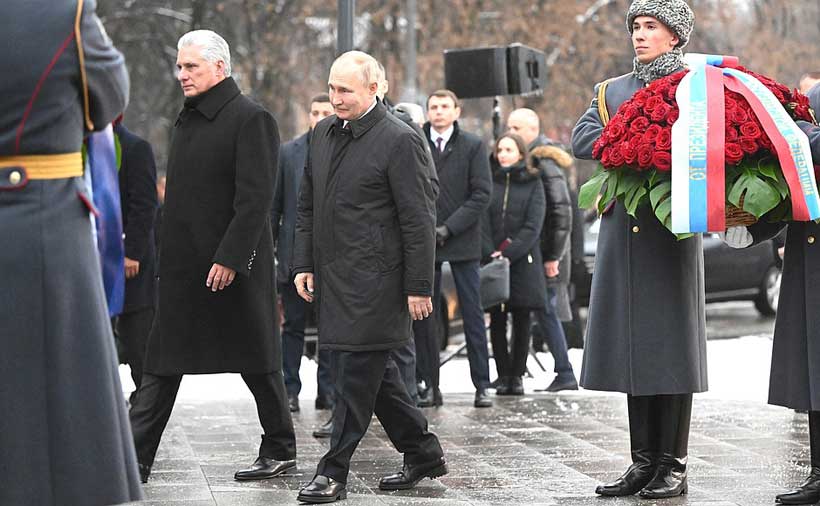 Under the auspices of an official state visit to attend the unveiling of a statue in memory of former leader Fidel Castro in northwestern Moscow, Cuban President Miguel Diaz-Canel Bermudez unreservedly expressed support for anti-American position taken by Russia, reminded the history of Cuba and the Soviet Union during the Cold War when shared the same stand.
Diaz-Canel Bermudez highlighted the significance of the visit to Moscow. Cuba and Soviet Union had similar experience, both were blockaded. "It takes place at a time when both Russia and Cuba have been subjected to unfair unilateral sanctions and have a common enemy, a common source which is the Yankee empire, which manipulates a large part of humankind," he said. "We constantly condemn the sanctions imposed on the Russian Federation and the sources of the ongoing conflict so that people are not misled and do not blame Russia for this, and we also condemn what Europe is doing, being completely subordinate to US interests."
Referring to the unveiling of the monument, he described it as a true reflection of Fidel Castro's personality in the midst of struggle, just like in the midst of struggle today. He denounced the imperialist powers and further praised all efforts of the Russian Federation and, under such complicated circumstances, Russia's role in orienting the world towards multi-polarity.
Russia can always rely on Cuba. Moscow and Havana will continue to strengthen cordial bilateral relations and defend the great values of freedom, equality and justice. The principle of continuity, not just a slogan or a motto, but to continue promoting relations with the Russian Federation. Cuban leader thanked Russia for its support for his country and spoke in favor of expanding economic cooperation between the two countries.
President Vladimir Putin noted in his speech that the bilateral relations between Cuba and Russia have been making steady headway in the past three years since the previous meeting in the Kremlin. He pointed to the appreciable developing cooperation between foreign ministries, parliaments and governments. State Duma Speaker Vyacheslav Volodin visited Cuba quite recently.
The Russia-Cuba Intergovernmental Commission is working. It held its 19th session. There are plans for cooperation between the governments with many joint projects up to 2030.
Putin stressed that the Soviet Union and Russia have always supported and support the Cuban people in their struggle for independence and sovereignty. "We have always opposed any restrictions, embargoes, blockades and so on. We have always backed Cuba on international platforms. We are seeing that Cuba occupies the same position with respect to our country, to Russia," he added.
All this is a result of the traditional friendship that was started by Comrade Fidel Castro. Today, Cuba and Russia agreed to have unveiled a monument to him. Indeed, this is a good memory of him, a true work of art. He is so dynamic, always in motion, moving forward. It definitely captures the look of a fighter that he had.
Putin really remembered his personal meetings very well, even the details with him. "He was an impressive man. I remember how during our first meeting in his office when we were freely discussing the current situation during lunch, I was stunned by his attention to detail and his knowledge of the nuances of ongoing events, even if they took place far away from Cuba," he narrated the story.
"He was aware of and could analyse everything happening in the world. It was very interesting and useful for me to have these meetings with him. Relying on this firm foundation of friendship, we must certainly move forward and enhance our cooperation in the current conditions," Putin said in conclusion.
Work on the bronze-made three-meter-monument lasted for six months and took place in the Russian capital. Castro is depicted seated on a rock with a stylized map of Cuba inscribed on it. The image reflects the heroic path of a person who stood up for the rights and freedoms of the Cuban people, according to the Kremlin's press service fact sheet.
The Moscow city legislature approved the idea of such a monument on February 16. The initiative to erect a monument to Fidel Castro came from the leadership of the Russian Defense Ministry. The idea was supported by the Russian Military-Historical Society which held a closed artistic contest with 11 works participating.
The monument was erected on Moscow's square named in honor of Castro. Fidel Castro was one of the leaders of Cuba's revolutionary movement who chaired Cuba's Council of Ministers from 1959 to 2008. The Cuban politician died in 2016.
Annexation of Ukrainian oblasts to undermine the Russian Constitution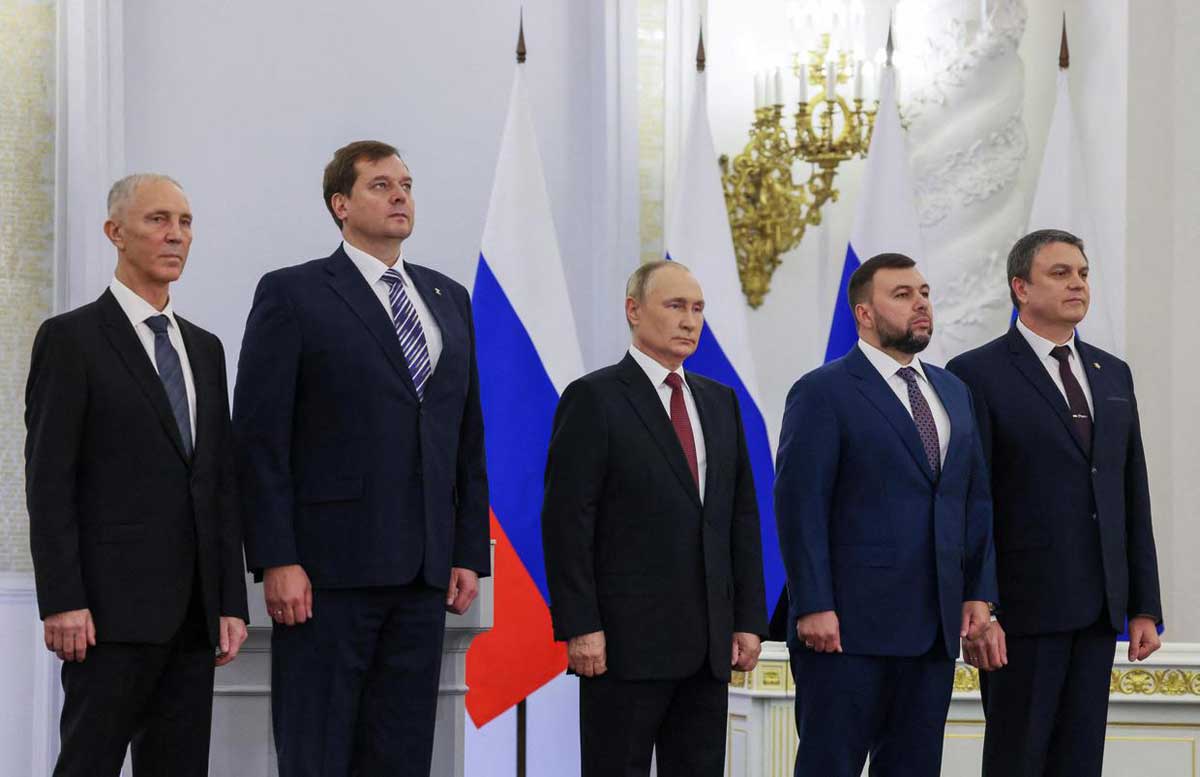 On September 30, 2022, Russia declared its annexation of four Ukrainian oblasts – Luhansk, Donetsk, Zaporizhzhia, and Kherson. Not only none of the oblasts was under complete Russian control at the time of annexation, the unilateral proclamation of "new Russian territories" took place amid Russian military setbacks seen by many as one significant continuing retreat.
To make the annexation look legitimate, the Kremlin staged "referendums" in all four oblasts. Then, according to the "will of the people" there, the State Duma voted for admitting these four into the Russian Federation, with the Russian Constitutional Court acknowledging in a hasty overnight session on October 2, 2022, that four new treaties with "the newly-acquired territories" fully correspond to the Russian Constitution.
In the Kremlin's view, this set of obviously illegitimate actions showed its complete legitimacy. It seems to have worked for the internal political agenda as Putin's Goebbels-style propaganda gurus have used billions of dollars much more effectively than his military aides. At the same time, it has shown the absence of the Rule of Law with its basic presumption that no one – including the most highly placed officials – is above the law. The "legal documents" supporting the annexation prove that Russian authorities live in virtual reality.
February 21, 2022, Putin acknowledged the independence of Donetsk and Luhansk Republics to use it three days later as a pretext for the military invasion of Ukraine. But the document he signed stated that Russia recognizes the whole territory of Donetsk oblast as the Donetsk Republic, which means that for the Donetsk Republic to become a part of the Russian Federation, all people of Donetsk oblast should have been represented at the staged referendums. Failing to seize the Ukrainian regions of Donetsk oblast by the end of September, the Kremlin couldn't do it. And neither the Kremlin nor the State Duma or should-be highly-professional judges of the Constitutional Court expressed any care for the fact.
The preamble of the Russian Constitutional Court's approval of the four treaties states that as a consequence of arbitrary decisions of the Soviet government, the territory of the Ukrainian SSR was primarily comprised of lands with a predominantly Russian population without the will of the people. Moreover, according to the viewpoint of the Russian Constitutional Court, the situation in Ukraine began to deteriorate after the collapse of the Soviet Union. And it became even worse after the government change in Kyiv in 2014.
The Russian Constitutional Court also noted that "admitting belief in good and justice as one of the founding values of the multi-national people of the Russian Federation, and being a social state governed by the Rule of Law, Russia can not ignore massive facts of violations of the right to life and discrimination based on ethnic and linguistic affinity, more so on the territory with the population of which Russia has long-lasting historical, cultural and humane connections."
This official statement provides legal grounds for the revision of the collapse of the USSR. The Russian Government may use this official legal ruling of the Constitutional Court to acknowledge the void of the Belovezh Accords of December 1991, which declared that the Soviet Union ceases to exist, effectively overturning the will expressed by more than 76% of the Soviet people, who in March 1991 voted for preserving the Soviet Union.
In 2017 Sergei Kiriyenko, head of the Kremlin internal policy team and an architect of the structure of the contemporary internal politics in Russia, declared that "the Russian state functions on principles different from the treaty principle." His statement justified why the Kremlin did not want to re-sign a treaty between Tatarstan, a subject of the Russian Federation, and the federal center. The treaty that was refused to sign was approved by the Russian Parliament in 2007 to be effective for ten years, and to be re-approved in 2017. And the 2007 Parliament's approval followed the 1994 Treaty signed by Tatarstan with the Kremlin, after Tatarstan refused to sign a Federative Treaty between the Kremlin and all Russian regions, which became the basis of the Russian Federation and its Constitution of 1993.
Openly loyal and Kremlin-supporting Chechnya never had any treaty signed with the Kremlin. After two wars there is not even a valid peace treaty between Chechnya and Moscow, let alone a Federative Treaty. May 12, 1997 Aslan Maskhadov, the then President of the Chechen Republic Ichkeriya signed a peace treaty signed with the Russian President Boris Yeltsin. That peace treaty provided legal grounds for controversies to be resolved only by peaceful means and according to the norms of international law (needless to remind you that Putin violated it three years later). It is interesting that Boris Yeltsin declared that the Treaty "put an end to the war and 400 years of conflict".
This treaty followed the Khasavyurt Accords of 1996, titled "On principles of the basis of relations between the Russian Federation and the republic of Chechnya". Both documents do not clearly define the status of Chechnya within or outside of the framework of the Russian Federation. The documents de-fact treated Chechnya as an independent state, and at the same time the Russian Parliament never ratified the documents, which is obligatory for international treaties and agreements.
This mix of misleading title and content demanded a particular provision of the Russian Constitutional Court stating on December 26, 1996, that the signed Khasavyurt Accords did not regulate any relations between the Russian Federation and one of its subjects, clearly leaving Chechnya outside the existing legal structure of the Russian state. Moreover, the Chechen Republic Ichkeria, whose President signed the treaty, was declared "ceased to exist," replacing it with the Republic of Chechnya, leaving any documents signed before legally void.
As we see from the legal point of view there are at least two subjects of the Russian Federation that have no legally effective treaties with the central authority.
Most regions signed the Federative Treaty of 1992, which later was transformed into the Russian Constitution. The signing needed to repeat in a new format in 2002. The initial treaty provided for a later re-signing revision of approval only for the regions initially formed as Republics, and usually, these are ethnicity-based regions. But Putin's negligence of the law when he felt that he had authority, which he already possessed in 2002, let the resignation issue out of his attention scope. In 2017 Tatarstan demanded this attention but only received Kiriyenko's statement that the Russian Federation was not based on any treaties.
And this is when legal cover for acquisitions of new territories plays a role. In 2014 Moscow signed a treaty with the Republic of Crimea. In September 2022, four "new subjects of the Russian Federation" became its part through treaties.
Looking at the Russian state legal structure, we see one republic with a treaty not re-signed (Tatarstan) and another that changed its name without signing any legal treaty with Moscow (Chechnya). There are also 18 republics that initially signed the federative treaty. Still, later the Kremlin declared that there was no need to prolong it without talking any supporting legal actions. Finally, there are also three republics with existing treaties whose legitimacy is not recognized internationally (Crimea, Luhansk, and Donetsk republics), and of course, Kherson and Zaporizhzhia oblasts.
This context shows the total absence of the Rule of Law in Russia and undermines its Constitution and legal principles of interrelations between the regions and the Kremlin.
The current mobilization state of Russian politics and economy drives the Kremlin to re-organize its administrative structure based on purely economic effectiveness reasoning. An obvious target for future reforms will be ethnic republics, as now different level Russian media start spreading statistics proving the predominance of Russians in the historically ethic-based republic. A good example is a Krasnodar Krai discussion of why the Maykopsky district of the Republic of Adygea can't be a part of Krasnodar Krai since 85% of people in the community are Russians, raising a question about Adygea as a whole with 65% of Russians leaving there.
This Kremlin-inspired discussion presents an existential threat to many smaller ethnicities abiding in Russia. Many ethnic people already feel they are being exterminated by the war in Ukraine, with just a handful coming back from hundreds sent to the frontline. And suppose they look closely at the legal grounds of why they live in the Russian Federation to find out their absence. In that case, the centrifugal forces of Russian internal politics, becoming increasingly evident with every war defeat, may become unstoppable.