It Is Time to Revise Russia–Turkey Relations for a More Stable Future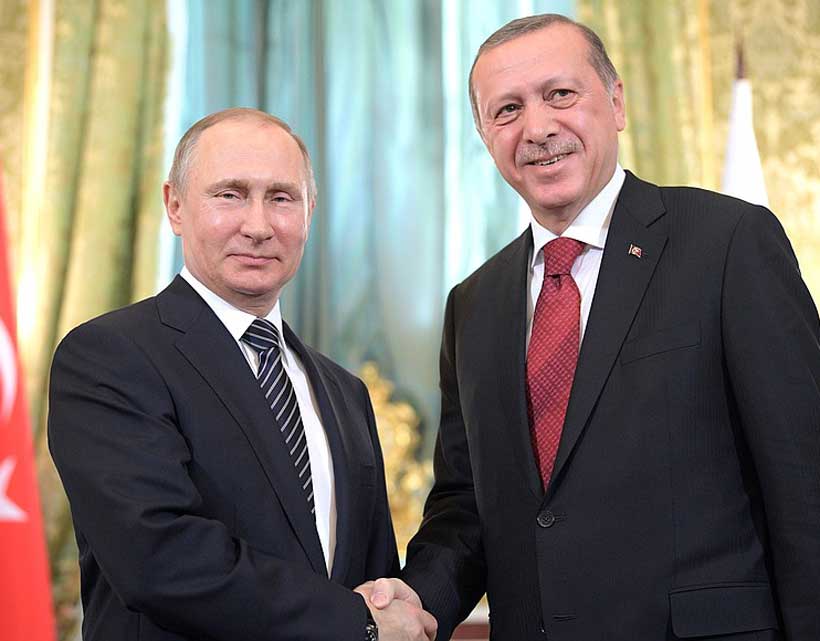 With ongoing debates on Russian-made S-400 deliveries to Turkey, fate of continuing cooperation of Russia, Turkey and Iran in Syria and future of Ankara's relations with the European Union and NATO, it is high time to make an honest review of Russian-Turkish relations, define weaknesses of bilateral cooperation and try to sketch a framework for a better future. Inspection of historical legacy and nature of current ties may be of big value for those who want to grasp contours of common future. Analysis of existing political constellations in both countries, study of actors who shape or strive to shape bilateral relations and investigation of today's cases of regional cooperation between Turkey and Russia may further contribute to explaining trajectory of bilateral relations.
Historical background
During the first years of the Russia–Turkey relations after the collapse of the Soviet Union were defined by views of leaderships that were formed during the Cold war era. In the aftermath of the Independence War, Kemalist regime viewed its ties with the Soviet Union as a political alternative for Ankara's relations with the European countries. The balanced approach in cooperation with the Soviets was gradually complicated by Moscow's insistence upon Ataturk to redesign Turkey's political regime according to the socialist principles. Left-leaning members of the Kemalist establishment came to support this idea.
Relations with Moscow were further marred after 1945 with the USSR threatening to reconsider the Straits regime and change Turkey's eastern borders. Later, Soviet officials in later did confirm that Stalin's insistence was a primary reason for Turkey's decision to ally itself with Western powers. The Soviet Union interpreted Turkish participation in the Marshall plan, membership in the NATO under the Eisenhower Doctrine were as a further step to get security guarantees in face of the Soviet threats. On the other hand, it also prompted Moscow to consider Turkey's foreign policy as being to a large extent defined by the NATO strategic plans rather than national interests.
The crisis in Turkey's relations with its traditional allies over the Cyprus issue in 1964 and later in 1974 showed the Soviets that Turkey was increasingly diverging from the western line. The Soviets saw this situation as an opportunity to relaunch contacts with Ankara. From the mid 1970-s, the relations between the USSR and Turkey started gaining their own logic and that was largely expressed in trade, gas, and technology exchange cooperation. Soviet invasion of Afghanistan and Moscow's support for the Workers' Party of Kurdistan, on the other hand, didn't allow these improvements to gain larger potency.
Gradual transformation from competition to cooperation
It is against this background that bilateral relations were developing in the 1990s. Political elites in both countries were still thinking in terms of bipolar confrontation and felt a lot of distrust towards each other. On the other hand, both countries were experiencing profound difficulty in finding their places in a new world defined by instability around their borders and lack of acceptable set of rules of global political engagement.
Areas that Russian elites viewed as Russia's traditional sphere of influence were witnessing increased involvement of Western and global players. Growing instability in the Caucasus, Central Asia, the Balkans did not allow both countries to reshape their perception of each other and find a common ground. Relations were further complicated by the fact that Russia perceived Turkey as a tool in the hands of Western powers to minimize Russian presence.
With regard to the Caucasus and Central Asia, Turkey had very good potential to become a driver of positive political and economic changes. With the fall of the Soviet Union and collapse of bipolar competition Turkey lost its strategic importance in the Western eyes and this fact made Turkish elites look for areas where Turkey could be again an important ally.
By the 1990s it was evident that the countries' elites were gradually moving from confrontation and competition, concentrating on areas that were mutually benefiting. Two points should be stressed here: this decision was a result of political will and had non-partisan character meaning that this approach enjoyed legitimacy among broader groups of political elites. Secondly, problematic areas in bilateral relations were not resolved or given increased attention but rather mitigated and pushed from the agenda.
Since the later years of the Cold war, certain areas have been pushing both countries to more cooperation and trust. These areas became relevant in the Russia–Turkey relations as well. Trade agreements on gas were a primary area where both countries had a chance to prove themselves as reliable partners. For Turkey, it was important to get stable contracts on gas deliveries for its growing economy during 1990s. For Russia, it was important to have Turkey as a reliable transit partner for its gas supplies to the European markets.
Economic cooperation and increasing mutual interdependence stimulated contacts in other areas, including construction. Turkish companies became especially famous in Russia for their road building technologies, and Russian companies were welcomed in Turkey due to their know-hows in building of large infrastructure objects like factories, dams, channels, or nuclear plants. Further areas included production and manufacture facilities in Russia, especially in culturally affiliated republics like Tatarstan.
Political leadership
It is important to note that since 2000s cooperation in these areas didn't lead to increasing influence or effectiveness of lobbying among economic groups. Many experts point to the considerable control of formal politics over the business in both countries: with exemption big economic projects like Akkuyu NPP or TurkStream gas pipeline, economic and business ties don't define political agenda between Turkey and Russia, commercial activity heavily dependent on political decisions and rapport. Although, this is less relevant for Turkish case since in Turkish export to Russia dominate goods and products produced by a large number of smaller local producers.
Predominance of political leadership in channelling of the bilateral relations is another dimension. Heads of state in Turkey and Russia are viewed as key actors who define bilateral relations. This also suggests that relations lack deeper institutionalization despite rich scope of agreements signed in the last 15 years: Moscow and Ankara are struggling to bring bilateral relations onto more stable and rigid foundation, which makes relations susceptible to situational politics. The establishment of the High-Level Cooperation Council in 2010, i.e. 20 years after the collapse of the Soviet Union, shows how slow the progress in this direction really is.
The lack of stable institutional base is coupled with the lack of unity in ideological views on a series of issues dealing with global and regional agendas. Turkey's foreign policy is defined by personal interests of the country's leadership, who has been trying to consolidate power within close circle of people loyal to Erdogan. Foreign policy decision-making process in both countries is very personalized: even though bilateral relations are not driven by common values and norms, as in the Turkey–NATO relations in their best years, both Moscow and Ankara may pursue personal political gains.
Nevertheless, it is important to underline that principle shift towards more cooperation may have deeper roots than solely the will of political leadership: rapprochement between Turkey and Russia started in 1997–1998, i.e. before Putin and Erdogan came to power. This observation is further confirmed by the fact that during these years both Ankara and Moscow decided to give up on using Chechen and Kurdish issues to pressure each other in other political questions.
Eurasianism and other groups of influence in Russia–Turkey ties
One of the ideological premises that many observers attribute to bilateral cooperation is the idea of Eurasianism. The concept is widely used in discussions on current state and the future of bilateral relations. The analysis of how elites understand Eurasianism in both countries reveals that there are both commonalities and differences. Russian and Turkish elites tend to view Eurasianism as a suitable ideological semantic tool to express their common desire to put their relations on ideational base. Further commonality includes the idea that Eurasian powers are destined to unite in order to challenge the West or at least to resist the pressure from the Western liberal democracies.
At the same time, there are considerable differences in what the elites understand under Eurasianism. In Russian case, Eurasianism was an ideological tool to protect Russian traditional sphere of influence by bringing local societies together under Russia's guidance. For Turkish elites, primarily among left-leaning anti-imperialist politicians, Eurasianism is a way to challenge Turkey's overly serious dependence from the West and to seek support from non-Western powers in resolving existing problems. Eurasianism is also popular among some of pan-Turanists and pan-Turkists, who channel their attention to the geographical regions covered by Eurasian ideology.
It can be said that Eurasianism is supported by small part of political elites in Turkey: after the 1990s, Turkey realized that it has a very limited scope of influence in the core of Eurasia, Central Asia and Russia, meaning that Turkey can be a part of Eurasia, but not its leading power.
Another aspect that defines bilateral relations is the attitudes to power and ability to influence regional politics is also. Both Turkey and Russia can be considered as rising powers who want to redefine rules of game of global and regional politics, established after the Cold war largely without much involvement and contribution of the latter two. These rising power demand recognition as rightful players in global politics. With consolidation of political regimes in Turkey and Russia, elites in both countries are becoming increasingly allergic to Western pressure and criticism and, therefore, tend to counter-balance these challenges by improving their own international stance and by developing closer ties with other rising powers.
Still, it is important to emphasize several crucial points. Eurasianists include very different political groups with different understanding of this ideology itself. In Turkey, the label Eurasianist may unite anti-Western and pro-Russian groups. However, this does not imply that being anti-Western automatically refers to being pro-Russian. On the other hand, the group is attractive for left-leaning activists, even though there are aspects of right ideology of pan-Turanism and pan-Turkism in it.
Another important point is a scope of real influence of the Eurasianists. For decades, the group around Perinçek has managed to consolidate around its political platform many influential former military officers and wage successful media campaigns, their influence and, most importantly, access to the decision-making process remains, however, very limited. The fact that this group failed to prevent escalation between Turkey and Russian right after the jet crisis in November 2015 despite all its mediation efforts and alleged contacts with Russian side may indicate their limited influence on politics in Turkey. The influence of this political group may depend on current reforms of the Armed Forces where Turkish government is trying to establish new rules of the game making it harder for the officers to exert their political influence.
Thirdly, it is important to understand why Perinçek group in Turkey is popular today and enjoys benevolence of the ruling party despite its criticism of the current Turkish foreign policy and domestic policies of the AKP. One way to answer this question is to consider assumption that AKP doesn't attach to ties with Russia strategic importance, using it merely as an instrument, implying that today's rapprochement is driven by current international conditions where Turkey is experiencing lack of dialogue with its Western partners and, thus, feels increasingly isolated. On the other hand, it is fair to say as well, that Erdogan may be allowing the Perinçek group as much freedom mainly to communicate to the Russians red lines of cooperation that Turkey may have in many areas of mutual interests like Kurdish issue in Syria.
It is important to mention the role that other groups are playing in formation of bilateral official dialogue, be it negative or positive. Business circles represent the most potent forces that can in theory exert a level of influence. A number of Turkish construction companies like Ant Yapi, Renaissance Construstion, Enka, Limak, Costa Group are working and successfully expand its presence in the Russian market: in 1972–2016 Turkish companies participated in 8755 projects around the world with total value of USD 325 billion among them 1939 projects worth $64.8 billion in the Russian Federation. Naturally, Turkish companies operating in Russia have gained experience in handling with local political establishment and bureaucracy, sometimes engaging in non-transparent business schemes. This laid a foundation for further ties and connections with politicians on federal level.
But still, even if Turkish companies have limited influence in Russia, they are unlikely to have a say in strategic decision-making process, especially on security related issues. This could be seen from their participation in construction of very profitable objects. Russian business circles, with exception of energy and automobile giants like Gazprom, Rosatom, Gaz, is very poorly represented in Turkey and has very limited experience in dealing with Turkish clients with their own cultural specifics.
Another group that can influence bilateral relations are ethnic minorities. Historically, Turkey hosted refugees and emigrants from Russian Empire, Soviet Union and later Russian Federation. Today, groups like Crimean Tatars, Circassians, North Caucasian diasporas influence public opinion on Russia in Turkey, though their activity is limited due do strict Turkish nationalism and firm grip of current ruling party on media and public demonstrations. These groups may find themselves in the center of new frictions between Russia and Turkey, especially considering the ongoing migration of foreign fighters from Syria back to Turkey and Western Ukraine. Religious groups like South Caucasian Salafist networks still can pose a danger to Russian national security from Turkey thought its presence in Georgia and western Ukraine. Existence of sympathizers to the groups' cause among Turkish bureaucracy may further complicate Russian-Turkish rapprochement and attempts to strengthen anti-terrorism cooperation.
The role of the West and third countries in dynamics of bilateral relations
Russia and Turkey perceive bilateral cooperation over gas supplies and Akkuyu nuclear plant as almost an ideal platform to improve their negotiating positions vis-à-vis the European Union. For Turkey, better terms for gas deliveries from Russia and Russian assistance in building of the nuclear facilities have direct implications for the long-term economic development plans, as Turkish government is expecting a rise in energy demands. On the other hand, Russia gets stable revenues from its exports to Turkey, a good asset for its budget stability in times of Western sanctions and pressures on domestic economic plans. All of this indicates that economic cooperation contributes to advancement of their negotiating positions via-a-vis Europe and the US.
By the same token, Russia has been using Turkey's support on multiple issues as a very effective asset in its own competition against the NATO. For Russian elites, Turkey's independence from the Western alliance is very important. A number of Turkish experts emphasized the fact that Turkey didn't join Western sanctions imposed on Russia in 2014.
While both leading actors want to gain more influence in the global politics, this transformation, however, will not come without problems for bilateral relations. Turkish elites seem to have accepted the fact that without considerable Western backing Turkey has very limited room for action in the Central Asia. This approach is further nuanced by claims that Turkey is aware that its relations with Russia are uneven, especially in military and diplomatic terms, therefore, when and where possible, Ankara would like to counteract Russian dominance through soft-balancing, expanding discussions of NATO–Turkey cooperation, for example, in Georgia or Azerbaijan. Russian military build-up in the Black Sea is also causing concerns in Turkey. This claim can be related to the ongoing efforts of the Turkish government to increase navy capacities in territorial waters.
Another interesting point in terms of influence of the third parties in the bilateral relations is the role of the Central Asian leaders in this process. These leaders are forced to mediate between the two because of their political reliance on Russia and cultural affinity to Turkey. There are, however, tendencies in Russian policies to minimize Turkic solidarity with Turkey among Russian Turkic communities.
Informal dimension of bilateral relations
Despite political elites' vocal support for and visible official efforts to strengthen non-official bilateral ties, connections between private parties, NGOs, and academia exert limited influence on official relations between Russia and Turkey. Primary reason behind this lies in systemic position of civil society in decision-making process in each country. According to experts, scholars, who make research on bilateral relations, often lack necessary linguistic skills. There is still ideological bias in many academic circles, both in Russia and Turkey as well. For example, sometimes, scholars, who write on bilateral relations, do it in a form to confirm their personal, professional, political loyalty to institutions or movements, meaning that the scope and tone of analysis may eventually change according to the agenda. That is why many Turkish or Russian speaking scholar prefer engaging in history and culture studies rather than doing research on current political affairs. There are problems of insufficient funding and institutionalization between academia in Turkey and Russia as well.
Civil war in Syria
Nowadays, Russia seems to be rediscovering itself as a global power again. Russian elites are eagerly engaged in the Middle East, and state-supported energy and military companies increase their impact in the regional political landscape. On the other hand, Middle East became by the matter of choice an area of foreign policy activism of Turkish elites.The AKP government has been increasing gaining self-confidence in dealing with regional issues, possibly, hoping that cultural and geographical proximity to local population may be translated into real life political and economic gains for Turkey.
Syria was possibly the prime example of recent regional activism of Turkey, but civil war changed this approach with rising instability threatening Turkish security and coming of many new global and regional players in the conflict. The problem for the Russian-Turkish relations is that Syria turned out to be an area where Russian and Turkish interests clashed. But eventually increasing number of challenges transformed foreign policy dynamics in Turkey, and securitization of the process led to re-evalutation of priorities, where closer contacts with Russia became to be seen as one of the channels to enhance security situation on Turkish borders. Moscow positively reacted to Turkish concerns over the PKK/Kurdish issues, seeing them as a legitimate topic of discussions with Turkey.
As far as we can see today, Turkish elites are trying to adapt to new realities by getting used to Russian presence. Watching NATO allies increasingly abandon Ankara, Turkish elites are trying to become more active in broadening areas of cooperation with Russia and Iran. Judging by the lessons from the past, Turkey and Russia are able to find a common solution and acknowledge their corresponding legitimate interests and concerns. Turkey's cooperation with Russia is a tactical phenomenon that was caused by Western partners' inability to show solidarity on many occasions and to act against Russia.
Differences over political issues like the fate of Assad's regime or scope of rights for Kurds may be pushed from the agenda in the mid-term, allowing bilateral cooperation on Syria to be focused on economic matters like reconstruction, trade, energy projects. These are the areas that are important for Russian plans to rebuild Syria and that Turkey can be interested in as well. Still, Turkey would like to keep supporting opposition, because, otherwise it would have to deal with Assad through Russian mediation therefore falling into more dependence on Moscow.
Conclusion
Even though one may witness rapid development of political ties between Turkey and Russia in recent years, relations are not immune to unforeseeable shocks. Heavy accent on political dialogue, political connections and consultations between the governments may be of great importance in general, but at times reveal that it is insufficient for development of full-fledged relations. Today's cooperation between Moscow and Ankara in Syria serves as a good platform for both to test their political trust and to learn to listen to each other's concerns, which so far have been largely ignored or pushed out of the agenda. Despite current existing moods in Europe and the United States on Turkey planning to leave the NATO, analysis of historical legacy and present situation in the world suggest that Turkey neither would prefer nor would afford to leave the Western security and political structures. On the other hand, Turkey's rapprochement with the West would not be necessarily against interests of Russia. Interconnectedness of Turkey with Europe and USA may be of good utility for Russian global foreign policy. Current positive dialogue, however, should be used to include non-state non-official players and give them space to direct and shape bilateral relations. Their presence and contribution would be a best guarantee against political fluctuations which we will definitely witness in the future.
First published in our partner RIAC
The Russia-China-Iran Alliance
NATO, the U.S. Government, and all other "neoconservatives" (adherents to Cecil Rhodes's 1877 plan for a global U.S. empire that would be run, behind the scenes, by the UK's aristocracy) have been treating Russia, China, and Iran, as being their enemies. In consequence of this: Russia, China, and Iran, have increasingly been coordinating their international policies, so as to assist each other in withstanding (defending themselves against) the neoconservative efforts that are designed to conquer them, and to add them to the existing U.S. empire.
The U.S. empire is the largest empire that the world has ever known, and has approximately 800 military bases in foreign countries, all over the planet. This is historically unprecedented. But it is — like all historical phenomena — only temporary. However, its many propagandists — not only in the news-media but also in academia and NGOs (and Rhodesists predominate in all of those categories) — allege the U.S. (or UK-U.S.) empire to be permanent, or else to be necessary to become permanent. Many suppose that "the rise and fall of the great powers" won't necessarily relate to the United States (i.e., that America will never fall from being the world's dominant power); and, so, they believe that the "American Century" (which has experienced so many disastrous wars, and so many unnecessary wars) will — and even should — last indefinitely, into the future. That viewpoint is the permanent-warfare-for-permanent-peace lie: it asserts that a world in which America's billionaires, who control the U.S. Government (and the American public now have no influence over their Government whatsoever), should continue their 'rules-based international order', in which these billionaires determine what 'rules' will be enforced, and what 'rules' won't be enforced; and in which 'rules-based international order' international laws (coming from the United Nations) will be enforced ONLY if and when America's billionaires want them to be enforced. The ideal, to them, is an all-encompassing global dictatorship, by U.S. (& UK) billionaires.
In other words: Russia, China, Iran, and also any nation (such as Syria, Belarus, and Venezuela) whose current government relies upon any of those three for international support, don't want to become part of the U.S. empire. They don't want to be occupied by U.S. troops. They don't want their national security to depend upon serving the interests of America's billionaires. Basically, they want the U.N. to possess the powers that its inventor, FDR, had intended it to have, which were that it would serve as the one-and-only international democratic republic of nation-states; and, as such, would have the exclusive ultimate control over all nuclear and other strategic weapons and military forces, so that there will be no World War III. Whereas Rhodes wanted a global dictatorship by a unified U.S./UK aristocracy, their 'enemies' want a global democracy of nations (FDR named it "the United Nations"), ruling over all international relations, and being settled in U.N.-authorized courts, having jurisdiction over all international-relations issues.
In other words: they don't want an invasion such as the U.S. and its allies (vassal nations) did against Iraq in 2003 — an invasion without an okay from the U.N Security Council and from the General Assembly — to be able to be perpetrated, ever again, against ANY nation. They want aggressive wars (which U.S.-and-allied aristocracies 'justify' as being necessary to impose 'democracy' and 'humanitarian values' on other nations) to be treated as being the international war-crimes that they actually are.
However, under the prevailing reality — that international law is whatever the U.S. regime says it is — a U.N.-controlled international order doesn't exist, and maybe never will exist; and, so, the U.S. regime's declared (or anointed, or appointed) 'enemies' (because none of them actually is their enemy — none wants to be in conflict against the U.S.) propose instead a "multilateral order" to replace "the American hegemony" or global dictatorship by the U.S. regime. They want, instead, an international democracy, like FDR had hoped for, but they are willing to settle merely for international pluralism — and this is (and always has been) called "an international balance of powers." They recognize that this (balance of powers) had produced WW I, and WW II, but — ever since the moment when Harry S. Truman, on 25 July 1945, finally ditched FDR's intentions for the U.N., and replaced that by the Cold War for the U.S. to conquer the whole world (and then formed NATO, which FDR would have opposed doing) — they want to go back (at least temporarily) to the pre-WW-I balance-of-powers system, instead of to capitulate to the international hegemon (America's billionaires, the controller of the U.S. empire).
So: the Russia-China-Iran alliance isn't against the U.S. regime, but is merely doing whatever they can to avoid being conquered by it. They want to retain their national sovereignty, and ultimately to become nation-states within a replacement-U.N. which will be designed to fit FDR's pattern, instead of Truman's pattern (the current, powerless, talking-forum U.N.).
Take, as an example of what they fear, not only the case of the Rhodesists' 2003 invasion of Iraq, but the case of America's coup against Ukraine, which Obama had started planning by no later than 2011, and which by 2013 entailed his scheme to grab Russia's top naval base, in Crimea (which had been part of Russia from 1783 to 1954 when the Soviet dictator transferred Crimea to Ukraine). Obama installed nazis to run his Ukrainian regime, and he hoped ultimately for Ukraine to be accepted into NATO so that U.S. missiles could be installed there on Russia's border only a five-minute missile-flight away from Moscow. Alexander Mercouris at The Duran headlined on 4 July 2021, "Ukraine's Black Sea NATO dilemma", and he clearly explained the coordinated U.S.-and-allied aggression that was involved in the U.S.-and-allied maneuvering. U.S.-and-allied 'news'-media hid it. Also that day, Mercouris bannered "In Joint Statement Russia-China Agree Deeper Alliance, Balancing US And NATO", and he reported a historic agreement between those two countries, to coordinate together to create the very EurAsian superpower that Rhodesists have always dreaded. It's exactly the opposite of what the U.S.-and-allied regimes had been aiming for. But it was the response to the Rhodesists' insatiable imperialism.
To drive both Russia and China into a corner was to drive them together. They went into the same corner, not different corners. They were coming together, not coming apart. And Iran made it a threesome.
So: that's how the U.S. regime's appointed 'enemies' have come to join together into a virtual counterpart to America's NATO alliance of pro-imperialist nations. It's a defensive alliance, against an aggressive alliance — an anti-imperialist alliance, against a pro-imperialist alliance. America's insatiably imperialistic foreign policies have, essentially, forced its 'enemies' to form their own alliance. It's the only way for them to survive as independent nations, given Truman's abortion of FDR's plan for the U.N. — the replacement, by Truman of that, by the U.N. that became created, after FDR died on 12 April 1945.
New Strategic Report: Development Prospects for Improving Russia's Policy in Africa
An expert group, has completed its studies of Russia's policy implementation processes, impact and setbacks, and the development prospects in Africa, and has presented its final report with some recommendations intended to improve and scale up the existing Russia's influence in Africa.
The report was prepared as part of a programme sponsored by the Russian Foreign Ministry. The Situation Analytical Report, compiled by 25 Russian policy experts, was headed by Sergei A. Karaganov, Dean and Academic Supervisor of the Faculty of World Economy and International Relations of the National Research University – Higher School of Economics (HSE University). Karaganov is also the Honorary Chairman of the Presidium, Council on Foreign and Defense Policy.
The 150-page report, released in November, offers new directions, some development prospects and recommendations for improving policy methods and approaches with Africa. The report identifies two key factors necessary for determining the long-term importance of the continent: (i) human capital and (ii) natural resources.
These make for the increased interest for investment in extractive industries and infrastructure, booming consumer markets rising at rates much higher than the rest of the world. With its 1.3 billion, it is a potential market for all kinds of consumable goods and for services. In the coming decades, there will be an accelerated competition between or among the external players over access to the resources and for economic influence in Africa.
Nevertheless, despite the growth of external player's influence and presence in Africa, Russia has to intensify and redefine its parameters as it has now transcended unto the fifth stage. Russia's Africa policy is roughly divided into four periods, previously after Soviet's collapse in 1991.
The first historic summit created a good basis for launching or ushering in a new fifth stage of Russian-African relations. The joint declaration adopted at the summit raised the African agenda of Russia's foreign policy to a new level and so far remains the main document determining the conceptual framework of Russian-African cooperation.
Some of the situation analysis participants, who contributed to the latest policy report spoke very critically of Russia's current policy towards Africa and even claimed that there was no consistent policy and/or consistency in the policy implementation at all. The intensification of political contacts are only with a focus on making them demonstrative. Russia's foreign policy strategy regarding Africa has to spell out and incorporate the development needs of African countries.
While the number of top-most and high-level meetings have increased, the share of substantive issues on the agenda often remains small or scanty. There are little definitive results from such meetings. There are, indeed, to demonstrate "demand for Russia" in the non-Western world; the formation of ad hoc political alliances with African countries geared towards competition with the collective West. Apart from the absence of a public strategy for the continent, there is shortage of qualified personnel, the lack of coordination among various state and para-state institutions working with Africa.
In addition, insufficient and disorganized Russian-African lobbying, and combined with the lack of "information hygiene" at all levels of public speaking were listed among the main flaws of Russia's current Africa policy. Under the circumstance, Russia needs to compile its various ideas for cooperation with Africa into a single comprehensive and publicly available strategy to achieve more success with Africa.
In many cases and situations, ideas and intentions are often passed for results, unapproved projects are announced as going ahead. Russia's possibilities are overestimated both publicly and in closed negotiations. The supply of Russian-made vaccines to Africa is an example. Having concluded contracts for the supply of Sputnik V to a number of African states, Russian suppliers often failed to meet its contractual obligations on time. Right now, there are many agreements signed, before and during the first Russia-Africa summit, and Russia simply fails to deliver, as promised with African countries.
"The situation analysis participants agreed that the lack of project due diligence and proper verification of contracting partners is one of the key challenges for Russian business in Africa. Many projects announced at the top and high political levels have not been implemented. The reason is usually that the projects were not properly prepared before official approval. As a result, budget funding is often spent on raw and unprepared initiatives," according to the report.
The adoption by Russia of an open doctrinal document on cooperation with Africa will emphasize the seriousness of its intentions and create an atmosphere of trust, in which individual steps will attain greater weight and higher-level justification. In African conditions, this will mean accelerated coordination of essential decisions. It is important to note that such public strategies for the entire continent are a necessary instrument of the other countries that are active in Africa.
Unlike most competitors, Russia can afford to promote a more honest, open, direct and understandable agenda for Africa: sovereignty, continental integration, infrastructure development, human development (education and medicine), security (including the fight against hunger and epidemics), normal universal human values, the idea that people should live with dignity and feel protected. All situation analysis participants agreed with this view. The main advantage of such an agenda is that it may be more African than those of its competitors.
It is advisable to present such a strategy already at the second Russia-Africa summit, and discuss and coordinate it with African partners before that. Along with the strategy, it is advisable to adopt an Action Plan — a practical document that would fill cooperation with substance between summits.
One of the most important tasks critical for the effectiveness of Russian actions in Africa is the centralization and strengthening of the role and capacity of Russian state institutions on the African track, especially in the information sphere.
The report proposes dialogues should be enhanced between civil societies, including expert and academic organizations. In a situation where a rapid expansion of trade and economic relations is difficult (for example, due to economic stagnation or a crisis in the respective country), the humanitarian track can become one of the ways to deepen relations further.
On foreign players in Africa, the report points to China as number one active player. India's influence continues to grow, as does the involvement of Turkey, the UAE, and Qatar, which are relatively new players in Africa. The influence and involvement of the United States, Japan, South Korea, and Brazil in the coming years, are likely to remain at the level of the past decade and will decline compared to China's influence.
China, the EU, Germany, Turkey, Spain, and others have developed, announced and are implementing progressively their African strategies.
In general, of all the G7 countries, only Germany still has some potential to increase its influence and presence in Africa. Canada, Italy, and the UK, according to the authors, can at best maintain their influence at the same level, but it, too, will decrease compared that of the new centers of power.
At the same time, for its part, Africa will retain its importance for Europe in the long term and may even increase being an important source of a wide range of resources. Europe needs mineral resources (cobalt, gas, bauxite, rare earth metals) in order to carry out the energy transition, and human ones in order to make up for the natural decrease of population. The European banking system and financial institutions traditionally rely on Africa as a source of funding (while African capital often seeks refuge, and instability only accelerates its flight).
The influence of other non-European emerging powers, who often compete with each other, is also growing in Africa. UAE and Turkey may be mentioned among others. Their rivalry is visible in North Africa, West Africa and, especially, the Red Sea, and includes competition for control over both port infrastructure and points of possible military presence. A vivid example of this rivalry is Somalia, where Turkey is interacting and strengthening its position in Mogadishu, while the UAE, which recently lost control of the port in Djibouti, is taking a foothold in Berbera (in the self-proclaimed Republic of Somaliland).
There are indications that Israel, whose activity in many African countries, particularly in East Africa, has remained traditionally high (especially in "sensitive" areas, such as internal security, the training of security and special forces, as well as in economic, especially agriculture projects), will continue to increase its involvement in the short and medium term.
Making efforts to maintain and expand its presence in Africa, Israel is developing contacts with the UAE and through it with a number of Gulf countries. Africa will be one of the platforms for Israel's interaction with these countries. It will continue attempts to reduce the influence of Iran that has been carrying out its own diverse activity in Africa, seeking to expand it further.
On July 22, 2021, already after the situation analysis had taken place, it was declared that Israel had obtained an observer status to the African Union.
In the next ten years, rivalry, the balance of power and interests in the Indian Ocean will become a key factor of military and strategic importance, for this is where the interests of China, India, Pakistan, Turkey, Arab countries, Iran, as well as the United States, France and other players are likely to collide. These countries will use significant resources to strengthen their positions along the entire coast of Eastern Africa, from Egypt to South Africa, which means both risks and new opportunities for the countries of the region. The military and strategic importance of the Indian Ocean islands (including four African island states) will continue to grow.
The report proposes discussions on possible mechanisms and formats of bilateral and multilateral alliances with interested parties, whose interests in Africa may coincide with the Russian ones. For example, the potential of bilateral cooperation in Africa with India (including outside of BRICS) has not been fully tapped yet. Joint initiatives in Africa in the areas of international development assistance, education, health care, and project financing may be of interest as well. It is also advisable to explore, including at the expert level, the possibility of engaging with countries such as South Korea (widely represented in Africa), Vietnam (showing growing interest), Cuba, Serbia, and several others as part of Russian initiatives in Africa.
Without Africa, Russia would not have so many friendly partners sharing its strategic goal of building a fair polycentric world order. By all purposes, Africa seems to be a favorable region in terms of positioning Russia as a global center of power and a country that defends peace, sovereignty, the right of states to choose development models independently, and as a protector of nature and the environment. Therefore, Russia's increased presence and influence in Africa does not and should not cause resistance among African countries.
It is also important to move away from the "zero-sum" approach in relations with the West, even though at first glance the interests and aspirations of the EU and the U. S. in Africa seem to be opposite to those of Russia. Russia should build its policy and rhetoric in relation to Africa regardless of its rivalry with the West and should not create the impression that its policy in Africa is driven by the wish to weaken the positions of the United States and the EU on the continent.
The situation analysis participants agreed that Russia's policy in Africa should be a derivative of Russia's overall foreign policy goals and objectives, the three key areas being:
a) Ensuring national security. In the African context, this means primarily the danger of new viruses, extremism, anything that may impact Russia's national security, including competition with other centers of power.
b) Ensuring social and economic development of Russia. Africa is a promising market
for Russian products and services, and a factor that facilitates the diversification and
modernization of the Russian economy. The situation analysis participants agreed that this is the main aspect today. In future, Africa can become one of the important factors in the development of some of Russian non-resource sectors, particularly railway and agricultural engineering, automotive and wheeled equipment, as well as services (primarily education and health care).
c) Strengthening the position of the Russian Federation as one of the influential centers in the modern world. Political partnership with African countries and the African Union as friendly players can make an important contribution to these efforts. As UN votes show, the positions of Russia and most African countries are conceptually identical or similar on many issues. None of the African countries imposed sanctions or restrictions against Russia. The ideological basis for cooperation at this level can be provided by the conceptual documents and ideas recognized and supported by all African countries: the approach of "African Solutions to African Problems" be strictly followed, working within the framework of the African Union Agenda 2063 and the UN Development Goals 2030.
How the Arms Control Approach Could Help Russia Tackle Climate Change
The right approach would probably be to create a special interagency coordinator under a senior official reporting directly to the head of state. It is vitally important that whoever heads the office is well respected by international partners: a worthy counterpart to the likes of John Kerry of the United States.
The energy crunch in Europe; the knee-jerk accusations of Russia having engineered it to win early approval of the Nord Stream 2 gas pipeline; and the Kremlin's riposte, pointing to the EU's own policy failures, dominate the news. Yet one really important development remains underreported. Moscow's official view of climate change and energy policy has just undergone a major reversal. Weeks before the COP-26 climate summit in Glasgow, Russia's Economic Development Ministry has come up with a national goal of achieving carbon neutrality by 2060.
This is not a covert attempt by the in-system liberals to begin aligning Russia's climate policy with the policies of the world's major powers. Rather, it is the consummation of a sea change that has been brewing for the past couple of years in the Kremlin's thinking. President Vladimir Putin announced the carbon neutrality goal in remarks at the recent Russian Energy Week in Moscow. Climate change denial is over. Debate about what exactly has caused it is considered politically irrelevant. What matters are the existing realities and the current trends, which amount to all the world's major economies moving away from dependence on fossil fuels. As a result, the new nexus of efforts to deal with climate change, the energy transition those efforts center on, and the geopolitical impact of that transition are moving right to the top of the Russian foreign policy agenda.
Of course, this is not all or even mostly foreign policy. Energy transition, which is the core issue, will affect not just the oil and gas sector, which in 2020 accounted for 15 percent of Russia's GDP, but the country's entire economy and finances, its political economy, and the relative political influence of various vested interests. Given the coincidence of energy transition and the inevitable transfer of political power, this combination is likely to become one of the most important processes shaping Russia's future for years and decades to come.
Still, the foreign policy aspect of the change is non-negligible. The carbon neutrality pledges already announced by Russia's main economic partners—the European Union and China; the United States, Japan and others—as well as the UN climate conference in Glasgow next month are all compelling Moscow to come up with a strategy of its own, and soon. Such a strategy will aim to preserve the country's position as an energy power, but on a much more diverse foundation.
Integrating climate science, energy issues, and geopolitical objectives to produce and pursue an effective strategy could be compared to the task faced by the Soviet Union in the late 1960s–1980s. Back then, Moscow had to come up with a practical way to link nuclear science and weapons development, military force posture and strategy, the capabilities of the defense industry, and wider foreign policy goals. The result was transiting from the sterile rhetoric of universal disarmament to a diplomacy of strategic arms control that eventually produced strategic stability between the Soviet Union and the United States.
What is needed today is for various parts of the Russian government to pool their resources. The offices of the president's special representative for climate issues and the special representative for liaison with international organizations on reaching sustainable development goals are evidently too small to take control. The ministries of foreign affairs, economic development, and finance; the Russian Academy of Sciences; and the Security Council all have an interest and possess valuable expertise on the issues, but none of them can actually be charged with taking the lead on their own.
The right approach would probably be to create a special unit under a senior official reporting directly to the head of state. That unit would become an interagency coordinator among the many ministries that have interest and expertise on the relevant issues. Also, to borrow a page from the history books on Soviet arms control, a permanent mechanism could be organized of principals and deputies from various parts of the government to discuss and prepare decisions on these matters. This would be an analogue of the Big Five on strategic arms negotiations (the Party Central Committee, the Defense Ministry, the KGB, the Military Industrial Commission of the Council of Ministers, and the Foreign Affairs Ministry). It is vitally important that whoever heads the office has direct access to the president and is well respected by international partners. He or she needs to be a worthy counterpart to the likes of John Kerry of the United States.
The current hike in gas prices in Europe has motivated a number of people in Russia to sneer at green and alternative energy projects and reassert the continuing primacy of traditional sources of energy. Life is never linear, of course. However, even if future economic development does not completely close the books on fossil fuels (and it probably won't, at least for a long time), the balance of energy consumption by some of the key buyers of Russian oil and gas will most likely change fast.
The speed of change means that temporizing now would undermine Russia's chances of limiting the damage from the reduction of the world's demand for its oil and gas. It would also prevent it from participating in developing new global norms and from taking advantage of its vast potential capabilities in such areas as hydrogen energy. Strategic decisions on that score have just been made, and this is a crucial positive step. The task now is to construct well-designed mechanisms to implement those decisions nationally and in foreign policy.
This article was published as part of the "Relaunching U.S.-Russia Dialogue on Global Challenges: The Role of the Next Generation" project, implemented in cooperation with the U.S. Embassy to Russia. The opinions, findings, and conclusions stated herein are those of the author and do not necessarily reflect those of the U.S. Embassy to Russia.
From our partner RIAC