Central Banks Becoming Leaders in Blockchain Experimentation
Although central banks are among the most cautious institutions in the world, they are, perhaps surprisingly, among the first to implement and experiment with blockchain technology. Central banks have been quietly researching its possibilities since 2014. Over the past two years, the beginning of a new wave has emerged as more central banks launch large-scale pilots and research efforts, including rapid and complete cross-border interbank securities.
The Blockchain and Distributed Ledger Technology team at the World Economic Forum interviewed dozens of central bank researchers and analysed more than 60 reports on past and current research efforts. The findings were released today in a white paper, Central Banks and Distributed Ledger Technology: How are Central Banks Exploring Blockchain Today?
"As the blockchain hype cools, we are starting to see the real use cases for blockchain technology take the spotlight," said Ashley Lannquist, Blockchain Project Lead at the World Economic Forum. "Central bank activities with blockchain and distributed ledger technology are not always well known or communicated. As a result, there is much speculation and misunderstanding about objectives and the state of research. Dozens of central banks around the world are actively investigating whether blockchain can help solve long-standing challenges such as banking and payments system efficiency, payments security and resilience, as well as financial inclusion."
It is not widely known, for instance, that the Bank of France has fully replaced its centralized process for the provisioning and sharing of SEPA Credit Identifiers (SCIs) with a decentralized, blockchain-based solution. SEPA, or Single Euro Payments Area, is a payment scheme created by the European Union and managed on a country-by-country basis for facilitating efficient and secure cross-border retail debit and card payments across European countries. The solution is a private deployment of the Ethereum blockchain network and has been in use since December 2017. It has enabled greater time efficiency, process auditability and disaster recovery.
The fact that dozens of central banks are exploring, and in some cases implementing, blockchain technology is significant, according to the white paper. It is an early indicator of the potential use of this emerging technology across financial and monetary systems. "Central banks play one of the most critical roles in the global economy, and their decisions about implementing distributed ledger and digital currency technologies in the future can have far-reaching implications for economies," Lannquist said.
Top 10 central bank use cases

Following interviews and analysis, how central banks are experimenting with blockchain can be highlighted by 10 top use cases.

Retail central bank digital currency (CBDC) – A substitute or complement for cash and an alternative to traditional bank deposits. A central-bank-issued digital currency can be operated and settled in a peer-to-peer and decentralized manner, widely available for consumer use. Central banks from several countries are experimenting, including those from the the Eastern Caribbean, Sweden, Uruguay, the Bahamas and Cambodia.
Wholesale central bank digital currency (CBDC) – This kind of digital currency would only be available for commercial banks and clearing houses to use the wholesale interbank market.Central bank-issued digital currency would be operated and settled in a peer-to-peer and decentralized manner. Central banks from several countries are experimenting, including those from South Africa, Canada, Japan, Thailand, Saudi Arabia, Singapore and Cambodia.
Interbank securities settlement – A focused application of blockchain technology, sometimes involving CBDC, enabling the rapid interbank clearing and settlement of securities for cash. This can achieve "delivery versus payment" interbank systems where two parties trading an asset, such as a security for cash, can conduct the payment for and delivery of the asset simultaneously. Central banks exploring this include the Bank of Japan, Monetary Authority of Singapore, Bank of England and Bank of Canada.
Payment system resiliency and contingency – The use of distributed ledger technology in a primary or back-up domestic interbank payment and settlement system to provide safety and continuity in case of threats, including technical or network failure, natural disaster, cybercrime and others. Often, this use case is coupled with others as part of the set of benefits that a distributed ledger technology implementation could potentially offer. Central banks exploring this include the Central Bank of Brazil and Eastern Caribbean Central Bank.
Bond issuance and lifecycle management – The use of distributed ledger technology in the bond auction, issuance or other life-cycle processes to reduce costs and increase efficiency. This may be applied to bonds issued and managed by sovereign states, international organizations or government agencies. Central banks or government regulators could be "observer nodes" to monitor activity where relevant. Early implementation is being conducted by the World Bank with their 2018 "bond-i" project.
Know-your-customer (KYC) and anti-money-laundering (AML) – Digital KYC/AML processes that leverage distributed ledger technology to track and share relevant customer payment and identity information to streamline processes. This may connect to a digital national identity platform or plug into pre-existing e-KYC or AML systems. Central banks exploring this include the Hong Kong Monetary Authority.
Information exchange and data sharing – The use of distributed or decentralized databases to create alternative systems for information and data sharing between or within related government or private sector institutions. Central banks exploring include the Central Bank of Brazil.
Trade finance – The employment of a decentralized database and functionality to enable faster, more efficient and more inclusive trade financing. Improves on today's trade finance processes, which are often paper-based, labour-intensive and time-intensive. Customer information and transaction histories are shared between participants in the decentralized database while maintaining privacy and confidentiality where needed. Central banks exploring this include the Hong Kong Monetary Authority.
Cash money supply chain – The use of distributed ledger technology for issuing, tracking and managing the delivery and movement of cash from production facilities to the central bank and commercial bank branches; could include the ordering, depositing or movement of funds, and could simplify regulatory reporting. Central banks exploring this include the Eastern Caribbean Central Bank.
Customer SEPA Creditor Identifier (SCI) provisioning – Blockchain-based decentralized sharing repository for SEPA credit identifiers managed by the central bank and commercial banks in the SEPA debiting scheme. This is a faster, streamlined and decentralized system for identity provisioning and sharing. It can replace pre-existing manual and centralized processes that are time- and resource-intensive, as seen in the Bank of France's Project MADRE implementation.
Emerging economies may benefit most: Cambodia, Thailand and South Africa and others experimenting
The National Bank of Cambodia will be one of the first countries to deploy blockchain technology in its national payments system for use by consumers and commercial banks. It is implementing blockchain technology in the second half of 2019 as an experiment to support financial inclusion and greater banking system efficiency.
The Bank of Thailand and the South African Reserve Bank, among others, are experimenting with CBDC in large-scale pilots for interbank payment and settlement efficiency. The Eastern Caribbean Central Bank is exploring the suitability of distributed ledger technology (DLT) to advance multiple goals, from financial inclusion and payments efficiency to payment system resilience against storms and hurricanes.
"Over the next four years, we should expect to see many central banks decide whether they will use blockchain and distributed ledger technologies to improve their processes and economic welfare," Lannquist said. "Given the systemic importance of central bank processes, and the relative freshness of blockchain technology, banks must carefully consider all known and unknown risks to implementation."
Digitally shaping a greener world
Women were not allowed on map-making ship voyages until the 1960s—it was believed that they would bring bad luck. Spanish nuns made maps in the 10th century.
The first A-Z street map of London was created after one woman got lost on her way home from a party, then woke up every day at 5 a.m. to chart the city's 23,000 streets.
As it turns out, women have always contributed to the drawing of maps despite hurdles.
This puts Molly Burhans, founder of GoodLands, in good company. For the first time in history, she is setting out to digitally map the land assets of one of the world's largest land-owners—the Catholic Church.
The journey has been spiritual. Instead of becoming a nun, she decided to pursue digital mapping instead. "Our work is grounded in science, driven by design and inspired by values of stewardship and charity," she explains.
Unchartered waters
It all started when a course in biological illustration turned into a fascination with how everything fits together.
"You can't do surgery unless you've studied human anatomy—and you can't really do sound environmental work unless you've mapped the environment and landscape, and can visualize it," she explains.
She was introduced to digital mapping by Dana Tomlin, the originator or Map Algebra and Geographic Information Systems professor at the University of Pennsylvania and Yale University. When she visited the Vatican in 2016, it got her thinking.
"The Vatican has the most fantastic maps I've ever seen," she said. "White, gold, platinum frescoes flanked the doors. I thought they must have the most incredible land datasets anywhere in the world."
The Vatican is the smallest state in the world, and its biggest land owner. There are 250,000 Catholic-affiliated parishes, orphanages, community centers and retreat monasteries around the world, reaching an estimated 57.6 million people globally.
It is also the world's largest non-government health care provider. The Pontifical Council for the Pastoral Care of Health Care workers estimates that around 26 per cent of healthcare facilities are operated by the Roman Catholic Church.
Iyad Abumoghli, Principal Coordinator of UN Environment Programme's Faith for Earth Initiative, said:
"Globally, faith-based organizations own 8 per cent of habitable land on the surface of the earth and 5 per cent of all commercial forests. There are around 37 million churches and 3.6 million mosques around the world.
"Burhans' work supports UNEP's Faith for Earth Initiative to harness the socio-economic power of faith-based organizations, where preaching meets practice.
"Mapping faith-owned assets will contribute to strategically employ faith values in managing them, ultimately leading to fighting climate change and curbing ecosystem degradation."
Fear of the unknown
Burhans reflects: "Why not leverage this network for environmental good?"
But then the hurdle hit. The data wasn't digital. In fact—it wasn't even there.
"None of the land had been digitally mapped. I was surprised – this was bigger than I'd realized. We can't manage property without foundational data—never mind ecosystem restoration. So, I just kept going to find the data."
When she confirmed that data did not exist, Burhans asked the Holy See for permission to create the first comprehensive global digital data map of the Catholic Church's footprint and people in history, working with a large team at mapping software company Esri, as Chief Cartographer.
Her mission: to help faith-based communities, such as religious orders, dioceses, and the Vatican to first understand what land assets they own. Next, figure out how to leverage those assets for ecosystem restoration on a scale parallel to its massive global health network.
The power of knowing
For Burhans, maps represent the power to shape our world for better health and environmental protection. "We dare to use land for environmental good. I can't emphasize how important our surroundings and environment are," she notes.
"Maps are just the tool, allowing us to capture complex information, from biodiversity to soil type, all in one place. If a picture is worth a thousand words, then a map is worth a million."
"We can map where ecological failure might trigger heavy migration. Or, where sea level rise might force poor communities to move. We can see where more trees could cool hot cities; where green spaces could bring health benefits in areas with high respiratory problems."
For Burhans, the potential of a large data hub capturing all this information across the church's land portfolio is exciting—and unprecedented. It also has implications for all land owners and governments around the world.
Her team maps environmental, social and financial factors of a property portfolio. Centralizing information in one digital hub across sectors—health care, education, relief—could save tens of millions each year, she reflects.
She is also asking bigger questions: "How will artificial intelligence transform our world? How can we leverage land and religion to become the solution to our crises? We must be at the forefront of these issues."
Mapping the church's global footprint
Honing big data for environmental restoration is part of Burhans' vision. Some of this is technical: bringing the Catholic Church into the digital area: "With relevancy, with the right information to roll out safety."
But the vision is also about people. "We want to help people realize that mapping assets is vital to manage them responsibly. We cannot help the church improve its footprint if we don't know what is has."
"We all have different talents and gifts. Mine lean towards creating new technology and applying it to make land work for the greater good. That's my vocation: to make sure that's done—and done with integrity."
Five New Technologies that Can Prevent Everything from Fraud to Future Financial Shocks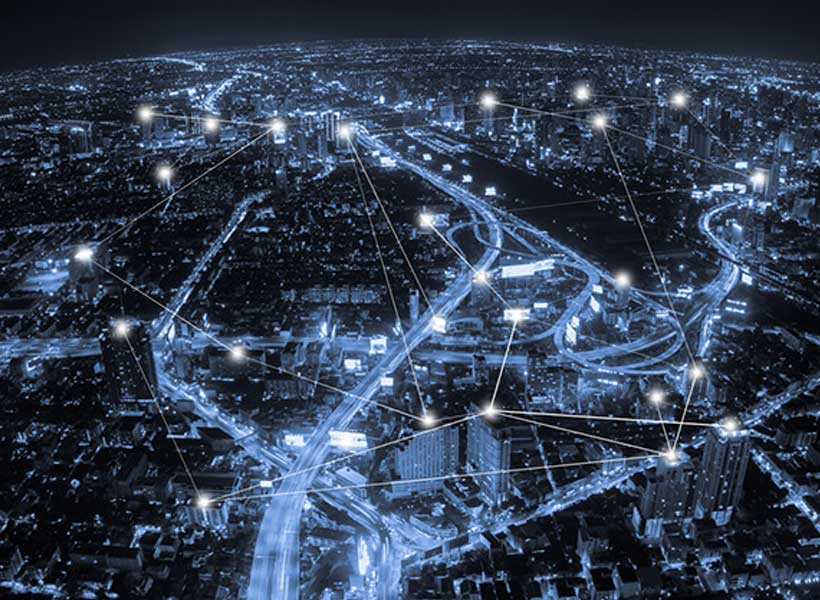 A new white paper, The Next Generation of Data Sharing in Financial Services, from the World Economic Forum has identified new technologies that banks and other financial institutions can implement for privacy-protected data-sharing between institutions. This data-sharing will enable broad analysis, which can be used to identify industry-wide risks and could even prevent future financial shocks.
Beyond system-wide benefits, these newly identified technologies, coined "privacy-enhancing techniques" can also use improved data-sharing to prevent fraud, offer financial advice, and much more. Privacy-enhancing techniques lessen the tensions underlying data-sharing. Instead of threatening customer privacy, this new wave of technology not only protects it but also enhances industry collaboration.
These five technologies include: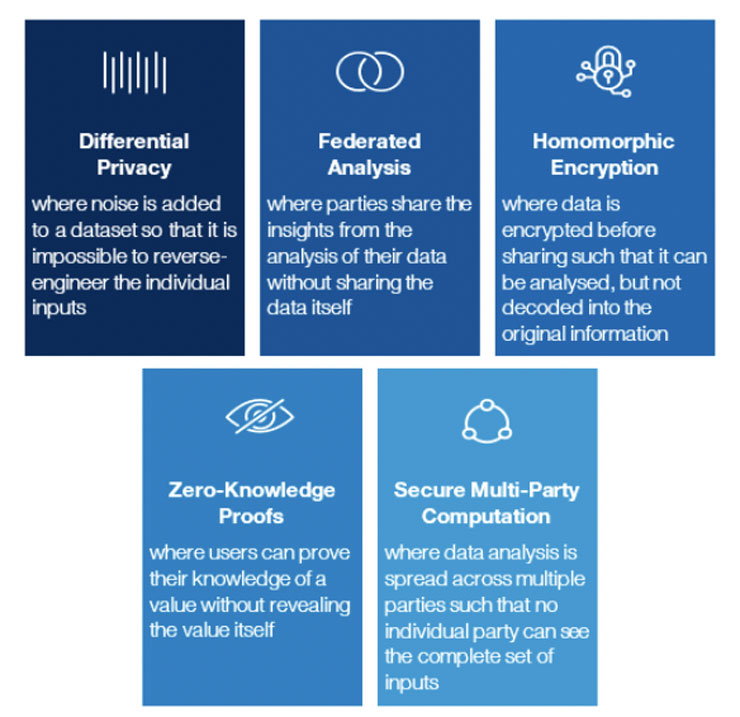 While new and novel for use in financial services, these technologies have existed within laboratories for years and are now ready for use in the real world of banking and other financial services. If harnessed, these tools could usher in a new, more collaborative, era of the sector on matters related to risk and product development.
"With advancing privacy-enhancing technologies, financial services have the ability to work more closely together on a range of important challenges and opportunities, from combating illicit financial transactions to identifying material risk exposures across institutions, to developing more personalized financial advice and products," says Matthew Blake, Head of Financial and Monetary System Initiatives, World Economic Forum. "Privacy-enhancing techniques open a range of possibilities for enhanced risk management and financial innovation with benefits for customers, regulators and financial institutions alike."
These technologies, used separately or in conjunction, greatly reduce the risks associated with data sharing and have the potential to fundamentally redefine the dynamics of data sharing in financial services. Opportunities from these technologies include the ability to:
· Better detect and prevent fraudulent activity: Federated analysis could be used to create shared fraud detection and prevention models across institutions without sharing the personally sensitive information about specific customers
· Identify system-wide risks and prevent financial crises: Secure multi-party computation could be used to conduct aggregate analysis on financial institutions' risk exposures without breaching their institutional competitive secrets, allowing for an advance warning on systemic risks and exposures such as those that led to the 2008 financial crisis
· Enable new forms of personalized digital advice: Leveraging differential privacy in the analysis of transactions across an institution's customer base could enable sophisticated and specific "people like you" recommendations without exposing individual customers' spending habits
· And more, as explored in The Next Generation of Data Sharing in Financial Services
One of the key learnings from the financial crisis was that system-wide risk exposures were not properly quantified and understood by enterprises as well as financial supervisors. This was partly due to inadequate management information systems that did a poor job of aggregating risk exposures across institutions as well as too narrow a focus by supervisors on the risk of individual financial firms rather than the interconnections between institutions and the broader system.
Competitive dynamics also played a part; it is perilous for a financial institution to make explicit its risk exposures because other actors may take advantage and profit from that level of transparency. Enter privacy-enhancing techniques, which make sharing granular information across institutions possible – allowing for transparency without unveiling too much, presenting new possibilities for collaboration between institutions, supervisors and customers.
"It is important to note that these technologies are not a magic wand. Using them requires financial institutions to address surrounding issues such as poor data quality, legal uncertainties and siloed data infrastructures," says Bob Contri, Principal, Deloitte United States; Global Financial Services Industry Leader. "However, addressing these roadblocks and using privacy-enhancing techniques can propel the financial services industry into a new era of collaboration and value delivery."
According to the World Economic Forum, financial services executives should take a concerted look at these new techniques and where they might best be deployed. Bringing these technologies into practice will require a degree of experimentation and technological expertise. Nonetheless, the benefits of widescale adoption are clear and speak to greater alignment and action among key stakeholders on issues of systemic importance.
'Digital divide' will worsen inequalities, without better global cooperation
Inequality will worsen unless the so-called "digital divide" – the gap between under-connected and highly digitalized countries – is not addressed, warns a new report released on Wednesday by the UN trade body, UNCTAD.
The first-ever Digital Economy Report outlines enormous potential gains from the increasingly inter-connected global economy, but calls for "concerted global efforts to spread the wealth potential to the many people who currently reap little benefit from it.
US and China pull ahead, Africa and Latin America trail behind
The United States and China create the vast majority of wealth in the digital economy, the study reveals, and the two countries account for 75% of all patents related to blockchain technologies, 50% of global spending on the "Internet of Things" (IoT), more than 75% of the cloud computing market, and as much as 90% per cent of the market capitalization value of the world's 70 largest digital platform companies.
The rest of the world, particularly countries in Africa and Latin America, are trailing considerably behind, and this trajectory is likely to continue, further contributing to rising inequality, said UN Secretary-General António Guterres, in a foreword to the report.
"We must work to close the digital divide" he writes, "where more than half the world has limited, or no access to the Internet. Inclusivity is essential to building a digital economy that delivers for all".
Massive increase in data on the horizon
Despite the impact that digital data has already had, the world is still in the early days of the data-driven economy, according to the study, which forecasts a dramatic surge in data traffic in the next few years.
This reflects the growth in the number of people using the Internet, and the uptake of frontier technologies such as blockchain, data analytics, artificial intelligence, 3D printing, IoT, automation, robotics and cloud computing.
Platforms to rule the world
Wealth and power in the digital sphere are increasingly being held by a small number of so-called "super platforms", comprising the seven global brands Microsoft, Apple, Amazon, Google, Facebook, Tencent and Alibaba.
Between them, these companies account for two-thirds of the total market value of the top 70 platforms: in China, WeChat, owned by Tencent, and AliPay, an Alibaba company, have captured virtually the entire Chinese mobile payment market between them. Google accounts for some 90 per cent of the global Internet search market, and Facebook is the top social media platform in more than 90 per cent of countries.
The reports shows that these companies are competing aggressively to stay on top, acquiring competitors, expanding into new services, lobbying policy-makers, and establishing strategic partnerships with leading multinationals in traditional sectors.
UNCTAD warns that the dominance of these platforms is leading to a concentration and consolidation of digital value, rather than reducing inequalities between and within countries, with developing countries at the bottom of the pile. The report calls for a rethink, that will bring about a fairer distribution of the gains from the digital economy.
The role of government in levelling the playing field
Governments can play a critical role in defining the rules of the game, explains Mukhisa Kituyi, Secretary-General of UNCTAD , by adapting existing laws, and passing new ones in many areas:
"A smart embrace of new technologies, enhanced partnerships and greater intellectual leadership are needed to redefine digital development strategies and the future contours of globalization", he wrote.
The report calls for greater international collaboration on issues associated with the digital economy, with the full involvement of developing countries, on issues such as competition, taxation, cross-border data flows, intellectual property, trade and employment policies.