FAO: Acute food insecurity 'far too high' as 113 million go hungry
Approximately 113 million people in 53 countries experienced high levels of food insecurity last year, according to a new joint UN and European Union (EU) report released on Tuesday, which warns that these crises are primarily driven by conflict and climate-related disasters.
The Food and Agriculture Organization (FAO), World Food Programme (WFP) and EU "Global Report on Food Crises 2019", shows that the number going chronically-hungry has remained well over 100 million over the past three years, with the number of countries affected, rising.
According to the report, nearly two-thirds of those facing acute hunger come from just eight countries: Afghanistan, the Democratic Republic of the Congo, Ethiopia, Nigeria, South Sudan, Sudan, Syria and Yemen. And although there were 11 million fewer people believed to be in food crisis in 2018 compared with 2017, in 17 countries, acute hunger either remained the same or increased, the report indicates.
Moreover, an additional 143 million people in another 42 countries are just one step away from acute hunger. Climate and natural disasters pushed another 29 million people into acute food insecurity in 2018, says the report, and that number excludes 13 countries – including North Korea and Venezuela – because of data gaps.
"It is clear from the Global Report that despite a slight drop in 2018 in the number of people experiencing acute food insecurity – the most extreme form of hunger – the figure is still far too high", said FAO Director-General, José Graziano da Silva, speaking at a two-day conference to discuss the findings, in Brussels.
"We must act at scale across the humanitarian-development-peace nexus to build the resilience of affected and vulnerable populations. To save lives, we also have to save livelihoods", he added.
While critical to saving lives and alleviating human suffering, humanitarian assistance does not address the root causes of food crises, WFP Executive Director, David Beasley noted in Brussels, highlighted the importance of "attacking the root causes of hunger: conflict, instability, the impact of climate shocks".
"Boys and girls need to be well-nourished and educated, women need to be truly empowered, rural infrastructure must be strengthened in order to meet that Zero Hunger goal.
Programmes that make a community resilient and more stable will also reduce the number of hungry people. And one thing we need world leaders to do as well: step up to the plate and help solve these conflicts, right now", Mr. Beasley added.
From 2014 to 2020, the EU will have provided nearly €9 billion for initiatives on food and nutrition security and sustainable agriculture in over 60 countries.
"Food crises continue to be a global challenge, which requires our joint efforts. The EU continues to step up its humanitarian efforts. Over the last three years, the EU allocated the biggest humanitarian food and nutrition assistance budget ever, with nearly €2 billion overall. Food crises are becoming more acute and complex and we need innovative ways to tackle and prevent them from happening", said Christos Stylianides, EU Commissioner for Humanitarian Aid and Crisis Management.
Nations must 'act together, urgently and with solidarity' to end crisis of food insecurity
Hunger levels around the world are at "a new high", the UN chief said on Wednesday, in a call to action to fight the current surge in global food insecurity.
During a ministerial meeting on global hunger taking pace at UN Headquarters in New York, Secretary-General António Guterres said the number of severely food insecure people had doubled in just two years – from 135 million pre-pandemic to 276 million today, with more than half a million experiencing famine conditions – an increase of more than 500 per cent since 2016.
"These frightening figures are inextricably linked with conflict, as both cause, and effect," he said. "If we do not feed people, we feed conflict".
Hunger triggers
The climate emergency is another driver of global hunger he added, pointing out that 1.7 billion people have been affected by extreme weather and climate-related disasters over the past decade.
Moreover, the COVID-induced economic shock has compounded food insecurity by reducing incomes and disrupting supply chains, leading to an uneven economic recovery. Access to financial markets has been restricted, with some developing States now on the brink of debt default.
"Now the war in Ukraine is amplifying and accelerating all these factors: climate change, COVID-19, and inequality," Mr. Guterres said.
Ukraine war's repercussions
Between them, Ukraine and Russia produce almost a third of the world's wheat and barley and half of its sunflower oil. Russia and Belarus are the world's number two and three producers of potash, a key ingredient of fertilizer.
The war threatens to tip "tens of millions of people over the edge into food insecurity, followed by malnutrition, mass hunger and famine, in a crisis that could last for years," warned the UN chief.
"In the past year, global food prices have risen by nearly one-third, fertilizer by more than half, and oil prices by almost two-thirds".
Devastating societies
Meanwhile, most developing countries lack the fiscal space to cushion the blow of these huge increases with many unable to borrow because markets are closed to them.
"If high fertilizer prices continue, today's crisis in grain and cooking oil could affect many other foods including rice, impacting billions of people in Asia and the Americas," he detailed.
Additionally, children are threatened by a lifetime of stunting; millions of women and children will become malnourished; girls will be pulled from school and forced to work or get married; and families will embark on dangerous journeys across continents, just to survive.
"High rates of hunger have a devastating impact on individuals, families, and societies," spelled out the UN chief.
'Five urgent steps'
However, if we act together, there is enough food for everyone, he said adding that "ending hunger is within our reach".
The Secretary-General then outlined five urgent steps to solve the short-term crisis and prevent long-term damage, beginning with reducing market pressure by increasing food supplies – with no restrictions on exports and surpluses available to those most in need.
"But let's be clear: there is no effective solution to the food crisis without reintegrating Ukraine's food production, as well as the food and fertilizer produced by Russia and Belarus, into world markets, despite the war".
Secondly, social protection systems must cover all in need with food, cash; and water, sanitation, nutrition, and livelihood support must be provided.
Fourth, governments must bolster agricultural production and invest in resilient food systems that protect smallholder food producers.
And finally, humanitarian operations must be fully funded to prevent famine and reduce hunger.
Act in solidarity
In closing, the UN chief said that the Global Crisis Response Group on food, energy and finance is tracking the impact of the crisis on vulnerable people, identifying and pushing for solutions.
"The food crisis has no respect for borders, and no country can overcome it alone," he said.
"Our only chance of lifting millions of people out of hunger is to act together, urgently and with solidarity".
'Goodwill' needed
US Secretary of State Antony Blinken chaired the meeting in which foreign ministers from approximately 30 regionally diverse countries discussed steps to address global food security, nutrition, and resilience.
Describing the current situation as the "greatest global food insecurity crisis of our time," Mr. Blinken attributed the emergency to conflict, drought and natural disasters – made worse by Russia's war on Ukraine.
Although hopeful, he said that "there is still a way to go" and that "the complex security, economic and financial implications require goodwill on all sides".
To address the global crisis, US Secretary announced $215 million in humanitarian aid.
Urgent to open ports
World Food Programme (WFP) chief David Beasley drew attention to a world "too fragile" from years of conflict, pandemic and climate threats.
He also noted that current funding deficits could impede food access by as many as four million people.
Additionally, the top WFP official pointed out that a "failure to open the ports" in and beyond Ukraine will force people to the brink of starvation.
Although the "silos are full," blockades and other impediments are rendering them inaccessible, Mr. Beasley said, urging governments to "step up" now".
'We cannot rest' until child labour is eliminated
Countries taking part in the 5th Global Conference on the Elimination of Child Labour this week in South Africa, are being urged to do more to end child labour by 2025.
The strong call for urgent action at the conference taking place in Durban, aims to combat an uptick in the numbers of children being forced into work.
Latest figures indicate that 160 million children – almost one in ten worldwide – are still being affected. Furthermore, numbers are on the rise, with the pandemic threating to reverse years of progress, as child labour becomes a bigger scourge in particular among the vulnerable five to 11-year-old age group.
Make a difference
Speaking at the start of a week of hybrid format discussions, South African President Cyril Ramaphosa called on delegates to commit to taking "far-reaching actions" to make a difference in the lives of children.
"We are here because we share a common conviction that child labour in all its facets is an enemy. Child labour is an enemy of our children's development and an enemy of progress.
"No civilization, no country and no economy can consider itself to be at the forefront of progress if its success and riches have been built on the backs of children."
Mr. Ramaphosa's call was echoed by Guy Ryder, Director-General of the International Labour Organization (ILO), who underlined that "child labour is a violation of a basic human right, and our goal must be that every child, everywhere is free from it. We cannot rest until that happens."
According to the ILO, global progress against child labour has stalled for the first time in 2020, after two decades of moving in the right direction. In addition, the COVID-19 crisis is likely to have pushed millions more children into the workforce.
First in Africa
This is the first time the Global Conference on the Elimination of Child Labour is being held in Africa, a region where child labour numbers are highest, and progress has been slowest, ILO notes.
According to recent data, most child labour on the continent – some 70 per cent – is in the agricultural sector, often in settings where children are working alongside other family members.
The conference builds on four previous Global Conferences, held in Buenos Aires (2017), Brasilia (2013), The Hague (2010), and Oslo (1997), which raised awareness of the issue, assessed progress, mobilized resources, and established a strategic direction for the global movement against child labour.
Call for action
With the 2025 UN Sustainable Development Goals deadline for the elimination of child labour looming, many speakers outlined the urgent need to recover the progress that had been made in many regions, prior to the COVID-19 pandemic.
The Conference is expected to conclude with a formal Call to Action that will outline concrete commitments to scale up action to eliminate child labour.
Israel: UN rights chief calls for end to 'culture of impunity'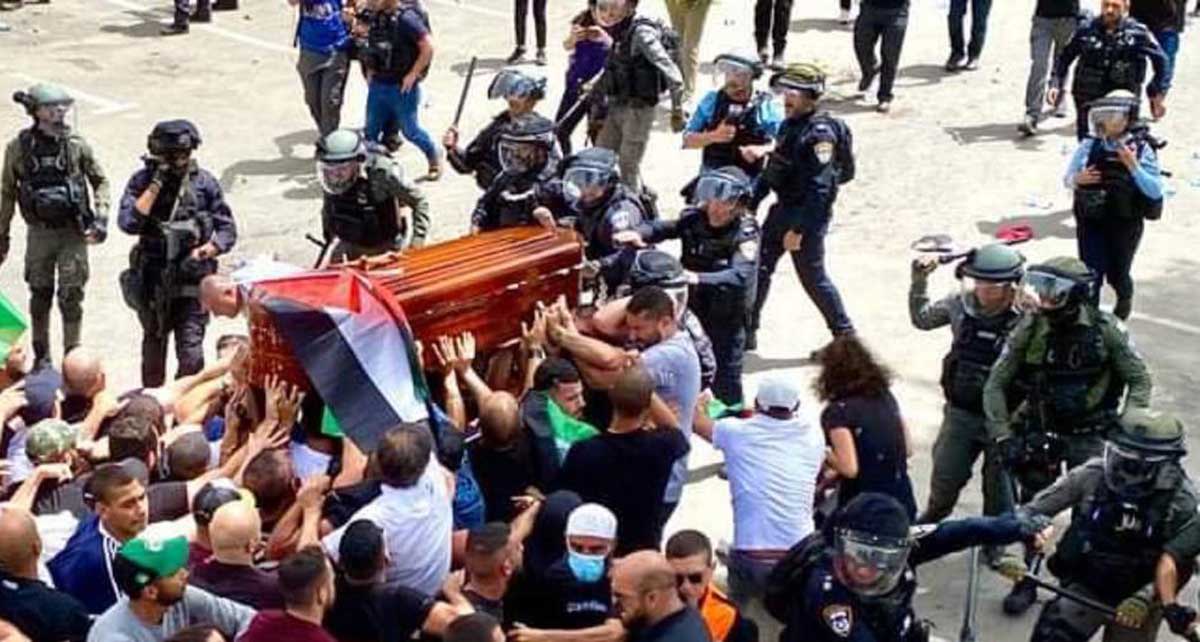 Investigations must be held into the actions of the Israeli security forces, UN High Commissioner for Human Rights Michelle Bachelet said on Saturday, calling for accountability and an end to impunity.
Her appeal comes in the wake of the killing of Al Jazeera correspondent Shireen Abu Akleh, who was fatally shot on Wednesday while covering an Israeli raid in Jenin, West Bank.
The veteran Palestinian-American journalist was buried in East Jerusalem on Friday and huge crowds turned out for her funeral.
'Shocking' use of force
The High Commissioner issued a statement saying she was following "with deep distress" the events in the occupied West Bank, including East Jerusalem.
"Footage of Israeli police attacking mourners at the funeral procession of journalist Shireen Abu Akleh in East Jerusalem on Friday 13 May was shocking. Reports indicate that at least 33 people were injured," she said.
Ms. Bachelet said the Israeli use of force, which was being filmed and broadcast live, appeared to be unnecessary and must be promptly and transparently investigated.
"There must be accountability for the terrible killing not just of Shireen Abu Akleh but for all the killings and serious injuries in the occupied Palestinian territory," she said.
Call for investigations
The UN rights chief reported that 48 Palestinians have been killed by Israeli security forces so far this year.
The latest death occurred on Saturday when a young man called Walid al-Sharif, succumbed to injuries sustained during clashes last month at the Al Aqsa Mosque compound in Jerusalem.
"As I have called for many times before, there must be appropriate investigations into the actions of Israeli security forces," said Ms. Bachelet.
"Anyone found responsible should be held to account with penal and disciplinary sanctions commensurate to the gravity of the violation. This culture of impunity must end now."
Security Council condemnation
The killing of Ms. Abu Akleh has sent shockwaves across the globe, and UN officials have been among those calling for an investigation.
The journalist was shot even though she wore a vest that identified her as a member of the press corps. Her producer also was wounded.
The UN Security Council issued a statement on Friday strongly condemning her killing, reiterating that journalists should be protected as civilians.
The Council also called for an immediate, thorough, transparent, and fair and impartial investigation into her killing, and stressed the need to ensure accountability.