FAO: Acute food insecurity 'far too high' as 113 million go hungry
Approximately 113 million people in 53 countries experienced high levels of food insecurity last year, according to a new joint UN and European Union (EU) report released on Tuesday, which warns that these crises are primarily driven by conflict and climate-related disasters.
The Food and Agriculture Organization (FAO), World Food Programme (WFP) and EU "Global Report on Food Crises 2019", shows that the number going chronically-hungry has remained well over 100 million over the past three years, with the number of countries affected, rising.
According to the report, nearly two-thirds of those facing acute hunger come from just eight countries: Afghanistan, the Democratic Republic of the Congo, Ethiopia, Nigeria, South Sudan, Sudan, Syria and Yemen. And although there were 11 million fewer people believed to be in food crisis in 2018 compared with 2017, in 17 countries, acute hunger either remained the same or increased, the report indicates.
Moreover, an additional 143 million people in another 42 countries are just one step away from acute hunger. Climate and natural disasters pushed another 29 million people into acute food insecurity in 2018, says the report, and that number excludes 13 countries – including North Korea and Venezuela – because of data gaps.
"It is clear from the Global Report that despite a slight drop in 2018 in the number of people experiencing acute food insecurity – the most extreme form of hunger – the figure is still far too high", said FAO Director-General, José Graziano da Silva, speaking at a two-day conference to discuss the findings, in Brussels.
"We must act at scale across the humanitarian-development-peace nexus to build the resilience of affected and vulnerable populations. To save lives, we also have to save livelihoods", he added.
While critical to saving lives and alleviating human suffering, humanitarian assistance does not address the root causes of food crises, WFP Executive Director, David Beasley noted in Brussels, highlighted the importance of "attacking the root causes of hunger: conflict, instability, the impact of climate shocks".
"Boys and girls need to be well-nourished and educated, women need to be truly empowered, rural infrastructure must be strengthened in order to meet that Zero Hunger goal.
Programmes that make a community resilient and more stable will also reduce the number of hungry people. And one thing we need world leaders to do as well: step up to the plate and help solve these conflicts, right now", Mr. Beasley added.
From 2014 to 2020, the EU will have provided nearly €9 billion for initiatives on food and nutrition security and sustainable agriculture in over 60 countries.
"Food crises continue to be a global challenge, which requires our joint efforts. The EU continues to step up its humanitarian efforts. Over the last three years, the EU allocated the biggest humanitarian food and nutrition assistance budget ever, with nearly €2 billion overall. Food crises are becoming more acute and complex and we need innovative ways to tackle and prevent them from happening", said Christos Stylianides, EU Commissioner for Humanitarian Aid and Crisis Management.
Rohingya conference pledges to 'remain steadfast' in finding solutions to crisis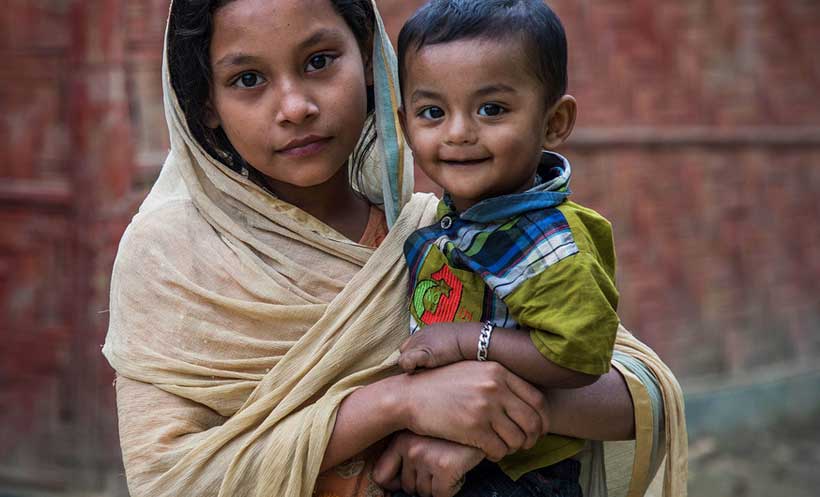 A joint UN-hosted donor conference to rally international support behind Myanmar's displaced Rohingya minority, ended on Thursday with a promise to continue engaging with concerned countries towards finding a long-term solution to their plight.
"We will continue to work together to maintain international attention on the Rohingya crisis and to shift from short-term critical interventions, to a more sustained and stable support", said the closing statement from co-hosts the UN refugee agency (UNHCR), the European Union (EU), United Kingdom and United States.
"We are grateful to all who have participated…including those who have announced or pledged funding for the international humanitarian response, those who are supporting members of the Rohingya communities in other ways – not least by hosting them – and most importantly, representatives of Rohingya communities themselves", the statement continued.
The appeal comes more than three years after the orchestrated violence that erupted in Myanmar, across Rakhine state, which saw hundreds of thousands of mainly-Muslim Rohingya flee their homes, in search of safety across the border in Cox's Bazar, Bangladesh.
There are currently 860,000 Rohingya refugees in and around Cox's Bazar, and an estimated 600,000 still in Rakhine state, who face ongoing violence and discrimination; and Malaysia, India, Indonesia, and other countries in the region, are together hosting nearly 150,000 Rohingya refugees.
Voluntary, safe, dignified return
"The voluntary, safe, dignified, and sustainable return of Rohingya refugees and others internally displaced to their places of origin or of their own choosing in Myanmar, is the comprehensive solution that we seek along with Rohingya people themselves", the joint communique stated.
"To that end, we underscore the Secretary General's call for a global ceasefire and the cessation of fighting to enable safe and unimpeded humanitarian access to all communities in need of assistance."
The co-chairs urged Myanmar's Government to resolve the crisis, and "take steps to address the root causes of the violence and displacement", creating the conditions that would allow for sustainable returns.
"This includes providing a pathway to citizenship and freedom of movement for Rohingya, guided by the Advisory Commission on Rakhine State's recommendations and encouraged and supported by countries in the region. Myanmar must provide justice for the victims of human rights abuses and ensure that those responsible are held accountable", the statement continued.
Expressing thanks and support to the Government and people of Bangladesh, the co-chairs stressed that increased support for Rohingya, must go hand-in-hand with increased support for host communities.
"While we continue efforts to secure long-term solutions, a focus on more sustainable response planning and financing in Bangladesh, could more effectively support the government's management of the response and maximize limited resources to benefit both Bangladeshi and refugee communities."
$600 million pledged
The co-chairs announced new pledges of around $600 million in humanitarian funding, which significantly expands the nearly $636 million in assistance already committed so far in 2020 under the Bangladesh Joint Response Plan and the Myanmar Humanitarian Response Plan.
The crisis is having a "devastating effect on vulnerable members of Rohingya communities, particularly women and children who require gender and age-sensitive interventions" said the co-chairs, leading to vulnerable refugees "desperately attempting to reach other countries in the region.
UN Children's Fund (UNICEF) Executive-Director, Henrietta Fore, said that thanks to Bangladesh and generous donors worldwide, UNICEF and other UN agencies such as UNHCR, migration agency IOM, World Food Programme WFP, and many NGOs, continue to serve and support vulnerable Rohingya children.
In addition to providing vital services such as health, nutrition, and sanitation, education is "critical for young Rohingyas to build better futures. And to one day voluntarily return and reintegrate into Myanmar with the safety and dignity they deserve."
Support for 170,000 Rohingya children
"We're giving parents and caregivers the training and tools they need to support their children's education. More than 170,000 Rohingya children are being supported this way", she said.
"Join our call to ensure a place for Rohingya children in both countries' education systems and programmes. They need education where they live", she told the conference.
Ms. Fore called on donors not to forget the daily struggles of Rohingya children who remain inside Myanmar. "They're still facing discrimination, horrifying violence and intensifying conflict every day. The fighting needs to stop so children can return to school and play, and so refugees can return home safely if they choose."
Rohingyas themselves 'backbone of the response'
UN Emergency Relief Coordinator, Mark Lowcock, said it was vital to recognize that the Rohingya refugees themselves have been "the backbone of the response."
"They volunteer as health workers, they distribute masks and they help protect their communities from the pandemic. And I think we are all need to be very grateful to them and encourage them to take up this kind of responsibility."
Highlighting again the Rohingya communities that remain in Myanmar, he said 130,000 of them remain displaced in central Rakhine State where they have been since 2012, and another 10,000 have been displaced since 2017 in northern Rakhine.
"Those people continue to have their basic rights denied, they suffer extreme hardships in Rakhine State and elsewhere", added relief chief Lowcock.
World Bank-UNICEF: 1 in 6 children lives in extreme poverty
An estimated 1 in 6 children – or 356 million globally – lived in extreme poverty before the pandemic, and this is set to worsen significantly, according to a new World Bank Group-UNICEF analysis released today.
Global Estimate of Children in Monetary Poverty: An Update notes that Sub-Saharan Africa – with limited social safety nets – accounts for two-thirds of children living in households that struggle to survive on an average of $1.90 a day or less per person – the international measure for extreme poverty. South Asia accounts for nearly a fifth of these children.
The analysis shows that the number of children living in extreme poverty decreased moderately by 29 million between 2013 and 2017. However, UNICEF and the World Bank Group warn that any progress made in recent years is concerningly slow-paced, unequally distributed, and at risk due to the economic impact of the COVID-19 pandemic.
"1 in 6 children living in extreme poverty is 1 in 6 children struggling to survive," said Sanjay Wijesekera, UNICEF Director of Programmes. "These numbers alone should shock anyone. And the scale and depth of what we know about the financial hardships brought on by the pandemic are only set to make matters far worse. Governments urgently need a children's recovery plan to prevent countless more children and their families from reaching levels of poverty unseen for many, many years."
Although children make up around a third of the global population, around half of the extreme poor are children. Children are more than twice as likely to be extremely poor as adults (17.5 percent of children vs. 7.9 percent of adults). The youngest children are the worst off – nearly 20 percent of all children below the age of 5 in the developing world live in extremely poor households.
"The fact that one in six children were living in extreme poverty and that 50% of the global extreme poor were children even prior to the COVID-19 pandemic is of grave concern to us all," said Carolina Sánchez-Páramo, Global Director of Poverty and Equity for the World Bank. "Extreme poverty deprives hundreds of millions of children of the opportunity to reach their potential, in terms of physical and cognitive development, and threatens their ability to get good jobs in adulthood. In the wake of the massive economic disruption caused by the pandemic, it is more crucial than ever that governments support poor households with children now and rebuild their human capital during the recovery."
Extreme poverty among children has not fallen as much as it has for adults; a larger share of the global poor were children in 2017, compared with that in 2013. All regions of the world experienced varying levels of decline in extreme poverty among children, apart from Sub-Saharan Africa, which saw a 64 million increase in the absolute number of children struggling to survive on $1.90 a day, from 170 million in 2013 to 234 million in 2017.
Child poverty is more prevalent in fragile and conflict-affected countries, where more than 40 percent of children live in extremely poor households, compared to nearly 15 percent of children in other countries, the analysis says. The analysis also notes that more than 70 percent of children in extreme poverty live in a household where the head of the house works in agriculture.
The ongoing COVID-19 crisis will continue to disproportionately impact children, women and girls, threatening to reverse hard-won gains towards gender equality. Social protection measures have a crucial role to play to mitigate coping mechanisms by the poor and vulnerable in both the immediate COVID-19 response as well as the longer-term recovery.
World Bank and UNICEF data suggest that most countries have responded to the crisis by expanding social protection programs, particularly cash transfers. Cash transfers provide a platform for longer-term investments in human capital. Particularly when combined with other child development measures and coupled with high-quality social service provision, cash transfers have been shown to address both monetary and multidimensional poverty and improve children's health, nutrition, cognitive and non-cognitive outcomes.
However, many of the responses are short-term and not adequate to respond to the size and expected long-term nature of the recovery. It is more important than ever for governments to scale up and adjust their social protection systems and programs to prepare for future shocks. This includes innovations for financial sustainability, strengthening legal and institutional frameworks, protecting human capital, expanding child and family benefits for the long term as well as investing in family-friendly policies, such as paid parental leave and quality child care for all.
Cindy Sirinya Bishop new UN Women Regional Goodwill Ambassador for Asia Pacific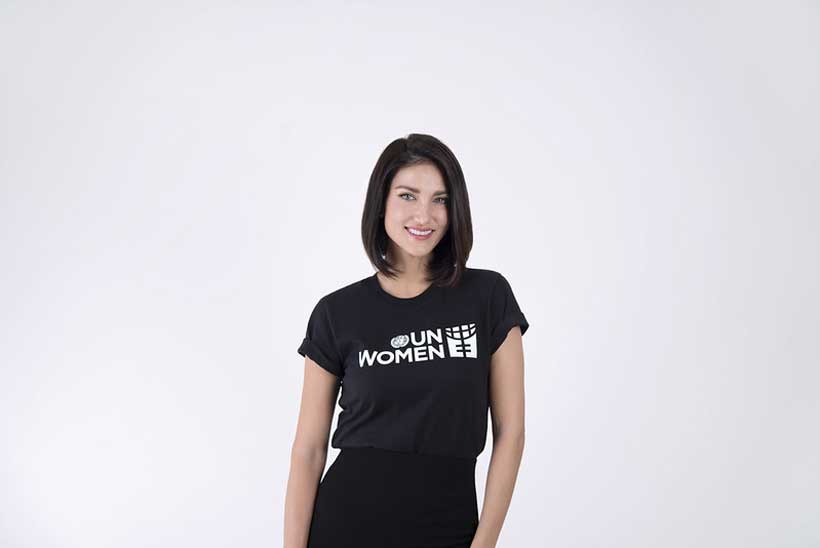 Thai celebrity and rights activist Cindy Sirinya Bishop is working to stop violence and other abuses against women as the newly appointed UN Women Regional Goodwill Ambassador for Asia and the Pacific.
Bishop, 41, is a model and actress who is best known as the host of Asia's Next Top Model, a television show broadcast in most countries in the region.
During her 2-year appointment, which began in September, Bishop is representing UN Women to promote gender equality and other UN Women priority goals, raise funds and build partnerships. She is promoting public awareness through education, dialogue and cooperation with schools, communities and governments.
"It is truly an honour to become the first UN Women Goodwill Ambassador to Asia and the Pacific," Bishop said. "My mother instilled in me very early on a strong sense of justice and fierce belief in the resilience and strength of women, and these values continue to guide me today. I am so deeply grateful for the opportunity to work towards achieving greater gender equality in the region, especially in the areas of eliminating gender-based violence and in providing equal opportunity for girls and women to realize their full potential."
Bishop is one of Thailand's leading campaigners on ending violence against women.
In early 2018, she came across a newspaper headline about Thai authorities telling women to not look "sexy" if they want to avoid sexual assault during the Thai new year festival. Having experienced violence herself at the festival, Bishop spoke out in a social media video hashtagged #DontTellMeHowtoDress. #DontTellMeHowtoDress quickly evolved into a movement championing gender equality and has been extensively covered by local and international media.
In July 2018, Bishop collaborated with UN Women to organize the Social Power Exhibition Against Sexual Assault. The exhibition was supported by United Nations agencies; the governments of Thailand, the Philippines and Singapore; the Association of Southeast Asian Nations; embassies; the media; and civil society and youth groups. Bishop worked with civil society organizations in the Philippines and Singapore on #DontTellMeHowToDress.
In November 2018, Bishop received the "Activist of the Year Award" from the office of the Prime Minister of Thailand.
Bishop also is the Knowledge Director of Dragonfly360, a regional platform that advocates for gender equality in Asia. She is writing a series of children's books on safety, rights and respectful relationships.
"Your strong commitment to ending violence against women, demonstrated through your creation of the #DontTellMeHowtoDress movement and your work with UN Women so far, has shown you to be a compelling and eloquent advocate," UN Women Regional Director Mohammad Naciri said in inviting Bishop to be UN Women regional goodwill ambassador.
UN Women is the United Nations organization dedicated speeding up progress on gender equality and the empowerment of women worldwide.