World Economic Forum on the MENA to Focus on Building New Platforms of Cooperation
The World Economic Forum on the Middle East and North Africa will be held at the Dead Sea in Jordan on 6-7 April 2019 in partnership with the King Abdullah II Fund for Development (KAFD). This will be the 10th meeting in Jordan and 17th meeting in the region. The meeting will convene more than 1,000 government, business and civil society leaders from over 50 countries.
Under the theme "Building New Platforms of Cooperation", the meeting will focus on four transformational imperatives: Shaping a new economic and social model for the region; environmental stewardship in the Arab world; finding common ground in a multiconceptual world; and the Fourth Industrial Revolution in the Arab world.
"The region is at a pivotal time of taking the bold decisions necessary to future-proof its societies and economies. At this meeting, we will hold several strategic dialogues, with particular attention on the relationship between the public, private and civic sectors, the impact of the Fourth Industrial Revolution on skills and jobs, and new initiatives to help resolve long-standing conflicts," said Mirek Dusek, Deputy Head of Centre for Geopolitical and Regional Affairs and Member of the Executive Committee at the World Economic Forum.
For his part, Chairman of KAFD's Board of Trustees Alaa Batayneh said, "Having Jordan host the World Economic Forum on the Middle East and North Africa for the 10th time reaffirms the importance of Jordan's political and economic position within the region." "The Forum offers an international platform to highlight the priorities and plans of Jordan and the region, in the fields of development, energy, technology applications, and natural resource management," he added.
With the full support of the host country and presence of Their Majesties King Abdullah II bin Al Hussein, Queen Rania Al Abdullah and H.R.H. Crown Prince Al Hussein bin Abdullah II of the Hashemite Kingdom of Jordan, the meeting will bring together leaders from Gulf Cooperation Council countries, the Levant and North Africa, as well as key international stakeholders from East Africa, Europe and the United States.
The Co-Chairs of this year's meeting are: Khalid Al Rumaihi, Chief Executive, Bahrain Economic Development Board, Bahrain; Thani Ahmed Al Zeyoudi, Minister of Climate Change and Environment of the United Arab Emirates; Rania A. Al-Mashat, Minister of Tourism of Egypt; Alain Bejjani, Chief Executive Officer, Majid Al Futtaim Holding, United Arab Emirates; Wafa Ben-Hassine, MENA Policy Counsel, Access Now, USA; Sumantra Chakrabarti, President, European Bank for Reconstruction and Development (EBRD), London; Tony F. Chan, President, King Abdullah University of Science and Technology (KAUST), Saudi Arabia; and Sigrid Kaag, Minister for Foreign Trade and Development Cooperation of the Netherlands.
Among the public figures taking part in the meeting are: Antonio Guterres, Secretary-General of the United Nations, New York; Muhammadu Buhari, President of Nigeria; Mahmoud Abbas, President of the Palestinian Nationality Authority and Chairman of the Executive Committee, Palestine Liberation Organization; Armen Sarkissian, President of Armenia; Emine Erdoğan, First Lady of Turkey; Abdullah Abdullah, Chief Executive of the Islamic Republic of Afghanistan; Khalid Al-Falih, Minister of Energy, Industry and Mineral Resources of Saudi Arabia; Omar Al Olama, Minister of State for Artificial Intelligence of the United Arab Emirates; Yusuf Bin Alawi Bin Abdullah, Minister of Foreign Affairs of Oman; Ghassan Hasbani, Deputy Prime Minister of Lebanon; and Khalid bin Ahmed Al Khalifa, Minister of Foreign Affairs of Bahrain.
For the second time, the World Economic Forum is partnering with the Bahrain Economic Development Board to bring 100 Arab start-ups to the meeting. The initiative aims to further integrate entrepreneurs into a national and regional dialogue on pressing challenges. More than 400 applicants representing 17 countries and spanning numerous sectors including finance, energy, health, environment, media and education applied. Among the selected start-ups are Careem (UAE) – also included in the 2017 selection – the region's first "unicorn", which was recently sold for $3.1 billion; Coded (Kuwait), the first coding boot camps for the Arab world; Proximie (Lebanon), a company that uses augmented reality for surgeons to contribute remotely to clinical procedures; and Wahed (UAE), the world's first halal investment platform.
Representing young people, the World Economic Forum's Global Shapers (aged between 20 and 30) and Young Global Leaders (under the age of 40), will take part in the discussions. Social Entrepreneurs
will also contribute to the dialogue on innovative local and regional action to address pressing problems.
The meeting will also focus on highlighting long-term approaches to responding to systemic issues. For example, the Humanitarian Investing Initiative, launched at the Forum's Annual Meeting in Davos, will showcase innovative approaches to investing that respond to the long-term challenges of protracted humanitarian crises. Taking this long-term approach, other sessions will feature solution-based, forward-looking dialogues on issues of healthcare, energy, water, gender equality, the future of jobs, cybersecurity and more.
Building on the World Economic Forum's long-standing position as a platform for peace and reconciliation, the meeting will also host dialogues with key decision-makers from the region, the United States, Europe and Asia on addressing geopolitical challenges in the region.
3 Amazing Success Recipes from TED-speakers That All Students Will Love
What is success for you? Does it have to do with grades, money, or popularity? Or do you feel successful when people around you respect you and trust your opinion? Or does success equal winning? There are approximately 7.8 billion definitions of success in the world right now because, for every single individual, it would mean something different. But Maya Angelou, an outstanding American writer and civil rights activist, managed to sum it all up in one sentence when she wrote that "success is liking yourself, liking what you do, and liking how you do it." You will hardly find a single person who could disagree with this axiom. However, though the task outlined by Angelou might sound like a simple one, very few people know how to achieve success and are ready to share their secrets. TED is the unique platform that unites such people around their mission to make the world a better place. We invite you to join this vibrant community of enthusiasts and learn more about the amazing success recipes that will help you unlock your potential and make the best of it. 
4 Pillars of College Success from Freeman Hrabowski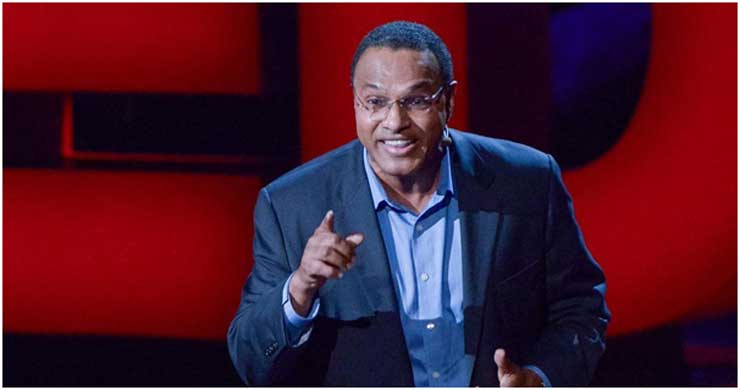 When Freeman Hrabowski was 12 years old, he marched with Martin Luther King and was taken to jail in the aftermath of the historic event, which later became known as the Children's Crusade in Birmingham (1963). He did this because he believed in the transformative power that education possesses and his right to let this power define his future and the future of every single child on this planet irrespective of their skin color and social background. Since then, Hrabowski has faithfully served his ideals. As president of the University of Maryland, Baltimore County (UMBC), he turned a mediocre commuter college into the ninth most innovative university in the USA known for its focus on research, high teaching standards, and inclusive education.
In his TED-talk "4 pillars of college success in science," Hrabowski shares four principles that helped him achieve success and make the dreams of thousands of students come true. First and foremost, students' lives can be changed by high expectations. And here, Hrabowski is not talking about scores and grades. He believes that it is not enough to be smart and ready to learn. You have to be excited about learning and eager to ask good questions. "High expectations have to do with curiosity," he argues. Secondly, students need to learn to work in groups, "to understand each other, to build trust among them, to support each other, to learn how to ask good questions, but also to learn how to explain concepts with clarity" and thus form a flourishing community. Third, whatever the discipline, research has to be placed into the very focus of attention because "it takes researchers to produce researchers." Finally, there is no place for indifference at college. So, be curious and eager to learn, ask good questions, become a team player, focus on the research, and take ownership of your studies – no doubt, you will reach great heights!
If you want to find out more about this tested success recipe, listen to this illuminating TED-talk. It lasts 15 minutes, yet it is definitely worth the effort. But if you are short on time, you can always delegate some of your assignments to highly-skilled professionals from essayservice.com and spend some quality time boosting your motivation.
8 Secrets of Success from Richard St. John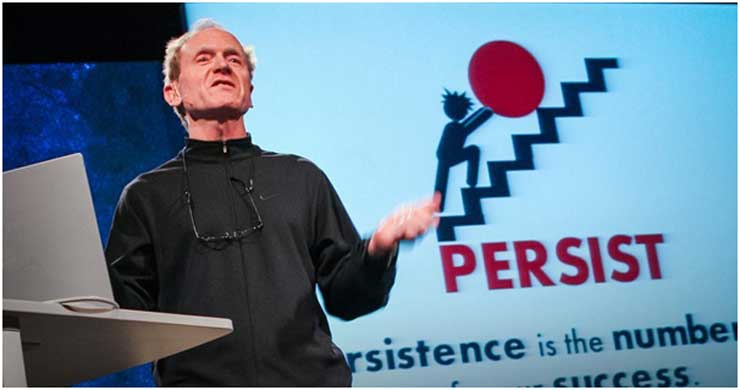 The short TED bio offers a humorous and yet precise description of Richard St. John's life achievement: "A self-described average guy who found success doing what he loved, Richard St. John spent more than a decade researching the lessons of success — and distilling them into 8 words, 3 minutes and one successful book." Great news! You only need 3 minutes to learn the universal formula of success. Let us name the key ingredients of St. John's recipe to get you started. To become a success story, you need to:
be passionate about what you are doing (because "if you do it for love, the money comes anyway");
work hard (and yet manage to have fun!);
focus on one thing;
persist;
come up with good ideas;
be good at what you are doing;
push yourself (or let your mother do it!);
serve other people.
For more details, a dose of good mood, and motivation, watch this funny and insightful talk from one of the most inspiring TED-speakers ever. It is an absolute must for students all over the world!

A Millennial's Unexpected Secret to Success from Daniela Zamudio
Millennials are only too often criticized for failing to be resilient, loyal, determined, and hardworking enough, as well as jumping from job to job. However, Daniela Zamudio, a millennial and the head of marketing and communications for Tommy Hilfiger Mexico, believes that the notorious propensity of the millennials to quit when feeling uncomfortable is a strength rather than a weakness and also an essential ingredient of the success recipe. Zamudio has developed a philosophy of "conscious quitting," which teaches you to follow your heart but also to be ready to face the consequences of your life-changing decisions. Listen to her enthusiastic and humor-packed TED-talk to discover how quitting consciously has helped Zamudio achieve personal success and happiness.
No matter which recipe you pick, we wish you good luck on your way to achieving success and living your dream!
Most countries failing to protect women from COVID-19 economic and social fallout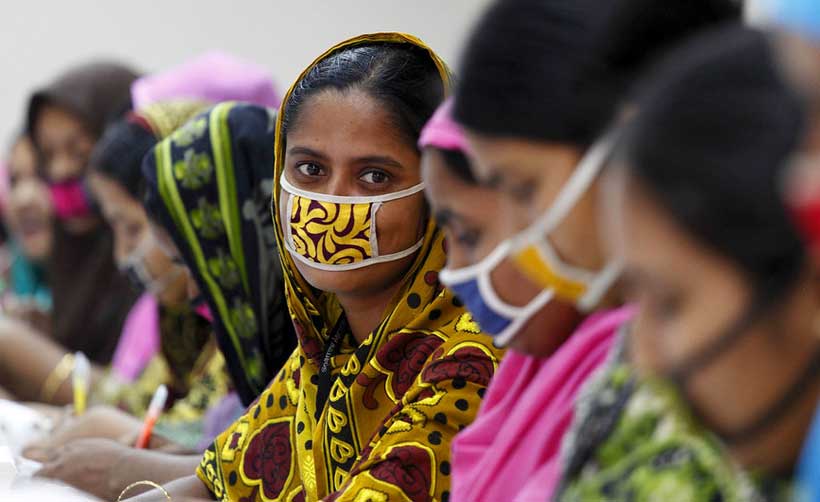 The COVID-19 pandemic is "hitting women hard", but most nations are failing to provide sufficient social and economic protection for them, the head of the UN gender empowerment agency said on Monday.
And women have often become victims of domestic violence "locked down with their abusers, as unpaid caregivers in families and communities, and as workers in jobs that lack social protection", adds the Executive Director of UN Women, Phumzile Mlambo-Ngcuka.
New data released by gender agency and the UN Development Programme (UNDP) taken from the COVID-19 Global Gender Response Tracker, reveal that most countries are not doing enough to protect women and girls from the economic and social fallout being caused by the virus.
Lacking support
The analysis signals that one-fifth of the 206 countries analyzed, or 42 States, had no gender-sensitive measures in place to respond to the pandemic.
And only 25 countries have introduced measures aimed at tackling violence against women and girls (VAWG), support unpaid care and strengthen women's economic security.
These may include helplines, shelters or legal support to counter the surge in violence; cash transfers directly targeted at women; or childcare services and paid sick leave.
"The COVID-19 crisis provides an opportunity for countries to transform existing economic models towards a renewed social contract that prioritizes social justice and gender equality", said UNDP Administrator Achim Steiner. "This new gender response tracker can help accelerate policy reform by guiding on gaps in national efforts and funding and highlighting best practices".
Breakdown
Across 135 countries, the tracker identified 704 measures to prevent and/or respond to VAWG. Of these, 63 per cent focused on strengthening essential services, such as shelters, helplines and other reporting mechanisms.
However, only 48 countries, less than a quarter of those analyzed, treated VAWG-related services as an integral part of their national and local COVID-19 response plans – with very few adequately funding these measures.
At the same time, social protection, care crisis and jobs response has been largely blind to women's needs, with only 177 measures in 85 countries explicitly aimed at strengthening women's economic security, and just 60 taking action to support unpaid care and strengthen care services for children, older persons or persons with disabilities.
Varying responses
The tracker also shows that gender actions vary widely across countries and regions.
According to the analysis, Europe is leading the response on addressing VAWG and unpaid care – accounting for almost 32 per cent of all violence measures and 49 per cent of all unpaid care measures.
Meanwhile, the Americas has the largest number of measures aimed at strengthening women's economic security, followed by Africa.
"The Global Tracker supports Governments in making the right policy decisions by sharing good practices and monitoring progress in care policies and measures to address violence against women", said UN Women Executive Director Phumzile Mlambo-Ngcuka.
Technological Revolution Accelerated by Coronavirus Crisis in Latin America
Latin America and the Caribbean is in the midst of a "Fourth Industrial Revolution" of technological innovation which requires enhancing the productivity of the services sector, investing in human capital and rethinking labor regulations and social protection policies, according to a new World Bank report.
These policy priorities have become all the more urgent now that the COVID-19 pandemic is fueling the biggest contraction in economic activity since the great depression. Digitization has become more important to support economic activity at a time of social distancing and is accelerating this technological transformation, potentially putting jobs at risk across Latin America and the Caribbean (LAC).
According to Going Viral: COVID-19 and the Accelerated Transformation of Jobs in Latin America and the Caribbean employment transformations that were already apparent in the last few decades are bound to deepen, and the question in this context is how to recover from the crisis and build back better.
"We need to rethink the future and not just try to get back to where we were before the pandemic," said World Bank Vice President for Latin America and the Caribbean Carlos Felipe Jaramillo. "Governments need to find ways to support the creation of new jobs, train workers to be ready for these new jobs and support their citizens through this disruptive transformation."
Premature deindustrialization and rapid technological innovation will require policies to support a smooth transformation of jobs that is socially acceptable. The region was already struggling with the end of the so-called "Golden Decade" (2003-2013) of rapid development and strong improvements in social indicators. Economic growth and poverty reduction had stalled. The pandemic has only made things worse.
While fears of mass "technological unemployment" are largely unfounded, many jobs are at risk due to lower external demand, a protracted period of quarantines and lockdowns, solvency problems for firms, and financial crises in some cases. In addition, the social unrest seen in 2019 is a warning. It is urgent to restore economic growth and create more and better jobs.
However, this "Fourth Industrial Revolution" of technological innovation means that further industrialization or re-industrialization will be limited in many developing countries. Low-paid, uneducated workers and those in high-contact activities typical of the informal sector are at highest risk of being replaced by machines. In addition, informal workers are harder to reach with essential social protection programs. The COVID-19 crisis could accelerate these changes, bringing the future much closer than anticipated.
With limited scope for employment growth in manufacturing, modernizing the services sector is a priority. This calls for an emphasis on removing the distortions that prevent competition and innovation from occurring at a rapid pace.
Preparing workers for the changes is also fundamental. "Education offers the best insurance against the risks of automation," said the report's lead author Guillermo Beylis, Research Economist in the World Bank's Office of the Chief Economist for Latin America and the Caribbean. "Workers will have to adapt to demand for cognitive or analytical skills, as well as interpersonal skills."
Adult learning and re-training will be key as new automation technologies are adopted in LAC countries. The focus should be on policy reforms to increase productivity in the services sector, which already employs 60% of the workforce and will play an increasingly important role in the future.
Finally, a rethinking of labor regulations and social protection policies is needed. This involves flexible regulation of the emerging forms of work in a way that encourages employment and supports formalization, thereby expanding the coverage of social protection to larger segments of the population.