Rumors about the "death" of Russian-Turkish alliance in Syria greatly exaggerated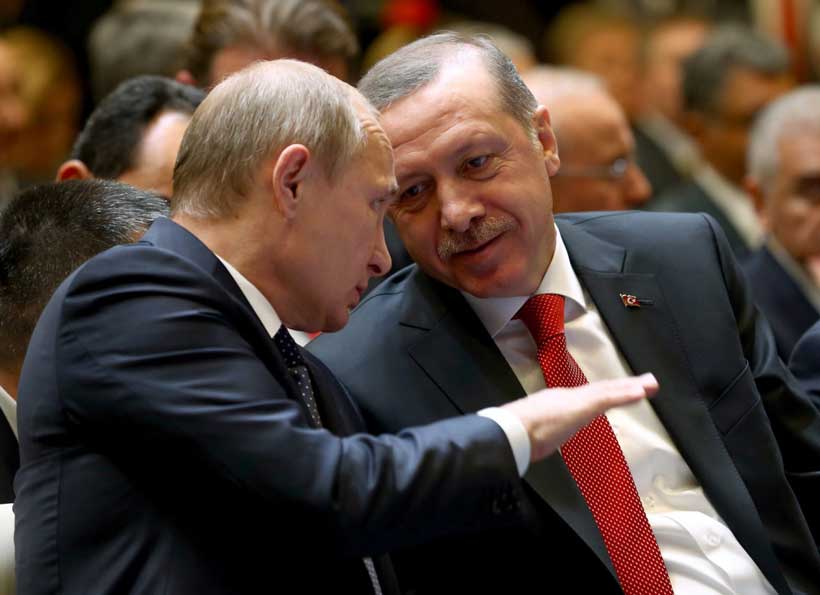 The breakthrough in trade and other economic relations between Russia and Turkey has quite naturally spread to the realm of politics, best reflected in the two countries' coordinated actions in Syria. This is all the more surprising, since only recently military-technical cooperation between Moscow and Ankara was absolutely unthinkable. Wary of this trend, members of the Western antiterrorist coalition fighting ISIL (a terrorist organization banned in Russia) have been working hard to "tear off" Turkey from Russia, with mass media spearheading this effort.
According to the authors of one such publication recently carried by The Financial Times, and aptly titled "Idlib: Russia and Turkey are preparing for the final battle in Syria, such "battles" have already happened recently, and what is coming up now is a "Russian-Turkish Armageddon."
"What happens in Idlib could determine the fate of [Putin's and Erdogan's] marriage of convenience, one that has muddled its way through the war, but is now stretched to breaking point."
The article claims that in Idlib the Russian-Turkish alliance is now breaking down as Ankara is trying to figure out if it could be better off cooperating with Washington, rather than with Moscow. The whole tonality of the article leaves no doubt as to which of the two options is the best way to go.
Indeed, Moscow and Ankara do not see entirely eye to eye on what Syria should look like after the war is over, with the main sticking point being the situation in Idlib and in the northeastern regions of the country controlled by the Kurdish militia.
While Russia is holding out for the earliest possible rout of the terrorists, mainly from the Hayat Tahrir-al-Sham group, massed inside the Idlib Demilitarized Zone (IDZ), Turkey is generally happy about the existing status quo.
Firstly, even though mainly squeezed out by Hayat Tahrir-al-Sham to Turkish-controlled areas in Syria, some of Ankara's proxies still remain in the IDZ. Secondly, Ankara fears that active hostilities could set off a new wave of refugees in addition to what Turkey has already taken in, that could fuel social unrest in the country. And, finally, practice shows that no police filters can reveal all the radicals among the incoming refugees, who could blame Ankara for "failing to protect them," with dire consequences for both.
After negotiating with his Russian and Iranian colleagues in September 2018, President Recep Tayyip Erdogan pledged to ensure the creation of a buffer zone around the perimeter of the IDZ, to achieve the withdrawal of heavy armament from it before October 10, and of terrorist units – before October 15. Moreover, the Aleppo-Damascus road was to open before the end of 2018. Many Turkish experts still argued that these commitments were obviously impossible to meet. Time has proved them right.
After meeting with President Erdogan in January, President Putin was fully understanding about Ankara's failure.
"Our Turkish colleagues are doing everything possible to implement the agreement. Of course, there are problems there, but we have agreed with our Turkish colleagues on what needs to be done in the near future," Putin said. He also told a news conference that he had discussed with the Turkish leader "what additional steps Russia and Turkey could take to ensure stability in the Idlib region."
A month later, the Kremlin spokesman Dmitry Peskov told reporters that a military operation against terrorists was necessary, but it was not yet clear whether "Turkey or some other countries" would carry it out. Does this mean that Ankara has at least given a nod to such an operation? Well, this is quite possible, since Idlib is almost completely "lost" for Turkey's proxy, and, by extension, for Turkey itself. It also looks like the issue of creating "security zones" for potential refugees is now getting off the ground.
All this gave the well-known Turkish journalist Fehim Taştekin a reason to believe that Russia wants to "resolve the Idlib problem" not in spite of Turkey, but with it.
On March 9, Turkish Defense Minister Hulusi Akar, announced the start of joint patrols of the Idlib Demilitarized Zone with the Russian military. Moscow did not confirm the information, nor did it deny it either. On March 13, Russian warplanes pounded terrorist arsenals in a series of airstrikes, which Moscow said had been coordinated with the Turkish military. Turkey denied that any such coordination had actually taken place, apparently to avoid the terrorists' wrath. A couple of weeks later, the very same Hulusi Akar said that Turkish and Russian military were setting up a "single coordination center in Idlib."
Overall, stuttering as it may be, Russian-Turkish cooperation in Idlib remains on track, and no signs of a close "battle" are anywhere in sight.
Another loose end waiting to be tied up is the "Kurdish issue." Russia believes that territories currently under the control of Kurdish units should be part of a unified Syria, while Ankara's main concern is the possible emergence of a Kurdish state on its border (here the interests of Moscow and Ankara coincide). Turkey also wants to eliminate the likelihood of any threat coming from the Syrian Kurds' main political party – the Democratic Union – which in Turkey is considered an offshoot of the Kurdistan Workers' Party, i.e. a terrorist organization. Here, as Russian Foreign Minister Sergei Lavrov noted, "We [Russia and Turkey] do not have a shared view on exactly who among the Kurds are to be considered as terrorists. Turkey has a special position. We understand their concern, but we still need to sift out ashes from cinders and see which of the Kurdish units are extremists and pose a security threat to the Turkish Republic."
President Erdogan dismissed this statement as "incorrect."
It hasn't been long since Ankara planned to bring the Kurdish-populated regions of Syria under its control. "Times they are a-changing" though, and Turkey is changing with them. It is now speaking about the need to create a buffer zone (a "security zone" where refugees can stay) along its entire border with Syria, and, of course, on the Syrian side of that border.
Russia is ready to discuss the creation of temporary buffer zones, but, according to Sergei Lavrov, "taking into account the position of Damascus," while simultaneously showing "maximum possible consideration for Turkey's interests."
During the trilateral Russian-Turkish-Iranian summit, President Vladimir Putin suggested that in its relations with Syria Ankara be governed by the terms of the 1988 Adana Agreement, whereby Syria recognized the Kurdistan Workers' Party as a terrorist organization and banned its activities on its territory. This allowed the Turkish security forces, in their pursuit of PKK units, to stray into Syrian territory to a depth of 5 kilometers. The problem, however, is that Ankara does not officially recognize the Assad government, even though it maintains "low level" contacts with Damascus. Still, President Erdogan's admission that "we view our future within the framework of the 1998 Adana Agreement," speaks for itself.
Meanwhile, more and more people in Turkey now realize the need to restore ties with Syria. According to Mehmet Ali Güller, the respected columnist for the daily newspaper Cumhuriyet, "the sooner the Ankara-Damascus dialogue … reaches the highest level, the closer the achievement of a political settlement will be."
That being said, relations between Russia and Turkey are still short of being ideal, with Russian Foreign Minister Sergei Lavrov's visit to Turkey having twice been postponed by Ankara. The discussion of the Syrian issue was initially scheduled for March 12, then for March 18. Moreover, almost each time President Erdogan is due to meet his Russian and Iranian counterparts, he invariably mentions his close, partnership relations with Washington. This can be regarded as an attempt to "play both sides of the fence," and a reflection of Ankara's much-declared multi-vector foreign policy.
The ideology of Pan-Turkism, which was so popular during the 1990s, has since been put on the back burner as the Turkish political establishment is pursuing a three-pronged foreign policy combining the Islamic, Atlantic and Eurasian tracks. Turkey's geopolitical position at the junction of different civilizations inevitably determines the country's final choice as being existential, rather than political.
As for the Islamic vector, it leads nowhere, since neither Iran nor the Arab countries will ever recognize Turkey's leadership, and Ankara will not agree to anything less.
A move towards embracing "Western democracies" would negate all previous activities of the Turkish leadership and the entire ideology of the Justice and Development Party, which has been governing the country for almost 17 years now. Moreover, Europe has already made it clear that the EU's doors are closed for Turkey, and President Trump's National Security Adviser John Bolton recently failed to give a direct answer when asked whether Turkey is a friend or enemy of the United States.
"Well, you know they're still a NATO ally; we're trying to work with them, but they've got a very bad relationship with our close friends in Israel. That's something we need to look out on," Bolton said, adding that disagreements "with respect to the conflict in Syria" were another issue.
This certainly does not sit well with Turkey's political elite, which makes rumors about the "death" of the Russian-Turkish alliance look greatly exaggerated. Just as Fehim Taştekinput it, "the Astana project lives on, because Turkish-Russian interaction continues on the ground."
First published in our partner International Affairs
Public opinion surveys challenge the image Arab leaders like to project
Several recent public opinion surveys send a mixed message to autocratic reformers in Saudi Arabia, the United Arab Emirates, and Qatar, which hosts this year's World Cup in less than two months.
The surveys reveal contradictory attitudes among Arab youth towards religion as well as widespread rejection of notions of a moderate Islam and formal diplomatic ties with Israel.
One survey, published this week by Dubai-based public relations agency ASDA'A BCW, revealed that 41 per cent of 3,400 young Arabs in 17 Arab countries aged 18 to 24 said religion was the most important element of their identity, with nationality, family and/or tribe, Arab heritage, and gender lagging far behind. That is 7 per cent more than those surveyed in the agency's 2021 poll.
More than half of those surveyed, 56 per cent, said their country's legal system should be based on the Shariah or Islamic law.
Seventy per cent expressed concern about the loss of traditional values and culture. Sixty-five per cent argued that preserving their religious and cultural identity was more important than creating a globalized society.
Yet, paradoxically, 73 per cent felt that religion plays too big a role in the Middle East, while 77 per cent believed that Arab religious institutions should be reformed.
Autocratic Arab reformers will take heart from the discomfort with the role of religion and skepticism towards religious authority that stroked with earlier surveys by ASDA'A BCW, which has conducted the poll annually for the past 14 years.
Even so, the greater emphasis on religion as the core pillar of identity, concern about traditional values and culture, and the call for Islamic law cast a shadow over social reforms introduced by Crown Prince Mohammed bin Salman in Saudi Arabia and President Mohammed bin Zayed in the UAE.
Moreover, the poll results were published as Qatar debates how to deal with potential conduct by World Cup fans that violates Qatari law and mores, such as public intoxication and expressions of affection, pre-marital sex, and sexual diversity.
Qatar has suggested that World Cup fans caught committing minor offences such as public drunkenness would escape prosecution under plans under development by authorities.
While Saudi Arabia's rupture with religious ultra-conservatism that long was the kingdom's hallmark was stunning, reforms in the UAE were the most radical in their break with Islamic law that constitutionally constitutes the principal source of the country's legislation.
Mr. Bin Salman's reforms severely restricted the authority of the religious police, lifted the kingdom's ban on women's driving, enhanced women's rights and opportunities, loosened gender segregation, and introduced western-style entertainment – all measures that are essentially not controversial in much of the Muslim world but went against the grain of the kingdom's ultra-conservative segment of the population and clergy.
That could not be said for Mr. Bin Zayed's equally far-reaching changes that decriminalized sexual relations out of marriage and alcohol consumption for UAE nationals and foreigners and lifted the prohibition on living together for unmarried couples.
Mr. Bin Zayed's reforms are expected to persuade some fans to base themselves in the UAE during the World Cup and travel for matches to Qatar, which is socially more restrictive.
Even so, the ASDA'A BCW survey suggests that the reforms in the kingdom and the Emirates may not have been embraced as enthusiastically by a significant segment of the youth as the two countries would like public opinion to believe.
Separate surveys by the Washington Institute for Near East Policy showed that 59 per cent of those polled in the UAE, 58 percent in Saudi Arabia, and 74 per cent in Egypt, disagreed with the notion that "we should listen to those among us who are trying to interpret Islam in a more moderate, tolerant, and modern way."
The youth's quest for religion and traditionalism strokes with youth attitudes toward democracy and diplomatic relations with Israel.
Autocratic leaders will likely be encouraged by the fact that a whopping 82 per cent of those surveyed by ASDA's BCW said stability was more important than democracy. At the same time, two-thirds believed democracy would never work in the Middle East.
Three quarters saw China, followed by Turkey and Russia as their allies, as opposed to only 63 per cent pointing to the United States and 12 per cent to Israel. Even so, they viewed the US as having the most influence in the Middle East, but a majority favoured US disengagement.
Yet, the United States and Europe continued to constitute preferred destinations among 45 per cent of those polled seeking to emigrate.
However, despite widespread skepticism towards democracy, leaders will also have noted that 60 per cent expressed concern about the increased role of government in their lives.
The establishment two years ago of diplomatic relations with Israel by four countries included in the ASDA'A BCW survey — the UAE, Bahrain, Morocco, and Sudan, — and the fact that Saudi Arabia has become more public about its relations with the Jewish state and its desire to establish diplomatic ties once a resolution of the Israeli-Palestinian conflict is found is likely to have shaped responses in the surveys.
Aware of public hesitancy, Saudi Arabia, together with the Arab League and the European Union, this week convened a meeting in New York on the sidelines of the United Nations General Assembly to explore ways of dusting off the 1982 Saudi-inspired Arab peace plan.
The plan offered Israel recognition and diplomatic relations in exchange for creating a Palestinian state in territories occupied by Israel during the 1967 Middle East war.
For his part, Yair Lapid expressed support for a two-state solution in his address to the assembly. It was the first time Mr. Lapid backed two states since he became prime minister and the first time since 2017 that an Israeli prime minister spoke in favour of Palestinian statehood.
Nevertheless, only 14% of the Egyptians polled in the Washington Institute surveys viewed their country's 43-year-old peace treaty with Israel and the more recent establishment of diplomatic relations with the Jewish state by the UAE and others as positive.
In contrast to the UAE, Bahrain, and Morocco, where Israeli business people, tourists, and residents have been welcomed, only 11 per cent of Egyptians surveyed favoured the normalisation of people-to-people relations.
Similarly, 57 per cent of Saudis surveyed by the institute opposed the normalization of the kingdom's relations with Israel. Still, a higher percentage in the kingdom and the UAE than in Egypt, 42 per cent, agreed that "people who want to have business or sports contacts with Israelis should be allowed to do so."
To sum it all up, the message is that autocratic reformers appear to be far ahead of significant segments of their populations even if public attitudes may be contradictory.
For now, keeping the lid on freedom of expression and dissent helps them maintain their grip but casts a shadow and a doubt over the image they work so hard to project.
Middle Eastern Geopolitics in The Midst of The Russo-Ukrainian War
Russia's national interests have been harmed by the West's efforts to obstruct Eurasia's integration and provoke conflict. Support from the United States and the European Union for Ukraine's anti-constitutional coup d'état sparked a societal upheaval and a bloody conflict. Right-wing nationalist ideology is getting more and more popular, Russia is being painted as an enemy in Ukrainian society, the violent resolution of internal problems is being gambled on, and a profound socioeconomic catastrophe is making Ukraine a chronic centre of instability in Europe and along Russia's border.
US military-biological labs in Russia's neighbours are being expanded. There are four ways Russia utilizes to keep the world safe: political, legal, diplomatic, and military. To protect national interests, armed force can be employed only after all other options have failed.
NATO has effectively rendered Russia's Black Sea control worthless in terms of gaining access to warm water. "Irresponsible" would be a better word to describe Ukraine's attempt to join NATO. Russia's Eurasian aspirations are jeopardized by Ukraine's proclivity for self-determination. From Ukraine to Abkhazia, Russia seeks to control the northern Black Sea coast and to turn it under its sovereignty. For Russia, it is necessary to remove Western influence from this region and Russia's immediate surroundings. However, it is impossible for Ukraine to remain "neutral" because of its geopolitical and ethnic realities.
Russia's geopolitical security is threatened by Ukraine's borders and sovereign orientations, which are equivalent to invading Russia's land. Eastern Ukraine (east of the Dnieper River to the Sea of Azov) is inhabited by Great Russians and Orthodox Little Russians, whereas the rest of the country is controlled by Ukrainians. Anti-Russian sentiment runs deep in Crimea, a region with a wide range of nationalities (such as the Tatars). Crimea is under Moscow's authority for strategic reasons. From Chernigov to Odessa, an area has cultural ties to Eastern Ukraine and a place in the Eurasian geopolitical context.
The Eurasian core (Russia) and the European core (Germany) should work together to complete the long-term disengagement between Europe and the United States by forming a Eurasian continental military complex.
Russian intervention in Ukraine is urgent in order to avert an attack by NATO. The foregoing suggests that Russia's policy of severing all ties with Western security systems in the vital territory directly adjacent to Russia is being carried out in Ukraine. The only way to achieve this aim peacefully is to use force.
There are two main actors engaged in this conflict; the Russian Federation (the official heir to the USSR) and the United States, which is slipping in several soft and hard power indicators. Paul Kennedy saw imperial overstretch as a precursor to strategic decline for the United States, while Richard Barnet predicted decline for the United States in the 1980s. Flora Lewis' research, published a year after Paul Kennedy's, confirmed the fall of the United States. It was prophesied by James Schlesinger that the United States will lose both its economic and military power. Peter Passell and Tom Wicker argued that the United States has lost its economic and scientific leadership to Japan because of its dependence on foreign sources of raw resources and energy.
According to Niall Ferguson's 2004 study on US diclinism, the United States wants to expand free markets, the rule of law, and representative government around the world, but it is unwilling to make the long-term investments in human capital and financial resources necessary to end conflict resulting from state inefficiency. When it comes to internal weaknesses like financial deficits and people power, as well as ignoring global responsibilities, he thinks that the United States is a failing empire that refuses to accept its own demise. "Terrorist" groups and organized crime gangs will fill the void, he predicts. Ferguson sees this as a strong endorsement of the US-China-European partnership.
Biden should not threaten China and should treat Russia as a serious power in Eurasia, as argued by one of the most anti-EU thinkers in the United States, Francis Ferguson, Jr. An analysis conducted by the US National Intelligence Council in 2008 predicted that the international system would become more multipolar due to the emergence of new major powers, the continuation of economic globalization, the transfer of wealth from the West to the East, and the expansion of sub-state and supra-state entities.
According to the report, by 2025, there would be less disparities between regions and governments in the international system. In order to avoid further collapse in Russia's interior and to enlarge Russia's critical space, each empire looks to exploit geostrategic territories. NATO's laxity has made it easier for the other empire (the United States) to halt its collapse and strengthen relations with Europe.
All of the foregoing has an impact on the Middle East, particularly on the Arab region. The Middle East is no longer a priority for US policy, according to President Joe Biden's strategic plan. Some countries in the region have attempted to compensate for the loss of the United States by forging ties with Israel to counter internal opposition and strengthen the anti-Iran coalition.
It is possible that the Ukraine issue could divert American attention away from the Middle East in the next months, which could have an impact on Arab relations with Israel, Iran and Turkey. Because of the lack of response from the Middle East in response to US demands about the Ukrainian issue (blockade of Russia, military support for Ukraine, increased gas and oil production, etc.), there has been a "relative" shift in the region's position in US strategy.
Currently, there are many thorny issues in the Middle East, including: Russia's policy in the Arab region is hampered by its inability to overcome regional power imbalances. Russian, Iranian and Israeli differences. Reconciling Iran with Gulf States and a number of Arab nations. Reconciling the security needs of Israel and Syria. Israeli demands vs. Russian pledges on Palestinian rights.
The trade volume differential between Russia and the Arab region just adds to the complexity of these political issues already in existence. Over the previous three years, Russian trade with the Arab world has averaged $18 billion each year. One group of Arab countries imports Russian civilian goods, such as wheat and iron, whereas the other group imports Russian military equipment. Russia exports civilian goods to Egypt, Morocco, UAE, Saudi Arabia, Tunisia, Jordan, and Qatar. After Syria, Algeria (81 percent), Iraq (44 percent), Egypt (41%), and the United Arab Emirates (5.3%), Russian arms sales to Arab countries account for 21 percent of Russia's overall sales, or $5 billion yearly, making them the top five countries acquiring Russian weaponry.
It's not uncommon for relations between Arab countries that acquire Russian civilian items and those that import Russian military hardware to be strained. In the near future (within the next five years), when Russia's global economic embargo will cover more civilian items than military ones, it will be difficult for Russia to limit the influence of Arab disputes on its relations with all Arab countries.
Due to its military-to-civilian trade imbalance, Russia may have to reassess its regional priorities. Relations between the Arab world and Russia could take a dramatic turn in the near future. Russia's trade with Israel ($3.5 billion) and Iran ($777 million) is impossible to compare. Even in light of the boycott, Russia's relations with Iran and Israel will be problematic.
Creating Building Blocks for Cooperative Security in the Middle East
Fading hopes for a revival of the 2015 international agreement that curbed Iran's nuclear program potentially puts one more nail in the coffin of a regional security architecture that would include rather than target the Islamic republic.
The potential demise of the nuclear agreement, coupled with America redefining its commitment to Middle Eastern security as it concentrates on rivalry with Russia and China, spotlights the need for a regional security forum that would facilitate confidence-building measures, including common approaches to transnational threats such as climate change, food security, maritime security, migration, and public health.
Mitigating in favour of a firmer grounding of the reduction of regional tension is the fact that it is driven not only by economic factors such as the economic transition in the Gulf and the economic crisis in Turkey, Iran, and Egypt but also by big-power geopolitics.
China and Russia have spelled out that they would entertain the possibility of greater engagement in regional security if Middle Eastern players take greater responsibility for managing regional conflicts, reducing tensions, and their own defense.
Rhetoric aside, that is not different from what the United States, the provider of the Middle East's security umbrella, is looking for in its attempts to rejigger its commitment to security in the Gulf.
In addition to the emerging, albeit tentative, unspoken, macro-level big power consensus on a more inclusive, multilateral approach, efforts by the major regional powers – Saudi Arabia, the UAE, Turkey, Israel, and Iran, except for as it regards ties between the Jewish state and the Islamic republics — to reduce tensions and put relations on a more even keel, contribute to an environment potentially conducive to discussion of a more broad-based security architecture.
The need to focus on conflict prevention and improved communication between regional rivals alongside more robust defense cooperation is evident irrespective of whether the Iran nuclear accord is brought back from the dead, given that the covert war between Israel and Iran will continue no matter what happens.
Israeli officials this month warned that an Israel airstrike against Syria's Aleppo airport was a warning to President Bashar al-Assad that his country's air transport infrastructure would be at risk if he continues to allow "planes whose purpose is to encourage terrorism to land," a reference to flights operated on behalf of the Iranian military and Revolutionary Guards.
Even so, the Biden administration remains focused on broadening responsibility for a regional security architecture that targets Iran rather than an inclusive structure that would give all parties a stake, seek to address root problems, and stymie an evolving arms race.
The administration has encouraged security cooperation between Israel, the United Arab Emirates and Bahrain, the two Arab states that two years ago established diplomatic relations with Israel, and Saudi Arabia, which has changed its long-standing hostile attitudes towards the Jewish state but refuses to formalise relations in the absence of a resolution of the Palestinian problem.
The year's move of Israel from the US military's European to its Central Command (CENTCOM) that covers the Middle East facilitates coordination between regional militaries. In a first, Israel this year participated in a US-led naval exercise alongside Saudi Arabia, Oman, Comoros, Djibouti, Somalia, Yemen, and Pakistan, countries with which it has no diplomatic relations, as well as the UAE and Bahrain.
In March, top military officers from Israel, Saudi Arabia, Qatar, Jordan, and Egypt met in the Egyptian resort town of Sharm el-Sheikh to discuss the contours of potential military cooperation.
Similarly, the US, the UAE, Bahrain, and Saudi Arabia are attempting to create a regional air defense alliance. In June, Israeli Defense Minister Benny Gantz claimed the partnership had already thwarted Iranian attacks.
Similarly, the United States, Saudi Arabia, and Israel are working on a fleet of naval drones to monitor Gulf waters and ward off Iranian threats.
Furthermore, CENTCOM plans to open a testing facility in Saudi Arabia to develop and assess integrated air and missile defense capabilities.
Scholar Dalia Dassa Kaye argues that focusing on confidence-building aspects of cooperative security involving a dialogue that aims to find common ground to prevent or mitigate conflict rather than collective security that seeks to counter a specific threat is one way of breaking the Middle East's vicious circle.
The Association of Southeast Asian Nations' (ASEAN) patchwork of security structures, alliances between external powers and individual association members, and inclusive regional forums demonstrate that the two security approaches are not mutually exclusive.
The ASEAN model also suggests that, at least initially, a less centralized and institutionalized approach may be the best way to kickstart moves towards regional cooperative security in the Middle East.
Negotiating an agreement on principles guiding regional conduct on the back of exchanges between scholars, experts, and analysts, as well as informal, unofficial encounters of officials, could be a first step.
To be sure, Iran's refusal to recognize Israel and its perceived goal of destroying the Jewish state likely constitutes the foremost obstacle to initiating an inclusive, cooperative security process.
The carrot for Iran will have to be credible assurances that the United States, Saudi Arabia, and Israel will not pursue regime change in Tehran and recognize that Iran's security concerns are as legitimate as those of others in the region. However, even that could prove to be a tall order, particularly if the negotiations to revive the nuclear accord fail.
Nevertheless, that may be the only realistic way of putting Iran's support for militants in various Arab countries, including Lebanon's Hezbollah Shiite militia, various pro-Iranian paramilitary groups in Iraq, and Houthi rebels in Yemen, as well as the Islamic republic's ballistic missiles program – the two major concerns of Israel and the Gulf states — on an agenda to which Iran is a participating party.
Ms. Kaye argues that "despite these serious obstacles, it is important to present a vision and pathway for an inclusive, cooperative process when a political opening emerges, or when a crisis erupts of such severe magnitude that even bitter adversaries may consider options that were previously unthinkable."