Ascott unveils Citadines Connect business hotels to expand short-stay offerings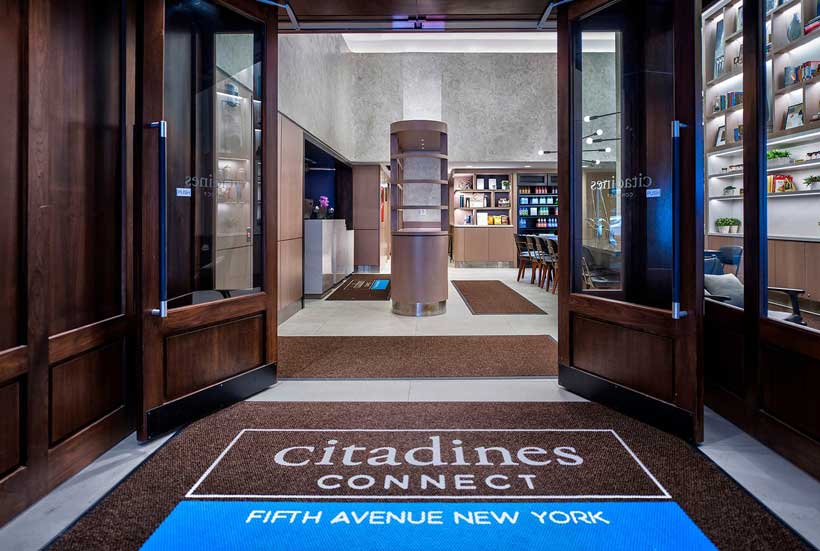 CapitaLand's wholly owned lodging business unit, The Ascott Limited (Ascott), has launched Citadines Connect, a line of business hotels with selected services, to widen its short-stay offerings as it continues to grow its portfolio. A sub-brand of Ascott's well-established Citadines serviced residence brand, Citadines Connect business hotels cater to frequent travellers who are constantly connected, offering a chic living experience in vibrant city destinations.
Citadines Connect business hotels will have tech-enabled features such as mobile keys, self check-in kiosks, smart washing machines or laundromats, content streaming-enabled televisions, and Google cloud printers. Guests can enjoy the convenience of 'Grab & Go' counters offering food and beverage options and daily necessities, common pantry areas, meeting pods, as well as 24/7 gymnasiums. They can also relax at the 'Refresh and Recharge' spaces that come with private napping pods with USB charging points, lockers and shower rooms. The hotels offer mostly studio rooms ranging from 18 to 21 square metres.
Mr Alfred Ong, Ascott's Head for Global Operations, said: "Citadines is Ascott's fastest growing brand. It has a strong reputation amongst travellers who enjoy the flexibility to choose the services according to their lifestyles. Riding on the worldwide popularity of the Citadines brand which focuses on the extended-stay market, we are introducing the Citadines Connect sub-brand to capture the short-stay segment. The Citadines Connect brand, which offers contemporary and tech-enabled hotel accommodation in well-connected locations, cater to highly mobile business travellers who appreciate convenience, fuss-free services, online connectivity and recreational experiences."
"We see strong potential for the short-stay segment and hotel rates are rising given the rapid growth in global mobility, bleisure travel and a flourishing gig economy. More and more skilled professionals are taking on short-term, freelancing and ad-hoc work assignments which require them to travel frequently. We will leverage Ascott's international network and strong management capabilities to bring the Citadines Connect brand to key gateway cities such as Hong Kong, Paris, Seoul and Tokyo as well as popular destinations in Southeast Asia where there is high demand for quality, short-term accommodation."
Mr Ong added: "By extending our range of product offerings with Citadines Connect, we can scale up our lodging business at a faster rate and further sharpen our expertise in managing hotel assets. Our business partners and guests alike can choose from a wide variety of lodging products that can best cater to their business models, travel patterns, and accommodation needs."
The two properties to debut under the Citadines Connect brand are in highly attractive locations in the top cosmopolitan cities of Sydney and New York. Ascott is also looking to rebrand its properties such as Temple Bar Hotel Dublin in Ireland and The Domain Hotel Sunnyvale in Silicon Valley, California to Citadines Connect.
Citadines Connect Sydney Airport
The 150-unit prime freehold business hotel is currently operating as Felix Hotel and will be rebranded as Citadines Connect Sydney Airport in May 2019. Located in Mascot within the city of Botany Bay, it is within walking distance to the Mascot railway station and Sydney Airport – Australia's busiest airport which caters to around 44.4 million passengers in 2018 and is forecast to receive around 60.7 million passengers by 2033. The business parks of Alexandria, Botany, Mascot and Waterloo, The Lakes and The Australian golf clubs as well as the Westfield Eastgardens Shopping Centre are all nearby. Sydney's Central Business District is within a 15-minute drive or ride by train. The precinct is further earmarked for development to accommodate future population and employment growth capitalising on its accessibility to public transport.
Citadines Connect Fifth Avenue New York
Citadines Connect Fifth Avenue New York is centrally located in the heart of Manhattan. Attracting a good mix of both corporate and leisure travellers, the property with 125 rooms is performing well with an average occupancy rate of more than 95%. Citadines Connect Fifth Avenue New York is steps away from Times Square, Fifth Avenue, the Theatre District and Rockefeller Center. It is also a short walk from key attractions such as the Empire State Building, Museum of Modern Art and Grand Central Station.
Since Ascott acquired the Citadines Apart'hotel serviced residence chain in 2004, it has expanded the Citadines portfolio by about five times from 5,100 apartment units in 18 European cities to about 25,000 units in over 140 properties and 86 cities across Asia Pacific, Europe, the U.S. and the Middle East. Last year, Ascott invested in TAUZIA Hotel Management, one of Indonesia's top five hotel operators, to capitalise on opportunities in the growing middle-class hotel segment.
Business travel spending has been growing steadily from 2012 to 2017 and is expected to grow at an average rate of about 5% to US$1.7 trillion by 2022. This year, hotel rates are also expected to rise 3.7% globally.
Historic, Storyful, New: Iconic Caribe Hilton Is Officially Open
Caribe Hilton, admired as one of Puerto Rico's most beloved resorts, retakes center stage, officially debuting a more than $150 million restoration following a 15-month closure. A gem of the Caribbean since 1949, the highly anticipated opening marks a major milestone as the storied property celebrates its 70th birthday, and as Hilton marks its 100th anniversary.
Plunged into the limelight as a hotspot for celebrities, politicians and royalty since its mid- century opening, Caribe Hilton earned its place at the forefront of tourism in the Caribbean, instantly embodying the jet-set glamour of the era during its early days and remaining a social institution for decades to follow. Just in time for summer, the beachfront resort's top-to-bottom makeover pays homage to years of cherished history and oceanside allure, complemented by modern accommodations and amenities at an arm's reach from Old San Juan's pulsating, colorful center.
"Caribe Hilton was our first hotel to open outside the continental U.S. and the birthplace of the piña colada, and for that reason, has always been an incredibly important hotel for Hilton. It is with great pride that we say 'welcome back' or 'bienvenidos' to this emblematic property," said Danny Hughes, Executive Vice President and President, Americas, Hilton. "We are extremely proud of our new product and the resilient Team Members who worked to redevelop a resort worthy of its history. We can't wait to welcome guests and members of the community back to the hotel."
Caribe Hilton, which has been meticulously restored by owner Park Hotels and Resorts (NYSE: PK), delivers contemporary guest room and suite renovations; reimagined F&B concepts (sweet history was made here in 1954 when Ramon "Monchito" Marrero created the Piña Colada at the former Beachcomber Bar); fitness center; spa; tennis center (in collaboration with Puerto Rican Olympic gold medalist Monica Puig); and landscaping redesigns, paired with an incredible 65,000 square feet of indoor and outdoor event space.
Boasting touches inspired by "the island of enchantment," Caribe Hilton's reinvigorated look is deeply influenced by the vibrant culture, lively colors and rich history of San Juan, as well as the warmth and charm of the locals who call it home.
"The reopening of Caribe Hilton is one more symbol that Puerto Rico is back in business," said Pablo Torres, General Manager, Caribe Hilton. "The sun is shining, there's energy and rhythm on the island, and once again our famous piña coladas are flowing. We're welcoming our return guests back home, as well as introducing new ones to the enduring Caribe Hilton experience and legacy."
To celebrate the opening, for a limited time, guests can extend their stay in paradise an additional night with "One Night on Us" — a complimentary 3rd night free. Travel must be booked by June 30 for travel between May 15 and December 20, 2019.
Marriott International Debuts JW Marriott Hotel in Qufu, Birthplace of Confucius
JW Marriott announced the opening of the new JW Marriott Hotel Qufu in Shandong province, China. Owned by Shandong Luneng, this is the first JW Marriott hotel in Shandong and the 16th in China. The new hotel is an architectural masterpiece that will showcase the brand's philosophy of welcoming guests to this exciting destination with modern luxury and authentic, exceptional service.
JW Marriott Hotel Qufu is located in the old city. The brainchild of Kai Cui, the academician of the Chinese Academy of Engineering, the building is a masterpiece of design that celebrates Chinese architecture, while taking its ancient contexts into the 21st century. The hotel features 197 modern rooms and suites, comprising 188 individual guestrooms and 9 complex suites. All guestrooms, spanning from 45m² to 98m² with 3.2-meter-high ceilings, are tastefully appointed with elegant Chinese accents and are equipped with the latest in-room technology, walk-in closets, and modern amenities to ensure guests' every comfort. The hotel's distinctive exterior profile, with its elegant classical Chinese rooflines, blends seamlessly with its surroundings. Sixteen Chinese chimes at the front porch are a visual reminder of both the ancient percussion instrument, as well as the history of Chinese culture and music. The spectacular lobby features a stylized moon gate and a statue of Confucius under a graceful ginkgo tree, in commemoration of the lectures "The Great Teacher" gave.
"We are thrilled to bring our JW Marriott brand to the historic city of Qufu," said Mitzi Gaskins, Vice President & Global Brand Leader, JW Marriott for Marriott International. "The new JW Marriott Hotel Qufu is a haven of luxury within the timeless history of the city, famed as the birthplace of revered Chinese philosopher Confucius, with a rich landscape of historic palaces and temples. The design of this hotel, its distinctive decor and mindful, intuitive service are all part of The JW Treatment, our promise to enhance and elevate our guest's experience when visiting this amazing destination."
JW Marriott Hotel Qufu offers a diverse range of artfully selected and locally inspired dishes and beverages to appeal to all guests' palates. At the hotel's signature restaurant Residence, guests can experience the time-honored cuisine of the region, including Cantonese dishes and the traditional Kongfu cuisine which focuses on culinary refinement, also known as "Dishes of the Confucian Mansion", complemented by traditional Shandong dishes. JW Kitchen is a smart casual outlet featuring an open kitchen, serving local and international cuisines, healthy juices and the chefs' daily recommendations in a relaxed, contemporary atmosphere. The Lounge is an intimate and idyllic place to linger and enjoy views of Six Arts Atrium. Guests can savor JW Wine Ambassador services as well as the exquisite afternoon tea. In the lobby, the Tea Library is a beautiful space reminiscent of a traditional teahouse with wooden shelves displaying tea sets and books while guests can experience local tea culture guided by an expert tea master.
JW Marriott Hotel Qufu is an extraordinary venue for meetings, incentives, conferences and exhibitions with its multipurpose function spaces. The Grand Ballroom has an impressive nine-meter-high ceiling and 800m2 of space, which can be divided into two separate banquet halls featuring a variety of customizable layouts. The function spaces feature 70m2 HD LED screens and state-of-the-art sound equipment. For smaller events, the hotel also has a 200m2 Function Room, which can be divided into three independent multifunctional halls. All events at the JW Marriott Hotel Qufu enjoy the support of the JW Event Concierge service for quick responses to requirements and to provide organizers with expert, intuitive solutions.
For guests who wish to maintain their wellness routines during their visit, the 24-hour Fitness Center is a natural sunlight-filled space with advanced cardio and strength training equipment. A luxurious indoor heated swimming pool with natural sunlight allows guests to enjoy swimming for exercise and leisure during any season of the year.
"JW Marriott, with its distinctive JW Treatment brand philosophy, continues to grow strongly here in China, resonating with consumers who seek exceptional quality and thoughtfully crafted service," said Henry Lee, Chief Operations Officer and Managing Director, Greater China, Marriott International. "We look forward to welcoming guests to the new JW Marriott Hotel Qufu. From sightseeing and sampling the traditional cuisines of Qufu, to organizing a memorable event or a simple romantic getaway – JW Marriott Hotel Qufu will delight the most discerning of world travelers who come to this beautiful ancient city."
Autograph Collection Hotels Welcomes Ireland's National Treasure, The Shelbourne
Autograph Collection Hotels, Marriott International's diverse and dynamic portfolio of more than 170 independent hotels around the world, has announced the addition of The Shelbourne, the enduringly iconic hotel that's been at the heart of Dublin society since 1824.
Proudly overlooking Dublin's grandest square, St. Stephen's Green, The Shelbourne is just a stone's throw from some of the city's most celebrated landmarks: Trinity College, parliament building Dáil Éireann, and the National Gallery.
Recently renovated by Guy Oliver of design firm Oliver Laws, the timelessly elegant interiors honour the illustrious history of Dublin's Grand Dame. For the past two generations, royalty, statesmen, artists, writers and legends of stage and screen have made The Shelbourne their home away from home, from Princess Grace of Monaco, to John F. Kennedy, Michael Collins and Eamon De Valera, all of whom have suites with enviable views of the green named after them.
JP Kavanagh, General Manager of The Shelbourne said: "The Shelbourne has played a pivotal role in Irish society for nearly two centuries. Autograph Collection Hotels' independent spirit is the perfect fit for the hotel's next chapter, honouring the unique personality of this timeless Dublin landmark and its countless iconic stories."
The Shelbourne offers several distinctive food and beverage options to suit every occasion. The Horseshoe Bar which has played host to notable meetings over the years from politicians and journalists to visiting dignitaries and local personalities. The Lord Mayor's Lounge, Ireland's most iconic drawing room, offering Afternoon Tea overlooking St. Stephen's Green. The Saddle Room Restaurant, a timeless dining room with a relaxed atmosphere, old-school Irish service and a menu full of classic favourites. 1824 Bar, The Shelbourne's newest addition – a snug, and sophisticated hide away with a hand-picked list of whiskey.
The Shelbourne has ten historic meeting rooms spanning over 10,000 square feet, many of which have their own unique character, style and stories, hosting an array of events from intimate private dining to impressive business conferences.
On joining Autograph Collection Hotels, The Shelbourne will introduce a signature offering called Independent Spirit that pays homage to Irish Whiskey. Celebrating the rebirth of Irish Whiskey in 1824 when The Shelbourne opened its doors, the spirit will be featured in crafted experiences including an after-dinner whiskey trolley in The Saddle Room Restaurant and 'Whiskey Sommeliers' in The Horseshoe Bar.