Paradise found: Saint Lucia preserving beauty through data and policy action
If ever an island justified the label "paradise" that tourist brochures liberally apply to destinations, it is Saint Lucia.
Shaped like a teardrop, this tiny Caribbean nation has everything. Crescent moon beaches of white sand. Jagged volcanic mountains jutting up from the azure waters. Eclectic biodiversity that manifests in a riot of colour, no more so than in the Saint Lucia Amazon, a spectacular parrot found only on the island.
Unfortunately, as is the case in so many places, human activity is endangering this beauty and the benefits it brings to humanity. The threats are many, including extreme weather events exacerbated by climate change, forest habitat loss from land-use change and over-exploitation of marine resources.
We can deal with these challenges, as the return of the Saint Lucia Amazon, or Amazona versicolor, shows. In the 1970s, only around 100 of these birds remained. Thanks to a conservation programme, the species is now on an upward trend. While still classed as "vulnerable" on the International Union for Conservation of Nature's Red List, the last census of the bird, carried out between 2007 and 2009, found a stable and viable population of 2,258 individuals.
The Government of Saint Lucia, with the support of UN Environment, is determined to repeat this success for all the island's natural resources while ensuring a better future for its estimated 180,000 residents.
The nation is signed up to global treaties, including the three Rio Conventions: the Convention on Biological Diversity, the United Nations Convention to Combat Desertification and the United Nations Framework Convention on Climate Change, under which the Paris Agreement falls.
In order to meet its obligations and to design and implement meaningful interventions, the government needs to have a clear picture of where it stands in terms of data and required policies.
"While we pursue on-the-ground initiatives that guarantee our survival, it is equally important to pursue the soft initiatives that will allow us to make sound decisions on the strategic interventions needed," said Annette Rattigan-Leo, Saint Lucia's Chief Sustainable Development and Environment Officer.
In August 2018, the island took a big step forward. Working with UN Environment on a Global Environment Facility-funded project, the Saint Lucian government launched its first national environmental information system. Information on the three big treaties is available to ministries, the private sector, academia, multilateral environmental treaty focal points and the public. For each convention, indicators related to broader policy goals and objectives are being integrated to support reporting and translate data into useful and actionable information.
"This is certainly an encouraging endeavour, as it will allow Saint Lucia to work closely with UN Environment," said Gale Rigobert, Minister for Education, Innovation, Gender Relations and Sustainable Development. "We acknowledge the crucial role environmental information continues to play in helping us meet our national and multilateral environmental agreement obligations."
As part of the project, 17 major environmental data providers signed an agreement to cooperate on the development and use of the system, ensuring that the bigger picture will be as complete as possible. Meanwhile, the project developed a set of core sustainable development and environmental indicators for the Rio conventions, which all derive directly from the 1992 Earth Summit. According to Teshia Jn Baptiste, who managed the project, the system and associated common data storage facility have "significantly improved collaboration among the public and private sectors".
Those who work on the ground are hopeful that the new system will help Saint Lucia meet its commitments and so improve the health of its ecosystems.
"If we reach our targets, the livelihoods of fishermen and others depending on marine resources will be protected in the face of climate change impacts," said Allena Joseph, Fisheries Biologist in Saint Lucia's Department of Fisheries. "We can do this through better-informed decisions in areas relating to biodiversity conservation and resilience building."
The government has previously called for an end to illegal logging, which has led to habitat loss and landslides. Karl Augustine, a research officer in the Forestry Department, believes that the new system will help claw back some of the damage.
"We see a positive impact on human and wildlife cohabitation and a transition to forest in areas historically affected by land degradation," he said.
For species such as the Amazona versicolor and the people of Saint Lucia, this can only be good news.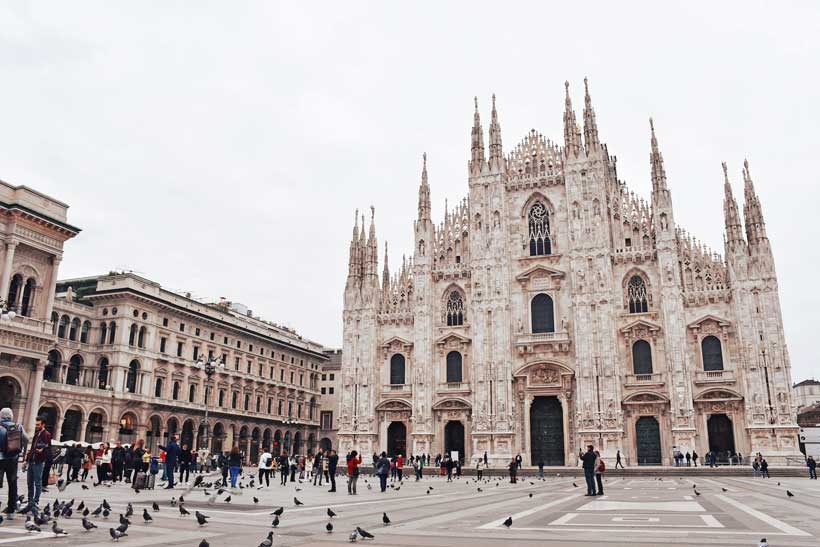 Even if the 2023 summer tourist season has been somehow penalised by high prices, Italy nonetheless remains an extremely popular destination with international visitors, with a growing number of tourists travelling by train.
Italy is the most beautiful country in the world, and this is certified by the number of UNESCO World Heritage sites, which has no equal. Our beautiful landscapes, history, culture, and food and wine make Italy a favourite destination with tourists from all over the world, and this summer 2023 was forecast to be a record season for Italian tourism. The definitive figures are not in yet, but those expectations have been at least partially downsized by spiralling prices, as a result of which many Italians were unable to take a summer holiday, or chose less expensive destinations.
Record-breaking season or not, however, Italy certainly remains a popular destination, as demonstrated by the data of the Italian Observatory on Domestic and International Tourism Flows, presented in Venice on September 1st. These data show that Italy is the fourth most popular destination for European tourists, who invested 12% of total tourism-related spending in our Country. July saw the highest growth in spending on hotels in Italy, exceeding even the totals for Spain and the UK. The largest numbers of foreign visitors to Italy come from Germany, Switzerland, USA, UK and the Netherlands, and travellers are increasingly choosing to travel around by train.
The train is one of the most popular means of transport in Italy
Trains are an increasingly popular choice for travelling across Italy, because of the fast, convenient, widespread rail network that combines efficiency and sustainability, and is often a more affordable option than others.
In the first five months of 2023 alone, Trenitalia transported 24% more passengers than in 2022.
Summer brought an impressive 75 million tourists onto the trains of the Italian state rail network. More than half of this figure was recorded in August, with a rise of 15% compared to August 2022. This result is a reward for the efforts made by Trenitalia to guarantee fast, convenient rail links to reach holiday destinations.
This return to rail travel also regards younger travellers, with 3.5 million under-15s travelling on Frecciarossa, Intercity and Regional trains, also thanks to the promotional offers aimed at families. One of the services that has proved most popular is the Family Area, which can be found on Intercity trains: a carriage for the whole family, where kids can enjoy dedicated entertainment during the journey, making it part of the holiday experience, rather than just a means of transport to their destination.
This philosophy is shared by True Italian Experience, the digital tourism hub of which Trenitalia is the main partner, and which promotes gentle, sustainable experiential tourism.
The summer's most popular Italian destinations
For trips lasting more than five days, Italian seaside and mountain locations proved most popular in 2023, with Trentino Alto Adige, Veneto and Liguria the Italian regions that registered the most significant increases in visitors, compared to 2022.
A positive trend compared to 2022 was also recorded in Campania, Puglia and Emilia-Romagna, with Rimini topping the list of seaside destinations, especially for family holidays.
Major tourist flows were also registered in areas renowned for their natural beauty, such as the Dolomites, Lake Garda and the Langhe wine region, while the top three destinations Italian for city holidays remain Rome, Naples and Florence.
The main Italian cities reached by train by the highest number of travellers were Rome, Milan, Naples, Turin and Bologna, with the Apulian cities of Bari and Lecce among the most popular in Southern Italy.  
A Gastronomic Odyssey at Yauatcha Mumbai: Where Tradition Meets Innovation
When it comes to dim sum, Yauatcha Mumbai is undoubtedly a name that stands out in the vibrant culinary landscape of the city. Nestled in the heart of Bandra Kurla Complex, this upscale restaurant has consistently garnered praise for its exquisite blend of traditional and innovative Cantonese cuisine. During my recent visit to Yauatcha, I was not only treated to an array of delectable dishes but also had the pleasure of experiencing impeccable service from an exceptional team led by Akshay Sasane, the shift manager.
Service Excellence – Akshay Sasane
As I entered Yauatcha Mumbai, it was clear that the staff here were committed to making every guest's experience memorable. Akshay Sasane, the shift manager, was the embodiment of professionalism and warmth. His welcoming smile and attentive nature set the tone for a memorable dining experience. Throughout the evening, Akshay made sure that every aspect of our dining experience was flawless, from seating us at a comfortable table to ensuring prompt service.
Culinary Mastery – Chef Gopi and Sous Chef Laxman Gaire
A restaurant's success is often a reflection of its culinary team, and Yauatcha Mumbai is no exception. The kitchen is helmed by Executive Chef Gopi and Sous Chef Laxman Gaire, both of whom have honed their skills in the art of Cantonese cuisine. Their dedication to maintaining authenticity while incorporating modern twists was evident in every dish we tasted.
Our culinary journey began with the Umeshu, a delightful Japanese plum wine that set the tone for the evening. It was a sweet and aromatic start to our meal, perfectly balancing the flavors that awaited us.
Yauatcha's tea menu is extensive and impressive. The variety of teas available caters to tea connoisseurs and novices alike. Our server, Mithila Kulkarni, provided expert guidance on selecting the ideal tea to complement our dim sum choices. Her knowledge and enthusiasm for tea were truly commendable.
Now, let's delve into the star of the show – the dim sum. Yauatcha's dim sum menu is a culinary adventure in itself, offering a wide range of choices that showcase the chefs' mastery over this traditional Cantonese specialty.
Dim Sum Delights
Har Gow: The Har Gow at Yauatcha is a testament to the restaurant's commitment to perfection. These delicate shrimp dumplings were a revelation, with thin, translucent wrappers that encased succulent, juicy prawns. The Har Gow practically melted in my mouth, leaving a symphony of flavors dancing on my palate.
XO Scallop Dumpling: For seafood lovers, the XO Scallop Dumpling is a must-try. Plump and perfectly cooked scallops were wrapped in a translucent skin, which was artfully pleated. The XO sauce added a spicy kick that complemented the sweetness of the scallops beautifully.
Wild Mushroom Dumpling: Yauatcha excels not only in seafood but also in vegetarian offerings. The Wild Mushroom Dumpling was a delightful medley of earthy flavors. The mushrooms were sautéed to perfection and encased in a delicate wrapper that allowed the umami-rich filling to shine.
Truffle Edamame Dumpling: Innovation meets tradition with the Truffle Edamame Dumpling. The infusion of truffle oil and the smooth edamame filling created a harmonious flavor profile that elevated this dish to a level of indulgence.
Prawn and Chive Dumpling: This dish was a marriage of contrasting textures and flavors. The crunchy chives provided a satisfying crunch, while the prawns remained tender and succulent. The subtle seasoning allowed the freshness of the ingredients to shine through.
Steamed Char Siu Bun: These fluffy, steamed buns were filled with succulent char siu pork that had been slow-cooked to perfection. The slightly sweet and savory filling was a true delight.
Spinach and Water Chestnut Dumpling: A vegetarian dim sum that stood out for its refreshing taste. The combination of spinach and water chestnut provided a unique textural experience, and the light soy-based sauce tied the flavors together beautifully.
Crispy Aromatic Duck Roll: This dish was a fusion of Chinese and Indian flavors, with tender duck rolled in a crisp wrapper and served with hoisin sauce. The contrasting textures and rich flavors made it a memorable choice.
Dessert Extravaganza
No visit to Yauatcha is complete without indulging in their dessert offerings. We sampled the Raspberry Delice, a heavenly dessert that balanced sweetness, tartness, and creaminess with finesse. The chocolate soil and raspberry sorbet provided delightful contrasts in texture and temperature.
As our dining experience came to an end, it was evident that the dedication of the entire Yauatcha Mumbai team, from Akshay Sasane's warm welcome to the culinary expertise of Chef Gopi and Sous Chef Laxman Gaire, had made our visit truly exceptional. Tabassum, the Retail Shift Manager, ensured that we left with a smile, and Mithila Kulkarni, the Retail Assistant, guided us through the extensive tea selection with grace and knowledge.
Yauatcha Mumbai is more than just a restaurant; it's a culinary journey that explores the rich traditions of Cantonese cuisine while embracing innovation and modernity. The impeccable service provided by the team, led by Akshay Sasane, elevates the dining experience to a level of excellence that is truly unparalleled. From the Umeshu to the wide variety of teas and the exquisite dim sum, Yauatcha Mumbai is a culinary destination that promises unforgettable flavors and unforgettable memories. It's a place where tradition meets innovation, and where every guest is treated like royalty.
A Culinary and Artistic Journey at Indian Accent, Mumbai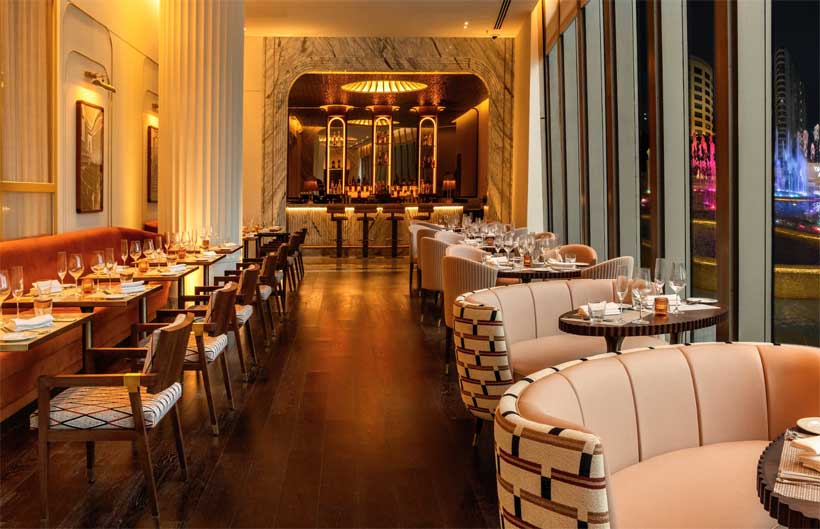 Nestled within the enchanting Nita Mukesh Ambani Cultural Centre in Mumbai, Indian Accent is a culinary gem that seamlessly marries the rich tapestry of India's diverse flavors with the artistic heritage of the nation. From its resplendent art deco interiors to its thoughtfully curated menu, every aspect of the restaurant weaves a captivating narrative that tantalizes both the palate and the senses.
Art Deco Elegance: A Tribute to Mumbai's Heritage
Art Deco, a movement that thrived in Europe and the US during the 1930s, found a unique home in Bombay, where over 200 art deco structures still stand, rivaled only by Miami. This era, known as 'the jazz age,' marked a time of innovation and spirited rhythms.
Drawing from Bombay's art deco legacy, Indian Accent pays homage to the era's style, music, and cocktails. Renowned photographer Rohit Chawla captures India's UNESCO World Heritage sites, infusing them with art deco's allure. These images, along with curated Mumbai art deco pieces, adorn the restaurant, creating a visual journey into an opulent past.
Indian Accent's interiors echo art deco's symmetrical lines, geometric patterns, and opulent materials. The chandeliers cast a gentle glow reminiscent of the era's glamour, while the upholstery exudes sophistication. It's a fusion of Mumbai's unique architectural heritage and the vibrant spirit of 'the jazz age,' creating a dining space that bridges time, design, and culture. This melding of aesthetics and flavors transforms Indian Accent into a living testament to a bygone era, inviting guests to indulge in both history and modernity.
A Symphony of Flavors: A Culinary Overture
The tasting menu at Indian Accent is nothing short of a meticulously composed symphony of flavors, where every dish is a note carefully orchestrated to create a harmonious and unforgettable experience. As guests embark on this gastronomic journey, they are immersed in a world where tradition and innovation dance in perfect harmony, guided by the culinary virtuosity of Chef Rijul Gulati and the visionary direction of Chef Manish Mehrotra.
The symphony begins with the "Indian Accent Shorba," a delicate overture that warms the palate and sets the stage for the culinary spectacle that follows. This traditional Indian soup, presented with an artistic touch, encapsulates the essence of comfort and familiarity, while signaling the start of the culinary adventure.
Moving through the menu, the crescendo builds with the introduction of the "Blue Cheese Naan." This dish is a striking example of Indian Accent's unique ability to blend contrasting elements into a harmonious whole. The naan, a quintessential Indian bread, is elevated to new heights with the infusion of pungent blue cheese. The juxtaposition of textures and flavors in this dish creates a symphonic balance that awakens the senses.
The "Smoked Eggplant, Maple Plantain" is a movement that takes diners on a journey of contrast. The smokiness of the eggplant meets the sweetness of maple-glazed plantain, resulting in a culinary melody that dances between savory and sweet. This dish exemplifies Indian Accent's skillful mastery of flavors, creating a dish that's both familiar and excitingly novel.
The symphony takes a playful turn with the "Dilli Papdi Chaat" and "Chhole Bhature." These dishes are a tribute to India's vibrant street food culture, transformed into elegant compositions that evoke nostalgia. The chaat bursts with tangy, spicy, and crunchy notes, while the chhole bhature presents an artful balance of rich flavors and textures. These dishes encapsulate the spirit of India's culinary heritage, where boldness and creativity harmonize seamlessly.
As the symphony reaches its crescendo, the "Stuffed Morel, Gobindobhog & Mushroom Payesh" takes center stage. This dish is a grand symphony of flavors, where each ingredient plays its part in an intricate ensemble. The indulgent earthiness of morels, the nutty notes of Gobindobhog rice, and the rich sweetness of mushroom payesh are accompanied by the delicate truffle nuances, creating a masterpiece that transcends boundaries.
In each dish, Indian Accent presents a new movement, a new exploration of taste and texture. The symphony concludes with dessert, a sweet denouement that leaves a lasting impression. The "Mishti Doi Cannoli" and "Pista ki Lauj" are dessert symphonies in themselves, a fusion of tradition and innovation that harmonizes familiar Indian sweets with contemporary flair.
The tasting menu at Indian Accent is more than just a collection of dishes; it's a meticulously composed symphony that takes diners on an unforgettable journey through India's culinary landscape. With each plate, a new movement unfolds, showcasing the culinary expertise, innovation, and artistic spirit that define Indian Accent's identity.
Chef Rijul Gulati's culinary prowess and Chef Manish Mehrotra's visionary guidance shine through in every note of this gastronomic symphony. Just as a symphony evokes emotions and tells a story, Indian Accent's tasting menu transcends flavors, inviting diners to experience the rich tapestry of India's culinary heritage through a beautifully orchestrated performance of taste, texture, and artistry. This is a symphony that leaves a lasting impression, resonating long after the last bite is savored.
Culinary Leadership and Artistry:
Behind every successful culinary masterpiece is a visionary leader, and Indian Accent boasts not just one, but two culinary maestros. Chef Rijul Gulati, the head chef, infuses his passion for gastronomy and creativity into every dish. Guiding the culinary direction is the acclaimed Chef Manish Mehrotra, whose innovative approach to Indian cuisine has earned him a place of reverence in the culinary world.
The culinary brilliance extends beyond the menu; it's a philosophy that permeates every aspect of the dining experience.
A Grand Culinary and Artistic Affair:
Indian Accent at the Nita Mukesh Ambani Cultural Centre is not just a restaurant; it's an experience that transcends mere dining. It's a celebration of India's diverse flavors and artistic heritage, meticulously curated by Chef Rijul Gulati under the guidance of Chef Manish Mehrotra. From the captivating art deco interiors that pay homage to Mumbai's architectural legacy to the thoughtfully crafted tasting menu that showcases the best of Indian cuisine, Indian Accent leaves an indelible mark on all who enter its doors.
It's a testament to the fact that dining is not just about sustenance; it's about storytelling, artistry, and creating memories. Indian Accent has mastered this intricate dance, and with each visit, guests are treated to a symphony of flavors, a visual feast, and an unforgettable experience that lingers long after the meal is over.
Indian Accent stands as a testament to the power of culinary artistry and cultural celebration. It encapsulates the essence of India's past, present, and future, all within the confines of an exquisite dining experience. As the art deco interiors embrace Mumbai's history and the tasting menu showcases the nation's culinary soul, Indian Accent is poised to continue its legacy as a culinary masterpiece and a cultural beacon in the heart of Mumbai's vibrant landscape.