Jammu & Kashmir: What happens if India repeals Articles 35-A and 370 of its Constitution?
India's Union minister Jaitley declared, `Article 35 A [of India's Constitution] was "surreptitiously" included in the Indian Constitution. It was a "historical blunder" committed by Jawaharlal Nehru"'. His rant stimulated former chief minister `Mehbooba Mufti to warn (March 31, 2019) ` if Article 370, which guarantees special status to J&K, is done away with, the state's relation with India will be over'.
While addressing party workers in Srinagar, Mehbooba said, `Article 370 is a bridge and the Constitution of India applies to us through it. And when you break that bridge, how come this Mehbooba Mufti, who swears by the constitution of J&K and India, will take oath? Then you will have to redefine the relations between India and Kashmir'.
Article 35A empowers IHK puppet government to `define a class of persons as constituting "permanent residents" of the disputed state and `to allow the government to confer on these persons special rights and privileges with respect to matters of public employment and acquisition of immovable property in the state'. In addition, `it grants immunity to such special rights and privileges legislation from being annulled on the ground that they infringe one or the other of the fundamental constitutional rights'.
Article 35A was included into the Constitution of India in 1954 by a presidential order made under Article 370 of the Constitution of India. The basic principles committee of the J&K Constituent Assembly, which was set up in 1951, presented its report to the Constituent Assembly in February 1954. As a part of the report, an annexure which listed out the provisions of the Constitution of India, besides Articles 1 and 370, that should be made applicable to J&K. This annexure included, among other Articles, Article 35A.
Background
Sheikh Abdullah befooled
Pandit Jawahar Lal Kaul (assumed surname Nehru) befooled Sheikh Abdullah to stab Pakistan in the back. Barkha Dutt recalls (This Unquiet Land, p. 154) `In a 1948 speech to the United Nations, Sheikh Abdullah, the most formidable political leader the state of Jammu and Kashmir had ever seen, made a blistering defence of the accession to India. Sher-e-Kashmir (Lion of Kashmir) roared, :I had thought all along that the world had got rid of Hitlers…but what is happening in my poor country I am convinced that they have transmigrated their souls into Pakistan…I refuse to accept Pakistan as a party in the affairs of Jammu and Kashmir'.
Dutt says, "Sheikh Abdullah [later] began to talk about possibility of independent Kashmir….Soon after he changed his stance he was jailed and dismissed from office and was not able to lead the state for another twenty years'. Dutt analyses that even azadi (freedom) slogan was a ruse to push back `Jammu ko alag karo' (separate the Jammu) slogan raised by Balraj Madhok's Bharatiya Jana Singh (precursor to BJP). `The Sheikh's clash was not just with Nehru, but closer home, with the praja parishad [local political party] of Jammu'.
How India whittled down `special status'?
India through a series of steps whittled down Kashmir's special status under Article 370 and 35-A of India's Constitution. Governor replaced sadr-e-riast (head of J&K State) who could conveniently dismiss wazir-e-riast (re-desgnated chief minister).
Indian government dismissed its own ally, Mehbooba Mufti's government. She outlawed several parities including Jama'at-e-Islami under handy label `separatist'. Kaswhmiri pedestrian and vehicles were ordered not to go anywhere near military convoys. About 800,000 troops were directed to carry on day-and-night searches, pick-up `suspects; and consigns them to military custody incognito. To humiliate Kashmiri leaders, they were called upon to explain their source of income. Even religious leader, Mirwaiz of Kashmir was not spared. He was summoned to New Delhi to explain `are you with India, or without'. To me them fearful of assassinations, they were deprived of security cover.
`Special status' on judicial anvil
A petition was filed in India's Supreme Court to do away with so called `special status. While Kashmiri leaders begged for election, their fate of total integration hangs in hands of petition pending with India's Supreme Court.
OIC's veiw
Organisation of Islamic Countries expressed ennui at plight of Kashmiris under Indian yoke India. The OIC reminded India that her rhetoric about accession and `integral part' is a hoax. OIC echoed renowned historian Alastair Lamb's concerns. He regards the Instrument of Accession, 'signed' by the maharajah of Kashmir on October 26, 1947, as fraudulent (Kashmir – A disputed legacy 1846-1990).
United Nations' view of `accession'
Aware of India's intention to get the 'Instrument of Accession' rubber-stamped by the puppet assembly, the Security Council passed two resolutions to forestall the `foreseeable accession' by the puppet assembly. Security Council's Resolution No 9 of March 30, 1951 and affirmative Resolution No 122 of March 24, 1957 outlaws accession or any other action to change status of the Jammu and Kashmir state.
Under hypnotic spell of Indian propaganda, readers naively accept IHK's `assembly' and preceding `instrument of accession' as fait accompli. No sir, they aren't. Aware of India's intention to get the 'Instrument of Accession' rubber-stamped by the sham assembly, the Security Council passed two resolutions to forestall the foreseeable` accession' by the puppet assembly. Security Council's Resolution No 9 of March 30, 1951 and confirmatory Resolution No 122 of March 24, 1957 outlaws accession or any other action to change status of the Jammu and Kashmir state.
`Accession instrument' is a myth, unregistered with the UN. Alastair Lamb, in his book Incomplete Partition (Chapter VI: The accession Crisis, pp. 149-151) points out that Mountbatten wanted India not to intervene militarily without first getting `instrument of accession' from maharajah Hari Singh. Not doing so would amount to `intervening in the internal affairs of what was to all intents and purposes an independent State in the throes of civil conflict'. But, India did not heed his advice. It marched its troops into Kashmir without maharajah's permission _ an act of aggression. Lamb says `timing of the alleged Instrument of Accession undoubtedly affected its legitimacy'(p.172, ibid). She adds `If in fact took place after the Indian intervention, then it could well be argued that it was either done under Indian duress or to regularise an Indian fait accompli'.
He argues that the maharajah was travelling by road to Jammu (a distance of over 350 km). How could he sign the instrument while being on the run for safety of his life? There is no evidence of any contact between him and the Indian emissaries on October 26, 1947. Actually, it was on October 27, 1947 that the maharajah was informed by MC Mahajan and VP Menon (who had flown into Srinagar) that an Instrument of Accession is being fabricated in New Delhi. Obviously, the maharajah could not have signed the instrument earlier than October 27, 1947. The instrument remains null and void, even if the maharajah had actually signed it. The reason, as pointed out by Alastair is that the `signatures' were obtained under coercion. Under law, any undertaking secured through coercion or duress is null and void. She points out Indian troops had already arrived at and secured Srinagar airfield during the middle of October 1947. On October 26, 1947, a further airlift of thousands of Indian troops to Kashmir took place. She questions: "Would the maharajah have signed the Instrument of Accession, had the Indian troops not been on Kashmiri soil?" Isn't it funny that, in the summer of 1995, the Indian authorities reported the original document as lost or stolen?
Lamb concludes (p. 191, ibid):`According to Wolpert, V. P. Menon returned to Delhi from Srinagar on the morning of 26 October with no signed Instrument of Accession. Only after the Indian troops had started landing at Srinagar airfield on the morning of 27 October did V. P. Menon and M. C. Mahajan set out from Delhi from Jammu. The Instrument of Accession, according to Wolpert, was only signed by Maharajah Sir Hari Singh after Indian troops had assumed control of the Jammu and Kashmir State's summer capital, Srinagar'.
Historical blunder
The real blunder was not introduction of Article 35A, but accession to India, through a resolution of null-and-void constituent assembly. To forestall the `foreseeable accession' by the puppet assembly, the Security Council passed two resolutions, Security Council's Resolution No 9 of March 30, 1951 and confirmatory Resolution No 122 of March 24, 1957. These resolutions outlawed accession or any other action to change status of the Jammu and Kashmir state. For one thing, even `Accession instrument' is a myth, unregistered with the UN. Let us put aside above UN resolutions and let India repeal Article 35A. What will happen? This will revert the disputed state back to a quasi-sovereign status, with its own prime minister and president. The state subjects of disputed Kashmir will cease to be citizens of India. Entry of Indian nationals into disputed Kashmir will be obstructed. The goods from India will have to pass through a customs barrier to pay an import duty. And, above all, the Kashmiri people will not be legally obliged to uphold the integrity and sovereignty of India. By swoosh of repeal, India's nemesis, Pro-freedom parties (so-called separatists) will become mainstream stakeholders.
Legal view
To quote A G Noorani (Dawn August 11, 2019), "Article 35-A is not a mere executive order under Article 370 but is itself a constitutional provision, a compact recorded in both constitutions. No court can ignore this. As the Privy Council held, 'parliament could as a matter of abstract law' repeal the statute of Westminster recognising the independence of the dominions. But that is theory and has no relation to realities."
The threat to Article 35-A poses an existential threat to disputed Kashmir. Curbs on alienation of hereditary occupancy of lands existed in Kashmir since times immemorial.
In 1922, the princely state's council of ministers imposed curbs on employment of outsiders in administration, as well as "all grants of land for agricultural and house-building purpose and grant of houses and other state property shall be made to state subjects only". A notification in April 1927 defined them.
The basic principles committee set up by the J&K constituent assembly presented its report on Feb 3, 1954. "All these fundamental rights should be subject to the overriding condition that: (i) no law of [J&K] relating to [J&K] subjects to be hereafter called 'permanent residents' and regulating their rights and privileges; and (ii) no law hereafter to be made by the [J&K] legislature defining the permanent residents and conferring on them special rights and privileges in relation to acquisition and holding of property in [J&K] or in the matter of employment under [J&K] and imposing restrictions on citizens other than permanent residents for settling within [J&K] should become void on the ground that it is inconsistent with or takes away or abridges any of the rights conferred by Part III of Constitution of India."
On Feb 11, 1954, the report of the drafting committee was presented to the constituent assembly, in which an annexure set out the provisions of the Indian constitution, besides Articles 1 and 370 that should apply to J&K. Obviously; this annexure had been settled with the Indian government. Article 35-A was among them. On Feb 15, Girdhari Lal Dogra moved that a copy of the annexure be sent to the Indian government "for appropriate action". On May 17, the president's order under Article 370 followed, inserting, among other provisions, Article 35-A in the constitution.
Article 370 of India's constitution records a compact between the centre and Kashmir, so does Article 35-A. Articles 370 and 35-A are a symbiotic twin, which was negotiated over May to October 1949. It was agreed between Jawaharlal Nehru and J&K's delegation headed by Sheikh Abdullah. Nehru recorded it in a note dated July 20, 1952. The terms of the agreement were explained to the Indian parliament (Lok Sabha) and to the J&K constituent assembly.
Article 35-A was added to the constitution of India through the presidential order of 1954 issued by the first president Rajendra Prashad on May 14, 1954 in exercise of the powers conferred by clause (1) of Article 370. Article 35-A empowers the J&K legislature to define permanent residents of the state. The J&K adopted its own constitution on 17th November 1956 and defined the person who could be the permanent resident of the state.
Background to state-subject law
The background of state subject law is as old as the geographical and cultural history of Kashmir exists. The permit system known as "Rahdari" for the exit and entry into the state existed even during medieval and ancient periods of Kashmir. The state subject provisions got the legal shape only when Maharaja Hari Singh in 1927 enacted a law known as state subject or permanent residency law. The dogras were apprehensive that better educated people from east and west Punjab would migrate to Kashmir and dominate government services due to their advancement in education. Major portion of government service posts were occupied by either KPs or dogras in J&K state during dogra rule. A very negligible percentage of Muslims were given jobs in government. During dogra rule, the British Government used to send their medical teams from England to treat Kashmiri patients. Even they were not allowed to over-stay sis-monthly sojourn.
Myopic Kashmiris did nothing to stop special-status erosion
Leaders of the mainstream political parties connived at erosion of the terms of accession through amendments to disputed-Kashmir constitution and Article 370
What to do?
The time is ripe for Kashmiris to review Kashmir-India relation. With one voice Kashmiris from all walks of life should annul so-called accession, stay standstill or accede to Pakistan. And then, review relation with Pakistan also in keeping with Pakistan's-constitution Article: 257. The article states: `When the people of the State of Jammu and Kashmir decide to accede to Pakistan, the relationship between Pakistan and that State shall be determined in accordance with the wishes of the people of that State'. It is time the Kashmiris woke up and grab the opportunity to correct their historical blunder.
Changing Regional Security Paradigm: A Challenge to Kashmir and Options for Pakistan
The post-cold war world has witnessed shifts in international and regional security paradigms. Due to globalization, easy migrations, advanced technologies, changing geopolitical scenarios, and social resources the world today is more vulnerable to diversified threats. In this regard, traditional conflict resolution tactics are not enough or influential. New strategies and options are needed to gain interest without being in direct war and confrontations. One such old conflict which has been there for more than 70 years despite 3 major wars between India and Pakistan is Kashmir Issue. While Pakistan is struggling economically and politically, India on the other side is increasing its soft power projection within the region and beyond, posing a serious threat to the traditional tactics of Pakistan towards the Kashmir cause.
The 4 major factors that boosted the strategies of the Indian state are identity, security, prosperity, and soft power. Along with defense, India was focused on its economy, diplomacy, and identity so much from the past few years. It is one of the key drivers of the global economic market, making up about 15% of the world's economic output. Soon India will become the world's largest country by Population, accounting for maximum youth, meaning it is offering incentives, consumer markets, and youth force to other countries. Moreover, India has become the third largest producer of steel (producer with Arcelor- Mittal), enhancing the credibility and reliability of MADE IN INDIA across the globe. It is considered an IT giant. Many IT companies from India entered Fortune 500-group that has opened doors of businesses and jobs for the Indian youth.
Furthermore, along with being a major partner in trade and commerce in the international market, regionally India provides aid and acts as an advocate of welfare for many developing countries in Asia. Along with that, it is also looking towards opportunities to gain the interest of Afghanistan which is an internationally isolated state. Internationally, it has become a major geo-strategic and geo-economic partner of many western states like the US and UK, as it has the potential to counter the Chinese Rise. It is part of various geopolitical alliances initiated for the containment of China such as QUAD and middle eastern alliances i.e., I2U2. Moreover, India also has a settled Middle Eastern policy to benefit from all major actors instead of choosing blocs. Thus, India has worked on its economy, over the years to bring prosperity and self-sufficiency within the country. It has provided markets and incentives to other countries thereby increasing its lobbying power. Through its strong diplomacy, it has become a major actor that also promoted its values and identity.
Lastly one can't deny that the hegemonic capabilities of India have challenged the Kashmiris and their freedom movements. India is now integrating into Kashmir not only militarily but also diplomatically, politically, and economically. It has incentivized the Kashmir issue as well. After India revoked articles 370 and 35A It is working on Kashmir's demographic changes. India also opened doors for tourism and international investments in Kashmir. If someone starts investing there, that will normalize that Kashmir is part of India. Yet India didn't receive any backlash, nor it is isolated or being sanctioned. The reason is simple, India has good ties with many western states. It provides incentives and fulfills the economic and political interests of the west.
For Pakistan, which is a party to the conflict, instead of normative a more realistic approach is required now. Though Pakistan has emotional attachments with Kashmir but it's not enough to just talk about morals and injustice at international forums. If Pakistan wants to support the Kashmiris it should enhance its intellectual power, academia, and soft power projection. Literature and academia help export the actual ideologies and narratives to the rest of the world. The Kashmiri diaspora within Pakistan and abroad should be supported for that. In addition, Pakistan needs to increase its influence to counter India not only in the military sector but also in the economic and political domains. The defense ratio between Pakistan and India is 1/8 while on the other hand in the economy it is 1/20. Though the importance of defense can't be ignored in the balance of power, but international politics has evolved, and power is not limited to military only. One can look at the two recent world events where there was the use of force and weapons to gain interests i.e., Afghanistan and the Ukraine-Russian war. Afghanistan is now internationally isolated while Russia is being sanctioned and criticized. So, direct confrontations and wars are not accepted and supported by states at broad levels. Thus, with the changing global political and strategic environment it is important to work on spheres of academia, research, soft power, and diplomacy.
The Taliban and the current Afghanistan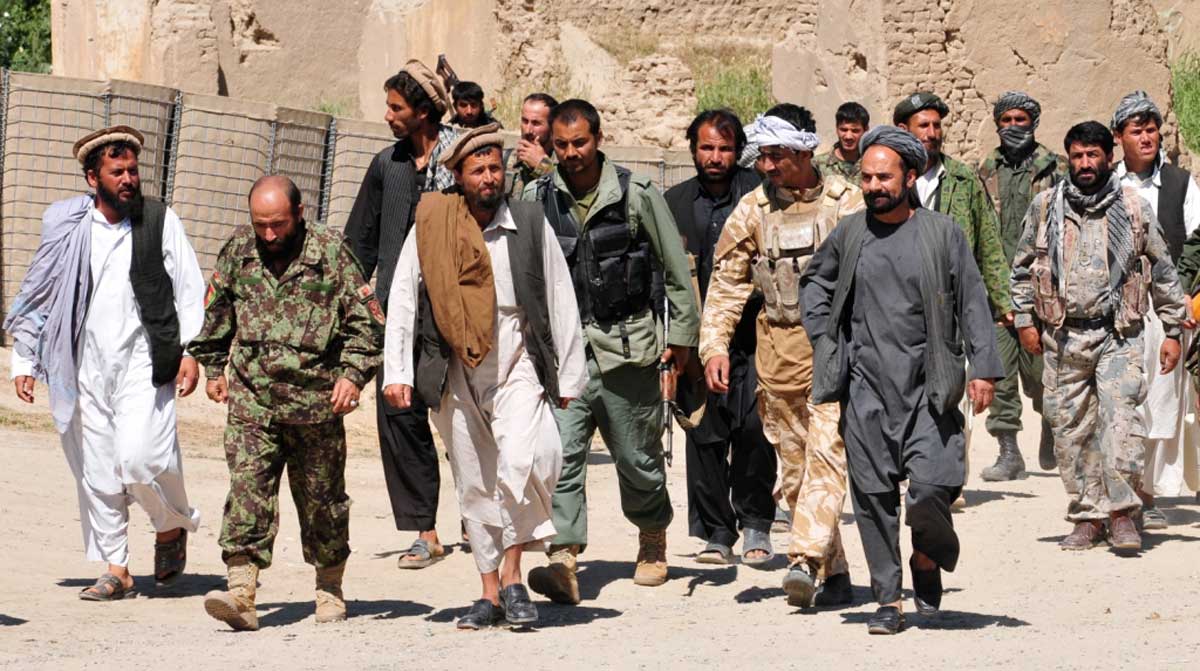 After the Taliban seized power in Afghanistan, the Afghan state and the public rapidly declined. The country's territories have become the source of international terrorism and many global problems.
August 15 is the first anniversary since the power in Afghanistan was seized by the Kabul Taliban, and the ex-president of the Afghan state, Ashraf Ghani fled. After a year of the Taliban's power, their power has not yet been recognized by any state in the world.
According to the UN International Labor Organization, the Taliban's ascension to power in Afghanistan has led to rapid growth in the unemployment rate among the population. Based on the data of the UN, such a situation in the Afghan labor market was caused by the economic crisis and the prohibition on work for the female population. Over five hundred thousand people in Afghanistan lost their jobs during the first month of the Taliban rule. "The crisis has affected women the most. Thus, their employment level, already extremely low by world standards, decreased by 16% in the third quarter of last year. By mid—2022, it is projected to fall to 28%," the UN investigation states.
In addition to the economic decline, there has been a rise in drug production in Afghanistan. Drugs are one of the Taliban's main income zones, and their power has re-activated the production and export of opium and heroin. However, the drug business was also active under the former Afghan authorities. According to the UN, in 2021, Afghanistan's income from drug exports amounted from 1.8 billion to 2.7 billion US dollars. This profit is from 6 to 11% of the GDP of the Afghan state. As before, the main drug export channels pass through Pakistan. The leader of the Taliban, Haibatullah Akhundzada, issued a fatwa in 2022 to ban the production and distribution of opium and other drug substances in Afghanistan. However, there have been no significant changes in this situation. Nevertheless, the Taliban repeatedly make statements about the cessation of drug production, but they also confirm that the prohibition on opium production will lead to the loss of the only way of earning for peasants, leading to an uprising.
Pakistan acts as the main partner country for Afghanistan. Bypassing sanctions, weapons are coming from Pakistan to Afghanistan. And the majority of Afghan drugs are exported through Pakistan's western provinces – the southern route. The main patron and sponsor of the Taliban is also the Pakistani military leadership. With the help of Pakistani support, the radicals seized power in Afghanistan and persecuted other alternatives to power.
The Taliban's first financial income was provided by transportation fees that the militants took from truck drivers on the border of Afghanistan and the state's territory. The Taliban's seizure of power in Afghanistan concentrated its forces on extracting natural resources. In February 2022, the Afghan media reported on the negotiations of the new Afghan government with China on the development of copper and lithium by Chinese companies. But even though China, along with Pakistan, is a vital partner of the Taliban regime, mineral development has not yet begun. Without the support and diplomatic assistance of China and Pakistan, the Taliban would not have been able to establish their authority over Afghanistan. However, Beijing still has not officially recognized their power.
Also, summing up the results of the year of Taliban rule in Afghanistan, we can definitely say that the new regime fails to solve the economic and social problems of the state. According to UN research, Afghanistan is on the verge of famine and humanitarian collapse. It is worth noting that during the presence of the United States and NATO in the country, there was no such catastrophic situation. Also, during the period of the Taliban regime in Afghanistan, the position of terrorist organizations such as al Qaeda and the Islamic State has strengthened. The Taliban does not intend to start the fight with the presence of these organizations.
Also, in June 2022, an earthquake with colossal consequences occurred on the border of Afghanistan and Pakistan. The death toll during the disaster was more than 1.5 people, and more than two thousand were injured. The UN has recorded that Afghanistan's government cannot cope with the threats that the Afghan society is forced to cope with alone.
UNICEF and the World Food Program note the catastrophic situation of Afghan children, and organizations make statements about the high level of undernutrition and that over 3.5 million children urgently need treatment. The UN website says, "Hospital wards are full of malnourished children: many one-year-olds weigh as much as a six-month-old baby would weigh in a developed country, and some are so weak that they cannot move."
The new government of Afghanistan carries out mass executions, severe human rights violations, and forced disappearances of citizens and previous security forces employees. This is recorded by the United Nations Assistance Organization in Afghanistan. To a large extent, the repression is carried out by two Talib departments – the Ministry of Propaganda of Virtue and Prevention of Vice and the General Directorate of Intelligence. Both organizations are under the auspices of Pakistani security agencies.
UNAMA experts report "arbitrary arrests and detentions of journalists, human rights defenders and protesters." There were 160 extrajudicial executions, 178 unjustified arrests and 56 cases of torture of former Afghan military and Government employees. In addition, 2106 victims were registered among ethnic and religious minorities (700 killed, 1406 wounded).
After a year, the Taliban authorities, according to international organizations, destroyed the essential state structures in Afghanistan responsible for solving social issues such as jobs and the state's humanitarian condition. The Afghan Independent Human Rights Commission premises were also seized, and the Ministry of Women's Affairs was closed. Afghan women are deprived of the right to work. Except for some professions, they are not allowed to travel more than 72 km unaccompanied by men and cannot appear on the street with an open face. Responsibility for all violations of the rules of a woman is borne by her father or another close male relative. The punishment is dismissal from work or imprisonment.
Freedom of speech was also seriously impaired. The international human rights organization Reporters Without Borders (RSF) reports that there are half as many media in Afghanistan as a result of the year-long run of the Taliban. During the year, 219 organizations out of 547 media were closed. Before the Taliban came to power, there were 11,857 journalists in the country. Today only 4,759 of them remain. Female journalists took the first impact. Almost all of them were left without their job.
The Taliban sees the UN's message about human rights in Afghanistan as propaganda. On July 21, Taliban official Zabiullah Mujahid posted on social media: "There are no arbitrary killings or arrests in the country. If someone kills or arbitrarily arrests, that person is considered a criminal and will be brought before Sharia law."
In sum, a few conclusions about the power of the Taliban must be noted. The Taliban is characterized by a lack of qualification in the country's rule, and the leadership cannot organize public service. Also, the Taliban does not fulfil its duties to combat terrorist organizations, which has ensured the strengthening of the position of existing banned groups. The female population of Afghanistan and various social minorities suffered. The Taliban are building strong relationships with authoritarian countries such as Pakistan, China and Russia. Islamabad carries out the actual control of the Taliban and also uses the Taliban in the South Asian region for its geopolitical purposes.
Every charter of Human Rights provides a framework for the basic individual rights. Under these civil liberties, all humans are entitled to revel in those privileges. Sikh community residing around the globe is facing heinous behavior from the India's Modi regime as it is a home for many Sikhs. The episode of unlawful arrest of the UK-based Sikh activist named Jagtar Singh Johal in 2017 with the help of UK government ignited a huge number of protests across the world. According to his lawyers from Scotland, he has been tortured and falsely accused to whom British PM Boris John acknowledged while showing his concern. Most recently, the murder of Sidhu Moosewala who was an active supporter of Sikh rights is an example of India's unjust activities. Provision of security was denied by BJP government before his murder. In support of Sidhu and separate homeland for Sikhs, more than 17,000 Sikhs voted for Khalistan Referendum in Rome, Italy. Similarly, UK having one of the highest ratio of Sikh diaspora, organized a campaign under the active advocates of Sikh rights "Sikhs for Justice (SFJ)" in which 30,000 British Sikhs voted for referendum on 31st October 2021. Series of Sikh referendums are lined up and SFJ declared that after completing this voting series, it will be a decision of 120,000 Sikhs showing the desire for separate land under the rule and law provided them by International Justice System. A huge referendum is planned for the Sikhs of Punjab on 26th January 2023.
The roots of these referendum are enrooted into the event of Operation Blue Star happened in 1984. Under this operation, Indian army attached on the holiest place of Sikhs, "Golden Temple" to capture Sikhs whom Indian Army declared as terrorists and claimed that they are hiding weapons inside the temple as well. Many innocent Sikhs lost their lives. The level of brutality not only stopped at killing innocents but also disrespected the sentiments of the followers of this particular religion. A homeland that ought to be safe place for its residents became a threatening region. That's why a huge number of Indian Sikhs migrated to other states like UK, Canada, Italy and US to seek a safe residence. The fight for the cause of Sikh's rights is still going on, as there is a referendum on 18th September 2022, Toronto, Canada, in which high ratio of Sikh voters are expected to participate.
Massive genocide and extra-Judicial killings are the major tools of Modi regime against the Sikh community. To deal with all these unlawful activities, Sikh diaspora has organized itself into groups like "Sikhs for Justice (SFJ)" who are arranging referendum, holding protests and advocating Sikhs right at all possible platforms. Specifically for the Khalistan Referendum, Punjab Referendum Commission (PRC) has been designed to have free and fair voting for the basic demand. Through such representation, Sikhs are asking for a legal demand from India's Modi regime. These organizational setup shows that Sikh community is well aware of its rights, and using the peaceful means to convey their message to the world.
If India is real democracy and wants to be seen as democratic country, it should accept Sikh referendum results. The result of referendum can always be leveraged in "Law fare domain" to ask India to hold an official referendum for the purpose. Democracies are torch holder of freedom, human rights and their liberties. This behavior of India is not acceptable to be an example for the rest of aspiring democratic states where the Modi Regime is having genocidal designs against the specific communities. Khalistan Movement with the aspirations of a separate homeland is the legitimate demand of Sikh community. By overturning these movements and referendums, India is suppressing its minorities and violating their right to self-determination through peaceful means.