More ambitious than the Big Bang Sang Bleu launched in 2016, the new Big Bang Sang Bleu II passionately channels the design skills of world famous tattoo artist Maxime Plescia-Buchi. A case with more finely-chiselled lines, conveyed in three dimensions. An expression of the passage of time, the hands – two elongated diamonds and an arrow – are stylised fragments of tattoos, set above a hypnotic chronographic movement.

Even more disruptive, the Big Bang Sang Bleu II channels the creative inspiration of Maxime Plescia-Buchi into its three-dimensional angles and edges. The motif spans the case, cutting into its hexagonal bezel, and carving into the sapphire crystal, juxtaposed against the hands with their geometric lines, and moulded onto the interchangeable bracelet. The dial plays with transparency, allowing glimpses of the Unico movement. It is feat of construction, almost architectural in scope, in a 45-mm case.

Within the meticulously interlaced geometric lines of this new case lies the HUB1240 Unico manufacture self-winding chronograph movement: the chronograph seconds are tracked along a straight hand, whilst the chronograph minutes complete their laps on one of the two discs on the dial. It oscillates at a frequency of 28,800 vibrations per hour, for a period of 72 hours. Two hundred titanium and one hundred King Gold pieces will be released.

A key component of contemporary Pop Culture, tattooing is no longer the sole preserve of a largely masculine underground scene. From a primitive practice to a celebrated field of Art, and cultural phenomenon, its growing creative influence shows tattooing is not merely a trend but a cultural shift which will last and influence all generations to come.
The new Big Bang Sang Bleu II is the horological expression of a tattoo, set in motion with timeless precision, unifying materials and crafts through geometry by Sang Bleu's founder.
What are the benefits of natural beauty products?
A common misconception is that all beauty products are the same. Whether they are natural or synthetic, how big of a difference could they possibly make? While they both function almost the same in terms of appearance, however, natural beauty products come with multiple benefits for you and the environment as well. Unlike synthetic beauty products, natural ones contain zero to none chemicals and preservatives that could otherwise be detrimental to your overall health. They are effective in targeting different skin concerns, for instance, trollhassel toner from Glimja comprises essential oils which are derived through ethical and fair practices to target acne-prone and irritated skin leaving it cool and calm.
To clear up your confusion on why natural products are better, read ahead!
Rich in Nutrients
Natural beauty products contain naturally-derived ingredients like different plant extracts that give you many additional benefits along with your main concern. They help your skin to function properly and flourish to keep you looking your best at all times. Different ingredients target different skin issues:
For hydration – sunflower seeds, coconut, olives, avocado, jojoba
For soothing and healing – oatmeal, lavender, aloe vera
Antioxidants – green tea, berries, honey, acai oil
For deep cleansing – tea tree, clay, raw cane sugar
Gentle on the Skin
Since natural beauty products are free of parabens, sulfates, formaldehyde, petrochemicals, synthetic dyes, and all the other toxic chemicals like lead, they don't react on the skin, especially extremely sensitive skin. These harmful chemicals not only cause harm to your skin but also causes internal harm by seeping in through your bloodstreams. Natural beauty products allow your skin to breathe while they effectively do their job without causing you skin redness, itching, or irritation.
Environmentally-friendly
The production of certain chemicals in the factory can harm plants and animals when they get in contact with them. They are a cause of wasteful resources which adversely affect our environment. The synthetic products also require testing on animals which is really inhumane. As opposed to this, organic products don't require any harmful chemicals in their formula to ensure no harm to the environment, plants, and animals. They even focus on the packaging of their products to be eco-friendly for the planet's well-being.
Kind to Your Wallet in The Long Run
Although organic skincare products are a bit expensive as compared to synthetic products, organic products are a one-off investment. As they feature top-notch quality ingredients without the use of any fillers, they are more effective and deal quickly with your skin concerns without having to invest frequently in cheap synthetic products. They simplify your skincare routine and you can see a drastic effect on your skin within a short time.
Heavenly Smell
Since organic products don't contain synthetic fragrances, the natural fragrance of the essential oils or plant extracts will leave you in awe. You will be able to notice the difference between the synthetic and natural fragrance as the natural one is more pleasant and less pungent. It also won't irritate your skin in any way. The ingredients on the label should read "natural fragrance" or "fragrance-free" to not mistake synthetic fragrance for the natural one.
Tips on How to Get the Most from a Sunroom
If you have decided to add a sunroom to your patio, you want to get the most from it, right? And it's possible. You only need to consider these tips:
Ensure the sunroom is facing the right direction
Everything begins here, as there is no way you will enjoy the sunroom if it's facing the wrong side. Don't get it wrong. There is no right or wrong location to build your sunroom.
You only need to ensure the unit is facing the direction that meets the needs you are looking to achieve. Some of the directions you can install the sunroom include:
North facing: A sunroom facing the north receives low sun levels and partial shade throughout the day. Patio contractors recommend north-facing sunrooms as the best sunrooms to install, but you should be ready to put on the heating system to use the sunroom in the winter.
South facing: South facing sunrooms are the most aesthetically pleasing sunrooms you can have, and they allow plenty of sunlight to get in during the day. Although they are beautiful, you may need a cooling system installed especially if living in the south.
Eastern facing: An eastern-facing sunroom is best if you love taking your breakfast in the sunroom or you love the sight of the sun early in the morning. This is because the sun gets in the sunroom early in the morning, while it's all shade in the afternoons and evenings.
Western facing: Are you at home mostly in the evening and love watching the sunset? This is the right sunroom to go for. If you live in hot areas, you may need to invest in shades and a cooling system to keep you comfortable.
Ensure that the sunroom is comfortable
Unless you are using the sunroom as the exercise room, you will have to sit, and you need to be comfortable to enjoy the sunsets, have quality time with family, or simply enjoy your creation.
If you visit many sunrooms, you will find most of them packed with wire furniture and uncomfortable wicker. This is because homeowners have the impression that a sunroom is an outdoor unit, so it should be furnished with outdoor furniture. This is wrong.
To be an exception and ensure you are as comfortable as possible, take the sunroom as part of the main house. Like the rest of your house, have plush pillows, upholstered seating, throws, and other pieces that will ensure that you are comfortable.
You also should throw in a side table and coffee tables to have a place to set down your drinks or a book.
The sunroom is a place to relax, and you can also use it to get some work done when the weather is right, so ask an electrician to install electrical outlets to plug in your laptop.
For optimum comfort, take the sunroom as a second living room and furnish it with all the comfortable pieces of furniture you can.
Although it's crucial to keep your patio sunrooms comfortable, watch out that you don't waste money on adornments and furnishings that you won't use or don't need.
You need to find a balance between comfort and use. If you don't frequently use a certain piece of furniture or adornment, there is no point in buying or keeping it.
Use the right glass for the window.
The glass you choose for your sunroom has a significant impact on the performance, feel, and allure of the sunroom, so be ultra-cautious when buying it. There are three main glass types for sunrooms you can choose from:
Single glazed glass: This is a basic window glass that features little insulation or UV properties.
Double glazed glass: These are two glass layers with gas or air trapped in between. As you can guess, this glass provides better insulation.
Triple glazed glass: It's the most expensive glass of the three and provides the highest level of insulation.
When you choose the best glass for your windows, pay attention to the insulating properties of the glass. Of course, you want the glass providing you with the best insulation. After all, you don't want to be baked in your sunroom as you are enjoying a sunset, do you?
Sunroom experts agree that the minimum glass you should install in the sunroom is double glazed.
Another factor to consider the Low-E coating. An ideal sunroom window glass should have a soft coat Low-E that allows light but reflects the heat. When properly installed, this glass ensures a room is cooler in summer and warm in winter.
The final factor to pay attention to is glass safety. You should go with tampered glass that crumbles when it breaks instead of one that falls off in dangerous shards.
The key to buying the right glass window hinges on extensive research. You should consult with building materials experts and even your local department of building and safety, and they will recommend the best one to go for.
Ensure the space is large enough
The whole point of spending money on a sunroom is to have space you can spend time. If you live alone or have a small family, you can get away with a small sunroom, but if you entertain a lot, your guests will feel cramped and crowded in a small room, and this will prevent them from having a good time.
At the very least, ensure that your sunroom is at least ten feet square. This space is enough for a small grill and a standard outdoor table and chairs.
Upgrade your sunroom to a solarium
Many homeowners believe that a sunroom and a solarium are the same thing, but this isn't the case. A solarium is completely enclosed in glass (including the ceiling) with the sole intent of trapping in as much light as possible while at the same time blocking the outdoor weather elements.
On the other hand, a sunroom is what architects and designers use to describe any room with large windows (usually running from floor to ceiling).
A solarium is more aesthetically appealing and more comfortable. Unfortunately, it's pricey to build. Luckily, if you don't have the budget for it, you can install a skylight instead. The skylight will be cheaper, but it will accomplish the same feat.
Angelus U30 Black Titanium: The one-of-a-kind mean machine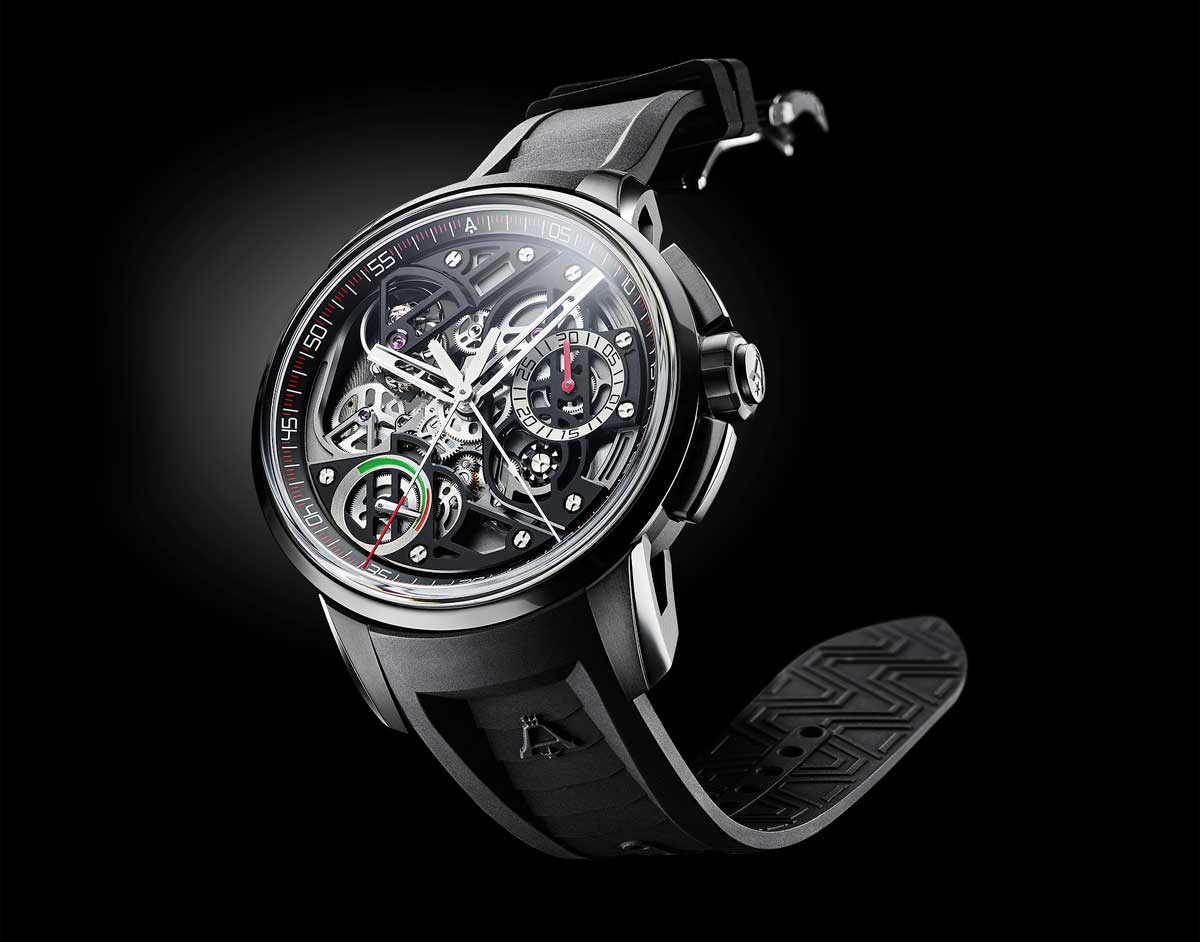 Offered up on the altar of the grande complication, the U30 is a piece like no other. Ultra-light and ultra-sporty, the incredible Angelus design unites a variety of prestigious complications: a tourbillon, flyback and split-second chronograph. The 47mm black DLC titanium case with openworked edges houses one of the most complex automatic skeletonized movements in the world. In the U30, nothing has been sacrificed in the expression of Angelus' extreme watchmaking approach.
The U30 is a beast in the etymological sense. If it is held up as an examplar, it is because it is one-of-a-kind – pointed out to stress its exceptional complexity. The U30 is a talking point, because this skeletonized, automatic tourbillon, flyback and split-second chronograph with power reserve indicator is quite simply unique. Angelus has not shied away from any technical challenges. 100% independently manufactured, the result is a watch that defies categorisation.
Distinctive
The U30 is also a beast in a figurative sense. It is a mythical creature, a mean machine: an exceptional piece both in performance and design. The spacious skeletonized structure encompasses the case, movement and hands. The case, 47mm in diameter and 15mm thick, is made of black DLC titanium. The lugs and case middle are marked in the centre with a recess that extends the skeletizing of the movement. The openworked movement has 350 components in total, is treated with black DLC and accentuated in grey. The design is an expression of Angelus' own brand of hyper-technicality; it is the supreme sportiness of an ultra-light split-second chronograph. One-of-a-kind mean machine.
Functional
The split-second function allows the central chronograph second hand to be split in two, allowing two events starting together to be timed. At any moment, the same pusher can bring the two hands back together to the same point. A flyback also allows you to reset and restart timing with a single press, without having to stop and reset the hands. This exceptional feature does not compromise the lines of the U30: the split-second pusher is integrated into the crown at three o'clock, barely protruding from the case. Similarly, the chronograph's start and reset pushers are very discreet, integrated into the overall line of the U30's black titanium case middle. The pushers have a short trajectory, requiring up-front design work and adjustment to a degree rarely achieved in watchmaking.
Uncompromising
It is hard to imagine a complication as sophisticated as the split-second function. The movements capable of achieving this complication can be counted on the fingers of two hands–and for the skeletonized version,far fewer. Angelus has built its modern identity on openworked pieces integrated into spacious structures that bring the surface area down to the absolute minimum. Here, the A-150 calibre has depth. The hand fitting, bridges, cog and column wheels, patina and rotor create a rich texture of levels for the eye to get lost in.
Unique
Chronograph calibres are rarely integrated. They are often made up of a basic calibre and an additional functional module. But Angelus does not subscribe to this approach, instead developing its calibres as a unified system. Split-second chronographs are often manual. The U30prefers a sportier, active, technical approach for this extremely rare complication, opting instead for self-winding by a large rotor. Split-second chronographs are hardly ever matched with a flyback. Such a combination is so complex that the watchmaking community is often unaware that it is even possible. The A-150 calibre is capable of such a feat.
Dual
Few chronographs also have a power reserve indicator. The traditional display layout leaves little room for an additional gauge. Angelus has placed the indicator at half past seven on the dial, using a subtle asymmetric layout. Tourbillon chronographs are anomalies, and tourbillon rattrapantes are even more unique. But for Angelus, integrating a rotary regulating organ into the dense and intense A-150 calibre has posed no problem. In fact, combining chronometer and chronograph, measuring precision times and short times is a logical choice for the U30.
Refined
When it comes to theU30's design, structure, decoration, functionality and complications, all of these choices are based on an almost unparalleled level of expertise and independence. The A-150 calibre has been entirely developed, machined, decorated, assembled, adjusted and fitted on the Angelus manufacturing site in La Chaux-de-Fonds. This exclusive movement has been designed with exceptional mechanical and graphic detail in mind. The structure and functions form a coherent whole, highlighting the complications and design of their components. In turn, these high-precision micromechanical watchmaking parts have been integrated into a watch with the powerful design of a thoroughbred designated as an exemplar.