Why Climate Change Is Not a Hoax
We humans are programmed to respond to dangers apparent and immediate, but the long term, the incipient, and to our eyes invisible elude us. Climate change evidenced as global warming falls in this elusive category. It is for this reason demagogues and fossil fuel interests can continue to deny or minimize the dangers so clearly presented in the latest Inter-Governmental Panel on Climate Change (IPCC) report released on October 8, 2018.
The articles in this handbook furnish conclusive evidence of climate change and its effects. Unabated, it will devastate life on the planet. As it is extreme weather events have worsened in intensity in recent years causing loss of life and billions of dollars in property damage. Floods that happened once in a hundred years can be expected to occur once in 50 or 25 years. Low-lying countries are already experiencing partial inundation through rising sea levels. These could disappear completely.
The principal greenhouse gas culprit, carbon dioxide (CO2), has reached record levels in the atmosphere exceeding 400 parts per million for the first time during the existence of modern man.
What are we to do? Well, the new IPCC report offers clues. Its compromise of accepting a 1.5 degree Celsius rise in global mean temperature — somewhere between the 2C rise of the Paris agreement and the present rise above preindustrial levels — is exactly that … a compromise. Severe weather consequences can still be expected to worsen.
Logic then dictates the argument for the most interventionist scenarios where the atmospheric CO2 is eventually reduced.  To that end it is abundantly clear that we as individuals must continue to pressure our elected representatives to act, and to vote out those who persist in denial or inaction.
Read online or download here
How to reduce pollution in Delhi's waterways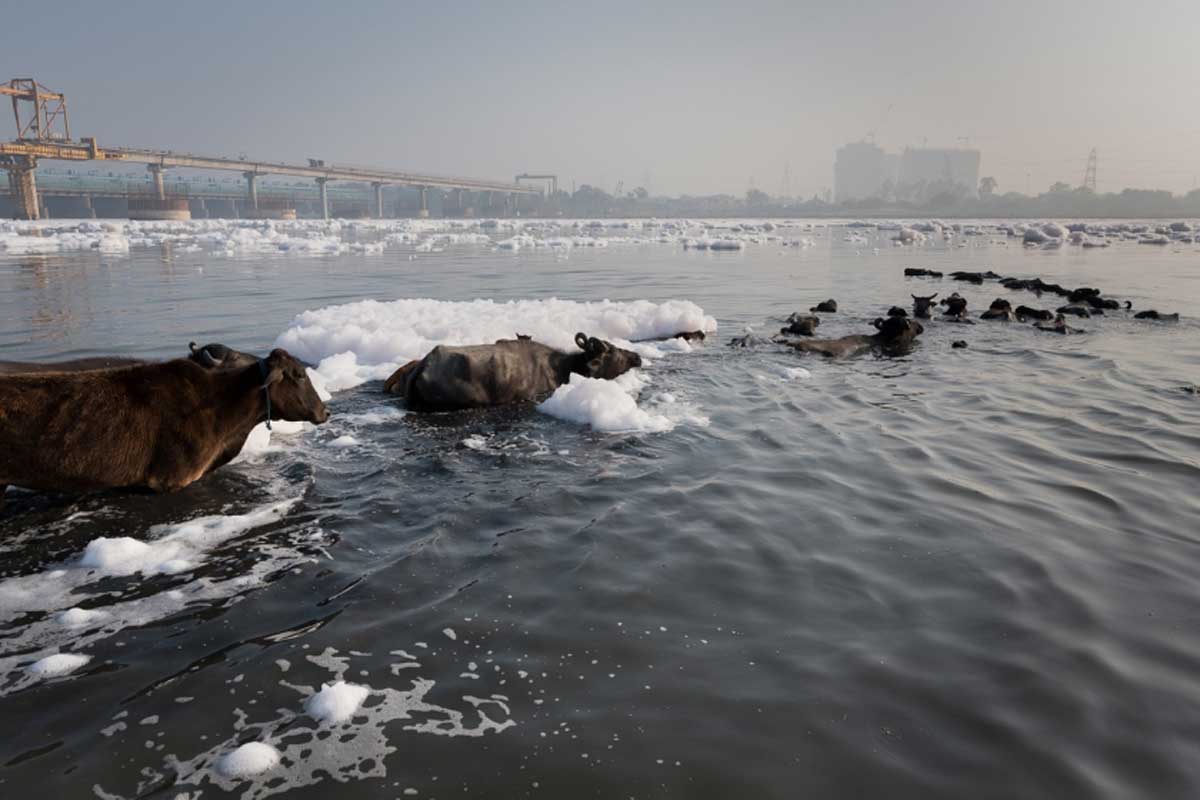 About 80 per cent of the water supplied to households in India's capital, Delhi ends up as wastewater, some of which remains untreated, polluting the city's waterways and threatening the health and wellbeing of its residents. This metropolitan area, with its population of approximately 30 million, currently has 35 operational sewage treatment plants.
In December last year, the Indian government announced its plans to treat over 95 per cent of Delhi's wastewater by the end of 2022 – over four times the national average.
To support this initiative, the United Nations Environment Programme (UNEP) launched the first-ever study of its kind to examine how Delhi, India's largest city, recycles its wastewater and how it can be done more efficiently.
It assessed the various technologies sewage treatment plants use for nutrient recovery and recycling for safe and sustainable re-use of wastewater in Delhi. These include activated sludge process (ASP), extended aeration (EA), moving bed biofilm reactor (MBBR), sequential batch reactor (SBR), or fluidized aerobic bed reactor (FAB) processes.
The UNEP study found that the MBBR system is the most suited to the situation in Delhi and should, where possible, be employed in new treatment plants.
MBBR is a modern system invented in Norway that uses a combination of biological rather than only chemical or mechanical processes to treat the water and remove pollutants. But this system is not without its challenges, say experts.
"The adoption of MBBR technology for large sewage treatment plants is challenging as maintenance costs are large," said Sangeeta Bansal, a lead researcher on the project.
The study suggests that other systems, such as SBR, and ASP could also be used for larger sewage treatment plants.
In addition to mapping Delhi's current nutrient recovery, recycling and reuse practices against available treatment options, the study has developed an ecosystems health card to measure the water quality and assess the revival of selected water bodies in the city.
Some forms of pollution cause an increase in minerals and nutrients in the water, a process known as eutrophication, which leads to increased plant life, including algae, but a decrease in the diversity of fish and bird life. Raw sewage and food waste are also rich in nutrients, notably reactive nitrogen compounds such as nitrates and ammonium compounds, which are converted into nitrous oxide, a greenhouse gas 300 times more potent than carbon dioxide.
Lake Najafgarh in Delhi is one example of a polluted waterway. Since 2011, the lake area has increased by eight per cent due to pollution. It feeds into the Yamuna River, which flows through the city and is one of the main tributaries of the Ganges River.
"Supporting water security by using treated wastewater for non-potable purposes like toilet flushing, car washing, construction, agriculture, and rejuvenating affected rivers and lakes, is vital for the city's sustainable development," said Riccardo Zennaro, a Programme Management Officer for wastewater at UNEP.
"It can also improve access to clean tap water," he added. "Wastewater treatment supports the recycling and recovery of water and nutrients and is, therefore, critical for sustainable water and nutrient management, while preventing pollution. However, it needs significant improvement to meet Indian government environmental standards."
A stakeholder engagement workshop is planned to inform local and national decision-makers and relevant authorities about the findings of the project and discuss the next steps in implementing the recommendations as well as possible follow-up actions.
Climate Change and its Effects on Europe
If one thinks Putin has become a headache, then the future of Europe under the forecast climate change regime is pneumonia.
According to this scenario, ice melt from Greenland and the Arctic will raise sea levels around Florida. Aside from greater and wider coastal flooding, this change will inhibit the regular Gulf Stream Drift that makes its way across the Atlantic warming northern Europe and ensuring the English climate is even milder. Part of it of course is due to Britain being an island and so enjoying the moderating effects of the sea — again more so because of the Gulf Stream.
This relatively even weather in England has undergone change. More frequent 90F and higher days in summer, once relatively rare, is one symptom — the UK just recorded its highest ever temperature of 104.54F. There have also been heavy rains and flooding notably in December 2020 when a wide belt across the south suffered catastrophic inundation of historic proportions.
Scientists and the UN confirm an increase in the frequency of natural disasters. This includes forest fires, hurricanes or typhoons, excessive rains and floods.
July 14 might be celebrated as Bastille Day and a national holiday in France but in neighboring Belgium it now commemorates the devastating floods in 2021. Heavy rains and the Meuse river overflowing its banks turned streets into canals in the eastern city of Liege. The floods extended to the Netherlands and western Germany, caused by a low pressure system that stalled for two days over the region. Rain falling on soil already soaked by spring rains and overflowing rivers (the Meuse in Belgium and Netherlands, the Rhine and the Ruhr in Germany) devastated the area. At least 243 people lost their lives and property damage was estimated at $12 billion.
If last year was one of floods, this year it's drought and dry heat and forest fires — temperatures hitting 117 F in Portugal and an estimated 75,000 acres lost to forest fires; also dry as tinder Italy where the river Po, the country's longest river, has been reduced to a trickle.
England has been subject to a similar pattern, suffering some of the worst flooding in its history last year and now reeling from forest fires. "I've fought wildfires for decades. None of it prepared me for the infernos this week," screams a Guardian (July 22, 2022) headline quoting a firefighter. London fire fighters have just had the busiest day since the Second World War.
When will governments understand that the earth is changing, that natural disasters piling one on top of the other, and that forest fires in Europe, in Australia, in the US and elsewhere plus floods and typhoons etc., are not coincidences?
One hopes it is soon, and we humans learn to moderate damaging behaviors.
The Greater Frequency of Natural Disasters and our Response
While no one can ascribe specific natural catastrophic events to global warming, their frequency appears to have increased. So it is that forest fire seasons have lengthened, and more fires occur more often and of greater intensity.
The current disaster in the news is in the Iberian peninsula and across to southwest France. Almost uncontrollable wildfires have devastated thousands of acres, and one observer pilot flying too close has been killed reports the BBC. The fires in La Teste-de-Buch and south of Bordeaux have destroyed 25,000 acres.
In Portugal, 75,000 acres have been devastated by fires this year. One cause is the dry heat and soaring temperatures, drying out the countryside. They have hit 47C (117F) in Portugal and above 40C (104F) in Spain. Residents have been evacuated from the danger areas and a pet rescue operation is ongoing.
Planes are dropping fire retardant chemicals, and helicopters collect sea water from the coast then return to douse the flames. The high temperatures, the drought and their consequences have not spared neighboring countries.
In Italy, the country's longest river, the Po, has diminished to a trickle in places and the tinder-dried countryside in its valley is under a state of emergency.
Along other parts of the Mediterranean, the conditions are similar. In Greece, there are fires southeast of Athens about 30 miles away in Feriza; also on the northern coast in the island of Crete where seven villages near Rethymno have been evacuated.
The opposite side of the Mediterranean has not been spared. Fires swept through several provinces in Morocco and one village in the Ksar el-Kebir area was destroyed.
According to James Lovelock's Gaia hypothesis, the earth should respond naturally to ameliorate global warming. Unfortunately, human interventions like cutting down forests have damaged its ability to do so. Is runaway global warming then our future?
The answer has to lie with the same humans, being the only species with the knowledge and faculty to respond to the challenges. The means are available, from CO2 capture to altering our own behavior.
Work on additives (like oil and fats) for cow feed have helped reduce emissions by 18 percent in Australia where almost 70 percent of greenhouse gas emissions come from ruminants. Even more promising has been the addition of seaweed which when mixed in small quantities (3 percent) to the diet have reduced their emissions by 80 percent.
In the meantime, we have to change our ways: Growing our own vegetables — delicious and easy as they grow themselves with minimum care … and have you tried ripe tomatoes fresh from a vine? Even easier to buy now as plants are sold at food supermarkets.
Eating less meat, walking or cycling instead of driving for short trips and so on. It is easy and just a matter of habit. In the end, it is up to us as to the kind of earth we want to leave behind for our children and grandchildren.