SFMOMA Announces Five Summer 2019 Exhibitions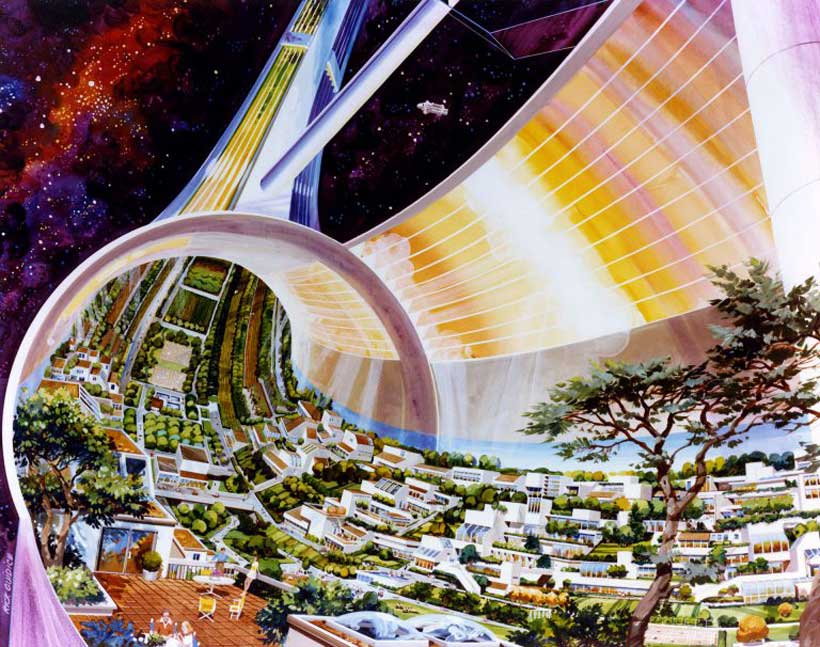 In addition to its major presentations of Andy Warhol—From A to B and Back Again, JR: The Chronicles of San Francisco and Suzanne Lacy: We Are Here, the San Francisco Museum of Modern Art (SFMOMA) announces an exciting schedule of architecture and design, contemporary and photography exhibitions opening at the museum this summer. On the occasion of the 50th anniversary of the Apollo 11 moon landing, Far Out: Suits, Habs, and Labs for Outer Space will include a wide range of visionary designs in pursuit of outer space ventures. SFMOMA's New Work series will highlight recent sculptures and photographic works by multimedia artist Erin Shirreff.
SFMOMA's Pritzker Center for Photography, the largest space dedicated to the medium in any art museum in the United States, will present three new shows this summer. In the New to the Collection gallery, a recently acquired archive of previously unseen Polaroids will feature the many faces of April Dawn Alison, photographed over the course of several decades. Don't! Photography and the Art of Mistakes will explore dos and don'ts of "good" photography and the rule breakers who challenged those norms. Signs and Wonders: The Photographs of John Beasley Greene will highlight the 19th-century photographer's stunning images of ancient Egyptian ruins and archeological sites in his first museum survey show.
Far Out: Suits, Habs, and Labs for Outer Space
July 20, 2019–January 20, 2020
Floor 6
Fifty years after the first footsteps on the moon, our ongoing journey into space continues to capture worldwide attention and global resources. Organized by SFMOMA's Architecture and Design department, Far Out: Suits, Habs, and Labs for Outer Space will underscore the importance of both applied and theoretical design in forwarding new models for life beyond earth. California is uniquely poised to host an exhibition on this topic, with an established history of astronautic innovation and invested research on space exploration at two NASA centers — Ames and the Jet Propulsion Lab (JPL) — as well as Elon Musk's SpaceX. Real and conceptual designs for space suits, habitats and laboratories will be on view, alongside a selection of films and visual art, including designs from Raymond Loewy, Rick Guidice, Neri Oxman and Tom Sachs, among others. Culled from many different collections, Far Out celebrates design in taking us far out to the final frontier.
New Work: Erin Shirreff
July 20, 2019–October 27, 2019
Floor 4
Working in various mediums, scales and modes, Erin Shirreff explores our relationship to objects and images, and between two- and three-dimensional space. In this exhibition, her first solo museum presentation on the West Coast, Shirreff will show a selection of recent sculptures and photographic works. Forms based on JPEGs are rendered in foamboard and bronze, and offset reproductions are enlarged and given a sculptural dimension of their own. Together, the works examine the slippage between the experience of an object in real space and its photographic representation, where scale, weight and physical presence are distorted.
Generous support for New Work: Erin Shirreff is provided by Alka and Ravin Agrawal, SFMOMA's Contemporaries, Adriane Iann and Christian Stolz, and Robin Wright and Ian Reeves.
New Work: Erin Shirreff
July 6, 2019–December 1, 2019
Floor 3
Made over the course of some 30 years, the photographs in this exhibition depict the many faces of April Dawn Alison (1941–2008), the female persona of an Oakland, California–based photographer who lived in the world as a man. Upon her death, Alison left an archive of over 8,000 Polaroid photographs, the vast majority of which are self-portraits. This previously unseen body of work begins in the late 1960s or early 70s with tentative explorations in black-and-white photographs, and evolves in the 1980s into an exuberant, wildly colorful and obsessive practice inspired by representations of women in classical Hollywood cinema, pornography and advertising. An extraordinary long-term exploration of a private self, the Alison archive contains photographs that are beautiful, funny, enigmatic and heartbreakingly sad, sometimes all at the same time.
Don't! Photography and the Art of Mistakes
July 6, 2019–December 1, 2019
Floor 3
There's no success like failure; artists know that better than anyone. Don't! Photography and the Art of Mistakes explores how photographic techniques such as double exposure, lens flare and motion blur, deemed errors by one generation of photographers, became interesting aesthetic intentions by the next. In the late 19th and early 20th centuries, proscriptive texts by self-proclaimed photography experts proliferated in amateur manuals and periodicals. The next generation saw the rise of photographers who challenged these rules and strictures. Pairing modernist images by artists including Florence Henri, Lisette Model and Man Ray with historical documents, this exhibition examines the shifting definitions of "good" and "bad" photography, while considering how tastes evolved during this transformative period for the medium. The show concludes with a section of contemporary work by artists including Sara Cwynar, John Gossage and Andy Mattern that underscores concerns about failure and photographic rules that persist to this day.
Signs and Wonders: The Photographs of John Beasley Greene
August 31, 2019–January 5, 2020
Floor 3
In 1853, at the age of 21, John Beasley Greene (1832–56) set out for Egypt armed with a camera and a passion for archaeology. Over the course of an exceptionally brief career, he created a body of photographs in North Africa that was admired by his peers and which continues to capture the attention of contemporary audiences. Not only did he provide detailed records of Egyptian hieroglyphics and Algerian antiquities that helped advance the field, but his pictures also offer the sensitive impressions of a thoughtful visitor in an unfamiliar land. Greene was acutely attuned to the aesthetic possibilities of photography, and his compositions display a masterful grasp of the relationship between negative and positive space. He died at 24, leaving behind few records but hundreds of pictures. This exhibition, his first museum survey show, will present Greene's visual record of the archaeological and colonial concerns of mid-19th-century France and a singular vision for the photographic description of landscape.
In conjunction with Signs and Wonders: The Photographs of John Beasley Greene, SFMOMA will present Hannah Collins: I Will Make Up a Song, a video and photography installation that explores the work of Egyptian Modernist architect Hassan Fathy. Fascinated by issues of housing, poverty and environmental sustainability, Collins (b. 1956) considers Fathy's mid-20th-century utopian experiments in sustainable architecture and rural community building at New Gourna and New Baris in Egypt, which raised important questions that seem ever more pertinent today.
Generous support for Signs and Wonders: The Photographs of John Beasley Greene is provided by Wes and Kate Mitchell. Additional support is provided by Sakurako and William Fisher and Gary Sokol.
UNESCO supports removal of Ugandan tombs from endangered list
The World Heritage Committee, meeting in Riyadh until September 25, has decided to remove the site of the Tombs of the Kings of Buganda in Kasubi, Uganda, from the List of World Heritage in Danger following the successful restoration work carried out by Uganda with UNESCO support, the organization said in a press release.
In 2010, a fierce fire devastated the Tombs of the Kings of Buganda at Kasubi, which are inscribed on UNESCO's World Heritage List. The site was subsequently inscribed on the List of World Heritage in Danger, allowing for the development of an ambitious reconstruction program. The plan was led by the Ugandan authorities and implemented in close cooperation with UNESCO and with the financial support of the international community.
This reconstruction program was completed in the summer of 2023, enabling the site to reach the desired state of conservation. On Tuesday, the Member States of the World Heritage Committee confirmed that the reconstruction had been successfully implemented by taking the decision to remove the Tombs of the Kings of Buganda at Kasubi from the List of World Heritage in Danger.
At the same time, the UNESCO Committee refused to include the "Volcanoes of Kamchatka" in the list of endangered cultural heritage. This is reported by the press service of the deputy chairman of the Russian government.
Thus, most committee members, including Ethiopia, India, Saudi Arabia, Egypt, Mali, South Africa, Oman, Rwanda, Qatar, and Zambia, noted Russia's efforts to improve the protection status of the Kamchatka Volcanoes site.
The UNESCO World Heritage List includes 1,157 sites in 167 countries.
The purpose of the List of World Heritage in Danger is to raise awareness of the threats to the outstanding universal value of a property inscribed on the World Heritage List, and to mobilize all stakeholders to take action to save it. Inscription on the List of World Heritage in Danger prompts the development of a dedicated action plan and opens the door to international financial aid.
Blue Skies: Now More Than Ever
"The Town of Greenwich is honored to partner with C. Parker Gallery on its 10th anniversary," says Fred Camillo, the First Selectman of Greenwich, Connecticut. "The arts play a pivotal role in our community, and this new exhibition features spectacular artists who harness the power of art to raise awareness about our environment." The exhibition is titled Blue Skies: Now More Than Ever and the month-long series of events kick off on September 7th in honor of the United Nations' 4th annual International Day of Clean Air for Blue Skies ‒ https://www.unep.org/events/un-day/international-day-clean-air-blue-skies-2023.
The Gallery will also support environmental awareness activities throughout the next four weeks, until the show's closing date of October 8th. Tiffany Benincasa, the owner/curator of the Gallery, selected artworks that showcase the majesty of our heavenly horizons by six major artists: Rick Garcia (rickgarcia.com), Kay Griffith (kaygriffithart.com), Lisa Cuscuna (lisacuscuna.com), Hamilton Aguiar (hamiltonaguiar.com), Felicity Kostakis (felicitykostakis.com), and Stephanie Paige (stephaniepaigestudio.com).
Opening Reception Sept. 7th – featuring a special appearance by Jamil Ahmad, United Nations Environment Programme – unep.org
The Gallery will present an Opening Reception on Thursday, September 7th at 6:30 p.m. featuring a special appearance by Jamil Ahmad, the Director of Intergovernmental Affairs of the United Nations Environment Programme – https://www.unep.org/people/jamil-ahmad. Space is limited, RSVP is required in advance to info@cparkergallery.com. The Gallery is ideally located at 409 Greenwich Avenue, in Greenwich, Connecticut (just a 45-minute train ride from New York City).
"We are thrilled to kick off C. Parker Gallery's 10th anniversary season with this powerful new exhibition Blue Skies: Now More Than Ever, featuring six of our Gallery's leading artists who share our passion for nature's beauty," says Tiffany Benincasa, the owner of C. Parker Gallery. "We live in this beautiful part of the world, and our summer started with some of the worst air-quality days in history due to the wildfires, bringing this issue to the forefront. We are giving back to the community by joining forces with the United Nations' International Day of Clean Air for Blue Skies, and we invite everyone in the Tri-State region to help make a difference alongside these environmental artists. They remind us of the need to safeguard our skies and foster a healthier planet." A portion of the exhibition sales proceeds will be donated to Greenwich Green and Clean and the Greenwich Youth Conservation Program, in honor of the Gallery's 10th anniversary. During his remarks at the exhibition's Opening Reception, the U.N.'s Jamil Ahmad will speak alongside regional leaders from: Connecticut Working Together for Clean Air, the Greenwich Conservation Commission; the Greenwich Sustainability Committee; the Greenwich Tree Conservancy; the Greenwich Land Trust, and Greenwich Green & Clean.
"I selected these six artists because their work represents the highest ideals of character, compassion and environmental consciousness," says Tiffany Benincasa. The artist Rick Garcia's work ignites a sense of purpose and invites viewers to join hands in safeguarding the skies above us. His art captures the essence of optimism, transcending the confines of space and time ‒ exploring the boundless grandeur that the horizon holds. Garcia's art was commissioned by the United Nations Postal Administration. His stamps brought awareness to the growing extinction of the rainforest and its inhabitants and the vanishing supply of freshwater, earning him the prestigious award of "Most Beautiful Stamp Series of 2003." As a past official artist to The Grammy Awards, his creations influenced the look of the live broadcast and graced the covers of the official program book, posters, and apparel. His work for The Grammys included portraits of Destiny's Child, Ricky Martin, Coldplay, Santana, Celia Cruz, the Black Eyed Peas, and Imogen Heap. Garcia created a new work for this exhibition in Greenwich at C. Parker Gallery, titled Tree of Anila.
Benincasa chose Kay Griffith for this exhibition because: "Her artworks dance with life, capturing the movement of air and the ever-changing hues of the sky." Griffith's work was selected this year for the London Art Biennale. She embraces the color blue with unwavering dedication. A color synonymous with both the heavens and the purity of air, blue becomes the primary vehicle for her expression, as she conveys the awe-inspiring expanse of our atmosphere. Her work has been described as complex, haunting, and exhilarating. "These artworks celebrate the expanse above us, from cerulean mornings to indigo evenings. Each canvas tells a story of hope, resilience, and the potential for change, reminding us of the optimism that comes with every new day," says Benincasa. Lisa Cuscuna's works are an invitation to escape into a realm where the sky knows no bounds. Her surrealism features ethereal clouds suspended in hypnotic skies, invoking a sense of wonder and serenity, portraying the sky with the hues of a thousand dreams. Cuscuna's artworks capture nature's essence, and remind us that the sky's purity is a gift worth protecting. "This exhibition not only showcases the sheer beauty of our skies, but also serves as a call to action to support the United Nations Clean Air initiative. By leveraging our place of influence, we can encourage each individual to add their voice and collectively we can make a difference," says Benincasa.

The work of Felicity Kostakis (a local Greenwich artist who hails from Australia) captures the essence of sunrises over tranquil scenes, where the sky's reflection kisses the water's surface. The gentle ripples in the water mirror the delicate balance that exists in nature. Her singular hues blend seamlessly into the sky. As the world grapples with the consequences of air pollution and climate change, these works by Kostakis invite us to reflect on the clarity and purity of the air we need. Her resin abstracts urge us to explore the layers and textures as we would examine the layers of our biosphere. Resin, a liquid medium that transforms into a solid, mirrors the transformation our environment is experiencing due to human impact. Originally from Brazil, the work of Hamilton Aguiar runs the gamut between seascapes, landscapes, florals, and abstracts to evoke the natural elements. The sights and limitless vistas, smells, and sounds of the coast serve as tangible points of inspiration. The landscapes in Aguiar's painting became uniquely accentuated after the artist settled in Miami. The nature and climate of the Tropical ecosystems appear emphatically in his paintings. Stephanie Paige's love for nature has inspired a mesmerizing series, masterfully created with thick, textured acrylic on canvas. Her depictions of the environment reflect her personal journey into connecting to the world through meditation and presence ‒ cultivating gratitude, and existing in the moment, with the peace and harmony of our relationship with nature. Compelling meditation circles and serene sunsets invite the viewer to appreciate our planetary splendor.  "This gallery show reminds us that we share a collective responsibility to protect the skies above and the air we breathe," says Benincasa. "We are excited to partner with the United Nations to support this initiative. International Day of Clean Air for Blue Skies aligns with our gallery's mission to lend our voices and support to important environmental issues that impact everyone around the world."
Blue Skies: Now More Than Ever  
Art Exhibition (Sept. 7 – Oct. 8) at the C. Parker Gallery
Kicks off the Gallery's 10th anniversary season with
International Day of Clean Air for Blue Skies 
Chef Gary Mehigen: A worthy cultural Ambassador to the world
Chef Gary Mehigan is an esteemed Australian chef, renowned for his culinary expertise and engaging presence. With a wealth of experience, he gained widespread recognition as a co-host on the popular television series "MasterChef Australia." His journey in the culinary world began in the United Kingdom, where he trained under Michelin-starred chefs. Gary's passion for food extends beyond cooking; he is a devoted advocate for sustainable practices and authentic culinary experiences. His warm personality and genuine love for exploration have made him a beloved figure in the global food scene.
Chef Gary Mehigan serves as a cultural ambassador to the world through his culinary ventures. With his deep appreciation for diverse cuisines, he bridges cultures by showcasing how food embodies the essence of a nation's heritage. As he explores global flavors and techniques, he not only celebrates the deliciousness of each dish but also promotes cross-cultural understanding. By delving into local ingredients, traditions, and cooking methods, Gary highlights the inseparable link between food and culture. His culinary explorations serve as a medium to connect people worldwide, fostering appreciation for the richness and diversity of global culinary traditions.
Tell us more about what you have been doing these past few months.
In recent months, I've prioritized a successful collaboration with Conosh, a federal company, conducting impactful online classes amid India's lockdown. Notably, a Sardo cuisine class drew an unexpected engagement of around a thousand participants. This partnership has thrived since last September, featuring eleven dinners and evolving into master classes, with an exciting upcoming collaboration at Dubai's Versace Hotel. Conosh operates as an order and delivery platform, educational hub, and special events platform, showcasing diverse culinary talents. Aligned with my Masterchef background, I'm committed to fostering culinary dreams and small-scale enterprises. Looking ahead, a Dubai dinner collaboration and National Geographic's "India's Mega Festivals" series filming in October await, solidifying my connection with India.
Why are you the right person to be featuring in India's Mega Festivals" when you are Australian yourself?
The decision to feature an Australian chef heading up a series on India's mega festivals might raise questions, yet there are specific reasons why I am the right fit for this role. When initially approached with this concept, I wondered why they would want an Australian for an Indian-focused series. However, having previously collaborated with the same producer, her insight shed light on the matter. She emphasized my genuine fascination with India, evident in my enthusiasm for its cuisine and travel experiences.
The producer believed that my unique perspective and fervor for India could create a compelling narrative. This series ventures beyond my culinary expertise, delving into travel and culture. As I immerse myself in each festival, it becomes evident that these celebrations are inseparable from their culinary traditions. From witnessing thousands praying at dawn to observing the making of local delicacies like Savion on Hyderabad's streets, the connection between food and festivals is undeniable.
The producer appreciated the genuine interest I bring to the table, and I'm humbled by her remarks about the "sparkle in my eyes." The journey of filming mega festivals has been transformative. While I've always found India captivating, this experience has deepened my appreciation for each auspicious occasion. Sitting amidst the crowd during rituals or festivities, I've encountered a diverse range of people—those attending for tradition, community, connection, or simply a sense of belonging. This human element resonates profoundly with me.
What has truly resonated throughout this journey is the human connection—the intricate layers of celebration, devotion, and the profound impact these festivals have on people's lives. Despite being an Australian in an Indian context, my passion for discovery and connection has enabled me to bridge cultural gaps and celebrate the universal aspects of these experiences.
Have you also filmed in Mathura in India?
During my time spent filming in Mathura, India, over a span of ten to twelve days, I witnessed a profound and intricate connection that the locals share with the 40 days of holiness, dedicated to Radha and Krishna, their revered deities. What struck me was the authentic and palpable manner in which these figures are woven into the very fabric of their lives, akin to cherished family members. The devotion exhibited is not merely a superficial practice; it's a constant presence in their daily existence. From morning conversations to continuous engagement throughout the day, this relationship is sustained every day of the year.
While Mathura's vibrant atmosphere might appear to tourists as a colorful spectacle filled with exuberant celebrations, my experience delved much deeper. In conversations with one of the line producers, who had worked in Mumbai, I gained insights into the profound significance of Mathura's devotion. He revealed that his return to Mathura was driven by the absence of this connection and devotion he had felt in Mumbai. This authentic relationship with the deities and the unbreakable connection with the rituals had led him back to Mathura, and he expressed his intention to remain connected. Such stories resonate deeply with me, evoking a powerful emotional response.
Indeed, these encounters in Mathura have left an indelible impression on me. The genuine devotion and intricate ties that individuals nurture with their spiritual beliefs transcend the surface level of festivities, stirring a profound sense of awe and reverence within me.
How can the food industry be more sustainable?
Well, that's certainly a substantial question, one that resonates deeply with me. In my perspective, the path towards a more sustainable food industry involves collective efforts, even if they appear modest at first glance. The crucial starting point is fostering awareness regarding the origin of our food. When we select items at the market or supermarket, having an understanding of their source, cultivation methods, and seasonal availability is paramount.
For instance, I've observed that in Australia, despite the middle of winter, cherries from California are available in supermarkets due to the demand, challenging the concept of eating seasonally. Encouraging small changes is pivotal. Opting for free-range eggs or embracing the local bounty in accordance with each region's seasonal produce are examples of such steps.
Looking at the bigger picture, we must acknowledge the repercussions of the global green revolution. While it initially averted widespread starvation, it led to an industrialized food system that demands revisiting. Our focus should shift towards rediscovering our historical dietary patterns that have sustained us for millennia with minimal environmental impact.
This shift is already manifesting through various avenues. Chefs in India are revitalizing forgotten indigenous foods, cultivating unique strains of crops like millets and championing sustainable practices. Social media and television wield significant influence in shaping perceptions, and major corporations are recognizing their role in steering consumer choices towards more sustainable options.
While the subject is expansive, it underscores our shared responsibility. Small changes can have far-reaching impacts if we collectively commit to them. Choosing products that adhere to sustainability standards and supporting companies that foster change are meaningful steps. I understand that shifts made by large corporations can reshape entire supply chains, even as chefs and individuals also contribute in their own ways.
In essence, the journey towards a sustainable food industry involves weaving together the threads of awareness, choice, and responsibility. As we ponder the foods we consume, we are not just making choices for the present, but also shaping the future for generations to come.
What inspired you to become a chef?
My journey into the culinary world was subtly guided by my grandfather, a retired chef. Observing his vibrant interactions within our community, I gradually grasped the profound impact of his people-centered approach to life. As I participated in his culinary endeavors, I recognized the immediate satisfaction of crafting flavors and sharing them with others. This realization, coupled with my inherent inclination to nurture, ignited a passion for cooking. The joy of giving and the delight of creating something delectable became my calling. From my grandfather's legacy to my innate desire to connect through food, my path as a chef was forged.
Is there anything else you want to add?
Certainly, I'd like to emphasize my current state of contentment and fulfillment in my journey. These days, I find myself truly relishing the present moments and appreciating every facet of my experiences. My visits to India have been particularly transformative, aligning perfectly with my career and personal evolution. I'm at a juncture where I can fully immerse myself in the intricacies of interactions and connections, a luxury I treasure.
One poignant memory that encapsulates this phase occurred during the filming of mega festivals in Kolkata. I was perched atop a truck, surrounded by the essence of the goddess Durga's procession—the rhythmic drum beats, the aroma of incense, and a sea of devoted souls. The profound connection I felt with the people and the culture was beyond words. Such instances highlight the depth of my relationship with India and its people.
This phase of life brings an immense sense of satisfaction, as I continue to explore new culinary landscapes and form meaningful connections. If you happen to see me on the streets, please feel free to say hello. Sharing moments with fellow enthusiasts who appreciate the wonders of travel and food is always a delight. The mutual joy that these experiences bring serves as a common thread that unites us all.