Trump's Foreign Policy: Do Whatever Netanyahu & Prince Salman Want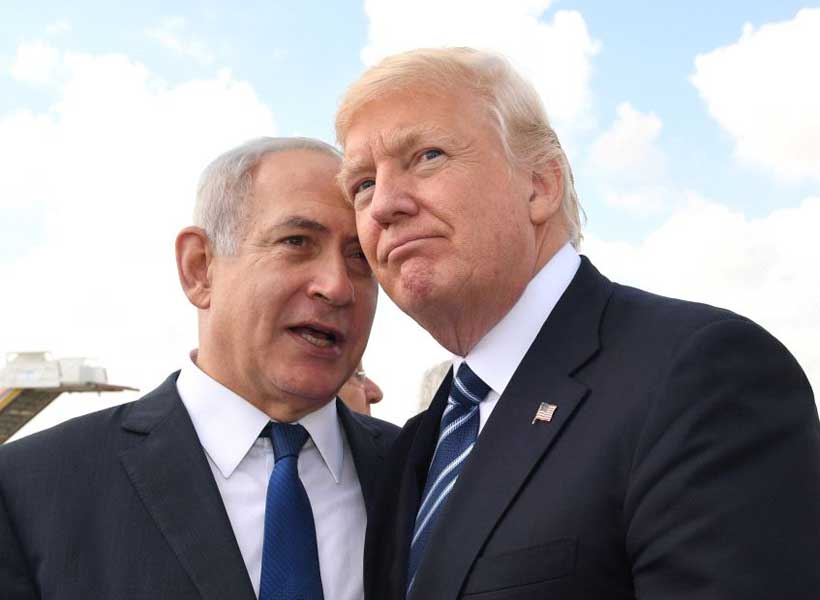 Now that Donald Trump, like Barack Obama before him, has failed to remove Syria's Bashar al-Assad by means of American training of, and supply of weapons to, 'rebels' (almost all of whom were actually jihadists) in Syria, Trump, on March 21st, has set into motion a process that is designed to provide a 'justification' for an all-out U.S. military invasion of Syria, as a means to 'defend Israel'.
This strategy pertains to Syria's Golan Heights region, which is occupied by Israelis. That area of tension would be the trigger-point for the next shot in the anti-Syrian war, which would be the final shot, if it becomes fired. But perhaps Trump thinks that the threat alone will be enough to get Syria's Government to capitulate. Anyway, the threat was issued by Trump on March 21st. So, here is the history, and documentation (via links), behind this sequence of events — the history that makes sense of Trump's new American strategy, to conquer Syria (replacing the use of such proxy-forces as were previously used):
On 5-10 June 1967, Israel invaded Syria and Egypt and grabbed from Syria the 690-square-mile Golan Heights area of Syria. Israel has occupied it ever since. The Golan Heights is internationally recognized as being Syrian territory. But Trump now wants to change that and make it Israel's, just as he had earlier helped Israel to change its capital from Tel Aviv to Jerusalem. Trump is the first head-of-state (other than Israel's) to assert publicly that the Golan Heights is part of Israel, not part of Syria. Trump represents (takes his orders from) Israel's invasion-craving fundamentalist-Jewish Benjamin Netanyahu, who wants to make official, finally, the 'ownership', by Israel, of Syria's Golan Heights. Netanyahu had been expecting America's war by use of proxies against Syria's Government to succeed, but it has instead failed, and so an outright American invasion of Syria, by U.S. troops and missiles and bombs, will be needed, like was done to Iraq in 2003, and to Libya in 2011.
Trump also represents Israel's ally, the equally invasion-craving and equally anti-Syrian, fundamentalist-Sunni Saudi King Salman al-Saud, and his son and heir Crown Prince Salman al-Saud. Both Netanyahu and King Salman want the fundamentalist-Sunni Saud family to control Syria. (Both Netanyahu and Salman want Syria's land, not necessarily the people who live on it, millions of whom have fled the war in Syria, which pits Syria against the U.S.-allied invading and occupying fundamentalist-Sunni forces, which have been brought in from all over the world.) Apparently, Trump's instructions from both Netanyahu and Salman are that this part of Syria — the Golan Heights — is to go immediately to Israel, while a means continues to be sought for the rest of Syria to become ruled ultimately by a satrap selected by the Saud family. Trump's predecessor, Obama, had done everything he could to place Salman in control of Syria this way (by means of proxy-fighters), but failed. Trump is extremely competitive. He's determined to out-do Obama, in service to America's masters, whom the U.S. has long been serving: Israel and Saudi Arabia — and, of course (above all), America's own billionaires, who likewise are united in alliance with both of those two countries' respective aristocracies, against Syria, and against any other nation that's (like Syria is) allied with Russia (or even friendly toward Russia, such as Ukraine was, which was successfully flipped to the U.S. in 2014, by a U.S. coup that destroyed Ukraine). The chief U.S. aim, ever since 24 February 1990, has been for Russia ultimately to be conquered and absorbed into The West — brought into America's empire. Both the Sauds and the regime in Israel are supportive of that U.S. goal, but not primarily focused on it, like America's billionaires are (they are obsessive against Russia). Israel and the Sauds have their own reasons to want Syria; but, as regards the U.S. regime, Syria's alliance with Russia is the main reason that Syria must be conquered. That's the geostrategic reason: isolating Russia, in preparation for ultimately conquering Russia.
And, so, Trump has decided to be not only the first American President but the first international head-of-state outside Israel who has publicly committed the United States to formally recognize the Golan Heights — that land which was stolen from Syria — as being legally Israeli land. It's to be done right now, regardless of when (or whether) the U.S. ever succeeds in ousting Syria's existing non-sectarian Government. In fact, it will provide the U.S. a pretext to invade Syria directly (by a U.S. invasion), instead of (as until now) via mere proxy-forces such as Al Qaeda-led "boots on the ground" fighting to overthrow Syria's Government. (In 2013, the BBC's "Guide to the Syrian rebels" said "There are believed to be as many as 1,000 armed opposition groups in Syria, commanding an estimated 100,000 fighters." In 2015, "The Soufan Group has calculated that between 27,000 and 31,000 people have traveled to Syria and Iraq to join the Islamic State and other violent extremist groups from at least 86 countries." These are large proxy-forces. In Syria, they were led by the U.S.-backed Syrian branch of Al Qaeda. The U.S. under Obama insisted that Russia not bomb Syria's Al Qaeda, and this demand scuttled the cease-fire negotiations. Obama's protection of Al Qaeda in Syria continued under Trump.)
This U.S.-backed Israeli theft of the Golan Heights will enable America to invade Syria directly and heavily, when and if Syria reacts militarily against Israel's seizure of its land. Trump appears now to want to do this, and maybe is even hoping for Syria to respond militarily, so as to provide an excuse (based on America's alliance with Israel) for an all-out U.S. invasion against Syria: 'defense of an ally'. America has failed to conquer Syria with mere proxy forces (such as Al Qaeda); this would be the next step — U.S. troops, bombers, and missiles, en-masse. The presumption is that Russia would not defend Syria. That's a very risky assumption, but Trump is a very bold man.
Trump announced, on March 21st, that "After 52 years it is time for the United States to fully recognize Israel's Sovereignty over the Golan Heights, which is of critical strategic and security importance to the State of Israel and Regional Stability." He thereby made clear that America is a slave to the racist-apartheid Israeli regime and will violate the intentions of all the rest of the world's leaders except Israel's, in demanding international recognition of this land as being a part of Israel.
This threat against Syria was not made just casually.
On March 13th, Politico headlined "New Trump administration report softens language on Israeli-occupied Golan Heights", and Nahal Toosi reported:
The State Department's newest Human Rights Report describes the Golan Heights as "Israeli-controlled" instead of "Israeli-occupied," a linguistic change sure to fuel criticism that the Trump administration is bucking global consensus on Israel's reach.
The change comes as conservative U.S. lawmakers are pushing to have the Golan Heights recognized as part of Israel. If President Donald Trump goes along with that, it would be the latest of several pro-Israel moves on his part, including moving the U.S. Embassy to Jerusalem from Tel Aviv….
U.S. Sen. Lindsey Graham (R-S.C.) recently said he would push Congress to recognize Israeli sovereignty over the Golan Heights. "To give this up would be a strategic nightmare for the State of Israel. And who would you give it to?" Graham said.
The shifts in the U.S. approach to the region, which activists say has largely been to the detriment of Palestinians, come as the Trump administration prepares to release its proposal to resolve the decades-old Israeli-Palestinian conflict.
The proposal, spearheaded by Trump son-in-law and adviser Jared Kushner, is expected to be unveiled after Israel's elections in April, though no firm date has been set.
Finian Cunningham has brought public attention to a self-interested reason why Trump might be determined to assist Netanyahu to make Golan Heights legally israeli territory. Headlining at Strategic Culture, on March 19th "US Duplicity over Golan Demolishes Posturing on Crimea", he wrote:
There has been previous speculation that Trump is doing the bidding for a US-based oil company, Genie Oil, which is linked to his administration through his son-in-law Jared Kushner's family investments. The New Jersey company has a subsidiary in Israel, is tied to the Netanyahu government, and has long been aiming to drill the Golan for its abundant oil resources.
However, there also is another possible reason, and Cunningham touched upon it, too: an intention for Trump to offer to Russian Prime Minister Vladimir Putin a trade-off offer, that in return for Putin's rejecting the repeatedly-shown-by-polling strong desire of the residents of Crimea for Crimea to be part of Russia instead of part of Ukraine, and for Putin to force Crimeans to become again ruled by Ukraine (as they had been between 1954 and 2014), the U.S. will now stop demanding that the residents of Golan Heights be part of and legally ruled by Israel, instead of for them to be ruled again by Syria as they always were.
But what is clear is that Trump definitely does now intend to legalize Israel's control over Golan Heights, and that this has been a hope of every Israeli Administration since 1967.
Earlier, Trump had made clear that he wouldn't do anything about Saudi Crown Prince Salman al-Saud's barbaric torture-murder (and lies about that revenge-murder) of a Saudi journalist Jamal Khashoggi. Trump also makes clear that the U.S. will do nothing against the Salmans' effort to starve to death the Shiite Houthis in Yemen by bombing their food-supply lines. All of that is fine with Donald Trump. This is how competitive he is. He is all-out competitive, and especially wants to out-do Obama on what he can, and to un-do Obama on what he can (such as he does by trying to destroy Obama's gift to drug companies, Obamacare).
America supplies the training and weapons for both the Saudi and Israeli militaries. Trump's secret National Security Policy (as introduced to the press on 19 January 2018) said that, "Though we will continue to prosecute the campaign against terrorists that we are engaged in today, … Great Power competition, not terrorism, is now the primary focus of U.S. national security." By "Great Power competition," it refers to, as being the chief enemies, "revisionist powers as different as China and Russia are from each other, nations that do seek to create a world consistent with their authoritarian models, pursuing veto authority over other nations' economic, diplomatic and security decisions." Isn't that an excellent description of the U.S. Government, regardless of whether it's also accurately describing either Russia, China, or any other? It certainly sounds like Big Brother's propaganda in today's world. But does America really need more wars? Should America's Government really be policeman of the entire world? Indeed: of any part of the world except itself? The lying Trump had won his office by promising never to advocate any such "policeman of the world" role; but here he's doing exactly that — for the clear benefit of America's masters: Netanyahu and Salman and America's oil and gas companies and all other U.S. billionaires. He represents them — not the people who had voted for him. (And, certainly, also, not the people who had voted against him. The U.S. electorate certainly are not represented by America's Government. That's just an established and confirmed fact.)
If the reason why Trump is now backing Israel's aim to legalize its seizure of Golan Heights is to serve Israel's desire for more territory, and to serve the desire of both Netanyahu and Salman for the Sauds to take ultimate control over Syria, then that would be a geostrategic aim, instead of an aim to enrich Trump's daughter and her husband Jared Kushner by oil-wealth from Golan Heights. This geostrategic aim would be that there will be a trade-off of Golan Heights for Crimea: Israel will win legal control over Golan Heights, and Ukraine will win legal control over Crimea. However, what if Putin says no to that? There could then be an invasion by Syria against the Israelis who are occupying Golan Heights, followed by an invasion of Syria by both Israel and the United States, and a responding invasion by Russia against both Israel and the United States, ending perhaps in World War III, an annihilating global nuclear war. What would therefore be likelier would be that when Putin says no, Trump will propose — and Putin will accept — that the U.N. will oversee free and fair and U.N.-supervised elections, both in Golan Heights and in Crimea, and that the will of the majority of the residents in each of these two areas will determine what country they are part of. That would avoid WW III, and it also would be face-saving for the leaderships both in U.S. and in Russia. Of course, if the personal enrichment of Trump's family is instead the motive, then the U.S. Congress will be far less supportive of Israel's side in this matter than they have been up till now.
Democrats in Congress, and professional neoconservatives generally, not only are blindly suportive of Israel's Government, but they allege that 'Putin made Trump President'. They do this despite the fact that the Republican Trump Administration wants to escalate its Democratic Party predecessor Obama's war (which started in 2012) against Russia; so, this accusation against Trump doesn't really make much sense. Like the neoconservative advisor to international corporations Ian Bremmer said on 22 March 2018, in the neoconservative TIME magazine, "Putin Won. But Russia Is Losing." That's how Bremmer's international clients want to view things — as if Russia, not the U.S., is the perpetrator of invasions and coups constantly, 'perpetual war for perpetual peace' — that it comes from Russia, instead of from America. But it's obviously a lie.
On 23 February 2018, James George Jatras, at Strategic Culture, bannered "What Would an 'America First!' Security Policy Look Like?" and he provided his answer: it would look very different from Trump's actual foreign policies. But I would put it another way: it would look like a country that isn't trying to take over the world, and like a country that would eliminate most if not all of its hundreds of foreign military bases. U.S. President Eisenhower warned, near his last day in office, against growth in the "military-industrial complex," but subsequently it has swallowed this country whole. Most Americans love that: the military is, by far, the highest-respected of all institutions in America. Is this the new Sparta? Maybe the new Rome? Or even the new Nazi Germany. With nuclear weapons. And both Republicans and Democrats support it, as if to do otherwise is 'unpatriotic'.
NOTE: Israel is actually an enemy of America:
On 8 June 1967, Israel intentionally attacked and sank the USS Liberty, slaughtering 34 of our sailors, and injuring another 172. The official U.S. government inquiry by an independent study Commission headed by Admiral Thomas H. Moorer, found that, "after eight hours of aerial surveillance, Israel launched a two-hour air and naval attack against the USS Liberty, the world's most sophisticated intelligence ship." "Unmarked Israeli aircraft dropped napalm canisters on the Liberty's bridge, and fired 30mm cannons and rockets into our ship." "Israeli torpedo boats later returned to machine-gun at close range three of the Liberty's life rafts that had been lowered into the water by survivors to rescue the most seriously wounded." "There is compelling evidence that Israel's attack was a deliberate attempt to destroy an American ship and kill her entire crew." "Israel committed acts of murder against American servicemen and an act of war against the United States." "The White House deliberately prevented the U.S. Navy from coming to the defense of the Liberty." "Surviving crewmembers were later threatened with 'court-martial, imprisonment or worse' if they exposed the truth; and were abandoned by their own government." "The White House deliberately covered up the facts of this attack from the American people."
But those (plus America's own billionaires) are the two countries that America's President actually represents (in addition to America's own billionaires, who are more concerned to conquer Russia and to control China).
America's alliances reflect the interests of America's billionaires, and that's all. America's military represents them, and that's all. Today's America is fundamentally different from FDR's America. It is no democracy.
Author's note: first posted at strategic-culture.org
Beware, the Blame-Game Will Backfire
The blames that certain American politicians have been trying to shift to China have all backfired on themselves, and the hardest-working blame-game player Mike Pompeo is considered by many American media and netizens as "one of the worst Secretaries of State in history."
Shifting the blame to others has eventually boomeranged against themselves. What exactly have they done to shift the blame then?
At first, the American politicians played "face change" repeatedly. They praised China's anti-virus efforts when COVID-19 first broke out in the country. Then all of a sudden, they changed their tune and began to criticize China. The U-turn in their attitude came at a subtle timing when the outbreak quickly escalated in the US. With a mentality of speculation and adventurism, the anxious and upset US politicians felt no qualms about going back on their own words. What an eye-opening farce for the world!
Later, they joined efforts to stigmatize China. As the pandemic spread ever more quickly across the US to the brink of going completely out of control, some politicians couldn't wait to stand up and collectively slam and smear China, using very tough and strong words even though they knew the accusations carried no weight. Being incompetent in controlling the pandemic at home, they have been adamant about scapegoating China and put forth all sorts of China-bashing fallacies.
But the truth always beats lies in the end. The false accusations made by those politicians were not bought even by their own people, not to mention the rest of the world. When asked if they had any evidence to prove that the virus came from China, the politicians just beat around the bush, unable to give a direct answer. Their bluffing trick, after playing for a long time, was seen through. The continuously worsening pandemic situation in the US has infuriated its media and people so much that criticisms of the government and its officials for their slow and bungled response have never stopped. Facts have proven that these politicians, failing to shift the blame, have finally shot themselves in the foot.
Now that the blame-game doesn't work, the true situation about America's pandemic prevention and control can no longer be covered up. It is exactly because of those American politicians who, instead of concentrating on bringing the outbreak under control, are only focused on smearing other countries and shifting the blame to others that the US has left the world far behind in the number of confirmed COVID-19 cases. Closer scrutiny would show that their blame-game just revealed their incorrigible "sinophobia paranoia."
Some American politicians have been trumpeting the "end of history" theory. They don't want to see a fast-developing and strong China, much less a successful socialist country. Still, history rolls forward irrespective of personal wishes, and no force can stop China's progress. Thanks to the tremendous efforts made since the outbreak, China has achieved remarkable success in containing the virus, and resumed business operation and production across the country.
In contrast, the US has become the epicenter of the global pandemic, with the virus spreading further, and the number of infections and deaths still on the rise. Such a comparison is the last thing that those infected with "sinophobia paranoia" want to see. So, they played the blame-game to pass the buck for their poor epidemic response, and defame and throw obstacles at China's development. How insidious!
Justice lies in people's hearts. The people of the world have seen clearly that the fancy slogans like "America first" and "making America great again" should be based on "bearing responsibilities" rather than shirking them. The irresponsible and unconscionable move of shifting blame will in no way help with the anti-epidemic efforts; rather, it will only lead to an irremediable situation where the US has no choice but to eat the bitter fruit of its own making.
There is an old Chinese saying that goes "lift a rock only to drop it on one's own feet," which is similar to "shift the blame only to have it backfire." We advise those American politicians, who confuse right with wrong, cling to the past, maintain biased viewpoints and randomly shift blame, to stop making anti-China noises and face up to justice, reason, and public opinion. After all, blaming China won't cure your "disease" or make your wish to curb China's development come true. That the US insists on going its own way stubbornly and recklessly will only make itself a laughing stock and the target of disdain.
Donald Trump, "The Crowd" And A Nation's Bitter Despair
"The crowd is untruth."-Soren Kierkegaaard
The "crowd," cautioned Danish philosopher Soren Kierkegaard, is  "untruth." Nowhere is the concise wisdom of this 19th century warning more plainly apparent than in Donald Trump's despairing United States.  Even  today, even after so much rancorous presidential dissemblance and chicanery, this fragmenting and unhappy nation too often accepts incoherent political dogma as proper authority and  conspicuously vile political gibberish as truth.
Even now, even when a derelict president elevates his own contrived and illiterate judgments concerning epidemiology above the authoritative opinion of America's distinguished scientists and physicians, millions of his supporters still offer a visceral "amen." In essence, these "obedient" citizens stand in stubbornly open support of untruth or anti-Reason. Why?
How can this unchanging self-destructiveness be suitably explained?
It gets even worse. In certain refractory instances, this irrational hierarchy of US citizen preference has led hundreds (perhaps thousands) of Americans to consume potentially lethal medications against Covid-19. What are these "obedient" people "thinking"? This is a president, let us not forget, who thinks human bodies can somehow undergo beneficial anti-viral "cleanings" with commercially-available disinfectants. If it can "kill" virus on tabletops, reasons Trump openly, why not take the remediating substance internally?
Credo quia absurdum, affirmed the ancient philosophers. "I believe because it is absurd." Still, this is a president of the United States in the year 2020. How can such preposterous "reasoning" be accepted by literally millions of Americans?
There is more. How shall such normally incomprehensible behaviors be explained more gainfully? At one level, at least, the answer is obvious. America is no longer a society that sincerely values knowledge, education or learning. Led by a retrograde man of commerce who never reads books – indeed, who proudly reads nothing at all – this has become a "know nothing" country, a nation that wittingly and shamelessly spurns both intellect and truth.[1] For whatever deeply underlying reasons, docile Trump minions seek to keep themselves "anesthetized."
In this active form of complicity with self-destruction, these Americans are not passive victims. Rather, they insistently hold themselves captive by a lengthening string of embarrassingly false presidential reassurances and by clinging to endlessly mindless Trump simplifications of complex problems.[2]
In her magisterial two-volume work, The Life of the Mind (1971), political philosopher Hannah Arendt makes much of the "manifest shallowness" of historical evil-doers, hypothesizing that the critically underlying causes of harm are not specifically evil motives or common stupidity per se. Rather, she concludes controversially but convincingly, the root problem is thoughtlessness, a more-or-less verifiable human condition that makes a susceptible individual readily subject to the presumed "wisdom" of clichés, stock phrases and narrowly visceral codes of expression.
There are always a great many who will be "susceptible." This does not mean only those who lack a decent formal education. Significantly, in Donald Trump's fragmenting America, just as earlier in the Third Reich, well-educated and affluent persons have joined forces with gun worshippers and street fighters to meet certain presumptively overlapping objectives. In the end, we may learn from both history and logic, each faction will suffer grievously alongside the general citizenry.
Both sides will "lose."[3]
For philosopher Hannah Arendt, the core problem is this: a literal absence of thinking. In her learned and lucid assessment, evil is not calculable according to any specific purpose or ideology. Rather, it is deceptively commonplace and altogether predictable. Evil, we may learn from the philosopher, is "banal."
There is more. Fundamentally, the "mass man" or "mass woman" (a Jungian term[4] that closely resembles Arendt's evildoer) who cheers wildly in rancorous presidential crowds, and whatever the articulated gibberish of the moment, favors a constant flow of empty witticisms over any meaningful insights of reasoning or science. Living in a commerce-driven society that has been drifting ever further from any still-residual "life of the mind," this susceptible American is a perfect "recruit" for Trumpian conversion.
This "obedient" citizen, after all, has absolutely no use for study, evidence or critical thinking of any kind. Why should he? Der Fuhrer will do his "thinking" for him.[5]
Could anything be more "convenient?"
With Arendt and Jung, the anti-Reason "culprit" is unmasked. It is the once-individual human being who has wittingly ceased to be an individual, who has effectively become the unapologetic enemy of intellect and a reliable ally of thoughtlessness. Using the succinct but incomparably expressive words of Spanish philosopher Jose Oretga y'Gassett, he or she thinks only "in his own flesh."[6] Following any such antecedent triumphs of anti-Reason in the United States, it becomes more easy to understand the hideous rise and political survival of dissembling American President Donald J. Trump.
America's most insidious enemy in this suffocating Trump Era should now be easier to recognize. It is an unphilosophical national spirit that knows nothing and wants to know nothing of truth.[7] Now facing unprecedented and overlapping crises of health, economics and law,[8] sizable elements of "We the People" feel at their best when they can chant anesthetizing gibberish in mesmerizing chorus. "We're number one; we're number one,"these Americans still shout reflexively, even as their country's capacity to project global power withers minute by minute, and even as the already ominous separations of rich and poor have come to mimic (and sometimes exceed) what is discoverable in the most downtrodden nations on earth.
Most alarmingly, among these manifold catastrophic American declensions, the badly-wounded American nation is still being led by an utterly ignorant pied piper, by a would-be emperor who was stunningly "naked" from the start and who has now managed to bring the United States to once unimaginable levels of suffering. In this connection, the Corona Virus pandemic was not of his own personal making, of course, but this relentless plague has become infinitely more injurious under Trump's unsteady dictatorial hand.
Nonetheless, the champions of anti-Reason in America will still generally rise to defend their Fuhrer. He did not create this growing plague, we are reminded. He is, therefore, just another victim of a plausibly unavoidable national circumstance. Why keep picking on this innocent and brilliant man? Instead, let us stand loyally by his inconspicuously sagacious counsel.
Sound familiar?
Recalling philosopher Hannah Arendt, such determinedly twisted loyalties stem originally from massive citizen thoughtlessness. Though Donald Trump is not in any way responsible for the actual biological menace of our current plague, he has still willingly weakened the American nation's most indispensable medical and scientific defenses.[9] It is well worth mentioning too, on this particular count, that meaningful national defense always entails more than just large-scale weapons systems and infrastructures.[10] Looking ahead, moreover, this country has far more to gain from a coherent and science-based antivirus policy than from a patently preposterous Trumpian "Space Force."[11]
Thomas Jefferson, Chief architect of the Declaration of Independence, earlier observed the imperative congruence of viable national democracy with wisdom and learning. Today, however, many still accept a president whose proud refrain during the 2016 election process was "I love the poorly educated." Among other humiliating derelictions, this refrain represented a palpable echo of Third Reich Propaganda Minister Joseph Goebbels Nuremberg rally comment: "Intellect rots the brain."
Americans are polarized not only by race, ethnicity and class, but also by inclination or disinclination to serious thought. For most of this dreary and unhappy country, any inclination toward a "life of the mind" is anathema. In irrefutable evidence, trivial or debasing entertainments remain the only expected compensation for a shallow national life of tedious obligation, financial exhaustion and premature death. This sizable portion of the populace, now kept distant from authentic personal growth by every imaginable social and economic obstacle, desperately seeks residual compensations, whether in silly slogans, status-bearing affiliations or the manifestly deranging promises of Trump Era politics.
Even at this eleventh hour, Americans must learn understand that no nation can be "first"[12] that does not hold the individual "soul"[13] sacred. At one time in our collective history, after American Transcendental philosophers Ralph Waldo Emerson and Henry David Thoreau, a spirit of personal accomplishment did actually earn high marks. Then, young people especially, strove to rise interestingly, not as the embarrassingly obedient servants of destructive power and raw commerce, but as plausibly proud owners of a unique and personal Self.
Alas, today this Self "lives" together with increasingly unbearable material and biologically uncertain ties. Whether Americans would prefer to become more secular or more reverent, to grant government more authority over their lives, or less, a willing submission to multitudes has become the nation's most unifying national "religion." Regarding the pied piper in the White House, many Americans accept even the most patently preposterous Trump claims of enhanced national security. Credo quia absurdum.
Upon returning to Washington DC after the Singapore Summit, President Trump made the following statement: "Everybody can now feel much safer than the day I took office. There is no longer a nuclear threat from North Korea."[14]
It's not just America. Crowd-like sentiments like these have a long and diversified planetary history. We are, to be fair, hardly the first people to surrender to crowds. The contemporary crowd-man or woman is, in fact, a primitive and universal being, one who has uniformly "slipped back," in the words of Spanish philosopher Jose Ortega y' Gasset, "through the wings, on to the age-old stage of civilization."
This grotesque stage is not bare. It is littered with the corpses of dead civilizations.[15] Indiscriminately, the crowd defiles all that is most gracious and still-promising in society. Charles Dickens, during his first visit to America, already observed back in 1842: "I do fear that the heaviest blow ever dealt at liberty will be dealt by this country in the failure of its example to the earth."
To this point, at least, Americans have successfully maintained their political freedom from traditional political tyranny and oppression, but – plainly – this could now change at almost any moment. Already, we have come to accept in once unimaginable terms the kind of presidential manipulation and bullying that can shred and pull apart well-established constitutions. As corollary, Americans have also cravenly surrendered their liberty to become authentic persons. Openly deploring a life of meaning and sincerity, a nation stubbornly confuses wealth with success, blurting out rhythmic chants of patriotic celebration even as their cheerless democracy vanishes into meaninglessness, pandemic disease and a plausibly irremediable despair.
Whatever its origin, there is an identifiable "reason" lying behind this synchronized delirium. In part, at least, such orchestrated babble seeks to protect Americans from a potentially terrifying and unbearable loneliness. In the end, however, it is a contrived and inevitably lethal remedy . In the end, it offers just another Final Solution.
Still, there remain individual American citizens of integrity and courage. The fearlessly resolute individual who actively seeks an escape from the steadily-poisoning "crowd," the One who opts heroically for disciplined individual thought over effortless conformance, must feel quite deeply alone. "The most radical division," asserted José Ortega y Gasset in 1930, "is that which splits humanity…. those who make great demands on themselves…and those who demand nothing special of themselves…" In 1965, the Jewish philosopher, Abraham Joshua Heschel, offered an almost identical argument. Lamenting, "The emancipated man is yet to emerge," Heschel then asked each One to inquire: "What is expected of me? What is demanded of me?"
Why are these same questions so casually pushed aside by current American supporters of a rancorous president who opposes "emancipation" in any conceivable form?
There is more. It is time for camouflage and concealment in our pitiful American crowd to yield to what Abraham Joshua Heschel called "being-challenged-in-the-world." Individuals who would dare to read books for more than transient entertainment, and who are willing to risk social and material disapproval in exchange for exiting the crowd ("emancipation"), offer America its only real and lasting hope. To be sure, these rare souls can seldom be found in politics, in universities, in corporate boardrooms or almost anywhere (there are some exceptions still) on radio, television or in the movies. Always, their critical inner strength lies not in pompous oratory, catchy crowd phrases, or observably ostentatious accumulations of personal wealth ("Trump. Trump, Trump"), but in the considerably more ample powers of genuineness, thought and Reason.
There is much yet to learn. Currently, not even the flimsiest ghost of intellectual originality haunts America's public discussions of politics and economics, even those organized by intelligent and well-meaning Trump opponents. Now that America's largely self-deceiving citizenry has lost all residual sense of awe in the world, this national public not only avoids authenticity, it positively loathes it. Indeed, in a nation that has lost all recognizable regard for the Western literary canon, our American crowdsgenerally seek aid, comfort and fraternity in a conveniently shared public illiteracy.
Inter alia, the classical division of American society into Few and Mass represents a useful separation of those who are imitators from those who could initiate real understanding. "The mass," said Jose Ortega y Gasset, "crushes beneath it everything that is different, everything that is excellent, individual, qualified and select." Today, in foolish and prospectively fatal deference to this Mass, the intellectually un-ambitious American not only wallows lazily in nonsensical political and cultural phrases of a naked emperor, he or she also applauds a manifestly shallow national ethos of personal surrender.
"America First," yes, but only in Covid-19 mortality.
By definition, the Mass, or Crowd, can never become Few. Yet, someindividual members of the Mass can make the very difficult transformation. Those who are already part of the Few must announce and maintain their determined stance. "One must become accustomed to living on mountains," says Nietzsche, "to seeing the wretched ephemeral chatter of politics and national egotism beneath one." It was Nietzsche, too, in Zarathustra, who warned presciently: "Never seek the Higher Man at the marketplace."
Aware that they may still comprise a core barrier to America's spiritual, cultural, intellectual and political disintegration, the Few, resolute opponents of the Crowd, knowingly refuse to chant in chorus. Ultimately, they should remind us of something very important: It is that both individually and collectively, doggedly staying the course of self-actualization and self-renewal – a lonely course of lucid consciousness rather than self-inflicted delusion – is the only honest and purposeful option for an imperiled nation.
Today, unhindered in their endlessly misguided work, Trump Era cheerleaders in all walks of life draw feverishly upon the sovereignty of an unqualified Crowd. This Mass depends for its very breath of life on the relentless withering of personal dignity, and also on the continued servitude of all independent citizen consciousness. Oddly, "We the people," frightfully unaware of this dangerous parasitism, are being passively converted into the fuel for the omnivorous machine of Trumpian "democracy." This is a pathologic system of governance in which the American citizenry is still permitted to speak and interact freely, but which is also an anti-intellectual plutocracy.
In the early 1950s, Karl Jaspers, well familiar with the seminal earlier writings of Danish philosopher Soren Kierkegaard, sought to explain what a dissembling "Crowd" had brought to his native Germany and Germany's captive nations. Publishing Reason and Anti-Reason in Our Time in 1952, the distinguished German philosopher explained the formidable difficulties of sustaining Reason among many who would prefer "the fog of the irrational." Now, Jaspers' earlier observations about Nazi Germany may apply equally well to Donald Trump's dissembling America:
Reason is confronted again and again with the fact of a mass of believers who have lost all ability to listen, who can absorb no argument and who hold unshakably fast to the Absurd as an unassailable presupposition….
Here, in essence, Jaspers here underscores the "fraudulent freedom of obedience" in any society that might seemingly will itself to be a democracy, but is actually just an oblique celebration of tyranny, moreover, the singularly arch-tyranny of anti-Reason. In earlier times, such perverse celebrations were unexceptional or even de rigeur, but they also "set the stage" for what Americans are experiencing so painfully at the present moment. To some extent, at least, for America to be freed from the false freedom of obedience will demand the whole society be placed in status nascens, as if newly born.
, When, in 1633, Galileo Galilei kneeled before the Inquisitorial Tribunal of Rome and was forced to renounce the compelling science of Copernicus, he revealed the vulnerability of Reason to the mortal seductions of anti-Reason. In this case, history deserves notable pride of place. When Americans watch the evening news depicting US President Donald Trump railing thoughtlessly against well-established theories of biology and medical science, they should finally begin to appreciate something utterly primal. Such flagrant seductions of anti-Reason are not only sinister, but also lethal.
"The crowd is untruth."
---
[1] In this regard, consider the philosopher Friedrich Nietzsche's succinct warning in Zarathusrtra: "Never seek the higher man at the marketplace."
[2] One may be usefully reminded of Bertrand Russell's trenchant observation in Principles of Social Reconstruction (1916): "Men fear thought more than they fear anything else on earth – more than ruin, more even than death."
[3] Said Nazi Propaganda Minister Joseph Goebbels in 1934: ""Whoever can conquer the street will one day conquer the state." Later, in 2019, Donald Trump echoed this dreadful sentiment: "I have the support of the street, of the police, of the military, the support of Bikers for Trump. I have the tough people, but they don't play it tough – until they go to a certain point and then it would be very bad, very bad." In a similar vein, during a 2016 rally in Las Vegas, Trump told a wildly cheering crowd that he'd "like to punch the protestors in the face." "I love the old days, you know what they used to do to guys like that when they're in a place like this, they'd be carried out on a stretcher," Then, identifying a specific target person in the audience, Trump added: I'd like to punch him in the face."
[4] See the pertinent writings of Swiss psychologist Carl G. Jung, especially The Undiscovered Self (1957).
[5] A current example is flag-waving Trump supporters who hold signs blaming distinguished epidemiologist Dr. Anthony Fauci for "tyrannical" closure policies, and simultaneously urging greater medical authority for President Donald J Trump.
[6] "The mass-man," we were warned earlier by Ortega in The Revolt of the Masses (1930) "has no attention to spare for reasoning; he learns only in his own flesh." Nothing could be more conspicuously clarifying than this graphic metaphor.
[7] Apropos of truth in Plato's The Republic: "To them, I said, the truth would be literally nothing but the shadows of the images."
[8] See, by this author, Louis René Beres: https://www.jurist.org/commentary/2020/04/the-trump-presidency-a-breathtaking-assault-on-law-justice-and-security/
[9] "This virus is going to disappear," said Trump, on February 27th, 2020.
[10] On this matter, of course, one ought also note this president's withdrawal from treaties with Russia and from the United Nations World Health Organization. Credo quia absurdum.
[11] The United States Space Force was created by US President Donald Trump on December 20, 2019, under terms of the National Defense Authorization Act. Although it is intended to bolster this country's overall military power in any expanding strategic competition with Russia, its most likely effects will be contractive, corrosive and destabilizing. The critical underlying US policy error being committed in this creation is conceptual and historic. In essence, it consists of failing to recognize that millennia of belligerent geopolitical competitions have resulted not in peace, but in assorted forms of international war. At a unique time when the United States faces a new and unpredictable set of dangers from worldwide disease pandemic, shifting large sums of money needed for public health to a space-centered arena of future international conflict represents mistaken national priorities. Of course, from what we ought already have learned about Reason and Anti-Reason, before this miscalculation can be changed, America's leaders will have to appreciate the fundamentally intellectual antecedents of US foreign policy decision-making at every level.
[12] This president's self-serving refrain of "America First" ignores an absolutely overarching empirical truth: America is "first" in Covid-19 deaths, but not in any other tangibly enviable standard of civilizational quality or improvement. Always, we have the biggest bombs and missiles, but little else to show for even the most basic expectations of human empathy and compassion. For this president and his retrograde followers, caring about others is a sign of weakness. Nothing else. To wit, in the president's currently most evident example, wearing a mask against Covid-19 infection is described as little more than "political correctness."
[13] Both Sigmund Freud and Carl Jung thought of "soul" (in German, Seele) as the very essence of a human being. Neither Freud nor Jung ever provides a precise definition of the term, but it was not intended by either in any ordinary religious sense. For both psychologists, it was a still-recognizable and critical seat of both mind and passions in this life. Interesting, too, in the present context, is that Freud explained his already-predicted decline of America by various express references to "soul." Freud was disgusted by any civilization so apparently unmoved by considerations of true "consciousness" (e.g., awareness of intellect and literature), and even thought that the anti-intellectual American commitment to perpetually shallow optimism and to crudely material accomplishment would occasion sweeping psychological misery.
[14] The worst expression of such incoherent presidential reassurance would likely be a nuclear war. For authoritative early accounts by this author of nuclear war effects, see: Louis René Beres, Apocalypse: Nuclear Catastrophe in World Politics (Chicago: University of Chicago Press, 1980); Louis René Beres, Mimicking Sisyphus: America's Countervailing Nuclear Strategy (Lexington, Mass., Lexington Books, 1983); Louis René Beres, Reason and Realpolitik: U.S. Foreign Policy and World Order (Lexington, Mass., Lexington Books, 1984); and Louis René Beres, Security or Armageddon: Israel's Nuclear Strategy (Lexington, Mass., Lexington Books, 1986). Most recently, by Professor Beres, see: Surviving Amid Chaos: Israel's Nuclear Strategy (New York, Rowman & Littlefield, 2016; 2nd ed. 2018).
[15] Dostoyevsky reminds us soberly: "And what is it in us that is mellowed by civilization? All it does, I'd say, is to develop in man a capacity to feel a greater variety of sensations. And nothing, absolutely nothing else. And through this development, man will yet learn how to enjoy bloodshed. Why, it has already happened….Civilization has made man, if not always more bloodthirsty, at least more viciously, more horribly bloodthirsty." (See Fyodor Dostoyevsky, Notes From Underground, 108 (Andrew R. Mac Andrew, tr., New American Library, 1961 (1862).
Latin America is inching slowly towards a change for the better
Authors: Ash Narain Roy and Shimone Jaini*
Every utopia sooner or later turns into a dystopia. Why, then, do Latin Americans fancy themselves constructing alternative utopias? What good is utopia? Uruguayan writer Eduardo Galeano seems to have the answer, "it is good for walk." Latin America hasn't stopped imagining and dreaming. It may not have captured the imagination of global policy-makers and the chattering classes. But the region has indeed changed, mostly for the better. However, it would be premature to proclaim that Latin America has turned the corner.
Why has Latin America acquired the reputation for its pursuit of endless revolutions or what Marina Sitrin calls 'Everyday Revolutions'? Peruvian novelist Santiago Roncagliolo provides some insights about such revolutions in his novel, Red April, "there is a feeling in Latin America that good ones were not so good and the bad ones were not so bad."
Latin America has long been a laboratory of political and social experiments. Sebastian Edwards, author of Left Behind: Latin America and the False Promise of Populism, says that the political and economic history of Latin America has been "marked by great hopes and even greater disappointments". And yet, some of the political and social experiments continue to catapult the region into the global consciousness and resonate with people across the globe.
Latin America suffers from many frailties. But it refuses to put an end to imaginations. It continues to dream how to construct a world where many worlds could live. Thanks to their endless dreams and imaginations, the region glimpses possibilities of other worlds. There is a lot to learn from Latin America both from its best practices and worst failures.
Deepening democracy and political participation
With the entrenchment of democracy, new paradigms of governance have emerged in Latin America. In recent decades the region has shown a trend to reject traditional political parties and vote for new formations to power. The dominance of the Christian Democrats and Social Democrats is long over. But Political institutions are still quite weak. Rewriting constitutions comes easy to Latin Americans. Dominican Republic is having its 32nd constitution. Venezuela, Haiti and Ecuador have had 32nd, 26th and 20th constitutions respectively. Now Chilean President has agreed to change the 1980 Pinochet constitution.
Does it show Latin America's growing impatience with the non-performing models? Or are Latin Americans undermining democratic principles in the name of pursuing more radical agendas?
The institutional architecture for democracy has been very diverse in Latin America. For instance, in some countries, the party system has collapsed (e.g., Peru and Venezuela); in other countries, parties have become increasingly detached from civil society (e.g., Chile and Mexico), and, in others, social movements have replaced traditional parties (e.g., Bolivia).
The region has also shown deep contempt for modern democratic politics. It means a different kind of politics, not necessarily the denial or rejection of politics. Maybe what the region is hankering after is not just a politics which delivers but also which uses a new language of politics. It is, in a way, what Andreas Schedlar calls 'end of politics.'
The same voters who were captivated by new, mostly leftist movements, promising to redistribute wealth, punishing traditional parties and turning political systems on their heads have now begun rejecting them. Across the continent traditional parties have disintegrated though the trend is more pronounced in the Andean region.
It all began with the emergence of a 'vote of rage' towards the end of the 1990s and the beginning of the present century. Several governments lost power and the voters made a demand like 'que se vayantodos' (they all should go). Elections in Mexico in 2000 ended 70 years of PRI's domination. In 1999, elections in Venezuela brought an end to 40 years of bipartisan politics. Something similar happened in Uruguay in 2000 when the domination of the Colorados and the Blancos came to an end. Popular movements toppled several governments in Argentina, Bolivia and Ecuador.
Ivan Hinojosa of Catholic University in Lima says that "some parties recuperate but many don't, and in their place you have all new and unpredictable movements".
The institutions that promised better outcomes have delivered at best modest results. Much of the frustrations and anger that have given rise to mass protests and democratic discontent across the region are centred on the weaknesses of these institutions.1 Governments have changed, new parties and political formations have captured power and even the rhetoric has changed but meaningful institutional innovations are still a work in progress.
Constitutional changes and innovative schemes have empowered the various indigenous groups. Social policies and constitutional recognition of new citizenship rights have given these groups a new sense of belonging. However, the durability of these measures remains a moot question at a time when Latin America is witnessing end of the commodity boom and electoral setback to left-wing regimes.
New tools to boost political participation
In the areas of women's empowerment and advancement of gender rights, the region has made notable advance. A study conducted by International IDEA in 18 Latin American countries demonstrates how important it is to have both men and women leaders to promote better participation from women, if the parties want to be democratic and inclusive institutions.
Efforts made by such parties in 11 "institutional spaces" include Statutes and Declarations of Principles, Internal Organization, Financing, Training, Recruiting, Media, etc. For example, the United Nations Convention on the Elimination of All Forms of Discrimination against Women (1979) have been ratified by every Latin American country. Most countries have approved laws promoting gender equality. Moreover, a small yet significant step of using gender-sensitive language to acknowledge women has proven monumental in reversing the predominantly male concepts in political language.
Despite the continued presence of a series of obstacles limiting the political participation of women in the region, such political parties have undertaken innovative and effective initiatives that can be considered "best practices".
Multiple global crises have led to an increased interest in Latin America in the social and solidarity economy (SSE). In Latin America, the social and solidarity discourse, deployed with increasing intensity since the 1990s, refers to a model of political and economic development based on principles of solidarity, participation, cooperation and reciprocity. The same has also been articulated as 'social knowledge economy'.
Hotbed of political innovation
A wave of political innovation is sweeping across Latin America as it is creating more participatory and inclusive democratic governments, breaking its shackles from the deep-rooted authoritarianism. It has also become an inspiration for many on how path to democracy is mapped out and advanced.
The Instituto Update, which studies political innovation in Latin America, found in its study that more than 600 initiatives have been put in place which are trying to reduce the gap between citizens and their governments by increasing political participation, improving transparency and accountability, encouraging innovation in government, and doing more to develop independent media.
The study identifies 5 main approaches in Latin America towards creating, developing and practicing new methods and instruments to foster political participation and trust in government. Firstly, citizens themselves are working for social change. The Secundarista movement that spread all over Brazil was led by students protesting for better education reforms in Saõ Paulo's public high schools.
Another movement in México known as #Yo soy 132 was spearheaded by students who were protesting against political corruption during the 2012 presidential elections. This shows that people are creating new innovative ways to mobilize resources and to persuade elected officials and bureaucrats to pursue public policy changes.
Secondly, there are many feminist movements taking place all over Latin America like-#PrimaveraFeminista, #NiUnaMenos, #Pimp My Carroça, demanding reproductive rights and bringing attention to the issue of domestic abuse. Activists and organisations are also using social media and humor like GregNews, a comedy news show to make citizens aware and interested in public interest issues.
Thirdly, elected officials are trying to make institutions more participatory and inclusive. Measures like DemocracyOS (Argentina) and LinQ (Ecuador) to Brazil's Internet Bill of Rights have made great progress in giving voice to the people in the policymaking process.
Moreover, to monitor and hold politicians and corporations accountable, civil society organizations are using technology and open data. Groups like Paraguay's A Quienes Elegimos, Argentina's Chequeado, and Chile's Del Dicho al Hecho are using online tools and organising public protests to insist on transparency from the government.
And finally, there's a recognition that politics across Latin America needs new voices and new people to get involved. Today, movements such as Mexico's WikiPolítica and Brazil's Bancada Ativista, as well as new political parties like Chile's Revolución Democrática and Argentina's Partido de la Red, are aiming to make politics accessible, cool, and honorable to a new generation of activists.
How protest movements are novel
Culture has long been a tool of propaganda. But culture in Latin America is also a tool of protests. Protesters dancing to the rhythms of cumbia and salsa music and citizens pot-banging from their balconies have grabbed global eyeballs. Brazilians have resorted to 'panelacos' (protesting with pots and pans) against President Bolsonaro for denying science on Coronavirus.
Chileans have resorted to social media with their different artistic modes of expression to warrant their movement against the government which decided to privatize public services and raise the price of public transportation. Victor Jara's 1971 song "Derecho a la paz"(Right to peace) has become a resistance anthem for students and working-class protestors. The song, originally composed during Pinochet's dictatorship, has now become an inspiration for the demonstrators to take to the streets despite the violent oppression by the police and military national forces.
New slogans, new symbols of power, new empowerment
For hundreds of years the indigenous people remained invisible in a culture dominated by the language and traditions of Europe. They also became victims ofwhat sociologist Eduardo Bonilla-Silva calls 'Racism without Racists'. Hence, recent gains by the indigenous are credible. Today, they have begun to dream. After all, dreams give vision and vision leads to action. Today, the various indigenous communities refuse to return to the dark valley; they have realized that forgetting could be a key part of learning.
Empowerment is an enabling exercise. It begins with the marginal, the forgotten. The indigenous groups in particular have worked to address the incompleteness of citizenship. In their efforts to rework politics, they have pointed out how for many, citizenship has remained an unfulfilled promise; citizenship is not mere entitlement.
For the indigenous, the body is the site for politics, very much the way it was for Gandhi. It is also a site for struggle. As Shiv Viswanathan argues, "the body prevents politics from straying into the abstractions of ideology or policy. It is a statement of presence, of sensing politics and suffering as part of a sensorium of sounds, smells, touch, taste and memory." No less importantly, the rise of the indigenous has gone a long way to liberate politics from its behavioral and ideological pomposity.
By making way for leaders of their choice to gain power and overthrowing several presidents in Bolivia and Ecuador, the newly empowered indigenous groups want to ensure that no despot ascends the throne but a doer, one who heals their wounds, not turn the knife in them. In several countries and more specifically in Bolivia and Ecuador, the traditionally occupied indigenous territories have been recognized and protected and the sustainable development of natural resources located in their land has been guaranteed. Some of the issues like land as an economic base, a space of social reproduction and a condition for survival, recognition of their collective rights, have gained recognition in international forums.
Indigenous and peasant groups have not stopped at mere protests. They have adopted another strategy: protesta con propuesta, whereby positive alternatives have been suggested. The Confederation of Indigenous Nationalities of Ecuador (CONAIE), for example, has formulated its own water reform proposal. Without denying their economic importance, the proposals emphasize the community-based, social, and ecological aspects of water. Also in Peru and Bolivia, platforms of popular alliances and peasant and indigenous organizations have formulated constructive counter-proposals that complement their claims and protests.
The following section analyses some of the institutional innovations and best practices in Latin America that have found acceptance and admiration outside the region.
Mexico's Oportunidades and Brazil's Zero Hunger
Progresa, Mexico's Conditional Cash Transfer (CCT) program,(later known as Oportunidades and now as Prospera), is known for increasing school enrolments and attendance in its initial 18-month randomized evaluation (Parker and Todd 2017). In this program, money is directly given to families if they send children to school, meet nutrition standards and receive regular health check-ups. This has had significant long-term benefits that could reduce intergenerational poverty according to a study published in National Bureau of Economic Research.
A similar CCT program was adopted by Colombia in 2000 known as Familasenaccion which provides money to poor households with children under 18 years old. It targets population that comprises of poor families that have either been displaced by the conflict or are from indigenous communities. Though it is no longer regarded as an emergency response to a short-term crisis, but it has proven efficient as an answer to more structural poverty problems.
Another commendable example towards ensuring food security for everyone was taken up by Brazil in the form of 'Fome Zero' or Zero Hunger program. The program launched in 2003 with the goal that all people be able to access enough and the right kinds of foods, to meet basic nutritional needs and support health. Fome Zero is based on a multi-sectoral approach at the public policy level, involving policies and programs around social protection and safety nets, education, food production, health services, drinking water, and sanitation. This can serve as a role model for national commitment to making better nutrition a top priority.
Another best practice, Participatory budgeting (PB), has been the most serious effort to take democracy to the doorsteps of the citizens. The Workers Party and a coalition of civil society organizations of Brazil introduced PB in Porto Alegre in 1989. It soon spread to more than 250 municipalities. Several countries followed suit. PB is a process of democratic decision-making. It is a type of participatory democracy, in which ordinary people decide how to allocate part of a municipal or public budget. It allows citizens to identify, discuss and prioritize public spending projects and gives them the power to make real decisions about how money is spent. The Porto Alegre model is no longer used in the same way in Porto Alegre itself. It has lost its sheen elsewhere in Latin America.
Consulta previa (prior consultation) is another significant legal framework that some countries in Latin America have institutionalized to deepen democracy. It is the right of the indigenous and ethnic groups to be consulted on matters affecting their culture and heritage as established by ILO Convention 169. Its implementation has at best been patchy. While it has been successfully implemented by Peru's Amazonian communities, progress is much slower as far as the Andean communities are concerned. Much of the natural resources are located in the region inhabited by the indigenous communities, consulta previa has given the people a say in the extraction of raw materials. However, many left-leaning governments have resorted to the so-called "progressive neo-extractism" to 'fight poverty'. The indigenous groups have sharpened attacks on the Left arguing such model of development, which relies on the rapacious extraction of natural resources, entails environmental destruction and the fragmentation of indigenous territory.
Cuba's medical internationalism
For nearly 60 years, Cuba has been sending healthcare professionals all over the globe. This is done partly to support those in need but also as a part of concerted campaign of its medical diplomacy and to make some money to help the country survive an ongoing US embargo. Since then, Cuba has established permanent medical missions in a number of countries. Over the last five decades, it has sent between 135,000 to 400,000 doctors abroad.
The tradition of medical internationalism in Cuba goes back to the first years of the Cuban Revolution. The country has dispatched 593 workers to 14 countries in the battle against Covid-19. According to the Cuban health ministry, 179 doctors, 399 nurses and 15 health technologists have been dispatched as part of Henry Reeve initiative. According to Helen Yaffe, free healthcare as a universal human right has been a key tenet now and in the 1959 Cuban Revolution which laid the foundation of medical internationalism thereby enforcing the idea and practice of sending medical teams abroad.
Even though the Cuban medical support has been helpful and hopeful to all those in desperate need, it also hasn't been able to keep away from criticism. Some rights groups have accused Havana of exploiting its medical workers who are forced to work in unsafe environments. Others have criticized by calling the program "selectively humanitarian" which makes lower numbers of doctors available to the Cuban population. Many countries have been wary of accepting Cuba's help due to its poor human rights record. While everyone may not find Cuba's help genuine, this is perhaps the time to put ideological differences aside and focus on the joint effort against the global war of Coronavirus.
Zapatistas' enduring legacy
The Zapatista movement was the first post-modern movement and it is still defiant in mountain strongholds. It rose up not just to fight indigenous repression, but also the globalization from above. It was a genuine popular movement striving for justice and for changing the status quo. Scholarly interest in the various indigenous movements in Latin America was shown only after the 1994 Zapatista uprising in Chiapas.The images of the Zapatistas were too striking to be missed—indigenous peasants with wooden rifles declaring war on the Mexican government. With their faces covered by black ski masks or red bandanas, the Zapatistas symbolically became the face of the faceless, the voice of the voiceless.
The Zapatista National Liberation Army had one-third women, some in bare feet. They became instant heroes of the left and an inspiration to indigenous groups and political romantics. There are still areas under their control where they have their own system of education, health, justice and security. They train their own teachers and doctors and some have their own currency. Their slogans have been equally instructive such as "cuando una mujeravanza, no hay hombre que retrocede (when a woman advances, no man is left behind) and "here you can buy or sell anything except indigenous dignity". The Zapatistas spelt out their key priorities like revitalizing indigenous worldviews, building autonomous, locally focused food system and food sovereignty and gender equity. Mexican sociologist Gonzalez Casanova says that the Zapatistas represent a new way of approaching problems and alternatives beyond the old dilemmas of the left, defending life, water, land and forest. The Zapatista movement offered alternative ways to organize societies, economies and the food systems.
In 1990s, Colombia's indigenous groups formed the Indigenous Social Alliance. It won a few seats in national parliament a few years later. Nationally visible indigenous parties came up in mid-1990s in Bolivia and Ecuador. In Bolivia, groups like the Assembly for the Sovereignty of the Peoples, Movement towards Socialism and Pachakutic Movement of Plurinational Unity gained traction. The Confederation of Indigenous Nationalities (CONAIE) in Ecuador has tasted electoral success and acquired considerable clout. It initially supported the left but later broke from its tutelage. The indigenous movements have helped in the democratization process. The group has combined indigenous culture and state institutions in innovative ways.
Limits of caudillismo
Latin Americans are masters at creating leaders, prophets and gods. The bane of Latin America is the system of caudillos (strongmen). Hence some are seeking leaderless revolutions. They contend, we don't need leaders, certainly not big leaders. As Emile Zapata says, "strong leaders make a weak people."
Populism the bane
Populism continues to be the bane of Latin American polity. Power and authority are still configured in relation to caudillos, not institutions. Parliaments, judiciary, party system and civil society provide little institutional counterweights to political abuses by the political class. The caudillos promise magical solutions and people still fall for them. Ironically, to remain in power, the maximum leader exerts and abuses state force but also propagate the myth that he/she is there by the popular will. The growing polarization has not allowed institutions like the judiciary and the police to become autonomous and independent. Populism has acquired a "new dimension" with decisive leaders pushing nationalism, demonizing opposition and stirring up issues that divide society. Populismhas marginalized the centrist forces and removed their bonding powers resulting in gridlock in parliament and diluting public trust in its efficacy.
Bertrand Russell says that the game of politics is the process by which people choose the man who will get the blame. Latin America has witnessed the masterful play of such blame game. Populist leaders thrive on confrontation and chaos. Bolsonaro is using the pandemic to stir up his base. He has dismissed Coronavirus as "just a little flu", "we will all die one day".
Conclusion
Some of the best practices in Latin America have caught the attention of the world. Whether these are replicable or not requires further research and study.The region has been long experimenting with novel political, social and economic initiatives and practices which resonate with people across the globe. Some consider the region to be a land of endless revolutions, but it has launched not only slogans but sustainable alternatives as well. It has maintained the ideal of 'Protesta con propuesta'(Protest with purpose). However, many have questioned the robustness of these measures when Latin America is witnessing the end of the commodity boom and the defeat of left-wing governments. The historical conflicts, the silhouettes of authoritarianism and past of caudillismo still weigh heavily on the Latin American present.
Will the region be able to overcome its non-democratic past and advance with its revitalized worldview? Or will it succumb to the ghosts of the old despotic regimes? There are no easy answers. It has to do with Latin American psychology, "the rejection of what is real and possible." Latin America also fits in Hannah Arendt's description how the most radical revolutionary becomes "conservative the day after the revolution". That of course doesn't deter Latin Americans from constructing alternative utopias.
*Shimone Jaini is doing Masters from Centre of Spanish, Portuguese, Italian andLatin American Studies, Jawaharlal Nehru University