The Most Famous Film Sites of the Czech Republic
With its tall spires in Prague, castles dotting the countryside, and lush hilly landscape, the Czech Republic is irresistible to filmmakers and has been featured in global movies, both period pieces and modern blockbusters, including:
Casino Royale: multiple scenes, including the Václav Havel (then-Ruzyně) Airport, Army Museum Žižkov, Strahov Monastery, Karlovy Vary and Loket filled in for Montenegro
Mission Impossible: Prague represented Moscow, and Prague Castle stood in for the Kremlin
Joan of Arc: Medieval castle Loket, west Bohemia
The Bourne Identity: Hradcany (close Prague castle area) stood in for Zurich
Blade II: Karlin district of Prague stood in for the night tram in Paris
The Chronicles of Narnia: Adrspach National Park close to border with Poland
The Brothers Grimm: among other places, Gothic Krivokat Castle
Amadeus: Prague stood in for Vienna: Prague Castle and Lesser Town area
Les Miserables: The Charles Bridge and medieval town Kutna Hura
The next time you visit Four Seasons Hotel Prague, be sure to ask our concierge about other famous movies that were filmed in the Czech Republic. Our team has lots of unusual and invaluable knowledge to make your visit unforgettable.
Chase the Lights: 5 Places to Be Awed by the Night Sky and Southern Lights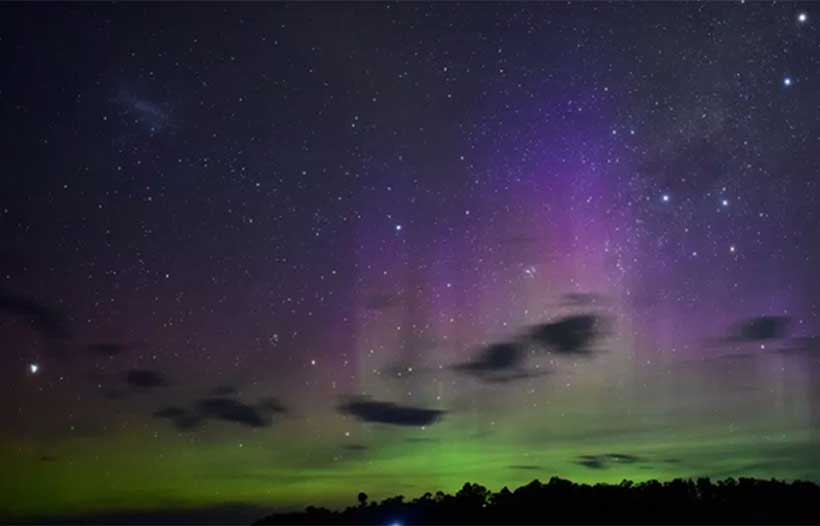 Sometimes, all we have to do to see magic is to look up.
This July marks the 50th anniversary of the Lunar landing, and it's the perfect reminder that there's so much beauty and mystery surrounding space and the universe around us. While we can't all be jet-setting space travelers just yet, what we can do is admire some of the world's most brilliant sights from down here on Earth.
Catching the Northern Lights – a transfixing display of lights caused by charged particles entering the atmosphere – is one of the most sought-after experiences of all time. Lucky for us, we don't have to travel all the way to Iceland – their counterpart, the Southern Lights, are just right around the corner! At the same time, there are so many places in Asia where we can chase after the beauty of the night sky and go star-gazing. Here are five of them to get you started.
1. Lake Tekapo (South Island), New Zealand

In the day, Lake Tekapo offers a picturesque view of the dramatic Southern Alps – by night, it transforms into a whole new destination. Part of the UNESCO Dark Sky Reserve, the lake has some of the darkest skies in the world, forming the perfect viewing spot for the Southern Lights. Seize the winter season (June to August) to catch the illuminating lights display, with a full array of colorful lights dancing in the night sky. It's simply a sight to behold! You can also head to the Mount John Observatory, which houses some of New Zealand's largest telescopes, to get up close and personal with millions of stars. Bucket list? Checked.
2. Flinders (Victoria), Australia
There's no doubt that the Melbourne city center has a lot to offer, but by nightfall, seek new attractions elsewhere. Make your way to the unassuming town of Flinders, a 90-minute drive away from the city. Located on the southern coast of the Mornington Peninsula, the beaches of Flinders offer an uninterrupted view of the night sky and its magnificent lights. With an absence of noisy tourist crowds or sounds of the city, you can marvel at the other-worldly Southern Lights in complete serenity and peace.
Stay: DoubleTree by Hilton Melbourne Flinders Street
Strategically located just steps away from the arts and entertainment district, DoubleTree by Hilton Melbourne Flinders Street is a choice location for when you do spend time in the city. Start your trip with a warm DoubleTree welcome with their signature chocolate chip Cookie, and take full advantage of the proximity to attractions like Federation Square and the historic Flinders Street Station.
3. Halong Bay, Vietnam
With its pristine emerald waters and towering limestone islands, Halong Bay has long become a fan-favorite among those looking to take a day trip out of central Hanoi. Believe it or not, the experience here gets even better at night! Get aboard an overnight cruise and set sail on a journey off into the starry, starry night. Without the smog and light pollution from the city, you'd have full view of the clear skies and constellations. The universe has never felt so vast.
Stay: Hilton Opera Hanoi
When back in the city, head to Hilton Opera Hanoi to continue the rest of your travel adventures in style and comfort. This iconic landmark is situated in the historic French Quarter of Hanoi, and offers locally-styled rooms and traditional Vietnamese cuisine for the full Vietnamese experience.
4. Doi Chiang Dao, Thailand

If you are up for some adventure, look no further than Doi Chiang Dao, Thailand's third highest peak! No matter how difficult the hike, it'll certainly be worth it in the end. Literally translating to the "City of Stars", Doi Chiang Dao offers ethereal views of star trails, and takes you so high up, the stars are almost within your grasp. If you are keen to sleep among the stars, overnight camping is available, but be sure to get a permit in advance.
5. The Maldives
The Maldives is often considered to be paradise on Earth, and for good reason – from untouched white-sand beaches, exhilarating sea-sport activities to the ultimate in resort-styled luxury, you're sure to have the getaway of your dreams. By day, bask in the sunlight and soak up your fair share of Vitamin D; by night, kick back with a cocktail and take in the mesmerizing view of the sea of stars. With these clear Maldivian nights, you're almost guaranteed to catch a shooting star. Time to make your wish!
Stay: Conrad Maldives Rangali Island
Set on Rangali Island, Conrad Maldives Rangali Island is one of the Top 100 Greatest Destinations in 2018, and home to the world's first undersea residence, THE MURAKA. With its distinctive design and focus on personalized experiences, you can even star-gaze from the luxury of your own living room.
10 Instagram Worthy Spots in Kuala Lumpur
Embark on a fascinating visual journey through Malaysia's Kuala Lumpur, where diverse cultures and artistic influences combine to form a vibrant, eye-catching landscape. In a place where ancient rainforest rubs shoulders with soaring skyscrapers, perspective is simply a matter of where you're standing. Located in the heart of the city, Four Seasons Hotel Kuala Lumpur is the ideal base for travellers to explore the richness of this unique destination – and take some stunning Instagram pictures.
Four Seasons Hotel Kuala Lumpur Concierge recommends 10 of the city's most photogenic spots:
1. Petronas Twin Towers
Situated next to the Hotel, these 88-storey twin towers define the modern cityscape of Kuala Lumpur – a symbol of the country's soaring ambitions and aspirations. Four Seasons guests can capture these iconic structures from a myriad of angles and at different hours. By day, the towers are lofty and striking; at night, they take on a dazzling aspect, glittering against the darkened sky.
2. KL Forest Eco Park
One of the oldest permanent forest reserves in Malaysia, KL Forest Eco Park offers photo opportunities galore. Experience the tropical jungle from a unique vantage point, perched on the 200-metre canopy walkway. Take in aerial views of lush treetops, with the city just beyond. Located a 10-minute drive from Four Seasons.
3. Thean Hou Temple
This six-tiered Buddhist temple, also known as the Temple of the Goddess of Heaven, is a wonderland of colour and imagery. Stately pagodas and intricate carvings form a spectacular backdrop, with quaint features at every turn – from a tortoise pond, to a medicinal herb garden. The hilltop temple also offers panoramic views of Kuala Lumpur.
4. Zhongshan Building
Connect with the city's flourishing creative community and get some great pictures in the bargain. Dating back to the 1950s, the Zhongshan building was originally an interconnected shophouse. Now repurposed as an independent arts hub, it is home to a gallery, a risograph printing studio, a standing café, a record store and a bookstore.
5. Nautilus Staircase
With a design that reflects the whorled shells of sea creatures, this spiral staircase is a symbol of the never-ending quest for knowledge. It is housed in the National Bank of Malaysia's museum, where you can delve into the country's financial history before heading upstairs for a fabulous shot of the Nautilus Staircase.
6. Bamboo Playhouse
Located in the picturesque Perdana Botanical Gardens, the Bamboo Playhouse is sure to find a special place in your heart as well as your reel. Inspired by traditional Malaysian pavilions, the airy bamboo structure is wrapped in verdant vegetation and features 31 interconnected, elevated platforms.
7. Laman Seni 7
Welcome to a world of rainbow hues and playful pictures at Laman Seni 7, a two-block area filled with vivid murals created by some of Malaysia's most talented street artists. The open-air gallery is designed to be interactive, so go ahead – strike a pose, take a selfie and join the fun.
8. Merchant Lane
Formerly a brothel, Merchant Lane on Petaling Street is now an atmospheric café with gorgeous Orient-inspired interiors and charming details, such as vintage objet d'art and floral motifs on the walls. Come for the visual feast, stay for the Malaysian fusion menu.
9. School Kids Mural
If you're heading to Petaling Street, don't forget to visit the "School Kids in a Riot" mural, a thought-provoking work of street art by Ernest Zacharevic. Four Seasons Concierge recommends an early morning start; once the workday begins, the mural gets blocked by parked cars.
10. Instagram Escalator
This remarkable escalator is located in NU Sentral, a trendy mall that is easily accessible from KL Sentral station. Nicknamed the Instagram Escalator by the city's millennials, it is back-dropped by geometric grills and the cityscape beyond. The views are equally compelling from the top as well as the bottom.
The best Moscow attractions and places to visit
Moscow is a fascinating city that has so much to offer: from the iconic landmarks to amazing hidden gems well-known by locals. If you are here for the first time it might be difficult to decide from where to start exploring. Four Seasons Hotel Moscow concierge team has prepared a list of top ten places Four Seasons guests love visiting the most. Begin your journey with one of the spots listed below and fall in love with the beautiful city of Moscow.
The Kremlin and Red Square are truly the must-visit sights of Moscow and staying at Four Seasons Hotel Moscow means being just steps away from them. Here is a small tip: stroll around the Red Square during both day and night, this way you will enjoy the beauty of this place from completely different angles.
When you are in Moscow, don't miss a chance to see a performance at the Bolshoi Theatre – one of the most significant ballet and opera theaters in the world located on Teatralnaya Square, just a 7-minute walk from the hotel. Take a private tour to Russia's oldest theatre with an English-speaking guide and go behind the scenes to see artists' dressing rooms and step on the legendary stage. If you are lucky you may have a chance to watch scenery being installed or to view a rehearsal. Four Seasons Hotel Moscow concierge team will be delighted to arrange this unforgettable experience for you.
Another must-see sight of Moscow is Christ the Savior Cathedral. Enjoy the view of the Cathedral standing on Patriarshy Bridge – perfect spot for pictures of breathtaking views! If you're on the bridge at sunset, you will be treated to a view of the golden domes shining bright. Crossing the bridge will bring you to Bolotny Island and the former chocolate factory Red October – today it's one of Moscow's creative spaces with restaurants, bars, art exhibitions, educational spots and design studios.
Gorky Park is a great place where you can spend the whole day. Sport and dancing classes, concerts, lectures and workshops, activities for kids, various dining spots, art projects and beautiful sights – you can find all of those things there. While strolling around, stop by the Garage Museum of Contemporary Art. It offers amazing exhibitions, lectures and talks, tours, special events, master classes and an interesting selection of films in Garage Screen summer cinema.
If you decide to visit VDNH – the largest recreational complex in the world with various museums, expositions, and beautiful fountains – do not miss the Museum of Cosmonautics. Learn about space exploration in eight exhibition halls and a movie theatre and try some real space food in a museum café.
The Tretyakov Gallery is the most famous museum of Russian national art with a great collection of more than 180,000 art pieces. Along with the main exposition, the museum holds temporary exhibitions and arranges educational film festivals, conferences, concerts and performances, lectures and art classes. The New Tretyakov Gallery located in Muzeon Park is known for a great collection of Russian art of the 20th century, experimental exhibitions of young authors, lectures, creative workshops and other exciting events. Ask our concierge about current exhibitions, they will be happy to assist you with any questions.
If you are looking for Russian style relaxation, a banya would be the right place to visit. The best banya complex in Moscow – Sanduny, serving guests since 1808, offers unforgettable experiences in the grand interiors with stunning high ceilings, fretworks and marble stairs. Pamper your body with traditional Russian banya followed by a wonderful massage, enjoy your time by the pool and dine at the restaurant after a long day of joy.
Patriarch Ponds, also known as Patriki is a nice vibrant area in downtown of Moscow, perfect for gathering with friends and family for breakfast, dinner, cocktails, or evening strolls. Drop into the area while exploring the city sights and enjoy the cute little streets with great coffee shops, bars and restaurants.
Another way to explore Moscow is taking a cruise along Moskva River. Here you can embark on a journey 365 days a year. Take a look at the best attractions of Moscow while enjoying a smooth ride on a boat or a luxury yacht accompanied by an exquisite dining experience, live music, and DJ sets.
Moscow Metro is not only a fast and convenient way to move around the city but also a great underground museum. Every station of Moscow Metro is unique and some of them are the true pieces of art definitely worth seeing. Ask our concierge for a metro map with photos of the most beautiful stations, they will be happy to help you with the best routes.