Symposium seeks solutions to school-related gender- based violence
A Global Learning Symposium on ending school-related gender-based violence (SRGBV) will be held from 26 to 28 March 2019 in Johannesburg, South Africa. The event is timely in the context of a renewed global conversation around continued gender inequality, triggered in 2018 by the #MeToo movement and an increased commitment around the world to make schools safer places.
The Global Learning Symposium is a biennial event held by the Global Working Group to End School-Related Gender-Based Violence (link is external), co-hosted by UNESCO and UNGEI. The learning symposium aims to help partners, including representatives from Ministries of Education, civil society, UN agencies, education unions and research, develop a collective understanding of SRGBV and find solutions to address it.
School-related gender-based violence can be defined as acts or threats of sexual, physical or psychological violence occurring in and around schools, perpetrated because of gender norms and stereotypes, and enforced by unequal power dynamics.
Joanna Herat, UNESCO Team Leader in the Section of Health and Education said "School-related gender-based violence impacts millions of children and young people across the world. Not only does it compromise well-being and physical and emotional health, it has far-reaching educational consequences".
"In partnership with the Global Working Group to End School-Related Gender-Based Violence and through the upcoming Learning Symposium, UNESCO envisages a world where no child or young person is denied the fundamental right to education because of SRGBV."
"Gender-based violence that happens in schools tends to mirror the types of gender violence that takes place in the broader community. This positions schools as an important context for challenging and changing the norms and practices that lead to violence and inequality in the broader community."
This year's Learning Symposium will be held in Eastern and Southern Africa with a view to bringing together several countries in the region that are implementing initiatives to address SRGBV and promote gender equality in education. Participants will share on their progress and lessons-learned around addressing SRGBV.
Some of the topics to be explored at the learning symposium include:
Strengthening policy and policy implementation on SRGBV at national, district and school levels;
Working with teachers to create safe learning environments;
Shifting gender norms, behaviours and practice through innovative classroom programs;
Key elements of a 'whole school approach';
Strengthening monitoring and evaluation.
About the Global Working Group to End SRGBV
The Global Working Group was created in 2014 to respond to SRGBV by raising awareness and finding solutions to ensure schools are safe and inclusive environments, where boys and girls can learn to unleash their full potential. The Group has expanded to more than 100 members, representing 45 organizations (including humanitarian actors, civil society organizations, and regional/national offices from the UN).
Safe to Learn
The Global Learning Symposium builds on UNESCO's commitment to ensure all schools are safe places for children and young people to learn. Furthering this resolve, UNESCO has joined key partners for the 'Safe to Learn' campaign, a new initiative dedicated to ending violence in schools so children are free to learn, thrive and pursue their dreams. The campaign was initially conceived by members of the Global Partnership to End Violence Against Children: UNESCO, UNICEF, UK Department for International Development (DFID) and the United Nations Girls Initiative (UNGEI.)
Millions 'on the edge' in DR Congo, now in even greater danger of tipping over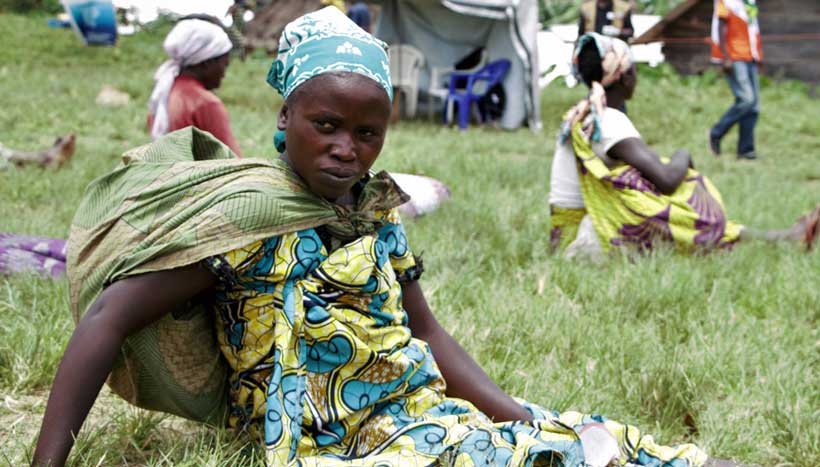 Millions of lives could be lost to hunger in the Democratic Republic of the Congo (DRC), amid escalating conflict and worsening COVID-19 transmission, the UN emergency food relief agency has warned, urging the international community to step up support for the African nation.
According to the World Food Programme (WFP), latest national data shows that about four in ten people in the DRC are food insecure, with some 15.6 million suffering "crisis" or "emergency" levels of hunger.
"So many Congolese are on the edge, and in even greater danger now of being tipped over the edge", said Claude Jibidar, the head of WFP operations in the country.
"The world just can't let that happen, worried though it understandably is about the huge toll COVID-19 is taking on lives and livelihoods elsewhere."
Crisis in every direction
Outbreaks of diseases, violence, and fears of a poor harvest, are worsening an already alarming situation.
Malnutrition is particularly pervasive in the east of the country, where decades of brutal conflict has forced millions from their homes – many of them numerous times. In the first half of 2020, almost a million people were uprooted from their homes due to new violence.
Displaced persons across the DRC – numbering more than five million – live in makeshift camps and urban areas with poor sanitation and healthcare, making them especially susceptible to COVID-19.
Adding to this are killer diseases, malaria and cholera, exacerbating the hunger challenge. A new large-scale outbreak of measles in the central Kasai region has significantly increased the risk of fatalities among malnourished children.
The dire health situation is compounded by successive outbreaks of Ebola Virus Disease (EVD). By the time the DRC's tenth and biggest Ebola epidemic ended in June, having claimed almost 2,300 lives in the east over two years, the eleventh had erupted in the northwest, and continues to spread.
Resources urgently needed
Against this bleak picture, UN agencies, including the WFP have been working to provide life-saving assistance across the nation.
On its part, WFP need another $172 million to be able to fully implement its emergency operation in the country over the next six months. With enough resources, it aims to reach 8.6 million people this year– including almost a million of those hit hardest by the pandemic – up from a record 6.9 million reached in 2019.
However, without the necessary funding, food rations and cash assistance will have to be cut, then the number of people being helped, warned the UN agency.
"Interventions to treat and prevent acute malnutrition – which afflicts 3.4 million Congolese children – are at immediate risk", it said.
Somalia: Draft law a 'major setback' for victims of sexual violence
The UN official working to end rape during wartime is urging authorities in Somalia to scrap a proposed law that allows for child marriage, among other "very disturbing provisions".
Pramila Patten, the Secretary-General's Special Representative on Sexual Violence in Conflict, wants the Somali Federal Parliament to withdraw the Sexual Intercourse Related Crimes Bill as it breaches international and regional standards relating to rape and other forms of sexual violence.
"If adopted, it would not only represent a major setback for victims of sexual violence in Somalia but would also delay the delisting of any of Somalia's armed forces from the Secretary-General's annual report to the Security Council", she said.
Ms. Patten recalled that Somalia signed a 2013 Joint Communiqué with the UN, pledging to strengthen laws on sexual violence, and the draft law falls short of stated obligations and commitments.
'Serious breaches' – UN rights chief
The UN High Commissioner for human rights, Michelle Bachelet, on Monday called for legislators not to enact the law, saying that provisions in the draft "constitute serious breaches of international human rights norms and standards."
The rights chief said that if passed, it would represent "a serious step backwards for the rights of victims of sexual violence in Somalia, in particular women and girls", as well as sending a worrying signal to other States in the region.
Flaws in Draft Bill
The Sexual Intercourse Related Crimes Bill contains substantive and procedural provisions "which grossly contravene international human rights law and standards to which Somalia is a party, and which would represent a major setback in the fight against sexual violence in Somalia and across the globe", Ms. Patten said in a statement.
They include flawed definitions of offences, a lack of clearly defined terms, as well as inadequate protection of victims, witnesses and accused.
In addition to the provision that allows minors to marry based on reproductive maturity, independent of age, "it also establishes criminal penalties for forced marriage only if a woman is 'strongly' forced into the marriage without the knowledge and consent of her family."
Act on 2018 Bill
Ms. Patten expressed hope that the Somali Government would instead reintroduce another draft law from 2018 that is centred on survivors.
The Sexual Offences Bill was developed following five years of wide-ranging consultations with women, civil society, and the international community, she recalled.
It was unanimously endorsed by the Somali Council of Ministers and sent to Parliament.
"Special Representative Patten deplores that in 2019, in a process that may have deviated from established law and legislative procedures, the Sexual Offences Bill was returned to Cabinet by the Speaker of the House of the People requesting Cabinet to make several substantive amendments," the statement said.
"Although, in response, 15 Members of the House of the People brought a motion requesting the return of the Cabinet-approved Sexual Offences Bill to Parliament for first reading, the motion was not considered."
Ms. Patten has joined others in Somalia and across the globe who are requesting that the Government take immediate action to reintroduce the Bill.
Violence in Sudan's Western Darfur forces 2,500 into Chad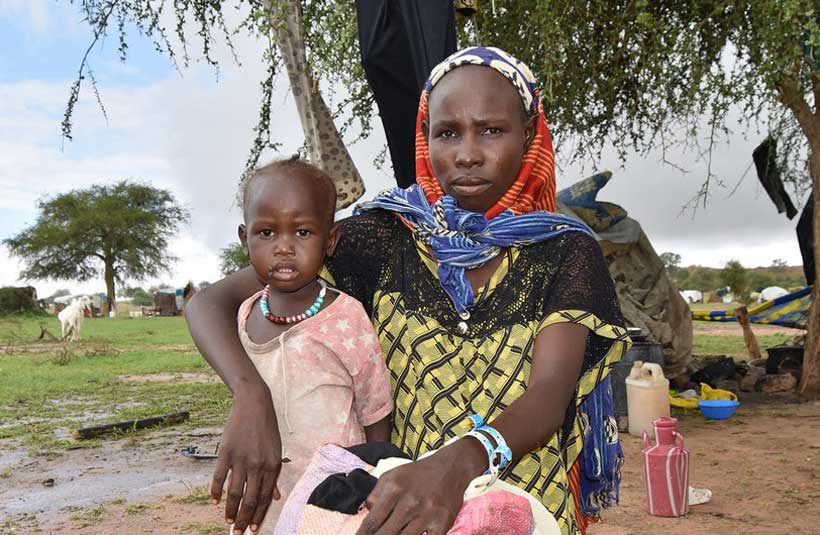 Recent clashes in Sudan's Western Darfur region has driven more than 2,500 people across the border into neighbouring Chad, the UN refugee agency (UNHCR) has reported.
According to UNHCR, more than 80 per cent of those arriving in the Chadian border town of Adré are women, children and elderly – many of whom have witnessed extreme violence.
Attacks, said to have been carried out by armed nomads in the town of Masteri in Western Darfur, killed 61 people from the Masalit ethnic community and injured at least 88 on 25 July. Houses were also reported to have been burned to the ground in the town and the surrounding villages.
"A 25-year-old woman told UNHCR staff that her husband was stabbed to death in front of her eyes and she had to run for her life with her three children, making the journey to Chad riding a donkey for one full day", Babar Baloch, a spokesperson for the agency said at Tuesday's regular media briefing, in Geneva.
About 20,000 affected within Sudan
In addition to those who fled into Chad, an estimated 20,000 people within Western Darfur in Sudan have been affected by the unrest – the majority of whom are women and children.
Mr. Baloch said that the situation has stabilized since the attacks but "remains unpredictable" and those displaced are still hesitant to return home and are demanding better security.
Federal authorities in the Sudanese capital, Khartoum, have reportedly deployed additional forces to control and calm the situation. A delegation from the Masalit community and Arab tribal leaders arrived in El Geneina, the capital of Western Darfur, from Khartoum on 4 August and is conducting peace talks between both sides, added the UNHCR spokesperson.
Response hit by heavy rains
In Chad, UNHCR, in collaboration with the Government and humanitarian partners, is relocating the refugees from the border areas to the Kouchaguine-Moura refugee camp further inland, where they will be provided with food, shelter, water and emergency relief items.
The camp will also provide access to hygiene and health, including isolation units, as part of the response to COVID-19, said Mr. Baloch.
The relocation, however, has been slow due to heavy rains and poor road conditions, with about 443 refugees arriving at the camp last week. The Kouchaguine-Moura camp is already hosting more than 6,000 Sudanese refugees who had arrived in February 2020.
Rains have also hampered efforts to assess the situation and organize a response to assist those affected in Sudan.