Symposium seeks solutions to school-related gender- based violence
A Global Learning Symposium on ending school-related gender-based violence (SRGBV) will be held from 26 to 28 March 2019 in Johannesburg, South Africa. The event is timely in the context of a renewed global conversation around continued gender inequality, triggered in 2018 by the #MeToo movement and an increased commitment around the world to make schools safer places.
The Global Learning Symposium is a biennial event held by the Global Working Group to End School-Related Gender-Based Violence (link is external), co-hosted by UNESCO and UNGEI. The learning symposium aims to help partners, including representatives from Ministries of Education, civil society, UN agencies, education unions and research, develop a collective understanding of SRGBV and find solutions to address it.
School-related gender-based violence can be defined as acts or threats of sexual, physical or psychological violence occurring in and around schools, perpetrated because of gender norms and stereotypes, and enforced by unequal power dynamics.
Joanna Herat, UNESCO Team Leader in the Section of Health and Education said "School-related gender-based violence impacts millions of children and young people across the world. Not only does it compromise well-being and physical and emotional health, it has far-reaching educational consequences".
"In partnership with the Global Working Group to End School-Related Gender-Based Violence and through the upcoming Learning Symposium, UNESCO envisages a world where no child or young person is denied the fundamental right to education because of SRGBV."
"Gender-based violence that happens in schools tends to mirror the types of gender violence that takes place in the broader community. This positions schools as an important context for challenging and changing the norms and practices that lead to violence and inequality in the broader community."
This year's Learning Symposium will be held in Eastern and Southern Africa with a view to bringing together several countries in the region that are implementing initiatives to address SRGBV and promote gender equality in education. Participants will share on their progress and lessons-learned around addressing SRGBV.
Some of the topics to be explored at the learning symposium include:
Strengthening policy and policy implementation on SRGBV at national, district and school levels;
Working with teachers to create safe learning environments;
Shifting gender norms, behaviours and practice through innovative classroom programs;
Key elements of a 'whole school approach';
Strengthening monitoring and evaluation.
About the Global Working Group to End SRGBV
The Global Working Group was created in 2014 to respond to SRGBV by raising awareness and finding solutions to ensure schools are safe and inclusive environments, where boys and girls can learn to unleash their full potential. The Group has expanded to more than 100 members, representing 45 organizations (including humanitarian actors, civil society organizations, and regional/national offices from the UN).
Safe to Learn
The Global Learning Symposium builds on UNESCO's commitment to ensure all schools are safe places for children and young people to learn. Furthering this resolve, UNESCO has joined key partners for the 'Safe to Learn' campaign, a new initiative dedicated to ending violence in schools so children are free to learn, thrive and pursue their dreams. The campaign was initially conceived by members of the Global Partnership to End Violence Against Children: UNESCO, UNICEF, UK Department for International Development (DFID) and the United Nations Girls Initiative (UNGEI.)
UN General Assembly celebrates 20 years of promoting a culture of peace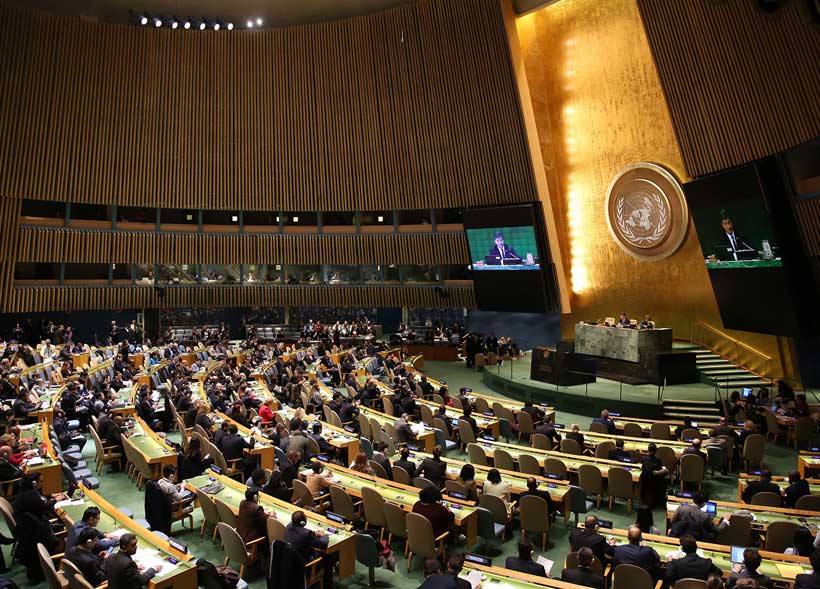 Just as the greatest global challenges cannot be solved by a single country, peace cannot be pursued in isolation, outgoing UN General Assembly President María Fernanda Espinosa said on Friday.
Ms. Espinosa was speaking at a high-level forum to mark the 20th anniversary of the General Assembly's adoption of a Declaration and Programme of Action on a Culture of Peace.
"Because peace is more than the absence of war, it needs constant nurturing through the pursuit of dignity and equality, of human rights and justice, of respect and understanding, and of cooperation and multilateralism", she said.
As UN Chef de Cabinet Maria Luiza Ribeiro Viotti pointed out, although peace is at the heart of the work of the United Nations, it is something that must be addressed daily.
"A culture of peace is inseparable from human rights, respect for diversity, and fairer societies," she said.
"One main challenge as we strive to achieve the Sustainable Development Goals is to build more preventive and inclusive approaches that ensure the participation of women, young people and vulnerable, marginalized and non-represented groups."
The Chef de Cabinet said working to achieve peace not only covers traditional notions of security but also challenges such as social injustice, the normalization of hate speech, terrorism, violence against women, and conflict.
Leymah Gbowee from Liberia knows many of these issues first-hand. She won the 2011 Nobel Peace Prize for her role in uniting Christian and Muslim women to help end her country's 14-year civil war.
She said peace is seen as the absence of bad, rather than the presence of good. However, instead of being "a fairytale of bland happiness", she views it as quite radical.
"If we dig a little deeper into what a culture of peace actually looks like, it pushes us beyond understanding peace as the absence of conflict and being a positive state itself", Ms. Gbowee told the gathering.
"A culture of peace creates an environment where people thrive and have their needs met. It looks like a population of satisfied people: healthy children, educated children, a functional health system, responsive justice structure, an empowered, recognized, appreciated and fully compensated community of women; food on the table of every home, and a lot more. It is the full expression of human dignity."
The high-level commemorative event marked Ms. Espinosa's final session presiding over the General Assembly, where all 193 Member States have equal representation.
In her goal to bring the UN's main deliberative and policy-making organ closer to everyday people, she chose the traditional ruler of the Ashanti people of Ghana to deliver the keynote address: a historic first.
Representing a kingdom that has existed since the 17th century, Otumfuo Osei Tutu II ascended the podium wearing kente cloth and accompanied by two praise-singers.
He highlighted some of the UN's accomplishments in preserving global security: for example, staving off nuclear war and preventing conflict between nations. However, as he observed, the landscape today is different.
"Warfare is no longer the threat we face from states; it is now a danger we face on a daily basis from our citizens and from all quarters. This new threat comes on the heels of an unprecedented trust deficit in political leadership at the national level. The effect of this trust deficit is to erode the capacity of political leaders to rally their people to coalesce around national interests. The consequence for peace and security cannot be overstated", he said.
The Ashanti leader called for a new partnership between elected authorities and traditional governance, in the spirit of authentic collaboration.
Scourge of slavery still claims 40 million victims worldwide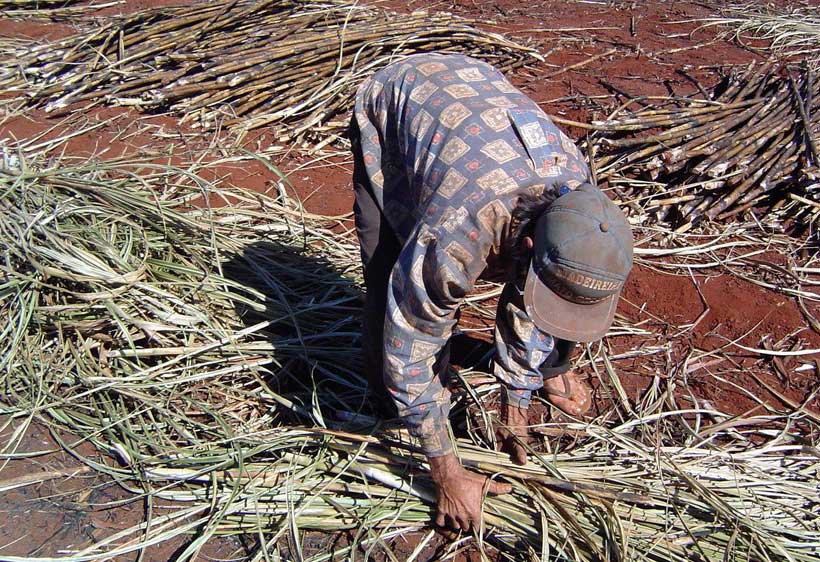 Incidents of modern-day slavery are "only likely to increase" as a result of some of biggest challenges facing the world today, a UN expert outlined in a report for the Human Rights Council in Geneva on Monday.
The Special Rapporteur on contemporary forms of slavery, Urmila Bhoola, explained that over 40 million people are enslaved around the world, a quarter of them children. Due to problems of environmental degradation, migration and shifting demographics, the scourge of modern-day slavery is expected to grow.
Over 60 percent of those in forced labour work in the private sector, Ms. Bhoola said, with women and girls disproportionately affected. Of the female victims involved in forced labour, 98 percent have experienced sexual violence.
Global estimates from the International Labour Organization (ILO) indicate that 24.9 million people are in forced labour situations worldwide, and 15.4 million live in forced marriages.
This sort of trend, "must serve as a wakeup call," Ms. Bhoola said, highlighting that the astounding statistics come four years after States committed to the UN's Sustainable Development Goals (SDGs), with relevant targets 5.2 and 8.7 aimed at stamping out trafficking, ending violence against women, and eradicating modern slavery.
The problem is exacerbated by the pressing climate conflict of our time. "In wake of climate change, people may lose their livelihoods, young people who don't have access to decent work may migrate through unsafe channels and changes in the world of work, such as automation, may push already vulnerable people out of their jobs," all of which could increase people's vulnerability to slavery, the expert explained.
Even for those who escape, life for survivors is often difficult. Investigations by the NGO Human Rights Watch, highlight how even victims who manage to extricate themselves, can return home to the same desperate circumstances that made them vulnerable to begin with, but now facing stigma or blame.
Beyond these tragic realities for individuals, "slavery leads to increased public health costs, productivity losses, negative environmental externalities and lost income," Ms. Bhoola added, urging for States and business to "act now."
"We cannot afford to stand by while more and people are driven into forced labour, servile marriage or child labour," she said.
Looking forward, the UN expert highlighted that for youth approaching working age, the situation is more dire – "By 2030, some 85 percent of the more than 25 million young people entering the labour force globally will be in developing and emerging countries," she noted. "Their perspectives to access jobs offering decent work will determine their level of vulnerability to exploitation, including slavery."
To prepare for this, "it is imperative" anti-slavery efforts are "systematic, scientific, strategic, sustainable, survivor-informed, and smart" she maintained.
Current efforts to end slavery are falling short and States and businesses "must take more decisive action to end slavery," Ms. Bhoola concluded. This must be done "by committing more resources to this effort and by adopting and implementing public policies which address contemporary forms of slavery effectively."
UN: Kashmir communications shutdown a 'collective punishment' that must be reversed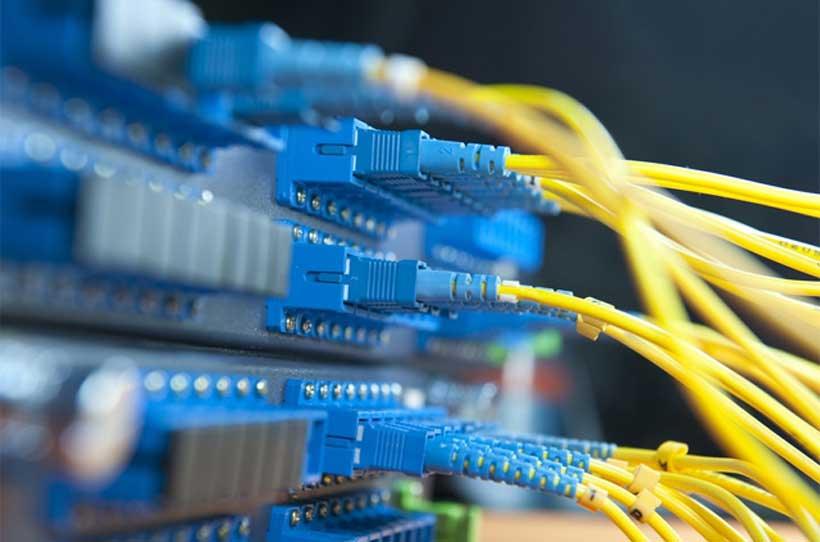 End the crackdown on freedom of expression, was the strong call to the Government by India from five United Nations independent rights expert on Thursday.
India and Pakistan both claim Kashmir as its sovereign territory.
Since the Indian Government's 5 August announcement revoking Kashmir's special status, tighter central Government control has resulted with access to information and peaceful protests quashed.
Reports have described a near total communications blackout in Jammu and Kashmir since the evening of 4 August, with internet access, mobile phone networks, and cable and Kashmiri television channels cut off.
The experts expressed concern that the measures, imposed after the Indian Parliament revoked the Constitutionally-mandated status of the state of Jammu and Kashmir, would exacerbate tensions in the region.
"The shutdown of the internet and telecommunication networks, without justification from the Government, are inconsistent with the fundamental norms of necessity and proportionality," the experts said in a statement.
"The blackout is a form of collective punishment of the people of Jammu and Kashmir, without even a pretext of a precipitating offence."
The Government has also imposed a curfew across Jammu and Kashmir, with massive numbers of troops brought in to enforce movement and peaceful assembly restrictions, particularly in the Kashmir Valley.
"We remind the Indian authorities that the restrictions imposed by the Indian Government are intrinsically disproportionate, because they preclude considerations of the specific circumstances of each proposed assembly," the experts stated.
At the same time, information received suggests an increase in the arrest of political figures, journalists, human rights defenders, protesters and others.
The experts expressed deep concern over reports that security forces were conducting night raids on private homes leading to the arrests of young people.
"Such detentions could constitute serious human rights violations," the experts spelled out. "The allegations must be thoroughly investigated by the authorities, and, if confirmed, those responsible must be held accountable".
Moreover, they are "gravely concerned" over allegations that "the whereabouts of some of those detained is not known", heightening the risk of enforced disappearances, "which may proliferate against the backdrop of mass arrests and restricted access to the internet and other communications networks".
The independent experts also raised the alarm over excessive force against protesters, including the use of live ammunition, which could amount to violations of the right to life.
"India has the responsibility to use the minimum force necessary when policing protests," the experts concluded. "This means that the use of deadly force is a measure permissible only as last resort and to protect life."