European Commission recommends common EU approach to the security of 5G networks
Today the European Commission has recommended a set of operational steps and measures to ensure a high level of cybersecurity of 5G networks across the EU.
Fifth generation (5G) networks will form the future backbone of our societies and economies, connecting billions of objects and systems, including in critical sectors such as energy, transport, banking, and health, as well as industrial control systems carrying sensitive information and supporting safety systems. Democratic processes, such as elections, increasingly rely on digital infrastructures and 5G networks, highlighting the need to address any vulnerabilities and making the Commission's recommendations all the more pertinent ahead of the European Parliament elections in May.
Following the support from Heads of State or Government expressed at the European Council on 22 March for a concerted approach to the security of 5G networks, the European Commission is today recommending a set of concrete actions to assess cybersecurity risks of 5G networks and to strengthen preventive measures. The recommendations are a combination of legislative and policy instruments meant to protect our economies, societies and democratic systems. With worldwide 5G revenues estimated at €225 billion in 2025, 5G is a key asset for Europe to compete in the global market and its cybersecurity is crucial for ensuring the strategic autonomy of the Union.
Vice-President Andrus Ansip, in charge of the Digital Single Market, said:"5G technology will transform our economy and society and open massive opportunities for people and businesses. But we cannot accept this happening without full security built in. It is therefore essential that 5G infrastructures in the EU are resilient and fully secure from technical or legal backdoors."
Commissioner Julian King, in charge of the Security Union, stated: "The resilience of our digital infrastructure is critical to government, business, the security of our personal data and the functioning of our democratic institutions. We need to develop a European approach to protecting the integrity of 5G, which is going to be the digital plumbing of our interconnected lives."
Commissioner Mariya Gabriel, in charge of the Digital Economy and Society, added:"Protecting 5G networks aims at protecting the infrastructure that will support vital societal and economic functions – such as energy, transport, banking, and health, as well as the much more automated factories of the future. It also means protecting our democratic processes, such as elections, against interference and the spread of disinformation."
Any vulnerability in 5G networks or a cyber-attack targeting the future networks in one Member State would affect the Union as a whole. This is why concerted measures taken both at national and European levels must ensure a high level of cybersecurity.
Today's Recommendation sets out a series of operational measures:
At national level
Each Member State should complete a national risk assessment of 5G network infrastructures by the end of June 2019. On this basis, Member States should update existing security requirements for network providers and include conditions for ensuring the security of public networks, especially when granting rights of use for radio frequencies in 5G bands. These measures should include reinforced obligations on suppliers and operators to ensure the security of the networks. The national risk assessments and measures should consider various risk factors, such as technical risks and risks linked to the behaviour of suppliers or operators, including those from third countries. National risk assessments will be a central element towards building a coordinated EU risk assessment.
EU Member States have the right to exclude companies from their markets for national security reasons, if they do not comply with the country's standards and legal framework.
At EU level
Member States should exchange information with each other and with the support of the Commission and the European Agency for Cybersecurity (ENISA), will complete a coordinated risk assessment by 1 October 2019. On that basis, Member States will agree on a set of mitigating measures that can be used at national level. These can include certification requirements, tests, controls, as well as the identification of products or suppliers that are considered potentially non-secure. This work will be done by the Cooperation Group of competent authorities, as set out under the Directive on Security of Network and Information Systems, with the help of the Commission and ENISA. This coordinated work should support Member States' actions at national level and provide guidance to the Commission for possible further steps at EU level. In addition, Member States should develop specific security requirements that could apply in the context of public procurement related to 5G networks, including mandatory requirements to implement cybersecurity certification schemes.
Today's Recommendation will make use of the wide-range of instruments already in place or agreed to reinforce cooperation against cyber-attacks and enable the EU to act collectively in protecting its economy and society, including the first EU-wide legislation on cybersecurity (Directive on Security of Network and Information Systems), the Cybersecurity Act recently approved by the European Parliament, and the new telecoms rules. The Recommendation will help Member States to implement these new instruments in a coherent manner when it comes to 5G security.
In the field of cybersecurity, the future European cybersecurity certification framework for digital products, processes and services foreseen in the Cybersecurity Act should provide an essential supporting tool to promote consistent levels of security. When implementing it, Member States should also immediately and actively engage with all other involved stakeholders in the development of dedicated EU-wide certification schemes related to 5G. Once they become available, Member States should make certification in this area mandatory through national technical regulations.
In the field of telecoms, Member States have to ensure that the integrity and security of public communications networks are maintained, with obligations to ensure that operators take technical and organisational measures to appropriately manage the risks posed to security of networks and services.
Next steps
Member States should complete their national risk assessments by 30 June 2019 and update necessary security measures. The national risk assessment should be transmitted to the Commission and European Agency for Cybersecurity by 15 July 2019.
In parallel, Member States and the Commission will start coordination work within the NIS Cooperation Group. ENISA will complete a 5G threat landscape that will support Member States in the delivery by 1 October 2019 of the EU-wide risk assessment.
By 31 December 2019, the NIS Cooperation Group should agree on mitigating measures to address the cybersecurity risks identified at national and EU levels.
Once the Cybersecurity Act, recently approved by the European Parliament, enters into force in the coming weeks, the Commission and ENISA will set up the EU-wide certification framework. Member States are encouraged to cooperate with the Commission and ENISA to prioritise a certification scheme covering 5G networks and equipment.
By 1 October 2020, Member States – in cooperation with the Commission – should assess the effects of the Recommendation in order to determine whether there is a need for further action. This assessment should take into account the outcome of the coordinated European risk assessment and of the effectiveness of the toolbox.
Background
In its conclusions of 22 March, the European Council expressed its support for the European Commission recommending a concerted approach to the security of 5G networks. The European Parliament's Resolution on security threats connected with the rising Chinese technological presence in the Union, voted on 12 March, also calls on the Commission and Member States to take action at Union level.
In addition, the cybersecurity of 5G networks is key for ensuring the strategic autonomy of the Union, as underlined in the Joint Communication "EU-China, a Strategic Outlook". That is why it is essential and urgent to review and strengthen existing security rules in this area to ensure that they reflect the strategic importance of 5G networks, as well as the evolution of the threats, including the growing number and sophistication of cyber-attacks. 5G is a key asset for Europe to compete in the global market. Worldwide 5G revenues should reach the equivalent of €225 billion in 2025. Another source indicates that the benefits of the introduction of 5G across four key industrial sectors, namely automotive, health, transport and energy, may reach €114 billion per year.
We need to lead technology, not let technology lead us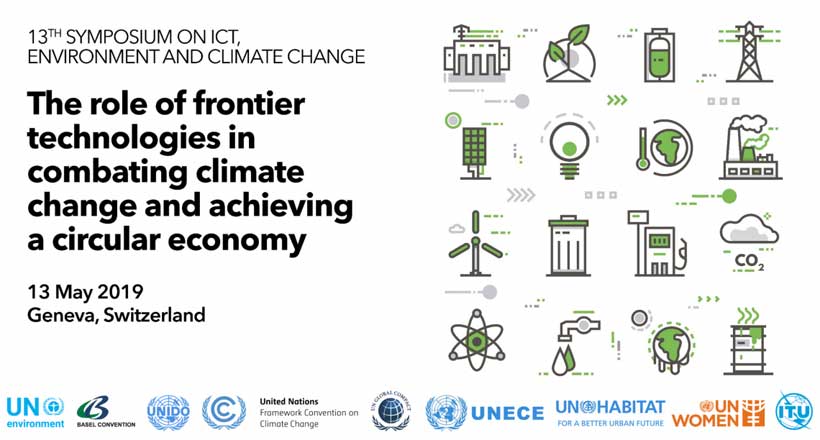 Industry experts, policymakers, and representatives from the ICT sector, international organizations and academia, have come together to discuss the role of frontier technologies, such as artificial intelligence (AI) and the Internet of Things, in combating climate change and achieving a circular economy.
The 13th Symposium on ICT, Environment and Climate Change was co-organized by a number of UN agencies, including the UN Industrial Development Organization (UNIDO), and was hosted by the International Telecommunication Union (ITU) at their Geneva headquarters.
The potential of frontier technologies to help to lower carbon emissions, boost climate resilience and support the transition to a circular economy represents a significant opportunity for stakeholders to progress with the goals of the 2030 Agenda for Sustainable Development, including Sustainable Development Goal (SDG) 9 on industry, innovation and infrastructure.
The event was opened by ITU's Deputy Secretary-General, Malcolm Johnson, who emphasized the importance of the three C's – collaboration, cooperation and coordination. "We need innovative solutions to the way we produce goods and services," he affirmed in his opening remarks.
The importance of partnerships was prominent throughout the day's discussions, during which participants learnt about how frontier technologies are helping to boost climate actions, from satellite data to support farmers with harvesting to tropical weather forecasts.
The need for bold leadership, and "a strong vision and guts to execute the plan" was highlighted by Piyush Verma, Senior Energy Market Analyst at the International Energy Research Centre. Participants were united in the belief that "we need to lead technology, not let technology lead us." This notion was echoed throughout the three sessions with Ericsson's Master Researcher, Pernilla Bergmark, affirming that ICT could be an "enabler of exponential climate action".
The role of data in combating climate change and achieving a circular economy was also discussed, with numerous examples given of ways in which Big Data and augmented realities are being used to power decisions to improve the lives of people across the world from Dubai to Norway. In a pilot project in the Norwegian town of Ålesund, traffic data has been used to help to halve emergency service response times, while in Dubai the implementation of circular ICT services and infrastructure has resulted in significant economic savings for over 50 entities.
During the final session on the "Impacts of E-waste on Climate Change and Moving to a Circular Economy", experts provided updates on various international efforts to improve e-waste management. This included an overview of the international standards developed by ITU-T Study Group 5: "Environment, Climate Change and Circular Economy", and an update on the UNIDO GEF Project that assists 13 countries in Latin America both technically and financially, advising on e-waste policies and regulations, suitable management technologies, business models, capacity building and awareness-raising, in collaboration with ITU and other UN agencies.
Cutting-edge technologies against floods, fires and extreme weather events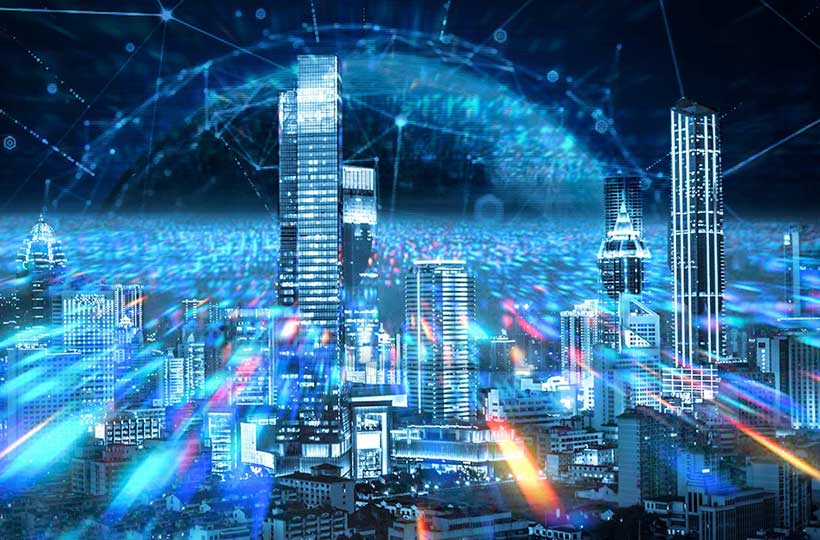 Big Data to process information in real-time during disasters, Artificial Intelligence applied to language filtering and a mobile app to alert citizens are some of the technologies presented. On 9- 10 May 2019, experts in floods, fires and extreme weather management from around Europe will meet in Venice to introduce and employ the tools developed by the H2020 project "I-REACT". The solutions developed in 3-year of intensive work and their core technology will be released as a free, open-source software for a larger adoption and use.
A new cross-platform mobile application to improve the monitoring and the real-time reporting. Wearables that locate and monitor the status of first responders. Updated and actionable satellite information to better assess how a fire, a flood or heavy rains may evolve. Accurate forecasts to predict the onset of weather extremes.
These are some of technologies that emergency responders will now be able to use, thanks to the Big Data platform developed by I-REACT.
The results of this project, funded by the European Union, will be shared in a workshop that will take place on 9-10 May, at the premises of UNESCO Regional Bureau for Science and Culture in Europe in Venice.
Among the attendees of the workshop will be representatives of Specialised Programme of the United Nations, European Commission and Civil Protection agencies and emergency management experts from around Europe.
The I-REACT solutions will be tested first-hand, through an in-field simulation – including flood and wildfire scenarios – thanks to the cooperation with the staff of the Civil Protection Department of Venice and its professional volunteers. They will be managed through the main technology of the project: a centralized, modular and interoperable Big Data platform. It combines data from multiple information sources such as weather prediction at different scales, models for climate projections and early warning forecasts for flood, fires and extreme weather events. The platform also incorporates a social media engine that uses natural language processing and machine learning to filter information from Twitter, providing real-time insights of the situation.
"Big Data and Artificial Intelligence are the main strengths of the project, as they allow us to transform raw data into useful information", explains Fabrizio Dominici, head of the Mobile Solution research area at the LINKS Foundation of Turin and coordinator of the I-REACT project. "This is extremely helpful nowadays, since Social Media has turned each citizen into a source of information. In addition, the project also features a mobile app that enables citizens to share geolocalised photos and information on disasters. "
"UNESCO contributes to Disaster Risk Reduction and technological solutions for improving prediction and management of disasters.", explains Ana Luiza Massot Thompson-Flores, Director of the UNESCO Regional Bureau for Science and Culture in Europe. "The I-REACT project is an important component of our Regional Bureau's efforts in line with the Sendai Framework for Disaster Risk Reduction 2015-2030 that stresses the importance of using appropriate communications, geospatial and space-based technologies to support our member states in coping with climate change risks."
This event represents an excellent opportunity to show the results of more than 3 years of hard work and close collaboration among 20 European partners. All the technologies are now available for Civil Protection Agencies, emergency managers and insurance companies. Our tools are modular, easily integrated with the existing services, and enable a multi-agency, cross-border disaster management.
The 2-day workshop will be a turning point, marking the end of the implementation of the research and innovation activities of the EU-funded I-REACT project and inaugurating the breakthrough of its resulting cutting-edge technologies.
100 organizations to accelerate blockchain deployment with World Economic Forum
Leaders from the global supply chain and logistics industry, the world's largest ports, blockchain start-ups, importers/exporters and civil society have teamed up with the World Economic Forum, the International Organization for Public-Private Cooperation, and over 20 governments to accelerate blockchain deployment across supply chains.
Currently, the supply chain industry is fragmented, with parties adopting a siloed approach. Blockchain and distributed ledger technology (DLT) could bring standardization and transparency, but this nascent technology is prone to hype. The Forum's Redesigning Trust with Blockchain in the Supply Chain project is a new initiative to help supply chain decision-makers cut through the blockchain hype and ensure that the technology is deployed in an interoperable, responsible and inclusive way.
Over 100 organizations and experts are on the team, representing large shippers, supply chain providers and governments. They include Maersk, Hitachi, Mercy Corps, Korea Customs Service, Llamasoft and Ports of Los Angeles, Oakland, Valencia and Rotterdam. The multistakeholder group will co-design an open-source roadmap or toolkit to guide supply chain decision-makers towards blockchain deployment. It will highlight technical and non-technical drivers of success, risks and recommendations as well as requirements.
"As blockchain technology is so new, supply chain decision-makers need clear guidelines, tools and frameworks to help them maximize the benefits and minimize the risks of this technology," said Nadia Hewett, project lead, Blockchain and Distributed Ledger Technology, World Economic Forum. "This toolkit will be built by the industry and piloted, so we can see what works and what does not. We are going to piece together the puzzle, so others don't have to start from scratch."
"The project has created a broad and diverse community of stakeholders to share experiences and develop a toolkit for innovators and decision-makers to navigate the complex policy, technical and commercial issues that arise from digital transformation of the supply chain," said David Libatique, Deputy Executive Director, Port of Los Angeles.
Bernhard Kowatsch, Head, Innovation Accelerator, World Food Programme, said: "A big part of WFP's core operations revolve around logistics and supply chain, distributing food and other life-saving items to more than 90 million people in 83 countries around the world. Becoming a part of the Forum's Redesigning Trust: Blockchain for Supply Chain community has provided us with the opportunity to share real-world challenges and use cases, making invaluable connections between the private and public sectors to assist us in the development of our own innovative blockchain for supply chain projects."
"We believe that blockchain is a promising technology for several industry verticals, including the financial sector, distribution and logistics, among others," said Norihiro Suzuki, Ph.D., Vice President and Executive Officer, Chief Technology Officer, and General Manager of the Research & Development Group, Hitachi, Ltd. "Hitachi is actively contributing to the development of platforms through open source software communities. We are looking forward to working with the World Economic Forum to bring together these communities to explore the future of supply chains and data flow economy."
The World Economic Forum will be releasing monthly white papers on the findings from the community. The recommendations will include guidelines on data privacy, security, creation and use of data, public versus private platforms, interoperability, digital identity and signatures. Supporting an approach that considers the entire ecosystem promises to ensure an inclusive perspective and result that will benefit all stakeholders.
Industry ready for sea change
Analysis in the first white paper points to a mindset shift in business from protective and silo-thinking towards a willingness to try new collaborative models. Competing ports have started to share data to optimize calls of shipping liners in the North Europe area. The ports also expressed willingness to expand their model to other ports. Similarly, and beyond the shipping industry, the world's four largest agriculture companies have partnered to digitize international grain trading.
"As digital technologies such as blockchain increasingly encourage higher levels of trust among supply chain partners, they will have effects on processes in the physical world as well," Hewett said. "As a result, fragmentation within and across industries could diminish, the occurrence of errors and exceptions could decline, and operators could require fewer resources to complete the same tasks."