World's Energy Transition in Doubt as Progress on Affordability, Sustainability Stalls
The world's energy systems have become less affordable and are no more environmentally sustainable than they were five years ago. While access to energy has substantially improved, with less than one billion people now living without access to electricity, concerns over affordability and equity of energy transition are increasing. These are the findings of latest edition of the World Economic Forum's Fostering Effective Energy Transition report, which was published today.
The report's Energy Transition Index (ETI) measures economies in two ways. Firstly, each economy is assessed for its energy "system performance". This takes into account three criteria regarded as critical for transitioning to the future, namely: security and access, environmental sustainability and economic growth and development. The latter measures economic impact to households, industry and export revenues.
Over the past five years, the measurement that has seen the most improvement has been energy access and security, followed by economic growth and development and, lastly, environmental sustainability. The average system performance score had been improving since 2014, but it stalled last year as gains in energy security and access were offset by reductions in affordability and sustainability. Continued use of coal for power generation in Asia, increasing commodity prices and slower than needed improvements in energy intensity have contributed to this year's stagnation in performance.
The second part of the ETI measures economies' success in putting in place the necessary conditions for transition. This "transition readiness" looks at six individual indicators: capital and investment; regulation and political commitment; institutions and governance; institutions and innovative business environment; human capital and consumer participation; and energy system structure.
Transition readiness scores vs annual emissions per country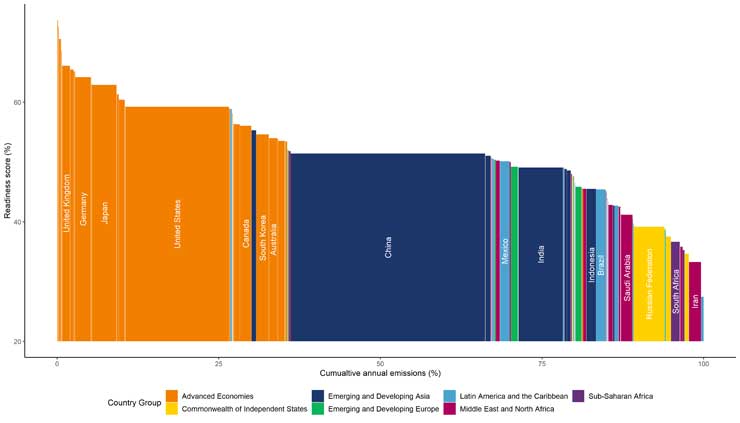 Small economies achieved higher scores on readiness, with the UK the only G7 economy in the top 10 of this subset. With the exception of Singapore, all are in Western Europe. The major challenge facing any attempt to future-proof global energy is the lack of readiness in the world's largest economies. For example, the 10 countries that score the highest in terms of readiness account for just 2.6% of global annual emissions.
"We need a future where energy is affordable, sustainable and accessible to all. Solid progress in bringing energy within the reach of more and more people is not enough to mask wider failures, which are already having an impact on our climate and on our societies. Urgent action is needed now to accelerate transition that works for business, consumers and our environment," said Roberto Bocca, Head of Future of Energy and Materials, Member of the Executive Committee, World Economic Forum.
However, there is some ground for optimism. While the world's two most populous economies, China and India, score low in terms of system performance (ranking 97 and 86 respectively) they rank considerably higher when it comes to readiness (45 and 61 respectively). This suggests that, while their current outdated energy systems are not ready for transition, an enabling environment is being built to support future transition. In this respect, China ranks seventh in the world for regulation and political commitment.
The Energy Transition Index 2019
Advanced economies continue to lead the rankings table, demonstrating the maturity of their energy systems. Sweden (1) retains the top spot from last year, followed by Switzerland (2) and Norway (3). Australia (43), Canada (35), and Republic of Korea (48) are the only advanced economies with scores below the top quartile on the ETI, due to the high carbon intensity of their fuel mix, and high per capita energy consumption and carbon emissions. Affordability is emerging as a growing concern in advanced economies, as the gap between household and wholesale electricity prices increases.
Results show that energy transition in the world's largest emitters has stalled in the past year. While the United States (27) has made progress in reducing the use of coal in power generation, it slipped in the rankings by two places reflecting concerns about the affordability of energy to households, and regulatory uncertainty on environmental sustainability
Countries in emerging and developing Asia observed significant improvements towards universal access to electricity, led by India (76), Indonesia (63) and Bangladesh (90). Malaysia (31) is the highest-ranking emerging country from this region, Vietnam (56) showed the greatest improvement in the ETI rankings since last year, while Thailand (51) improved on all three dimensions of the energy triangle as well as transition readiness. This region remains important for the future of energy transition because urbanization, industrialization and rising living standards continue to drive increases in energy demand. The Forum will support the Association of Southeast Asian Nations (ASEAN) in its progress towards energy transition, leveraging the ETI and its platform to enhance public-private collaboration.
In Sub-Saharan Africa, the report emphasizes the necessity of regulatory and policy stability, as well as strong institutional frameworks to leverage the abundant natural resources in a way that enables an effective energy transition. The progress on energy access for electricity and clean cooking fuels faces challenges from the rapidly growing population in countries throughout this region. Namibia (62) is the highest-ranking country in this group, Kenya (71) and Ethiopia (95) are showing improvements. South Africa (114) and Nigeria (109), the two largest consumers in this group, continue to face challenges in the form of over-reliance on coal and the lack of enabling infrastructure, respectively.
Latin America and the Caribbean region has the highest average scores on environmental sustainability of all regions, primarily due to its significant hydroelectric capacity. However, large economies like Brazil (46) and Mexico (37) did not show improvements on the previous index, while Colombia (34) and Dominican Republic (78) moved up the rankings. Regional integration of electricity markets and infrastructure, electrification of mobility, along with increasing operational efficiency of energy infrastructure can help unlock further improvements.
There is an urgent need for swift action on energy transition. Critical measures to accelerate energy transition include decoupling economic growth from energy consumption, particularly in emerging economies, mainstreaming breakthrough technological innovations to improve efficiency and sustainability, and developing addressing equity and justice in energy transition. Given the interconnectedness of the energy system throughout economic, social, and political systems, there is greater need than ever for different stakeholder groups to seek common understanding on the vision and priorities for energy transition.
MENA: Trade and Regional Integration are Critical to Economic Recovery in the Post-Covid Era
Trade and integration — within the Middle East and North Africa (MENA) region and with the rest of the world — will be critical to lowering poverty, empowering the poor, and igniting economic growth in the post-COVID era, according to the World Bank's latest regional economic update.
The report, titled Trading Together: Reviving Middle East and North Africa Regional Integration in the Post-Covid Era, paints a comprehensive picture of MENA's economic situation six months into the COVID-19 pandemic. It examines the lasting effects of the dual economic shocks from the spread of the coronavirus and the collapse in oil prices, and it recommends policy changes and reforms to build a new integration framework across the region.
"The MENA region was already lagging behind economically before the COVID-19 pandemic struck. Six months into it, we can see — with stark clarity — the severity of the devastation on lives, livelihoods, and region-wide prosperity," Ferid Belhaj, World Bank Vice President for the Middle East and North Africa, said. "We are continuing to help MENA countries stop the spread of the disease and protect and care for their people. We will keep insisting on the need for MENA countries to give the highest priority to transparency, governance, the rule of law and market contestability, and to instill trust, promote the private sector, and build a new framework for the sustained regional economic integration that will make trade a powerful tool to alleviate poverty and expand access to opportunities for all."
The Economic Shocks of the Pandemic and Decline in Oil Prices
The dual economic shocks of the COVID-19 pandemic and decline in oil prices have affected all aspects of MENA's economies, which are projected to contract by 5.2% in 2020 — 4.1 percentage points below the forecast in April 2020, and 7.8 percentage points worse than the forecast in October 2019. The latest data reflect an increasingly pessimistic outlook for the regional economy, which is expected to recover only partially in 2021.
The outlook for MENA's current account and fiscal balances has also deteriorated. Driven by lower oil export revenue, declines in other fiscal revenues, and the high expenditures required to respond to the pandemic, the region's current account and fiscal balances in 2020 are forecast at -4.8% and -10.1% of GDP respectively, much lower than the forecasts from October 2019. Public debt is projected to rise significantly in the next few years, from about 45% of GDP in 2019 to 58% in 2022.
"The pandemic continues to inflict economic losses, and the poor and vulnerable are being disproportionately affected," said Ha Nguyen, Senior Economist and co-author of the report. "The growth outlook for 2021 suggests that a V-shaped recovery is unlikely, although the forecasts are fluid and subject to great uncertainty."
Trade and Regional Integration
According to the report, MENA's integration — both within the region and with the rest of the world — was underperforming before the pandemic. This is due to economic reasons, such as poor logistics' performance, inefficient customs, high infrastructure costs, the inadequacy of legal frameworks for investments, and disparate regulations that add up to high trade costs and have become non-tariff impediments to trade. Political economy obstacles have also prevented regional cooperation, while the effects of conflicts and violence have hindered trade and deterred economic growth.
Challenges with logistics and the business environment impede MENA's integration in regional and global value chains. Despite improvements in recent years, the MENA region underperforms in access to credit, which is lower than anywhere else in the world. Trading across borders is expensive and time-consuming: It costs, on average, US$442 and 53 hours to comply with border requirements for exporting, which is three times more expensive and four times longer than averages in high-income economies. MENA is also one of the most restrictive regions regarding trade in services.
"The challenges to overcoming the political and economic obstacles to MENA's integration would be difficult in ordinary times, let alone in the midst of a pandemic and economic crisis," said Blanca Moreno-Dodson, Manager of the Center for Mediterranean Integration and leader of the report. "But the COVID-19 pandemic offers a great opportunity for MENA countries to rethink their social and economic policies and strengthen trade integration while reducing their oil dependency at the same time."
The report proposes a new trade integration framework that goes beyond reducing tariffs. Some of the suggestions it makes indicate that trade liberalization must be comprehensive and benefit all sectors, including agriculture and services. Without improving the overall business environment and without encouraging the role of the private sector, the region will not reap the benefits of trade liberalization. In terms of implementation, a better balance between political and economic objectives will be needed to ensure that trade agreements do not fail. Simultaneous, behind-the-border reforms — within the MENA region and in collaboration with Europe and Africa — necessitate clear rules and effective implementation mechanisms.
A coordinated MENA trade integration framework would facilitate regional value chains and pave the way toward integrating into global value chains. The report recommends focusing on trading regionally in sectors such as food security, health systems, renewable energy, and the knowledge economy. It suggests creating a common MENA digital market so that MENA countries can improve both trade and digital connectivity, with broader markets in Africa and the Mediterranean. This should help increase productivity; coordinate efficient responses to the pandemic; and promote inclusive, resilient, and sustainable jobs in the region.
The African Continental Free Trade Area (AfCFTA) offers an opportunity for MENA and sub-Saharan Africa to simplify and harmonize non-tariff measures between them. Ongoing bilateral dialogue with the European Union could at the same time focus on including agriculture and services, which would greatly benefit MENA countries while addressing issues of labor mobility as they relate to trade.
Half of Working Adults Fear for Their Jobs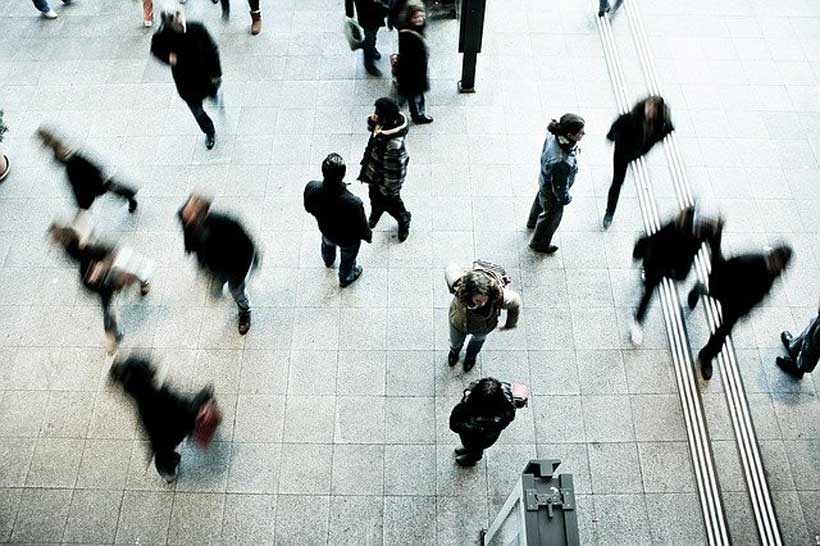 In a new World Economic Forum-Ipsos survey of more than 12,000 working adults in 27 countries, more than half (54%) say they are concerned about losing their jobs in the next 12 months. Perceived job insecurity varies widely across countries: it is stated by three in four workers in Russia, compared to just one in four in Germany.
Two thirds of workers worldwide say they can learn skills needed for the jobs of the future through their current employer. Nearly nine in ten workers in Spain think they can gain essential new skills on the job, whereas fewer than half in Japan, Sweden and Russia.
Concern about job losses
On average, 54% of employed adults from 27 countries say they are concerned about losing their job in the next 12 months (17% are very concerned and 37% somewhat concerned). The prevalence of job-loss concern in the next year ranges from 75% in Russia, 73% in Spain, and 71% in Malaysia, to just 26% in Germany, 30% in Sweden, and 36% in the Netherlands and the United States.
Ability to acquire new skills
Globally, 67% of employed adults surveyed say they can learn and develop skills needed for the jobs of the future through their current employer (23% are very much able to do so, 44% somewhat able). Across the 27 countries, perceived ability to learn and develop those skills on the job is most widespread in Spain (86%), Peru (84%), and Mexico (83%) and least common in Japan (45%), Sweden (46%), and Russia (48%).
Saadia Zahidi, Managing Director at the World Economic Forum said, "The current crisis means that the job creation rate has gone significantly down compared to two years ago, but there is an optimistic scenario overall compared to the rate of job destruction. Of course, it depends on the choices we make today. It depends on the kinds of investments governments make today – and the investments workers make in terms of their own time. And it depends on the choices that business leaders make when it comes to retaining and protecting jobs versus shorter-term decisions that are more focused on quarterly results."
New skill acquisition versus job insecurity
Globally, workers are more likely to say they can learn and develop skills needed for the jobs of the future through their current employer (67%) than to express concern about losing their job in the next 12 months (54%), a difference of 13 percentage points.
The countries where those who can gain new skills on the job outnumber those who are concerned about losing their job by the largest margins are the United States and Germany (by 40 points).
In reverse, job loss concern is more prevalent than perceived ability to acquire skills in Russia (by 28 points) and, to a lesser extent in Malaysia, Poland, Japan, Turkey, and South Korea.
World Economic Forum Jobs Reset Summit
Job losses and the skills challenge are two of the issues that will be addressed at the forthcoming Jobs Reset Summit. The summit brings together more than 1200 visionary leaders from business, international organizations, government, civil society, media and the broader public to shape a new agenda for growth, jobs, skills and equity.
2020 Deloitte-NASCIO Cybersecurity Study Highlights Imperatives for State Governments
Deloitte and The National Association of State Chief Information Officers (NASCIO) released their 2020 Cybersecurity Study, "States at Risk: The Cybersecurity Imperative in Uncertain Times." The national study is based on responses from 51 U.S. state and territory enterprise-level chief information security officers (CISOs). This is the 10th year of this study and the sixth iteration, with a record number of state and territory CISO's participating this year.
The key themes in this year's study are:
COVID-19 has challenged continuity and amplified gaps in budget, talent and threats, and the need for partnerships.
Collaboration with local governments and public higher education is critical to managing increasingly complex cyber risk within state borders.
CISOs need a centralized structure to position cyber in a way that improves agility, effectiveness and efficiencies.
The report also details focus areas for states during the COVID-19 pandemic. While the pandemic has highlighted the resilience of public sector cyber leaders, it has also called attention to long-standing challenges facing state IT and cybersecurity organizations such as securing adequate budgets and talent; and coordinating consistent security implementation across agencies.
These challenges were exacerbated by the abrupt shift to remote work spurred by the pandemic. According to the study:
Before the pandemic, 52% of respondents said less than 5% of staff worked remotely.
During the pandemic, 35 states have had more than half of employees working remotely; nine states have had more than 90% remote workers.
"The last six months have created new opportunities for cyber threats and amplified existing cybersecurity challenges for state governments," said Meredith Ward, director of policy and research at NASCIO. "The budget and talent challenges experienced in recent years have only grown, and CISOs are now also faced with an acceleration of strategic initiatives to address threats associated with the pandemic."
"The pandemic forced state governments to act quickly, not just in terms of public health and safety, but also with regard to cybersecurity," said Srini Subramanian, principal, Deloitte & Touche LLP, and state and local government advisory leader. "However, continuing challenges with resources beset state CISOs/CIOs. This is evident when comparing the much higher levels of budget that federal agencies and other industries like financial services receive to fight cyber threats."
State governments' longstanding need for digital modernization has only been amplified by the pandemic, along with the essential role that cybersecurity needs to play in the discussion. Key takeaways from the 2020 study include:
Fewer than 40% of states reported having a dedicated budget line item for cybersecurity.
Half of states still allocate less than 3% of their total information technology budget on cybersecurity.
CISOs identified financial fraud as three times greater of a threat as they did in 2018.
Overall, respondents said they believe the probability of a security breach is higher in the next 12 months, compared to responses to the same question in the 2018 study.
Only 27% of states provide cybersecurity training to local governments and public education entities.
Only 28% of states reported that they had collaborated extensively with local governments as part of their state's security program during the past year, with 65% reporting limited collaboration.
The 2020 study also revisits the three "bold plays" of the "2018 Deloitte–NASCIO Cybersecurity Study," covering funding, innovation and collaboration, to assess progress on these strategic issues. While CISOs have made progress in the intervening years, more is needed.
The study is based on responses from U.S. state and territory enterprise-level CISOs. CISO participants answered 61 questions designed to characterize the enterprise-level strategy, governance and operation of security programs.