European Parliament approves new copyright rules for the internet
Creatives and news publishers will be empowered to negotiate with internet giants thanks to new copyright rules which also contain safeguards on freedom of expression.
MEPs adopted the directive in plenary by 348 votes in favour, 274 against and 36 abstentions. This marks the end of the legislative process for the European Parliament that began in 2016. It will now be down to member states to approve Parliament's decision in the coming weeks. If the member states accept the text adopted by the European Parliament, it will take effect after publication in the official journal and then member states will have 2 years to implement it.
The directive aims to ensure that the longstanding rights and obligations of copyright law also apply to the internet. YouTube, Facebook and Google News are some of the internet household names that will be most directly affected by this legislation.
The directive also strives to ensure that the internet remains a space for freedom of expression.
Tech giants to share revenue with artists and journalists
The directive aims to enhance rights holders' chances, notably musicians, performers and script authors, (creatives) as well as news publishers, to negotiate better remuneration deals for the use of their works when these feature on internet platforms. It does this by making internet platforms directly liable for content uploaded to their site and by automatically giving the right to news publishers to negotiate deals on behalf of its journalists for news stories used by news aggregators.
Locking in freedom of expression
Numerous provisions are specifically designed to ensure the internet remains a space for freedom of expression.

As sharing snippets of news articles is specifically excluded from the scope of the directive, it can continue exactly as before. However, the directive also contains provisions to avoid news aggregators abusing this. The 'snippet' can therefore continue to appear in a Google News newsfeeds, for example, or when an article is shared on Facebook, provided it is "very short".
Uploading protected works for quotation, criticism, review, caricature, parody or pastiche has been protected even more than it was before, ensuring that memes and Gifs will continue to be available and shareable on online platforms.
Many online platforms will not be affected
The text also specifies that uploading works to online encyclopedias in a non-commercial way, such as Wikipedia, or open source software platforms, such as GitHub, will automatically be excluded from the scope of this directive. Start-up platforms will be subject to lighter obligations than more established ones.
Stronger negotiating rights for authors and performers
Authors and performers will be able to claim additional remuneration from the distributor exploiting their rights when the remuneration originally agreed is disproportionately low when compared to the benefits derived by the distributer.
Helping cutting edge research and preserving heritage
The directive aims to make it easier for copyrighted material to be used freely through text and data mining, thereby removing a significant competitive disadvantage that European researchers currently face. It also stipulates that copyright restrictions will not apply to content used for teaching or illustration.

Finally, the directive also allows copyrighted material to be used free-of-charge to preserve cultural heritage. Out-of-commerce works can be used where no collective management organisation exists that can issue a license.
How this directive changes the status quo
Currently, internet companies have little incentive to sign fair licensing agreements with rights holders, because they are not considered liable for the content that their users upload. They are only obliged to remove infringing content when a rights holder asks them to do so. However, this is cumbersome for rights holders and does not guarantee them a fair revenue. Making internet companies liable will enhance rights holders' chances (notably musicians, performers and script authors, as well as news publishers and journalists) to secure fair licensing agreements, thereby obtaining fairer remuneration for the use of their works exploited digitally.
Quote from the rapporteur, Axel Voss (EPP, DE)
"This directive is an important step towards correcting a situation which has allowed a few companies to earn huge sums of money without properly remunerating the thousands of creatives and journalists whose work they depend on.

At the same time, the adopted text contains numerous provisions that will guarantee that the internet remains a space for free expression. These provisions were not in themselves necessary, because the directive will not be creating any new rights for rights holders. Yet we listened to the concerns raised and chose to doubly guarantee the freedom of expression. The 'meme', the 'gif', the 'snippet' are now protected more than ever before.
I am also glad that the text agreed today shelters start-ups in particular. Tomorrow's leading companies are the start-ups of today and diversity depends on a deep pool of innovative, dynamic, young companies.
This is a directive which protects people's living, safeguards democracy by defending a diverse media landscape, entrenches freedom of expression, and encourages start-ups and technological development. It helps make the internet ready for the future, a space which benefits everyone, not only a powerful few."
Libya: €2 million in humanitarian assistance to cover basic needs
As many continue to suffer from the ongoing conflict in Libya, the European Commission has announced today €2 million in additional humanitarian aid to help those most in need. The assistance will cover emergency health care services, food, livelihood support and protection services.
"The EU is committed to supporting the most vulnerable in Libya who have now suffered years of conflict. This additional funding will help our humanitarian partners to continue to deliver aid in hard-to-reach areas. It is crucial that parties to the conflict respect International Humanitarian Law, and allow humanitarian workers full access to help those in need and save lives," said Commissioner for Humanitarian Aid and Crisis Management, Christos Stylianides.
EU humanitarian aid supports access to essential healthcare for victims of the conflict, including emergency war surgery, physical rehabilitation, provision of essential medicines as well as prosthesis and psychosocial support. This assistance helps to restore primary healthcare services in conflict-affected areas, as well as providing education for children.
The EU funding will be closely monitored and channelled through international non-governmental organizations and the International Committee of the Red Cross.
Background
Since 2014, the European Union has allocated more than €46 million in humanitarian aid to respond to the most pressing needs in Libya. EU humanitarian funding amounted to €9 million in 2018 and €8 million in 2019. Humanitarian aid is part of the EU's broader support for Libya to address the ongoing crisis in the country. The EU has also allocated around € 367.7 million under the North of Africa window of the EU Emergency Trust Fund for Africa and bilateral assistance for protection and assistance of migrants, refuges and internally displaced people.
Through its partners, the EU also provides protection services, emergency food and other supplies to support conflict affected populations. We also provide education in emergencies to crisis-affected children. The EU provides aid to all vulnerable people, including forcibly displaced and vulnerable host populations, migrants, refugees and asylum seekers, regardless of their status and solely based on needs. The EU is providing assistance across all geographic areas in Libya, including in the Southern and Eastern part of the country.
OECD and European Commission join forces to further support structural reforms in European countries
The OECD and the European Commission's Structural Reform Support Service (SRSS) sealed a new agreement today in Paris that will see the OECD provide wide-ranging policy support to advance structural reforms in European countries.
OECD Chief of Staff, Gabriela Ramos, and Director General of the SRSS, Maarten Verwey, concluded an agreement on 34 reform projects, to be conducted over the next 12 to 18 months, in 18 EU countries under the umbrella of the Structural Reform Support Programme of the European Commission.
The OECD SRSS agreement comes at a time of a slowdown in global growth, rising inequalities and higher environmental degradation, which threaten people's well-being. The OECD, with its extensive knowledge base and expertise, is supporting governments to tackle these issues head on and considers the cooperation with the SRSS to be an excellent opportunity to further leverage its expertise to deliver better policies for better lives.
The action will see the OECD working closely with the SRSS to provide policy advice and working directly with governments to advance structural reform in various policy areas, including education, labour markets, tax, governance, environment and transport infrastructure. These projects respond to the reform priorities identified by the respective EU Member States and will for example help governments develop sustainable development strategies, establish frameworks for circular economies, improve housing affordability in cities, or improve the provision of labour market services. The OECD will capitalize on the digital transformation and also deliver on skills strategies. In a nutshell, it will redouble efforts to support European countries, Members and Partners, in their goal to build strong, inclusive and sustainable economies.
The Structural Reform Support Service offers tailor-made support to all EU Member States for the preparation, design and implementation of growth-enhancing reforms. The support is provided on the request of EU Member States, requires no co-financing and mobilises experts from all over Europe and beyond, from both the public and the private sector.
The new OECD – SRSS agreement allows the SRSS to leverage OECD's expertise on best policy practices and structural reforms in the EU Member States. Such co-operation will deliver value added impact, carried out with efficiency, for the benefit of all countries.
European Agenda on Migration four years on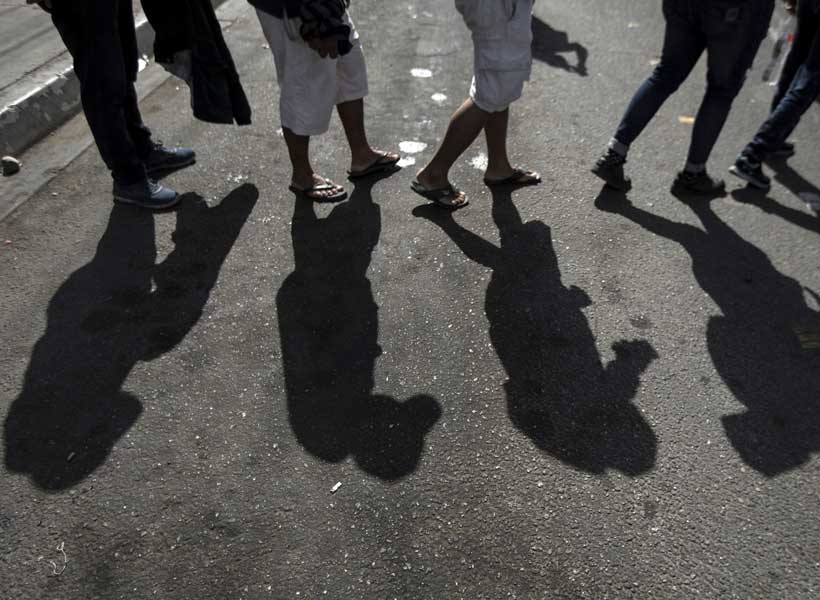 Ahead of the October European Council, the Commission is today reporting on key progress under the European Agenda on Migration since 2015, with focus on steps taken by the EU since the last progress report in March 2019. The Commission also set out those areas where work must continue to address current and future migration challenges.
High Representative and Vice President Federica Mogherini said: "Over the past years we have built an EU external migration policy when there was none. We have developed new partnerships and strengthened the old ones, starting with the African Union and the United Nations. Together we are saving lives and protecting those in need by enabling legal migration channels, addressing the drivers of migration, and fighting against smuggling of migrants and trafficking in human beings. The past years have confirmed that no country can address this complexity alone. It is only by working together, by joining forces that we can tackle these global challenges in an effective, human and sustainable way."
Commissioner for Migration, Home Affairs and Citizenship Dimitris Avramopoulos said: "These past years have shown that only together as a Union we are capable of responding to extreme circumstances. Collectively, we have laid down the structural and operational foundations for a comprehensive European migration system that not only responds effectively and delivers results, but also promotes solidarity and responsibility. While there is still more work to do and the situation remains fragile, we are much better prepared than we were in 2015." 
When the migration crisis broke out in 2015, the EU took swift and determined action to face exceptional challenges through common European solutions. Over the past 4 years, the basis for a strong collective EU migration policy and new tools and procedures for efficient coordination and cooperation are now in place. The EU is better equipped than ever before to provide operational and financial support to Member States under pressure, manage the external borders and work in partnership with countries outside the EU. However, more efforts are needed to complete this work and make the EU's migration policy truly future-proof, effective and resilient.
Important progress made towards a strong and effective EU migration management policy
Over the past 5 years, the Commission has worked tirelessly to build a stronger EU policy on migration. By focusing on priority areas we have managed to move from crisis mode to creating structural solutions to ensure Europe is better prepared for any future migratory challenges – in the medium and long term.
Solidarity and support to Member States: The EU is now working more closely with Member States than ever before through the hotspot approach and EU Agencies with over 2,300 staff deployed on the ground – to better manage migration, strengthen the external borders, save lives, reduce the number of irregular arrivals and ensure effective returns. The coordination processes and operational structures developed and established on the ground are key achievements that will remain in place.
Stronger cooperation with partner countries is achieving results: The EU has stepped up the work with partners outside of Europe to tackle the root causes of irregular migration, protect refugees and migrants and support host communities. Unprecedented funding, worth €9.7 billion, has been mobilised to this effect, notably through the EU Trust Fund for Africa, the Syria Trust Fund or the Facility for Refugees in Turkey, under which 97% of €6 billion has already been allocated. EU support is also focusing on resilience, stability, economic and employment opportunities. Cooperation with partner countries on return has also improved, with return and readmission agreements and arrangements now in place with 23 partner countries.
Groundwork laid for future strong and fair asylum rules:The need for a reformed Common European Asylum System was one of the clearest lessons of the 2015 crisis. The Commission put all the necessary proposals on the table for a complete and sustainable EU framework for migration and asylum. Whilst progress was made on five out of seven proposals, the reform is still pending and a common approach to securing a fair, more efficient and sustainable asylum system is still needed.
Important progress on safe and legal pathways: Over the past 5 years, Member States have made the largest collective efforts ever on resettlement, with almost 63,000 persons resettled. Confirming their commitment and determination to ensure the continuity of EU resettlement efforts in the future, Member States have responded to the Commission's call to continue resettling in 2020 by already pledging around 30,000 resettlement places.
More work and immediate steps required in key areas
Whilst the overall migratory situation across all routes has returned to pre-crisis levels with arrivals in September 2019 being around 90% lower than in September 2015, the situation remains volatile and geopolitical developments have created new challenges for the EU. Further work is needed to address immediate key challenges and to progress on on-going work, in particular:
Urgent action to improve the conditions in the Eastern Mediterranean: Whilst the Greek authorities have undertaken steps over the past months to alleviate the pressure on the islands, including notably a new reception strategy and new asylum measures, the increase in arrivals has put strain on an already fraught system. While the EU-Turkey Statement continues to deliver concrete results, renewed migratory pressure in Turkey and instability in the wider region continues to cause concern. In view of this, urgent action must be taken to improve reception conditions, increase transfers to mainland Greece from the islands and increase returns under the Statement. The Commission is also stepping up its support to Cyprus, which is currently facing an increase in arrivals.
More solidarity on search and rescue: Despite search and rescue efforts, lives continue to be lost at sea and the ad hoc relocation solutions coordinated by the Commission are clearly not long-term remedies. The Commission remains committed to working with and supporting Member States in agreeing temporary arrangements to facilitate disembarkation following search and rescue in the Mediterranean, and encourages more Member States to participate in solidarity efforts. Such arrangements could serve as inspiration for addressing flows in other parts of the Mediterranean.
Accelerate evacuations from Libya: The situation in Libya remains a major concern. After violent conflict erupted in and around Tripoli in April 2019, intensified efforts through the trilateral AU-EU-UN taskforce must continue to help free migrants from detention, facilitate voluntary return (49,000 returns so far) and evacuate the most vulnerable persons (over 4,000 evacuated). Member States urgently need to increase and accelerate the pace of resettlements under the Emergency Transit Mechanism (ETM) in Niger run with the UNHCR and support the newly established ETM in Rwanda.