Hands-on e-waste management training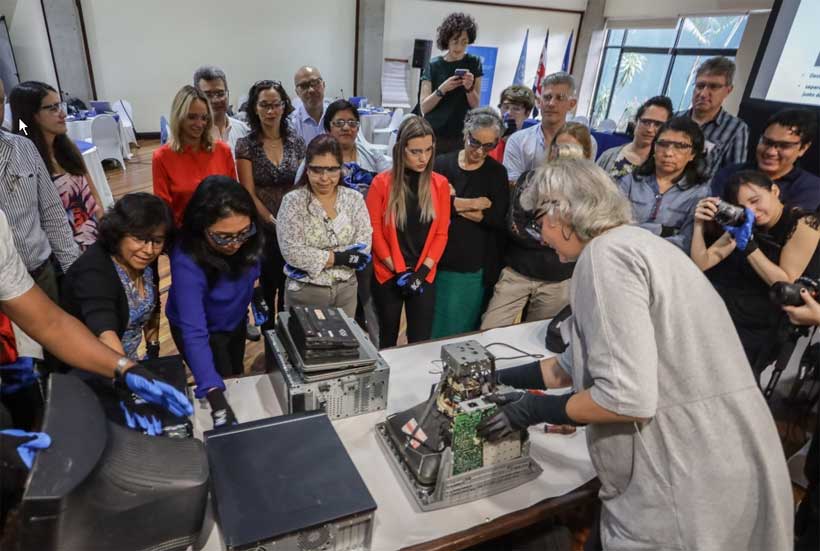 Over 30 representatives of 13 Latin American countries and international experts have gathered to learn and share experiences on e-waste management, from system design to health impacts.
The second Expert Meeting on the Effective Management and Disposal of E-waste in Latin America under the Stockholm Convention on Persistent Organic Pollutants was convened by the United Nations Industrial Development Organization (UNIDO), in cooperation with the Ministry of Health of Costa Rica and with co-financing from the Global Environment Facility (GEF).
The UNIDO-GEF project assists 13 countries with tackling the e-waste challenges in the region, with annual expert meetings providing an opportunity for the participating countries and institutions to get together and share knowledge and experiences.
Following the project launch in Quito in March 2018, this year's Expert Meeting kicked off on 18 March with Project Steering and Technical Committees meetings and a series of presentations by local recycling companies and UN partner organizations.
The E-waste Academy for Managers (EWAM) on 19 March saw a series of panel discussions and group sessions on topics ranging from legal aspects of e-waste management to logistical issues such as collection and transport of e-waste. The Academy is the first of four that will be co-ordinated by the United Nations University (UNU).
The EWAM-Managers Edition is a global forum and training event for stakeholders involved in the practical design and implementation of e-waste management solutions, offering a platform to exchange best practices, discuss existing challenges among practitioners and support better-informed decision-making. It is just one of the examples of capacity-building activities that form part of the project alongside awareness-raising, e-waste policy and regulation advice and financial advice, among other activities.
With presentations from renowned international e-waste experts on plastics, financing and more, the Academy also featured a number of practical sessions with participants learning how to dismantle electrical equipment, including a visit to the Global Electric Electronic Processing plant.
"As the issue of e-waste continues to represent a threat to both the global environment and human health, activities like this are essential for harmonizing and strengthening regional cooperation and knowledge exchange," affirms UNIDO project manager, Alfredo Cueva.
Currently, the world produces approximately 50 million tonnes of e-waste a year – the equivalent of the total weight of all the commercial airliners ever made. This figure is predicted to rise to 120m tonnes by 2050.
UNIDO collaborates with a large number of organizations on the project, including national governments other organzsations and local e-waste recyclers, SC and BC regional centres, the International Labour Organization (ILO), the International Telecommunications Union (ITU), and the World Health Organization (WHO), as well as various other partners, such as Dell, RELAC and the International Solid Waste Association (ISWA).
The growth we want is sustainable: Harnessing innovation for a circular economy for all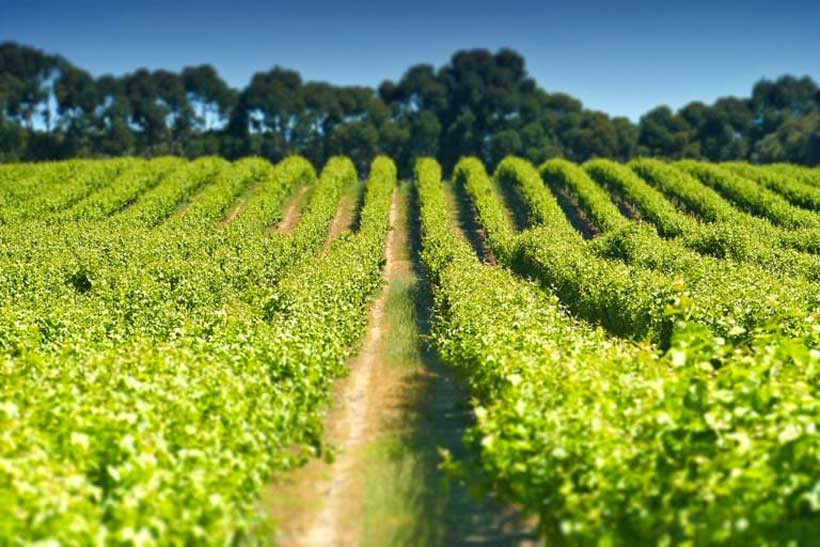 With rapidly growing competition for resources and increasing waste and pollution, the need to move towards an inclusive circular economic system is growing. A circular economy has the incentives and means to use existing resources in an efficient and sustainable fashion – relying on renewable energy sources, extracting more value from waste products, minimizing food waste, and increasing the quality of life for all segments of society.
Perhaps most importantly, this transition poses tremendous opportunities. While, coupled with rapid technological change and increasing globalization, some existing jobs, economic sectors, and production processes will become obsolete, it will also nurture fertile ground for new and green jobs and new economic sectors. This is already happening: the rapidly growing sharing economy is one example of how we can not only use resources more efficiently, but also make them increasingly affordable.
But we are only getting started and have a long road ahead of us. The Circularity Gap Report presented at the 2019 World Economic Forum Annual Meeting in Davos estimates that only 9% of the global economy is circular today. That is not enough. We clearly have to move faster. The problem is that we cannot know in advance what will work and what will not. Instead, we have to try out different solutions and scale up what works. In other words, we need innovation. But innovation does not only mean scientific research and shiny new technologies: the ways we use them, the ways we set the rules of the game, and the ways we create the right incentives matter much more.
This was the central message that emerged from the discussion "The Growth we Want is Sustainable: Harnessing innovation for a circular economy for all", organized by UNECE and UN Environment on 9 July as a side-event for the 2019 High-Level Political Forum. Speakers from governments, businesses, and civil society shared ideas and experiences from different parts of the UNECE region and beyond.
"The circular economy is a compulsory choice for a sustainable world" said UNECE Executive Secretary Olga Algayerova. Emphasizing the need for innovative solutions to re-shape linear economies, she highlighted the importance of exploring new channels to move forward: "We are in the midst of a fourth industrial revolution, which is changing the societies and economies in ways we have never imagined before. Therefore, what we need is to enable experimentation – with technologies, policies, governance arrangements, and business ides".
UN Environment Goodwill Ambassador and solar aviation pioneer Bertrand Piccard warned that today's model of quantitative growth is leading us to environmental chaos, climate change and depletion of natural resources. "Qualitative growth means that we can create jobs and make profit by replacing the old, outdated, inefficient and polluted infrastructures by new modern and efficient ones, ones that can protect the environment. This is the market of the century", he urged, arguing that "this is the way to speak the language of the people we want to convince".
Central to the resulting multi-stakeholder dialogue is innovation – the driving force of the transition towards inclusive and circular economic growth. Stakeholders, including representatives of UNECE member States Sweden, Germany, Georgia and Finland, as well the World Business Council for Sustainable Development (WBCSD), discussed challenges, opportunities and best practices of transforming the existing system of production and consumption patterns from a life-cycle perspective.
This mechanism involves applying frontier technologies, such as IT and artificial intelligence, business models that re-shape product life-cycles, and sharing platforms in different sectors which make way for more sustainable consumption. The high cost of experimentation calls for knowledge-based solutions to identify the right partnerships and sources of finance that will enable and promote innovative high-growth entrepreneurship within SMEs towards a new service-based economy. R&D partnerships with academia in less advanced economies will ensure the necessary digital transfer, while developing targeted skills and supporting life-long learning for the jobs of the future, and distributional aspects through bold social protection, will ensure that no-one is left behind.
Stakeholders further expressed their wish to continue the dialogue on inclusive circular economic growth and long-term sustainability, and to look into supporting policies, norms and standards, developed through multilateralism and partnership at the regional and global level, to reach the ambitious Sustainable Development Goals of the 2030 Agenda.
UNECE fosters cross-sectoral linkages to further accelerate these processes, bringing countries, civil society, and the private sector together towards the common goal of a systemic transition to more sustainable production and consumption practices. To this end, UNECE is pooling its multisectoral expertise through an integrated "nexus" approach to 2030 Agenda delivery. Examples of initiatives to support countries' shift to the circular economy include a resource management framework that helps make use of valuable resources from mining and landfill, policy recommendations on recycling, the development of a blockchain-supported application to enable a circular approach along garment and footwear sector value chains, and an innovative and unique IT- supported food loss management system to repurpose and bring back into the supply chain food that would otherwise be lost.
UN Environment and NASA reach agreement on new global learning initiative
The National Aeronautics and Space Administration (NASA) and the United Nations Environmental Programme have agreed to work together on the promotion and implementation of Global Learning and Observations to Benefit the Environment (GLOBE) and UN Environment's activities.
The GLOBE Programme is an international science and education programme that provides students and the public worldwide with the opportunity to participate in data collection and the scientific process, and contribute meaningfully to our understanding of the Earth system and global environment.
Through this partnership, GLOBE and UN Environment will cooperate on environmental education and training, citizen science, and the collection and distribution of environmental data.
GLOBE and UN Environment will also work together to increase awareness, and promote the use, of GLOBE data by the international science community by leveraging the UN Environment's Global Resource Information Database Centres and publications, with the goal of encouraging participation of environmental researchers in GLOBE.
They will also share education and training resources for distribution to their networks and promote closer collaboration of UN Environment Regional Offices with GLOBE countries. UN Environment, NASA, and GLOBE are excited about the opportunities this partnership will bring to the environmental community.
"The NASA Globe and UNEP partnership strengthens the sharing and interoperability of geospatial data, promoting the availability of rich information for learning and observations towards a better environment," says Alexandre Caldas, UN Environment's Chief of the Country Outreach, Technology and Innovation Branch in the Science Division.
"NASA is pleased to partner with UNEP to enhance environmental education and training and to open up new prospects for the collection and use of environmental data," says Allison K. Leidner, the NASA GLOBE Program Manager.
"The opportunity to collaborate with a worldwide environmental organization is especially exciting at the cusp of the GLOBE Program's 25th anniversary on Earth Day 2020," she adds.
"It has a direct impact on youth and new generations, fundamental for data strategies and our common future. This leverages UNEP initiatives in terms of harnessing the power of big data on the environment for sustainable development, peace and security and humanitarian action."
World Economic Forum to Launch Tropical Forest Alliance in China
The World Economic Forum today announced that it will launch a branch of the Tropical Forest Alliance in China. The Alliance is an initiative led by the Forum that aims to remove deforestation from commodity supply chains
At its Annual Meeting of the New Champions, the Forum also kicked off its latest collaboration with China's Ministry of Ecology and the Environment (MEE) in support of the 2020 Biodiversity Conference of Parties (COP) in Kunming, China, with a high-level gathering of governments and businesses to start lifting the ambition for the COP and driving business and broader societal action. The event is part of a wide-ranging memorandum of understanding that was signed at the Forum's Annual Meeting 2017 in Davos between the Forum and the China Council for International Cooperation on Environment and Development, a high-level advisory body to the Chinese government administered by the MEE.
"The Tropical Forest Alliance is a neutral global public-private platform that brings together more than 150 consumer goods companies, governments, civil society organizations, indigenous peoples, and other environmental actors who seek to reduce tropical deforestation linked to commodity supply chains. China could potentially reduce its environmental footprint of commodity sourcing by 55% versus a BAU scenario in 2025.
"We are thrilled to support Chinese companies and the government to strengthen President Xi Jinping's vision of ecological civilization within global soft-commodity supply chains," said Justin Adams, Executive Director of the Tropical Forest Alliance.
The Annual Meeting of the New Champions saw progress in a number of other areas related to global public goods. With biodiversity loss now occurring at mass-extinction rates – the population of vertebrate species declined by an estimated 58% between 1970 and 2012 – a diverse group of influential international organizations including the World Economic Forum has announced a global coalition to elevate the business call for comprehensive action to reverse nature loss and restore the planet's vital natural systems. Business for Nature was launched today at the Annual Meeting of the New Champions.
The Forum will continue to support Chinese companies and the government in the run-up to the COP after finalizing a work plan with the MEE. The aim is to raise ambition levels for the COP across business and society. Starting with a gathering of high-level leaders this week at the Annual Meeting of the New Champions, activities will ramp up ahead of the event with the formation of an alliance of supporting businesses, as well as the publication by the Forum and partners of a landmark report on The
New Nature Economy. This report will identify a commercial imperative – to complement the environmental and societal need – to conserve our natural world.
In separate moves, the Annual Meeting of the New Champions saw the first advisory meeting to provide strategic direction to the 28 financial institutions that have signed up to a set of Green Investment Principles. The principles, drafted by a coalition including the Forum, the Green Finance Committee of China, the Society for Finance and Banking and the Green Finance Initiative of the City of London, aim to serve as a voluntary standard for investment into the Belt and Road Initiative.
To further support the sustainability measures of the Belt and Road Initiative, the Forum also joined theGreen Belt and Road Coalition. The move will the see the Forum working with MEE on a number of thematic partnerships: Environmental Information Sharing and Big Data; Biodiversity and Ecosystem Management; Green Finance and Investment; and Green Technology Innovation.