Gender equality, justice in law and practice: Essential for sustainable development
Fundamentally linked to human development, gender justice requires ending inequality and redressing existing disparities between women and men, according to a high-level United Nations forum on the situation in Arab States.
Laws that promote gender equality "will help the Arab region move forward on the issue of justice and equality for women", Jordan Ambassador to the UN Sima Bahous, told UN News after chairing the forum centered around the study with the same name: Gender and Law Justice, Evaluation of Laws Affecting Gender Equality in the Arab States.
Gender equality is achieved when both sexes enjoy the same rights and opportunities across society, including access to justice and to economic and social gains. The study stressed that sustainable development goals cannot be achieved without ensuring gender equality in law and practice.
On 14 March, on the margins of the 63rd session of the Commission on the Status of Women (CSW), the UN Development Programme (UNDP), the Economic and Social Commission for West Asia (ESCWA), Population Fund (UNFPA) and the Women's Fund (UNIFEM) organized the conference, which discussed discrimination and criminal, personal status and labour laws across 18 Arab countries.
"Human development means expanding opportunities for women and men to improve their lives and education, and create better opportunities", Ms. Bahous explained.
Room in Arab region for women's equality
Gender justice relies on accountability and equality.
Salma Al-Nemes, Secretary General of the Jordanian National Committee for Women, spoke about the forum's importance, saying that it aims to "emphasize that there is still room in the Arab region to achieve women's equality."
She stressed that problems can only be solved if they are recognized, and that countries can benefit "from the experiences of the Arab and Islamic countries that have achieved equality and build on this by adapting it to national reality."
Because national and local contexts differ, Ms. Al-Nemes acknowledged that "we must examine how to meet these challenges in an appropriate context so that we can achieve equality not only in legislation, but in practice as well".
For her part, Naziha el Obaidi, Minister of Women, Family, Childhood and the Elderly of Tunisia, told UN News about her Government's decree that "when considering the appointment of a senior official in the country, four biographies of candidates, two for women and one for men, should be submitted."
Also in Tunisia, the law of 'horizontal equinoxes and vertical equinoxes' states that if an electoral list is headed by a woman, a man must hold the second position, and vice versa. Ms. el Obaidi credited this with women's participation nearly 48 per cent of municipalities, noting that this law will also be implemented in the legislative elections.
Honour crimes
Because gender-based violence is a major barrier to gender justice, Gender justice and the law closely examines its various forms, including sexual, physical and psychological and economic violence, assessing laws and policies that affect gender equality and protect against gender-based violence.
For example, the penalties for committing so-called honour crimes – which include murder, wounding and beating – vary, depending on the country.
In Algeria, Bahrain, Morocco, Qatar, Syria and Yemen a sentence can be reduced if a "spouse" is caught in an act of adultery.
Whereas in Djibouti and Sudan there are no specific provisions identified in the Penal Code to reduce penalties for these crimes.
Leniency for perpetrators of honour crimes against women in Saudi Arabia is not codified in the law, so men are sentenced at the court's discretion.
Meanwhile, the Penal Code in Egypt spells out that if a husband kills his wife committing adultery, he and the man with whom she was with would receive reduced penalty not to exceed three years in prison.
Should "a person" kill a wife, daughter or sister, or her sexual partner, in the sudden heat of rage after finding her in a sexual act in Somalia, the penal code requires a reduced sentence.
If a man kills his wife or one of his female relatives while engaging in the act of adultery in Iraq, he would be incarcerated for no more than three years. In Libya the sentence would not exceed eight years.
At the same time, some countries repealed reduced sentences for honour crimes, such as Lebanon in 2011, Oman in 2001 and Tunisia in 1993.
While the penal code in Jordan was amended in 2017 to prevent reduced penalties for honour crimes, the original mitigated penalties for murdering a spouse caught in the act of adultery has yet to be removed. Similarly, mitigation of penalties for honour crimes in the Occupied Palestinian Territories were repealed in 2011 in the West Bank and 2018 in Gaza, however, the Government there has not applied the reforms.
Honour crimes are just one of the topics addressed in the study. Violence manifest itself in many ways, including rape, sexual harassment, child and forced marriage, female genital mutilation/cutting and other harmful traditional practices – all of which the study covers.
It is worth mentioning that the UN Commission on the Status of Women is responsible for developing global policies to promote gender equality and women's empowerment. The annual session, which drew to a close on 22 March, provides an opportunity to review progress and identify difficulties, challenges and policy formulation.
US must take 'serious action' to halt police killings of unarmed African Americans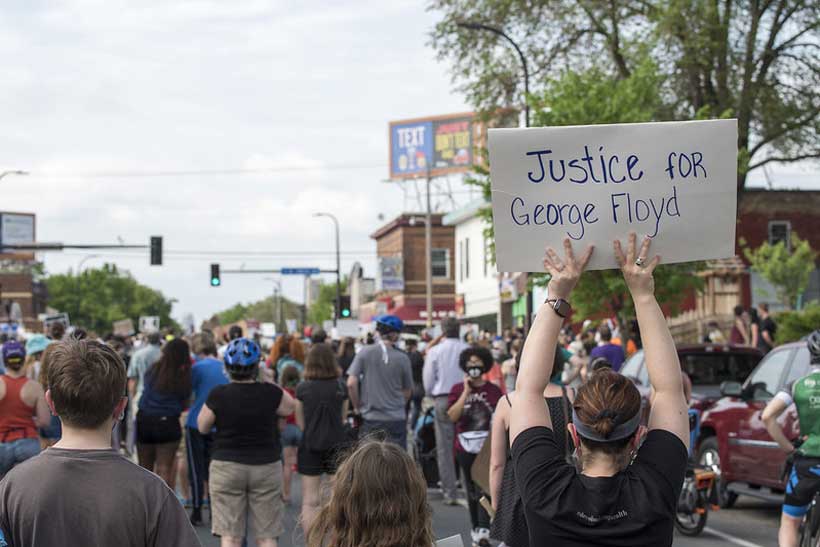 The UN human rights chief on Thursday condemned the killing of 46-year-old George Floyd while in police custody in the city of Minneapolis, calling it the latest in "a long line of killings of unarmed African Americans by US police officers and members of the public".
"I am dismayed to have to add George Floyd's name to that of Breonna Taylor, Eric Garner, Michael Brown and many other unarmed African Americans who have died over the years at the hands of the police – as well as people such as Ahmaud Arbery and Trayvon Martin who were killed by armed members of the public", said High Commissioner for Human Rights, Michelle Bachelet, in statement.
She spelled out that authorities in the United States must take "serious action" to stop such killings, and to ensure that justice is done when they do occur.
"Procedures must change, prevention systems must be put in place, and above all police officers who resort to excessive use of force, should be charged and convicted for the crimes committed", the High Commissioner underscored.
A probe prioritized
The UN human rights chief welcomed the announcement by Federal authorities in Washington, that they would be prioritizing an investigation into the incident, but stressed that "in too many cases in the past, such investigations have led to killings being deemed justified on questionable grounds, or only being addressed by administrative measures."
"The role that entrenched and pervasive racial discrimination plays in such deaths must also be fully examined, properly recognized and dealt with", she added.
Erupting protests
The killing has sparked violent protests in Minnesota's largest city, with hundreds of demonstrators clashing with police clad in riot gear, over two nights of unrest.
Video captured at the scene on Monday, and posted on social media, shows a white police officer, using his knee to pin Mr. Floyd to the ground over the course of several minutes. Four officers involved in the incident have been dismissed, but none have so far been charged. The city's Mayor, Jacob Frey, has appealed for calm, writing on Twitter that "we cannot let tragedy beget more tragedy".
Violence won't end police brutality
While empathizing with the anger unleashed by Mr. Floyd's killing, the top UN rights official encouraged people in Minneapolis and elsewhere to protest peacefully.
"Violence and destruction of property won't solve the problem of police brutality and enshrined discrimination", she said.
"I urge protestors to express their demands for justice peacefully, and I urge the police to take utmost care not enflame the current situation even more with any further use of excessive force", concluded the High Commissioner.
More 'can and must be done' to eradicate caste-based discrimination in Nepal
Shocked over the killing last weekend of five men in Nepal, who had planned to escort home one of their girlfriends from a higher caste, the UN human rights chief on Friday stressed that ending caste-based discrimination is "fundamental" to the overall sustainable development vision of leaving no one behind.
"It is distressing that caste-based prejudices remain deeply entrenched in our world in the 21st century, and I am filled with sadness for these two young people who held high hopes of building a life together despite the obstacles presented by their accident of birth" said High Commissioner for Human Rights Michelle Bachelet, referring to the couple at the centre of the tragedy.
Last Saturday, a 21-year-old man from the 'untouchable' Dalit caste, known as Nawaraj BK, and his friends, traveled some 32 km from Jajarkot district, to Western Rukum district, the home of the man's girlfriend, who belongs to a higher social caste.
They intended to escort the young woman back to their home district, reportedly at her request, but were attacked and chased into a river. Five men, four of whom were also Dalits, were later found dead, while another is still missing.
"Caste-based discrimination remains widespread, not only in Nepal but other countries, and often leads to serious harm and, as in this case, even loss of life", lamented Ms. Bachelet.
Dalits under attack
Nawaraj's case is not an isolated one.
Dalits, formerly known as "untouchables", have suffered for generations of public shaming at the hands of upper-caste Hindus and continue to face widespread atrocities across the country, with any seeming attempts at upward social mobility, violently shut down.
In a similar case, disturbing reports have also emerging about a 12-year-old Dalit girl who was killed in a separate attack in the village of Devdaha, in the Rupandehi district in southern Nepal.
She is said to have been forcibly married to her alleged rapist from a dominant caste. The girl's body was reportedly left hanging from a tree on Saturday.
The High Commissioner called for an independent investigation into the attacks, underscoring that the victims and their families have the right to justice, truth and reparations.
Searching for justice
The killings have triggered outrage in Nepal, prompting the federal Ministry of Home Affairs to establish a five-member "high-level investigation committee" to look into the incident.
On Tuesday, police reportedly filed a complaint against 20 alleged perpetrators.
"Despite constitutional guarantees, impunity for caste-based discrimination and violence remains high in Nepal", according to the UN human rights office (OHCHR).
And while the country has taken "big strides to address this scourge", she maintained that "so much more can and must be done, to eradicate this blight on society".
The Nepali Parliament's Law, Justice and Human Rights Committee has asked authorities to immediately investigate two cases of gang-rape of Dalit women, as well as other caste-based cases involving murder, enforced disappearances and forced abortion.
Although Nepal is party to the Convention on the Elimination of All Forms of Racial Discrimination, the Committee tasked with monitoring the treaty observed that despite the abolition of "untouchability" in Nepal, Dalits continue to face deep-rooted discrimination, including issues surrounding inter-caste marriages.
Discrimination at every turn
And the risks for this vulnerable caste has only increased during the COVID-19 pandemic.
On Monday, the parliamentary committee directed the Government to investigate all incidents of caste-based discrimination and violence during the coronavirus lockdown.
Dalits in Nepal and other countries experience discrimination at every level of their daily lives, limiting their employment and educational opportunities, the places where they can collect water or worship, and their choice of who to marry, says OHCHR.
Structural barriers and discrimination force Dalits to continue low-income and dehumanizing employment, such as manual scavenging, disposing of dead animals, digging graves or making leather products.
COVID-19 crisis putting human trafficking victims at risk of further exploitation
Lockdowns, travel restrictions, resource cutbacks and other measures to curb the spread of the new coronavirus are putting victims of human trafficking at risk of further exploitation, while organized crime networks could further profit from the pandemic, according to the UN Office on Drugs and Crime (UNODC).
New analysis from the agency shows that the crisis is having an impact on the lives of trafficking victims before, during and even after their ordeal.
"With COVID-19 restricting movement, diverting law enforcement resources, and reducing social and public services, human trafficking victims have even less chance of escape and finding help", said Ghada Fathi Waly, the UNODC Executive Director.
As countries have closed their borders due to the pandemic, some victims are unable to return home. Others face delays in legal proceedings, as well as a reduction in the support and protection they rely on. Some are also in danger of further abuse or neglect by their captors.
"Human trafficking is the result of the failure of our societies and economies to protect the most vulnerable", said Ilias Chatzis, chief of the UNODC section that works to combat this crime.
"They should not be additionally 'punished' during times of crisis."
Children in danger of new forms of abuse
UNODC said its partners report that due to the pandemic, more children are being forced onto the streets to search for food and money, thus increasing their risk of exploitation.
School closures have not only blocked access to education but also a source of shelter and food for millions of children. The UN recently reported that some 370 million students worldwide are now missing out on school meals, often their only reliable source of nutrition.
Meanwhile, a UN independent human rights expert has underlined the urgent need for child protection services during the pandemic.
Mama Fatima Singhateh, fears the reported surge in violence against children, coupled with new forms of sexual exploitation and abuse, will have "devastating" lifelong implications for millions of youngsters worldwide.
Even before the crisis, as many as 66 million children were already living in "a precarious socio-economic situation", according to Ms. Singhateh, who is the Special Rapporteur on the sale and sexual exploitation of children, appointed by the UN Human Rights Council in Geneva.
'Drive-thru' services for child sexual exploitation
Ms. Singhateh said travel restrictions have spawned new ways to sexually exploit and abuse children, such as attempts to establish "delivery" or "drive-thru" services. There has also been a spike in people trying to access illegal websites featuring child pornography.
"Producing and accessing child sexual abuse material and live-stream child sexual abuse online has now become an easy alternative to groom and lure children into sexual activities and to trade images in online communities", said Ms. Singhateh. In common with all the UN's independent rights experts, she is not a UN staff member nor does she receive a salary from the Organization.
Organized crime could benefit
UNODC warned that the pandemic has also created new opportunities for organized crime to profit.
"Traffickers may become more active and prey on people who are even more vulnerable than before, because they have lost their source of income due to measures to control the virus", said Mr. Chatzis, chief of the agency's Human Trafficking Section.
Some countries have diverted resources meant for fighting crime to the battle to defeat COVID-19. At the same time, services to assist trafficking victims are being reduced or even shut down.
"We know that people in a vulnerable situation are more exposed to contracting the virus, and they have less access to healthcare if they get sick," said Mr. Chatzis.
"So it's alarming to hear that, in some places, trafficking victims no longer have access to shelters, some refuges have even closed down due to the virus and others lack protective equipment – putting both victims and staff at risk."
UNODC steps up support
As the pandemic deepens, UNODC is constantly monitoring the situation through its network of field offices and global partners.
It is also ramping up support, such as helping anti-trafficking units to get protective equipment, and assisting countries in evaluating the impact of the crisis on resources for victims, law enforcement and justice systems.
"As we work together to overcome the global pandemic, countries need to keep shelters and hotlines open, safeguard access to justice and prevent more vulnerable people from falling into the hands of organized crime", said Ms. Waly, the agency's chief.
UNODC further recommends that governments act to ensure that while current restrictions on travel and freedom of movement are respected, access to essential services for victims of human trafficking is guaranteed without discrimination.