Breguet Classique 5177 Grand Feu Blue Enamel
In its current collection, the new Breguet Classique 5177 presents the Breguet blue for the first time in a grand feu enamel. This unique color affirms the elegant simplicity of the Breguet style in a contemporary register.
To ensure ease of readability, the moon-tipped hands made of rhodium-plated steel stand out against the blue background. In the same quest for readability, the Arabic numerals, stars, diamond shapes and fleur-de-lis on the chapter ring are silvered and are larger in size. Their relief is born from a very delicate, powdered tracing. The Breguet's secret signature, also in enamel, appears at 6 o'clock. For all of its timepieces with an enamel dial, the House of Breguet continues to use the calligraphy once drawn by Abraham-Louis Breguet, as featured, for example, on the self-winding Breguet No. 15 watch launched in 1787.
Powered by the self-winding 777Q mechanical caliber, the Classique 5177 Grand Feu Blue Enamel model has simple and useful functions: the central second hand and the date at 3 o'clock. Current technological advances such as the use of silicon for the lever and escape wheel optimize its chronometric reliability.
Breitling's Heritage, Revived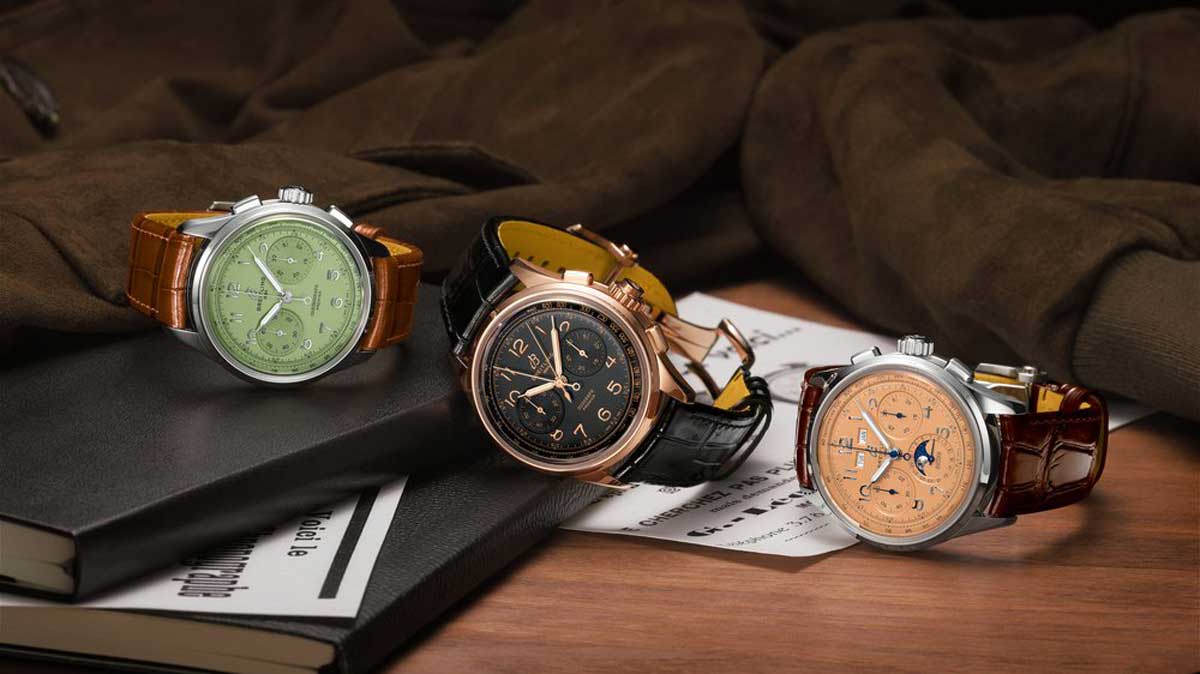 Inspired by the inventive spirit of Breitling's founders, the new Premier Heritage Collection is for the modern and discerning man of impeccable taste. These exquisite timepieces are the brand's most elegant and refined.
"This heritage-inspired design with a stylish modern twist embodies some of Breitling's most famous innovations, and revives Breitling's legacy of inventing the modern chronograph. This truly is our heritage revived," says Georges Kern of Breitling's timelessly elegant new collection.
The Premier Heritage Collection pays homage to Breitling's very own Founders Squad: three generations of men who changed the history of timekeeping and made Breitling what it is today. Léon Breitling founded the company in 1884; later, he patented a simple timer/tachymeter that could measure any speed between 15 and 150 km/h, an invention featured in the 1906 Vitesse pocket watch.
In 1915, his son, Gaston, created one of the first wrist-worn chronographs with an independent pusher at 2 o'clock. This innovation separated the start, stop, and reset functions from the crown, making it infinitely more practical for timing sports.
In 1934, Léon's grandson, Willy, patented the second independent chronograph pusher at 4 o'clock. Among Willy Breitling's celebrated pioneering achievements was the establishment of the Huit Aviation Department in 1938.
Impeccable taste
Besides being bold and tech savvy, Willy Breitling understood people's desire for a touch of elegance and glamour. This inspired him to design the original Premier wristwatches in the 1940s, Breitling's first step in linking purpose with style. As Willy saw it, "When a man puts on his watch, it is the unmistakable stamp of impeccable taste."
The latest generation of Premiers – Breitling's Premier Heritage Collection – brings this timeless elegance back to life. The collection includes six watches divided into three distinctive categories: The Chronograph, The Duograph, and The Datora.
All feature Arabic numerals, vintage-inspired hands and semi-shiny alligator straps with tone-on-tone stitching. Every watch is a COSC-certified chronometer and water-resistant up to 100 meters.
Groundbreaking functions
The 40 mm Premier Heritage Chronograph is manually wound, just like its 1940s predecessors. It is powered by the Breitling Manufacture Caliber B09, which is based on the Breitling Manufacture Caliber 01. It comes in two variations: with an eye-catching pistachio-green dial encased in stainless steel or a stately silver-colored dial encased in 18 k red gold.
With stainless-steel and 18 k red gold cases measuring 42 mm, the Premier Heritage Duograph comes with a blue or black dial, respectively. Its rattrapante function – one of the most elaborate in watchmaking – enables the wearer to measure two elapsed times simultaneously thanks to its two superimposed chronograph hands. This piece houses the mechanical hand-wound Breitling Manufacture Caliber B15, which is based on the Breitling Manufacture Caliber B03.
Like its 1940s predecessor, the 42 mm Premier Heritage Datora also stands out for its highly visible and complex functions, namely its day, date, and moon-phase displays. It is powered by the Manufacture Caliber B25. The Datora's copper-colored face is framed by a stainless-steel case, while its silver-colored dial comes in an 18 k red gold one.
All three models of the Premier Heritage Collection highlight Breitling's mastery of timekeeping as it has evolved over the generations.
Rolex Oyster Perpetual Explorer
Rolex is presenting its new-generation Oyster Perpetual Explorer. At 36 mm, it returns to the size of the original model launched in 1953 following the first ascent to the summit of Mount Everest by Sir Edmund Hillary and Tenzing Norgay on 29 May that year.
The new-generation Explorer is notably released in a yellow Rolesor version (combining Oystersteel and 18 ct yellow gold). The black dial, now lacquered, bears the index hour markers and emblematic 3, 6 and 9 numerals that are the cornerstones of the model's personality, evoking the determination and spirit of adventure that give rise to great achievements.
The new-generation Explorer's Chromalight display is particularly impressive. In dark conditions, the intensity of the blue glow emitted by the hour markers and hands now lasts longer thanks to the innovative and exclusive luminescent material with which they are filled or coated. In daylight, these display elements also have a brighter white hue.
The new-generation Explorer is equipped with calibre 3230, a movement at the forefront of watchmaking technology.
Like all Rolex watches, the Oyster Perpetual Explorer carries the Superlative Chronometer certification, which ensures excellent performance on the wrist.
AN EXPLORATION TOOL
Presented in 1953, the Explorer is emblematic of the close ties between Rolex and exploration. In the 1930s, the brand began to equip numerous Himalayan expeditions with Oyster watches. Among these was the group that Sir Edmund Hillary and Tenzing Norgay were part of when they became the first to reach the summit of Mount Everest, at 8,848 metres (29,028 feet).
This pioneering move illustrated the company's ambition to use the world as a laboratory, testing its watches in real conditions in order to continually improve them. The feedback that Rolex received from the members of these different expeditions therefore had a direct influence on the evolution of its watches, making them more precise and robust.
ROLESOR, A MARRIAGE OF GOLD AND STEEL
Rolesor, the combination of 18 ct gold and Oystersteel on a Rolex watch, has been a signature feature of the brand since 1933, when the name was registered. It is a meeting of two metals: one, noble and precious, attractive for its lustre and stability; the other, highly resistant to corrosion, assuring strength and reliability. All of these qualities mirror the elegance and performance that come together in a Rolex watch.
On the yellow Rolesor version of the new-generation Explorer, the bezel, winding crown and centre links of the bracelet are in 18 ct yellow gold, while the case and outer links of the bracelet are in Oystersteel.
THE OYSTER CASE, SYMBOL OF WATERPROOFNESS
A paragon of robustness and reliability, the new-generation Explorer's 36 mm Oyster case is guaranteed waterproof to a depth of 100 metres (330 feet). Its middle case is crafted from a solid block of Oystersteel, a particularly corrosion-resistant alloy. The case back, edged with fine fluting, is hermetically screwed down with a special tool that allows only Rolex watchmakers to access the movement. The Twinlock winding crown, fitted with a double waterproofness system, screws down securely against the case. The crystal is made of virtually scratchproof sapphire. The waterproof Oyster case provides optimum protection for the watch's movement.

PERPETUAL CALIBRE 3230
The new-generation Explorer is equipped with calibre 3230, a movement entirely developed and manufactured by Rolex that was released in 2020. At the forefront of watchmaking technology, this self-winding mechanical movement led to the filing of several patents, and offers outstanding performance in terms of precision, power reserve, resistance to shocks and magnetic fields, convenience and reliability.
Calibre 3230 incorporates the Chronergy escapement patented by Rolex, which combines high energy efficiency with great dependability. Made of nickel-phosphorus, it is also insensitive to magnetic fields. The movement is fitted with an optimized blue Parachrom hairspring, manufactured by Rolex in a paramagnetic alloy that makes it up to 10 times more precise than a traditional hairspring in case of shocks. The blue Parachrom hairspring is equipped with a Rolex overcoil, ensuring the calibre's regularity in any position. The oscillator is fitted on the Rolex-designed and -patented high-performance Paraflex shock absorbers, increasing the movement's shock resistance.
Calibre 3230 is equipped with a self-winding module via a Perpetual rotor. Thanks to its barrel architecture and the escapement's superior efficiency, the power reserve of calibre 3230 extends to approximately 70 hours.
OYSTER BRACELET AND OYSTERLOCK SAFETY CLASP
The new-generation Explorer is fitted with an Oyster bracelet. Developed at the end of the 1930s, this three-piece link bracelet is known for its robustness.
The Oyster bracelet on this new watch features the Rolex-designed and -patented Oysterlock folding safety clasp, which prevents accidental opening. It is also equipped with the Easylink comfort extension link, developed by the brand, which allows the wearer to easily adjust the bracelet length by approximately 5 mm. In addition, a concealed attachment system ensures seamless visual continuity between the bracelet and case.

SUPERLATIVE CHRONOMETER CERTIFICATION
Like all Rolex watches, the Oyster Perpetual Explorer is covered by the Superlative Chronometer certification redefined by Rolex in 2015. This designation testifies that every watch leaving the brand's workshops has successfully undergone a series of tests conducted by Rolex in its own laboratories according to its own criteria. These certification tests apply to the fully assembled watch, after casing the movement, guaranteeing superlative performance on the wrist in terms of precision, power reserve, waterproofness and self-winding. The precision of a Rolex Superlative Chronometer is of the order of −2 /+2 seconds per day – the rate deviation tolerated by the brand for a finished watch is significantly smaller than that accepted by the Swiss Official Chronometer Testing Institute (COSC) for official certification of the movement alone.
The Superlative Chronometer status is symbolized by the green seal that comes with every Rolex watch and is coupled with an international five-year guarantee.
What are the benefits of natural beauty products?
A common misconception is that all beauty products are the same. Whether they are natural or synthetic, how big of a difference could they possibly make? While they both function almost the same in terms of appearance, however, natural beauty products come with multiple benefits for you and the environment as well. Unlike synthetic beauty products, natural ones contain zero to none chemicals and preservatives that could otherwise be detrimental to your overall health. They are effective in targeting different skin concerns, for instance, trollhassel toner from Glimja comprises essential oils which are derived through ethical and fair practices to target acne-prone and irritated skin leaving it cool and calm.
To clear up your confusion on why natural products are better, read ahead!
Rich in Nutrients
Natural beauty products contain naturally-derived ingredients like different plant extracts that give you many additional benefits along with your main concern. They help your skin to function properly and flourish to keep you looking your best at all times. Different ingredients target different skin issues:
For hydration – sunflower seeds, coconut, olives, avocado, jojoba
For soothing and healing – oatmeal, lavender, aloe vera
Antioxidants – green tea, berries, honey, acai oil
For deep cleansing – tea tree, clay, raw cane sugar
Gentle on the Skin
Since natural beauty products are free of parabens, sulfates, formaldehyde, petrochemicals, synthetic dyes, and all the other toxic chemicals like lead, they don't react on the skin, especially extremely sensitive skin. These harmful chemicals not only cause harm to your skin but also causes internal harm by seeping in through your bloodstreams. Natural beauty products allow your skin to breathe while they effectively do their job without causing you skin redness, itching, or irritation.
Environmentally-friendly
The production of certain chemicals in the factory can harm plants and animals when they get in contact with them. They are a cause of wasteful resources which adversely affect our environment. The synthetic products also require testing on animals which is really inhumane. As opposed to this, organic products don't require any harmful chemicals in their formula to ensure no harm to the environment, plants, and animals. They even focus on the packaging of their products to be eco-friendly for the planet's well-being.
Kind to Your Wallet in The Long Run
Although organic skincare products are a bit expensive as compared to synthetic products, organic products are a one-off investment. As they feature top-notch quality ingredients without the use of any fillers, they are more effective and deal quickly with your skin concerns without having to invest frequently in cheap synthetic products. They simplify your skincare routine and you can see a drastic effect on your skin within a short time.
Heavenly Smell
Since organic products don't contain synthetic fragrances, the natural fragrance of the essential oils or plant extracts will leave you in awe. You will be able to notice the difference between the synthetic and natural fragrance as the natural one is more pleasant and less pungent. It also won't irritate your skin in any way. The ingredients on the label should read "natural fragrance" or "fragrance-free" to not mistake synthetic fragrance for the natural one.