Russia and the Indian Ocean Security and Governance
Russia is located far from the Indian Ocean, but the region has always played an important role in the country's strategy. During the Soviet times, Moscow maintained steady presence in the Indian Ocean, including naval presence. After the collapse of the Soviet union, its attention to the region decreased due to internal reasons, but in the latest decade Moscow is coming back to the Indian Ocean, which manifests for example in Russian naval ships conducting anti-piracy operations near the coasts of Africa. At the same time, having limited trade and security relations in the region, Russia is often seen as playing only marginal role or no part at all in the Indian Ocean's affairs. However, Russia as a global power has vital economic and strategic interests tied to the region. As part of its "Pivot to the East" strategy, Russia regards developing stronger diversified ties with regional players in all areas ranging from strategic to trade or scientific as one of its foreign policy priorities.
At the official level, one strategic document — Russia's Maritime Doctrine till 2020 — specifically deals with the country's interests in the region. Russia's Maritime Doctrine till 2020 views the Indian Ocean as one of regional priorities and formulates three long-term objectives of the Russian policy in the region: a) developing shipping and fisheries navigation as well as joint anti-piracy activities with other states; b) conducting marine scientific research in Antarctica as the main policy direction aimed at maintaining and strengthening Russia's positions in the region; c) promoting the transformation of the region into a zone of peace, stability and good neighborly relations as well as periodically ensuring naval presence of the Russian Federation in the Indian Ocean.
Moscow's main interests and concerns in the Indian Ocean are connected both to traditional phenomena characteristic to the region and altering regional dynamics.
From the strategic point of view, the Indian Ocean is increasingly seen as an arena of a "great game", an area of competition between great powers. Those competing are China and the US, or China and India. In this context, conceptualization and instutionalization of the Indo-Pacific as well as India — Japan initiative of Asia — Africa Growth Corridor are often viewed as manifestations of this power game, coming after China's attempts to involve regional players into the Belt and Road Initiative that is often seen as not an economic initiative but rather a geostrategic plan. Importantly, smaller regional states, including Sri Lanka, might be increasingly used as playing fields or even bargaining chips in this great powers' game.
Transformation of the Indian Ocean in an arena of confrontation is surely against Moscow's interests. First, any conflict or severe tensions of such a scale in the area as important as Indian Ocean will have long-lasting repercussions not only for the regions' security and prosperity but for the whole world and would eventually affect Russia. Second, Moscow maintains close relations with both Delhi and Beijing, and being forced to choose between these two strategic partners is a worst-case scenario for Russia. In light of this, Moscow could to a certain extent use regular meetings in Russia — India — China strategic triangle format to somewhat ease the tensions and contribute to bridging the gap between Delhi and Beijing.
Traditional security threats coming from non-state actors — piracy, terrorism, drug-trafficking etc. — continue to give reason for Moscow's concern. They are now exacerbated by the emergence of new means of communication or attack linked to the technological revolution — for example, artificial intelligence and robotics technologies. Ensuring digital security in the Indian Ocean is no less important now, with regional states being increasingly susceptible for cyber attacks. In this context the need for security and safety of deep-water cables is also worth mentioning. At the same time, recent technological developments create new opportunities for cooperation and new instruments allowing to tackle existing challenges more efficiently.
Another set of issues worth Moscow's attention deal with the fact that a lot of regional countries have quickly growing population that may have a significant effect on global migration flows and potentially give rise to food and water security challenges. This could at the same time both give to Moscow new of opportunities for cooperation with regional players and provoke unrest.
Last but not least, Indian Ocean is faced with a number of environmental challenges that affect all other development factors and challenges and will significantly alter the geostrategic and geoeconomic map of the region and the world as a whole in the years to come.
Altering regional dynamics and growing instability call for closer cooperation between regional states; it should also involve non-regional actors. Regional situation determines the need for developing common approaches and joint actions in order to develop a multilateral, inclusive, non-confrontational order based on mutual respect and international law. Smaller states' strategic autonomy is to be ensured.
For Moscow, role of fundamental principles of international law (including United Nations Convention on the Law of the Sea) and non-exclusive multilateral institutions, both global and regional (first and foremost, the United Nations), is intrinsic in this context.
A certain lack of institutional framework is characteristic for the region, there is no regional security architecture as such. While rigid and binding collaboration mechanisms are unlikely to be formed in the Indian Ocean in short- to mid-term, it is vital to develop and reinforce dialogue platforms and collaborative frameworks, stimulate transparent and inclusive dialogue and strengthen confidence-building measures. Russia with its long history of multilateral diplomacy could provide great support to regional multilateral dialogue frameworks. In the longer term, developing and promoting such initiatives would also contribute to Russia's Greater Eurasia initiative.
As to more practical issues, given its ample defense capacities, Russia could also serve as a security provider in the region with regard to anti-piracy, anti-terrorism and anti-trafficking and assist regional states in developing their own capacities in these areas. Russian navy could also contribute to disaster-relief operations in the Indian Ocean. Moscow's great technical and scientific potential could also make it a contributor to regional digital security and safety of critical infrastructure.
It is also interesting to look at a potential Shanghai Cooperation Organisation's role in the region. Its scope has been traditionally limited to Central Asia, but with India and Pakistan joining as full members and Sri Lanka as a dialogue partner, the Indian Ocean has now also entered its scope. Of course, it is too early to argue that the SCO can become an important player in the region, but it could serve as one of a dialogue platforms and, given its anti-terrorist component, share expertise on fighting non-state security challenges.
These ambitious strategic and practical tasks cannot be achieved by cooperation at the official level alone, without contribution by civil societies, businesses, expert communities, and think tanks of regional and non-regional countries. Invested 1.5 and 2-track dialogue also serves to promote mutual understanding in interests of peaceful development.
First published in our partner RIAC
Does NATO respond positively to the Turkish supererogation?
Turkey is once again turning to the West, while over the past two years, it had been distancing from the West and trying to collaborate with Russia due the success of the Astana peace process on the Syrian conflict.
Damascus's strategic patience is over because Ankara has failed to fulfill its commitments regarding retaking the areas captured by terrorists backed by Turkey. The Syrian army's widespread advances over the last two weeks in areas occupied by terrorist forces in the northwest have led to Ankara's reaction and increased tensions between Syria and Turkey. Along with wresting control over the strategic Damascus-Aleppo highway, the Syrian army carried out successful operations in recapturing 1500 km2 of Syrian territory and about 100 towns and villages in west and south Aleppo, especially key towns of Khan Tuman and Saraqib. Following the Syrian army's operations, the Turkish government has sent thousands of troops and military equipment to the outskirts of Idlib to prevent the continued advance of the Syrian forces.
Turkey's moves were due to greenlight by the U.S., NATO, and the EU, which have so far not been in Ankara's favor; rather they have resulted in massive casualties and the loss of six military bases in Syria's territory.
Recently, Turkish Defense Minister Hulusi Akar called on the North Atlantic Treaty Organization to support the Turkish military in order to halt the Syrian army's offensive against Idlib, the stronghold of the latest Turkish-backed terrorist elements.
Obviously, the move by Turkey has broken the commitments to the Sochi agreement and the Astana process, with the aim of holding its place in NATO. This is a wish that seems unlikely to come true, given the chaotic situation of NATO and the West's distrust of Turkey.
Accordingly, it is certain that Idlib and its outskirts will soon be completely liberated because of the high motivation and ability of the Syrian army. The liberation will definitely thwart all hostile policies that Turkey has adopted in Syria for many years and will bring heavy defeat for Ankara.
The developments in Syria in recent days shows that Turkey is no longer trustworthy as it has explicitly violated Syria's sovereignty as an independent state. There have been some accords on Syria, such as the Sochi agreement, regarding the establishment of a safe zone in Idlib, while Turkey has not considered the slightest value for the agreements.
From our partner Tehran Times
Lithuania: To serve or not to serve in the army
It is well known that in 2015 Lithuanian authorities reintroduced compulsory military service due to the potential threat caused by the Russian Federation.
It should be said, that young Lithuanians do not appreciate the idea and try to avoid the service in every possible way. They even are not afraid of penalties and imprisonment.
In order to force them to serve Lithuanian authorities are inventing new "tools" to make the process of avoidance the conscription harder.
From the beginning of 2015 all Lithuanian men aged 19-26 had to perform compulsory military service in the Lithuanian Armed Forces for a period of 9 months if fate decided.
The matter is the way of choosing the men who will serve is more than surprising. They say that 2 percent of men are randomly selected to complete vacancies in the army within the year. The lists of military conscripts then are published on the Internet. But "randomly" could also mean "nobody knows how they are selected."
At the beginning of this year authorities lowered the age range at which men are called up for mandatory military service to 18-23 years and banned volunteer soldiers from holding seats in the parliament and municipal councils.
Defence Minister Raimundas Karoblis said that the aim of lowering the conscription age is to ensure that conscripts' military service causes the minimum possible disruption to their civilian lives.
The matter is the way of choosing the men who will serve is more than surprising. They say that 2 percent of men are randomly selected to complete vacancies in the army within the year. The lists of military conscripts then are published on the Internet. But "randomly" could also mean "nobody knows how they are selected."
In reality the Ministry of National Defence can't meet its recruitment goals.
The system includes Lithuanians living abroad who are forced to leave their home and come back for the service. The government of Lithuania doesn't care that men living overseas have their personal life, own career paths and financial responsibilities.
The military authorities are trying to take immigrants for service on purpose, not caring about their personal problems, including health issues and financial commitments.
They also discriminate homosexual men by giving them specific tests to find out how gay they are, including a talk with the psychiatrist. Because homosexuality is still a sickness in Lithuania, with existing laws against gay people.
A lot of Lithuania men who decided not to come back for the service, are often wanted by police, and in some circumstances might end up in prison for up to 3 years.
Thus, in December 2019, 24-year-old Marius H. from Kedainiai was prosecuted for not visiting the military registration and enlistment office, but did not change his position. He said later that he would not go to serve, it is not in his interests. He has a well-paid job in Belgium and is not going to change his way of life. So he paid penalty (800 euros) and left for Belgium. And he is not the only one in the country who has made such choice.
Evidently, it is impossible to solve the problem in that way, using methods of coercion and punishment. Unfortunately, reintroducing of compulsory military service was the decision of the authorities, finding the ways to avoid it is the choice of youth. If the government doesn't respect the citizens, the citizens have a right not to obey their decisions.
Assessing India's Enhanced Air Defence Shield with reference to Pakistan's MIRV Capabilities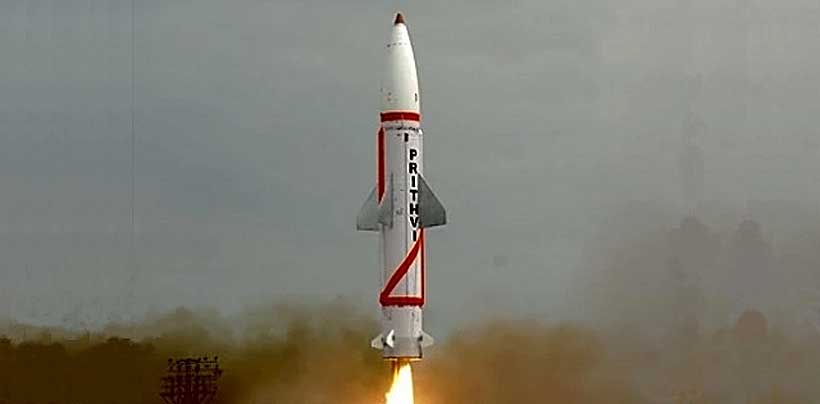 Since the last few years, India has been continuously carrying out an extensive military modernization program aimed at enhancing its counterforce capabilities vis-à-vis Pakistan. Under this notion, one of its most important components is the enhancement of its air defence capabilities aimed at providing an extensive multi-layered air defence shield. This has been done partly by combining indigenously developed systems with some of the world's most expensive and advanced Missile Defence Systems which India has been purchasing over the last few years. Pakistan, due to its economic constraints cannot compete with India on a tit for tat basis. Hence, to address such a threat, Pakistan, for the time being, seems to be enhancing its indigenously developed Multiple Independent Reentry Vehicle (MIRV) capabilities. These, in turn, are aimed at accurately penetrating the Indian Air Defense network that is being currently developed, by swarming it with a plethora of smarter and precision-based warheads to devastating effect.
At present, India possesses and intends to acquire various air defence systems in its missile defence inventory. These include indigenously developed ballistic missile defence systems such as the Prithvi Air Defence (PAD) missiles, the Advanced Air Defence (AAD) Ashwin missiles and the Barak-8 missile defence system which has been jointly developed with Israel. Furthermore, to enhance its future capabilities, India had also signed an agreement with Russia for the acquisition of the S-400 anti-missile system back in October 2018, the delivery of which is expected in October this year. In another significant development, India reportedly intends to acquire the 'National Advanced Surface to Air Missile System-II (NASAMS-II), a medium-range missile system from the US. India's acquisition of advanced missile defence systems such as these would thus likely destabilize the pre-existing deterrence framework in South Asia, as it would embolden India to consider countering Pakistan's existing range of warhead delivery systems such as its ballistic missiles, cruise missiles, fighter jets, and unmanned aerial vehicles with greater impunity.
In order to restore stability, Pakistan has two choices; firstly, in the long term, to purchase similar, albeit expensive missile defence systems from the international market – such as from Russia and/or China. A tall prospect which already seems difficult given the country's economic difficulties. Secondly, to counter the Indian advanced air defence shield while staying within its existing doctrinal posture, it seems that the induction of an increased number of MIRV capable ballistic missiles appears as the more plausible and immediate solution.
It is worth mentioning here that Pakistan's Ababeel Ballistic Missile, a medium-range ballistic missile, which it had tested in January 2017, is believed to have introduced MIRV technology into Pakistan's nuclear arsenal with its reported range of 2200 kilometers. Pakistan's rationale for achieving this milestone is widely believed to be inclined towards neutralizing a broad range of the expected outcomes of India's military modernization drive, including the threat from its enhanced missile defence systems. This is further evident in the statements of Pakistan Military Officials, in which they have clearly stated that the development of the Ababeel weapon system is aimed at ensuring the survivability of Pakistan's ballistic missiles 'keeping in view the growing regional Ballistic Missile Defence (BMD) environment', hence further reinforcing nuclear deterrence.
In the same vein, there is widespread speculation that Pakistan's recently tested short-range ballistic missile Ghaznavi – with its operational range of 290 kilometers – is also MIRV capable. No matter the validity of such speculation, there is still an ongoing debate questioning whether Pakistan needs to have such a short-range MIRV capable ballistic missile. Particularly keeping in view India's counterforce designs which highlight an apparent shift towards nuclear counterforce and the notions of 'splendid first strike' and surgical strikes against Pakistan. A strategy that is, in turn, directly linked to its Air Defence modernization plans because such counterforce temptations might provoke Pakistani retaliation. Hence, the road-mobile Ghaznavi missile, based on its accuracy and, shorter range and flight times could thus be a prospective platform for being a MIRV capable delivery system aimed at penetrating the Indian Air Defence shield. Hence, for Pakistan, the provision of such short-range MIRV capable ballistic missiles like Ghaznavi would likely serve as a key deterrent against the Indian advanced air defence shield.
At the present, Pakistan by being overtly threatened by the ruling BJP government still holds a principled stance in working towards bringing about lost peace and stability in the South Asian region. However, Indian aspirations as evident in its ambitious military modernization plans have compelled Pakistan to take all possible measures to assure its security and preserve its sovereignty. As such Pakistan may need to expand its strategy of playing its cards close to its chest particularly when taking into account India's ongoing expansion of its Air Defence shield. In this regard, the induction and perhaps even testing of a medium to short-range MIRV capable missile seems to be the only way out, at least for the time being.