Civilizationism vs the Nation State
Many have framed the battle lines in the geopolitics of the emerging new world order as the 21st century's Great Game. It's a game that aims to shape the creation of a new Eurasia-centred world, built on the likely fusion of Europe and Asia into what former Portuguese Europe minister Bruno Macaes calls a "supercontinent."
For now, the Great Game pits China together with Russia, Turkey and Iran against the United States, India, Japan and Australia. The two camps compete for influence, if not dominance, in a swath of land that stretches from the China Sea to the Atlantic coast of Europe.
The geopolitical flashpoints are multiple. They range from the China Sea to Afghanistan, Pakistan, Syria, Turkey, Iran, and Central European nations and, most recently, far beyond with Russia, China and Turkey supporting embattled Venezuelan president Nicolas Maduro.
On one level, the rivalry resembles Risk, a popular game of diplomacy, conflict and conquest played on a board depicting a political map of the earth, divided into forty-two territories, which are grouped into six continents. Multiple players command armies that seek to capture territories, engage in a complex dance as they strive for advantage, and seek to compensate for weaknesses. Players form opportunistic alliances that could change at any moment. Potential black swans threaten to disrupt.
Largely underrated in debates about the Great Game is the fact that increasingly there is a tacit meeting of the minds among world leaders as well as conservative and far-right politicians and activists that frames the rivalry: the rise of civilisationalism and the civilizational state that seeks its legitimacy in a distinct civilization rather than the nation state's concept of territorial integrity, language and citizenry.
The trend towards civilisationalism benefits from the fact that 21st century autocracy and authoritarianism vests survival not only in repression of dissent and denial of freedom of expression but also maintaining at least some of the trappings of pluralism that can include representational bodies with no or severely limited powers, toothless opposition groups, government-controlled non-governmental organizations, and degrees of accountability.
It creates the basis for an unspoken consensus on the values that would underwrite a new world order on which men like Xi Jinping, Vladimir Putin, Recep Tayyip Erdogan, Victor Orban, Mohammed bin Salman, Narendra Modi and Donald Trump find a degree of common ground. If anything, it is this tacit understanding that in the shaping of a new world order constitutes the greatest threat to liberal values such as human and minority rights. By the same token, the tacit agreement on fundamental values reduces the Great Game to a power struggle over spheres of influence and the sharing of the pie as well as a competition of political systems in which concepts such as democracy are hollowed out.
Intellectually, the concept of civilisationalism puts into context much of what is currently happening. This includes the cyclical crisis over the last decade as a result of a loss of confidence in leadership and the system; the rise of right and left-wing populism; the wave of Islamophobia and increased anti-Semitism; the death of multi-culturalism with the brutal crackdown on Turkic Muslims in Xinjiang as its most extreme expression; the Saudi and Russian alliance with ultra-conservative Christian groups that propagate traditional family values; and Russian meddling in Western elections.
Analysts explained these developments by pointing to a host of separate and disparate factors, some of which were linked in vague ways. Analysts pointed among others to the 2008 financial crisis, jihadist violence and the emergence of the Islamic State, the war in Syria, and a dashing of hope with the rollback of the achievements of the 2011 popular Arab revolts. These developments are and were at best accelerators not sparks or initiators.
Similarly, analysts believed that the brilliance of Osama Bin Laden and the 9/11 attacks on New York's World Trade Towers and the Pentagon in Washington was the killing of multi-culturalism in one fell and brutal swoop. Few grasped just how consequential that would be. A significant eye opener was the recent attack on the mosques in Christchurch. New Zealand much like Norway in the wake of the 2012 attacks by supremacist Andre Breivik stands out as an anti-dote to civilisationalism with its inclusive and compassionate response.
The real eye-opener, however, was a New Zealand intelligence official who argued that New Zealand, a member of the Five Eyes intelligence alliance alongside the United States, Britain, Australia and Canada, had missed the emergence of a far or alt-right that created breeding grounds for violence because of Washington's singular post-9/11 focus on what popularly is described as Islamic terrorism. That remark casts a whole different light on George W. Bush's war on terror and the subsequent war against the Islamic State. Those wars are rooted as much in the response to 9/11, the 7/7 London attacks and other jihadist occurrences as they are in witting or unwitting civilisationalism.
"The global war on terror has become a blueprint for violence against Muslims. When there isn't a shooting at a mosque, there's a drone strike in Somalia. When one Friday prayer goes by without incident, an innocent Muslim is detained on material support for terrorism charges or another is killed by law enforcement. Maybe a baby is added to a no-fly list," said human rights activist Maha Hilal. Scholars Barbara Perry and Scott Poynting warned more than a decade ago in study of the fallout in Canada of the war on terror that "in declining adequately to recognize and to act against hate (crimes), and in actually modelling anti-Muslim bias by practicing discrimination and institutional racism through "'ethnic targeting,' 'racial profiling,' and the like, the state conveys a sort of ideological license to individuals, groups and institutions to perpetrate and perpetuate racial hatred."
The same is true for the various moves in Europe that have put women on the frontline of what in the West are termed cultural wars but in reality are civilizational wars involving efforts to ban conservative women's dress and endeavours to create a European form of Islam. In that sense Victor Orban's definition of Hungary as a Christian state in which there is no room for the other is the extreme expression of this trend. It's a scary picture, it raises the spectre of Samuel Huntington's clash of civilizations, yet it is everything but.
Fact is that economic and geopolitical interests are but part of the explanation for the erection of a Muslim wall of silence when it comes to developments in Xinjiang, the Organization of Islamic Countries' ability to criticize the treatment of Muslim minorities in various parts of the world but praise China for its policy, Israeli Prime Minister Benyamin Netanyahu's alliance with a man like Victor Orban and his joining the right-wing chorus that has turned Jewish financier and philanthropist George Soros into a bogeyman or the rise of militant, anti-Muslim Buddhism and Hinduism. In fact, the signs of this were already visible with the alliance between Israel and the evangelists who believe in doomsday on the Day of Judgement if Jews fail to convert to Christianity as well as the recent forging of ties between various powerful Islamic groups or countries like Saudi Arabia and the UAE and the evangelist movement.
Civilisationalism is frequently based on myths erected on a falsification and rewriting of history to serve the autocrat or authoritarian's purpose. Men like Trump, Orban, and Erdogan project themselves as nationalist heroes who protect the nation from some invading horde. In his manifesto, Brenton Tarrant, the perpetrator of the Christchurch attacks, bought into the notion of an illusionary invader. Muslims, he wrote, "are the most despised group of invaders in the West, attacking them receives the greatest level of support."
He also embraced the myths of an epic, centuries-long struggle between the white Christian West and Islam with the defeat of the Ottomans in 1683 at the ports of Vienna as its peak. Inscribed on Tarrant's weapons were the names of Serbs who had fought the Ottomans as well as references to the battle of Vienna. To Tarrant, the Ottomans' defeat in Vienna symbolized the victory of the mythical notion of a world of inviolable, homogeneous nations. "The idea that (medieval societies) are this paragon of unblemished whiteness is just ridiculous. It would be hilarious if it weren't so awful," said Paul Sturtevant, author of The Middle Ages in the Popular Imagination.
Much like popular perception of the battle for Vienna, Tarrant's view of history had little relation to reality. A multi-cultural empire, the Ottomans laid siege to Vienna in cooperation with Catholic French King Louis XIV and Hungarian Protestant noble Imre Thokoly as well as Ukrainian Cossacks. Vienna's Habsburg rulers were supported not only by Polish armies but also Muslim Tartar horsemen. "The Battle of Vienna was a multicultural drama; an example of the complex and paradoxical twists of European history. There never has been such a thing as the united Christian armies of Europe," said historian Dag Herbjornsrud. Literary scholar Ian Almond argues that notions of a clash of civilizations bear little resemblance to the "almost hopelessly complex web of shifting power-relations, feudal alliances, ethnic sympathies and historical grudges" that shaped much of European history. "The fact remains that in the history of Europe, for hundreds of years, Muslims and Christians shared common cultures, spoke common languages, and did not necessarily see one another as 'strange' or 'other,'" Almond said.
That was evident not only in the Battle of Vienna but also when the Ottomans and North Africa's Arab rulers rallied around Queen Elizabeth I of England after the pope excommunicated her in 1570 for breaking with Catholicism and establishing a Protestant outpost. Elizabeth and her Muslim supporters argued that Protestantism and Islam were united in their rejection of idol worship, including Catholicism with its saints, shrines and relics. In a letter in 1579 to Ottoman sultan Murad III, Elizabeth described herself as the "most mighty defender of the Christian faith against all kind of idolatries." In doing so, she sought to capitalize on the fact that the Ottomans had justified their decision to grant Lutherans preferred commercial treatment on the basis of their shared beliefs.
Similarly, historian Marvin Power challenges the projection of Chinese history as civilizational justification of the party leader's one-man rule by Xi Jinping and Fudan University international relations scholar Zhang Weiwei. Amazon's blurb on Zhang's bestselling The China Wave: Rise of the Civilizational State summarizes the scholar's rendition of Xi Jinping's vision succinctly: "China's rise, according to Zhang, is not the rise of an ordinary country, but the rise of a different type of country, a country sui generis, a civilizational state, a new model of development and a new political discourse which indeed questions many of the Western assumptions about democracy, good governance and human rights." The civilizational state replaces western political ideas with a model that traces its roots to Confucianism and meritocratic traditions.
In his sweeping study entitled China and England: The Preindustrial Struggle for Justice in Word and Image, Powers demonstrates that Chinese history and culture is a testimony to advocacy of upholding individual rights, fair treatment, state responsibility to its people, and freedom of expression rather than civilisationalism, hierarchy and authoritarianism. Powers extensively documents the work of influential Chinese philosophers, writers, poets, artists and statesmen dating back to the 3rd century BC who employed rational arguments to construct governance systems and take legal action in support of their advocacy. Powers noted that protection of free speech was embedded in edicts of the Han Emperor Wen in the second century BC. The edicts legitimized personal attacks on the emperor and encouraged taxpayers to expose government mistakes. The intellectuals and statemen were the Chinese counterpart of contemporary liberal thinkers.
In a lot of ways, Russia and the Russian Orthodox Church have understood the utility of civilisationalism far better than others and made it work for them, certainly prior to the Russian intervention in Syria. At a gathering several years before the intervention, Russia achieved a fete that seemed almost unthinkable. Russia brought to the same table at a gathering in Marrakech every stripe of Sunni and Shiite political Islam.
The purpose was not to foster dialogue among the various strands of political Islam. The purpose was to forge an alliance with a Russia that emphasized its civilizational roots in the Russian Orthodox Church and the common values it had with conservative and ultra-conservative Islam. To achieve its goal, Russia was represented at the gathering by some of its most senior officials and prominent journalists whose belief systems were steeped in the values projected by the Church. To the nodding heads of the participating Muslims, the Russians asserted that Western culture was in decline while non-Western culture was on the rise, that gays and gender equality threaten a woman's right to remain at home and serve her family and that Iran and Saudi Arabia should be the model for women's rights. They argued that conservative Russian Orthodox values like the Shariah offered a moral and ethical guideline that guarded against speculation and economic bubbles.
The Trump administration has embarked on a similar course by recently siding in the United Nations Commission on the Status of Women with proponents of ultra-conservative values such as Saudi Arabia, Bahrain, Iraq and several African countries. Together they sought to prevent the expansion of rights for girls, women, and LGBT people and weaken international support for the Beijing Declaration, a landmark 1995 agreement that stands as an internationally recognized progressive blueprint for women's rights.
The US position in the commission strokes with efforts by conservative Christians to reverse civilizational US courts decisions in favour of rights for women, minorities, members of the LGBT community, Muslims and immigrants and refugees. It is what conservative historian and foreign policy analyst Robert Kagan describes as the war within traditionally liberal society. It is that civilizational war that provides the rationale for Russian meddling in elections, a rational that goes beyond geopolitics. It also explains Trump's seeming empathy with Putin and other autocrats and authoritarians.
The US alignment with social conservatives contributes to the rise of the civilizational state. Putin's elevation of the position of the church and Xi's concentration of absolute power in the Communist Party strengthens institutions that symbolize the rejection of liberal values because they serve as vehicles that dictate what individuals should believe and how they should behave. These vehicles enable civilisationalism by strengthening traditional hierarchies defined by birth, class, family and gender and delegitimizing the rights of minorities and minority views. The alignment suggests that the days were over when Russian foreign minister Sergei Lavrov trumpeted that the West had lost "its monopoly on the globalization process" because there was a "market of ideas" in which different "value systems" were forced to compete.
Similarly, conservative American author Christopher Caldwell asserted that Orban's civilizational concept of an authoritarian Christian democracy echoed the kind of democracy that "prevailed in the United States 60 years ago" prior to the civil rights movement and the 1968 student protests. Orban's Hungary epitomizes the opportunism that underlies the rise of the civilizational state as a mechanism to put one's mark on the course of history and retain power. In Orban's terms, civilizational means not Christianity as such but those Christian organizations that have bought into his authoritarian rule. Those that haven't are being starved of state and public funding.
Civilisationalism's increased currency is evident from Beijing to Washington with stops in between. Trump's and Steve Bannon, his former strategy advisor's beef with China or Russia is not civilizational, its about geopolitical and geo-economic power sharing. In terms of values, they think in equally civilizational terms. In a speech in Warsaw in 2017, Trump declared that "the fundamental question of our time is whether the west has the will to survive" but assured his audience that "our civilization will triumph." Bannon has established an "academy for the Judeo-Christian west" in a former monastery in the Italian town of Collepardo. The academy intends to groom the next generation of far-right populist politicians.
It is initiatives like Bannon's academy and the growing popularity of civilizational thinking in democracies, current and erstwhile, rather than autocracies that contribute most significantly to an emerging trend that transcends traditional geopolitical dividing lines and sets the stage for the imposition of authoritarian values in an emerging new world order. Interference in open and fair elections, support for far-right and ultra-conservative, family-value driven Western groups and influence peddling on both sides of the Atlantic and in Eurasia at large by the likes of Russia, China and the Gulf states serve the purpose of Bannon and his European associates.
Civilizationalists have put in place the building blocks of a new world order rooted in their value system. These blocks include the Shanghai Cooperation Organization (SCO) that groups Russia, China, Kazakhstan, Kyrgyzstan, Tajikistan and Uzbekistan. The grouping is centred on the Chinese principle of non-interference in the sovereign affairs of others which amounts to support for the region's autocratic regimes. The SCO's Tashkent-based internal security coordination apparatus or Regional Antiterrorist Structure (RATS) has similarly adopted China's definition of the "three evils" of terrorism, extremism, and separatism that justifies its brutal crackdown in Xinjiang.
Proponents of the civilizational state see the nation state and Western dominance as an aberration of history. British author and journalist Martin Jacques and international relations scholar Jason Sharman argue that China's history as a nation state is at best 150 years old while its civilizational history dates back thousands of years. Similarly, intellectual supporters of Modi's Bharatiya Janata Party (BJP) project India as a Hindu-base civilization rather than a multi-cultural nation state. Modi's minister of civil aviation, Jayant Sinha, suggests that at independence, India should have embraced its own culture instead of Western concepts of scientific rationalism. Talking to the Financial Times, Sinha preached cultural particularism. "In our view, heritage precedes the state… People feel their heritage is under siege. We have a faith-based view of the world versus the rational-scientific view."
Arab autocracies like Saudi Arabia, the United Arab Emirates and Egypt have stopped short of justifying their rule in civilizational terms but have enthusiastically embraced the civilizational state's rejection of western notions of democracy and human rights. One could argue that Saudi Arabia's four decade long global propagation of ultra-conservative strands of Islam or the UAE effort to mould an Islam that is apolitical and adheres to the principle of obedience to the ruler is civilizational in nature.
Islamic law scholar Mohammed Fadel argues that one reason why Arab autocracies have not overtly embraced civilisationalism even though they in many ways fit the mould is the absence of a collective memory in post-Ottoman Arab lands. To explicitly embrace civilisationalism as a concept, Arab states would have to cloak themselves in the civilizational mantle of either pan-Islam or pan-Arabism, which in turn would require regional integration. One could argue that the attempt by Saudi Arabia and the UAE to impose their will on the Middle East for example with the boycott of Qatar is an attempt to create a basis for a regional integration that they would dominate.
The rise of the civilizational state with its corporatist traits raises the spectre of a new world order whose value system equates dissent with treason, views an independent press as the 'enemy of the people' and relegates minorities to the status of at best tolerated communities with no inherent rights. It is a value system that enabled Trump to undermine confidence in the media as the fourth estate that speaks truth to power and has allowed the president and Fox News to turn the broadcaster into the United States' closest equivalent to state-controlled television. Trump's portrayal of the media as the bogeyman has legitimized populist assaults on the press across the globe irrespective of political system from China and the Philippines to Turkey and Hungary. It has facilitated Prince Mohammed's effort to fuse the kingdom's ultra-conservative interpretation of Islam with a nationalist sentiment that depicts critics as traitors rather than infidels.
In the final analysis, the tacit understanding on a civilisationalism-based value system means that it's the likes of New Zealand, Norway and perhaps Canada that are putting up their hands and saying not me instead of me too. Perhaps Germany is one of the countries that is seeking to stake out its place on a middle ground. The problem is that the ones that are not making their voices heard are the former bastions of liberalism like the United States and much of Europe. They increasingly are becoming part of the problem, not part of the solution.
Edited remarks at Brookings roundtable in Doha
A book on Nepal's diplomatic story of co-existence
Recent diplomatic friction between Nepal and India over the new Nepali map including India-controlled territories of Lipulekh, Kalapani and Limpiyadhura encouraged me to go though some Indian perspectives on the Nepal's diplomacy.
For this, I revisited the book titled 'FOREIGN POLICY OF NEPAL' authored by Indian professor SD Muni. This PHD-thesis-cum-book published in 1973 gives some insights on Nepal's diplomatic developments as an oldest sovereign country in the South Asia.
However, this book has some visible bias towards Nepal. For example, it ranks Nepal not as a diplomatic 'power' but only as a 'mini power'. The author has given instances of Nepal's military assistance proving instrumental to quell mutinies both in times of British India in 1857 and independent India in 1948. Nevertheless, he does not want to term Nepal as a diplomatic 'power' even in this era of peaceful diplomacy with soft powers. Still, in the chapter called 'conclusion', he concludes, 'Nepal's geographical location between India and China was also an asset since it placed the kingdom in a strategic position.'
Having read Nepal's foreign policy perspective from an Indian angle of professor Muni, I came across the book titled 'India meets China in Nepal'. Written by Girilal Jain, the editor of India's top English daily The Times of India from 1978-1988, I got this book by the daughter of the author, Sandhya Jain. Jain, also a noted historian of India, generously mailed me the original PDF of this book.
Girilal Jain had close rapports with influential figures of Nepal including the then Prime Minister Tanka Prashad Acharya when he started working on this book from 1956-1957. He said he started working on this volume just after Nepal signed treaties on Tibet and economic assistance with northern neighbor China to which 'many Indians were alarmed by this shift in Nepal's foreign policy in favor of communist China."
Jain has written this book with factual logics and interpretation of Nepali narration. Together with background and important treaties of Nepal and China, Nepal and India, this books includes chapters like ' end of Rana rule', 'experiment of democracy', 'the crisis deepens', 'first general elections', 'Indo-Nepalese relations', 'consequences of Tibet'.
In all of these chapters, Jain gives crystal clear facts of Nepal's political, diplomatic and democratic practices. He has not diluted these facts with his unproven individual interpretations like most of the contemporary Indian journalists and intellectuals do.
The most important and must-read chapter is 'Nepalese version of co-existence.' Unlike, Indian state establishment and its sympathizers, Jain has not provoked Nepal's diplomatic and economic engagements with northern neighbor China. He has made close observation of the premierships of Tanka Prashad Acharya and Dr. K.I. Singh. Acharya, Jian writes, was accused of being pro-China. On the other hand, Acharya's successor Singh was vocally pro-India.
Singh even officially stood behind India in Kashmir conflict on 3 August 1957 saying, "we shall support India on the issue over the Kashmir issue. There is no doubt about it. Kashmir was and is a part of India and the people of Kashmir desire live with the Indian union."
This vocal pro-Indian stand of Nepal on the Kashmir issue is first and last. Sigh could not prolong his stay at Singhadurbar more than 110 days owing to this pro-India stand by diplomatically neutral Nepal. King Mahendra sacked him.
The author also pictures the then power games played by the then two opposing superpowers- USA and USSR. He justified this narration by saying, "Soviet Government has also entered the race for winning over Nepal to its side. The Soviet Embassy has already been set up in Kathmandu; the American Embassy has already been opened because the US cannot allow itself to be beaten by Russian in this competition for influence in Nepal. Thus, Nepal has been drawn into the vertex of the cold war."
This book gives every detailing of Nepal's diplomatic dealing with its giant neighbor India and China ,to which it shares long borders of around 1800 and 1414 kilometer respectively, along with its neutrality towards the global diplomatic power plays exercised by the then world superpowers of US and USSR.
Despite being a well-versed book, the author, however, has made some wrong prediction and interpretation on Nepal's communist parties. "Should the strength of the Communist Party of grow in India, particularly in the bordering states of West Bengal, Bihar and U.P., Nepal will feel its impacts," argues the author, "If communism is finally routed in India, its fate will be sealed in Nepal as well."
At a time when the 34-year-old communist-run state state of West Bengal has been ousted in bordering India, Nepal has seen the most powerful communist government in Nepali history with close to two-thirds of seats in the parliament and six out of seven state governments, author's narration has come untrue.
Many global political pundits are picturing a new version of cold war between China and USA in the post-pandemic world. The ongoing border tensions between immediate neighbors of India and China are also at play. At this critical juncture, Nepal needs to stay stronger on its neutrality more than ever. The book 'India meets China in Nepal' published in 1959 can be a brief reminder of Nepal's deeds towards this end.
The theatrics before the Quad Meeting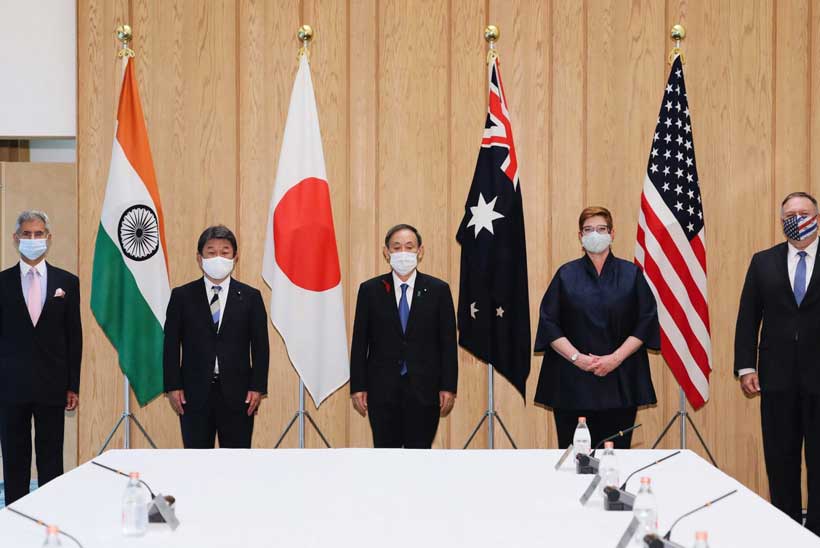 Authors: Mozammil Ahmad and Sruthi V S*
According to a Hindustan Times report, an anonymous senior US state department official has dismissed the talk for formalizing the Quad ahead of the ministerial Quad meeting to be held in Tokyo on 6th October.
The Quad or the Quadrilateral Security Dialogue is the informal forum between the US, Japan, Australia and India. Its origin goes back to the 2004 Boxing Day Tsunami. The adjunct grouping of US, India, Japan and Australia as the 'Tsunami Core Group' was formed to respond to tsunami. The concept of a "Quadrilateral Initiative" as a strategic alliance was first proposed as a dialogue in 2007. It was proposed by the then Japanese Prime Minister Shinzo to form a multilateral dialogue with Japan, the United States and Australia but it fell in 2008. Then, in 2017, the quad was revived and it began convening on a semi-regular basis.
US and the Quad
The US interest in Quad began when it found itself in a strategic competition with China. The US has been rethinking its stance against China before the coronavirus outbreak. The 2017 National Security Strategy of the Trump administration asserted that China seeks to challenge America's power and influence. Meanwhile the 2018 National Defence Strategy termed Beijing as the "strategic competitor." China expanded its international influence through its economy and the BRI to challenge the existing world order. However, during the pandemic, the US-China tensions have accelerated. This led the US to explore alliances in the Indo-Pacific region.
The first instance of US interest in the Quad began in March 2020 when the US initiated a weekly online meeting between Deputy Secretary of State Stephen Beigun and his counterparts in India, Japan, Australia, Vietnam, South Korea, and New Zealand to discuss and exchange views on how to deal with the pandemic. This initiative of the US is more than just exchange views, it also became a coalition of countries with similar views on China. The core countries of the Quad – India, Japan, Australia, are facing their respective security challenges posed by China forming a "Quad Plus".
Therefore, the upcoming ministerial Quad meeting holds strategic importance for the US to form a counter to China's posture under President Xi Jinping.
Then why is the US not eager to formalize the Quad?
In international relations, there is no selflessness. Every move must extract all possible gains. I propose the consideration of the following three factors for the recent US stance-
US Economy
The US economy has plunged 31.4% for the April-June quarter. Economists expect the US GDP to fall even more, making it the first time it has decreased since the financial crisis of 2008. Gregory Daco, the chief US economist at Oxford Economics has said, "With economic momentum cooling, fiscal stimulus expiring, flu season approaching and election uncertainty rising, the main question is how strong the labor market will be going into the fourth quarter." The economic condition of the US is not such to fully commit and invest in a multilateral alliance.
US Presidential Election
The October 6 meeting is being held when the US Presidential election is only a month away. There is an ongoing aggressive campaign battle between Donald Trump and Joe Biden for the Presidential election. Both Democrats and Republicans are wooing American-Indian community towards their side. While Democrats project Kamala Harris as a multiracial VP candidate, the Republicans are highlighting Trump-Modi friendship to consolidate support for their respective parties.
The Hindustan Times report mentions that "human rights organisation Amnesty International's decision to shut down its India operations had "received attention at the highest levels" of the Trump administration and it was being followed "very, very closely" by members of US congress."
This is not yet an official statement of the US State Department. With the reportage in the Indian English media and clear indication towards a domestic event of India, it could be seen as a pressure tactic on the Indian government. With the Trump campaign's reliance on friendship with Modi, this could be a subtle way of asking the Modi government to appreciate the friendship. Hence, increasing Trump's appeal to the American-Indian community.
This is also a typical strategic way to use the soft power of media to influence diplomacy. Maybe U.S wished to propose a few trade deals favourable for them and reports of lack of keenness of U.S to formalize quad may influence other countries to agree to the demands of U.S and appease it.
Commitment Issues
At a U.S-India Strategic Partnership Forum in August, when asked about the attempts to formalize the Quad Plus, the US Deputy Secretary of State Stephen Biegun remarked that "so as long as we keep the purpose right and as long as we keep the ambitions checked to start with a very strong set of members, I think it's worth exploring an (inaudible) like that, although it only will happen if the other countries are as committed as the United States."
The new Japanese Prime Minister Yoshihide Suge spoke to his Chinese counterpart Xi Jinping last week where both the leaders agreed to hold summits and other high-level meetings to cooperate in bilateral, regional and international issues. The goodwill conversation is considered as the improvement for China-Japan relations.
The US could be questioning the commitment of the fellow members of the Quad, and refraining from formalizing it. The recent statement has also mentioned that, "America wanted to strengthen existing regional architectures, not create new ones."
The Quad plus meeting held on 6th October reflected a continuation of their past style of cooperation. The four ministers agreed to convene regular meetings with the next meeting scheduled for next year. For now, the Quad is considered symbolic, though the US Secretary of State Mike Pompeo made remarks to potentially institutionalize Quad. However, much is happening in the world, with the global pandemic, economic slowdown faced by many countries and the US Presidential election, to suggest the future course of the Quad.
*Sruthi V S– Sruthi is a Consultant with Qrius (formerly The Indian Economist). She has previously taught as Assistant Professor in Journalism and Mass Communication at the University of Delhi, India. Her research interest includes art, culture, world, media, politics.
Bhutan – India: A multi- dimensional relationship. interview with H.E. Amb. Ruchira Kamboj
India and Bhutan have shared an interesting relationship for a very long time. They are geopolitical neighbours, trade partners and friends. In this conversation with Modern Diplomacy, Her Excellency Ambassador Ruchira Kamboj, Ambassador of India to Bhutan sheds more light on the India Bhutan relationship and her work in the Indian Foreign Services.
When did you decide that you wanted to join the foreign services? Tell us more about your journey.
That was quite early I would say – while in school. I enjoyed the pursuit of, and discussions on international relations, and greatly looked forward to actual practice! I guess I was fortunate and quite blessed that this aspiration came true.
The relations between India and Bhutan have been historically significant and more so now when the former's relations with few other neighbours seem to be muffled with confusion and disturbances. What do you believe will strengthen India – Bhutan's bond even more?
Bhutan and India are bound together by ties of geography, history, culture, spiritual traditions and centuries old people-to-people interactions.
The special friendship has not only benefited our two nations, it has also created an example for the whole world, an epitome of two nations, of two different sizes, living together for collective growth, bound by an unparalleled friendship.
Both Bhutan and India have young populations. Both Bhutan and India are rapidly transforming societies. A greater focus on youth-centric activities both sides through enhanced exchanges and connectivities, in particular in those sectors where India brings unique strengths to the table, such as IT, STEM, Start-Ups, could potentially be hugely beneficial for further growth and progress. As one tiny example, this year itself, eight Bhutanese students have entered our IITs against their chosen Masters' Programmes.
This ties in with His Majesty's vision and focus on STEM, where technology is rapidly transforming the world around us, and where the pace of scientific advancement is relentless in its pursuit towards creation.
What other plans and bilateral agreements can we foresee other than energy (hydroelectric) and tourism that will be a boon for both the South Asian countries?
The relationship between Bhutan and India today is multi- dimensional encompassing diverse sectors, not being limited to the traditional sectors but opening up to new and emerging spaces such as financial technology cooperation, IT, Start-Ups and Space Science and Technology, for mutually beneficial growth and cooperation.
I am pleased to share and following the visit of Prime Minister Modi to Bhutan in 2019, action has matched talk, and we are well into implementing much of what was envisaged during this memorable visit, reflective of our commitment to advancing the economic and infrastructural development of Bhutan, per the priorities and wishes of the Government and the people of Bhutan.
Speaking of energy diplomacy, what are your personal views on the environment and climate change? What lessons can the world learn from Bhutan's carbon-negative approach?
There are no two views that the world needs to think and act green, to support sustainable growth. India under Prime Minister Narendra Modi has embarked upon a massive upward trajectory as we seek to harness solar and wind energy to power our future. The International Solar Alliance is one example -since 2015, this 87 signatory-alliance is propelling Earth to a low-carbon growth path. Similarly, the Coalition for Disaster-Resilient Infrastructure aims at a climate-change and disaster-resilient future for all.
As for Bhutan, you are truly an example to the world, having envisioned the "requirement" to be green in your country's constitution, and being practically the world's only carbon negative country. Importantly, you are not just resting on past laurels but diversifying slowly but steadily into new spaces- into renewable energy such as solar and wind power; towards green transport; the ban on single-use plastic etc. These, among others, are examples of a country that is deeply respectful and committed to the environment. This is without doubt a tribute to the vision and leadership provided by the Druk Gyalpo of Bhutan, as most recently reiterated at the UN Secretary General's High Level RoundTable on Climate Action by Lyonchhen Dr. Lotay Tshering.
As mentioned before, both countries have also been focusing on cross-cultural tourism with initiatives like digital payments making the process more convenient. Can you speak more about this and the different contours that need to be strengthened?
We share His Majesty's vision for harnessing technology towards economic development and towards strengthening our partnership in new areas such as digital and emerging technologies, financial integration etc.
To this end, Prime Ministers Shri Narendra Modi and Dr. Lotay Tshering had launched the first phase of the Rupay Card in 2019. With this , Indian citizens have been facilitated in making payments with their Indian bank-issued debit cards, in Bhutan. A second phase to be launched in 2020 , will enable the use of Bhutanese bank-issued RuPay Cards across Points of Sale terminals in India. This will benefit all Bhutanese citizens who visit India for education, medical treatment, pilgrimage, work or tourism.
This cross border financial integration will further facilitate our warm people-to-people contacts and integrate furthermore the economies of our two countries.
Your father was an Army officer and your mother, a Professor at Delhi University. Do you credit your success to the environment you were brought up in? How important do you think are parents' support to a child for achieving some feat?
I would agree with you that the early childhood years are critical in shaping future orientation. I was fortunate and blessed in having a vision and values through personal examples from my parents, that have stood me in good stead. I wish that for every child on this planet-that their potential is fully realised in safety and with opportunity.
You seem to have an eye for Bhutanese art and culture. You also have been promoting a film called Lunana recently. Tell us more about that.
It is always a privilege to serve as India's Representative abroad and to get a rare insight each time into a country's culture and way of being, so to speak. The more so, with a country like Bhutan, which offers such a rich and unique mosaic, in itself.
Speaking of "Lunana", I was personally thrilled that this will be Bhutan's official entry to the Oscars, an exquisite opportunity for the world to learn more about this singularly unique country.
Tell us about your previous experiences, of representing India at UNESCO and being a high commissioner to South Africa.
There are no two ways about this: it is an outstanding honour each time to bat for India. It was thus my privilege to serve both as Ambassador of India within the multilateral settings of UNESCO, Paris and as High Commissioner of India for South Africa, a country with which India has a shared history and importantly and going forward, an equally rich future.
If not Foreign Service, what else would you have pursued?
I am indeed fortunate to have lived my dream, I had frankly only envisaged this as a career.
What is the most important lesson you have learned in the 33 years of your glorious service?
A simple message: lead by example.
A message to the young Indians who want to represent their country globally.
I would unequivocally and unhesitatingly say this to my Indian friends that if you do wish to represent your country globally, the best way to do so is through the Indian Foreign Service, an opportunity and a challenge, like no other!