The Luxury Collection Debuts in Armenia With the Opening of The Alexander
The Luxury Collection®, part of Marriott International, Inc., today announced its entry into Armenia with the opening of The Alexander, a Luxury Collection Hotel, Yerevan. The hotel proudly brings The Luxury Collection's rare, indigenous and captivating experiences to the capital of Armenia – one of the world's oldest cities and a noted historical intersection between the East and West. As the country's first internationally-branded luxury hotel, The Alexander joins a portfolio of more than 100 Luxury Collection hotels around the world. The brand's new footprint in Yerevan also further cements Marriott International's strategy to meet the growing demand for experiential luxury in emerging markets.
"Armenia is a destination with a deeply rooted history and rich culture, which has until now remained a mostly unchartered destination for our Global Travelers" said Anthony Ingham, Global Brand Leader, The Luxury Collection. "The Alexander will allow our guests to connect with the fascinating capital city of Yerevan, marked by grand Soviet-era architecture and historic landmarks such as the Matenadaran library, and truly engage in the authentic traditions of Armenia."
Modern-Day Luxury In An Age-Old City
Set in an enviable location in the heart of Armenia's capital, The Alexander is mere moments away from the city's famous Republic Square, and is a brief stroll to numerous landmarks and cultural sights. The striking hotel reflects the city's distinctive architecture, cleverly incorporating an 18th century façade at its entrance to hint at the indigenous charms found within. Led by Alexander James Interior Design, the decor draws upon intricate Armenian motifs, alongside contemporary flourishes that bring to life the history and modernity of the destination within the property's opulent public spaces.
The Alexander offers 114 guest rooms and suites, many of which include private balconies. The magnificent Presidential Suite is celebrated as a standout highlight of the property, occupying an entire floor and spanning over 1,700 square feet. An equally alluring feature is the Alexander Spa by Anne Semonin, providing guests with an inviting haven of wellness experiences and personalized treatments designed to relax, heal and rejuvenate. The hotel also features a state-of-the-art fitness centre, a full-service beauty salon, and the city's first indoor pool, which boasts breath-taking vistas of the snow-capped peak of Mount Ararat.
Yerevan's Most Discerning Social Scene
Located on the top floor of the hotel, The Alexander offers a special culinary experience with Armenian flair amidst the distinctly glamorous décor at Italiano Ristorante. Under the expert direction of internationally respected culinary professionals, specialities such as smoked local trout celebrate the exotic essence of the destination alongside modern Italian cuisine. The adjacent bar shares jaw-dropping views with perfectly paired cocktails and an impressive wine selection that includes the finest local vintages. The Keys Aficionado's Private Club, with a sophisticatedly designed bar and wine cellar, is the perfect place for those who value an ambiance of privacy and comfort. Additionally, Gabriel's Bar and Lounge allows guests to unwind over small bites and refreshments, while the hotel's elegant Gabriel's Patisserie offers curated blends of tea and coffee, accompanied by a mouth-watering selection of decadent French and Armenian sweet treats.
For business or social occasions, The Alexander features five elegantly furnished meetings rooms, all of which can be combined into an expansive space to accommodate events up to 160 guests. The latest audio-visual technology, combined with an expert team on hand, enhances the already seamless experience.
Discover Yerevan Through The Luxury Collection
Many of Yerevan's unique attractions are just steps away from the hotel, including the Institute of Ancient Manuscripts, where visitors can discover its repository of ancient documents; the whimsical Seven Fountains; and the National Art Gallery, which is also considered to be the largest art museum in Armenia. Global Explorers seeking enriching cultural experiences will also have exclusive access to the unique services of The Alexander's expert Concierge team, who will custom-curate personalized excursions to immerse guests in authentic Armenia.
"Shaped by rich traditions, coveted treasures and a storied history, the city of Yerevan truly encapsulates the spirit of The Luxury Collection," said Jenni Benzaquen, Vice President of Luxury Brands, Europe at Marriott International. "The Alexander will provide sophisticated, independently-minded global explorers and locals alike with an unparalleled level of luxury in this fascinating destination. The unique destination experiences offered by The Luxury Collection, combined with Armenian hospitality, is also the perfect way to introduce our luxury portfolio to the region."
Discover Ateshgah Historical Architectural Reserve with Four Seasons Hotel Baku
The capital of Azerbaijan, beautiful Baku is known for its ancient and rich culture. It's the city where centuries-long history is combined with modern landmarks.
Baku is often called the City of Fire and throughout its history there have been some mysteries that helped to shape its reputation as such. One of these mysteries is located in only 30 kilometres from the city centre and called Ateshgah Historical Architectural Reserve.
Ateshgah, also known all over the world as the "Fire Temple of Baku" is an authentic Azerbaijani exotic. This place is magical to some people because of its unique natural phenomenon – an eternal flame. The temple in its current state was created within the 17th-18th centuries and designed by the Baku-based Hindu community.
It is a pentagonal structure, with a serrated outer wall and an entrance portal. Built in local architectural traditions, Ateshgah combines the features of ancient altars of fire. In the middle of the courtyard rises the quadrangular rotunda of the main altar temple. "Balakhana" – a traditional Absheron guest room – is located right above the entrance.

But it is worth mentioning that the history of the Temple is even longer as it used to be the holy place of Zoroastrians – fire worshippers. They attached mysterious significance to unquenchable fire and went there to worship the shrine.
The Concierge team of Four Seasons Hotel Baku will gladly assist each guest who would like to learn more about the Fire Temple.
Plan an unforgettable trip to Baku with special offers from Four Seasons Hotel Baku and enjoy Atashgah and many other exciting and historic attractions of Baku.
Radisson Hotel Group expands further in Riyadh
Radisson Hotel Group is proud to announce the signing of Radisson Riyadh Airport in the Kingdom of Saudi Arabia. As one of the fastest growing companies in the Kingdom of Saudi Arabia, the newest addition brings the group's portfolio to over 45 hotels, resorts and serviced apartments in operation and under development, accelerating Radisson Hotel Group's expansion across the country.
Riyadh is the largest city and capital of the Kingdom of Saudi Arabia. King Khalid International Aiport is about 35 kilometers to the north of Riyadh city and home to Radisson's newest hotel. As the economic and commercial capital of Saudi Arabia, the total number of passengers departing and arriving at King Khalid International Airport exceeded 26 million passengers in 2019. Located within close proximity, the hotel will be conveniently accessible from the airport and the city center can be reached via Riyadh's new metro system, making it an ideal location for both business and leisure travellers.
Elie Younes, Executive Vice President & Chief Development Officer, Radisson Hotel Group, said: "Saudi Arabia is one of the 8 key focus countries in EMEA. We align our plans along those of Saudi Arabia's Vision 2030 which aims to significantly increase the contribution of tourism to the country's economy. We thank our partners for their trust and look forward to opening the hotel later this year and to an exciting and rewarding journey."
Al Qussie International said: "We are delighted to partner with Radisson Hotel Group on this project and to be able to contribute to Saudi Arabia's Vision 2030. We're looking forward to successfully cooperating with Radisson Hotel Group and introducing the Scandinavian-inspired Radisson brand to Riyadh."
Due to open in Q4 2020, the Radisson Riyadh Airport will perfectly complement Radisson Hotel Group's array of city and leisure hotels across Riyadh. The hotel will consist of 471 keys across various room types including serviced apartments and villas to be able to cater to guests that require larger units or long stay units. The property will feature an all-day dining restaurant and two specialty restaurants. Additionally, guests will be able to enjoy an outdoor swimming pool and various leisure facilities including separated ladies and men fitness studio, indoor pool and a spa. To further enhance the offerings within the property, the hotel will incorporate a conference space spanning 2,600 sqm of fully equipped, state-of-the-art meeting and events facilities, making it an ideal location for local and international business and leisure communities.
JW Marriott Debuts in Oman's Historic Capital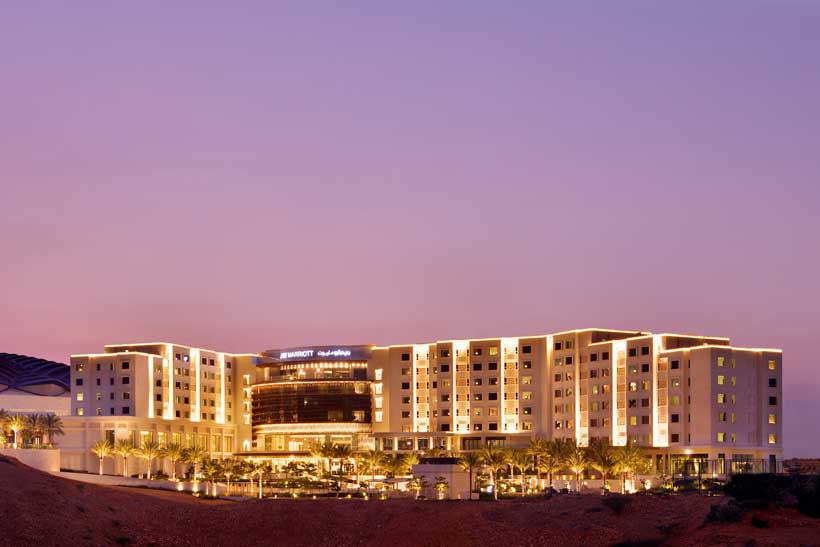 JW Marriott announced the opening of JW Marriott Muscat today, setting the stage for distinctive experiences in Oman's historic capital. Located in the heart of Muscat's new business hub, within the Sultanate's largest urban development project Madinat Al-Irfan, the hotel is an integral part of the prestigious Oman Convention & Exhibition Centre (OCEC) precinct. Directly linked to the OCEC, it also provides easy access to key city landmarks including Muscat Old Town, Royal Opera House, Old Souq and Mattrah Corniche.
"The debut of JW Marriott in Muscat marks an exciting milestone for the brand in the Middle East and Africa as we continue to grow our footprint and deliver an elevated and warm luxury experience," said Mitzi Gaskins, Vice President & Global Brand Leader, JW Marriott. "The hotel's extensive offerings encourage guests to live in the present and pursue their best selves while immersing themselves in the culturally authentic experiences of this enchanting city."
Designed to allow guests to focus on feeling whole, JW Marriott Muscat is a true representation of JW Marriott's mission to providing enriching experiences that enable guests to live with intent. The property offers spaces to be present in mind, nourished in body and revitalized in spirit; including special mindful moments in dedicated areas throughout. Hotel guests can participate in a series of daily rituals that help transport them into a refuge of calm; each of which includes a five to 10-minute activity that enables them to be more aware, present, focused and inspired:
· The '108 Steps' ritual brings people together by encouraging guests to walk in a circle clockwise, silently counting their steps to the number 108 to cultivate mental discipline and as a gesture of respect for the natural flow of life
· The 'Words to Inspire' ritual invites guests to choose words from a bowl and envision themselves being an embodiment of the word, leaving them feeling positive and inspired
· 'Your Best Day' ritual is about visualization of what is important to each guest and built around self-acknowledgment
Overlooking inspiring surroundings, JW Marriott Muscat features 304 guest rooms and suites, many of them offering views of Oman's wadis, spectacular natural valleys flowing with water. With 2500 square meters of banqueting space flooded with natural daylight and equipped with the latest state-of-the-art technology, the new property is the perfect place to host artfully choreographed meetings and events. Whether it is a small board meeting, a large conference, a social gathering or a wedding, the hotel offers space and choice with two large ballrooms and six meeting rooms. Directly linked to the Oman Convention & Exhibition Centre (OCEC) precinct, JW Marriott Muscat invites business travellers to benefit from the acclaimed 'Events by JW' service, including multi-lingual and experienced event planners and tailored menus. JW Marriott Muscat houses the largest Executive Lounge in the country and is the first hotel to have an exclusive lounge for airline crew.
Oman's rich local produce is at the heart of JW Marriott Muscat's food and beverage philosophy, with five restaurants and lounges to ensure the culinary experiences at the hotel fulfil every taste and desire. The all-day dining found at Kitchen 7 offers a tasteful selection of international buffets, Asian woks, Middle Eastern grills and Indian tandoors with an interactive show kitchen. Fire cooking lovers can enjoy sophisticated grills with a sparkling flair at Pink Salt; nature and the crafts of a botanist inspire the refreshing and creative beverages at Tonika; while Butter Buns gastropub houses the city's best burgers, creating exceptional flavors. Guests can also relax and enjoy the Mediterranean vibe and entertainment from sunrise to sunset at the property's CATCH pool bar.
A rejuvenating Spa by JW, offers signature treatments organized by four distinct benefits – renewal, calmness, invigoration and indulgence – as well as sauna and steam room facilities. Additional leisure facilities include a state-of-the-art fitness center, three outdoor swimming pools, a floodlit tennis court and a multipurpose court for basketball, volleyball and badminton.