Public art that brings a smile to your face
This International Day of Happiness on 20 March reminds us that life is happier when we're together. It urges us to focus on what we have in common, rather than on what divides us.
One thing that has the power to bring us closer together is art. Art can also bring us closer to nature, helping to blur the boundaries between the "concrete jungles" of our cities and outside spaces.
This International Day of Happiness we sought inspiration, especially among young people, in public urban art. Despite being drawn to cities for a myriad of reasons, for many of us, happiness is closely tied with our proximity to nature and green spaces. Humanity evolved in close connection with nature, and a need for its presence is woven deeply into our consciousness.
"Connecting to our living environment through enjoying public art in urban spaces can change how we understand the world, help us relax and reduce stress and anxiety, and provide memorable experiences," said Garrette Clark, UN Environment's Sustainable Lifestyles Programme Officer.
"Sustainable living and lifestyles are about reducing negative environmental impacts as well as spending more time and resources on the experiences that add value to our lives."
One example is Conservation Conversation Corners, in Johannesburg, South Africa and Livingstone, Zambia. This project involves four young artists—South African upcycler Heath Nash, Zambian sculptor Owen Shikabeta, Zambian painter Mwamba Chikwemba and South African installation artist Mbali Dhlamini.
Using mural paintings, public participation and sculpture, they visually and physically transform urban public spaces to reconnect their users with nature.
These artists observed a link between spending time in these spaces and a feeling of relaxation, safeness and peace of mind. Some stated that the only time they really felt safe and happy in these—and other—cities was when they felt connected with nature.
Twenty-eight-year-old Mbali Dhlamini observed: "As a woman in Jozi, you always feel like you need to keep eyes at the back of your head. We stay on our guards and alert at all times, whether walking or driving in the city, because of the crime here. How wonderful it would be to feel free and at peace. Nature has that. Nature gives us that. We need to access it and conserve it more in our towns and cities."
Public art like this is playing an important role in shaping urban neighbourhoods, boosting a sense of community, and bringing people together.
In 2008, for the first time more people lived in urban areas than in rural ones. Urbanization is occurring everywhere and at unprecedented speed—especially in Africa. Urban populations in Africa are expected to triple in the next 50 years, and urban space is expected to increase by more than 700 per cent between 2000 and 2030.
Reflecting on how we can better bring nature into ever-expanding urban spaces, public art can help us provide access to green spaces in cities as a potential source of happiness.
A growing number of scientific studies demonstrate the power of nature to positively affect our health, well-being and happiness, and in 2017, National Geographic identified the greening of urban areas as one of the top five aspects shaping the future of cities.
Isabel Wetzel, Associate Human Settlements Officer at UN-Habitat and Greener Cities Partnership liaison between UN Environment and UN-Habitat, added: "The beneficial relationship between nature and happiness in urban areas is apparent – and public art can provide a beautiful channel to express it.
"Art has the power to connect people from different backgrounds and generations, and green public spaces have a positive impact on the health of the residents.
"Highlighting the need for nature restoration and conservation of our green and blue ecosystems in urban areas through public art is a powerful way to reconnect people, particularly young people, with the natural world."
So, if you, your family and your friends are feeling unhappy in your city—seek urban green spaces, and if they don't exist yet, create them!
Bengal's Thriving Cotton Handloom Tant Textile Crafts Looming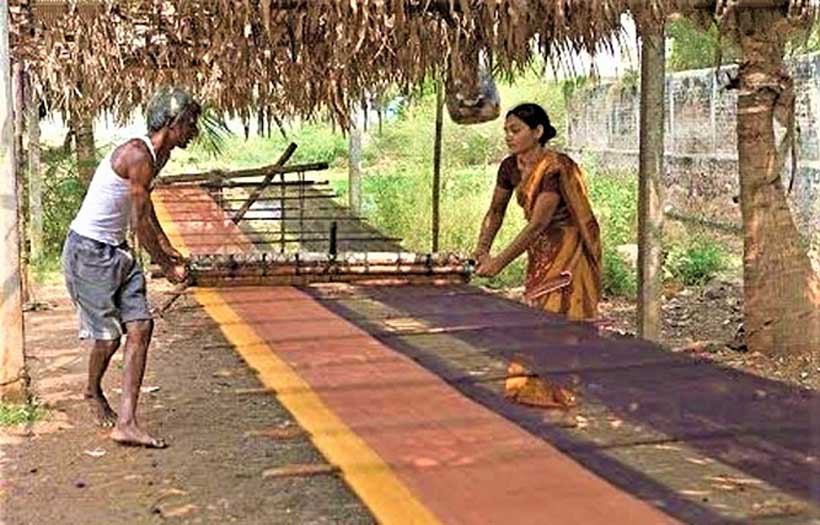 India being a diverse nation endorses and nourishes indigenous ethnic crafts. Every region of India has to offer thriving cultural heritages, a few of those receiving the attention of the mainstream population, while several are failing to do so. Once glorified Bengal's Handloom Tant Textile Crafts falls into the second category, as it's lost the place to be under the spotlight. Even though "Every Handloom Tant Textile Crafts has a unique story to tell—as it is inheriting one of the finest and ancient weaving mechanisms that sprouted in nowhere other than Bengal. Dating back to the 15th century and leaving remarkably earliest trace from Nadia District of West Bengal Handloom Tant Textile Crafts received Royal patronage and retained popularity throughout centuries. Its uniqueness lies in design which mostly includes the depiction of ancient Bengali cultural influences and reflection of Bengali flair. In that sense, Handloom Tant Textile Crafts are very much connected to the soil of Bengal and utterly reflects sustainable, indigenous initiative within the millennials weavers of Bengal, who still feel connected to the ancient essence.
Origins
The word 'Tant' indicates the cotton-based Handloom Textile Crafts, includes Handloom weaved Textiles including Saris, Cloth pieces, Dupattas, Bed Sheets etc.
Shantipur of undivided Bengal, now in Nadia district of West Bengal having earliest record of Handloom Tant Crafts weaving back to 15th century. It remained dominant cultural tradition from 16th to the 18th century and received extensive royal patronage along with the world-famous Muslin and Jamdani Sari of the same genre. In 1947 after the partition of Bengal, a hefty number of weavers migrated especially from Tangail Bangladesh to India and received rehabilitation in different regions including Phulia, Shantipur. Weavers bore their lineal Handloom Tant Textile weaving Crafts with them. Residual weaver communities got settled in the Hooghly and Bardhaman regions of West Bengal. Since then, each region has developed its signature style.
The weaving Technique
Handloom Tant Textile Craftsare woven with locally produced Bengal cotton. The kind of fine handspun yarn being used for Weaving of Handloom Tant Textile Crafts once applied in weaving soft, feather-light Muslin and Mulmul textiles that have been exported and adored globally for ages. The fineness of weaved cotton depends on the yarn quality and it is on the yarn that the textile is fine (combed cotton) or coarser (regular cotton).
Cotton being deftly woven to the thread is further being woven by craftsmen to Tant Textile. It is customary to use shuttles. Though nowadays handlooms have largely been replaced by power looms to weave Tant Textiles, which compromising the quality of Tant Textiles pushing environment-friendly, electricity-saving Handloom on the verge of extinction.
Popular motifs in use
The most popular Handloom Tant Textile Crafts product is Sari. The handloom Tant Textile crafts products other than Sari also depict motifs like Sari. A quintessential six-yard Tant Sari is distinguished by a thick two-to-four-inch border and a decorative Aanchal. Weavers use fine cotton yarn to manifest a variety of floral, paisley, and artistic motifs, attached to the culture of Bengal. Some of the most adored time-honoured motifs of West Bengal's Handloom Tant include bhomra (bumblebee), tabij (amulet), rajmahal (a royal palace), ardha Chandra (half-moon), chandmala (garland of moons), ansh (fish scales), hathi (elephant), nilambari (blue sky), ratan chokh (gem-eyed), benki (spiral), tara (star), kalka (paisley) and phool (flowers), etc. Apart from these regional trends are being followed.
Why Handloom Tant Textile Crafts losing the interest of the mainstream population and what are the way forward?
Because of the advertisement and marketing industry the youth generations are mainly inclined towards high-shine clothing, heavy silks and zari, ignoring or being unaware of clothing science and technology. Handloom Tant Textiles, in comparison, is a modest, soothing clothing based on environment-friendly technique which add real charm to Tant. Elderly people are not even aware of the positive aspects of Handloom Tant Textile Crafts, due to no such promotion leading the Crafts to evade.
What is in particular in Tant to rethink its revival?
Handloom Tant Crafts comes under the range of heritage textiles of West Bengal. Sari-loving Indian women would certainly like to acquire collection of handloom saris from across India. While Handloom Tant Textile Sari would certainly give the blended feeling of heritage and comfort. Most of the Sari-wearing Indian women find themselves particularly attached to Bengal's Handloom Tant and Jamdani Sari. Jamdani Sari belongs to the same genre of Handloom Tant. Tant Jamdani from Dhaka and Shantipur is exceptionally lightweight, characterized by intricately designed motifs that seem to float on the surface of the translucent ultra-fine textile, giving it an almost mystical grace in appearance.
Moreover, Handloom Tant Textile Crafts are comfortable to wear in tropical climatic zones of the world. Tropical, subtropical climates of the Indian subcontinent are exceptionally fine to wear and use such textiles. While most of the raw material being used and the technology being followed in Handloom Tant Textile Crafts is nature friendly and indigenous for the subcontinent. Revival, then on the restoration of the lost glory of Handloom Tant Textile Crafts of Bengal will certainly promote environment-friendly sustainable textile technology basing on the growth of the home-based cottage industry of West Bengal. Employing Indian youth in the process may revamp the initiative in the way Handloom Tant Textile Crafts would get a modern outlook and that will generate youth entrepreneurs to promote indigenous industries and a lot more positive things would happen in this row.
How important the present time is to preserve Handloom Tant Crafts? what could be the way forward?
As an economic industrial activity, the 'Tantshilpa/Tant Crafts' (the art of weaving handloom Textiles) is second only to agriculture in providing a livelihood to the people of certain regions of West Bengal. Ravaging the hope of business in Bengali New Year on April 14, 2020 the ongoing pandemic and ensuing lockdown have led to insurmountable losses to Textile Industry. Handloom Tant Textiles also facing a tremendous challenge for decades losing the interest of younger generations owing to its traditionalism and maintenance cost. The need of the hour is to activate retail for existing stock using e-commerce and involving youth to regenerate the work chain and boost business. The genesis of interest towards such heritage and endangered craft like Handloom Tant Textiles can restore the sentiment and attachment of weavers' communities.
Organizing regular workshops with the weavers offering creative concept and textile design expertise in developing an ongoing collection of modern Tant saris and textiles that can bring the Handloom Tant Industry on-trend. While Tant is a versatile and comfortable fabric especially suited in the climate of India and considerable places of the world and also lends itself well to soft furnishings home decors cum comfortable garments.
Classified Handloom Tant Textile Crafts are being picked by authentic celebrities, dignified women. To revive the Indian Economy in the post-pandemic global crisis, promotion of indigenous Industries based on the authentic handmade, handloom, and traditional crafts are the way out, which is also environment friendly. 'Make in India' and 'buy local' is more relevant now than ever before, as each locally-made purchase directly supports indigenous industry, regional to global work circle, in turn, funds its makers, that is, the craftsmen/women in every level.
The hands that nourish tradition, indigenous crafts need to be celebrated. Direct connection of remote areas Handloom Tant Textiles weavers with well-structuredHandloom Tant Textile Craftswork chain is the way forward that less known regions areas of West Bengal like Santipur, Phulia, Nadia, and Dhaniakhali get counted in the global map of Textile industry representing the glorious Handloom Tant Textile Crafts of Bengal.
Copenhagen named UNESCO-UIA World Capital of Architecture for 2023
The city of Copenhagen has been officially designated as World Capital of Architecture for 2023 by the Director-General of UNESCO, Audrey Azoulay, on the recommendation of the General Assembly of the International Union of Architects (UIA).
This decision is in keeping with the partnership agreement established between UNESCO and the UIA in 2018, through which UNESCO designates the host cities of UIA's World Congress as World Capitals of Architecture. "We are very happy to see the torch of the World Capital of Architecture title pass to Copenhagen from Rio de Janeiro," Audrey Azoulay said. "The inaugural World Capital of Architecture in Rio was a real success, underlining the important role of urban planning, notably in the pandemic context", she noted, adding that "Copenhagen will build upon Rio's achievements, by continuing to show the way in which architecture and culture can respond to the challenges of our time, especially in the environmental field."
UNESCO and the UIA launched the World Capital of Architecture initiative to highlight the key role of architecture, city planning, and culture in shaping urban identity and sustainable urban development. Every three years, the city designated as World Capital of Architecture becomes a global forum at the forefront of discussions on contemporary urban planning and architectural issues.
As the World Capital of Architecture for 2023, Copenhagen will host a series of major events and programmes on the theme "Sustainable Futures – Leave No One Behind." In cooperation with the Danish Association of Architects and various Nordic professional bodies, the municipality will examine how architecture and urban design contribute to meeting the 17 United Nations Sustainable Development Goals.
From 18 to 22 July 2021, Rio de Janeiro will host the World Congress of Architects online. Following Copenhagen in 2023, Barcelona and Beijing are the two contenders looking to claim the World Capital of Architecture title in 2026 and host the next World Congress. The official decision will be made later this year.
The Italian Federation of UNESCO Clubs for the enhancement of linguistic diversity
An important initiative of the Clubs for UNESCO, belonging to the FICLU in the context of the protection and safeguarding of linguistic minorities, a conference entitled "Gallo-Italian, Occitan, Franco-Provençal in Italy and in Europe: an itinerary to discover of the traces of an ancient heritage." was held.
Thanks to the usual method of telematic communications, it was possible to contact numerous experts and researchers, all directed towards the defense of linguistic diversity in a real journey of discovery that is promoted by the Clubs of Piazza Armerina, Enna, Acicastello, Giarre-Riposto, Sciacca, Sanremo, Udine, Altamura, Cerignola, and Vulture in collaboration with FICLU, chaired by Arch. Teresa Gualtieri, and coordinated by Anna Maria Di Rosa Placa, president of the Club for Unesco in Piazza Armerina and Vice President of the Euro-Mediterranean Federation.
The FICLU National President, Arch. Teresa Gualtieri, opened the meeting and emphasizing that starting from that moment, the FICLU will devote an increasing attention to the theme of linguistic diversity, considering this is a priority for UNESCO which has its ultimate goal: the construction of peace and implement it by protecting diversities, and organizing them in a single world human community. "In this context", the National President continued, "languages ​​are a fundamental cultural heritage to be protected and stimulating the study of the local language in schools through tools such as the UNESCO atlas of languages – created to identify and protect the languages ​​that are disappearing. As a heritage of diversity, in which for Italy the Galloitalico, the Occitano and the Franco Provençal are included."
Prof. Salvatore Trovato, linguist and president of the Association for the Knowledge and Protection of the Gallo-Italic dialects of Sicily, explored the inherent importance of the dialect as a vehicle for a culture. He underlined the need to involve the new generations to bring them closer to dialects, promoting their knowledge. In this regard, he spoke of the Galloitalico of San Fratello, brought in the Middle Ages by the Normans and Aleramici, who contributed to making this language strong in southern Italy, especially in Sicily, where there are numerous linguistic islands in alloglot. In addition, the illustrious speaker highlighted how the words describe the trades practiced by the new colonizers, thus helping to better understand a people and its social structure. Finally, he explained that the etymology also allows us to go back to the history of a people, in the absence of written documents, to explain some characteristic elements of that given period.
Subsequently, Prof. Patrizia del Puente, director of the International Center for Dialectology, intervened, "you reported that at the University of Basilicata, there are already dialectal literacy courses, a project linked to the Centre and carried out together with Cambridge, Oxford, Pisa, Udine and Palermo. You spoke of languages ​​as a treasure trove of the identity of a people, of the importance of teaching them also in schools, but through mother tongue experts; you underlined the contact with Palermo by the great Lucania, where the Gallo Italici came rebounding from Sicily, bringing the language still present today in a vast area of ​​the Potenza province, as the eminent dialectologist Rohlfs had already claimed and demonstrated." In conclusion, the professor also supported the importance of maintaining a diversity that is enriching.
Very interesting was the interlude in which it was possible to listen to Eleonora Bordonaro, singer-songwriter in Galloitalico, who had the opportunity to know a series of poems of San Fratello, the so-called Lombard songs, containing facts connected to that culture. Coming from the plain of Catania in the Sanfratellana area, in an attempt to keep the roots alive, she dedicated herself to listening to local speakers, assisted by them to learn the language and enliven it with new significant contributions.
For the Galloitalico, a large contribution was offered to us in the Potentino by Antonio Cuccaro, who recently published the booklet "Unpublished Galloitalico. Dialect, speakers and peasant civilization in Basilicata", with the aim of arousing greater involvement in this linguistic phenomenon through research, ideas, intuitions and dialectal comparisons. Formerly an official of the APT of Potenza, he was coordinator of the project "The Gallo-Italic dialects of Basilicata" created by Prof. Maria Teresa Greco of the University of Potenza, with the establishment of a network between the municipalities of Potenza, Picerno, Pignola , Trecchino and Vaglio.
The ideal journey among linguistic minorities then moved north to Occitan territory, between Liguria and Piedmont, where Occitan is still spoken. The first to speak was Prof. Franco Bronzat, Occitanic, who, in his brief speech, spoke of this language not of immigration, but which has always been present in both the Italian and French Alpine areas. There are over 12 million inhabitants of which three or four million are still speaking the language. Despite the still large number, however, there is no university chair and he hopes that this language, the first to be written and sung, can find at least some itinerant teacher.
Another speaker from the same area was Dr. Gianni Belgrano, president of the "A Vastera" association of the land of Brigasca who, together with Prof. Roberto Moriani, author of the Vocabulary of Brigasque culture, spoke about the attempt to preserve the present language in various centers in France and Liguria and became entirely French after the rectification of the borders in 1947. In this context it is a real attempt to recover the roots of a people and, Roberto Moriani himself, spoke of how much the brigasco is saved despite being a further minority within the Occitan landscape. A language that straddles the Gallo novel and the Galloitalico.
Prof. Rosa Talia, member of the Cerignola UNESCO Club, took part in the conference with a speech entitled "The Franco-Provençal area in Puglia: Faeto and Celle di San Vito." Once again the language recalls a particular historical fact: with the arrival of Charles of Anjou, 200 soldiers settle in the area, between two Benedictine monasteries, who fortify a castle and are later joined by families. It goes without saying that the spoken language, in this case an archaic Franco-Provençal, remains alive in the area. The recovery of this experience is still witnessed today by a Franco-Provençal branch in the province.
Fabrizio Di Salvo, President of the Euro-Mediterranean Federation of Ancient Medieval Migrations, spoke instead of his great interest as a free researcher in the migration of peoples. Starting from the history of our species, homo sapiens, he highlighted how much the nature of the traveler has also characterized the predisposition to create numerous forms of linguistic admixture. Going into the specifics of migrations in Italy, he wanted to emphasize the various linguistic islands of alloglot: the Walser of Germanic origin in Piedmont and Valle d'Aosta with their language Titsch; the Ladins in the Dolomite areas between the provinces of Trento, Bolzano and Belluno; the Albanian minority Arbereshe in southern Italy (in Calabria and in Piana degli Albanesi in the province of Palermo); the Croatian one in Molise; the Franco Provençal in Puglia in the territory of Valmaggiore, on the Daunia Mountains in the province of Foggia; the Waldensian Occitan's at Guardia Piemontese in Calabria; Salento Greece; up to the Galloitalico in Sicily and Basilicata. Just to mention the best known. An extraordinary mixture and fusion, a mixture that for every researcher is a splendid opportunity for observation. Noting that these components make it possible to break down barriers and bind peoples with greater tolerance, he spoke of the importance of the Federation as an experiment to keep alive the interest in the union of peoples and the defence of minorities.
Concluding the work, Prof. Maria Simone, FICLU councillor, hoped that the clubs continue this path with support from the universities and that an action protocol be defined for the enhancement of the territories. Languages ​​preserve, like a casket, the traces of our history and our identity, preserving and enhancing them, according to a perspective of inclusion, helps to promote integration between peoples.