A peek into India's 2019 elections: Past trends and portents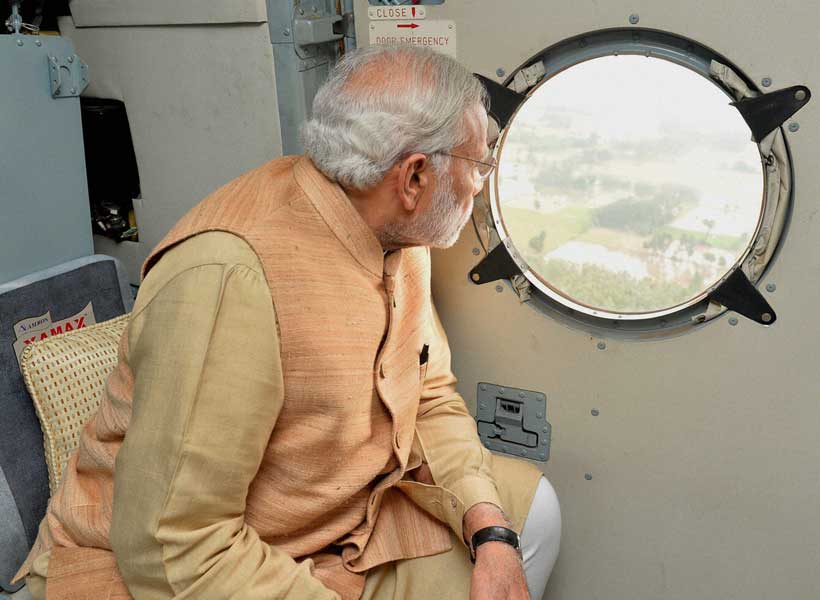 A bird's-eye view
Some 814 million voters speaking 1,652 languages will vote in 900,000 voting centers across the country over 35 days in 2019. India's imminent (April 2019) elections will cost parties a flabbergasting Rs. 30,000 crore ($5 billion). That parallels cost of a U.S Presidential election. The difference is that most of the money spent in India will be in the form of untraceable cash. Much of it will have been brought back
Into the country from tax havens, such as Switzerland, where industrialists and politicians stash their illicit fortunes. Money stashed illegally in Swiss banks comes back into the country through the hawala (unregistered) channels and havens such as Mauritius, Dubai and Caribbean.
Regular elections are raison deter of democracy in Western notion of democracy (Westminster model). The `equal citizens' exercise their political right to choose representatives to rule them through their vote. India could be proud to hold elections regularly. But, the way influential people contest or win elections through malpractices leaves nothing to rejoice. Elections are only a formal part of political representation, not its essence. Only the affluent and socially powerful sections of society can make it to the parliament. Is the Indian democracy in name only or in substance also?
The social conditions in India rule out possibility of free and fair elections. The poor and the marginalised have a bleak chance to contest and win elections. India, the world's largest democracy, stands divided into two worlds, the affluent and the poor.
India's Constitution provides for equality of rights to all citizens, regardless of social differences. The golden words in the objectives resolution promise to secure to all the people social, economic and political justice, equal opportunity, and equality of status before the law. Practically, justice to all has been a far cry. Let us explore some contours of India's elections that shape India's democracy.
Let us look at some contours of India's democracy. India is a democracy only in 'form', not in substance.
Influence of money power in elections
There is a relationship of direct proportionality between electoral win and wealth. Money plays an important part in determining poor voter's electoral choice. Narendra Modi spent US$115 million to win the Indian election in 2014. In all, the BJP spent Rs714.28 crore ($115 million) on the 2014 general election campaign. Congress spent Rs200 crore ($32 million) less than the BJP's expenditure during the 2014 polls.
The BJP spent over one third of all the money on one item: media advertising. The biggest individual recipients of this money were two firms, Madison World and chartered aviation provider, Saarthi Airways. Saarthi Airways is promoted by Delhi-based Gulab Singh Tanwar, reportedly a close friend of former BJP's president and current home minister, Rajnath Singh. The party spent Rs77.83 crore ($12.57 million) on chartering aircrafts for its key campaigners, of which Rs60 crore ($9.7 million) was paid to Saarthi Airways alone.
No place for a pauper
Political parties mainly nominate those candidates who can raise money for contesting elections.
Elections in India are expensive. Candidates in the 2014 election spent a total of $5bn (US election in 2012 cost around $6bn). The longer a party stays out of power, the fewer the
Opportunities to `raise' money from a variety of sources including large donors, small donors and organizational donations.
The BJP is the richest party followed by Congress party. The Congress has ruled the country for 49 of its 71 years as an independent nation. It appealed for the first time in its 133-year history for funds, perhaps as a catchy slogan. It had an income of $33m (£24.7m) in 2017! Ruling Bharatya Janata Party (BJP) is the richest with an income of $151.5million.The Congress income in 2017 decrease by $5.3m. The BJP's income has doubled from what it earned in 2016.
No transparency
Although political parties are required to declare their income, their finances are far from transparent. The penalties imposed by election commission are slaps on wrist.About 69per cent of parties' income originates in unknown sources, "illicit money" or "black money". The BJP and its allies are in power in 22 of India's 29 states. The Congress is now in power in only two big states – Karnataka and Punjab – and two smaller ones. Individuals and companies can buy electoral bondsto fund political parties anonymously. These bonds come in specified amounts and, at the end of 15 days, must be deposited in to the bank account of any political party that has earned 1% or more of the votes in the last election. Intra-party democracy has withered. Leading parties enjoy the support of corporate business groups. Regional parties are invariably controlled by families.
Preposterous expenditure ceiling
Individual candidates can spend only Rs 70 lakh ($120,000) on his campaigns. This amount is too little to meet even poster printing costs in important contests. Key candidates spend between Rs 75 – 300 crore ($12-50 million). Lesser stars spend between Rs 15-50 crore ($2.5-8.25 million) and marginal ones between Rs 1-10 crore ($600, 000K-1.8 million).
Mammoth rallies where half a million people cheer candidates cost upwards of Rs 3 crore ($500,000). Every major party holds at least one major rally or counter-rallies a day.
Add to it the cost of sending thousands of workers out in cars, trains, planes, rickshaws, bicycles, bullock carts, tractors, camels, horses and boats to woo voters with speeches, street plays and songs.
Unfortunately, in reality, most candidates spend much more than the prescribed limits, and the amount spent by major national and regional parties is anyone's guess. For instance, in 2013, Gopinath Munde, a well-known parliamentarian and a former minister, admitted that he spent more than 32 times the limit in the last election. Many believe that even this sum is an understatement.
Electoral abuses
Elections are marred by anti-democratic features like violence, en bloc voting, voting along religious and caste lines, so on. Leading parties nurture a number of local toughs on their payrolls. In urban war zones, they often intimidate voters from even venturing out of their homes. In feudal rural areas, upper caste militias threaten lower caste voters. Electing a `wrong' candidate could lead to punishment like manhandling molestation, and torture.
Often, these vigilantes wields words, shotguns and homemade bombs frighten local election officials away from poll booths. If rival toughs show up, there are scuffles, fistfights, maybe even a few hand-made bombs hurled.
Even electoral voting machines were no good in stopping abuse of elections. Some voters demand that it should be done away with. The familiar traditional abuses include buying away competitive candidates, hounding out or abducting candidates before they file a nomination paper. Use of a pre-poll hearty meal or booze, coupled with free air or road travel is un-noticed malpractices. Up to the 1990s, India's elections results were generally decisive with wide majorities. But recent results have been close with winning coalitions getting wafer-thin majorities. Such narrow margins mean even minor incidents of vote tampering, booth capturing etc. can swing results in 25 percent of all parliamentary seats, ten times the government's own majority.
Deleting voters from lists
In remote villages, such problems often go entirely unreported. Both parties accuse one another of the vice.
Paid advertising shown as free reporting
India's `free' press, numerous newspapers and TV channels charge local-candidates coverage for a fee.
A plethora of parties
Existence of plethora of parties and candidates results in splitting of votes. Gandhi foresaw this problem. He 'wanted Congress to be disbanded after independence. Implementing his advice could have created two parties_ one led by Jawaharlal Nehru and the other by Sardar Patel'. ("Political Parties and Indian Democracy". Raju Ramachandaran suggested a system of proportional representation to reflect popular will. (Raju Ramachandaran, "Myths of Parliamentary Democracy", 266-267). Ramachandaran suggested 'proportional representation' to reflect popular will more accurately. Speakers at the National seminar on "Indian Democracy: Recent Trends and Issues" inter alia highlighted collapse of political institutions in India (Dr. K. S. Saxena and Anil Gupta (ed.), Indian Democracy: Recent Trends and Issues", p. ix). Saxena was so pessimistic that he began his paper with an epitaph for India's democracy _ 'all hostile elements have conspired to put our democracy to death'. (Dr K. S. Saxena, "Plight of Indian Democracy", p. 283, 285). Saxena claimed India's democracy had failed to ensure 'freedom, justice and social and economic equality' to all. Dissenters in India were dubbed as traitors and fascists'. A party securing 33 percent of the votes could occupy three-fourths of the legislatures.
(Editorial, "Cost of Elections", The Tribune (Chandigarh), December 1, 1984; cited in Ghani Jaffer (ed.), Elections in India 1984-85, Islamabad Institute of Regional Studies, 1987).
Financial Contributions to Parties and Candidates
Corporate contributions, upto five per cent of a company's net profits to political parties are legal. In reality, huge funds are collected from individuals and companies by extortion or as a consideration for past or future favours.
Political corruption has become integral to India's governance process. The disclosure norms are very feeble and un-enforced. Most expenditure is illegitimate. It is spent on buying votes, distributing liquor, transporting voters, bribing local power brokers, bribing polling agents, payoffs to police and polling personnel in several places and hiring hoodlums for rigging and booth capturing.
Most major parties no longer attract voluntary party workers motivated by principles and goals, and therefore hire them at great expense during elections. Large mobilisation of poor people for election meetings, spending enormous sums for lorries and bribes to the hired audiences, and ostentatious campaign in the form of large fleets of cars and jeeps, huge cut-outs, banners, posters, tents, loud speakers etc. account for other expenditures.
Caste-Influence and Communalism
Caste influence has always been predominant in secular India. Khushwant Singh says, 'Yet, strange enough, Gandhi obliquely supported the Hindu caste system'. Peter Myer points out 'importance of caste in the election of candidates' and 'caste-based factionalism' is a significant factor in campaigning (Peter Myers, "The year the vote-banks failed: the 1967 general elections and the beginning of the end of Congress Party dominance", pp. 154-155; cited in Jim Masselos (ed.), India: Creating a Modern Nation (Bangalore, Sterling Publishers Pvt Ltd., 1990), 154, 165-167).
The importance of caste politics has also been highlighted in Selig Harrison's India: The Most Dangerous Decades. Rasheedudin Khan points out "India's State structure is democratic but not all aspects of the political system'. The social structure and equipoise of the traditional polity legitimised 'the power and control of land-based jatis over a disaggregated and alienated mass of the landless, the bonded labourers, low castes and sudras' (Rasheedudin Khan, "Impediments to democratic change in India", 384, ibid).
Ever since independence, the politicians made no serious effort to reduce influence of caste on elections. They continued to hoodwink masses with buzzword-subsumed themes of 'removal of poverty, illiteracy and disease by bridging the gulf between the rich and the poor, between the urban and rural, through industrialization, spread of education and building of an egalitarian-cum welfare state'. The slogans brought no change in condition of scheduled tribes (girijans), scheduled castes (harijans), castes (jatis), religious communities (dharmic sampratya) and language communities (bhashai sampratya).
Noble laureate Amartya Sen, delivered a lecture on "Democracy and its Critics", organised by the United Nations Foundation in New Delhi on December 16, 2005. While discussing success and failure of Indian democracy, he said, "The rise of casteist politics was a failure".
Atul Kohli is disgusted at erosion of democratic institutions owing to politicisation of bureaucracy and bypassing of constitution. He has serious doubts about future of India's democracy. He says that 'personal rule has come to replace party rule'. Economic development within an elite-dominated framework has thrown up social groups which are demanding share in society's power and wealth (Atul Kohlie (ed.), Interpreting India's Democracy: An Analysis of Changing State-Society Relations (Hyderabad, Orient Longman Ltd., 1991), xv, xvi, 1-11).
Corruption
Corruption galore (Bofors, Rafale, etc) in India has become a serious socio-political malady. The society is generally passive and resigned to its fate. Corruption cases filed in courts drag on for years without any results. To quote a few cases: (a) There was no conviction in Bofors gun case (Rs 64 crore) though the case was filed on January 22, 1990 and charge sheet served on October 22, 1999. Among the accused were Rajiv Gandhi, S. K.Bhatnagar, W. N. Chaddha, Octavio, Ardbo and S. K. Bhatnagar. The key players in the scam died during proceedings (b) No recoveries could be made in the HDW submarine case (Rs 32.5 crore). The CBI later recommended closure of this case. (c) Corruption in recruitment of armed forces.
There is popular pressure to pass the Jan Lokpal Bill (Citizen's ombudsman Bill), draft anti-corruption bill, drawn up by prominent civil society activists seeking the appointment of a jan lokpal, an independent body that would investigate corruption cases, complete the investigation within a year. And envisages trial in the in the next one year. The Jan Lokpal Bill, drafted by Justice Santosh Hegde (former Supreme Court Judge and present lokayukta of Karnataka), Prashant Bhushan (Supreme Court Lawyer) and Arvind Kejriwal , envisages a system where a corrupt person found guilty would go to jail within two years of the complaint being made and his ill-gotten wealth being confiscated. It also seeks power to the Jan Lokpal to prosecute politicians and bureaucrats without government permission.
In December 2005, by voice vote, Indian parliament expelled 11 parliamentarians. Ten of them belonged to the House of People (lok sabha) and one to the Council of States (rajya sabha).The peoples' representatives were sacked as they were involved in demanding cash to ask questions of "donors'" interests. Secret cameras caught the MPs while negotiating or taking bribes. To avoid such 'stings' in future, the MPs have now begun to keep detective gadgets.
The un-sacked parliamentarians remained unruffled by expulsion of their colleagues. This is obvious from the fact that the MPs supported the Rs 8,000 crore development fund to be spent at the discretion of the MPs _ each MP to get Rs two crore. The Statesman, New Delhi, December 24, 2005, observed _ 'The [cash for queries] sting 'testifies to the extent of criminality that has permeated the ranks of the elected representatives. Seven MPs were shown accepting or demanding bribes for sanctioning funds ostensibly for local development.
("Good riddance: Even expulsion is insufficient" (editorial), The Tribune (Chandigarh), December 24, 2005.
Parliamentarians use pocket-sized radio frequency detectors and jammers in the shape of room fresheners or computer to avoid being caught by spy cameras. It is widely known how warring industrial houses have set up MPs to ask embarrassing questions in the past to embarrass the opponent or deny the rival company a license or a benefit. It has not been uncommon for some ministers to collude with corporates. Some feel that with the end of the licence-quota raj, the problem has become less grave. "In the license-quota raj, some industrialists had to permanently camp in Delhi, and there was a time 50 per cent of the people flying between Delhi and Mumbai were doing so for liaison work."
observed, 'Even expulsion is insufficient. In fact, this is the minimum punishment they deserved.The Indian Express commented, 'Our politicians are brazen in their defence of illegal land use. They are scared of losing money, not votes'.
Another slap in the face of democracy after ' Operation duryodhan' (expose' of 11 Members of Parliament taking bribes in exchange for raising questions in Parliament), a new sting operation by Star News has MPs asking for commission for sanctioning funds under the MP Local Area Development Scheme (MPLADS) scheme. This time, elected representatives of Parliament are caught on camera asking for cuts ranging from 5 per cent to 45 per cent for sanctioning funds under the MPLADS, a kitty of Rs 8,000 crore, to be spent at the discretion of members of both Houses.
("Criminality spread, MPLAD scheme should be scrapped",
Who would take action against India's corrupt? ).
The media continues, ad infinitum, to point out legislators' corruption. About one-fourth of the over 540 people elected to Indian Parliament face criminal charges ranging from murder to extortion and even rape. India's election laws allow politicians facing criminal charges to run for public office, disqualifying them only in case of convictions, which are rare in India's corrupt judicial system. It is understandable why no Indian parliament has ever passed anti-corruption legislation aimed to bring top public offices within the ambit of accountability.
More than half the members of the Lower House of Parliament have assets of over five million rupees ($109,400), in a country where a quarter of the billion-plus population lives on less than a dollar a day. The rich legislators enriched themselves further by a salary hike to 12,000 rupees, besides allowances. They enjoy heavily subsidised housing, free air and rail tickets, electricity and water. Nearly half of all MPs have not repaid loans to public financial institutions. ("Cash-for-query: Netas, babus take sting off spy cameras "Times of India, December 14, 2005),
Non-Representative Parliament
Honest men like even Acharya Narendra (the doyen of Indian socialism) and Acharya Kirplani got rejected at the hustings (G. P. Srivastava, "Curbing booth capturing and election rigging in India", p.193; cited in Grover and Arora, Indian Government and Politics at the Cross Roads).
The people have now realised that repeated elections are no real test of a democracy. India's democracy accepts right of cheats and bullies to rule (Satish Saberwal, "Reconstituting Society"; cited in Grover and Arora, The Tribune, Chandigarh, December 24, 2005, in its editorial, "Good riddance").
Unity in Diversity?
RSS_BJP-VHP-Bajrang Dal combine influences elections. India is no longer an epitome of unity in diversity. It is now a cauldron of 'religious, communal or caste conflicts in every nook and corner of the country'. The net result of separatist movements by ethnic, religious or ethno-religious minorities is a demand for sovereignty which threatens India's territorial integrity. Social unrest is due to the dissonance between the rulers and the ruled.
Breach of public trust
S. G. Sardesai is of the view that voters are disgusted with 'unprincipled squabbling and mud-slinging between various political parties. They are losing faith in the democratic elective process itself. In our given conditions, candidate, the best candidate for playing that role is the RSS-BJP- VHP-Bajrang Dal combine.
(Verinder Grover and Ranjana Arora (ed.), Indian Government and Politics at Crossroads. New Delhi, Deep and Deep Publications, 1995, ix).
Inferences
Being the richest party, the BJP is well placed to form at least a cozy coalition. Electoral abuses caricature shiny face of India's democracy. There are too many loopholes in the laws. Authorised ceiling of the election expenses does not take into account 'expenditure incurred by the political parties, friends and well-wishers in furtherance of the poll prospects of a candidate'. Donations by companies, including public-sector companies, are not subject to audit. Unless the electoral system is radically revamped, the rituals of elections would continue to throw up unrepresentative governments in India.
"Elections (in India) are being increasingly seen by people as devious means, employed by the rulers to periodically renew their licence to rule_more often to misrule.( S. G. Sardesai, "Election Results: Writing on the Wall", cited in Grover and Arora (ed.), "India's democracy accepts right of cheats and bullies to rule".
Democracies can succeed only if their institutional foundations are strong. The masses who are victims of the caste system lose confidence in democracy. Regrettably, at all levels of government, the upper castes are holding the positions of decision-making.
Persecution of religious minorities and the so-called untouchables (who prefer to call themselves dalits) is endemic to the social and cultural systems that circumscribe the Indian polity — in class terms, abject poverty permeates huge sections of Indian society. A four-year-old girl, named Surjo, was boiled in a tub and then beheaded to please gods as part of a religious sacrifice. The police said, "In a country where sons are sold for paisa 25 and women are thrown into fire to please sati, goddess of chastity, such events cannot be foreseen or forestalled". 38.Manoj Joshi, "Indian girl boiled alive and beheaded as a religious custom" (Manoj Joshi, "Indian girl boiled alive and beheaded as a religious custom", Times of India, August 13, 2000).
Crimes against women are generally ignored. It is given name of eve teasing as escapism. The cases of rape have grown by 700 per cent since 1953. Last year 20,000 rapes were reported in the country. And India's rape capital New Delhi has seen average of 10 cases in a month. And these are just the cases that have been reported. The number of unreported cases is far higher. India ranked fourth primarily due to female foeticide, infanticide and human trafficking. ("Dubious record: Four rapes in UP in 24 hours", Times News Network, July 16, 2011, 03.49am IST. Also see "Shame: Rape is India's fastest growing crime", Jatin Gandhi, Hindustan Times (New Delhi), January 14, 2008).
The independent candidates are handicapped. They cannot pass off their excess buck to any political party. India's Supreme Court ordered that expenditure incurred by a sponsoring political party or candidate's friends and supporters also should be included in a candidate's election expense sheet. But, the then Congress government nullified the Supreme Court's decision through legislation.
India is a democracy only in 'form', not in substance. Hindutva supporters want to convert it into a centralised state for the brahmans only. Poverty and hunger continue to afflict large sections of Indian society. Also, there is a tangible threat that India could become a majoritarian tyranny or even a cultural fascist state. The rise of the BJP from a marginal Hindu nationalist party of the 1980s to the majority party in parliament in 1999 vindicates ascendancy of Hindutva trend.
If the Allahabad High Court had not unseated Indira Gandhi in June 1975 and held her election victory as an MP in 1971 as invalid, the Indians today would well have no fundamental rights.
A democracy subsumes equal political, economic and cultural rights. So is not the case with India. The political class is drawn from the affluent, educated and socially powerful sections of society. The society has been religionalised and religion commodified. India's cosmetic progress is most visible in use of cars, aviation, mobile telephony, cable television, outsourcing, and automobiles. Such progress is meaningless when less than 5 per cent of Indians can fly, or own a car.
The then Congress-led UPA government has accepted the late Indrajit Gupta Committee report on the state funding of elections. The state funding for elections required setting aside Rs 6,000 crore to Rs 7,000 in a five-year cycle. The government realises that 'criminal activity can generate such large sums of money' easily. But, the government will have to raise, 'on an average Rs 1,200 crore to Rs 1,500 crore' 'which the state might find it extremely difficult to raise'.
The Indrajit Gupta Committee finalised its report on December 30, 1998. But, it kept lying in cold storage. Earlier, the Tarkunde Committee had observed 31 years ago that 'state funding of elections was impracticable under the conditions prevailing in the country'. The Dinesh Goswami Committee (May 1990) also made wide-ranging recommendations. ("Elections and Role of Money Power in India). The state financing of elections was one of the recommendations, made by N. S. Gehlot. (D. L. Seth, Crisis of Representation, p. 179).
The central and state governments in India do not necessarily represent rule by a majority. Through coalition politics a party with less than fifty per cent votes can form government at the centre or in states. There are several ways to determine majority in an electoral system. In India's system, whoever gets the largest number of votes is elected.
The Durand Line is a 2,200-kilometre debated border between Pakistan and Afghanistan. It was set up in 1893 between Sir Mortimer Durand, a British negotiator and respectful hireling of the British Raj, and Abdur Rahman Khan, the Afghan Amir, to settle the constrain of their individual circles of impact and make stride discretionary relations and exchange between the two nations. Afghanistan was considered by the British as a free state at the time, in spite of the fact that the British controlled its remote issues and discretionary relations. The single-page assertion, dated 12 November 1893, contains seven brief articles, counting a commitment not to work out obstructions past the Durand Line.
A joint British-Afghan boundary overview took put beginning from 1894, covering a few 1,300 km of the border. Built up towards the near of the British-Russian "Great Game", the coming about line set up Afghanistan as a buffer zone between British and Russian interface within the locale.
The line, as somewhat adjusted by the Anglo-Afghan Settlement of 1919, was acquired by Pakistan in 1947, taking after its independence. The forced Durand Line cuts through the Pashtun tribal ranges and assist south through the Balochistan locale, politically partitioning ethnic Pashtuns, as well as the Baloch and other ethnic bunches, who live on both sides of the border. It demarcates Khyber Pakhtunkhwa, Balochistan and Gilgit-Baltistan of northern and western Pakistan from the northeastern and southern areas of Afghanistan.
From a geopolitical and geostrategic viewpoint, it has been depicted as one of the foremost unsafe borders within the world. Although Pakistan recognized the Durand Line as an international border, it remains to a great extent unrecognized by Afghanistan. In 2017, in the midst of cross-border pressures, previous Afghan President Hamid Karzai said that Afghanistan will "never perceive" the Durand Line as the international border between the two countries.
The Durand line remains a bone of contention between the two nations and a primary reason why Afghanistan and Pakistan have yet failed to establish cordial relations. Afghanistan claims a chunk of the KPK and Balochistan provinces of Pakistan on the basis that it was acceded to Pakistan, though it was originally a part of Afghanistan, with people dwelling on each sides having the same culture, language and way of life etc.
What is very clear is that relations between the two states have been tinged with hostility ever since Pakistan became an independent state in 1947. There are mainly two interrelated, historical reasons for this: the problem of the "Durand Line" — the shared but disputed border of the two countries; and Afghan support for the "Pakhtoonistan" movement in Pakistan's North West Frontier Province (NWFP)
The questions is answered by both nations with a bias towards their respective national interest in mind, both Pakistan and Afghanistan claiming areas divided by the Durand line as their legitimate part.
Major accusations of Afghanistan over the Durand line are: its legitimacy period has terminated; it was in the original agreement between the British and the Afghans claimed its validity only for 100 years, which has expired. Nevertheless, neither Afghan government, nor the foremost dynamic advocates of this see have ever displayed any plain instrument demonstrating their claim. Nor do we discover, upon looking at the pertinent archives, i.e. the Durand Line assertion and the rest of the records confirmed until 1896 by the individual committees for assurance and boundary of the British-Afghan border, any arrangement confining the term of the understanding to 100 year time. It is undoubtedly a riddle how this supposition might spread over the nation without being addressed at all.
Another claim of Afghanistan in the de-legitimizing the boarded is that the assertions relating to it collapsed when the British exchanged powers to Pakistan. The agreement was done with British India and not with Pakistan. This was a main reason that Afghanistan was one of the very few countries that opposed the addition of Pakistan in the UN- since it alleged it of illegally annexing Afghanistan's territory.
One more accusation to not accept the boarder comes as the understandings were persuasively forced upon Afghanistan-it is ethically unmerited- is certainly an issue worth encourage talk and contention. In any case, whereas one may concede the dispute to be fair and genuine, it remains deficiently to refute the status of the Durand Line as an international border between Afghanistan and Pakistan. The Durand Line understanding of 1893 isn't the sole point of reference in border assessment. At slightest other four assertions (of 1905, 1919, 1921 and 1930), which had the assent of both sides, must be counseled. Clearly, Afghanistan cannot claim that all of the afterward four assertions were concluded in a coercive environment, particularly the Kabul 1921 understanding for foundation of neighborly commercial relations, which not as it were marked but approved in 1922, and beneath which disobedience was traded by the agents of both states in Kabul.
The boarder is not rejected by any other party of the world except Afghanistan itself, making the Afghan case further weakened.
No matter how much Afghanistan retaliates over this matter, the Durand line is widely accepted as an international boarder and the afghan claim will likely not bear fruit. The Afghans should rather hold the British accountable for the "so said" unfair distribution and not Pakistan, since Pakistan did not decide into this matter at all but was a decision purely made between the Afghans and the British- rather battle the British towards their claim and not make this a political issue more than a legitimate claim.
Indian Nuclear Explosions of May 98 and Befitting Response
India started nuclear program soon after independence. The Atomic Energy Act was passed on 15 April 1948, leading to the establishment of the Indian Atomic Energy Commission (IAEC). The Prime Minister (PM), Jawaharlal Nehru declared: "We must develop this atomic energy quite apart from war indeed;I think we must develop it for the purpose of using it for peaceful purposes. … Of course, if we are compelled as a nation to use it for other purposes, possibly no pious sentiments of any of us will stop the nation from using it that way." Indian intentions to develop a nuclear device for military use under the garb of ambivalence were there since independence. Dr. Homi Bhabha was the first secretary who is considered the founder of this program.
The IAEC established a new facility in January 1954, the Atomic Energy Establishment, Trombay (AEET); later in August 1954 the Department of Atomic Energy (DAE) was created with Dr. Bhabha as Director to function directly under PM. The AEET facility was renamed asBhabha Atomic Research Centre (BARC) in January 1967 after the death of Homi Bhabha. On May 18, 1974, India conducted an underground nuclear test at Pokharan in the Rajasthan desert, codenamed "Smiling Buddha." The government of India claimed it a peaceful test, but it was actually part of an accelerated weapons program. The world reaction was not strong as expected. United stated and Canada criticized the test as they had provided aid to India for nuclear project which was supposed to be for peaceful purposes. Later on due to violation of understanding between two countries, Canada withdrew assistance to India. Chinese stance was that it would affect the stability in South Asia. After this event, Nuclear Suppliers Group (NSG) was established which gives guidelines to regulate the transfer of sensitive nuclear material. However, India continued pursuing vigorously its nuclear program to develop weapons of mass destruction.
During election campaign in February 1998, the Bhartia Janata Party (BJP) had announced in its manifesto that if elected it would seek to "exercise option to induct nuclear weapons". The PM, Atal Bihari Vajpayee of BJP, gave orders to conduct nuclear tests on 11 and 13 May 1998. A total 5 nuclear devices were exploded. The Indian PM, very proudly claimed that India has become sixth nuclear weapon state and should be treated by the world. Indian stance towards Pakistan drastically changed. The senior Indian hierarchy started giving provocative statements against Pakistan. The Indian home Minister L.K Advani said, "Islamabad should realize the change in the geo- strategic situation in the region and the world. It must roll back its anti- India policy especially with regard to Kashmir." The Corps Commander in Indian occupied Kashmir held an unprecedented news conference and advocated his plans to attack Azad Kashmir across the LOC. The world reaction to Indian nuclear explosion was not as strong as envisioned. Extracts from the President Clinton speech from CNN broad cast of 12 May 1998, are,"I am deeply disturbed by the nuclear tests which India has conducted and I do not believe it contributes to a safer 21st century. The action by India not only threatens the stability of the region, it directly challenges the firm, international consensus to stop the proliferation of weapons of mass destruction."The other major world powers also showed reluctance in penalizing India.
2.The Pakistan atomic energy program was started much later as compared to India. The Atomic Energy Commission (PAEC) was established in 1956 to participate in Atoms for Peace Program announced by the US administration. The program continued at slow pace for peaceful use till detonation by India in 1974. This strategic development was perhaps the first that pushed Pakistan in the direction of nuclear tests in May 1998. Dr A Q khan joined the program in 1976and founded the Engineering Research Laboratories (ERL) later renamed Khan Research Laborites ( KRL) at Kahuta near Islamabad, with the exclusive task of indigenous development of Uranium Enrichment Plant. According to Carey Sublette, "Pakistan's Nuclear Weapons Program Development," Nuclear Weapons Archive, January 2, 2002, the nuclear program of Pakistan developed speedily in 1980s and it had conducted the first cold tests of its nuclear device in 1983. According to Presseler amendment of 1985, Pakistan was required to get a certificate from the President of USA that it did not possess nuclear device for getting economic and military aid from USA, which was not signed by the President in 1990. Hence the aid to Pakistan was stopped. It happened soon after former USSR left Afghanistan.
3.On 11 may 1998 when India conducted first 3 nuclear tests, the PM of Pakistan, Nawaz Sharif, was on official visit to Kazakhstan. The Defense Committee of the Cabinet(DCC) convened on 13 May was chaired by PM, attended by the federal ministers and three services chiefs (Gen Jahangir Karamat was CJCSC as well). Dr. Samar Mubarakmand represented PAEC in place of Dr. Ishfaq, the chairman who was abroad, and Dr A Q Khan, the KRL. At closing of the meeting it was informed that India has conducted another nuclear test. The political, military, economic and technical considerations were obviously discussed thread bare. The political and military leadership was on the same page in the decision making process. Gohar Ayub the foreign minister present in the meeting writes in book, "Testing Times", page 35, that when Raja Zafar ul Haq asked General Jahangir Karamat for his views, he said "we could match India, but the decision to do so would have to be a political one". Dr. Samar Mubarakm and gave ten days' time for preparations to conduct the tests. The site and tunnel had already been selected.
On 18 May, after a lot of deliberations with different segments of the society and the opposition parties, the PM gave go ahead to Chairman PAEC to test nuclear bombs on 28 May 98. This was a unanimous decision of national importance. The government and military leadership, opposition parties, and general public were firmly on the same page. The PAEC team headed by Dr. Samar under the supervision of Army Corps of Engineers sealed the tunnels on 25 May. On the evening of 27 May the site was made ready for tests and conveyed to PM. Seventeen days starting from 11 May when India conducted first test till Pakistan responded on 28 May were very critical for the PM, Foreign office and GHQ. They were mulling over ways and means to allay the international pressure in the form of sanctions, and attimes lucrative offers for economic aid in lieu. The President of USA called, PM several times to convince him not to go nuclear.
On 27 May a day before nuclear detonation he called our PM several times. A presentation by the participants of War and National Defence Courses,(1997-98), was scheduled on 28 May at 1000 in National Defence College (NDC) now NDU for the PM which was attended by the ministers and services chiefs. The writer of this article was undergoing war course and present in the auditorium. The topic words to affect was "Should Pakistan Conduct Nuclear Explosions or Exercise Restraints". Points against the detonation were, weak economic conditions, will further worsen after slapping of economic sanctions. Points given by the panel to conduct explosions were much stronger. The panel concluded presentation saying, "Now or Never". There was a big applause. The environments prevalent in the auditorium, and smiling faces of the senior hierarchy indicated that Pakistan will carry out nuclear tests very soon. The same evening at 3:15pm, Pakistan gave befitting response to 5 Indian nuclear explosions conducted on 11 and 13 May 98, by exploding 5 nuclear bombs and sixth on 30 May at 11:55am. After successful explosions the PM claimed that Pakistan has become seventh nuclear state.
Is PTM Genuine to its Cause?
Pashtun Tahafuz Movement (PTM) v/s Sate is a fiery tale which none can anticipate how it will end. Sparked from the extra judicial murder of model aspirant Naqeeb Ulllah Mahsud on January 13, 2018, the movement continue to get a constant hype on the political spectrum of Pakistan. Initially named Mahsud Tahafuz Movement turned into Pashtun Tahafuz Movement when the case was put forward to the court and Rao Anwar was arrested. However, things got transformed as PTM started taking a constant nudge with the state. From the protest in front of press club in Islamabad, in 2018 to different rallies across country things shifted vigorously. PTM's defiance is mainly pointed at criticizing the military institution and falsely blaming the institution for their plight. But the question rises that is PTM another mainstream political movement subjected for the elites rather than addressing the actual issue? And are they trying to internationally politicize the issue in order to demoralize the efforts of Pakistan?
On April 29, 2019, DG ISPR Maj Gen. Asif Ghafoor, military spokesperson, addressed PTM leadership and apprised them that the time has come when legal actions is mandatory to be taken against them. He further claimed that the financial records makes the existence of PTM skeptical as they are directly being funded by the foreign factions from neighboring countries for their protests and rallies. He was also of the view that PTM is being used by the foreign factions to instigate instability when Pakistan has achieved relative peace. However, the fact should not be neglected that the Government of Pakistan and military establishment acknowledges the demands put forward by the leadership of Pashtun Tahafuz Movement. At various points both, government and military, tried to engage with them in a collaborative manner. Recently on April 16, 2019, Senate Special Committee met the PTM leadership along with the MNA Mohsin Dawar. Even before, when the movement was in its early phase military was the first one to engage with them. When a request was put forward by the PTM leaders to meet military in order to express their grievances, it was agreed. Meeting was held between PTM delegation of 15 members and DG, ISPR Maj Gen Asif Ghafoor on Feb 08, 2018, in which apart from primary demand of justice for Naqeeb Mahsud there were other 4 demands. The military showed consensus on all of them. But the duality of the PTM should not be unremembered as on one side it engages with the government and the military but at the same time the constant barraging on the state and its institutes continues through social media. Things got more complicated as the tone of PTM got discordant day by day. The relentless spewing of hate and impudent comments against the state and its institution clearly show as on whose side PTM is. Movement is kind of drifting away from the true cause when the anti-state and separatist slogans and hymns are openly vocalized in the rallies and are now directed to demoralize the standards of army rather than demanding the rights.
With constant efforts from both government and military the PTM appears reluctant to develop a consensus. Keeping this whole saga in mind One might consider that either PTM leaders are not well negotiator or they don't want to negotiate and the picture is much larger then it seems.
In 2018, a commission was also formed to facilitate PTM which included high ranks from the military and reputable civilians. State was persistence in facilitating the PTM grievances. DG ISPR also highlighted in his briefing that in order to remove landmines, a team was formed and is currently putting every effort at their disposal. The team had cleared 45 percent of the area and in pursuit of the task 101 Jawans had lost their lives. State constantly acknowledges the demands of PTM but PTM and its virtual diaspora have failed to acknowledge the efforts made by the state.
Pashtun makes up to 15% of the total population of Pakistan. What will happen if this number of population, a province indeed is brought in confrontation with the state? It will be enough to vandalize the socioeconomic fabric of Pakistan. Pashtuns of Pakistan have always been delicate segment of Pakistan as they were in the crossfire between Pakistan's efforts against eradicating terrorism. It makes them soft target and vulnerable to be used by animosities against Pakistan. The point to ponder is that despite the efforts, and acknowledgement of their grievances by the state why this matter is getting more intense whereas the fact should not be forgotten that both parties are on same line in terms of addressing the problem. The only way this can be resolved is when the PTM stop being patsy against Pakistan and show real concern to give solace to the Pashtun community rather than exploiting their grievances