The battle for leadership of the Muslim world: Turkey plants its flag in Christchurch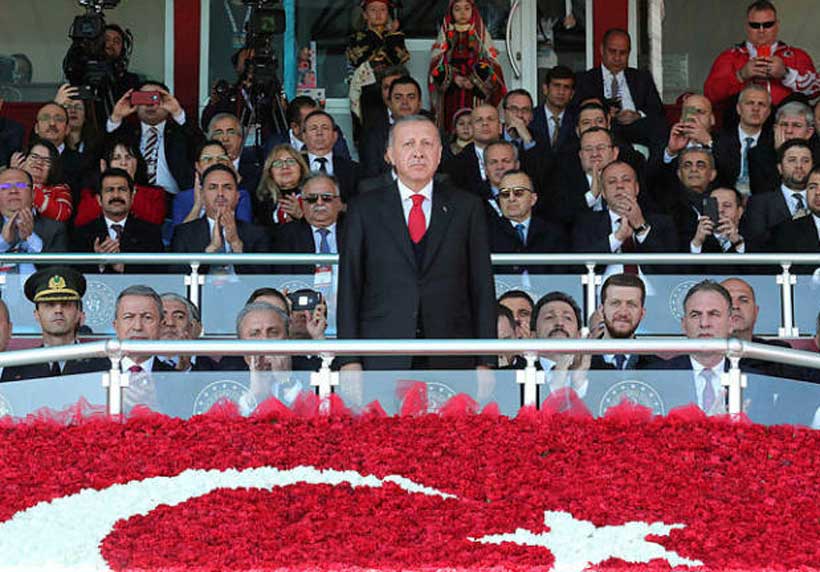 When Turkish vice-president Fuat Oktay and foreign minister Mevlut Cavusoglu became this weekend the first high-level foreign government delegation to travel to Christchurch they were doing more than expressing solidarity with New Zealand's grieving Muslim community.
Messrs. Oktay and Cavusoglu were planting Turkey's flag far and wide in a global effort to expand beyond the Turkic and former Ottoman world support for President Recep Tayyip Erdogan's style of religiously-packaged authoritarian rule, a marriage of Islam and Turkish nationalism.
Showing footage of the rampage in Christchurch at a rally in advance of March 31 local elections, Mr. Erdogan declared that "there is a benefit in watching this on the screen. Remnants of the Crusaders cannot prevent Turkey's rise."
Mr. Erdogan went on to say that "we have been here for 1,000 years and God willing we will be until doomsday. You will not be able to make Istanbul Constantinople. Your ancestors came and saw that we were here. Some of them returned on foot and some returned in coffins. If you come with the same intent, we will be waiting for you too."
Mr. Erdogan was responding to an assertion by Brenton Tarrant, the white supremacist perpetrator of the Christchurch attacks in which 49 people were killed in two mosques, that Turks were "ethnic soldiers currently occupying Europe."
Messrs. Oktay and Cavusoglu's visit, two days after the attacks, is one more facet of a Turkish campaign that employs religious as well as traditional diplomatic tools.
The campaign aims to establish Turkey as a leader of the Muslim world in competition with Saudi Arabia, the United Arab Emirates, and to a lesser degree Morocco.
As part of the campaign, Turkey has positioned itself as a cheerleader for Muslim causes such as Jerusalem and the Rohingya at a moment that Saudi Arabia, the UAE and other Muslim nations are taking a step back.
Although cautious not to rupture relations with Beijing, Turkey has also breached the wall of silence maintained by the vast majority of Muslim countries by speaking out against China's brutal crackdown on Turkic Muslims in the troubled north-western province of Xinjiang.
Mr. Erdogan's religious and traditional diplomatic effort has seen Turkey build grand mosques and/or cultural centres across the globe in the United States, the Caribbean, Europe, Africa and Asia, finance religious education and restore Ottoman heritage sites.
It has pressured governments in Africa and Asia to hand over schools operated by the Hizmet movement led by exiled preacher Fethullah Gulen. Mr. Erdogan holds Mr. Gulen responsible for the failed military coup in Turkey in 2016.
On the diplomatic front, Turkey has in recent years opened at least 26 embassies in Africa, expanded the Turkish Airlines network to 55 destinations in Africa, established military bases in Somalia and Qatar, and negotiated a long-term lease for Sudan's Suakin Island in the Red Sea.
The Turkish religious campaign takes a leaf out of Saudi Arabia's four decade long, USD 100 billion effort to globally propagate ultra-conservative Sunni Islam.
Like the Saudis, Turkey's Directorate of Religious Affairs (Diyanet) provides services to Muslim communities, organizes pilgrimages to Mecca, trains religious personnel, publishes religious literature, translates the Qur'an into local languages and funds students from across the world to study Islam at Turkish institutions.
Turkish Muslim NGOs provide humanitarian assistance in former parts of the Ottoman empire, the Middle East and Africa much like the Saudi-led World Muslim League and other Saudi governmental -non-governmental organizations, many of which have been shut down since the 9/11 attacks on New York and Washington.
Saudi Arabia, since the rise of crown prince Mohammed bin Salman in 2015, has significantly reduced global funding for ultra-conservatism.
Nonetheless, Turkey is at loggerheads with Saudi Arabia as well as the UAE over the killing of journalist Jamal Khashoggi; Turkish support for Qatar in its dispute with the Saudis and Emiratis; differences over Libya, Syria and the Kurds; and Ankara's activist foreign policy. Turkey is seeking to position itself as an Islamic alternative.
Decades of Saudi funding has left the kingdom's imprint on the global Muslim community. Yet, Turkey's current struggles with Saudi Arabia are more geopolitical than ideological.
While Turkey competes geopolitically with the UAE in the Horn of Africa, Libya and Syria, ideologically the two countries' rivalry is between the UAE's effort to establish itself as a centre of a quietist, apolitical Islam as opposed to Turkey's activist approach and its support for the Muslim Brotherhood.
In contrast to Saudi Arabia that adheres to Wahhabism, an austere ultra-conservative interpretation of the faith, the UAE projects itself and its religiosity as far more modern, tolerant and forward looking.
The UAE's projection goes beyond Prince Mohammed's attempt to shave off the raw edges of Wahhabism in an attempt to present himself as a proponent of what he has termed moderate Islam.
The UAE scored a significant success with the first ever papal visit in February by Pope Francis I during which he signed a Document on Human Fraternity with Sheikh Ahmad al-Tayeb, the grand imam of Egypt's Al-Azhar, the revered 1,000-year-old seat of Sunni Muslim learning.
The signing was the result of UAE-funded efforts of Egyptian general-turned-president Abdel Fattah Al-Sisi to depoliticize Islam and gain control of Al Azhar that Sheikh Al-Tayeb resisted despite supporting Mr. Al-Sisi's 2013 military coup.
To enhance its influence within Al Azhar and counter that of Saudi Araba, the UAE has funded Egyptian universities and hospitals and has encouraged Al Azhar to open a branch in the UAE.
The UAE effort paid off when the pope, in a public address, thanked Egyptian judge Mohamed Abdel Salam, an advisor to Sheikh Al-Tayeb who is believed to be close to both the Emiratis and Mr. Al-Sisi, for drafting the declaration.
"Abdel Salam enabled Al-Sisi to outmanoeuvre Al Azhar in the struggle for reform," said an influential activist.
The Turkey-UAE rivalry has spilt from the geopolitical and ideological into competing versions of Islamic history.
Turkey last year renamed the street on which the UAE embassy in Ankara is located after an Ottoman general that was at the centre of a Twitter spat between Mr. Erdogan and UAE foreign minister Abdullah bin Zayed al-Nahyan..
Mr. Erdogan responded angrily to the tweet that accused Fahreddin Pasha, who defended the holy city of Medina against the British in the early 20th century, of abusing the local Arab population and stealing their property as well as sacred relics from the Prophet Muhammad's tomb,. The tweet described the general as one of Mr. Erdogan's ancestors.
"When my ancestors were defending Medina, you impudent (man), where were yours? Some impertinent man sinks low and goes as far as accusing our ancestors of thievery. What spoiled this man? He was spoiled by oil, by the money he has," Mr. Erdogan retorted, referring to Mr. Al-Nahyan.
Will there be war with Iran? Will there not be war with Iran? The questions are being asked repeatedly in the media even though a single carrier task force is steaming up there. The expression is old for the latest carriers are nuclear powered. Imagine the mess if it was blown up.
There are two kinds of weapons in the world … offensive and defensive. The latter are cheaper, a fighter plane compared to a bomber. If a country does not (or cannot afford to) have offensive intent, it makes sense to focus on defense. It is what Iran has done. Moreover, its missile centered defense has a modern deadly twist — the missiles are precision-guided.
As an Iranian general remarked when questioned about the carrier task force: some years ago it would've been a threat he opined; now it's a target. Iran also has a large standing army of 350,000 plus a 120,000 strong Revolutionary Guard and Soviet style air defenses. In 2016 Russia started installation of the S-300 system. It has all kinds of variants, the most advanced, the S-300 PMU-3 has a range similar to the S-400 if equipped with 40N6E missiles, which are used also in the S-400. Their range is 400 km, so the Iranian batteries are virtually S-400s. The wily Putin has kept trump satisfied with the S-300 moniker without short-changing his and China's strategic ally. The latter continuing to buy Iranian oil.
Iran has friends in Europe also. Angela Merkel in particular has pointed out that Iran has complied fully with the nuclear provisions of the UN Security Council backed Joint Comprehensive Plan of Action i.e. the Iran nuclear deal. She is mustering the major European powers. Already alienated with Trump treating them as adversaries rather than friends, they find Trump's bullying tiresome. President Macron, his poll ratings hitting the lowest, is hardly likely to engage in Trump's venture. In Britain, Theresa May is barely able to hold on to her job. In the latest thrust by senior members of her party, she has been asked to name the day she steps down.
So there we have it. Nobody wants war with Iran. Even Israel, so far without a post-election government does not want to be rained upon by missiles leaky as its Iron Dome was against homemade Palestinian rockets.
Topping all of this neither Trump nor Secretary of State Pompeo want war. Trump is as usual trying to bully — now called maximum pressure — Iran into submission. It won't. The wild card is National Security Adviser John Bolton. He wants war. A Gulf of Tonkin type false flag incident, or an Iranian misstep, or some accident can still set it off.
In Iran itself, moderates like current President Hassan Rouhani are being weakened by Trump's shenanigans. The hard liners might well want to bleed America as happened in Iraq and Afghanistan.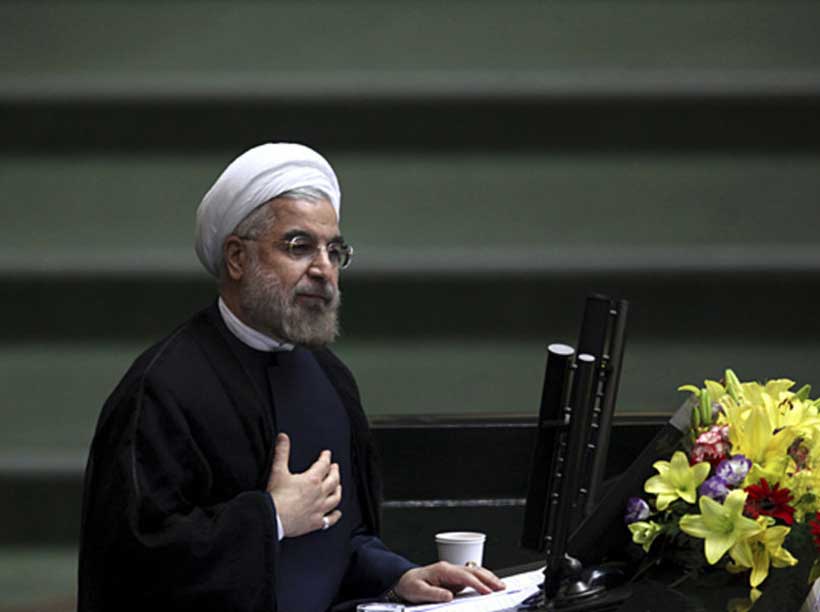 By announcing that Iran will begin keeping its excess uranium and heavy water, the Islamic Republic now sends a firm and clear message to the west, exactly one year after U.S. president, Donald Trump unilaterally withdrew from its nuclear deal with Iran.
At this point, it seems that Iran has made a wise decision. Over the last year, the European troika has not only done anything to revive the nuclear deal or bring any kind of benefit to the Iranian nation, but they have actually backed up U.S. by developing new plans to undermine Iran's "missile work", and diminish its "power in the region" as well as its "nuclear technology".
As stated in clauses 26 and 36 of Joint Comprehensive Plan of Action (JCPOA), if the other side fails to meet its obligations, Iran is entitled to partially or completely end its commitments as well. So, Iran's recent decision could be analyzed both on legal and strategic terms.
However, it seems that the strategic aspects of Iran's decision are even more important than its legal aspects. This decision is strategically important because it stops Washington and European troika to carry out their anti-Iran scheme, a dangerous scheme that they actually started devising when Trump took the office in 2017.
At the time, Theresa May, the British Prime Minister, and Emmanuel Macron, the French president played a major part in carrying out the west scheme. A scheme based on enforcing Iran to keep its "nuclear promises" and stay committed to a "distorted nuclear deal" while "U.S. had abandoned the deal", and at the same time, trying to "diminish Iran's power in the region" and "reduce its missile activities".
All other actions of Europeans toward Iran were also simply targeted at carrying out this major plan, including how they constantly changed their strategies toward Tehran, and how Germany, U.K. and France intentionally delayed in launching the alternative trade mechanism (Instex) with Iran.
Now, Iran's decision to keep its Uranium and heavy water is definitely in compliance with JCPOA, and more importantly, it will seriously undermine the "American-European" joint plan against Iran. This also explains why French government was so distressed by Iran's new nuclear strategy and had such a quick reaction, considering that Emmanuel Macron, the French president and Jean-Yves Le Drian, the French Foreign Minister both have had important roles in carrying out the American-European anti-Iran scheme.
At any rate, what is clear now is that the game has just started! And the Iranian political system and specially the foreign ministry have a great mission to run this game wisely.
In following days, the European troika might want to force Iran into changing its decision by threats such as reviving the European Union sanctions against Iran or even taking Iran's case to the United Nations Security Council (so that Trump administration can meddle in Iran's affairs). But, it is time for Iran political system to be adamant in its decision.
The Iranian Foreign Ministry should clearly ask the Europeans to choose one of these options, either Iran will "further reduce its commitments to the nuclear deal" or the Europeans should do something practical to "protect the rights of Iranian nation".
It is also necessary that the Iranian political system reveals the American-European joint anti-Iran scheme to the people so that the true nature of Europeans is showed to Iranians. In that case, Europe and specially the European troika will completely lose their reputation.
First published in our partner Tehran Times
Why the Algerian popular movement has succeeded until now?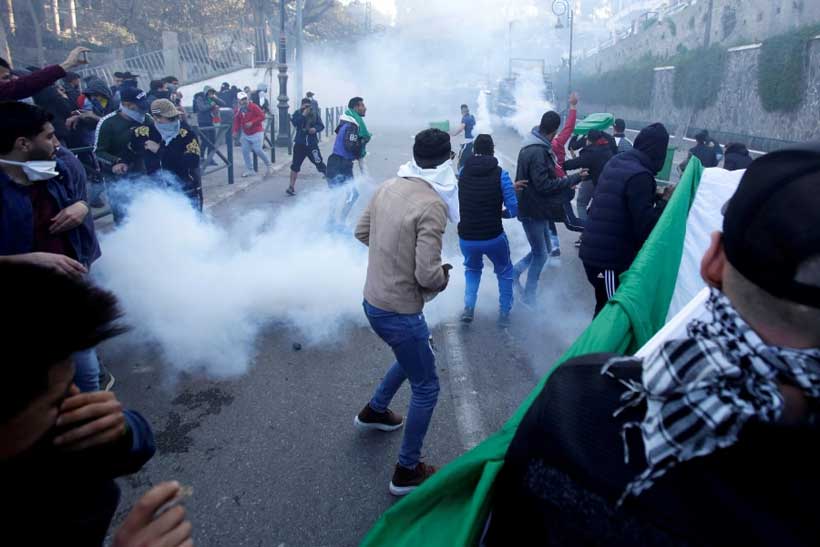 Authors: Sadek Hadjal and Samar Sahki
Ten factors and mechanisms adopted by both Algerian people and its army have made popular movement remain in its proper peaceful path
Since February 22, 2019, the Algerian popular movement has calmed anger on the streets every Friday demanding the departure of Abdelaziz Bouteflika and his regime. The last decade of the 20 years of his mandate was characterized by a high-level of corruption and mismanagement, especially, after his illness. Although after the resigned of Abdelaziz Bouteflika, people have continued to march demanding the complete change of the old regime.
Until now, after nearly 11 weeks, the Algerian popular movement has succeeded in achieving several goals without violence, giving a good image for Arab region witnessed the same events after a huge popular movement in 2011, called "the Arab spring". but unlike what is happening today in Algeria, the so-called "Arab spring" led to a bloody and dangerous consequences for the Arab countries – civil wars, military interventions, displacement, illegal immigration, proxy wars in the context of international and regional rivalry-.
The success of the Algerian Popular Movement reflects a great deal of intelligence and awareness between the Algerian demonstrators on one hand, satisfaction, wisdom and professionalism of the Algerian military in dealing with the situation on the other hand. Certainly, the two parties in Algeria -the demonstrators and the military command- have benefited from the events of the so-called "Arab Spring" in 2011, which unfortunately led to disastrous results in most Arab countries. As well as what was known by "black decade" that Algeria witnessed in the 1990s.
In order to learn lessons from these events, the Algerian elites organized many international and national academic seminars, discussed several doctoral dissertations at universities, and produced many television programs to analyze the causes of these bloody events and to discover the best ways to avoid similar events, based on the reject of all kinds of external intervention as a main idea in any discussion.
There is a method both the Army and the demonstrators have relied on to success until now, which is characterized by:
From the side of protestors, they have focused on:
1 Avoiding the confrontation with military and police officers, unlike what happened in "Arab spring" countries.
2.Trying to coax the military and police officers to be with their side through the slogans.
2.Avoiding acts of violence and vandalism by keeping protests pacific.
3. Reject any religious, ethnic, or political group or party or symbols to represent them.
4.Focusing on pragmatic demands that have nothing to do with ideological discourses.
5.Refuse any external intervention whatsoever, whether there was supporting the movement or against it.
From the other side military command has focused on:
1.Not aligning against the popular movement. Otherwise, we would face a disaster situation may be more than what happened in some Arab countries.
2.The Army interference to align with the popular movement, but after confirming that there is no political solution on the horizons and that the situation could get worst.
3.The commitment of Military command by the constitution; which means passing a message that there is no intention to a military coup.
4.Not taking any step unless the popular movement demands it strongly and forcefully through the slogans carried every Friday. So that the steps taken by the Army won't be in doubt, critic, or exploitation.
5.Provide guarantees to judges to do their work against corrupt people.
By these ten factors, the Algerian popular movement succeeded to achieve fifty percent of Goals (isolated Bouteflika and arrested the most famous symbols of the old regime on corruption charge). Now, the rest of the Goals are more difficult to achieve than the first one. The next step will focus on how to achieve a democratic system that results in accountability and empowers people to control the ruler. Whatever; until now the Algerian popular movement presents a Successful model can the rest of Arab societies benefit from.
What next:
To realize the rest of the goals, the Algerian popular movement and the Army must keep these ten mechanisms but also avoid any confrontation between them. Today there is a controversy between the two sides about the next stage; the Military command wants to hold quick presidential elections as soon as possible under Article 102 of the constitution because according to its view, any political solutions out of the constitution can lead to chaos. But the question here is who ensure that elections will be democratic under the same faces of the old regime and rules (election law for example). in return, there are a lot of citizens insist on carrying out a transition period to get rid of all old regime symbols in order to ensure presidential elections based on international standards, rather than the elections under the old regime symbols (the interim president Ahmed ben salah, and the current government of Noureddine Bedoui). But the question here is who leads this transition period? If the answer was through elect representatives, so who organize and ensure the transparency of these elections! The transition period will create a constitutional vacuum that possibly leads to chaos and that's why Military command don't wanted .
Algeria now is in front of a big constitutional and political dilemma, there are solutions but to maintain all possible solutions, we must avoid any confrontation between citizens and the military command. Of course, the popular movement has all the right to pressure and demand what it looks appropriate as a solution but without entering in confrontation with the military, because, in the end, the military has played a positive major role until now.
Algeria has the ability to overcome the current state crisis and emerge from the events of the popular movement as a regional force because it has a new generation of educated and ambitious youth, a well-equipped military force with experience in the field of counter-terrorism, and large energy reserves of oil and gas.